Are you on the hunt for a new water heater? You may have come across the brand name Rheem more than once — and there's a good reason why. Rheem is one of the leading water heater companies in America.
What makes their products so sought-after? Do they do more than just water heating systems? Today, we'll put Rheem water heaters under the microscope to reveal the good and— potentially — the bad.
Image
Model
Product Comparison Table
Features
Best Electric Water Heater
Rheem Mobile Alert Electric
55-gallon capacity
Features an automatic thermostat
Rust-resistant anode rod
Best Hybrid Water Heater
Rheem Hybrid High-Efficiency
80 gallon capacity
Wi-fi connectivity included
Multiple energy-saving modes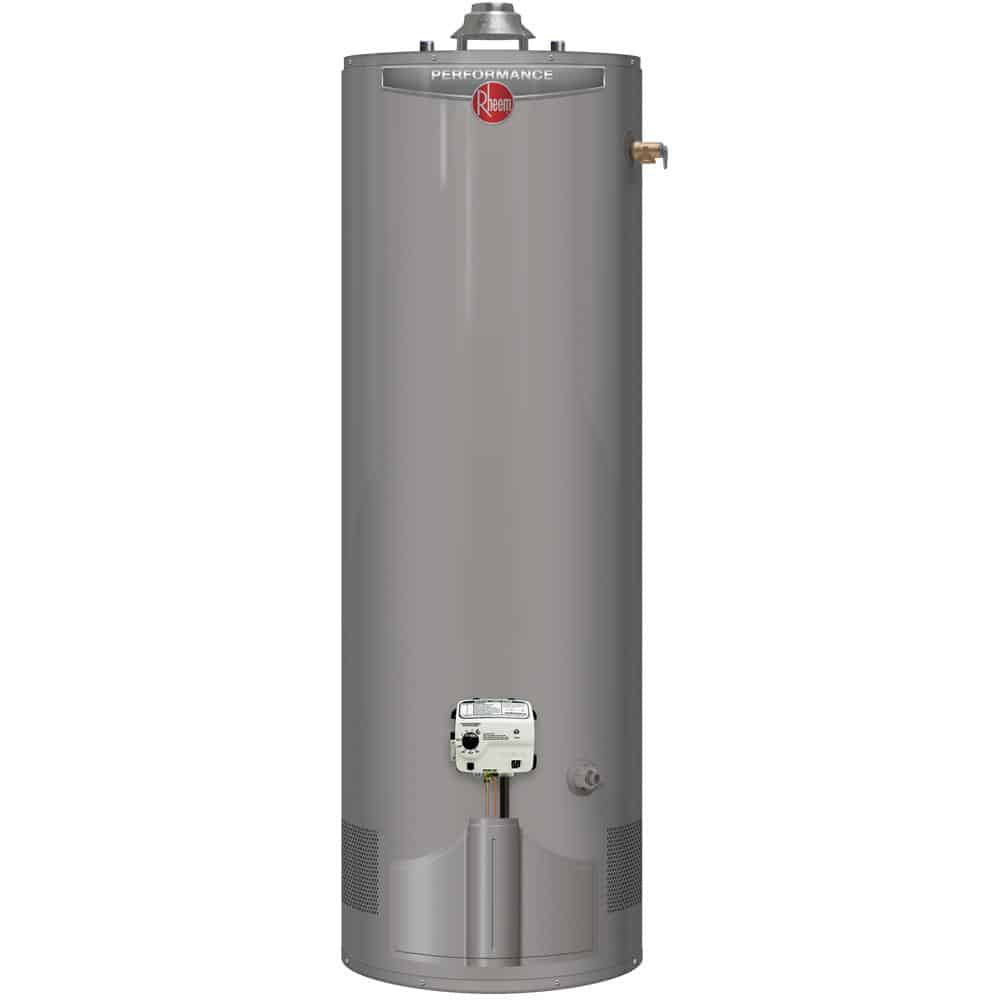 Best Gas Water Heater
Rheem Performance Natural Gas
Works without electrical hookup
First-hour rating of 71 gal/hr
Overheat protection
Best Tankless Water Heater
Rheem RTEX-13 Residential
Fitted with external digital thermostat
99.8% energy-efficient
Easy to install
Best Tank-Type Water Heater
Rheem MR50245 Marathon
Non-metallic tank
Titanium anode rods
Bowl-shaped tank
---
Why Choose a Rheem Water Heater?
One of the things we like the most about Rheem is its zero waste initiative. Rheem is a company that considers the environment and the impact it makes on it.
They're taking the initiative to make changes and better themselves as a company. And in the meantime — they're helping us to better ourselves too.
Rheem was the industry leader for almost a century. However, as new companies have come along, Rheem has faced fierce competition.
Still, Rheem's innovative systems and evolving technologies are what sets them apart. Whether you live in a compact apartment or a family home, you should be able to find a suiting water heater.
Which Rheem Product Should You Choose?
Performance Platinum
Rheems line of Performance Platinum water heaters includes some of their leading products. These units have a uniform energy factor ranging from .92 to .95 and are available in 40 to 55-gallon tanks.
Most of these include water and energy saving systems such as the PlusOne.
Making them the perfect fit for the eco-conscious homeowner.
Hybrid
Rheem is a pioneer in the hybrid water heater sector. Their line of hybrid boilers includes the benefits you'll get from an electric unit, with double the efficiency.
Most of their hybrids meet NEEA requirements. But, all are Energy Star rated, with energy factors ranging between 3.50 to 3.70.
These are an excellent choice for the homeowner looking to reduce their impact on the environment. They will most likely pay for themselves within a year in utility bill savings.
Performance
Rheem's Performance line of gas water heaters is simple and average. They range between 29 to 98-gallon tanks with uniform energy factors from .54 to .81.
The tanks are easy to keep and require less maintenance than other models.
They're relatively quiet when they operate, yet powerful. These are great for a single-family home.
---
The Best Rheem Water Heaters of 2021
Rheem is one of our favorite manufacturers, so it was a pleasure finding today's top five for you. We went on past experiences and advice from market experts, as well as users' feedback. Then we compared the results and here's what we found.
1. Rheem Mobile Alert Electric Tank Water Heater
Rheem has numerous fantastic products, so finding the best was tough. But we eventually decided that this 55-gallon, tall electric water heater deserves the top spot.
One of the things we love about this is how powerful it is. It has two stainless-steel heating elements, providing 4,500-watts each. This boiler is capable of providing enough hot water for a three to five-person household.
What's nifty is the automatic thermostat. This keeps your desired temperature until you decide to change it — a great feature for the busy family.
It also features something Rheem calls a "PlusOne water management control." This function includes different user modes, and a water sensor, allowing you to set it exactly as you need it. Thus, avoiding water and energy waste.
The water sensor alerts you with an audible notification. The heater is also Wi-Fi compatible, so you can keep track of it from afar.
Lastly, Rheem included an anode rod made from patented magnesium. It's designed to resist rust and corrosion, ensuring a longer service life.
Pros
Powerful unit — produces hot water for a five-person household.
Features an automatic thermostat that remembers your past settings.
Minimizes water and energy waste.
Rust and corrosive resistant anode rod.
Cons
Difficult to connect with the Wi-Fi feature.
Control panel requires some time to get used to.
Additional Specs
| | |
| --- | --- |
| Energy factor | 0.92 |
| Fuel type | Electric |
| Gallons per hour | 72 gallons |
| Measurements | 57 inches by 22.25 inches by 22.25 inches |
| Warranty | Three-year labor warranty plus 12-year parts warranty |
---
2. Rheem Hybrid High-Efficiency Electric Water Heater
Hybrid water heaters are some of the smartest and most efficient boilers on the market today. And this example from Rheem does not disappoint.
This unit is part of Rheem's Platinum collection. It can hold 80 gallons of hot water, producing a sufficient flow for a three bathroom home. It's perfect for the eco-minded family.
This hybrid does include some smart technology. It comes with integrated Wi-Fi connectivity, so you can pair it with your phone and receive alerts and maintenance reminders. This includes a water leak detection and notification function — potentially saving you money.
In fact, this boiler is all about saving money. It has multiple features that allow you to set a mode depending on your needs. You can choose between electric, heat pump, hybrid, and high demand.
What you'll also notice about this hybrid is how quiet it is — only a couple of decibels above whispering.
Pros
Provides hot water for three bathrooms.
Wi-Fi connectivity is included for alerts.
Features multiple energy-saving modes plus a high-demand setting.
Very quiet while operating.
Cons
Some of the necessary condensate fittings aren't included, which results in some trips to the local homeware store.
It takes some time to get used to how the unit works.
Additional Specs
| | |
| --- | --- |
| Energy factor | 3.7 |
| Fuel type | Electric |
| Gallons per hour | 89 gallons |
| Measurements | 74 inches by 24.25 inches by 24.25 inches |
| Warranty | One-year labor warranty plus 10-year parts warranty |
---
3. Rheem Performance Natural Gas Tank Water Heater
If you're looking to replace an old unit, look here. Our third example from Rheem is their Performance natural gas water heater.
What makes this perfect as a replacement unit is that it works independently. This means that you won't have to hook it up to an electrical outlet. So if your old unit wasn't electric, there's no need for huge alterations.
We chose the 40-gallon tank, which provides enough water for a household with four people. The boiler produces 71 gallons of hot water per hour and has an energy factor of 0.58.
This Rheem is no exception when it comes to useful features. It has a push-button ignition with pilot light and a reset button for easy startup. What's more, the safety system and filter are maintenance-free.
The boiler also features an overheat protection function as well as a temperature-pressure relief valve.
Additionally, the unit produces minimal emissions. It complies with the emission requirements Ultra-Low NOX (ULN).
Pros
Works without electrical hookup.
Has a first-hour rating of 71 gallons per hour.
Features several safety functions such as overheat protection and push-button ignition.
Produces minimal emissions — compliant with the ULN.
Cons
The gas valve is of poor quality and may need to be replaced within a year.
Additional Specs
| | |
| --- | --- |
| Energy factor | 0.58 |
| Fuel type | Natural gas |
| Gallons per hour | 71 gallons |
| Measurements | 58.5 inches by 19 inches by 19 inches |
| Warranty | One-year labor warranty plus six-year tank warranty |
---
4. Rheem RTEX-13 Residential Tankless Water Heater
Tankless water heaters are a great alternative for those with small to medium homes. And we love this unit from Rheem. It's petite and compact, yet includes all the sought-after features of a tankless boiler.
For starters, the unit has an external digital thermostat with an LED display. This enables you to adjust the temperature in one-degree increments to get the exact setting for you.
What we also love about this water heater is its energy efficiency — it's 99.8 percent energy-efficient.
The amazing part about a tankless unit is that it delivers hot water on-demand, minimizing water and energy waste. With a water-saver showerhead, this one produces a flow rate of 1.5 gallons per minute.
Users seem to especially love how easy this appliance is to install. Everything you need comes with the unit. This includes a 3-foot electric cable and 0.5-inch NPT adapters. Additionally, it's compatible with 0.5-inch compression water connections.
Pros
Small and compact — fits nearly anywhere.
Fitted with external digital thermostat with LED display.
The unit is 99.8 percent energy-efficient.
Easy to install — comes with an electrical cord and NPT adapters.
Cons
Performs best as a point-of-use heater. If you install it further away from the faucet, expect some waiting time.
Additional Specs
| | |
| --- | --- |
| Energy factor | N/A |
| Fuel type | Electric |
| Gallons per hour | 1.5 gallons per minute |
| Measurements | 12 inches by 6 inches by 3.625 inches |
| Warranty | One-year parts warranty |
---
5. Rheem MR50245 Marathon Tall Electric Water Heater
For our last product pick of today, we have the Rheem Marathon 50-gallon electric heater. Rheem built this boiler for simplicity — it's lightweight, easy to use, maintain, and install.
Rheem has constructed the tank with a non-metallic material. This may sound odd, but it eliminates the risk of rust and corrosion that you'd otherwise experience with a regular tank. This material is also what makes it so lightweight, weighing roughly 103 pounds.
If you have experience with anode rods, you know they tend to produce smelly water. Luckily though, Rheem claims that there's no need for anode rods due to the construction of the tank. This keeps your nose, and perhaps stomach, safe from unsanitary water.
Instead of an anode rod, the tank has titanium elements. These are impervious to corrosion and rust, keeping your tank safe for longer.
The bowl-shaped tank is designed to prevent standing water inside. The leftover water can lead to rust and is prone to contamination. Fortunately, because of the shape, it drains straight out.
Pros
A non-metallic tank that minimizes the risk for rust and corrosion.
Features titanium elements in place of anode rods.
It has a bowl-shaped tank that prevents standing water.
Relatively lightweight and easy to install and maintain.
Cons
It's a bit taller than other tank-type boilers, which may make it difficult to use it as a replacement.
Additional Specs
| | |
| --- | --- |
| Energy factor | 0.90 to 0.94 |
| Fuel type | Electric |
| Gallons per hour | 57 gallons |
| Measurements | 62.75 inches by 23.5 inches by 23.5 inches |
| Warranty | Lifetime tank warranty plus six-year parts warranty |
---
History of Rheem
Rheem was founded in Emeryville, CA, by brothers Donald and Richard Rheem in 1925. A third brother, William, helped to finance the company when they first started out (1).
As a start, the Rheem brothers manufactured galvanized steel drums with the help of Pacific Galvanizing. In 1930, the company bought out Pacific Galvanizing and acquired the Republic Steel package company.
Republic Steel manufactured tanks and boilers. This allowed the Rheem brothers to enter the water heating industry.
Soon after in 1931, Rheem also acquired the John Wood Manufacturing Company of California. This company manufactured automatic gas storage water heaters.
Rheem was soon on a roll — expanding to Australia in 1936 where they built a plant in Sydney. The Australian branch began by producing steel shipping containers in 1937, but by 1939 was also producing water heaters.
A Great Part of History
During wartime, a steel company, Bethlehem Steel Corporation, bought 230,000 shares of Rheem's common stock. This made up about 35 percent of the company's 643,000 shares. This purchase helped to finance Rheem's expansion during the war.
From 1940 to 1945, Rheem produced equipment for the war effort. They were mostly manufacturing Navy ammunition boxes. Their sales went up from $10 million in 1941 to $90 million by the end of the war in 1945.
Seven Rheem plants received an Army-Navy "E" award, as well as multiple renewal stars due to their excellence in production.
From 1945 to the 1950s, Rheem further expanded worldwide to countries such as Brazil, Canada, and England.
Then, Paloma Industries of Nagoya, Japan, bought Rheem in 1988. Soon after, the company paired up with Water Heater Innovations Inc.
This new relationship encouraged the company to develop a new type of tank — the Marathon Nonmetallic Water Heater. The Marathon water heater featured a plastic tank and came with a lifetime warranty.
Rheem soon purchased the WeatherKing brand from Addison Products Company. As a result, the company's distribution in the commercial and residential market broadened.
Today, Rheem is the largest manufacturer of water heaters in North America.
A Green Initiative
The company's commitment to the environment showed all the way back in 1954. It was then that Rheem started a Value Analysis Program. The program was a team effort in producing ideas that would increase productivity, cut costs, and limit waste.
Today, Rheem continues to develop energy-saving products, such as the Professional Prestige Tankless Water Heater series. Many of the products in this series feature a built-in recirculation pump. Others feature a hot start program, which minimizes cold water bursts during peak usage times.
Rheem has set several goals for its 2025 commitment to the environment; these include:
Innovation: Focus on selecting the best material, creating smart energy-saving features, and recycling. Rheem's main objective is to launch a line of products which reduce its greenhouse gas footprint by 50 percent.
Efficiency: The company wants to work smarter and more sustainably by using fewer resources, producing less waste, and creating safer processes. It also wants to achieve zero waste to landfill worldwide.
Leadership: Rheem wants to hire 250,000 plumbers and contractors and educate them on how to use and install sustainable products (2).
Where to Buy Rheem Water Heaters
Rheem water heaters are available to buy both online and in-store. We recommend checking out Amazon, Home Depot.com or Rheem for the best deals.
Customer Service
Getting in touch with Rheem is fairly easy. On the official website, Rheem.com, you can click on "contact" — then fill out a form. You can also find contact information for a specific product.
For example, if you have a tank-type water heater, you can find relevant phone numbers and emails. If you have a tankless unit, there's a specified number and email for that as well.
The majority of customers on Amazon, Home Depot, and Rheem's website are well-pleased with their units. Many Home Depot customers praised the customer service for quickly replacing a product when problems occurred. Amazon customers, on the other hand, weren't as pleased with the customer service.
---
| Product | Award | Energy factor | Fuel type | Flow rate | Measurements | Warranty |
| --- | --- | --- | --- | --- | --- | --- |
| Mobile Alert Electric | Best Electric Water Heater | 0.92 | Electric | 72 gal/hr | 57″ x 22.25″ x 22.25″ | 3-year (labor); 12-year (parts) |
| Hybrid High-Efficiency | Best Hybrid Water Heater | 3.7 | Electric | 89 ga/hr | 74″ x 24.25″ x 24.25″ | 1-year (labor); 10-year (parts) |
| Performance Natural Gas | Best Gas Water Heater | 0.58 | Natural gas | 71 gal/hr | 58.5″ x 19″ x 19″ | 1-year (labor); 6-year (tank) |
| RTEX-13 Residential | Best Tankless Water Heater | — | Electric | 90 gal/hr | 12″ x 6″ x 3.625″ | 1-year (parts) |
| MR50245 Marathon | Best Tank-Type Water Heater | 0.90 – 0.94 | Electric | 57 gal | 62.75″ x 23.5″ x 23.5″ | Lifetime (tank); 6-year (parts) |
---
The Verdict
Rheem is behind some of the most innovative and popular water heaters in today's market. The brand has been around since before World War II. Rheem produces water heaters of all kinds — be it tankless, tank-type, hybrid, gas, or electric.
That said, it seems that the company should work on its customer service. Hopefully, this will improve in the near future. Then Rheem can once again claim its spot as an industry leader.
What is your opinion of Rheem and the company's water heaters? Have you any experience with their customer service? Feel free to leave your reply below.