If you're looking for a new water heater, you have probably encountered the name Rheem more than once, and with good reason. Rheem is one of the leading water heater brands in America today.
You might be wondering what makes their products so sought-after. What sets them apart from the countless other water heater manufacturer? Essentially, is Rheem a good water heater brand?
In this article, we will put Rheem's water heaters under the microscope to answer these questions. We will include the company's positive and negative points, as well as compare their energy efficiency ratings.
Image
Model
Product Comparison Table
Features
Best Electric Rheem
Rheem Mobile Alert Electric
55-gallon capacity
Features an automatic thermostat
Rust-resistant anode rod
Best Hybrid Rheem
Rheem Hybrid High-Efficiency
80 gallon capacity
Wi-Fi connectivity included
Multiple energy-saving modes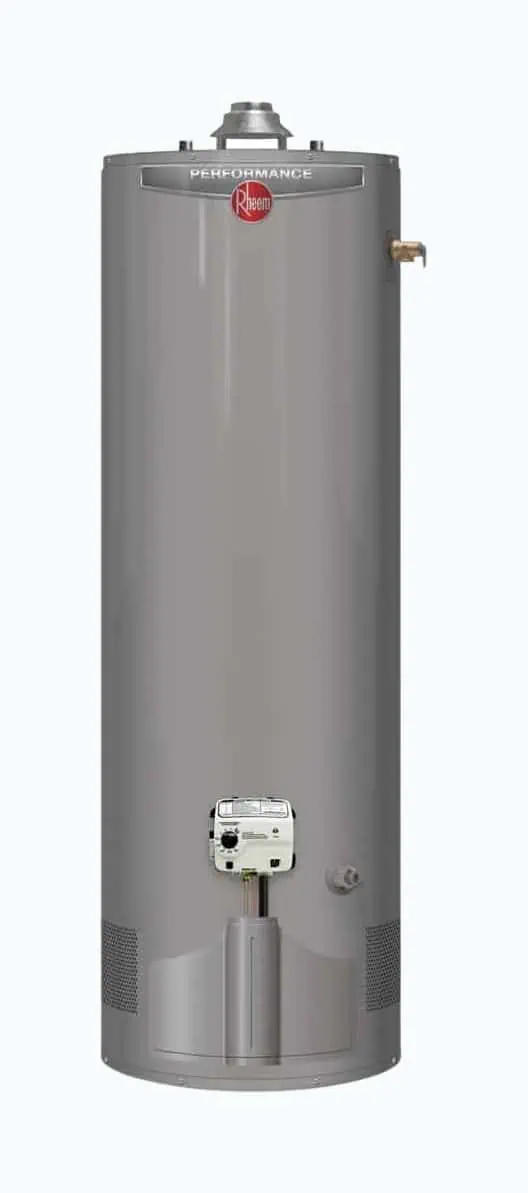 Best Gas
Rheem Performance Natural Gas
Works without electrical hookup
First-hour rating of 71 gal/hr
Overheat protection
Best Tankless Rheen
Rheem RTEX-13 Residential
Fitted with external digital thermostat
99.8% energy-efficient
Includes everything needed for installation
Best Tank-Type Rheem
Rheem MR50245 Marathon
Non-metallic tank
Titanium anode rods
Bowl-shaped tank encourages drainage
---
---
The Best Rheem Water Heaters of 2023
Rheem is one of the most established names in water heaters, so our biggest challenge was narrowing down their range! After looking at user feedback and advice from market experts, we have compiled our top five Rheem water heater reviews.
Rheem Mobile Alert Electric Tank Water Heater
Best Electric Rheem Water Heater
One of the standout qualities of this 55-gallon electric water heater is how powerful it is. It features two stainless-steel heating elements, each providing 4,500-watts. This boiler is capable of providing enough hot water for a three to five-person household.
Its automatic thermostat keeps the water at your desired temperature. It also features something Rheem calls "PlusOne water management control." This includes various user modes and a water sensor, allowing you to control your water heater exactly how you want and reduce water and energy waste.
The water sensor alerts you with a notification sound. The heater is Wi-Fi compatible, so you can keep track of it from a distance.
Finally, Rheem included an anode rod made from patented magnesium. It is designed to resist rust and corrosion, ensuring a longer service life.
Pros
Powerful unit — produces enough hot water for an average five-person household.
Automatic thermostat remembers your past settings.
Minimizes water and energy waste.
Rust and corrosion-resistant anode rod.
Cons
Difficult to connect via Wi-Fi.
Control panel is not very intuitive for new users.
Product Specs
| | |
| --- | --- |
| Energy factor | 0.92 |
| Fuel type | Electric |
| Gallons per hour | 72 gallons |
| Measurements | 57 inches by 22.25 inches by 22.25 inches |
| Warranty | Three-year labor warranty plus 12-year parts warranty |
Our Ratings
---
Rheem Hybrid High-Efficiency Electric Water Heater
Best Hybrid Rheem Water Heater
Hybrid water heaters are some of the smartest and most efficient available today. This hybrid heater from Rheem is no exception.
This unit is part of Rheem's Platinum collection. It can hold 80 gallons of hot water, providing sufficient flow for a three-bathroom home. It's perfect for the eco-minded family.
This hybrid also includes some smart technology. It has integrated Wi-Fi connectivity, so you can pair it with your phone and receive alerts and maintenance reminders. This includes a water leak detection and notification feature, which could save you some money.
In fact, this boiler has many ways of saving money. You can choose from multiple modes, depending on your needs. You can choose between electric, heat pump, hybrid, and high demand settings.
Pros
Provides enough hot water for three bathrooms.
Wi-Fi connectivity for alerts.
Features multiple energy-saving modes and a high-demand setting.
Very quiet while operating.
Cons
Some of the necessary condensate fittings aren't included.
It takes time to become familiar with the various settings.
Product Specs
| | |
| --- | --- |
| Energy factor | 3.7 |
| Fuel type | Electric |
| Gallons per hour | 89 gallons |
| Measurements | 74 inches by 24.25 inches by 24.25 inches |
| Warranty | One-year labor warranty plus 10-year parts warranty |
Our Ratings
---
Rheem Performance Natural Gas Tank Water Heater
Best Rheem Gas Water Heater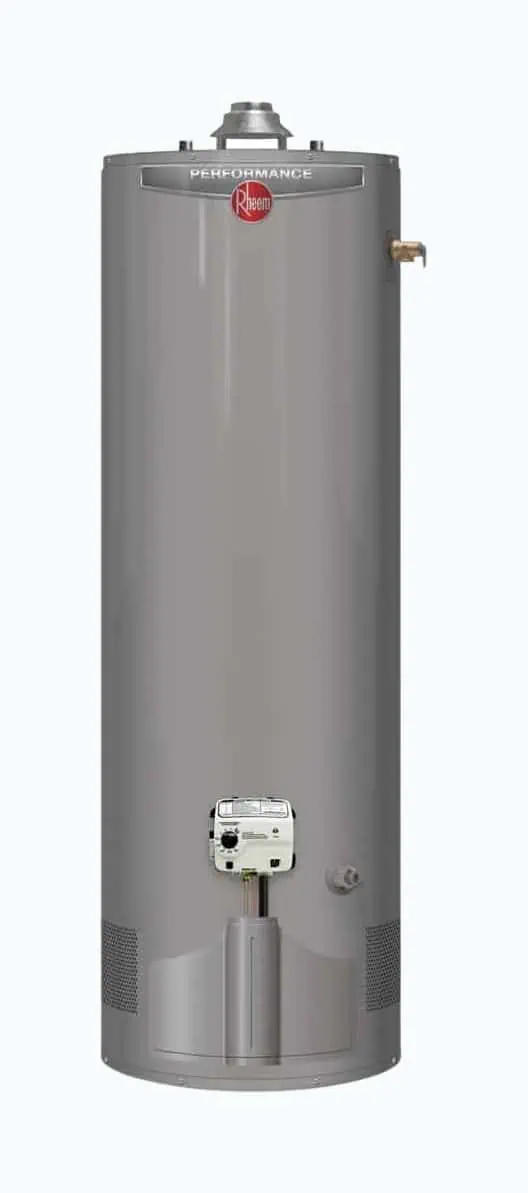 If you're looking to replace an existing unit, this Rheem Performance natural gas water heater might be your best option.
What makes this perfect as a replacement unit is that it works independently. This means you won't need to hook it up to an electrical outlet. If your old unit didn't use electricity either, there's no need for major alterations.
We chose the 40-gallon hot water tank, which provides enough water for a household of four people. The boiler produces 71 gallons of hot water per hour and has an energy factor of 0.58.
It has a push-button ignition with a pilot light and a reset button for easy startup. The safety system and filter are maintenance-free. The boiler also features overheat protection and a temperature-pressure relief valve.
Finally, the unit produces minimal emissions. It complies with the emission requirements Ultra-Low NOX (ULN).
Pros
Works without an electrical connection.
First-hour rating of 71 gallons per hour.
Several safety features include overheat protection and push-button ignition.
Produces minimal emissions — compliant with the ULN.
Cons
Gas valve is of poor quality and may need to be replaced within a year.
Product Specs
| | |
| --- | --- |
| Energy factor | 0.58 |
| Fuel type | Natural gas |
| Gallons per hour | 71 gallons |
| Measurements | 58.5 inches by 19 inches by 19 inches |
| Warranty | One-year labor warranty plus six-year tank warranty |
Our Ratings
---
Rheem RTEX-13 Residential Tankless Water Heater
Best Rheem Tankless Water Heater
Tankless water heaters are a great alternative for those with small or medium-sized homes. This unit from Rheem is small and compact, yet includes all the most-wanted features of a tankless heater.
For one, the unit has an external digital thermostat with an LED display. This allows you to adjust the temperature in one-degree increments to set the exact level you want. It is also very energy efficient, with a 99.8% rating.
The standout trait of a tankless unit is that it delivers hot water on demand, minimizing water and energy waste. With a water-saver showerhead, this heater produces a flow rate of 1.5 gallons per minute.
Users have expressed their happiness at how easy this heater is to install. Everything you need is included with the unit. This includes a 3-foot electric cable and 0.5-inch NPT adapters. It is also compatible with 0.5-inch compression water connections.
Pros
Small and compact — fits almost anywhere.
External digital thermostat with LED display.
99.8% energy-efficient.
Easy to install — includes an electrical cord and NPT adapters.
Cons
Performs best as a point-of-use heater. If installed away from the faucet, expect longer waiting times.
Product Specs
| | |
| --- | --- |
| Energy factor | Not applicable |
| Fuel type | Electric |
| Gallons per hour | 1.5 gallons per minute |
| Measurements | 12 inches by 6 inches by 3.625 inches |
| Warranty | One-year parts warranty |
Our Ratings
---
Rheem MR50245 Marathon Tall Electric Water Heater
Best Tank-Type Rheem Water Heater
Rheem designed the Marathon 50-gallon electric heater with simplicity in mind. It's lightweight and easy to install, use, and maintain.
Rheem constructed the hot water tank with a non-metallic material. This eliminates the rust and corrosion that you would eventually experience with a traditional tank. The material is also what makes it so lightweight, weighing roughly 103 pounds.
If you have experience with anode rods, you know they often produce smelly water. Thankfully, Rheem claims there is no need for anode rods due to how the tank was constructed. This keeps your nose, and stomach, safe from unsanitary water.
Instead of an anode rod, the tank uses titanium elements. These are impervious to corrosion and rust, keeping your tank safe for longer.
The bowl-shaped tank is designed to prevent standing water inside. Leftover water can cause rust and is prone to contamination. Here, the shape of the hot water tank means it drains straight out.
Pros
Non-metallic tank minimizes the risk of rust and corrosion.
Features titanium elements in place of anode rods.
Bowl-shaped tank prevents standing water.
Relatively lightweight and easy to install and maintain.
Cons
Taller than most tank-type heaters, so it might not fit in your existing heater space.
Product Specs
| | |
| --- | --- |
| Energy factor | 0.90 to 0.94 |
| Fuel type | Electric |
| Gallons per hour | 57 gallons |
| Measurements | 62.75 inches by 23.5 inches by 23.5 inches |
| Warranty | Lifetime tank warranty plus six-year parts warranty |
Our Ratings
---
| Product | Award | Energy factor | Fuel type | Flow rate | Measurements | Warranty |
| --- | --- | --- | --- | --- | --- | --- |
| Mobile Alert Electric | Best Electric Rheem | 0.92 | Electric | 72 gal/hr | 57″ x 22.25″ x 22.25″ | 3-year (labor); 12-year (parts) |
| Hybrid High-Efficiency | Best Hybrid Rheem | 3.7 | Electric | 89 ga/hr | 74″ x 24.25″ x 24.25″ | 1-year (labor); 10-year (parts) |
| Performance Natural Gas | Best Gas Rheem | 0.58 | Natural gas | 71 gal/hr | 58.5″ x 19″ x 19″ | 1-year (labor); 6-year (tank) |
| RTEX-13 Residential | Best Tankless Rheem | N/A | Electric | 90 gal/hr | 12″ x 6″ x 3.625″ | 1-year (parts) |
| MR50245 Marathon | Best Tank-Type Rheem | 0.90 – 0.94 | Electric | 57 gal | 62.75″ x 23.5″ x 23.5″ | Lifetime (tank); 6-year (parts) |
Why Choose a Rheem Water Heater?
One of our favorite aspects of Rheem is its zero-waste initiative. Rheem is a company that prioritizes the environment and pays close attention to the way its products impact the planet.
There is greater awareness of the need to be mindful of how our energy use impacts the planet than ever before. Rheem has taken the initiative by striving to make its products and manufacturing process as efficient and environmentally friendly as possible.
Rheem was the industry leader for almost a century. However, as new companies have come along, Rheem has faced increasingly stiff competition.
Even so, Rheem's innovative systems and evolving technologies still set the brand apart. Whether you live in a compact apartment or a family home, you should be able to find a suitable water heater.
Which Rheem Product Should You Choose?
Performance Platinum
Rheem's range of Performance Platinum water heaters includes some of their flagship products. These units have a uniform energy factor ranging from .92 to .95 and are available with 40-gallon to 55-gallon tanks.
Most of these heaters include water and energy-saving systems such as the PlusOne, making them ideal for the eco-conscious homeowner.
Hybrid
Rheem is a pioneer in the hybrid water heater sector. Its line of hybrid boilers provides all the benefits of an electric unit but with double the efficiency.
Most of their hybrids meet NEEA requirements and they are all Energy Star rated, with energy factors ranging between 3.50 to 3.70.
These are an excellent choice for any homeowner looking to reduce their impact on the environment. They will usually pay back their increased cost within a year of utility bill savings.
Performance
Rheem's Performance line of gas water heaters doesn't offer many surprises. They range between 29 to 98-gallon tanks with uniform energy factors from .54 to .81.
These tanks are user-friendly and require less maintenance than other models.
They are relatively quiet when they operate, without sacrificing any power. These are great heaters for a single-family home.
---
History of Rheem
In 1925, Rheem was founded by brothers Donald and Richard Rheem in Emeryville, California. A third brother, William, helped to finance the company when it was first founded (1).
The Rheem brothers first manufactured galvanized steel drums with the help of Pacific Galvanizing. In 1930, Rheem bought out Pacific Galvanizing and acquired the Republic Steel package company.
Republic Steel manufactured tanks and boilers, marking the Rheem brothers' entry into the water heating industry.
A year later, in 1931, Rheem also acquired the John Wood Manufacturing Company of California. The company manufactured automatic gas storage water heaters.
Rheem was on a roll and expanded to Australia in 1936 when they built a plant in Sydney. The Australian wing started by producing steel shipping containers in 1937, but by 1939 it was also producing water heaters.
A Great Part of History
During the Second World War, a steel company, Bethlehem Steel Corporation, bought 230,000 shares of Rheem's common stock. This comprised about 35% of the company's 643,000 shares. This purchase helped finance Rheem's expansion during the war.
From 1940 to 1945, Rheem produced equipment for the war effort. It primarily manufactured Navy ammunition boxes. Their sales soared from $10 million in 1941 to $90 million by the end of the war in 1945.
Seven Rheem plants received an Army-Navy "E" award and multiple renewal stars due to their excellence in production.
From 1945 through the 1950s, Rheem further expanded worldwide to countries such as Brazil, Canada, and England.
Paloma Industries of Nagoya, Japan, bought Rheem in 1988. Soon after, the company paired up with Water Heater Innovations Inc.
This new relationship allowed the company to develop a new type of tank: the Marathon Nonmetallic Water Heater. The Marathon water heater featured a plastic tank and included a lifetime warranty.
Rheem soon purchased the WeatherKing brand from Addison Products Company. As a result, the company's distribution in the commercial and residential markets broadened.
Today, Rheem is the largest manufacturer of water heaters in North America.
A Green Initiative
The company's commitment to the environment was evident all the way back in 1954. This was when Rheem started a Value Analysis Program. The program was a team effort to produce ideas that would increase productivity, cut costs, and limit waste.
Rheem continues to develop energy-saving products, such as the Professional Prestige Tankless Water Heater series. Many of the products in this series feature a built-in recirculation pump. Others feature a hot start program, which minimizes cold water bursts during peak use.
Rheem has set several goals for its 2025 commitment to the environment, including:
Innovation: Focus on selecting the best material, creating smart energy-saving features, and recycling. Rheem's main objective is to launch a line of products that reduce its greenhouse gas footprint by 50%.
Efficiency: The company wants to work smarter and more sustainably by using fewer resources, producing less waste, and creating safer processes. It also wants to send zero waste to landfills worldwide.
Leadership: Rheem wants to hire 250,000 plumbers and contractors and teach them how to use and install sustainable products (2).
Where to Buy Rheem Water Heaters
Rheem water heaters are available to buy both online and in-store. We recommend checking out Amazon, Home Depot.com, or Rheem's website for the best deals.
Customer Service
Getting in touch with Rheem is fairly easy. On the official website, Rheem.com, you can click on "contact" and fill out a form. You can also find contact information for a specific product.
For example, if you have a tank-type water heater, you can find relevant phone numbers and emails. If you have a tankless unit, there's a specific number and email for that too.
The majority of customers on Amazon, Home Depot, and Rheem's websites were pleased with their units. Many Home Depot customers praised the customer service for quickly replacing a product when problems occurred. Amazon customers, on the other hand, weren't as pleased with the customer support.
FAQs
---
Conclusion
Rheem is responsible for some of the most innovative and popular water heaters available today. The brand has been around since before World War II. Rheem produces water heaters of all kinds, including tankless, tank-type, hybrid, gas, and electric.
The only real complaint we have seen is that the company should work on its customer service. Hopefully, this will improve in the near future and Rheem can continue in its role as an industry leader. When it comes to the heaters themselves, there is no doubt that Rheem is one of the best brands you can choose.
Thank You For Your Feedback!
Thank You For Your Feedback!