Is it time to replace the old boiler? Feeling overwhelmed with the vast array of water heater brands?
Today, we'll help narrow it down for you as we're focusing on one specific brand, namely Richmond.
Image
Model
Product Comparison Table
Features
Best Gas Water Heater
Richmond Short Natural Gas
36,000 BTU unit
First-hour rating of 80
Flammable vapor detection sensor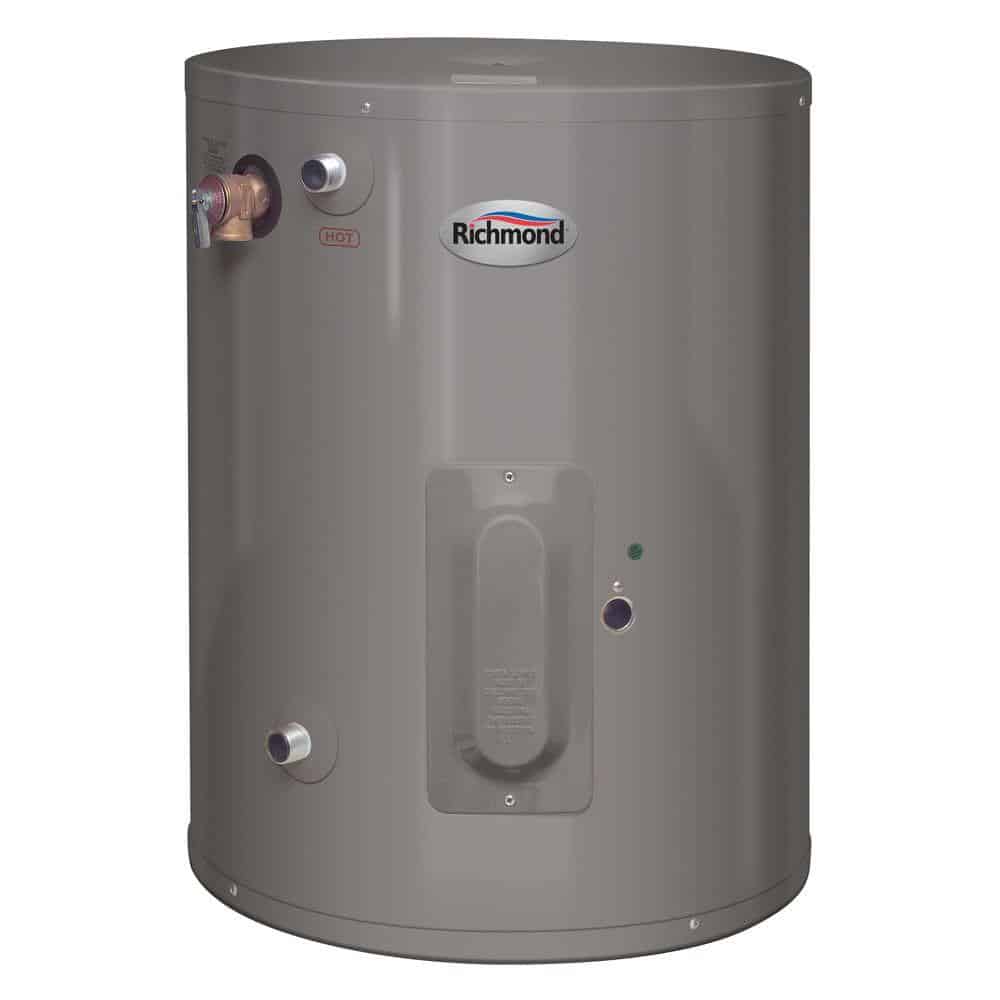 Best Electric Water Heater
Richmond Electric Point-of-Use
Fitted with 2,000-W heating element.
Pre-installed automatic thermostat
Meets the NAECA requirements
Best Solar Water Heater
Richmond Universal Connect
Multi-port electric connections
Glass lining & brass construction
Features over-temperature protector
---
Why Choose Richmond?
Because Richmond water heaters are manufactured by Rheem, the quality is undeniable.
Additionally, there are several smart design features on most of Richmond's models. These are all incorporated to give you maximum efficiency while keeping the tank safe.
Where to Buy Richmond Water Heaters
You can buy Richmond water heaters through local distributors. You can also buy their products on Home Depot, where you can find some great deals.
Which Richmond Water Heater Is Best for You?
Gas/Propane
Richmond has a small array of gas-powered water heaters. These include the Encore, Essential, and Essential Plus series.
Gas and propane-fueled water heaters are often considered to be the most efficient. Their UEF, however, is lower than electric heaters. They also run at a significantly lower cost over time than their electric cousins.
Still, when it comes to their gas-powered heaters, Richmond puts a lot of their focus on longevity and efficiency. Their longest warranties last up to 12 years.
What's more, all their lines feature durable foam insulation as well as other useful features to minimize heat loss. They're all about improving the service life of each product.
Some additional benefits that their gas-powered heaters boast include a low emission burner design and easy maintenance. The units don't have filters which means less cleaning. Plus, they're constructed using standardized parts that are easy to replace.
Most also have a feature called EverKleen, which is a self-cleaning system. It combats the build-up of sediment and lime, increasing service life. Additionally, all 12-year models have heat traps that prevent heat loss, lowering operating costs.
Richmond's gas-powered water heaters are great for households that are looking to cut down on water heating expenditure.
Electric
Richmond's range of electric water heaters consists of four different lines: Encore, Essential, Essential Plus, and Marathon. Electric heaters are common in homes and usually produce a higher UEF than gas-powered units.
They also tend to have higher parameters for Energy Star and LEED compliance. But that doesn't mean they aren't energy efficient. Most of Richmond's electric heaters run at a lower cost while decreasing the carbon footprint.
Richmond's electric series, much like their gas-powered, have a large range of different features, including the EverKleen system. What's more, these also have stainless steel "Lifeguard" heating elements. These, supposedly, are more efficient and last longer, while reducing the risk of a dry-fire burn out.
All their units feature Richmond signature 2-inch foam insulation as well as durable construction. Warranties can be up to 12 years, depending on the size of the boiler
Richmond's electric water heaters are perfect for homes looking to reduce their impact on the environment. If you haven't got preinstalled vents and gas pipes, electric is the way to go.
Keep in mind though, that an electric heater's performance may decrease in colder regions. But you can counter this by choosing a more powerful unit.
Solar
Richmond has not fallen behind when it comes to the solar market. They currently offer two different solar models: Solaraide HE and Solpak system.
These two models are designed to target different consumers. The Solaraide HE is for the homeowner who already has a pre-installed residential direct solar system. The product includes resistor heating elements with a capacity of 4500 watts that are highly efficient.
The Solpak system is a complete package for the homeowner without previous experience in the solar market. It includes double collector systems, a multi-speed pump, a storage tank, and a thermal expansion tank, a controller, and a glycol solution.
To ensure you still have water on those gloomy, sunless days, the Solpak also includes a 4500-watt heating element.
---
The Best Richmond Water Heaters of 2021
To make our selection of the best Richmond water heaters, we compared some of the main qualities we look for in Rheem with Richmond's. Then we got some user-advice and feedback to choose our top 3.
1. Richmond Short Natural Gas Water Heater
Our first product is the Richmond 50-gallon power vent water heater. This unit includes a 36,000 BTU powered by natural gas. It's an excellent pick for a three to five-person household.
It has a decent first-hour rating of 80 gallons and a recovery rate of 36.4 gallons per hour. Although it's not Energy Star rated, it is qualified with its eco-friendly low NOx burners.
Richmond puts a lot of emphasis on the fact that the unit comes with flexible venting options. The unit is compatible with PVC, CPVC, or ABS vents that you can either install vertically or horizontally.
We especially like the new and improved quiet blower motor and the pre-installed temperature and pressure relief valve. But our favorite function has to be the flammable vapor detection sensor. This disables the unit if it senses an accumulation of dangerous vapor.
One of the things to be aware of about this unit is the rating of the low NOx burners. The unit doesn't meet the Ultra Low NOx emission requirements and can't be used in an air quality district. So, California and Utah residents beware.
Pros
High efficiency and Energy Star qualified.
Compatible with flexible venting options.
Includes a new quiet blower motor.
Features a flammable vapor detection sensor.
Cons
Doesn't meet the Ultra-Low NOx emission requirements.
Additional Specs
| | |
| --- | --- |
| Tank capacity | 48 gallons |
| Fuel type | Natural gas |
| Max. temperature | 160 degrees Fahrenheit |
| Weight | 175 pounds |
| Measurements | 51.25 inches by 23.75 inches by 23.75 inches |
---
2. Richmond Electric Point-of-Use Water Heater
For Richmond's best electric water heater we went with their space-saving, point-of-use unit. With a 15-gallon tank, this is great for providing hot water for one application such as the kitchen or bathroom sink.
Richmond fitted the water heater with a 2,000-watt heating element. It also has a pre-installed temperature and pressure relief valve. Plus, there's an automatic thermostat that ensures the temperature stays exactly as you need it.
This unit also includes some useful, additional, functions. One of these is the over-temperature protector which automatically shuts off the power should the temperature rise excessively.
Additionally, Richmond didn't exclude this heater from their signature glass-lined tank. It's constructed with a specially formulated lining, preventing corrosion and rust. In turn, increasing the service life of the unit.
We love that this heater meets, and exceeds, the requirements of the National Appliance Energy Conservation Act (NAECA). And it comes with a six-year warranty on tank and parts.
Richmond claims that they designed this unit as an easy replacement for an old heater. As such, to use it you'll need a 120-volt electrical source and a sturdy wall to mount it.
Pros
Excellent for point-of-use application.
Fitted with pre-installed automatic thermostat.
Features an over-temperature protector.
Meets the NAECA requirements.
Cons
Some users noted that there is no light or other indicator showing when the unit is on or off.
Additional Specs
| | |
| --- | --- |
| Tank capacity | 15 gallons |
| Fuel type | Electric |
| Max. temperature | 150 degrees Fahrenheit |
| Weight | 54 pounds |
| Measurements | 24.25 inches by 17.75 inches by 17.75 inches |
---
3. Solar Richmond Universal Connect Water Heater
For the last spot on today's list, we have Richmond's universal connect solar water heater. This heater comes with multi-port electric connections that you can use as a backup in case the sun gets shy. It's a suitable water heater for households of five to seven people.
The unit consists of an 80-gallon tank and is compatible for single and double collector closed-loop glycol systems. It's meant as a replacement unit for a previous solar heater. There are multiple connection ports located on the top, and both sides, allowing for easier installation.
The tank is also quite easy to maintain. It's constructed with the standard glass-lined material as well as durable brass drain valves. It's resistant to rust and corrosion and will likely serve a long life.
Additionally, it's quite efficient as well. As the cold water enters the storage tank, it's forced to the bottom. This ensures minimal influence on the already heated water, meaning that less energy is used.
Similar to the electric water heater above, this one also features the over-temperature protector. And lastly, Richmond includes a six-year warranty.
Pros
Suitable for a five to seven people household.
Fitted with multi-port electric connections.
Constructed with glass lining and durable brass.
Features over-temperature protector.
Cons
There's no resistor included although the unit is prewired for one.
Additional Specs
| | |
| --- | --- |
| Tank capacity | 80 gallons |
| Fuel type | Electric/Solar |
| Max. temperature | 140 degrees Fahrenheit |
| Weight | 192 pounds |
| Measurements | 58.75 inches by 24.5 inches by 24.5 inches |
---
---
History of Richmond
Richmond is a subsidiary to Rheem, established in 1983. Therefore, all Richmond water heaters are manufactured by Rheem. This guarantees that the quality of their build is at the industry's summit (1).
Richmond specifically focuses on making water heaters that will be able to keep up with high demands for hot water.
While Richmond water heaters may be manufactured by Rheem, it doesn't mean Richmond is just a name. The brand is continuously developing new features for its water heater systems:
EverKleen: This is a self-cleaning system which helps to prevent the buildup of limescale and other damaging factors. It further helps to improve tank life and maintain maximum efficiency. The system runs water through an inlet tube which makes the water spiral through the tank, preventing sediments from settling.
Fast recovery: The system helps to replace used hot water much faster compared to models without this feature.
High-temperature dip tube: The dip tube delivers the cold water to the bottom of the tank before it gets heated. All Richmond units feature an extra durable dip tube which meets the strictest plumbing codes.
Porcelain tank protection: All Richmond tanks are created using a durable porcelain lining. The porcelain lining further prolongs a tank's life.
Rigid foam insulation: Richmond units feature strong insulation to help prevent standby heat loss. The 12-year models also have pipe insulation.
Lifeguard: These are stainless steel heating elements which come with the 9 and 12-year units. The elements are resistant to sediment buildup as well as dry-fire burn-out.
Richmond Water Heater Customer Service
All the contact information you need is on Richmond's official website. There is also a form you can fill out if you have a comment, question or complaint (2). Overall, Richmond customers are very pleased with the quality and functionality of the units.
However, one common complaint was units arriving with dents in the tank. This could just be a travel injury and not due to the manufacturing. In any case, Richmond was quick to replace any such unit.
---
More Than a Subsidiary Brand
Richmond might be a branch of Rheem, but over the years, they've become much more. They continue to add new features to improve our experience and to further help their customers save energy. Several of their units have earned an Energy Star, so their hard work is definitely paying off.
Would you choose Richmond over Rheem, and why? Write a comment down below.