If you're tired of the rising cost of your electric water heater bills or you find you don't have enough hot water, there is an alternative. A tankless gas water heater is perfect for households that want an indefinite supply of hot water at the touch of a button.
After you decide to buy a tankless gas water heater, you will need to choose from a vast array of different options. It can be difficult to know where to start, and that's where this guide will help.
We have written a comprehensive guide to help you understand the positives and potential drawbacks of a tankless gas water heater. We've also reviewed what we believe are some of the best tankless gas water heaters currently available.
Image
Model
Product Comparison Table
Features
Best for Indoors
Rinnai V75IN 7.5 GPM
Concentric venting system
Temperature lock
Ideal for small to medium homes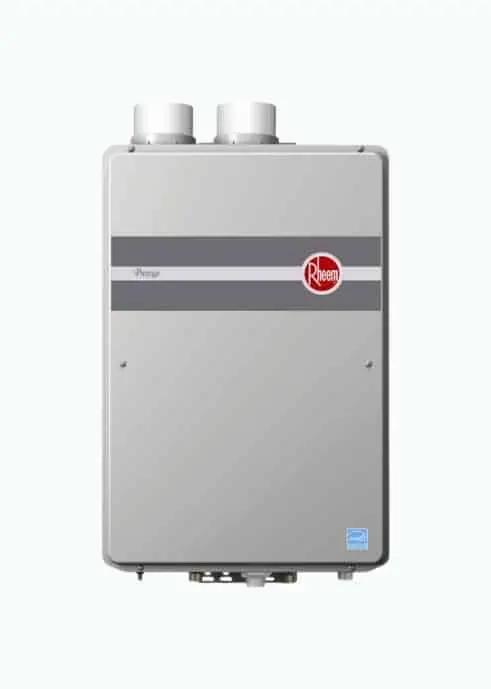 Best for Cold Climates
Rheem RTGH-95DVLN
Self-diagnostic system
94% energy efficient
Overheat film wrap
Best for The Eco-Minded Family
Eccotemp I12-LP
Child locking technology
LED screen and touch control display
Stainless-steel vent kit
Best for Outdoor Living
Camplux 10L Outdoor
Battery-powered ignition
Weighs 23.8 pounds
Flame failure protection
Best for Energy Efficiency
Rinnai RUR98iN
Low emissions of nitrogen oxide
Extra large water & gas inlets
Natural gas or propane powered
---
---
The Best Tankless Gas Water Heaters of 2023
Here are our six tankless gas water heater reviews that take a closer look at the best models available today.
Rinnai V75IN 7.5 GPM Indoor Tankless Gas Water Heater
Best Tankless Gas Water Heater for Indoors
Achieving maximum energy efficiency is an important goal today. Tankless gas water heaters help you do that, and this one from Rinnai is no exception.
One of this heater's standout qualities is that it produces minimal emissions. Although it is gas-powered, you can still install it wherever you need without worrying about harmful gases, thanks to its concentric venting system.
This gas boiler uses 40% less energy than a traditional tank gas heater. It uses premium technology that locks in the heat and prevents any accidental changes to the water temperature. No wonder it has an energy factor of 0.82.
It works well as a whole-house heater for small to medium homes. It features durable, efficient heat coils, capable of producing hot water for simultaneous appliance use.
What We Like
Concentric Venting System
One reason you can safely use this boiler indoors is its concentric venting system. Rinnai was one of the first manufacturers to use this special system (1).
It is essentially a venting system featuring an outer and inner tube. The inner tube is for the exhaust that transports the used gases out, while the outer tube brings fresh air in.
This results in optimal performance and safety by creating a direct-vent and sealed combustion system. The unit releases no harmful gases inside the house, so you can enjoy hot water without compromising your safety.
Temperature Lock
To optimize energy efficiency, the unit features a temperature lock. This feature prevents any external factors from interfering with the outlet temperature, thus saving energy and water.
Additionally, it can heat the water to a maximum temperature of 160 degrees Fahrenheit. It only requires 0.4 gallons per minute to activate.
Great for Small to Medium Homes
This unit is part of a Value Series from Rinnai. Rinnai usually produces larger boilers, big enough for a large home. They have now decided to include smaller units for small to medium-sized homes.
Buying a boiler that's more powerful than needed will only result in energy and water waste. One of the reasons this unit is ideal for its target market is its durable, efficient heating coils. These allow the unit to maximize its output, providing hot water for simultaneous uses such as a sink and shower.
What We Don't Like
Takes Slightly Longer to Produce Hot Water
Despite being capable of producing a decent amount of hot water, this compact unit is rather slow. Users reported that it took as long as 60 seconds before hot water was streaming from the tap.
Product Specs
| | |
| --- | --- |
| Measurements | 23 inches by 14 inches by 9 inches |
| Weight | 45.6 pounds |
| BTU | 180,000 BTU |
| Gas type | Natural gas |
| Flow rate | 7.5 gallons per minute |
Our Ratings
---
Rheem RTGH-95DVLN GPM Tankless Gas Water Heater
Best Tankless Gas Water Heater for Cold Climates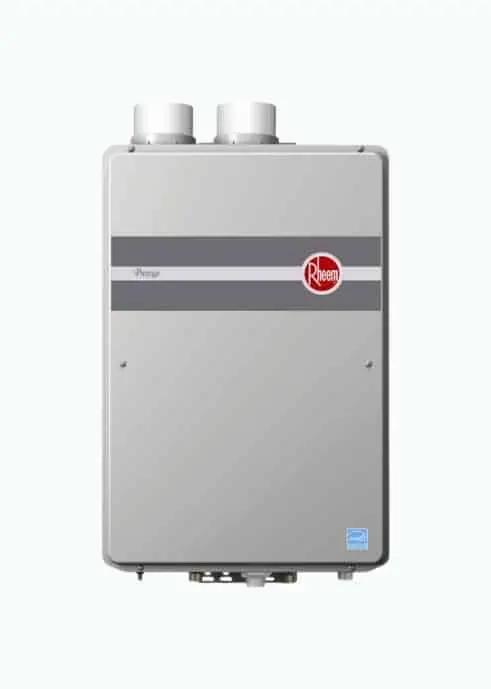 Living up north, where temperatures are usually lower, you need a boiler that's up to the task. This tankless gas water heater from Rheem might be what you need.
It is capable of working through the cold thanks to its freeze protection. This feature will keep the unit protected at as low as -30 degrees Fahrenheit.
Another great feature is the self-diagnostic system. This system displays maintenance codes and temperature settings on an included digital remote control. It shows current problems and alerts you when servicing is due, and can also assist with setting up the unit.
Designed as an indoor boiler, it has a two PVC pipe direct vent-system. It also features overheat film wrap and is very energy efficient.
What We Like
Freeze Protection Down to -30 Degrees Fahrenheit
This unit can function in colder climates thanks to its freeze protection. Rheem made the unit with ceramic and copper. The ceramic protects the body of the unit, while the copper preserves the pipes.
These two materials keep the unit safe from temperatures ranging from 40 degrees down to -30 degrees Fahrenheit. Rheem claims you can place the unit outside because of this feature, but they still recommend using it as an indoor boiler.
Self-Diagnostic System
The unit comes with a pre-installed self-diagnostic system that will notify you of any issues. Notifications appear on the digital remote control and display different codes from the system. The boiler will even alert you when a service is due, usually after it has been in use for 500 hours.
You can mount the digital remote on the wall next to or near the boiler. This makes it easy to monitor the temperature and adjust it as needed.
Energy Efficient
Rheem is renowned for producing units that are very efficient. This particular model was rated at 94% energy efficient. This high number is largely thanks to the way Rheem constructed the boiler.
The unit consumes less gas to produce hot water thanks to its stainless steel condensing heat exchanger. It has a staggering GPM rate of 9.5, which Rheem claims can supply three bathrooms.
Overheat Film Wrap
This safety feature prevents the temperature from reaching a dangerous level. It also protects the unit in case you decide to connect it to another boiler.
Rheem offers the option of connecting several tankless units to supply households with high hot water demands. If you decide to do this, the overheat film wrap allows for side-to-side combustion clearance. This minimizes the risk of overheating and fire hazards.
What We Don't Like
Can Be Noisy
This unit isn't as quiet as some of its rivals. Users pointed out that it makes a noticeable sound as it ignites, but it doesn't seem to be a significant problem.
Tricky to Install
This appears to be the biggest issue for many users. The unit requires different pipe fittings and other accessories that aren't included. This can result in several trips to your local hardware store or an expensive bill from your plumber.
Along with the unit, Rheem only includes the thermostat and one of the two gas valves required. Before you buy the unit, make sure you check what you need in terms of tools and valves.
Product Specs
| | |
| --- | --- |
| Measurements | 27.5 inches by 18.5 inches by 9.75 inches |
| Weight | 89 pounds |
| BTU | 199,000 BTU |
| Gas type | Natural gas |
| Flow rate | 9.5 gallons per minute |
Our Ratings
---
Eccotemp i12-LP Water Heater, 4 GPM
Best Tankless Gas Water Heater for the Eco-Minded Family
The Eccotemp i12 tankless water heater is ideal for the modern small apartment or perhaps a vacation cabin. Eccotemp recommends it for a household that requires hot water for one application at a time, or possibly two.
It has quite a unique design with its tempered black glass paneling and touch screen control display. It also features a small LED screen showcasing output temperature and gallon per minute flow rate.
One feature we love is the child locking technology. Touch screens can be very tempting to a five-year-old.
The boiler includes a stainless-steel, horizontal vent kit. This is ready to install and is delivered with a 110-volt UL power cord.
This unit is an indoor model and features an internal exhaust fan.
What We Like
Sleek Design
One of the standout traits of this unit is its unique design. It's sleek and modern to look at with its tempered black glass surface and LED screen. The unit is an indoor model so its looks are more important.
LED Screen and Touch Control Display
These are two features that, along with adding to the visual appeal, make it easy to use. On the bottom of the unit, you will see "ON/OFF" and "lock," plus "up" and "down" arrows to regulate the temperature.
In the middle of the settings sits the LED screen. This shows you the set temperature and the flow rate in gallons per minute. It's bright and large enough that you can see it from a distance without straining your eyes.
Includes a Stainless-Steel Vent Kit
The venting material is important as the gases from heaters are corrosive. This means that if the vent is of poor quality, it could easily break, resulting in a leak. Fortunately, this one is made from stainless steel, which is one of the best materials to use.
Furthermore, the vent kit is positioned horizontally — making it easy to install.
Features Child Locking Technology
If you have any experience with kids, you know they love to do what they're not supposed to. This might include touching your tankless gas boiler. Thankfully, Eccotemp thought of this and included child locking technology.
Next to the ON/OFF switch, you'll see "lock." Hold this for a few seconds and the unit will lock itself so no small fingers can meddle with the settings.
What We Don't Like
Difficult to Maintain — Doesn't Do Well With Descaling Treatments
This unit seems to be a bit sensitive to maintenance, particularly descaling. Some reviewers said that after performing a descaling treatment with vinegar, the unit started to leak. It turned out that the treatment had punctured one of the internal water pipes.
If you purchase this unit, make sure you follow the directions on maintenance and cleaning.
Exhaust Pipe is an Odd Size
Installing is mostly simple until it comes to the exhaust pipe, which is too short for some users. Some reviewers improvised and made an extension using an exhaust pipe from a vehicle.
Product Specs
| | |
| --- | --- |
| Measurements | 13.75 inches by 25 inches by 5 inches |
| Weight | 25 pounds |
| BTU | 25,000 to 80,000 BTU |
| Gas type | Liquid propane |
| Flow rate | 4 gallons per minute |
Our Ratings
---
Camplux 10L Outdoor Portable Propane Tankless Water Heater
Best Tankless Gas Water Heater for Outdoor Living
If you enjoy outdoor life such as camping, boating, or a sunny day in the garden, this unit might be for you. Camplux designed this boiler as a portable water heater. It essentially consists of the "tank," a pipe for inlet water, and a hose connected to a showerhead.
What's great about this unit is that two D cell batteries power its propane gas ignition. This allows you to use it anywhere, even while going off grid camping. It also features an Eco/Full switch.
It includes a few simple safety features: a flame failure device, dry combustion protection, as well as an anti-freezing system. Considering its power, it's surprisingly compact and lightweight, making it easy to move around.
Finally, it comes with a gas inlet connector, plus a stainless steel vent pipe. It has a more than ample flow rate of 2.64 gallons per minute.
What We Like
Excellent for Going off the Grid
If the name didn't give it away, Camplux is renowned for providing top-rated portable boilers. You can use this heater almost anywhere, whether it's your cabin, camper, boat, stable, or your backyard. It doesn't require any electrical hookups as it runs on two D cell batteries that you can easily replace when needed.
The included showerhead and hose simplifies taking a shower or washing your car wherever you go. The only requirements are propane and a water source that you can connect it to.
Eco to Full Switch
Camplux is also known for providing energy-saving features. This boiler has "Eco" and "Full" options.
In eco mode, the unit uses less energy and gas by decreasing its flow rate. This is best during warmer seasons when less heat is necessary.
Full mode, where the boiler uses all its power, is the setting to use in colder climes. This will ensure you get the hot water you need.
Includes Safety Features
The product includes a few safety features to ensure long service life. These include dry combustion protection, a flame failure device, and an anti-freeze system.
The flame failure device is especially useful. It prevents any flammable gas from reaching the burner after the flame is extinguished, thus preventing a harmful gas leak.
Compact and Lightweight
Although this is one of the company's larger tankless water heaters, it's surprisingly lightweight and compact. The boiler measures 20.28 inches high, 12.8 inches wide, and 5.5 inches in depth. It weighs roughly 23.8 pounds.
It still isn't a "carry-with-you" type of boiler like their smaller units, but it's easy to take with you on a camping trip.
What We Don't Like
Water Gets Too Hot
This might sound like a positive for a water heater, but there are reports that the water gets scalding hot. This issue appears to be more common when you use it on "full" mode.
Product Specs
| | |
| --- | --- |
| Measurements | 20.28 inches by 12.8 inches by 5.5 inches |
| Weight | 23.8 pounds |
| BTU | 68,000 BTU |
| Gas type | Propane gas |
| Flow rate | 2.64 gallons per minute |
Our Ratings
---
Rinnai RUR98iN Indoor Natural Gas Water Heater
Best Energy Efficient Tankless Gas Water Heater
This model from Rinnai takes energy efficiency to another level thanks to its condensing technology. It's 95% thermal efficient and powered by either natural gas or propane.
This is an indoor unit and has ultra low emissions of nitrogen oxide and meets the Emissions Standards of California and Texas. You can run the unit using a concentric vent or PVC.
One thing that sets this unit apart is the size of the gas and water inlets. This means it can provide a larger flow of hot water with less power. In the summer, this boiler can provide enough hot water for three bathrooms and a faucet.
That said, it does draw a significant amount of power during the winter, largely to keep it from freezing. It has a BTU input of between 15,200 to 199,000.
What We Like
Low Emissions of Nitrogen Oxide
This unit emits very low levels of nitrogen oxide. It's built with a condensate system which means it reuses the same gas to heat new water. The boiler is compliant with the NOx Emissions Standards of Texas and California and safe to install indoors.
This tankless gas water heater has an energy factor rating of .95. It has immense power compared to other units and is capable of providing an indefinite flow of hot water.
Works With Either Concentric or PVC Vents
This is a very useful choice to have, as some homeowners prefer one type over the other. Twin PVC venting pipes are what most people prefer because they are easier to replace when required. On the other hand, a concentric venting system only requires a single penetration into the unit, which can be easier for some.
Large Water and Gas Inlets
This is a feature that we haven't seen often, if ever. In any case, this Rinnai has it. This allegedly enables the boiler to deliver a stronger flow of hot water.
In practice, it has an impressive flow rate of 9.8 gallons per minute. This should be enough for an entire house, or three showers and a faucet.
Powered by Natural Gas or Propane
This is another option that appeals to different preferences. Although many heaters run on natural gas, propane is generally more popular. As we mentioned in the buyer's guide, it is both cheaper and kinder to the environment.
What We Don't Like
Requires Some Knowledge to Install
This isn't a very easy unit to install, so it is recommended that you seek professional help.
Product Specs
| | |
| --- | --- |
| Measurements | 26 inches by 18.5 inches by 10 inches |
| Weight | 61.7 pounds |
| BTU | 15,200 to 199,000 BTU |
| Gas type | Propane or natural gas |
| Flow rate | 9.8 gallons per minute |
Our Ratings
---
| Product | Award | Dimensions | Weight (lbs) | BTU | Gas type | Flow rate (GPM) |
| --- | --- | --- | --- | --- | --- | --- |
| Rinnai V75IN 7.5 | For Indoors | 23″ x 14″ x 9″ | 45.6 | 180,000 | Natural gas | 7.5 |
| Rheem RTGH-95DVLN | For Cold Climates | 27.5″ x18.5″ x 9.75″ | 89 | 199,000 | Natural gas | 9.5 |
| Eccotemp i12-LP | For The Eco-Minded | 13.75″ x 25″ x 5″ | 25 | 25,000 – 80,000 | Liquid propane | 4 |
| Camplux 10L | For Outdoor Living | 20.28″ x 12.8″ x 5.5″ | 23.8 | 68,000 | Propane gas | 2.64 |
| Rinnai RUR98iN | For Energy Efficiency | 26″ x 18.5″ x 10″ | 61.7 | 15,200 – 199,000 | Propane/natural gas | 9.8 |
Types of Tankless Gas Water Heaters
There are two broad categories of tankless gas water heaters to choose from: indoor and outdoor. One of the main advantages of tankless units is that you can install them almost anywhere.
Storage tank heaters are usually placed in the garage or basement, far from where hot water is needed. This leads to a lot of wasted water as you wait for the hot water to reach the outlet. Tankless gas water heaters are compact and can be placed in a cabinet, closet, or even under a sink.
Indoor Tankless Gas Water Heaters
An indoor system is installed the same way as a regular storage tank unit. The only difference is the missing tank. Indoor systems are usually mounted on a wall in a well-ventilated location.
An indoor system is a good choice if you live in an area with freezing temperatures during the winter. Keeping the system indoors can prevent any freezing damage to the unit and pipes.
A tankless water heater tends to create significant condensation when working. As such, an indoor system requires proper drainage to avoid any water damage.
Pros
Space-saving: Indoor tankless water heaters are generally small and compact, perfect for placing near a faucet or appliance.
Protected from harsh weather: Because the unit is indoors, it isn't exposed to freezing temperatures or hard rainfall.
Minimizes risk of water damage: When installed correctly with proper drainage, an indoor unit has far less risk of water damage.
Cons
Requires proper ventilation: If you don't have existing ventilation, you will need to install the necessary pipes and vents.
Outdoor Tankless Gas Water Heaters
An outdoor tankless water heater is usually chosen when ventilation is difficult or impossible to install. The tankless unit is simply mounted to the outside of your house rather than inside.
If you're planning on replacing your storage tank unit with a tankless one, we recommend an outdoor heater. You won't need to make as many changes to your home.
Pros
Easy to install: As it is outside, you won't need to worry about adding ventilation. This avoids any extra costs to alter your property.
No need for proper drainage: Outdoor units don't require dedicated drainage as an indoor boiler does. However, it's still recommended to place it near a drain.
Less chance of gas or water leaks: As the unit is outdoors, there won't be as much risk of dangerous or damaging gas or water leaks.
Cons
Vulnerable to bad weather: As it is outside, it is less protected against the elements than an indoor unit. If you live in a region that regularly experiences extreme cold, an outdoor boiler isn't for you.
Hot water can arrive slowly: This often occurs with a long distance from boiler to faucet. Even at worst, it shouldn't be longer than a minute, depending on your unit and home layout.
What to Consider When Buying a Tankless Gas Water Heater
To find the best unit for your needs, you should consider a few things:
Energy factor: When looking for a tankless unit, check its Energy Factor (EF), usually stated on the label. The higher the EF, the more energy-efficient the model is, which means lower utility bills.
Fuel type: Your options are natural gas or propane. Propane is usually better as it uses less energy and has fewer emissions than both natural gas and electric (2).
Size: You should consider the space the heater occupies when mounted on a wall. Tankless gas heaters tend to be larger than electric models, in the 30-inch by 20-inch range due to the added exhaust.
Gallons per minute (GPM): These heaters should provide you with 2 to 5 gallons per minute. If you need more hot water, you might want to find a unit that delivers 8 gallons per minute.
Venting: Most tankless gas water heaters use category III venting because it's made of stainless steel. These boilers tend to create significant acidic condensation within the pipes (3).
Did You Know?
A gas-powered unit can provide you with a temperature rise of 70 degrees Fahrenheit at a water flow rate of 5 GPM. In comparison, an electric unit will only give you 2 GPM at the same increase in temperature
(4)
.
---
FAQs
---
Thank You For Your Feedback!
Thank You For Your Feedback!