If you're trying to choose a new water heater, you might have come across the name Navien. Although the brand hasn't been around for as long as Rheem and A.O Smith, Navien is still a strong competitor that produces some excellent heaters.
Many of its products have earned an Energy Star, especially its range of condensing tankless water heaters. However, with so many options to choose from, it can be difficult to find the product you need.
To help you decide whether or not the brand is right for you, we have put together three Navien water heater reviews. After reading them, you should have a better sense of what Navien's heaters can offer.
Image
Model
Product Comparison Table
Features
Best Condensing Tankless Heater
Navien NPE-240A
Flow rate of 112 gal/min
Features external control panel
Dual stainless-steel heat exchanger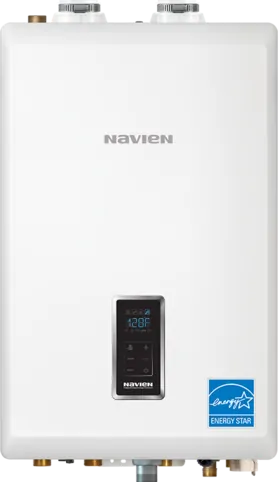 Best Combi-Boiler
Navien NCB-240E
Water & hydronic heater combo
Features anti-freeze function
Comes with pre-mixed burner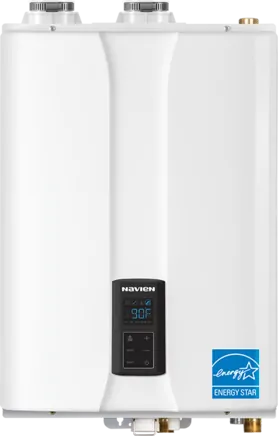 Best Condensing Heating Boiler
Navien NFC-200
Features integrated control system
Adjustable anti-cycle timer
Flow rate of 102 gal/min
---
---
Product Reviews
Here are our reviews of three of the best Navien water heaters you can buy today.
1. NPE-240A Condensing Tankless Heater
Best Navien Condensing Tankless Water Heater
Our first pick is Navien's NPE-240A from the brand's condensing tankless water heater line. This unit, like the others in the range, includes the innovative ComfortFlow feature. This enables the boiler to deliver hot water from the heat exchanger to the faucet more quickly.
The ComfortFlow technology will keep the temperature consistent until you are done with the water. Something else that stands out about this unit is its impeccable flow rate. At a 35-degree Fahrenheit temperature increase, the unit delivers a flow rate of 11.2 gallons per minute.
With this single heater, you will have enough hot water for up to five bathrooms. This makes the unit one of the most powerful in today's residential market. Whereas standard on-demand tankless boilers work best as point-of-use heaters, this can function very well as a whole-house unit.
This boiler is also very easy to use. It features a simple control panel where you can manage the temperature and easily switch between Fahrenheit and Celsius. You can also manage self-diagnostics and cascade operation status.
Finally, Navien designed this unit using a dual stainless-steel heat exchanger. This produces hot water more efficiently, saving you energy and cash.
Pros
Features ComfortFlow technology.
A powerful flow rate of 11.2 gallons per minute.
Has an external control panel that's easy to use.
Made with dual stainless-steel heat exchanger, saving energy and money.
Cons
Makes some operating noise.
Product Specs
| | |
| --- | --- |
| BTU input | 19,000 to 199,900 BTU |
| Max. temperature | 140 degrees Fahrenheit |
| Flow rate | 11.2 gallons per minute |
| Weight | 82 pounds |
| Measurements | 17.3 inches by 27.4 inches by 13.2 inches |
---
2. NCB-240E High-Efficiency Condensing Combi-Boiler
Best Navien Combi-Boiler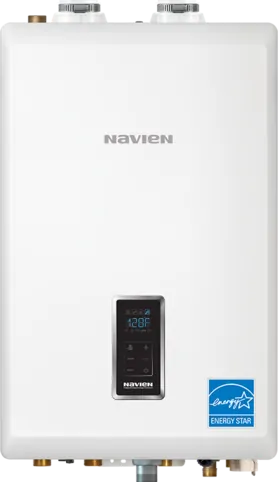 This product is a rarity among those we have reviewed. It's a combi-boiler — a combination of a water heater and a hydronic heater. This means it can provide you with a hot shower as well as a warm floor.
We understand that this unit isn't for everyone. That said, it's a useful space and energy-saving solution for those living in colder regions.
For the eco-minded homeowner, Navien's NCB-240E can reduce your carbon footprint and save you some cash at the same time. You won't need to spend money on two separate units for heating and water. It also excels in energy-efficient technology.
It features an ultra condensing technology that will help reduce your utility bill cost. Instead of emitting heat, it traps it inside for further use, significantly reducing energy waste.
Another function that makes this heater ideal for cold regions is its anti-freeze protection. Upon activation, this will continue to pump hot water through the pipes, preventing frozen and potentially even burst pipes.
The unit, like many Navien boilers, is made with durable stainless steel. This reduces the risk of rust and corrosion. It also includes an eco pre-mixed burner, resulting in less NOx and CO emissions.
Pros
Two appliances in one — water heater and hydronic heater.
Includes several energy-saving functions.
Features an anti-freeze function.
Includes a pre-mixed burner resulting in less harmful emissions.
Cons
Requires frequent maintenance.
Not as durable as we hoped.
Product Specs
| | |
| --- | --- |
| BTU input | 18,000 to 120,000 BTU space heating, 18,000 to 199,900 BTU water heating |
| Max. temperature | 140 degrees Fahrenheit |
| Flow rate | 4.5 gallons per minute |
| Weight | 84 pounds |
| Measurements | 17 inches by 28 inches by 12 inches |
---
3. NFC-200 Condensing Combi-Boilers
Best Navien Condensing Heating Boiler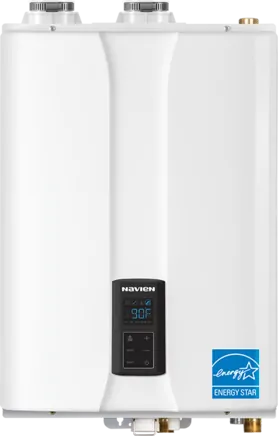 If you have an average-sized household with two or three bathrooms, Navien's NFC condensing combi-boiler is ideal. The unit has advanced features, ensuring high energy efficiency and powerful performance.
Firstly, it features ultra condensing technology. This saves energy as less heat escapes and is instead reused.
The unit boasts an integrated control that provides what Navien calls industry-leading options. These include the standard thermostat, a timed hydronic water supply boost, and more.
There is also freeze protection, an adjustable anti-cycle timer, and a minimum burner time setting. This unit, like the brand's other combi-boilers, can also be used as a hydronic heater to heat your home.
This system is also quite durable, made with dual stainless steel heat exchangers. The water heater is compatible with Navien's NaviClean, a magnetic boiler filter.
It has a powerful flow rate of 10.2 gallons per minute at a temperature increase of 35 degrees Fahrenheit. However, it's quite heavy when compared to the NCB-240E. It weighs 145 pounds empty and 183 pounds with water inside.
Pros
High energy efficiency.
Features an integrated control system.
Quite durable — made with stainless steel.
A powerful flow rate of 10.2 gallons per minute.
Cons
Quite heavy — weighs 145 pounds.
Product Specs
| | |
| --- | --- |
| BTU input | 18,000 to 199,900 BTU |
| Max. temperature | 140 degrees Fahrenheit |
| Flow rate | 10.2 gallons per minute |
| Weight | 145 pounds |
| Measurements | 17.3 inches by 33.5 inches by 17.3 inches |
---
| Product | Award | BTU input | Max. temp. | Flow rate | Weight | Measurements |
| --- | --- | --- | --- | --- | --- | --- |
| Navien NPE-240A | Condensing Heater | 19,000 – 199,900 | 140 F | 11.2 gal/min | 82 lbs | 17.3″ x 27.4″ x 13.2″ |
| Navien NCB-240E | Combi-Boiler | 18,000 – 120,000 | 140 F | 4.5 gal/min | 84 lbs | 17″ x 28″ x 12″ |
| Navien NFC-200 | Condensing Heating Boiler | 18,000 – 199,900 | 140 F | 10.2 gal/min | 145 lbs | 17.3″ x 33.5″ x 17.3″ |
Why Choose a Navien Tankless Water Heater?
Navien might not be as much of a household name as some brands such as Rheem and A.O Smith, but that is not due to the quality of its water heaters. The company set itself apart by choosing to focus on one core type of product. Rather than diversifying with other types of gas and electric boilers, Navien has focused on perfecting its condensing tankless heaters.
Navien has continually developed technology to create new models and features. A signature trait of the company's range is that it creates compact units. All models on the Navien website can be mounted to a wall, helping to save even more space.
Navien is also a very green company. Its condensing technology helps to reduce your CO2 footprint. If you would like your energy use to be more eco-friendly, we recommend considering a Navien unit.
Which Navien Product Should You Choose?
Condensing Tankless Heater
Navien's condensing tankless water heaters feature some of the most advanced technology on the market. They all have an exclusive function called ComfortFlow®, which uses an internal recirculating pump. It ensures a continuous flow of hot water.
ComfortFlow® is a unique system that incorporates an insulated buffer tank with a recirculation pump. Navien claims this should eliminate the dreaded "cold water sandwich" effect. The recirculation pump shortens the hot water delivery time, helping reduce both water waste and the cost of your utility bills.
Navien's condensing tankless water heaters also offer optional add-ons, including features such as NaviLink and a HotButton control kit.
NaviLink is a Wi-Fi control system for your unit, created by Navien themselves. It consists of a module that you attach to your boiler, which then delivers updates to you via Wi-Fi.
The HotButton is a separate button that activates the unit's recirculating pump and burner without you needing to open the tap. This means the boiler is heating and storing water inside the supply lines ready for use.
The Navien condensing tankless water heater line is excellent for the homeowner who enjoys high-tech features. They can also provide enough hot water for a large household with up to four bathrooms.
Condensing High-Efficiency Combi-Boiler
Navien's condensing combi-boiler series prioritizes efficiency and high water demand. The units are a combination of energy-saving designs and powerful boilers. They are ideal for the eco-minded homeowner who requires a lot of hot water.
Navien's designs are space-saving; their largest unit occupies 80% less space than a standard boiler. Even so, they are capable of delivering plenty of hot water. They provide sufficient flow for two running showers and a dishwasher, plus hydronic heat for your whole home.
Navien also emphasizes how easy these units are to install. If you purchase this as a replacement unit, it can easily be connected to a 0.5-inch gas pipe. They can all use standard PVC vents, thanks to their low-temperature exhaust gas.
Navien's combi-boiler series also comes with the option of using their NaviLink add-on. If one unit isn't enough for your household's needs, you can link multiple heaters together.
Condensing Heating Boilers
The NHB series is a relatively recent addition to the Navien range. Its heaters include all the best features of the company's previous products, plus some extras.
All the boilers in this series are fitted with Navien's most advanced burner systems. These burner systems have an AFUE of 95%, meaning almost all the consumed energy is converted into heat.
Depending on the size of your unit, they have a turndown ratio of up to 15:1, among the best in the water heating industry. It also provides easy installation as you can place it almost anywhere without compromising its effectiveness.
Much like the previous lines, the NHB series is compatible with the NaviLink add-on. This allows you to connect multiple units for greater production of hot water.
---
Navien History
The company started in 1978 as a small boiler manufacturer in South Korea. By 1988 KD Navien had grown rapidly and became the largest water heater manufacturer in Asia. In 2007 and 2008, they began selling water heaters in North America.
The company's expertise in condensing heating boilers earned them multiple North America CSA certificates — first in 2007 and another in 2009. They have earned even more certificates since establishing training centers in both the United States and Canada.
Navien focuses on delivering environmentally-friendly tankless water heaters to the global market. Its condensing technology has set it apart from the competition. Condensing tankless gas water heaters create a much cooler exhaust.
With a cooler exhaust, there are no expensive pipes or vents. It is also much kinder to the environment.
A major part of Navien's expansion was the release of a combi-boiler series. These combine a water heater and a central heating system. Not only will they heat your water, but they will also heat your home.
Today, Navien is working on the international market, selling in Europe, Asia, America, and Russia. It continues to create new eco-friendly products for both residential and commercial use (1).
Navien Customer Service
You can easily reach customer support on their official website navieninc.com. Navien has provided a team of professionals to guide customers through any technical difficulties.
Where to Buy a Navien Tankless Water Heater
Unfortunately, Navien is not sold on Home Depot or Amazon.
Most Navien customers buy through local distributors. The best way to find a good price is to select your desired model on Navien's official website. Then, Navien will help you find a distributor near you.
FAQs
How Long Do Navien Tankless Water Heaters Last?
The life expectancy of a Navien tankless water heater will vary depending on the model, how well the unit is maintained, and the quality of your water supply. Tankless water heaters are generally believed to have a longer lifespan than tank heaters. Navien's excellent quality and efficiency mean their heaters should last for 15 to 20 years and potentially much longer with proper maintenance.
Where Are Navien Water Heaters Manufactured?
Navien was founded in South Korea and the company's home country still provides the bulk of its manufacturing. However, in the decades since its formation, Navien has rapidly expanded and now has factories in other countries. In 2020, the company announced that it would place its first factory in the United States in Virginia, which it anticipated would create 180 new jobs.
How Long Is a Navien Warranty?
Navien's warranties cover any manufacturing error that becomes apparent within seven years of purchase. This means that any error not caused by improper installation or maintenance will be covered for those seven years. Given the long life expectancy of Navien units, a properly-maintained heater should continue to operate for many years after that.
Is Navien a Good Brand of Water Heaters?
Navien water heaters are good because they come with the industry's highest efficiency rating and certifications from both LEED and Energy Star®. This places them among the most environmentally friendly available on the market today.
These certificates verify that Navien water heaters are more durable than those produced by other water heater manufacturers, consume less energy, and have a smaller carbon footprint than their competitors.
How Much Does a Navien Heating System Cost?
Navien heating systems are not very expensive, starting at around $1,000. Their most expensive units cost around $1,700.
How Long Does It Take for a Navien Water Heater to Heat Up?
Generally speaking, tankless Navien water heaters will heat up instantly. Although tankless units are frequently referred to as "Instant," several elements will affect how quickly the water will generate the appropriate set temperature.
Each of these parameters will impact the speed at which the heater will give you the desired water temperature.
After the device has determined that flow is there, it must proceed through a series of processes before igniting the burner and completing the necessary action.
In most cases, starting up the unit is a speedy process, and the water's temperature when it exits the unit typically reaches the required setting within five to ten seconds.
Since the water must travel from the unit to the faucet or fixture before it can be considered "hot," the distance between the water heater and the fixture will also affect how quickly the water reaches the desired temperature.
Which Is Better, Navien Water Heaters or Rinnai?
Navien and Rinnai water heaters are almost equal in terms of performance, so the better one is the brand that gives you what you need. Rinnai has been on the US market for a long time, so many people trust it.
You might find that the Navien heaters are the superior option. However, Navien is not lacking in any important parts of its overall operation, despite having higher efficiency.
We recommend Rinnai, on the other hand, if you are seeking something less bulky and less expensive to install and maintain.
You will see a slight decrease in efficiency due to this change, but depending on how frequently you use the water heater, it may still result in significant cost savings for you.
---
Conclusion
Navien is undoubtedly a unique brand. It specializes in condensing tankless water heaters, where some are combinations that can also be used as a hydronic heater.
Unfortunately, their products can be quite difficult to buy, as they aren't readily available on major retail sites such as Amazon or HomeDepot. The best way to get your hands on one is by going through the company's website.
Thank You For Your Feedback!
Thank You For Your Feedback!