We all know what a grinder and a sander are, but do we all know what they do? Grinders and sanders are two different tools designed to do different things.
Let's look at grinders vs. sanders to determine their functions, uses, and when and where to use them.
Key Takeaways
Grinders and sanders are different tools designed for different tasks. Grinders are more versatile, while sanders are better for working on large surface areas.
Grinders can be used for cutting, sanding, polishing, and more on materials like metal, wood, and concrete. Sanders are used mainly for sanding wood and metal surfaces.
Grinders come in various types, including angle grinders, bench grinders, and die grinders. Sanders come in various types, including belt sanders, disc sanders, and random orbital sanders.
While grinders and sanders can be used interchangeably with the correct attachments, using the appropriate tool for the specific task will yield better results.
---
Grinders Vs. Sanders
Grinders can cut, sand, polish, buff, machine, and deburr with ease. This is thanks to the array of different attachments available. It makes a grinder one of the most versatile tools in your arsenal.
A sander is mainly used for sanding, but you can buy polishing attachments that fit random orbital sanders and disc sanders. However, sanders are not as versatile as grinders, but they are better if you want to work on large surface areas like wooden floors.
| Features | Grinder | Sander |
| --- | --- | --- |
| Detail | Low | High |
| Attachments | Multiple attachments | Sanding and polishing |
| Materials | Metal, wood, composite, concrete, masonry, tiles | Wood and metal |
| Versatility | High versatility | Medium versatility |
| Precision | Low | High |
| Safety | Medium to high risk | Low risk |
---
Grinders
It's not as simple as just looking at grinders to get the complete picture. We need to drill down a little and look at the grinder choices available.
There are 6 different types of grinders, and they are as similar as chalk and cheese. Let's take a look.
Angle Grinder
Angle grinders are among the most common types and likely the ones that you've some knowledge about. They come in corded and cordless models and have a small disc that rotates at high speed.
Angle grinders are versatile machines with interchangeable wheels for different purposes. They can cut metal, wood, and even polish surfaces like car bodywork and floors. They are also referred to as disc grinders, side grinders, and right angle grinders.
Pros
Versatile because they can adapt to many materials.
Comes as a cordless or corded model.
Easy to master, making them ideal for beginners.
Cons
Not as effective as a sander for flat surfaces.
Typically more expensive than sanders.
Bench Grinder
As the name suggests, bench grinders are mounted on a bench, meaning they are static. They consist of two grinding wheels fixed on either side of the grinder with different grades of abrasion.
They are primarily used for sharpening objects and smoothing surfaces like weld joints and blemishes. You can also remove paint from metal and wooden surfaces and polish with a buffer wheel.
Pros
Great for sharpening tools and knives.
Stationary tools that enable you to find extreme angles.
Works with wood, metal, and composites.
Cons
Because it is stationary, you must bring the material to the tool.
Not suitable for flooring.
Belt Grinder
Belt grinders use an abrasive belt to smooth and grind metal surfaces, removing paint, welds, and blemishes. They are stationary tools, but they give you the versatility to work at many different angles.
They also shine and sharpen metal objects like knives.
Pros
Great for sharpening tools and knives.
Stationary tool that enables you to smooth awkward shapes.
Works with wood, metal, and composites.
Cons
It's a stationary tool, so you need to bring the material to the grinder.
Not suitable for flooring.
Wet Grinder
If you are working with stone and tiles, you need a wet grinder. Water helps to lubricate and cool the grinding wheel when it is in action. It also helps to reduce cracking of the material and damage to the grinding wheel.
These tools are popular with professionals in the construction industry, especially tilers.
Pros
Water cools the grinder to keep it working longer.
Water lubricates the grinding wheel to reduce damage to the tool and material.
Popular with the commercial industries.
Cons
Specialist tools for the stone and tile industry.
More expensive than other grinders.
Die Grinders
Die grinders are available in both right-angle and straight models. They consist of a small disc that can hone, polish, cut, and machine material. These tools come in electric and air-powered versions and have many types of attachments to enable you to work with different materials like wood and metal.
Pros
Versatile tool that can hone, cut, polish, and machine material.
Comes in both electric and air-powered versions.
Ideal for working with wood and metal.
Cons
Better for cutting than sanding.
Floor Grinder
Floor grinders are large tools with a long handle and a rotating disc that removes material in large areas. They are a favorite with residential and professional flooring companies because they are excellent at smoothing concrete, wood, and tile floors to remove grout.
Pros
Covers large floor areas in double-quick time.
Used in commercial and professional settings.
Removes a lot of material.
Cons
Very expensive compared to other grinders.
A specialty tool with a single-use.
---
Sanders
There are many types of sanders available, with too many variations to mention them all. We decided to focus on the main designs to give you an idea of what is on offer.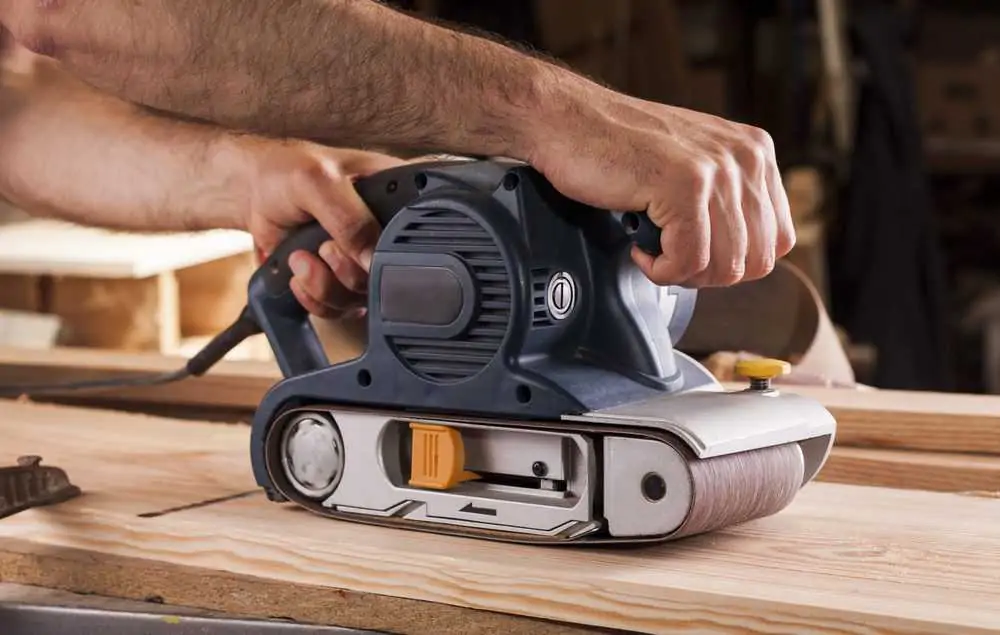 Belt sanders use an abrasive belt that moves on rollers to remove material. They are more effective when used with wood, although belt sanders are also good at removing paint from metal surfaces.
A belt sander is an ideal tool to use when sanding a floor as it can cover wide areas and is more aggressive at material removal.
Pros
Aggressive material removal means you can cover wider areas.
Easy to master, which is ideal for beginners.
Works on wood and metal.
Ideal for sanding floors.
Cons
Not suitable for detailed sanding.
Disc Sander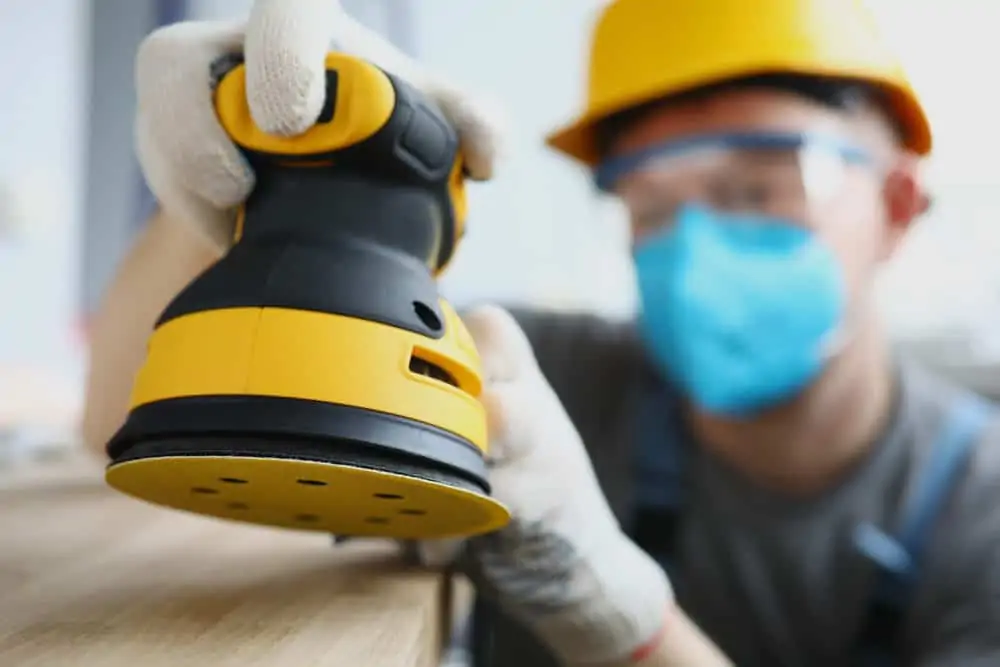 Disc sanders use a small abrasive pad that grips to the sander and is easy to remove. Disc sanders work differently compared to a belt sander in that the disc rotates rather than moves back and forth.
Disc sanders are better at detailed material removal and smaller surfaces. They are ideal for working on wood, metal and are a favorite with the auto industry for repairing and polishing car bodywork.
Disc sanders are sometimes referred to as orbital sanders or palm sanders.
Random orbital sanders work differently from disc sanders in that the disc not only rotates it also moves side to side on an off-center axis. This motion is called oscillation, which is why these tools are also called oscillating sanders.
The advantage of an oscillating sander is it is more efficient at removing material so that you can cover larger areas more quickly. Random sanders are a favorite with the construction industry as well as the auto-repair sector.
Pros
Greater material removal makes them cope better with larger surface areas.
Oscillating action makes them more efficient.
Also great for detail sanding.
Ideal for working with wood and metal, especially car bodywork.
Cons
More expensive compared to other sanders.
Not great for sanding edges and straight lines.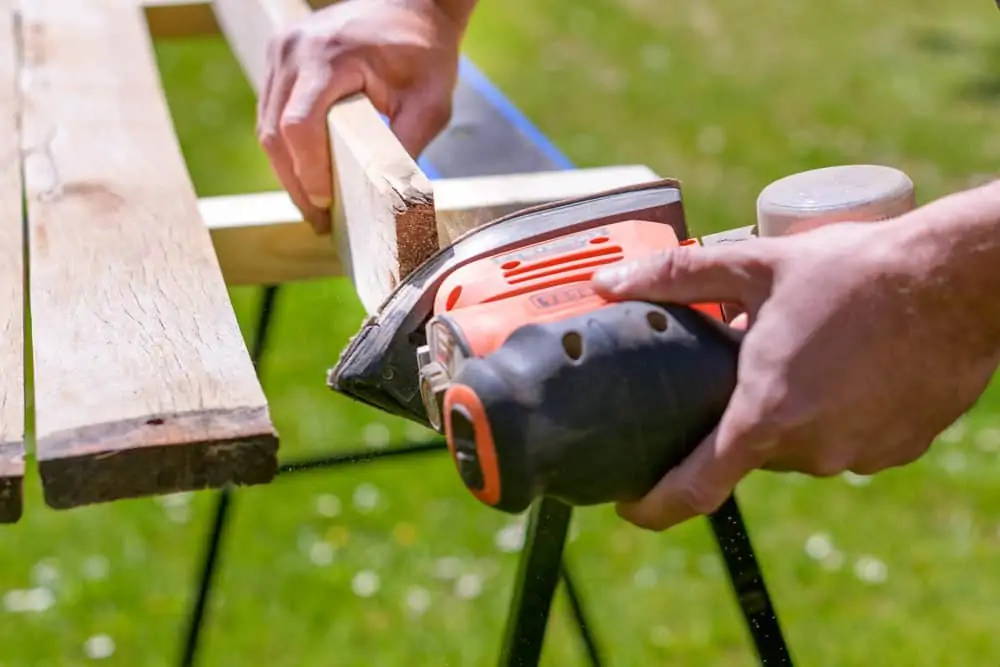 Detail sanders are smaller than a disc sander and have a pointed end so that you can reach into tight corners and bends. The small size aids detailed and fine sanding, but it does limit you to small workpieces rather than large surface areas.
If you are restoring an old car, a detail sander offers you so many possibilities, especially given the awkward angles you encounter on car bodywork.
Pros
Ideal for small detailed work like carpentry and auto body shop repairs.
Lightweight and easy to master.
Great for sanding edges and tight corners.
Cons
Not ideal for large surfaces and significant workpieces.
Drum Sander
A drum sander is a stationary tool. It consists of a sanding drum embedded in a table with a cover to protect the user. The drum spins so as you pass the material over the abrasive surface. It enables you to find different angles, giving you greater versatility.
If you are shaping wood, this is the ideal tool because it gets the job done quickly and efficiently. It is also a great sander when you want to remove paint from metal surfaces.
Pros
Stationary tool that enables you to shape wood.
Increases your versatility and efficiency.
Also works well at removing paint from metal surfaces.
Cons
Is stationary too, so you need to bring the workpiece to the sander.
These sanders are expensive, costing hundreds, if not thousands of dollars in some cases.
Spindle sanders are another specialist tool designed to shape smaller workpieces. It consists of a spindle that sits above a table and base. The spindle rotates, and in some cases, oscillates to remove material from wood.
These tools are tabletop varieties and are best used in carpentry to shape trim, frames, and door and cupboard edges.
Pros
Great for creating detail in smaller workpieces.
Shapes, sands, and smooths wood.
Enables you to make intricate designs.
Cons
Specialist tool designed for detail work only.
More expensive than other sanders.
---
Can I Use a Grinder as a Sander and Vice Versa?
Yes, you can use a grinder as a sander and vice versa. As long as you use the correct attachment, you can put both tools to different uses.
However, why would you want to? A sander is better for sanding, and a grinder is better for grinding. Period!
Thank You For Your Feedback!
Thank You For Your Feedback!