Is it time to replace the old water heater? Bradford White is one of the oldest and largest American water heater manufacturers. They're responsible for many new innovations and technologies.
The company is made up of several branches, which include, Niles Steel Tank, Bradford White Canada, and Laars Heating Systems. Today we'll put Bradford White water heaters under the microscope to see what is good and what isn't.
Image
Model
Product Comparison Table
Features
Best Gas Water Heater
Bradford Residential RG2F50S6N
Spark-to-pilot ignition system
Advanced temperature control system
Flammable vapor sensor
Best Electric Water Heater
Bradford Residential RE250S6
Hydrojet Total Performance System
Surface mounted thermostat
Insulated with non-cfc foam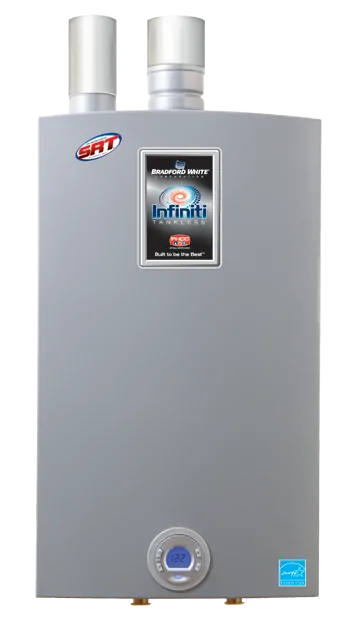 Best Tankless Water Heater
Bradford Infiniti RTG-K-160-N1
Fitted with scale reduction technology
Self-calibrating fan & gas valve
Has combustion management system
---
Why Choose a Bradford White Water Heater?
Bradford White is an innovative brand. Through the years, the company has introduced the world to new designs, systems, and safety features. Their heaters are strong, durable, and long-living — a great option for large homes with a high hot water demand.
Which Bradford White Water Heater to Choose?
Gas/Propane
Bradford White has come to be known as a driving force in gas water heater innovations. So it's no surprise that their line of gas-powered boilers is significantly large.
All of their gas-powered models include their signature patented technology. The company also backs them up with, perhaps, the best warranties you can get in the water heating industry.
Most of their units are built with a Vitraglas lining for extra durability. Most will also feature an intelligent gas control system called ICON. Needless to say, Bradford products pack a tonne of unique, good-to-have features.
Their gas-powered water heaters are also quite energy efficient. Most of the heaters in their line have a uniform energy factor of at least 0.54. Additionally, a large percentage of their products are Low NOx and compliant to NAECA.
Electric
Bradford's line of electric water heaters come in all sizes. There should be one to suit every household no matter what the demand for hot water is.
What's more, all their electric models are highly efficient and NAECA compliant.
Similar to their gas-powered cousins, these also include Bradford's patented technology and exclusive features. This all results in highly-productive and cost-effective water heaters.
They have the signature Vitraglas lining along with automatic controls, delivering hot water in an instant. Even Bradford's least advanced unit has a uniform energy factor of 0.92. At this value, it is significantly more efficient than some of the competition.
Tankless
Bradford's line of tankless water heaters is considerably smaller than their tank-type series. They're, nonetheless, still the same Bradford quality. These heaters are a good option for homeowners who require continuous hot water.
The water heaters are compact and will fit neatly into nearly any space. Still, some available options are large enough to supply your whole house with hot water.
Just because they're tankless doesn't mean Bradford skipped out on some added technology and features. Besides supplying you with unlimited hot water, they boast a special flow switch. This switch will only activate once you open the hot water tap, helping you save on electricity.
---
The Best Bradford White Water Heaters of 2021
We've searched through their products, got some expert advice and scoured user reviews. We now have our top three selection.
1. Residential RG2F50S6N Atmospheric Gas Water Heater
We couldn't do this list without including their gas-powered water heater at the top. Bradford White's fan-assisted gas water heater is one of the best. It's Energy Star certified, even exceeding their requirements.
One of the functions that make this water heater so economical is its high-efficiency blower. This feature pulls in air through a baffle system which results in higher water heating efficiency.
This unit also has the ICON System — an intelligent gas control featuring a spark-to-pilot ignition system. It prevents a constant burning pilot which often results in higher energy waste. So, the ICON System allows you to save on pilot gas during low-demand periods.
Additionally, it features an advanced temperature control system. This constantly monitors the burner to ensure the temperature stays consistent. A green LED light indicates when the heater is on, and communicates different diagnostic codes.
What we find especially beneficial is the flammable vapor sensor. This is an electronic sensor that prevents the burner from operating if it senses flammable vapors.
Bradford White also claims that the unit is maintenance-free and doesn't require frequent cleaning due to its Hydrojet system. The system will reduce sediment but also increase the first-hour rating by pushing the water around the unit.
Pros
High efficiency.
Fitted ICON System.
Features an advanced temperature control system.
Flammable vapor sensor.
Cons
Warranty on parts doesn't last as long as hoped.
Additional Specs
| | |
| --- | --- |
| Uniform energy factor | 0.68 |
| Tank capacity | 50 gallons |
| Recovery rate | 41 gallons per hour |
| First hour rating | 76 gallons |
---
2. Residential RE250S6 Upright Electric Water Heater
Although Bradford White's electric water heaters aren't as popular as their gas models, they still have a list of features. Their Residential upright 50-gallon electric water heater is energy efficient and low-maintenance.
It features a fully automatic control which is a fast acting thermostat mounted at the surface. The thermostat is fitted with a high-limit energy cut-off — basically a reset button in case it overheats. Plus, Bradford included immersed heating elements for efficiently transferring heat directly to the water.
This unit also boasts the Hydrojet Total Performance System. Along with Bradford's Vitraglas lining, this reduces the risks of rust and corrosion. Bradford also fused the Vitraglas to the steel tank for extra protection.
Additionally, they've insulated the top and sides of the tank with a thick layer of non-CFC foam. This improves efficiency and allows for less energy consumption.
To further reduce heat loss through the pipes, heat traps are fitted on the water inlet and outlet. Bradford also claims that the heat traps reduce the operation noise of the unit by incorporating a flexible disk.
Pros
Surface mounted thermostat keeping the right temperature.
Fitted with immersed heating elements.
Insulated with non-CFC foam as well as heat traps preventing heat loss.
Quiet operation.
Cons
Warranty on parts could be longer.
Additional Specs
| | |
| --- | --- |
| Uniform energy factor | 0.92 |
| Tank capacity | 50 gallons |
| Recovery rate | 21 gallons per hour |
| First hour rating | 60 gallons |
---
3. Infiniti RTG-K-160-N1 Tankless Gas Water Heater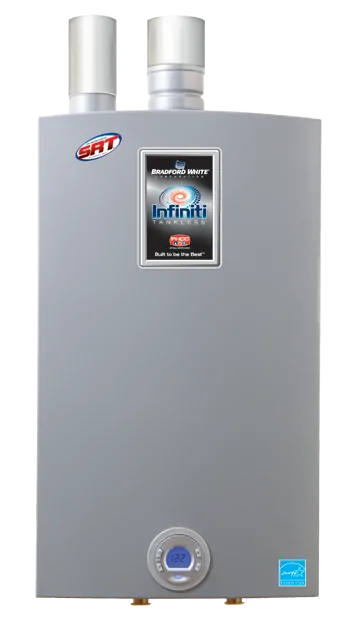 The last product is the Infiniti RTG-K-160-N1 condensing tankless water heater. This unit is definitely worth a second look. It's a powerful little machine featuring some useful functions.
Let's start off with their SRT or scale reduction technology. Scale build-up in tankless heaters usually results in premature failure or higher demand for maintenance. Fortunately, Bradford White's SRT eliminates this worry.
The need for a recirculation pump and an internal buffer tank have also been eliminated, thanks to the company's STEADISET technology. This function reduces the chance of the "cold water sandwich" effect which is where the unit suddenly stops producing hot water.
This heater also has a self-calibrating fan and gas valve — a combustion management system. It uses sensors to configure the air-fuel ratio for gas type, fuel length, and altitude.
Another high-tech feature is the external digital control. Here you can adjust the temperature accurately. You can choose anything between 100 degrees and 140 degrees Fahrenheit.
Then, finally, there's the active bypass which manages the temperature and ensures stability.
Pros
Fitted with scale reduction technology.
Includes STEADISET, reducing the chances of cold water bursts.
Features a combustion management system.
Comes with a fitted digital control panel and temperature stability control.
Additional Specs
| | |
| --- | --- |
| Uniform energy factor | 0.92 |
| Tank capacity | N/A |
| Recovery rate | 7 gallons per minute |
| First hour rating | N/A |
---
---
History of Bradford White
Bradford White started out as Pennsylvania Range Boiler Company in 1881 (1). Since then they have continued to build top-quality boilers, only stopping briefly during the Second World War. During the war, they changed over to constructing pressure vessels for the Maritime Commission (2).
In 1951, Bradford White introduced its newest water heater — an innovative, glass-lined tank, called the Vitraglas. It wasn't until 1959 though, that the company began to focus solely on producing water heaters. Around this time, they became The Pennsylvania-Bradford Appliance Corporation.
White Products of Middleville joined the Pennsylvania-Bradford Appliance Corporation in 1968. They then became Bradford White Corporation.
Bradford White introduced its first power-vent water heater to the world in 1985. Eventually, they introduced us to the HydroJet system in 1993. In 1992, they became an employee-owned company and the Bradford White we know today.
Bradford White transformed the water heating industry in 1996, by increasing tank warranties on residential models. The new warranty would cover a six-year lifespan for storage tank heaters. But this isn't the only industry-first Bradford White can claim.
In 2003, Bradford White released a new safety feature for their water heaters. They also released a new model, the PowerStor Series indirect water heater. A year later, in 2004, they expanded into the tankless water heater market as well, releasing the EverHot series.
Between 2009 and 2010, the ICON system was introduced — which is a gas control valve. This provided homeowners with more protection and energy saving.
Bradford White has continued expanding — purchasing Laars Heating Systems among others. In 2012, the company opened a new training facility, the Bradford White International Technical Excellence Center. Here, they focus on developing new eco-friendly appliances (3).
Bradford White Customer Service
If you experience problems with a Bradford White heater, don't fret. You can find support phone numbers as well as fax and email addresses provided.
User manuals and other informative sheets are also on the support site. There are also guides on specific models there too. These help with any technical difficulties or assist you in setting up your new unit.
Where to Buy Bradford White Water Heaters
Bradford White water heaters are, unfortunately, not sold through sites such as Amazon and Home Depot. If you wish to purchase a unit, you can go through a local distributor.
You can also acquire one through the Bradford White website. Here, you will be guided to a local distributor once you have chosen your desired product.
---
At the End of the Day
Bradford White has a long history, dating all the way back to 1881 Pennsylvania. Yet, it wasn't until 1959 they really began focusing exclusively on water heaters. Today, their main expertise is tank-type gas heaters.
Do you have a favorite Bradford White water heater? Or do you have any further questions? Please leave a comment below and we'll make sure to answer.