Are you looking for the perfect color for your shutters to complement your yellow house?
The yellow house, red shutters combination usually works, but maybe you'd like to try something different.
Check out my suggestions for some amazing color combination ideas for your home exterior.
Key Takeaways
Black shutters add depth and contrast to a yellow house.
Wine-colored shutters create a less dramatic effect and work well with soft yellow hues.
Forest Green shutters offer a natural and harmonious combination with yellow siding.
Cerulean Blue shutters provide a brilliant contrast for a vibrant and eye-catching look.
---
What Color Shutters Go with a Yellow House?
If you've been wondering what color shutters go with a yellow house, I've got 15 excellent combinations for you to consider.
1.

Black
Black will always raise the stakes. It is possible to make any bright color seem less intense by using black. A black accent in your home design will give it depth, whereas a white one will make it appear brighter.
2.

Wine
Choosing a soft yellow hue for the exterior and painting the shutters a wine color creates a winning combination.
The mix of light and deep shades will produce a less dramatic effect. It's ideal for those who want a more conventional design or don't want too many bold accents to their external design scheme.
3.

Forest Green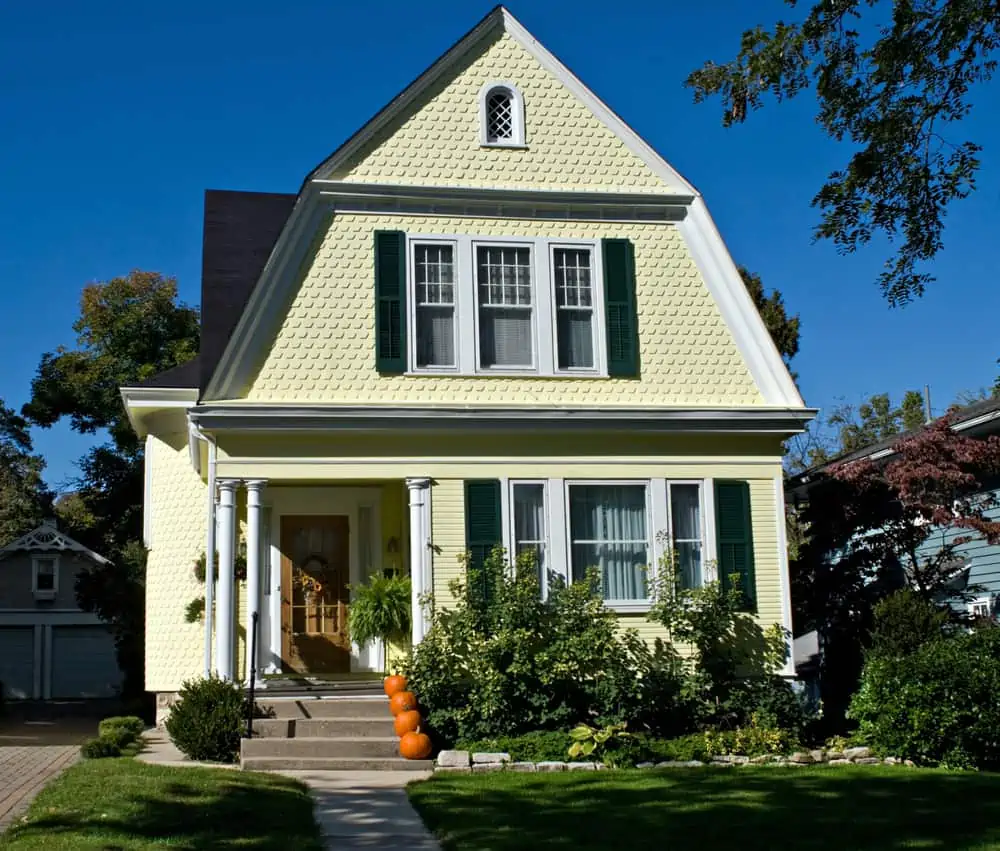 We've all heard that green and yellow make the best color combination. If you don't want a neutral color to go with yellow siding, you can always use forest green. Go with Forest Green by Benjamin Moore for the best effect.
4.

Honey Stain
Deep, rich honey-brown hues are also great when paired with white exterior walls. Thanks to its medium-dark brown and honey-colored tones, it's suitable for a wide range of projects.
5.

Cerulean Blue

Its highly refractive particles make cerulean a brilliant shade of blue. It works well on homes with a yellow exterior because of the contrast these two colors create. Check out Cerulean by Behr if you're aiming for this cool contrast.
6.

Teal

There is a wonderful harmony between teal and mustard yellow. Together, they produce a color scheme that is both eye-catching and attention-grabbing.

Lighter shades of yellow also work well with teal because they have a summer-like vibe to them. Great for a beachside home or a coastal property.

Design Tip

For a nautical vibe, go with a teal-colored stain and wood shutters!
7.

Olive

It's common to see olive green and yellow together in nature. Use yellow as the base while adding olive green as an accent color in the same way they naturally occur. I have to recommend Relentless Olive by Sherwin-Williams for this scheme.
8.

Dark Gray

Those who went with a vibrant shade of yellow for their house exterior might need a dark gray to tone it down. As a darker and neutral color, dark gray has the capacity to ground powerful colors. It's such a nice outdoor color combination.
9.

Sage

Choosing green shutters for a house with a yellow exterior might be a good choice for homeowners.

Because green is often a cool-toned color, it can provide an eye-catching contrast with the warm yellow exterior of your home. It allows it to stand out from the rest of the neighborhood.

Choose a light sage green to keep that softer look like Behr's Sage Green.
10.

Navy

A dark color like navy blue is very close to black in terms of darkness. It can create a striking contrast when paired with yellow siding, but the overall effect isn't all that different. No matter the shade of yellow you pick for your shutters, this color goes with it.
11.

Yellow

It is incredible how many shades of yellow are out there. If you don't want your shutters to stand out too much, yellow is the best color option because it blends with the siding. You can go with darker or lighter shades of yellow, depending on the vibe you want to put out.
12.

Baby Blue

Blue shutters are the ideal choice to create a dramatic contrast with the yellow wall around your home. This is because yellow has a warm undertone, whereas blue has cool undertones.

When used together, these two hues will make a powerful statement. Choose baby blue for a nice contrast that doesn't overpower the yellow siding.
13.

Red

Yellow homes with red shutters are a combination as old as time. Warm undertones can be seen in both red and yellow.

Paint your shutters in an intense primary red to create a lasting impression. For a more sophisticated style, choose a darker red like maroon or brick as the base color of your shutters.
14.

White

White will never leave you feeling unsatisfied. White, like black, is a neutral hue that will work well with your yellow wall because it is so complementary.

White also blends in with the surrounding, so you can opt for it if you don't want your house standing out way too much.
15.

Green

Aside from yellow and blue, yellow and green are one of the most powerful color combinations found in nature. The yellow of the sun and the green of trees and plants are harmonious and often sought-after. PPG's Green Gloss is such a great shutter color for yellow walls.
Tips For Picking Shutters on a Yellow House
You can combine yellow with so many different shades, from bright to pale colors. It doesn't matter if you're going for a cottage look or prefer windows that look more modern.
Choosing a safe hue for the shutters might help balance out the boldness of the yellow siding.
Maroon will give your home a more refined appearance.
A neutral color is a safe decision because it won't interfere with your home's exterior's warm and cheery hues.
Paint your shutters bright crimson for an eye-catching effect.
FAQs
If you really love the color yellow for your home, then consider some of these extra tips and info on using it.
---
Mellow Yellow
Shutters are a great thing to take advantage of if you want to combine your house exterior with a different color. Granted, you can always go with the yellow house, red shutters combo, but colors like teal or sage could work just as well, if not better.
Thank You For Your Feedback!
Thank You For Your Feedback!