Have you ever wondered why beige is such a popular wall choice color? It can feel dull and faded, so why do interior designers still suggest it so often?
Well, beige is a neutral color which means it's versatile and subtle. You can do so many things in a room with light beige walls, and I'm here to give you some ideas.
Key Takeaways
Beige is a versatile neutral color that works well with various combinations.
Some interesting curtain color choices for beige walls include burgundy, purple, orange, green, and navy blue.
Gray and beige can be combined to create a stylish and sophisticated color scheme.
Accent colors, patterns, and decor can make a beige room look modern and eye-catching.
---
How to Make Beige Walls Look Modern
Light beige walls don't have to be dull. When paired with the right furnishings, beige can be a delight to look at. If you're not a fan of shades of beige, I have some decorating ideas to help you transform your space from boring to eye-catching.
I'll show you what colors go with beige. But also, patterns to make a beige room look less dull, furniture and decor choices, and even lighting.
What Color Goes with Beige Walls?
Sometimes, we get stuck trying to imagine what goes with beige. Often, it's just varying shades of the same color. But these colors always pair well with it.
Turquoise
Turquoise and light beige paint can be used to create a retro-themed interior. They can create an elegant and perfect look when combined.
For example, if you have a turquoise wall, you can use beige furniture. Lavender or mint essential oils can be used to infuse the space with a fresh, clean scent.
To prevent overdramatizing a room, use caution when incorporating vibrant colors like turquoise. Neutral beige wall color is essential for achieving a sense of equilibrium.
Green
When it comes to beige, green is a color that goes well with it. Because both hues can be found in nature, it is common to use them together to create a light and airy ambiance. Also, this color scheme can create the illusion of more space in any room.
Orange
Muted tones, such as light beige paint, go well with a bright color like orange to liven up the space.
Adding a dash of orange to a beige room can make it feel more inviting, warm, and cozy. If your walls are beige, you can brighten them up by hanging orange curtains. You can also liven up a dark room by adding orange accents.
Black
A warm and airy atmosphere can be created by using beige instead of white. This color scheme creates a sophisticated yet warm atmosphere when combined with black.
Decorated with the right pieces, a room in neutral tones like beige and black can be timeless and elegant. That's why rooms like bedrooms, kitchens, and dining rooms can all benefit from this color scheme.
Design Tip
Black goes with everything. It can anchor a space or help add dimension to a monochromatic scheme.
Navy Blue
Beige and navy blue are well-known for their timeless appeal. Combining the two creates a sophisticated yet cozy atmosphere.
Adding a navy blue accent wall to a beige background is an excellent way to use this color combination. I always recommend navy as a splash of color if you enjoy deeper, darker tones.
Tan
Some people think beige and tan are the same color, but they are two very different colors. The undertone is the most significant difference between beige and tan. Beige is a shade of brown with an orange undertone.
Tan is created by mixing a brown with a yellow undertone. Since they tend to look similar, they could work well in a room with a more monochromatic approach.
Ideas For Light Beige Walls
Sometimes we just need a little visual inspiration. So, I gathered up some ideas to show how you can utilize beige in your home.
1.

Beige and Pastel Nursery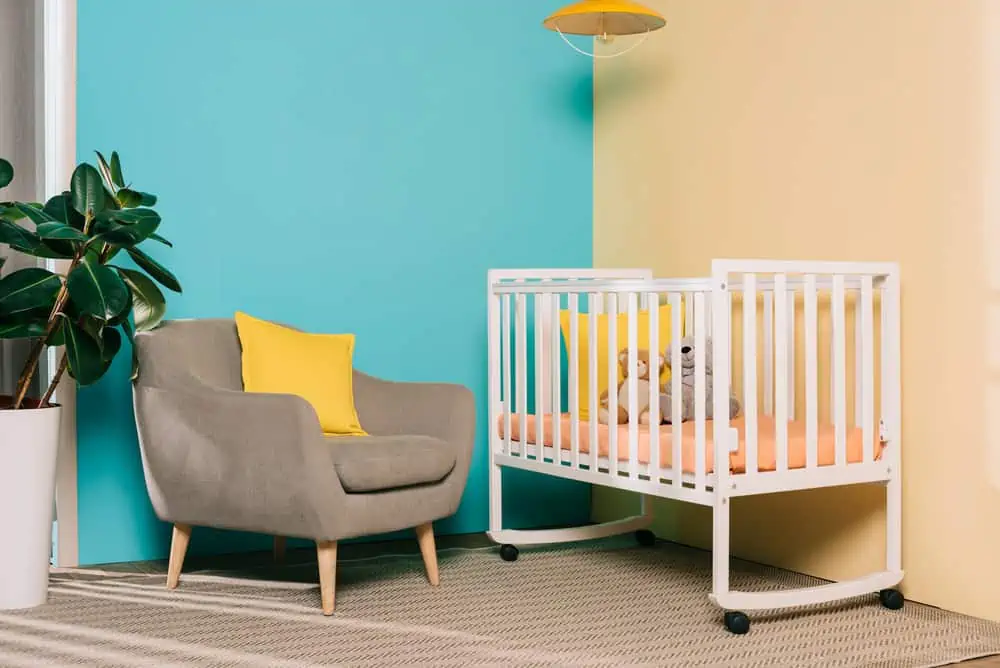 Beige feels very neutral, but it can easily be used in a nursery when paired with the right colors. For instance, go for a beige accent wall and paint the others in pastel colors. I am a huge fan of this beige and blue combo.
2.

Minimalist Beige Living Room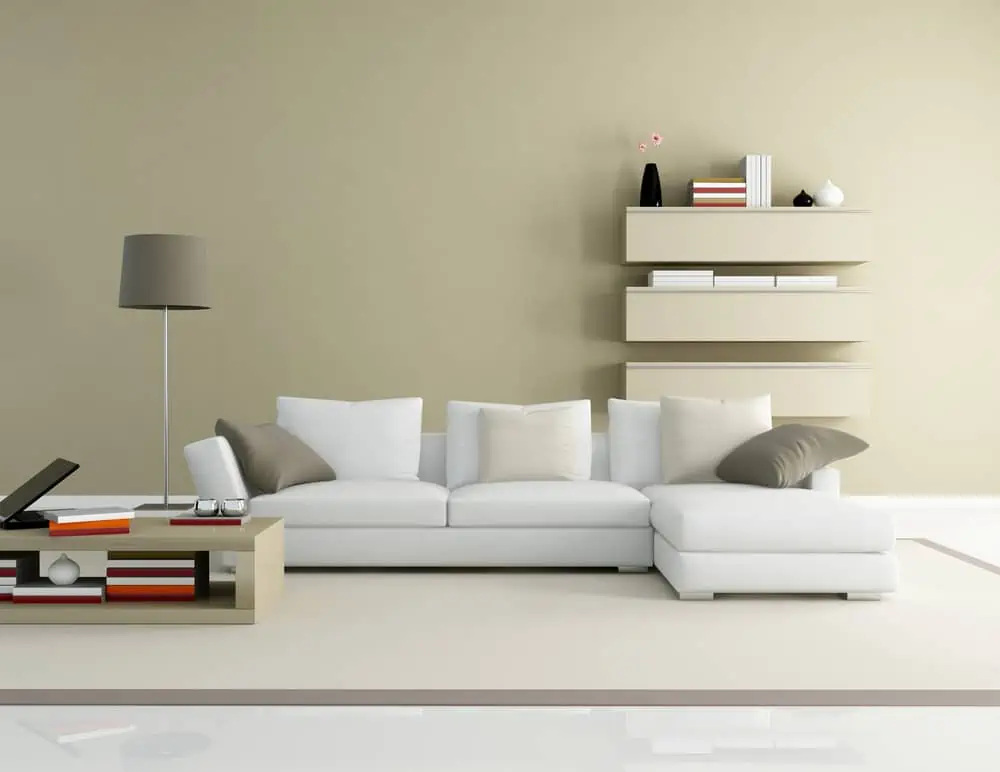 Beige is a great color for those looking to design a minimalist living room. Notice how well the beige walls pair with the furniture, while the white couch brings even more light into the room.
Add a pop of color to the setup with something like a turquoise or red throw pillow.
3.

Pink and Beige Combo
When it comes to decorating with pink, it can be difficult. It brings to mind a nursery when paired with soft pastels. It practically disappears when paired with deeper colors. In contrast, because beige sits somewhere between these two extremes, it works well with pink.
They work well together because they have warm undertones, creating a lively but calm combination. Because it isn't any darker than pink, beige won't overpower the delicate hue that it commonly replaces.
4.

Beige Hallway
Knowing which color to use in the hallway can be a little puzzling, especially if there's barely any natural light. Beige in hallways is a great choice if you don't want to go with plain white.
5.

Luxury Beige and Blue Bedroom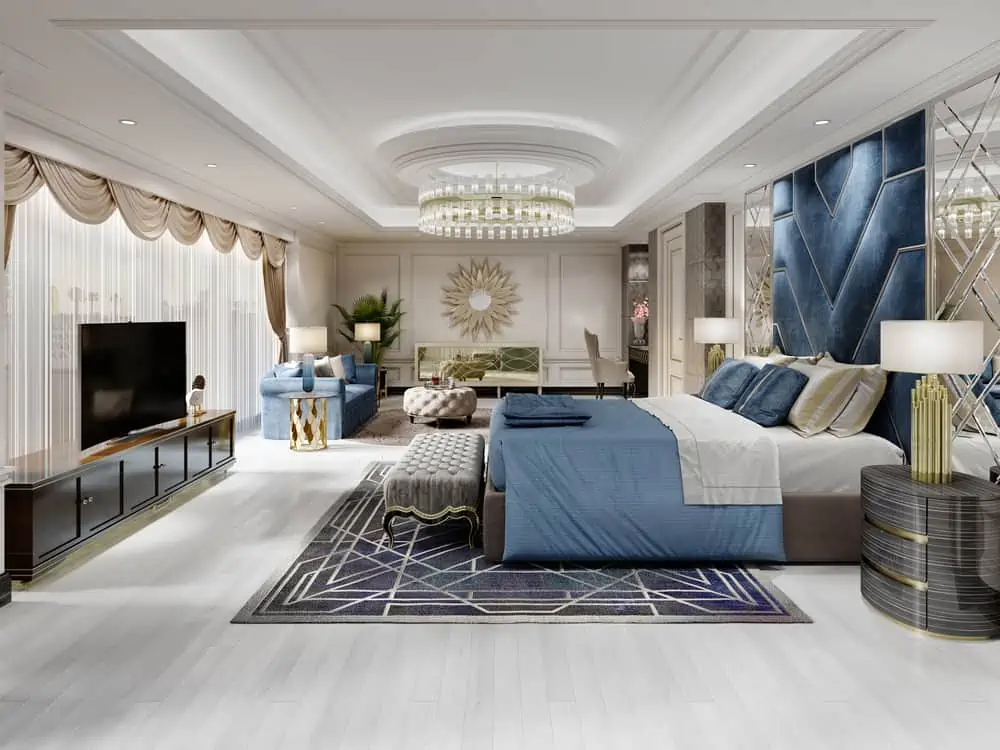 Beige and blue are two other color combinations that can be seen in nature. These hues evoke images of the ocean and sand, specifically. This set gives off a seaside vibe when placed in a living room, especially when accented with beach-themed decor.
It also works for a more luxurious setup, as you can see here. Add a few golden elements here and there. Then add a gray bench at the foot of the bed, and you've got yourself a gorgeous space for rest.
6.

Elegant Entryway
Gold and beige share a lot of similarities in their hues. You can utilize a variety of beige neutrals accentuated with gold for a stylish environment. Choosing varied tones of beige and gold will ensure that there are no competing colors in the room, making it look more cohesive.
This visual technique makes a room appear larger than it might be. The addition of gold to a beige room elevates it from casual to semi-formal, while beige on its own can give the impression that the area is unfinished.
7.

Beige Storage Room
Do you have a storage room or perhaps a room designated for working out/storing your sports equipment?
Then think about how cool it would look to have all that colorful sporting equipment against a beige wall. It's like a dance of colors that are even further highlighted by the neutral wall color choice.
8.

Beige Master Bathroom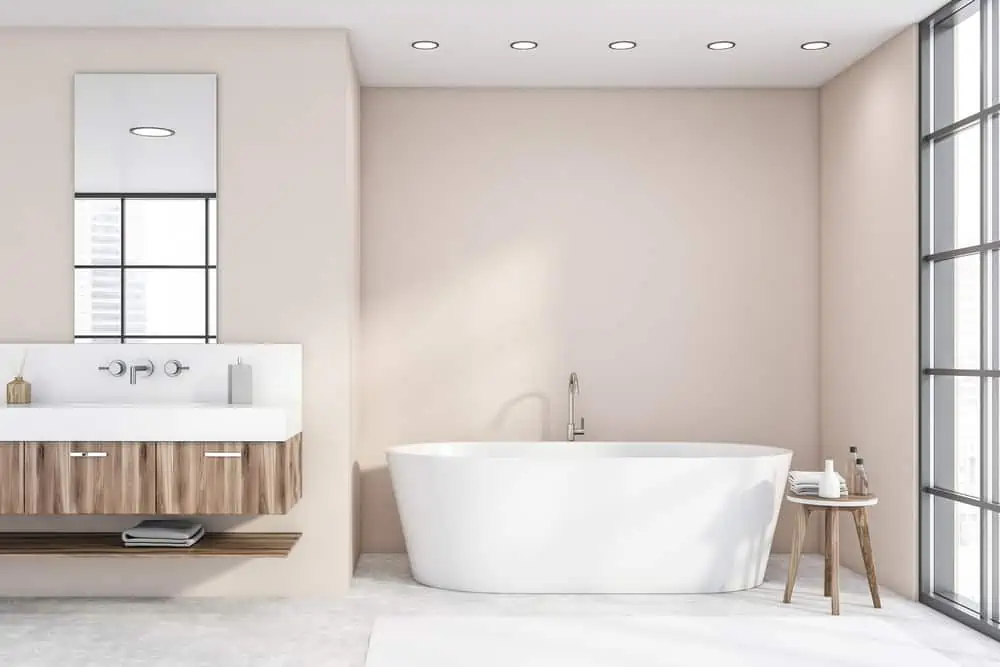 In terms of interior design, beige doesn't have to equate to dull. When used in bathrooms, this soothing neutral shade creates a calming atmosphere.
But it also allows the room's decor and furniture to take center stage. Use the hue generously in bathroom paint colors.
9.

Modern Beige Dining Area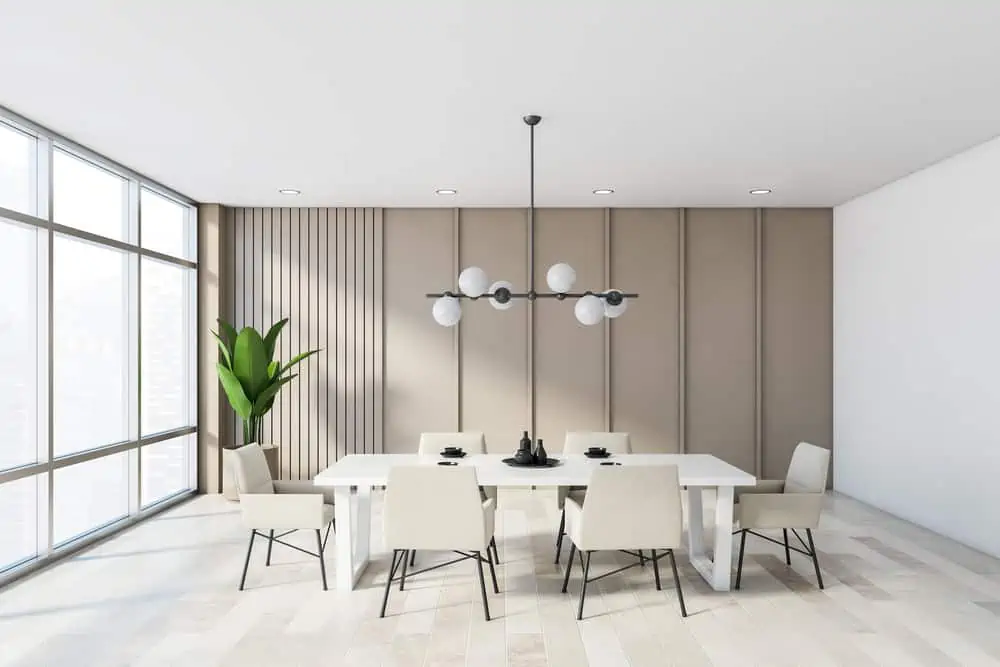 You can't go wrong with beige if you want a tranquil vibe in the dining area. You can choose some accent colors but keep it all in beige and white. I love how the large windows let in a ton of natural light and enhance the colors.
10.

Chill Beige and Brown
Neutral beige with a gray undertone can be utilized in the living room to create a pleasant and soothing atmosphere. Brown adds a touch of coziness, while beige offers a calming effect. The combination of the two hues creates a warm and welcoming environment.
11.

Simple Beige Bedroom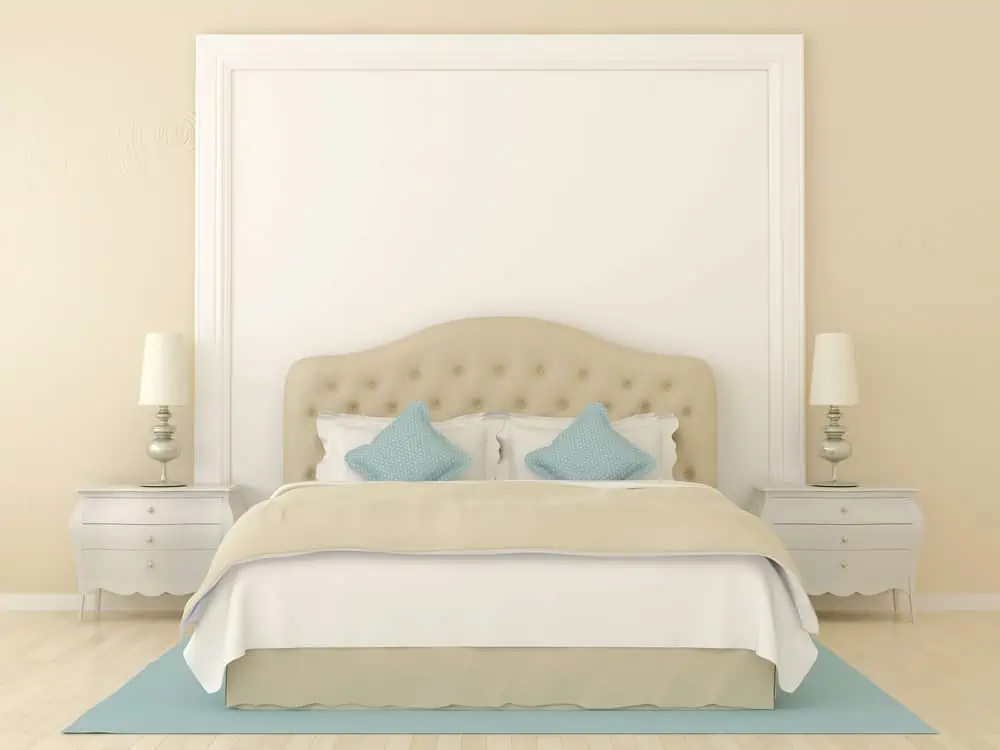 Here is a bedroom setup reminiscent of warm days at the beach. The beige tones feel like the sand between your toes, while the blue throw pillows and rug remind us of the sea tickling our feet.
It's the perfect setup for a dreamy bedroom and a vacation by the seaside vibe.
12.

Luxury Art Deco Living Room
Neutral colors like beige and gray don't have to be boring or gloomy when combined. Because this color combination is classy and welcoming, it can be used in the living room as a design motif.
This space is filled with neutral colors that fit well together. The dark brown coffee table grounds the space, while the black and crystal chandelier deepens the luxurious vibe in the room.
13.

Provence-Style Bedroom
Once again, we see how masterfully light pink and beige go together. Pink is carefully chosen in elements that could easily be swapped for other colors, like curtains and bedsheets. The colors found throughout this entire bedroom are soothing and perfect for a room intended for relaxation.
14.

Beige Home Office
For those looking for energy and strength that is trustworthy and reliable, the color beige is the best option. It's a neutral tone that encourages clear thinking. Perfect for the office!
15.

Art Nouveau Entrance
When it comes to purple, it's best to utilize it sparingly. To be more precise, a neutral hue should be used to soften the intensity of this dark shade.
This is a fortunate thing because purple is an excellent match for beige. With a dash of refinement, the two pieces work well together. I love every piece in this setup, from the textured and mirrored large closets to the gorgeous black chandeliers.
16.

Modern Bathroom with Suspended Vanity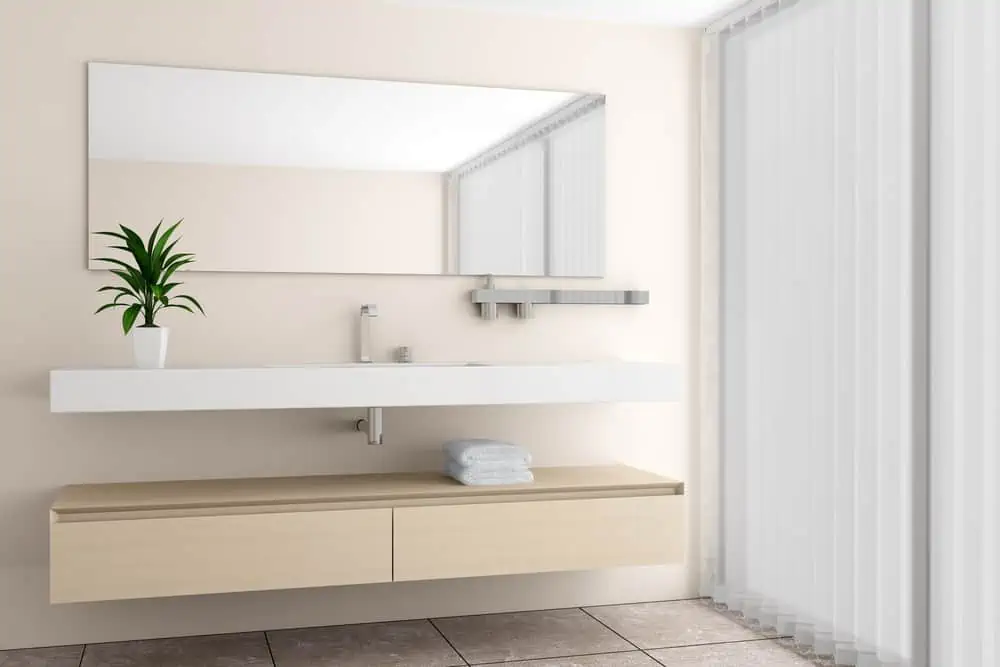 Suspended vanities are a great idea when you don't have much space to work inside your bathroom. The beige walls and light-colored cabinets make the space appear bigger, which is something you want in a small room.
17.

Checkered Tile Bathroom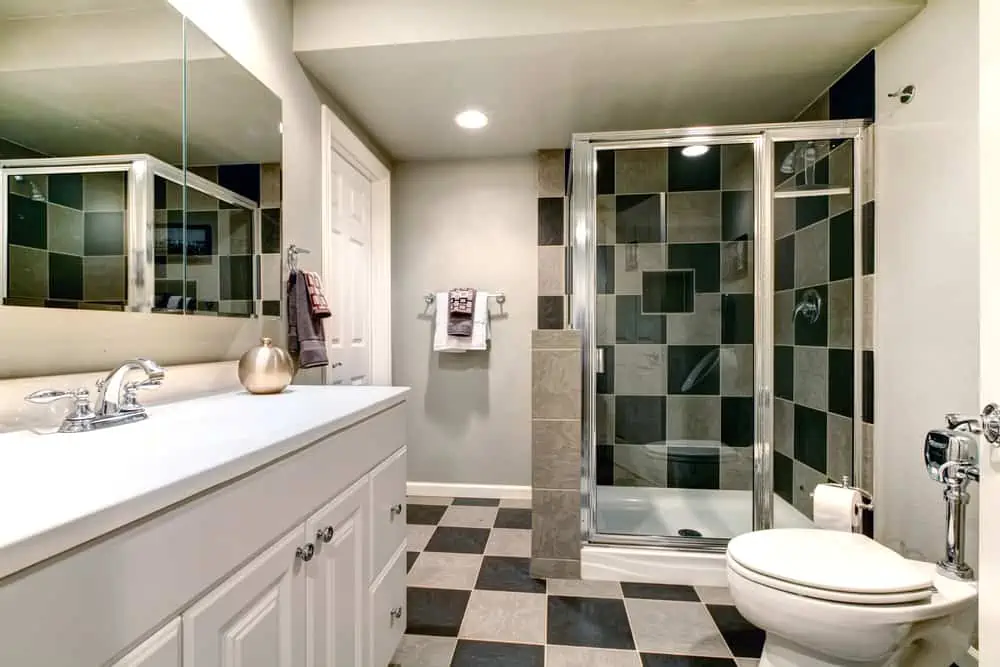 Black and white are exceptional choices for pairing with beige. Think checkered tiles, vanity colors, and even accent touches with colored bath towels if you're not sure how to incorporate them into a beige bathroom.
You don't even have to commit to beige for the walls. You can always choose beige floor tiles and combine them with black tiles.
18.

Classic Small Bathroom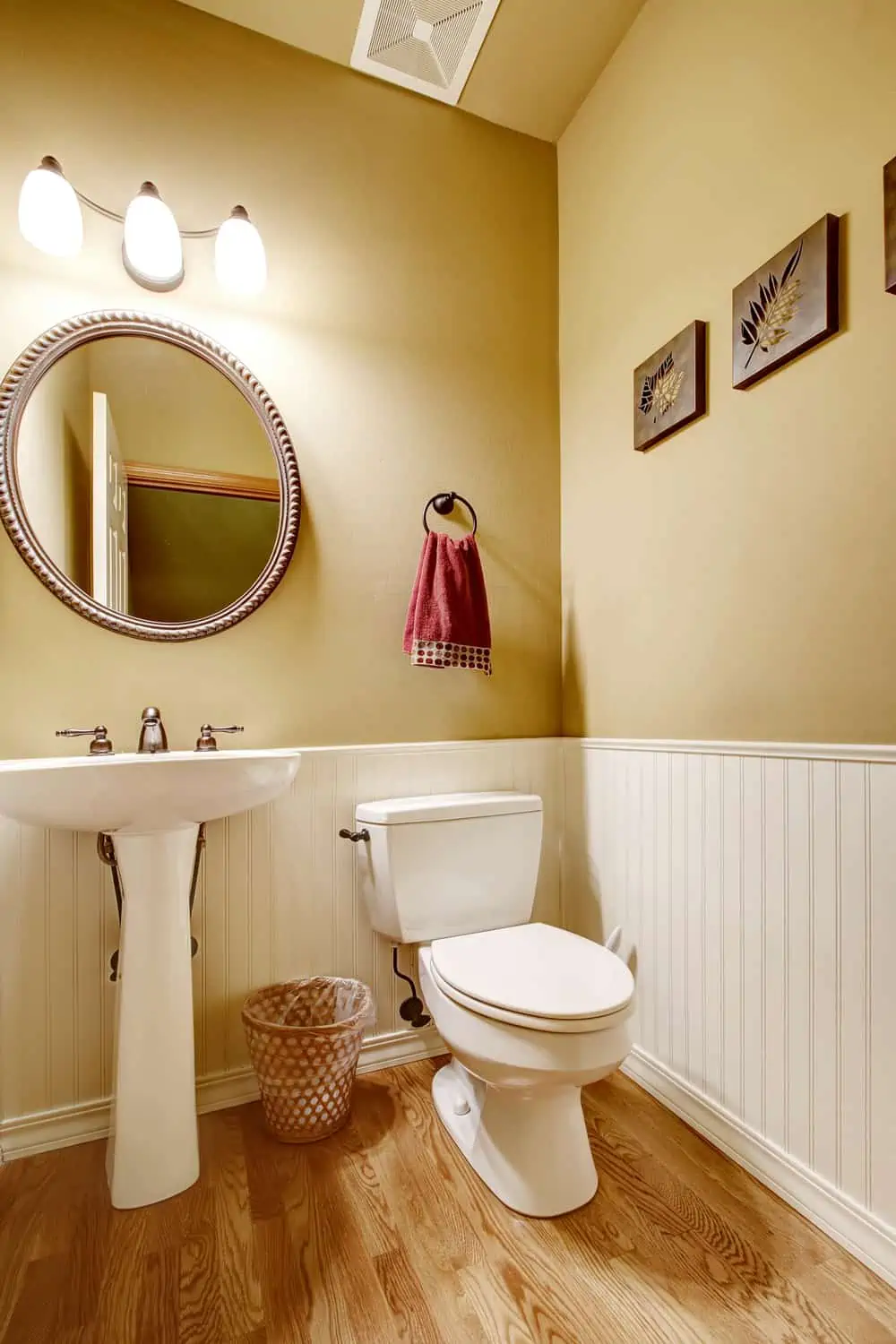 Another one of beige's many capabilities is its versatility. It works in small and big rooms alike, but it also works for setups that range from classic to modern. The classic appearance of this bathroom isn't all in the beige paint, but also the artwork choice and the simple mirror frame.
19.

Small Beige Bathroom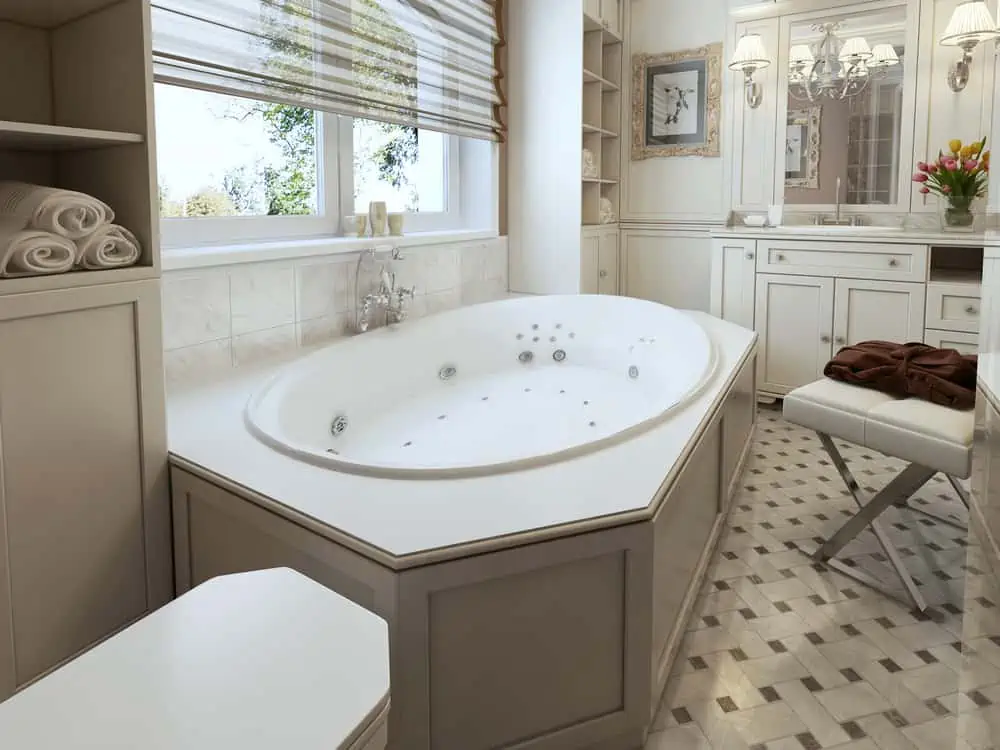 One of the reasons I love beige as a primary color in interior design is that it works in small and large spaces. Because it is a rather light color, you will never feel like the walls are closing in on you.
Notice that you feel like you have room to breathe with all this beige surrounding you, even in this relatively small bathroom.
20.

Beige and Brown Bathroom
For a bathroom with a homey vibe, go with beige walls and combine them with brown fixtures and bathroom furniture. These two colors will always pair harmoniously and give your bathroom a cozy vibe. I think the brown bathtub is a nice touch.
21.

Stylish Girl's Bedroom
For a feminine and softer room, combine beige and light pink in the color scheme. A girl's room or nursery is a good place for this pair because it has a calming impact. It's also a bright and cheery color that may liven up a dreary environment.
22.

Simple Beige and Brown Bedroom
Beige is a very common color for hotel bedrooms. When paired with brown, it can give a homey and cozy vibe which is very welcoming for those who wish to relax.
None of the color choices are too vibrant and can put you in a relaxing mood. For beds with windows in front of them, blackout curtains are mandatory.
23.

Spacious Bedroom by the Water
The combination of brown and beige is a rather clear one. Beige is simply a very light shade of brown. Thus, the colors belong to the same family. To create a monochromatic palette that is both varied and dynamic, you can mix and match these elements.
24.

Vintage Sitting Area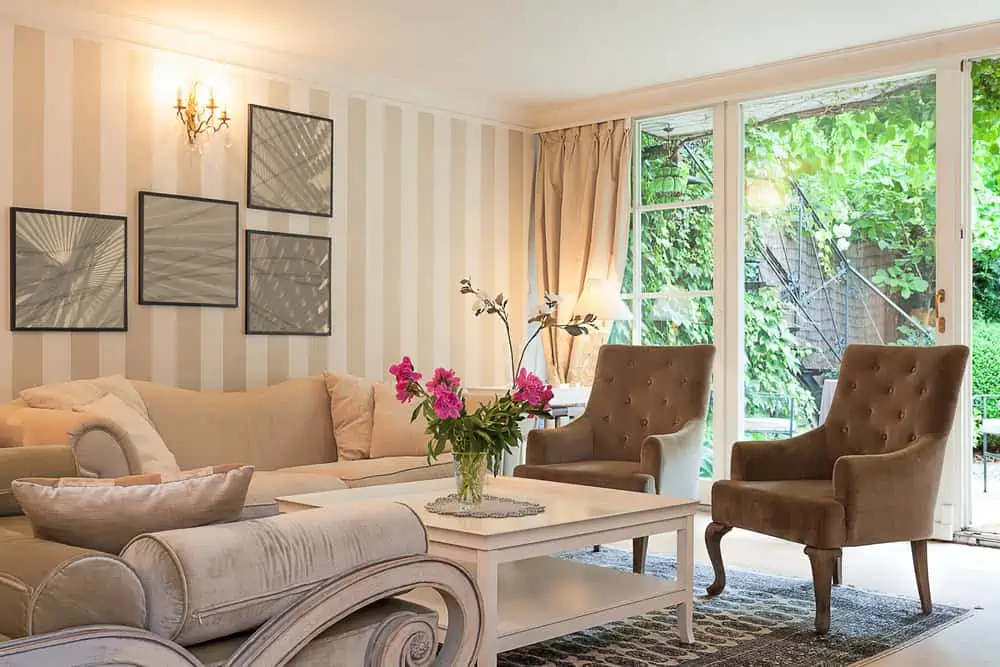 Don't hesitate to play with patterns when going for beige walls in the living room. Whether it's wallpaper or hand-made vertical stripes, this adds variety to the room. The velvet upholstery sofa and chairs deepen the textures, while the wall art also contributes to the variety of textures.
25.

Generous Living Area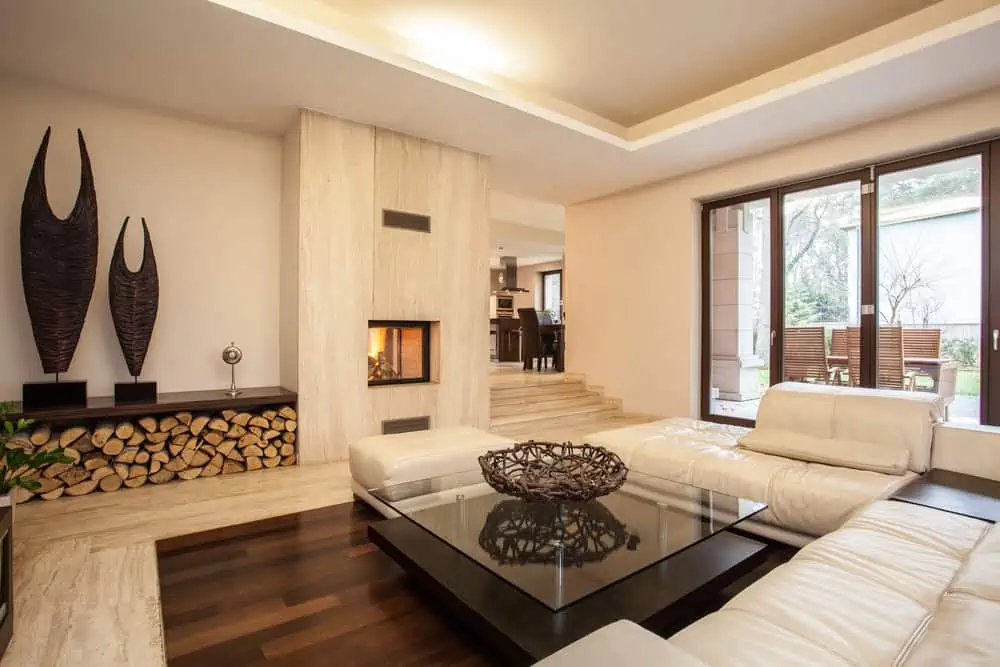 Beige and brown strikes again! Paint your walls and ceilings beige to get this color scheme. A beautiful and refined aesthetic can be achieved by putting wooden planks on the wall. I even recommend going for dark brown decorative pieces.
26.

Beige Kitchen and Dining Open Space
Who says you must limit your beige decor options to painting the wall alone? Go for beige kitchen cabinets paired with darker hardwood flooring for a classic effect.
The chandelier above the dining table gives the space a luxurious feel, while the combination of beige and brown is as welcoming as ever.
Most Popular Beige Paint Colors
These are my go-to beige paint color options. They work for both indoor and outdoor spaces.
Accessible Beige by Sherwin-Williams
Accessible Beige by Sherwin-Williams is a popular choice. This shade is a timeless color that leans toward taupe and makes a great choice for any room.
Shaker Beige by Benjamin Moore
This is a shade of beige that has a slight orange undertone. Shaker Beige by Benjamin Moore can make any room appear brighter and warmer and works well with white trim.
Slipper Satin by Farrow & Ball
Ballet slippers' silky off-white color is the inspiration for this popular color. There aren't any cool blue undertones in Slipper Satin by Farrow & Ball. Instead, it appears to be chalky gray.
Barcelona Beige by Sherwin-Williams
With no sliver of gray to break up the monotony, the color doesn't appear overly warm at any time. Barcelona Beige by Sherwin-Williams goes well with a wide variety of things.
FAQs
Still unsure about using beige in your home? Hopefully, this extra info can help!
---
Beige is Beautiful
As you can see, a room with light beige walls doesn't have to be all that boring. Even if you opt for light beige wall paint, you can accessorize it with other colors.
Thank You For Your Feedback!
Thank You For Your Feedback!