Obsessing over the idea to go with olive green paint for your walls but unsure how to make it work? In reality, olive green is one of the most versatile wall color choices. It's a great choice for people who want something other than white and neutrals.
I'll show you how easily you can combine an olive green color with other bolder colors to get the room ambiance you've always wanted.
Key Takeaways
Olive green is a versatile paint color that works well with various color combinations and room styles.
This calming and soothing color is perfect for bedrooms, living rooms, and even home offices.
Olive green pairs well with neutrals, gold, pink, black, and tan for different design aesthetics.
Using olive green in both modern and vintage setups can create a unique and inviting space in your home.
---
What Color is Olive Green?
Olive green paint color is the color of unripe olives. It's a dark yellowish-green color that's essentially green with just a small splash of red. Because of the dark tone of olive, it is occasionally mistaken for a light brown.
You can mix your own tone of olive green using chrome yellow paint and black. Play around with the combo until you get the shade you want.
The color green is frequently referred to as a calming and soothing one, and natural beauty and serenity are often associated with it. Money and environmental consciousness are also frequent connotations of the color green.
Depending on the room you use, olive green can help you relax. But it can also improve concentration. It's a color fit for almost every room in the house.
Is Olive Green in Style?
Olive green is a hot color right now, and it looks like it will continue to be so for the foreseeable future. It has a ton of potential for tones, ranging from cool to warm, making it a versatile choice for interior design.
It also has a timeless appeal because who can really get enough of the nature-inspired vibes brought to us by olive green?
Olive Green Paint Ideas
Looking for some inspiration for ideas to incorporate olive green into your home? I've got you covered.
1.

Mid-Century Modern
Olive green pairs really well with the natural color of most classic mid-century modern furniture pieces. Notice this harmonious combination that showcases the natural beauty of the wall color with the appeal of wooden furniture. Even the artwork and the bedding pieces match the theme.
2.

Down on the Floor
Olive green isn't just a wall color. You can even use it on the floors, whether you opt for olive green carpets or you're just painting your hardwood floors in this color. When there's little natural light, using beige and white accents allows you to paint the walls a darker shade.
3.

Heart of the Jungle
Lovers of Bohemian decor are going to be heart-struck by this bedroom setup. The darker shade of olive green transports you to the middle of a rainforest. Rattan and wooden elements almost make it seem like you're breathing in the fresh air.
4.

Natural Inspiration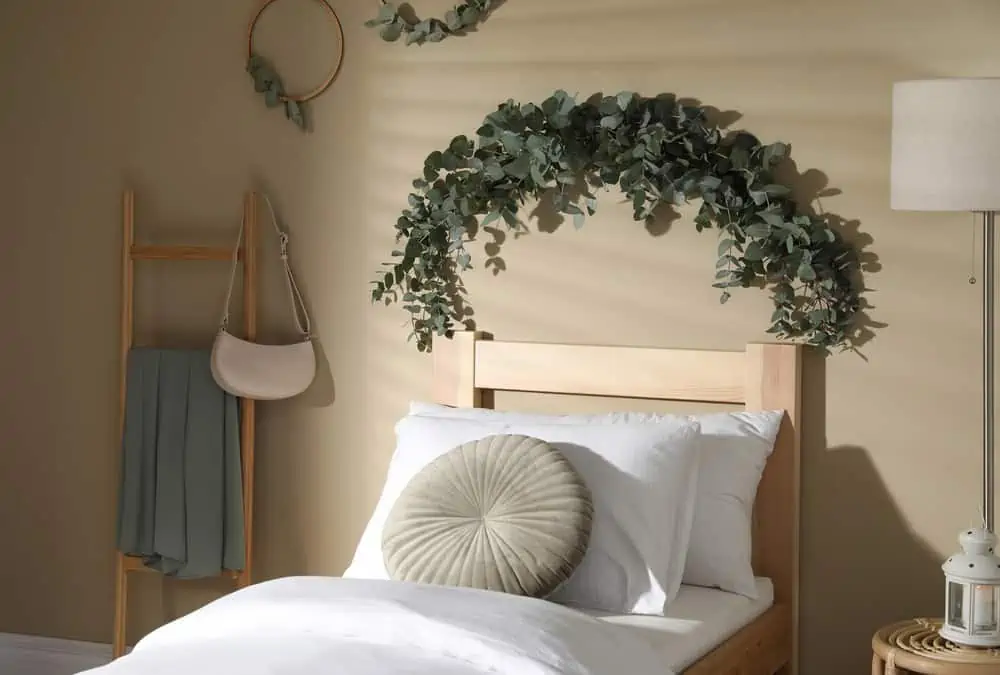 Yet another simple but stunning bedroom setup can be appreciated when looking at this picture. I love the idea of bringing greenery close to the bed.
Whether you choose olive green paint or natural elements like penny gum leaves, it's just so relaxing to look at.
5.

Light Olive Green Color
Who knew that olive green could inspire you to create a sea-infused ambiance in your living room? The color of the floor is reminiscent of a pier down by the docks, while the olive green paint surrounding you reminds you of foamy seawater.
6.

Writer's Desk
Describe the most relaxing setup for writing that revolves around olive green? This setup comes close to what I'd have in mind.
Dark and soothing shades of green, plenty of hanging plants, and wooden elements to complete the décor. This is a corner of the house I'd like to grow old in.
7.

Brick and Olive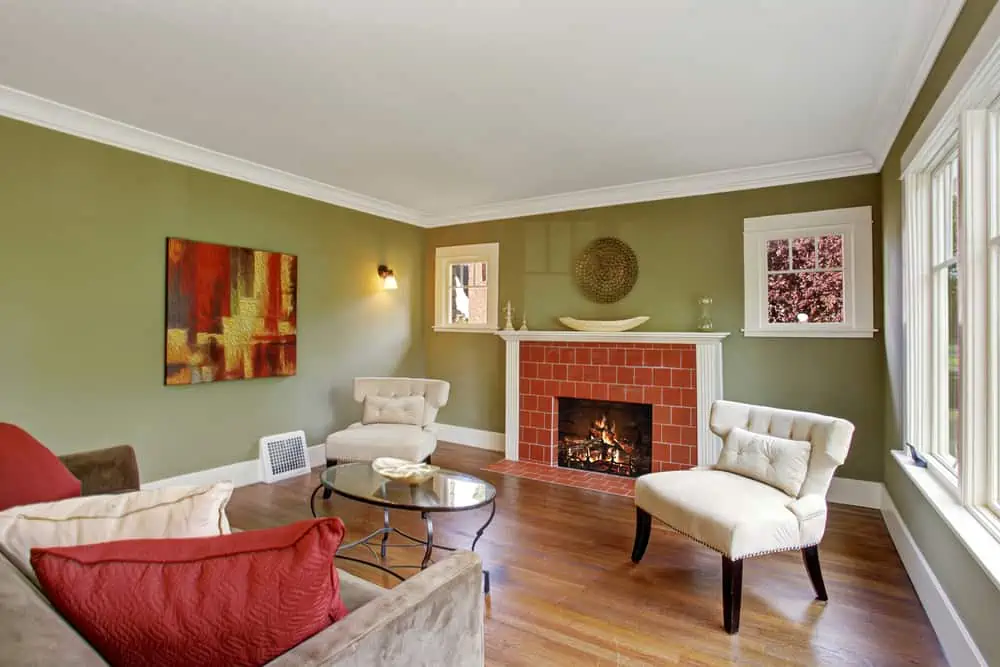 Brick and olive green are a match made in Heaven. Brick is the type of color that adds personality to a living room. While the olive green paint tones it down to make a dance of colors that's pleasing to the eyes.
If the brick fireplace isn't enough, the throw pillows are there to add even further contrast to the room.
8.

Olive Green Reading Corner
Relax in your favorite reading chair and curl up with a good book. Olive green is the color that might help you create that cozy corner retreat. Paired with rattan furniture and greenery, olive green serves as a canvas to play around with different wooden elements.
9.

Mirror, Mirror on the Wall
Not convinced about how well olive green paint goes with different types of hanging artwork? Mirrors are a foolproof method. You can really play around with the ambiance of the room.
Plus, whenever you're unsure what decor elements to pair olive green with, always go with plants. Like the framed greenery images you see right here.
10.

Living Room Greenery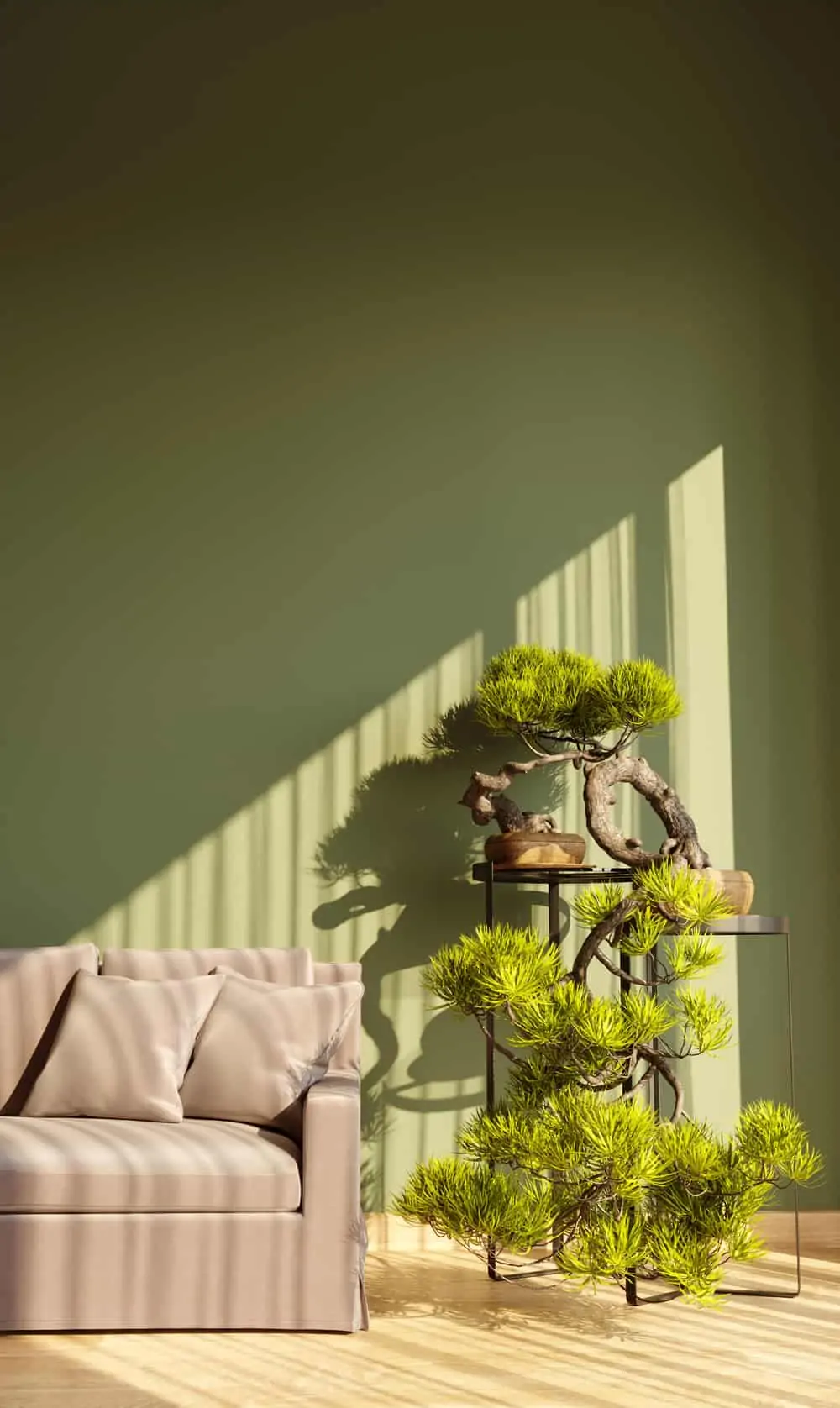 A cramped but cozy space gets a much-needed boost from warm olive walls painted in a color like Benjamin Moore Oregano. You can achieve the same effect as white with light olive green color, but it will have far more character.
Add a couple of plants on the end table next to your neutral-colored sofa. Then you have the perfect living room setup for tranquility.
11.

Modern Kitchen
Instead of painting the walls bright colors, this kitchen opts to paint the cabinets bright colors. Achieve a high design in your home without a design degree by pairing white walls with olive-green cabinets.
Kitchen cabinet painting requires more effort than painting the walls, but Dulux Soft Moss is a color that is well worth the time and effort.
12.

Olive Green Cabinets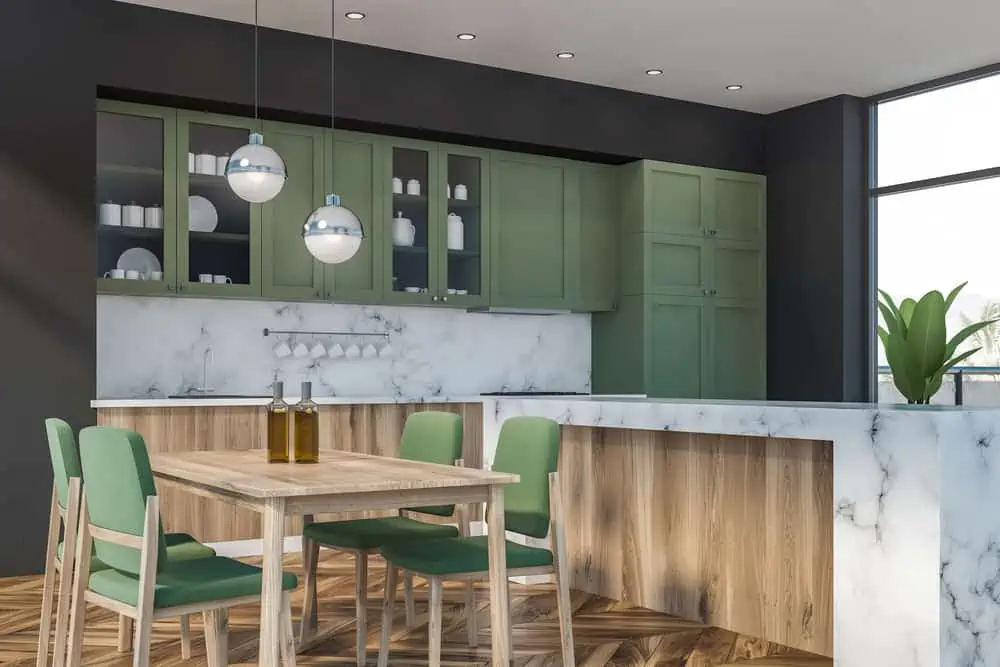 I wanted to add one more example that showcases how wonderful a kitchen can look. You can choose to paint the cabinets in olive green instead of the walls. The visual balance between the marble design of the countertops and black walls is inspiring, to say the least.
13.

House Exterior
Olive green is an excellent choice for a home's exterior; it works exceptionally well, from rustic dwellings to modern households. There is a resemblance between this neutral color and the landscape around it. And, because of the color's understated elegance, any home that uses it will be taken seriously.
14.

Olive Green Christmas
If you're going for a holiday look that includes red, gold, and blue, then olive green is a must-have. It's a great color for board games, movie nights, or getting together with friends for a few glasses of wine. Everything about it is warm and welcoming while also being refined and down-to-earth.
15.

Family Bathroom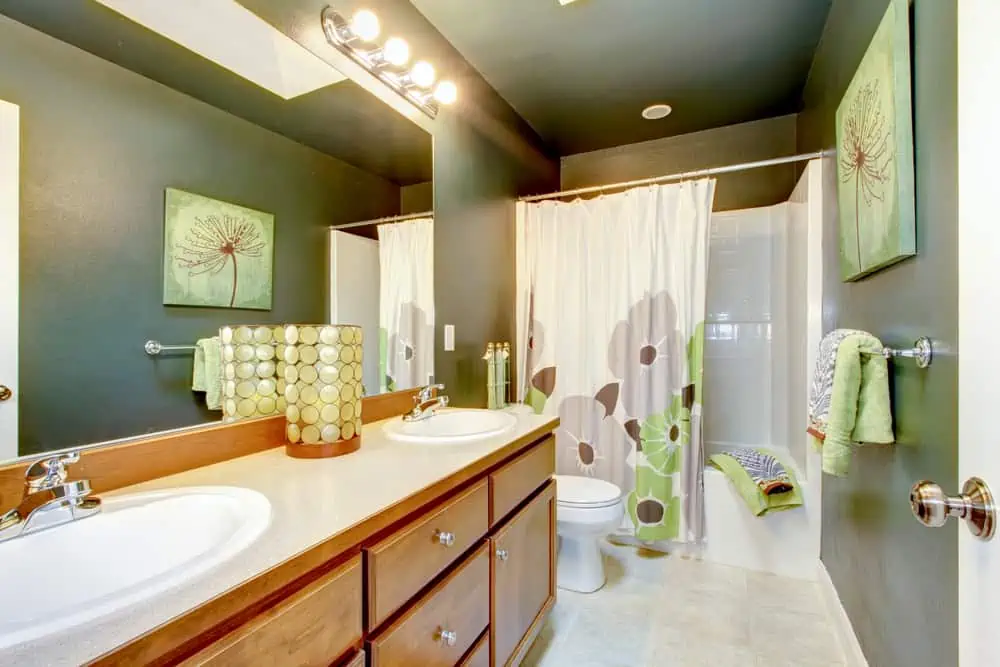 One of the things you'll most love about olive green in a bathroom is that it has no age and no gender. It's a soothing color for everyone, whether they have an energetic personality or love to lock themselves alone in the bathroom for bath time.
As always, look at how stunning olive green walls pair with natural-looking vanities.
16.

Art Deco Living Room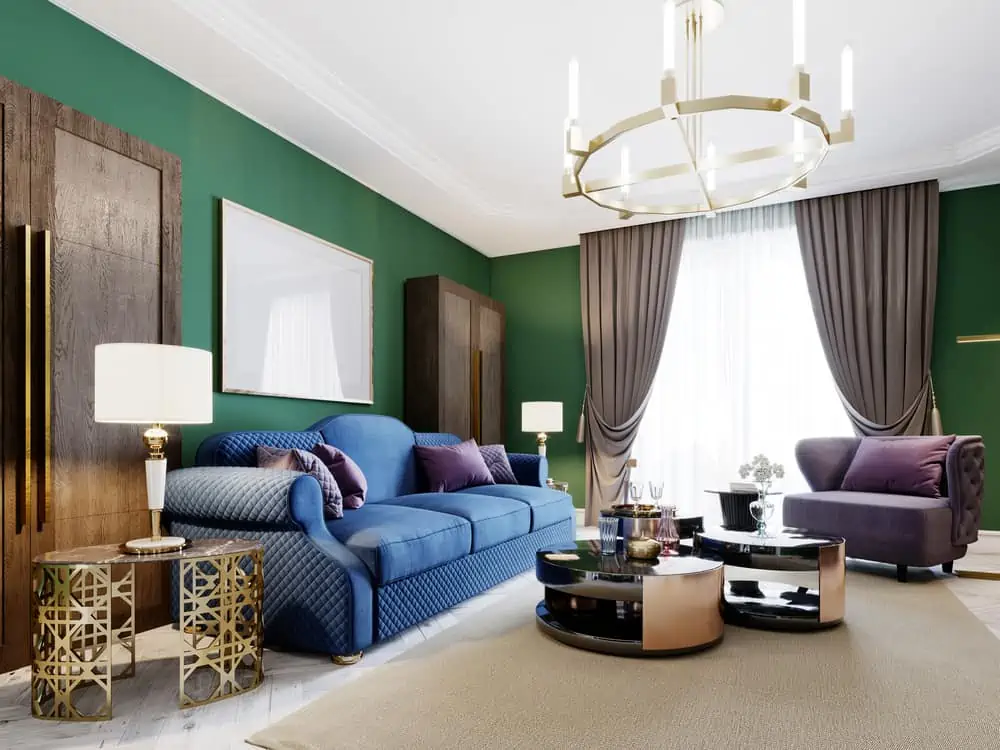 The color olive green is a perfect complement to any room in your house. Whether heading out into the world or returning home, this shade will help you slow down and take a breath.
In addition, using olive green as a neutral color won't limit the range of color schemes you can use in the rest of the room.
17.

Stylish Bathroom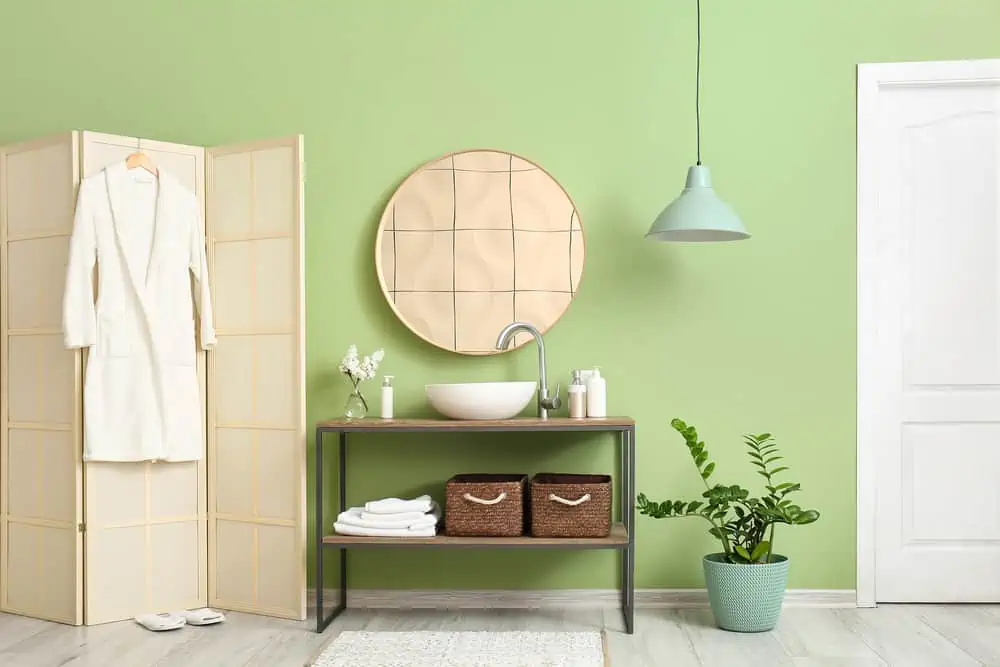 To find a color that isn't commonly used in bathrooms, go with olive green. Combine this color scheme with natural wood finishes and white accents. When you're getting ready in an olive green bathroom, you may notice that you're more likely to wake up feeling energized.
18.

Modern Entryway
Isn't this shade of olive green the perfect color to greet your guests? It makes a stunning visual impact when placed next to wooden blinds and wood flooring.
If your house doesn't have a dedicated entrance, just designate a foyer with an accent wall. Or paint a section of a larger room.
19.

Olive Green Hallway Details
The room will be less cluttered if you designate a specific area for things like shoes, purses, and shopping bags.
Instead of dumping their bags and coats wherever they happen to be, your family will have their own designated area in the room. Notice how the closet doors are made with olive green slats.
20.

Glam Green Bathroom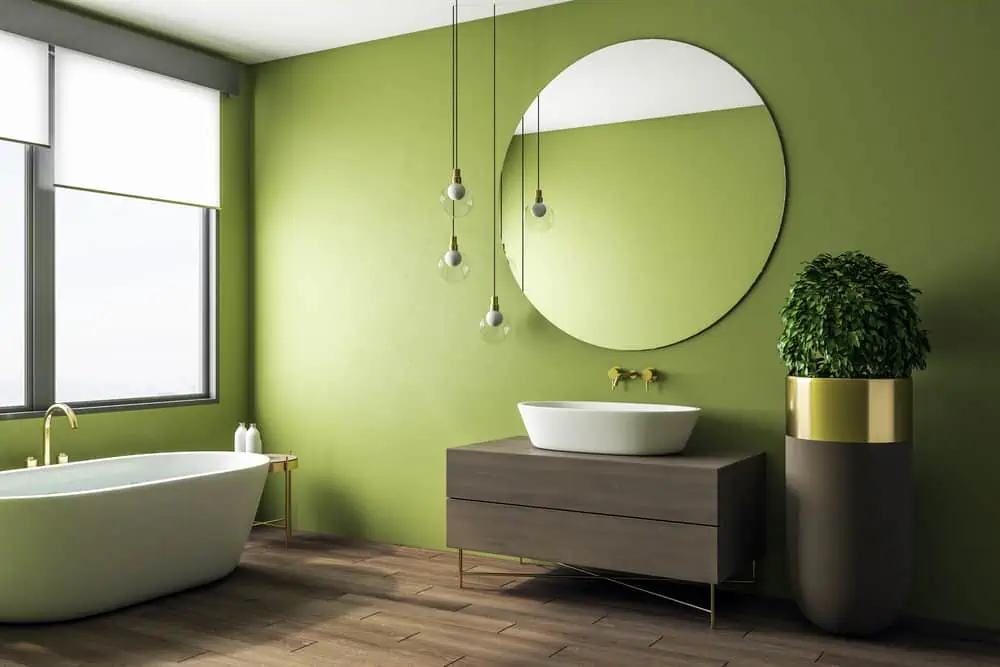 I may or may not have a thing for olive green bathrooms, but can you blame me? Just look at this gorgeous example that uses a minimalist decor layout to showcase the beauty of the wall colors.
The golden hardware finish creates the perfect addition, keeping the color scheme minimalist for a striking visual impact.
21.

Home Office
I'll do my best not to overemphasize the significance of your home office's interior design choices. Creative and productive people are encouraged by good design.
The color of your office has a greater impact on you than the colors in your kitchen or bedroom. Olive green is a color that helps people concentrate. So it really makes sense to choose it as a wall color for your home office.
22.

Chill Office Vibes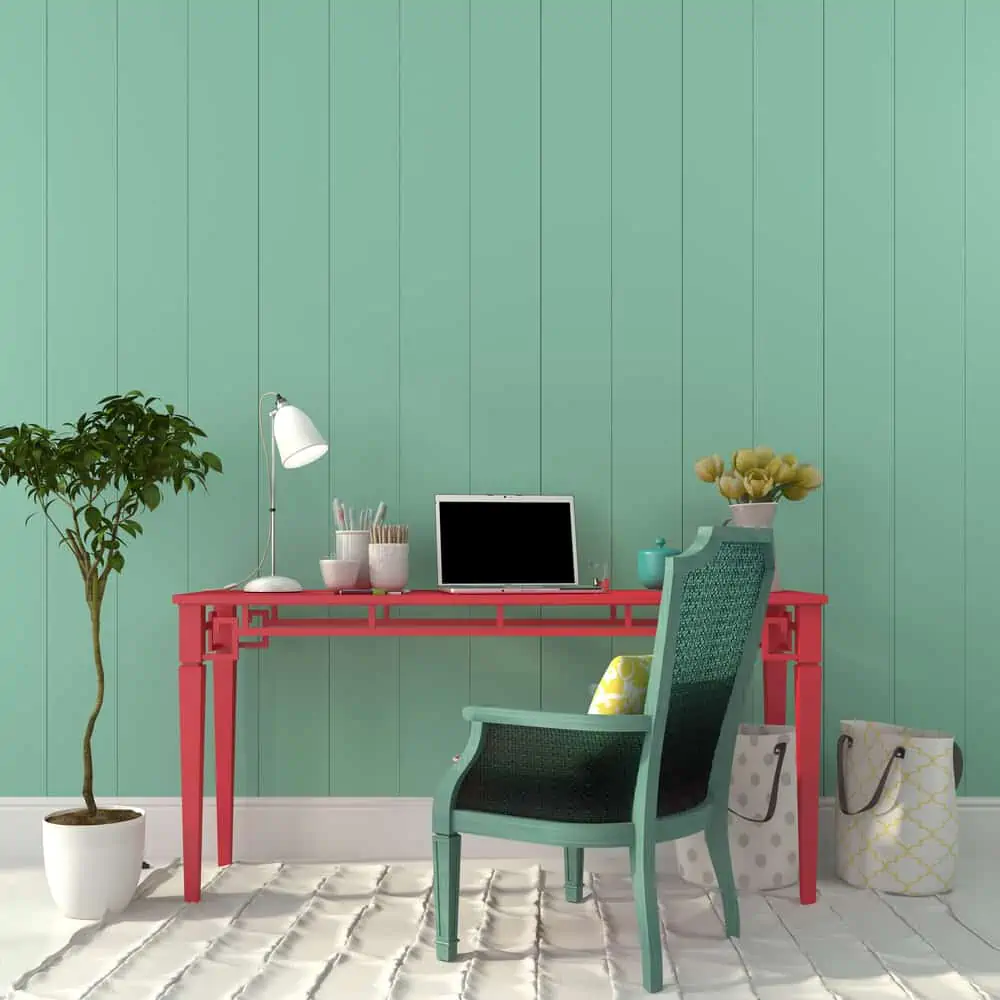 When you create a home office, you're dedicating a specific area of your house to your work. Olive green can be used to delineate the office area in a room that serves multiple purposes.
You can set yourself up for success, even if you're just using your home office to pay the bills or schedule appointments.
23.

Master Bathroom
By far, this has to be one of the best olive green bathrooms I've seen. The walls are painted in a subtle and muted shade of olive green. But bright enough to provide all the natural light you need in a bathroom.
The golden-finish hardware and white vanities with matching countertop feel like those long-lost puzzle pieces you've been hoping to find.
24.

Bright Olive Green Entertainment Area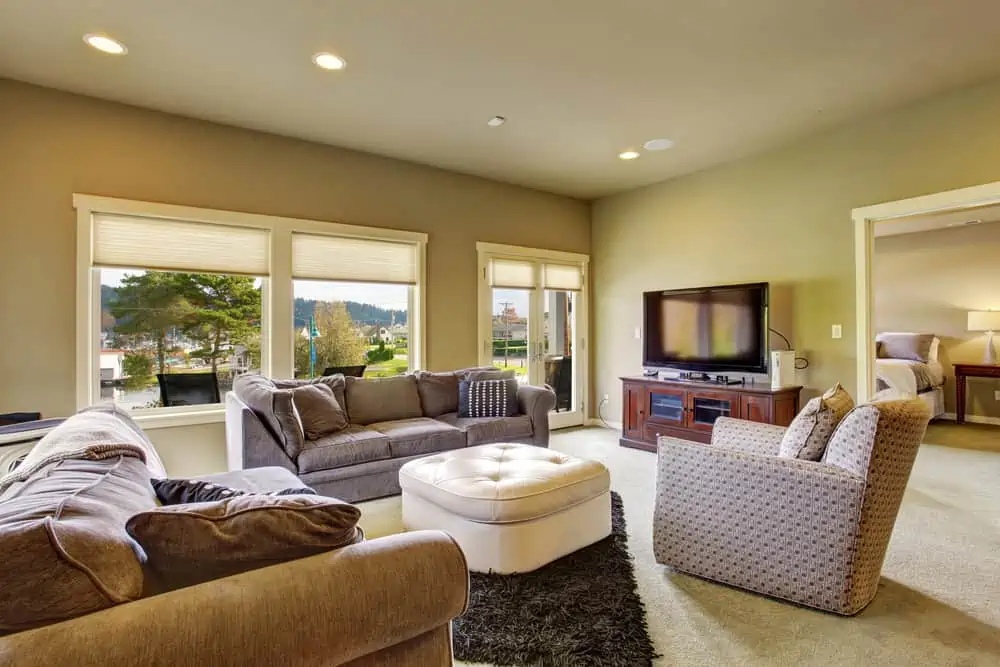 Every family's den serves a different function in their home. Olive green can set the tone for any activity, from watching movies to enjoying a cocktail with your friends.
Throw pillows and blankets can be used to change the look of the room depending on the occasion or season. Bold decisions don't stifle a room's versatility.
25.

Olive Green Basement

The basement can be more inviting by painting the walls an earthy shade of olive green. Olive green is a warm and inviting color for any basement wall.

Man-cave or games room, you can make more daring decisions in a basement than you would in the rest of your home. Trim your walls in olive green with bright orange or red. Wood, carpet, and painted cement floors will all look great with olive green walls.
26.

Olive Green Dining Area
The combination of olive green, brown furniture pieces, white countertops, and rattan furniture is present once again.
Everything goes together perfectly. The brighter paint shade is really on point because it invites more natural light, making the space appear even bigger.
27.

Olive Green Living Room Wall
Who knew that a shade of green could be compatible with so many different room setups?
Whether you choose olive green for an accent wall or a full room, you can't really go wrong. Pair it with modern furniture pieces and a wall-mounted TV console, and you have a clean and airy space.
28.

Olive Green Nursery
Nurseries look great when painted with olive green. Natural woods and fibers can be used to create a cozy environment for you and your baby.
When you're working with an amiable neutral like olive green, it means that you won't need to fully redecorate the room as your child grows. You can simply update certain elements rather than repainting the entire room.
29.

Muted Olive Green
You should use a color that can be used in all areas of an open-plan space, regardless of function. So, you'll need a color that can be used in the kitchen, dining room, and living room all at once. Olive green is a good neutral color, but it also has an ethereal quality to it other neutrals don't possess.
This allows it to be used in various settings and brings the entire space together. Sightlines can then be used to create a single, cohesive design.
30.

Pink and Olive Green
When it comes to complementary colors, green and pink are difficult to mess up. Olive green's depth of color contrasts beautifully with pale pinks.
Couches, throw blankets, rugs, and drapery in blush or light pink with olive green accents create a feminine space.
31.

Bold Color Combinations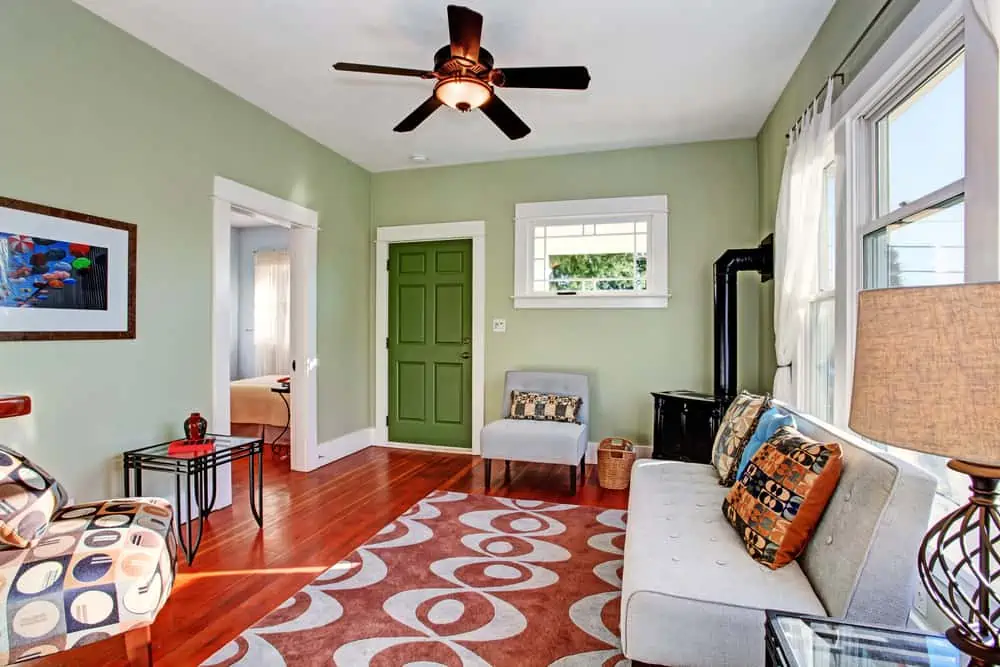 Even the brightest of colors can be paired with olive green because of its many shades. It's a great neutral color that can be used in various settings, from the bathroom to the living room. Look at how well a pale shade of olive green works with the bright colors of the flooring and the rug.
32.

Suburban Olive Green Home

There's something about an olive green suburban home that looks and feels very cozy. But also lets people know that you have good taste when it comes to design and home improvement. Paired with white trim and a gray roof, the combination is inviting and pleasing to look at.
33.

Attic Bedroom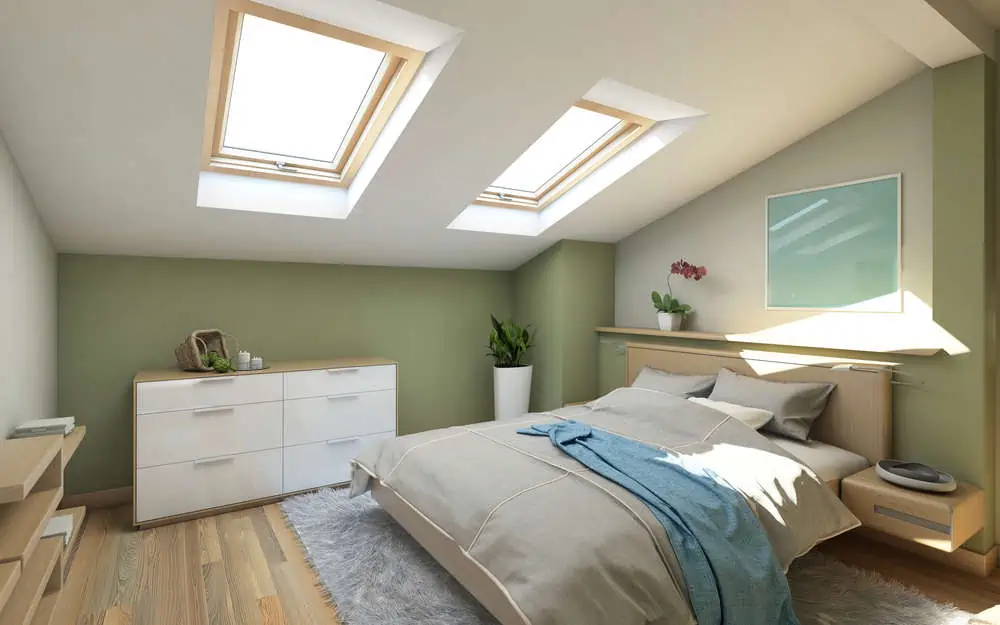 If you're redoing the attic, an olive green bedroom is one of the many things you can accomplish. Feel free to play around with neutrals.
This particular bedroom is combined with loads of light colors, as the olive green shade is also particularly bright. You can also add darker accent pieces, furniture, or even a dark brown headboard.
34.

Olive Green in Modern Living Room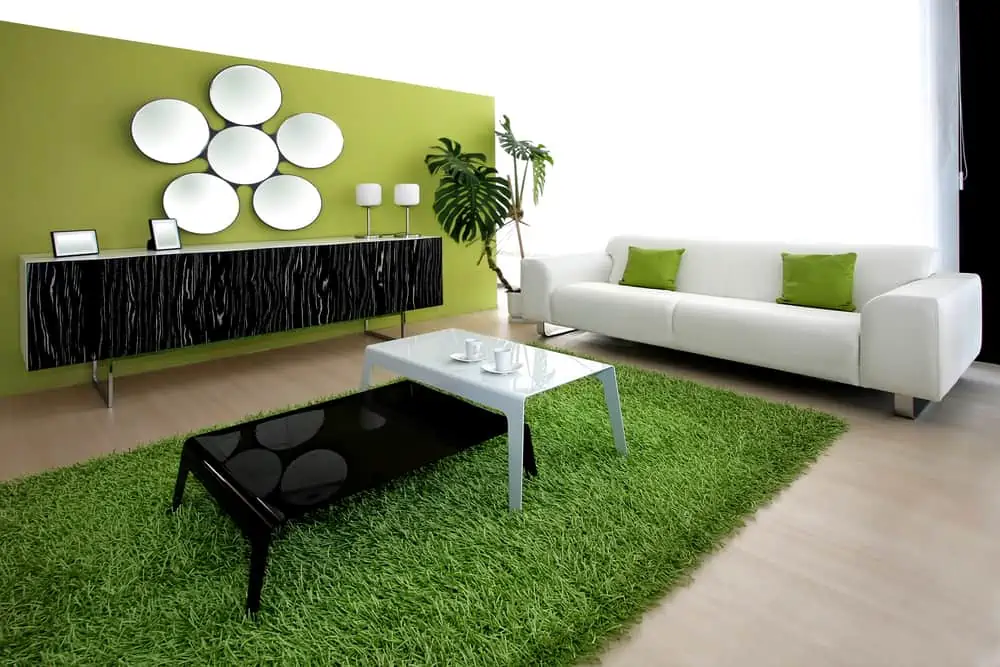 Olive green is the type of paint color that works in both vintage and modern setups. It's great for that old farmhouse vibe or a modern living room like the one showcased here.
While the furniture is modern, the color scheme chosen is pretty simple. You can't really go wrong with the olive green/black/white combo.
35.

Fancy Dining Area
If you love olive green throughout the house, then you must consider it for your dining area. When you opt for a darker shade, it adds a certain touch of luxury to the space.
Pair it with modern or vintage furniture, choose golden accents, and add plants to the décor. Play with olive green as much as you like.
Olive Green Paint Combinations
One of the many benefits of choosing olive green for your interior decor is that you can pair it with many different colors. It goes with every neutral palette and also offers some rather surprising compatibilities.
Gold
If you're striving for a high-end, refined design, use gold accents with olive green. Gold button details or couches with golden legs are good examples of furniture with modest flashes of gold to look for.
Pink
Adding a dash of pink to olive green is a no-brainer. For a feminine take on olive green, use softer shades of pink to really showcase the rich olive green color.
Olive green in various tones, from dark to light, looks stunning when paired with a rose pink hue. These colors complement one another so well that a third accent color is unnecessary.
Black
Olive green and black go well together. But you'll need a third hue to counteract the intensity of the first two and keep the room from being too stark.
Classy and eye-catching would be an olive green armchair paired with black-painted or black-carpeted furnishings. You can incorporate it into a space with black accents and still keep it fresh and contemporary.
Tan
A natural, earthy vibe can be achieved by pairing olive green with a tan color. The combination of tan and olive green creates a tranquil atmosphere that can be used in any room of the house.
Using natural fibers like linen and cotton to amplify the laid-back vibe created by these hues is ideal.
Design Tip
Make use of tropical houseplants and wooden furnishings to accentuate the natural theme in the space.
FAQs
Can't get enough of my olive green tips? I've got some more info to help inspire.
---
The Bottom Line
Most people don't even imagine how versatile olive green paint is. It is suitable for interiors and exteriors and compatible with everything from bathrooms to bedrooms. Also compatible with many neutral and bold colors, olive green is great when you want something different for your home.
Thank You For Your Feedback!
Thank You For Your Feedback!