Power saws have transformed the way carpenters, builders, and DIYers work, allowing them to quickly make cuts that would have previously taken minutes or even hours. Track saws are one of the most helpful types, designed to make long, straight cuts without the need for a full-sized table saw.
These saws are multi-functional as they can also be used as plunge saws. Track saws are staples of modern woodshops and will make an excellent addition to your tool collection. However, it is important to choose carefully if you want it to cut quickly and accurately.
To help you find the right product, we have reviewed seven of the best track saws that are currently available. We chose these saws for their bevel capacity, dust collection, and whether they are corded or cordless.
Image
Model
Product Comparison Table
Features
Best for Woodworking
Makita SP6000J1 Plunge Saw
2 ³⁄₁₆-inch cutting capacity
Torque control
Electronic speed control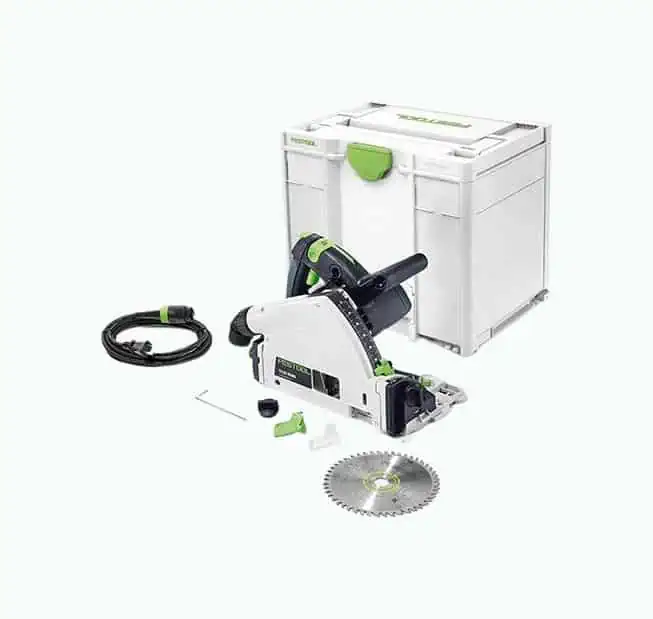 Best Premium Track Saw
Festool 575387 Plunge Cut
Guide rail precision
Zero tearout cutting
Spring-loaded riving knife
Best Cordless Track Saw
Bosch ProFactor
Plunge mechanism for precise cuts
5,500-RPM brushless motor
Integrated vacuum adaptor
Best for the Money
DeWALT DWS520K Track Saw Kit
Can be used without a rail
Value for money
Continuous anti-kickback feature
Best for Beginners
DeWALT FlexVolt Cordless
Dual-edged tracks
Anti-kickback feature
Straight plunge cutting
Best Budget Track Saw
WEN CT1065 10-Amp Plunge Cut
Great price
High-speed motor
Ideal for plunge cuts & ripping
Best for Dust Collection
Triton TTS1400 Plunge Track Saw
1,400-watt motor
Quick blade change
Dust extractor
Review Methodology: At Sensible Digs, we apply meticulous analysis and hands-on experience to bring you trustworthy reviews on the best track saws. We evaluate products from a user's perspective, drawing on our professional expertise and quantitative data to give you an in-depth assessment. We compare performance, design choices, and key decision-making factors such as power, precision, and ease of use. Through rigorous tests and benchmarks, we identify what sets each track saw apart from its competitors. Our findings are based on solid evidence, ensuring you get the most reliable and relevant information to make your purchase decision.
---
---
The Best Track Saws of 2023
Not all track saws are created equal, and the precision and accuracy they require make it particularly important that you choose a high-quality model. To help you do that, we looked at numerous saws before choosing our top seven best track saws that you can buy today. These saws were chosen for their cutting power, bevel capacity, dust collection, and their energy source.
Makita SP6000J1 Plunge Saw
Best Track Saw for Woodworking
Makita is one of the world's leading power tool brands, so it is no surprise that the company also produces excellent track saws. This model has electronic speed control that maintains its cutting speed while working with tough materials. It will continue to make accurate cuts without losing any power.
The blade is powered by a strong 12 amp motor that is capable of providing between 2,000 and 5,200 RPM. There is also a variable speed dial, so you can manually adjust the speed to suit the specific material you are cutting.
What We Like
Large Cutting Capacity
This saw cuts 2 ³⁄₁₆ inches at a 90-degree angle and 1 ⁹⁄₁₆ inches at 45 degrees. It has a larger cutting capacity than the majority of handheld track saws.
Torque Control
This Makita saw has a built-in torque control limiter to prevent burnout, which will keep it working properly for longer.
Electronic Speed Control
Electronic speed control automatically adjusts the blade speed depending on the material you are cutting. This means your cutting shouldn't be significantly affected when cutting through tougher wood than usual.
What We Don't Like
Build Quality Issues
This saw's track is prone to warping, and some reviews mention that the materials used to construct the saw seem to be of a lower quality than expected.
Product Specs
| | |
| --- | --- |
| Weight | 28 lbs |
| RPM | 5,200 |
| Blade size | 6-½" |
| Cord/Cordless | Corded |
| Guide rail | 55" |
| Warranty | 1-year |
Our Ratings
Community Feedback
In my experience, this saw has both its strengths and weaknesses. I find that it works brilliantly when cutting plywood into smaller pieces, but it seems to struggle with anything thicker than 3/4 inch plywood, as it tends to slow down significantly. A design flaw I've noticed is that the power cord often gets caught under the track, which can obstruct the saw's progress. Further, I found that the baseplate was out of alignment with the blade upon delivery, causing cutting resistance and a ragged cut, but after some adjustments, it worked beautifully. Despite these issues, this saw is effective for cutting true and straight lines, particularly for deck border boards, and is priced reasonably compared to other high-end saws.
---
Festool 575387 Plunge Cut Track Saw
Best Premium Track Saw
The Festool Plunge Cut track saw is ideal for passionate DIYers. It will make straight, splinter-free cuts thanks to its guide rails and spring-loaded riving knife.
You will be able to enjoy efficient, user-friendly cutting without noticeable tearing in the material. This Festool saw can accommodate nine different blade types, making it a very versatile model.
The spring-loaded riving knife holds the kerf open, reducing the risk of kickbacks and helping you cut cleanly and safely.
What We Like
Guide Rail Precision
This saw provides simple, straightforward cutting that is laser-straight and splinter-free. The cutting depth can be micro-adjusted to make precise cuts using the two cursor lines.
Zero Tearout Cutting
This saw will help you waste less material as it won't damage the surrounding surface. The guide rail Splinterguard is integrated to ensure no tearing while making cuts.
Spring-Loaded Riving Knife
The spring-loaded riving knife ensures the kerf stays open and prevents the material from pressing against the blade after being cut apart. This minimizes kickbacks, making the saw much safer to use
What We Don't Like
Expensive
As a premium option, this is one of the more expensive saws we have reviewed. While it is an excellent saw, there are some cheaper models that will perform similarly, so you might be able to save some money by looking elsewhere.
Product Specs
| | |
| --- | --- |
| Weight | 7.69 pounds |
| RPM | Not specified |
| Blade size | Not specified |
| Cord/Cordless | Corded |
| Guide rail | 55" |
| Warranty | 3-year |
Our Ratings
Community Feedback
My experience with this track saw has been quite enlightening as a mechanical design engineer with over 35 years of experience. Despite my initial apprehensions due to safety concerns, this saw proved to be a reliable tool for making precise cuts on large pieces of wood. Its setup is easy, and the cuts are not only accurate but also super smooth, giving it an edge over traditional table saws. However, the cost of the saw, along with the tracks and other necessary accessories, can be a bit daunting. Regardless, its performance and the quality of cuts it delivers have made it an indispensable tool in my workshop.
---
Bosch ProFactor Track Saw Kit
Best Cordless Track Saw
Bosch is a global leader in the power tool industry, and this cordless track saw kit is a great example of why that is the case. It uses an 8.0 Ah Profactor performance battery that can cut for 30% longer when used in eco mode.
This cordless design allows you to take the saw kit wherever you need to make cuts, without having to worry about there being an electrical outlet nearby. As long as you charge the battery beforehand, you will have absolute freedom.
If you are concerned about this saw's cutting power due to being cordless, you don't need to be. This saw delivers corded-level power in a cordless model.
What We Like
Plunge Mechanism for Precise Cuts
Users praise this saw's plunge mechanism. It helps you make multiple precise cuts to the same depth. The front and back markers show you where the saw will cut into the material on either side of the base plate.
Powerful Brushless Motor
The powerful Biturbo brushless motor means you won't need to worry about this saw being unable to cut through tough materials. It uses a drivetrain system to make the most of the 8.0 Ah power. You can even buy a separate 12.0 Ah battery if you want to make the saw more powerful than it already is.
Integrated Vacuum Adaptor
The integrated vacuum adapter can rotate 360 degrees for ease of use. This means the saw's dust extraction won't interfere with how it makes cuts.
What We Don't Like
Useful Accessories Sold Separately
If you want to use the single bevel pivot point, you will need to buy a track separately. You can also enhance the saw's cutting power by buying a more powerful battery. This can be frustrating, given that the saw is already quite expensive.
Product Specs
| | |
| --- | --- |
| Weight | 12 pounds |
| RPM | 5,500 |
| Blade size | 5-½" |
| Cord/Cordless | Cordless |
| Guide rail | Sold separately |
| Warranty | 1-year |
Our Ratings
Community Feedback
My experience with this track saw has been largely positive, with its solid construction and well-balanced design making it user-friendly, even for a novice like me. The saw cuts exceptionally smooth and straight, but I found that the track grip needed some adjustment right out of the box. It's worth noting that you have to purchase the track separately, which may be a downside for some. One minor drawback is the lack of miter bars compatible with the track - I had to craft my own. Despite these small hiccups, the performance of this track saw has exceeded my expectations and it's a solid addition to my tool collection.
---
DeWALT DWS520K Track Saw Kit
Best Track Saw for the Money
This DeWALT track saw provides the high quality you expect from the brand but is also excellent value for money. You are unlikely to find a cheaper saw that can match this one's cutting ability.
Its 6.5-inch blade has a maximum cutting depth of 2 ⅛ inches and a zero load speed of 4,000 RPM. At a weight of just 11.5 pounds, this saw is excellent for plunge cuts, trimming, gang cutting, and more.
The main downside of this saw is that the track needs to be purchased separately, but you can buy the Powertec 55" Track for a fraction of the cost of other branded tracks. This saw is still excellent value, even taking the cost of the track into account.
What We Like
Versatile
This versatile saw will make various cuts including bevel, trim, gang, plunge, and more. If used without the rail, you will have a powerful circular saw.
Value
This DeWALT saw is about half the price of some similar models. Although it doesn't include a track, you can purchase a universal one for a little over $100, giving you a kit that will still provide excellent value for money.
Continuous Anti-Kickback
With the continuous anti-kickback control engaged, the saw will only move forwards, preventing it from causing injuries by being knocked back at you.
What We Don't Like
Track Not Included
This is an excellent value standalone saw but not a complete track saw solution. You will be able to buy a universal track for a relatively small amount, but the specific DeWALT track will increase your costs significantly.
Plastic Parts
The lock and blade plunge switch is made of plastic, which feels flimsy compared to some of the sturdier options on the market.
Product Specs
| | |
| --- | --- |
| Weight | 18.25 pounds |
| RPM | 4,000 |
| Blade size | 6-½" |
| Cord/Cordless | Cord |
| Guide rail | Sold separately |
| Warranty | 3-year limited |
Our Ratings
Community Feedback
My experience with this saw has been pretty remarkable. As someone who's been working with wood for a while now, I've always had issues cutting plywood using my cabinet saw, but this tool came to my rescue. The cuts are smooth and accurate, and I'm really impressed with how powerful it is. The plunge mechanism works like a dream, and the dust control feature is a bonus. The only downside might be its price when adding all the necessary extras like a spare blade, vacuum hose, and adapter, clamps, two tracks, work support and tax - it adds up quickly. However, this saw has been a great addition to my tool collection and has undoubtedly improved the quality of my work.
---
DeWALT FlexVolt Cordless TrackSaw Kit
Best Track Saw for Beginners
If you are looking to buy your first track saw, this is an excellent beginner-friendly option. Customer reviews praise its ease of use, but it is also very accurate. This is a zero-clearance track saw, with precision as a top priority.
As a cordless saw, you will have the freedom to go anywhere and won't need to worry about a power cable getting in the way of your work. With dual-edged tracks, you will be able to cut in either direction without any loss in accuracy.
In terms of safety features, there is an anti-kickback mechanism that ensures the saw only moves in the direction you want it to go while cutting. This means the saw won't be jolted back at you during use.
What We Like
Dual Edged Tracks
The saw's dual-edged tracks mean you can make perfectly straight, accurate cuts in both directions.
Anti-Kickback Feature
This unit features a continuous anti-kickback mechanism, so you won't have to worry about the saw being jerked back at you during use.
Straight Plunge Feature
Customers praise the straight plunge feature that provides a smooth, accurate cut. It also reduces the amount of dust that is released. This saw has a low-profile guard to reduce dust by 90%.
What We Don't Like
Track Not Included
The track is not included with the saw, so you will need to purchase it separately. This will increase the amount you spend but your cuts will also be far more accurate with a track.
Product Specs
| | |
| --- | --- |
| Weight | 12.5 pounds |
| RPM | 4,000 |
| Blade size | 6-½" |
| Cord/Cordless | Cordless |
| Guide rail | Sold separately |
| Warranty | 3-year limited |
Our Ratings
Community Feedback
My experience with this track saw has been a mix of triumphs and minor disappointments. It's fantastic for general rough work with its smooth operation, impressive power, and effective dust collection. However, for precision tasks like cabinet making, the play in the base slots can compromise the accuracy of cuts, which I found disappointing. The supplied blade also leaves room for improvement, as I noted splintering in high-grade plywood, leading me to consider investing in a higher-quality replacement. Despite the issues, the saw's ease of use and convenience, especially when ripping plywood, is undeniable. One must be prepared though, to possibly spend more for additional accessories or to overcome the saw's shortcomings.
---
WEN CT1065 10-Amp Plunge Cut Track Saw
Best Budget Track Saw
Even among budget-friendly saws, this WEN product stands out as being very affordable. It has a maximum cutting depth of 2 ⅓ inches, making it ideal for cutting large sheets of material.
The blade supplied with the saw is a 24-tooth carbide-tipped model, and it has a 20 mm arbor. This saw is ideal for plunge cuts and ripping. With enough of a track, you will be able to easily make 100-inch cuts.
For a budget option, this is a versatile, user-friendly track saw. It has a power cord, so you won't need to worry about it running out of juice while cutting.
What We Like
Low Price
This saw earned its place on our list as it is very budget-friendly. It isn't one of the most powerful saws on the market, but it will let you cut material without spending too much money.
High-Speed
The 10-amp motor in this saw is capable of spinning the blade at a maximum of 5,500 RPM. This is impressive, especially for a budget-friendly saw.
What We Don't Like
Build Quality
Budget tools mean compromises have to be made somewhere, which often means lower-quality materials. There is a lot of plastic used in this saw, so it will likely be less durable than the other saws on our list.
No Track
The lack of a track is no surprise given the low price of the saw, but it means you will need to buy one separately. As the saw is so cheap, you should still save money compared to buying most other saws.
Product Specs
| | |
| --- | --- |
| Weight | 13.58 pounds |
| RPM | 5,500 |
| Blade size | 6-½" |
| Cord/Cordless | Cord |
| Guide rail | Sold separately |
| Warranty | 2-years |
Our Ratings
Community Feedback
Excellent! This 6.5" saw boasts a sturdy plastic frame that's surprisingly robust for the price point. The myriad features, including a number of safety measures, make this tool seem well-constructed and thoughtfully designed. However, the blade visibility is a bit of a challenge, making precision cuts sometimes tricky. Transitioning from a circular saw to this saw and track was a breeze, with the high-friction pad on the bottom of the track eliminating the need for clamps. Despite the occasional difficulty in viewing the blade, this saw has been a welcome addition to my tool collection, allowing me to easily handle large sheets of wood. It's a quality product for a fantastic price.
---
Triton TTS1400 Plunge Track Saw
Best Track Saw for Dust Collection
This Triton track saw packs a serious punch. It has a powerful 1,400-watt motor that generates 5,300 RPM. It also has a fast blade change feature and soft-grip handles for greater comfort and control. There is a plunge lock, variable speed control, and a soft-start mode.
This saw's standout feature is its universal dust adaptor. It will remove the vast majority of sawdust created while sawing, keeping the air clearer and protecting your lungs.
It cuts relatively quietly for a track saw, generating 95 dB, which is the equivalent of a motorcycle engine running. This is in comparison to the 107 dB of some other models featured.
What We Like
1,400-Watt Motor
The 1,400-watt motor generates 5,300 RPM, so this saw is capable of ripping through all types of wood.
Quick Blade Change
Struggling to replace a blade can slow your work significantly, but this saw has a quick blade change feature. It has free plunge, scribe, and blade change modes.
Dust Extractor
This saw's excellent dust extraction is the reason that it features on our list. It has a universal adaptor that will remove almost all the debris that is created while sawing.
What We Don't Like
No Track
Like many other track saws, this model is sold without a track. If you purchase this Triton saw, you will also need to purchase a track separately to make long, straight cuts.
Poor Packaging
Some customers have complained that the saw is packaged poorly, leading to it being damaged in transit. Others have said that the angle guide settings are inaccurate, affecting the quality of their work.
Product Specs
| | |
| --- | --- |
| Weight | 6.5 pounds |
| RPM | 5,300 |
| Blade size | 6-½" |
| Cord/Cordless | Cord |
| Guide rail | Sold separately |
| Warranty | 1-year limited |
Our Ratings
Community Feedback
I'm a bit torn on this track saw, as my experiences have been mixed. Yes, it's got some hiccups like not sliding backwards smoothly on the track, which can be annoying when making multiple passes. Also, it feels a bit underpowered, even when cutting through solid walnut, which I usually do in quarter inch passes. On the flip side, the plunge depth adjustment is accurate and user-friendly, and the knobs for adjustments are easy to handle. The saw's price is reasonable and the included blade is of good quality. However, its durability is questionable, as it failed after only a few uses.
---
What Is a Track Saw Used For?
Track saws get their name for the track they slide along, which enables a user to make accurate straight cuts with minimal effort. They are ideal for trimming doors and for cutting plywood and other large sheets of material.
Many professional carpenters and woodworkers use track saws as they are fast and accurate, as well as being relatively versatile. They will provide a much neater finish than marking a line by hand and cutting it manually using a handsaw.
Benefits of a Track Saw
Portable
Unlike large, stationary table saws, track saws are small and portable enough to be carried under one arm. This makes them ideal if you are a professional carpenter and need to work onsite.
Makes Long Cuts
Table saws have a limited capacity, meaning you won't be able to cut very large pieces in one sweep. Circular saws are less accurate as you need to guide them by hand, which makes cutting long lines very difficult.
On the other hand, track saws can keep cutting as long as you have a track for it to follow. They are very accurate and provide a neat finish that requires minimal sanding after cutting.
No Clamps Needed
On most models, the tracks have non-slip rubber strips on the bottom. This means you can simply place them down on the material without them moving around, which is much quicker than using clamps. This means track saws are fast as well as accurate.
Dust Collection
Most track saws have a saw dust collection system, which gathers sawdust and keeps it inside a bag. Sawdust can be very harmful if inhaled, so this is an important safety feature on a tool that creates a large amount of debris.
Easy Setup
To set up a track saw, you simply place the track down, line it up with your marks on the board, and the edge will show you exactly where the cut will be made. This removes any guesswork and means that there will be no need to make test cuts.
Works in Tight Spaces
Unlike a table saw, which needs enough space for the material to be fed into the blade and emerge from the other side, a track saw only requires as much space as the size of the material itself. This is because a track saw moves, rather than the material itself moving.
Makes Neat Cuts
Track saws provide among the finest finishes of any power saw. In comparison to a table saw or circular saw, which usually leaves the material in need of some tidying up with sandpaper, a track saw should leave you with a smooth cut after the first sweep of the blade.
No Limit Miters
Table saw miters have limits that restrict the cuts you can make with them. There are no such limits with a track saw. The miter can be as long as you want at any angle. This will allow you to work quickly without compromising the accuracy of your cuts.
Multi-Purpose
A track saw can be used in place of a miter saw, a table saw, a circular saw, or a panel saw. This versatility is one of the main reasons that these saws have become so popular with professional carpenters and construction workers.
Safe to Use
As the saw is on a track and faces away from the user, there is minimal risk of accidents, especially with a non-slop track. This is much safer than the exposed blade of a table saw.
How to Choose the Best Track Saw
Track saws can change the way you work but only if you choose the right model, which isn't always easy. Keep the following in mind and you should have a better chance of buying a saw that suits you
---
FAQs
---
Thank You For Your Feedback!
Thank You For Your Feedback!