Distillation is the process of evaporating water and transferring it to another container, leaving behind any contaminants and impurities. Distilled water is one of the purest types of H2O you can acquire.
This purity is the reason that distilled water is used for so many purposes, including healthcare, automotive engineering, and drinking. Pure water has some obvious uses, but there are many others that you might not be aware of.
In this article, we will explore 10 different uses of distilled water, so you can see just how versatile it truly is.
Key Takeaways
Distilled water is pure and free of contaminants, making it ideal for medical, automotive, and drinking purposes.
It is commonly used in hospitals for sterilizing instruments and cleaning wounds due to its purity.
Distilled water is perfect for use in humidifiers, CPAP machines, and car cooling systems as it prevents mineral deposits and bacterial growth.
Other uses include laboratory experiments, cosmetic products, aquariums, and ironing, as it ensures accurate results and prevents damage caused by minerals and contaminants.
What is Distilled Water?
Water distillation is a process that effectively mimics the natural water cycle. In nature, water evaporates and becomes a gas, rising to form clouds, which then cool and condense to rain back down to earth (1).
During distillation, water is boiled until steam rises. The vapor cools and is collected as it condenses. When the water evaporates, any minerals and contaminants it contains are left behind, meaning pure water is extracted (2)
10 Uses of Distilled Water
The purity of distilled water means it is ideal for situations where contaminants could be harmful or damaging. This is why it has been used in medicine and engineering for many years, but it also has numerous other applications. Let's explore 10 current distilled water uses.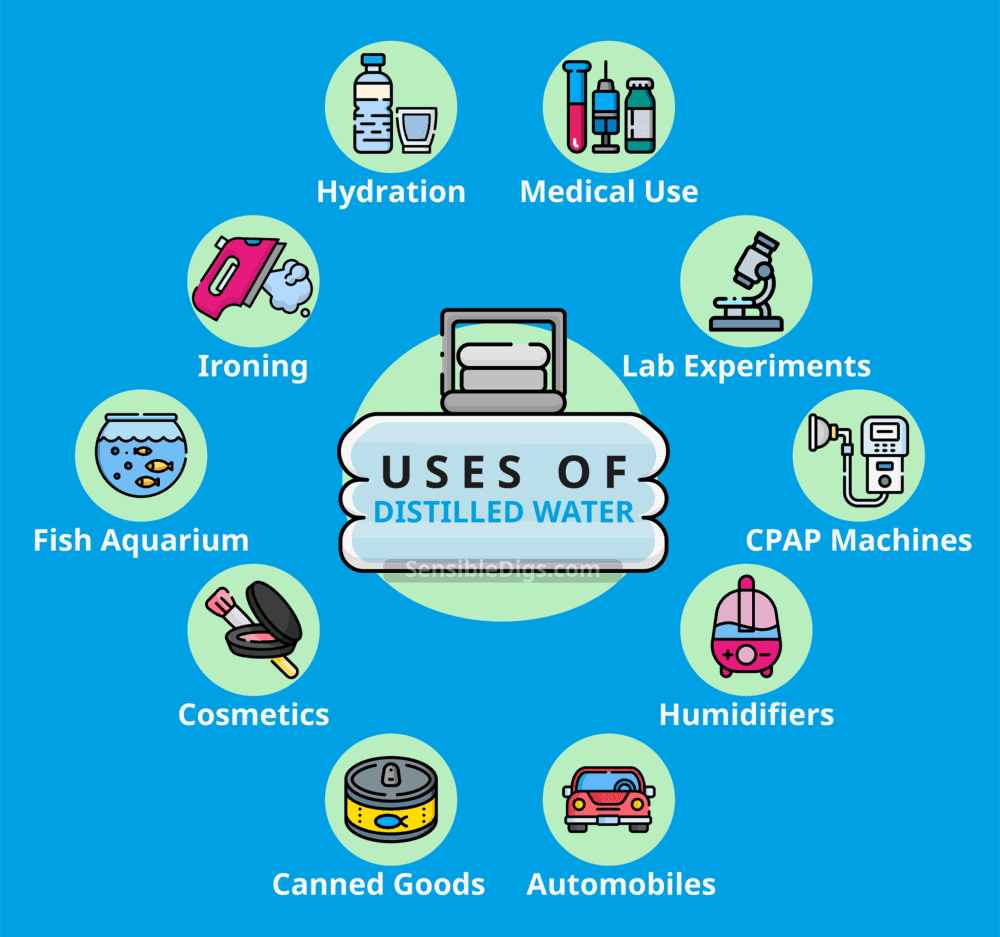 1.

Staying Hydrated

Drink Up

Experts recommend that men should drink 12.5 cups of water per day and 9 cups for women.

Drinking distilled water

is a safe way to accomplish this.

Our bodies require water to function (3). It helps regulate your temperature, lubricates joints, and aids your digestive system. As our bodies lose water through natural processes such as sweating and urination, it is essential that those lost fluids are replaced.

Minerals

Distilled water has no mineral content. If you drink it, you should eat a balanced, healthy diet to ensure your body still receives the minerals it needs.
2.

Sterile Medical Uses

Due to its purity, distilled water has many uses in hospitals and medical practices.
Medical instruments: Surgical instruments need to be sterilized. As distilled water contains no contaminants, sterile instruments will remain clean and safe to use. Distilled water also won't leave mineral deposits on the sterilization equipment.
Hygiene: Not only instruments need to be sterilized to prevent infection and cross-contamination. Surgeons need to ensure they are completely clean before commencing surgery. Tap water can contain contaminants, so distilled water is perfect to avoid transferring germs and bacteria onto their hands before working with patients (4).
Wounds: Distilled (or sterile) water is also used to clean wounds due to its purity. This reduces the risk of infection.
Dentistry: Dentists frequently use distilled water, particularly following a tooth extraction or root canal treatment. The water used to rinse your mouth will also be sterile, washing away existing bacteria.
3.

Laboratory Experiments

Accuracy and consistency are key during laboratory experiments. To ensure contaminants or minerals don't influence results, most labs will use distilled water.

The purity means it won't react with other chemicals, so researchers can be confident that their results are accurate (5).

The pH level of distilled water is 7, which means it is neutral, not too acidic or alkaline (6). However, when it mixes with carbon dioxide in the atmosphere, the pH level is lowered to about 5.8, making it acidic (7). This can affect laboratory results, which is why it is important to use distilled water from a sealed bottle.
4.

Use in Continuous Positive Airway Pressure (CPAP) Machines

A CPAP (continuous positive airway pressure) machine is life-changing for people who suffer from sleep apnea. This disorder prevents them from breathing regularly while they sleep; they wake up briefly as their breathing resumes (8). This can lead to very sleepless nights for them and their partners — snoring is one of the most common symptoms.

The CPAP machine pressurizes air so that, when it is inhaled through the attached mask, it keeps the airway open. Many also have a small water tank that adds moisture to the air. Using distilled water in these devices will help prevent bacteria from breeding, and the machine won't be damaged by mineral deposits (9).
5.

Helps Humidifiers Function Properly

If you have a humidifier in your home, you should consider using distilled water in it.

Unfiltered tap water will have a higher concentration of minerals and other particles. These can accumulate in your machine, shortening its lifespan and preventing it from working properly.

Humidifiers help to prevent dry skin, which is great in winter when your heating dries the air in your home. They can also be helpful for those who suffer from sinus issues and allergies, as well as reducing snoring (10).

As added bonuses, your house plants and any wood in your home will benefit from the extra moisture in the air.
6.

Automobile Care

Your car's cooling system is an important part of keeping it running properly. If you top it up with untreated water, you could end up with corrosion and build-up in the system. Distilled water contains no minerals, so it is perfect for use in your car.

Another part of your car that might need topping up is its battery, but regular tap water is unsuitable. The minerals it contains can damage the battery and prevent it from charging properly. Hydrate your battery using distilled water to prolong its life and keep your car starting properly (11).

It might seem expensive or time-consuming, but you should consider washing your car with distilled water. This is particularly beneficial if you live in a hard water area, where you can end up with limescale marks even after cleaning it meticulously. Using distilled water for cleaning will help you achieve a spotless, mark-free finish.
7.

Canned Vegetables and Fruit

If you grow your own fruits and vegetables and want to preserve them for the winter months, placing them in cans will help you keep them tasting as fresh as possible.

Using distilled water when canning your food will ensure it retains its vibrant color and taste. Tap water, especially hard water, could leave it looking cloudy (12).

It also minimizes the risk of altering the flavor. As there are no salts and minerals in distilled water, your food won't absorb them and taste different.
8.

Cosmetics Use

The vast majority of cosmetic products that we use contain water. Water is added to ensure the ingredients can transfer their benefits to your hair or skin. It also works as part of emulsions in lotions and creams, to make them easier to apply.

The water used needs to be free from pollutants, toxins, and microbes, which are all properties of distilled water (13). Its purity means no bacteria or contaminants will interfere with the product or harm your skin and hair.
9.

Something Fishy

The chemicals and minerals in tap water can be harmful to fish in an aquarium. Some of these fish can be very rare and expensive, and nobody wants to be responsible for poisoning any type of fish.

Distilled water is free from substances such as chlorine and other contaminants, which can negatively affect the contents of your tank. It also contains no bacteria, which is another essential part of keeping your fish healthy.

Make sure you check the pH levels of the water to ensure it is suitable before putting the fish into it. As the water is pure, you will need to add the beneficial minerals that your fish need, but this gives you far more control over the amounts that are present (14).
10.

Ironing out the Creases

Ironing must be considered among the least popular household chores. A steam iron will make this task much easier, but the wrong water type can leave spots all over your clothes. This is usually because of limescale and other minerals in the tap water.

Using distilled water will prevent build-up and corrosion inside your iron, which will also keep it from ending up on your clothes. Before filling your iron with distilled water, check the manufacturer's instructions. Some recommend using a 50/50 mix of tap water and distilled water (15).
FAQs
---
Thank You For Your Feedback!
Thank You For Your Feedback!