Alkaline bottled water has enjoyed a rapid rise in popularity in recent years, with many people choosing it when they want healthier water. There has been much debate about how beneficial alkaline water truly is, but it is high-quality water in any case.
If you decide you want to try alkaline water for yourself, you will be spoilt for choice when it comes to brands. In fact, there are now so many companies offering it that you might need some help to find the best ones.
In this article, we will explain the key things you should look for when choosing an alkaline water brand. We will then share our picks for the best alkaline water brands you can buy today, chosen for how the water is alkalized, its taste, and value for money.
Image
Model
Product Comparison Table
Features
Customer Favorite
Essentia Ionized Alkaline Water
Microfiltration & reverse osmosis
12-pack
BPA-free plastic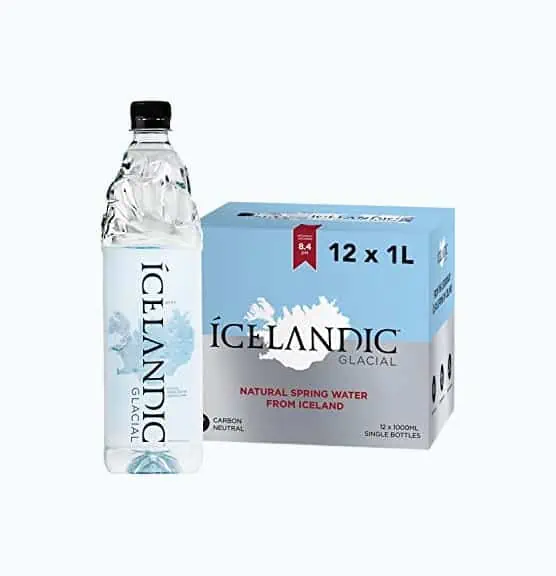 Best Natural
Icelandic Glacial Natural Spring Water
Sourced from a natural spring
Certified carbon neutral
Three extra flavors
Most Balanced
LIFEWTR pH-Balanced Purified Water
pH balanced
Purified via reverse osmosis
Has added electrolytes
Best Mineral
Evamor Natural Alkaline Artesian Water
Sourced from natural groundwater
Complies with US regulations
No additives
Best Purified
Qure Alkaline Water
9-stage purification process
Natural ions added
FDA compliant
Best Eco-Friendly
Flow Alkaline Spring Water
100% recycled packaging
Three flavors
12-pack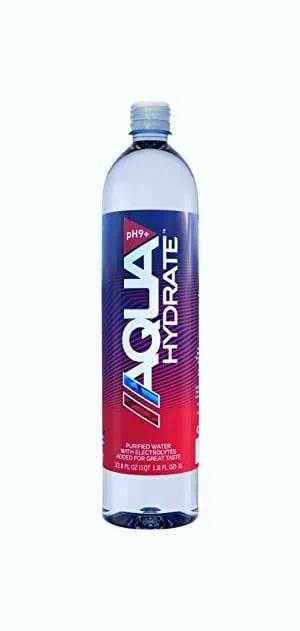 Best High-End
AQUAhydrate Electrolyte Enhanced
Reverse osmosis & UV purification
Locally sourced
Formulated for active lifestyles
---
---
The Best Alkaline Water Brands of 2023
If you intend to try it for yourself, our alkaline water brand reviews should help you make an informed choice. We chose these brands based on their value for money and the alkalizing method used, as well as customer feedback, overall reputation, and water quality.
Essentia Ionized Alkaline Water
Customer Favorite
Essentia is a customer-favorite alkaline water brand and it is easy to see why. It uses a combination of microfiltration and reverse osmosis to make this product 99.99% purified. The brand focuses on rehydration to improve health and claims its water has a pH of 9.5 and above.
The water is produced using a proprietary system that has a reduced impact on the environment. It is packaged in recyclable, BPA-free plastic that further emphasizes Essentia's commitment to eco-friendliness.
We recommend the 12-pack, which offers great value for money. Each 1-liter bottle is ionized from various, unspecified sources.
The packaging design is also eye-catching on a superficial level. Its bold black, white, and red design makes it stand out on a shelf, which is likely another reason for its popularity.
We struggled to find any serious criticism of this water. Customers are pleased with its taste and texture, noting that there is no unpleasant aftertaste or odor. Some customers did mention damaged packaging and shipping errors, but it is unclear whether or not Essentia is responsible for this.
Pros
Filtered using microfiltration and reverse osmosis
Value for money 12-pack
Eco-friendly
BPA-free plastic
Cons
Unspecified water sources
Some packaging and shipping errors
Our Ratings
---
Icelandic Glacial Natural Spring Water
Best Natural Alkaline Water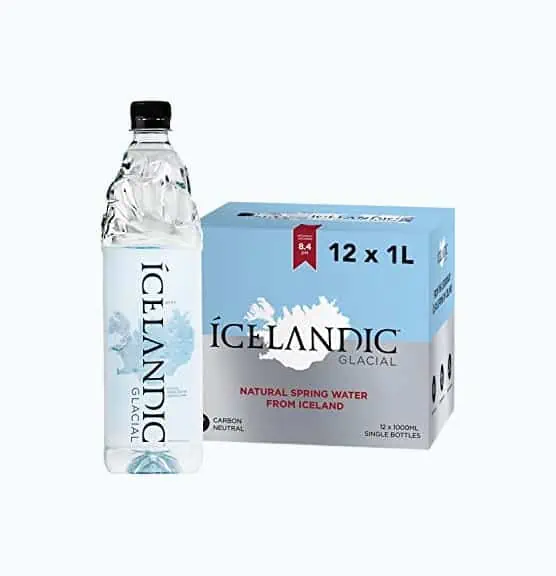 Icelandic Glacial boasts that its product is as pure as water can be. Sourced from Iceland's Ölfus spring, the brand states that its water is 100% natural with nothing added or removed. It has a naturally low mineral count and no harmful heavy metals or silica.
One trait that makes this water stand apart is that it is not ionized and has a natural 8.4 pH level, higher than some ionized water brands. Icelandic Glacial's alkaline water is certified as carbon neutral, making it a great eco-friendly option. In fact, it was the first bottled water to receive this certification.
If you want water with flavor, Icelandic Glacial offers three options: elderflower, Tahitian lime, and Sicilian lemon, although plain water is available if you prefer to drink it unflavored. You can also choose from sparkling or still.
Our only concern is that, for all the brand's pride in its natural water source, there is no evidence of this product being filtered. It is safe to drink but may contain traces of contamination.
Pros
Naturally sourced
Affordable 12-pack (1-liter bottles)
Certified carbon neutral
Great range of flavors
Cons
Unfiltered water
Tastes like standard bottled water
Our Ratings
---
LIFEWTR pH-Balanced Purified Water
Most Balanced
If you want to try alkaline water without the risks associated with very high pH levels, we recommend LIFEWTR. As it ranges between 6.4 and 7.4 on the pH scale, it is only slightly alkaline (and can be slightly acidic), but it is your best bet if you want to test the water before diving in.
The affordaility of this product caught our eye. The pack we chose contains six 1000 ml bottles, meaning it is both budget-friendly and convenient.
Aesthetically, each bottle features one of multiple designs by artists. They look great, which will only encourage people to drink more water.
LIFEWTR is a product of Pepsico — the same company that produces Pepsi. This product has a major advantage in terms of reputation, as you know it comes from a trusted company.
This water might not have the alkaline level of some other products, but it makes up for it with other benefits. It has has added electrolytes to improve the taste, but research has shown that they also provide an energy boost and aid several biological processes (1).
Another major positive is that this water is purified using reverse osmosis, which is known to remove bacteria and other contaminants from water (2). The electrolytes that are removed during this process — magnesium sulfate and potassium bicarbonate — are replaced after the water is purified.
Overall, this is an excellent product from a respected brand that we recommend if you are new to alkaline water.
Pros
pH balanced, only slightly alkaline
Budget option in a compact package (6-pack, 1000 ml each)
Purified by reverse osmosis
Added electrolytes
Cons
Water source not specified
Alkaline level could be considered too low
Our Ratings
---
Evamor Natural Alkaline Artesian Water
Best Mineral Alkaline Water
It may not be as well known as some other brands, but there is a lot to like about Evamor. It is always comforting when a company discloses where its water is sourced. This means there is far less guesswork regarding how your water is produced.
In fact, Evamor's entire production process is fascinating and makes the brand stand out. This alkaline water is naturally sourced from a protected local aquifer, with a body of permeable rock that produces, collects, and stores groundwater.
Evamor's alkaline water is bottled at the source, lowering the risk of contamination in transport. This saves energy and helps the environment. A huge advantage is that this product is monitored and tested to meet state and federal standards.
The brand is open about how the pH level of its products naturally fluctuates. The pH is quite basic, ranging from 8.8 to 9.1 on the scale.
Pros
Natural groundwater
Great value 6-pack (1 liter bottles)
Complies with state and federal regulations
No additives
Cons
Not purified
Groundwater has a mineral taste
Our Ratings
---
Qure Alkaline Water
Best Purified Alkaline Water
If you want water with serious alkaline content, this Qure product is ideal. Its pH levels can exceed 10 — very impressive for a naturally-sourced product. If that isn't enough, the water also undergoes nine-stage reverse osmosis purification.
Once the water has undergone this comprehensive treatment, minerals are added to it via ionization. This process mimics nature and no synthetic ingredients or nutrients are added.
Qure doesn't leave it there. After ionization, the water is filtered again, this time through a coconut and mesh filter. The final step is to disinfect the product via UV sterilization. We have never seen another brand that was so meticulous in its purification.
Pros
Extensive purification process
Natural ions are added
Excellent value for money; 24-pack of 500 ml bottles
FDA-compliant
Our Ratings
---
Flow Alkaline Spring Water
Best Eco-Friendly Option
The Burning Man festival's environmental impact inspired the creation of Flow Water Inc. The brand's founder Nicholas Reichenbach wanted to make a difference after witnessing the shocking amount of plastic waste left by festivalgoers.
That is why the company's alkaline water is packaged in 100% recyclable paper cartons. This gives it a much smaller smaller carbon footprint — even the cap is sustainable and plant-based.
As for the water, it is naturally sourced within the United States and Canada. It measures 8.1 on the pH scale and contains natural minerals and electrolytes. It can apparently also count Gwyneth Paltrow among its fans!
Pros
100% recyclable paper packaging
Great flavor variety (blackberry hibiscus, elderflower, cucumber mint)
Good value for money (12-pack, 500ml each).
Cons
Untreated water
Strong flavor, customers recommend drinking it chilled
Our Ratings
---
AQUAhydrate Electrolyte Enhanced Water
Best High-End Option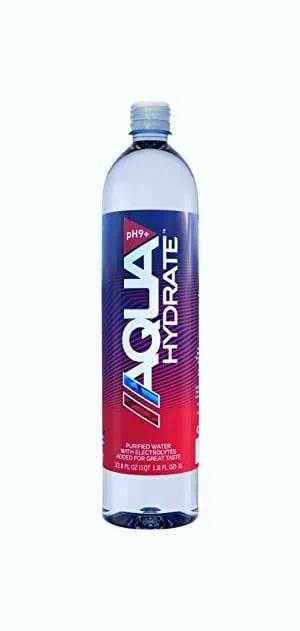 AQUAhydrate has some hefty celebrity endorsements — its ambassadors include Mark Whalberg and Sean "Diddy" Combs.
The aim of AQUAhydrate's water is to rehydrate active people. The brand claims that its products are popular among professional athletes, and that it boosts performance. This alkaline water measures more than 9 on the pH scale and its purification, natural minerals, and electrolytes have made it a leading product.
It is purified via reverse osmosis and UV filtration. A proprietary blend of 72 unspecified trace minerals is added. AQUAhydrate claims that its formula contains twice as many electrolytes as its competitors.
Pros
Reverse osmosis and UV purification
Locally sourced
72 minerals added
Formulated for active people
Cons
High cost per bottle
Customers report a mineral aftertaste
Our Ratings
What Is Alkaline Water?
The pH scale measures how acidic or alkaline (basic) a solution is. A pH of less than 7 is acidic, and more than 7 is alkaline. In its natural state, water has a pH of between 6 and 8.5 (3).
To put that in perspective, hydrochloric acid has a pH of 0, whereas your stomach acid sits at 1 on the scale. Baking soda weighs in at 12, but sodium hydroxide (a cleaning agent) is the most basic at 14 (4).
PH
pH stands for "potential of hydrogen". It is used because acids are measured by the prominence of hydrogen ions in a substance or solution. In alkaline solutions, hydroxide ions are dominant instead
(5)
.
Is Alkaline Water Safe to Drink?
Although alkaline water is considered safe, it still comes with a few warnings. If you're unsure about drinking it, consult a doctor before you try. It's important to keep the following in mind, although they are rare issues:
Its alkalinity could interfere with your stomach acid.
Risk of contamination: Ionizing water is a separate process from filtering it, so you must ensure it still comes from a treated source.
Metabolic alkalosis: This occurs when your body is deprived of hydrogen (6). Symptoms include nausea, vomiting, tremors, twitching, confusion, and tingling.
Bear In Mind
Ionized water may lack the minerals contained in hard water. The World Health Organization shared a Czech study that found soft water isn't healthy when frequently consumed in large amounts
(7)
. Demineralized water might taste better, so it's great to treat yourself — just don't overdo it!
How to Choose the Best Alkaline Water Brands
There are numerous excellent brands of alkaline water operating today, but they each have some key differences from their competition. Keep the following in mind when choosing a brand:
---
FAQs
---
Thank You For Your Feedback!
Thank You For Your Feedback!