Preparing for the next cold season is wise, especially if you regularly get a lot of snow. But how do you decide which tool is the best? Making the wrong choice between a snow blower and a snow thrower could be costly, especially if you choose an underpowered machine.
We compare snow blowers vs. snow throwers for power, capacity, throwing distance, and cost.
Key Takeaways
Snow blowers are two-stage machines with more power, suitable for heavy snowfall and larger areas.
Snow throwers are single-stage machines, lighter and more affordable, ideal for light snowfall and smaller areas.
Two-stage snow blowers have a wider clearance width and plowing depth, while single-stage snow throwers are easier to maneuver.
Snow blowers require more maintenance and are typically more expensive, while snow throwers are budget-friendly and require less upkeep.
---
Snow Blower Vs. Snow Thrower
There are distinct differences between the two that are clear in their functions, capabilities, and power. Let's take a look in more detail.
| Features | Snow Blower | Snow Thrower |
| --- | --- | --- |
| Clearance width | 22 to 30 inches | 12 to 22 inches |
| Plowing depth | 12 to 20 inches | 6 to 12 inches |
| Power source | Gas | Gas/electric/battery |
| Throwing distance | 30 to 40 feet | 20 to 30 feet |
| Weight | 100 to 200 pounds | 20 to 50 pounds |
| Single or two-stage | Two-stage | Single-stage |
| Usage | Heavy snowfall | Light/medium snowfall |
| Price | $$$ | $$ |
---
What Is a Snow Blower?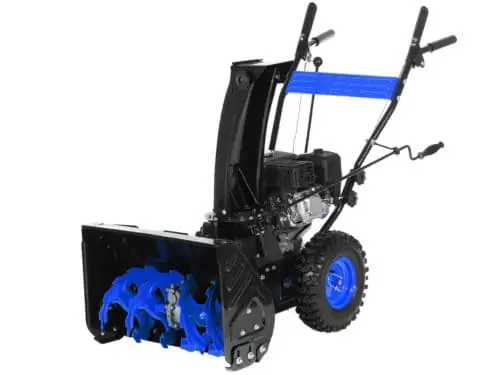 Snow blowers are typically two-stage machines, which means they have an auger and an impeller. The auger is the large blade at the front of the blower that cuts through the snow and feeds it into the belly of the machine.
The impeller projects the snow out of the chute, blowing it up to 30 or 40 feet in distance. Snow blowers are heavier and more expensive to buy, but they produce more power, which increases your snow clearing capabilities.
Pros
You get more power, which increases your rate and clearance capabilities.
Superior throwing distance allows you to clear wider areas.
The auger and impeller share the load, decreasing the strain on the working components.
Allows you to cut through thicker snowdrifts.
The auger slices through wet and icy snow, making it easier to clear.
You get adjustable forward and reverse gears making it easier to maneuver.
Cons
Snow blowers are heavier than snow throwers.
Two-stage machines are more expensive to buy.
Snow blowers are typically gas-powered, so you need gasoline and oil for maintenance.
These machines require a more intensive maintenance regime.
The auger sits in an elevated position and leaves a small layer of snow.
Choosing a Snow Blower
Snow blowers are more powerful machines that utilize a dual-stage system to scoop up the snow and blow it out of the exhaust chute. The auger cuts through the snow, and the impeller shoots it out the top of the snow blower.
If you expect to get significant snow covering, then a snow blower is better equipped to handle more extreme conditions. Most two-stage snow blowers are wider, with some measuring up to 30 inches of plowing width.
It means you get a wider clearance path, saving you time and effort because you only need to make one sweep. Plus, you get a superior plowing depth, so when you look out your window first thing in the morning and see over a foot of snow, you know your snow blower can cope.
Also, the auger and impeller share the load, increasing the longevity of your machine. Most two-stage snow blowers come with adjustable forward and reverse speeds, so getting the blower moving is a lot easier, especially given their size and weight.
These models are excellent at chewing through wet and icy snow, thanks to the added potency that comes with the auger and impeller. Snow throwers would struggle in these conditions.
There are downsides to choosing a snow blower. First, they are more demanding when it comes to maintenance. And with more moving parts, you are likely to experience malfunctions more frequently.
Plus, these machines are expensive when compared to single-stage snow throwers. Sometimes you could pay two or three times the price of a snow thrower, so if you don't need the extra power, it might be better to get a smaller and cheaper machine.
Finally, snow blowers are two-stage machines, so more likely to be gas-powered. You don't get the same choice options as you do with snow throwers.
---
What Is a Snow Thrower?
A snow thrower looks almost identical to a snow blower, with one distinct difference; it only has an auger to scoop the snow and force it out of the chute. For this reason, these types of snow clearing tools are single-stage machines, often referred to as "single-stage snow blowers".
Snow throwers are smaller, lighter, and cheaper than snow blowers, but you do forfeit power and snow clearance capabilities because they are better suited to lighter snowfall.
Pros
Snow throwers are lighter and easier to control and maneuver.
These machines are a great budget option as they retail for less than snow blowers.
Requires less maintenance, which is better for the less mechanically minded.
Clears snow close to the ground, removing all traces of snow.
Cons
Reduced capabilities, so they are only suited to lighter duties.
Reduced plowing width and depth.
Doesn't throw the snow as far.
Choosing a Snow Thrower
Snow throwers are the babies of the bunch. They are the perfect tool to choose if you only get light snowfall or have a smaller plot to clear. They typically come in gas and electric versions, so you get a broader choice.
Electric snow throwers are more affordable, sometimes costing less than half the price of a snow blower. You can also get cordless versions that give you the freedom of a gas model without all the maintenance and running costs.
If you live in an area where the snowfall is limited, a smaller and lighter snow thrower is the ideal tool. It is also perfect for clearing smaller plots. A snow thrower gives you options because it saves you from spending big bucks on a larger snow blower.
Snow throwers are lighter, cheaper, comfortable to maneuver, and easier to store away. The downside is they have limited capabilities, with a slimmer plowing width and depth. You typically get between 12 and 22 inches of clearance width and 6 to 12 inches of height.
Snowblower vs. Snow Thrower
---
Thank You For Your Feedback!
Thank You For Your Feedback!