Knowing when to buy a single-stage, two-stage, or three-stage snow blower can be a challenge. A lot rests on how much snowfall you get.
Choosing the right model is crucial, which is why we take a look at each type of snow blower in detail based on their power, energy-source, and capacity for both depth and width of snow clearance.
It could make all the difference when it comes to keeping your yard free of the white stuff.
Should You Buy a Single, Two, or Three-Stage Snow Blower?
If you have light snow flurries and a smaller yard, a single-stage electric or gas-powered snow blower is the better option. They are smaller and less powerful, but are cheaper and easier to store away and maintain. Two-stage models have more potency and greater clearance depth and width. They speed up the process thanks to their auger and impeller system that drags in the snow and shoots it out of the chute with more force.
---
Single-Stage Vs. Two-Stage Vs. Three-Stage Snow Blowers
Here's an at-a-glance guide of the main differences between the three types of snow blowers.
Functions
Single-Stage
Two-Stage
Three-Stage
No. of augers
1
1
2
Accelerator
No
No
Yes
Snow type
Light
Medium/Heavy
Heavy
Snow depth
6-12 inches
Up to 2 ft
2 ft and above
Area size
Small (walkways, short driveways)
Medium to large (long driveways, backyards)
Large (large plots, driveways, sidewalks)
Power
Gas: 150 to 200 CC;
Electric: 11 to 15 A
230 to 250 CC
250 to 300 CC
Snow clearance width
12 to 21 inches
21 to 30 inches
30 inches and above
Throwing distance
20 to 30 feet
35 feet
20 to 30 feet
Maintenance
Low
Medium
High
Price
$
$$
$$$
---
Single-Stage Snow Blowers
Single-stage blowers are considered to be the babies of the bunch. They only have an auger to drag the snow into the machine and propel it out of the chute. For this reason, they are better suited to lighter duties.
Single-stage blowers have an auger that typically makes contact with the ground. This propels the snow blower forward, clearing every last drop of the snow. However, you are restricted to the types of surfaces you can remove, especially if you have a gravel pathway.
Pros
Better for lighter tasks and light snowfall, plus smaller yards.
Cheapest to buy compared to the other two types.
Although maintenance is required, they are straightforward to repair.
Easier to store away in the garage thanks to their smaller size.
Requires minimal upkeep, except the cost of batteries or gasoline.
Cons
Limited snow depth because of the lack of an impeller.
Limited to the types of surfaces you can work on.
There are two types of single-stage snow blowers, namely, electric and gas.
Electric
Electric snow blowers are not as common as gas-powered models. They come in two varieties; corded and cordless. Corded snow blowers require a power outlet, which restricts the scope of your tasks because of the cord.
Electric snow blowers are weaker than gas models. The best you will get is a clearance depth of between 6 and 12 inches, so if you suffer from heavier snowfalls, consider getting a gas model.
Cordless snow blowers free you from the shackles of sockets and power cords because they utilize the latest lithium-ion battery cells. The downside is that batteries hold a finite charge, and so to keep working, you either have to stop to recharge or hold a spare battery.
The other issue with lithium-ion batteries is they are susceptible to colder conditions. At -40 degrees, lithium-ion batteries can freeze. The cold also reduces the chemical reactions in the cell and makes it difficult to recharge.
The purchase price of an electric snow blower is one of the real bonuses, especially if you have a limited budget. And why do you need to spend big bucks on a gas snow blower with tons of extra capacity when you don't need to?
Gas
Gas-powered snow blowers are more powerful than their electric counterparts and require no power cord or electrical supply to operate. They have a fuel reservoir that you fill with gasoline to get them going.
The advantage of these blowers is you can work anywhere, so if you live in an off-grid location, a gas snow blower is an ideal tool. The downside is they take a lot of maintaining and have ongoing fuel costs.
Like the electric varieties, single-stage gas snow blowers only have an auger to scrape the snow into the machine and force it through the exhaust chute. So, while they are more powerful, you are still constrained by the depth of the snow you can clear.
---
Two-Stage Snow Blowers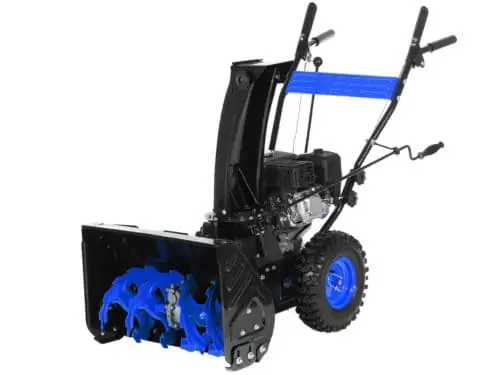 Two-stage snow blowers use the same auger system to scoop up the snow, but where they differ is they have an impeller to force it out of the chute at a greater rate. This speeds up the clearing process because it puts less strain on the auger, allowing it to chew through the snow more efficiently.
You won't find this two-stage system in electric snow blowers. If you want a two-stage machine, you need to get a gas model. The advantage of a two-stage snow blower is you can clear snow across a wide variety of surfaces, including some gravel paths.
Unlike single-stage machines, where the auger makes contact with the surface, a two-stage system raises the auger slightly, which limits the contact it makes with the ground. The downside is you may be left with a small layer of snow.
And the difference isn't just about impellers and augers. With a two-stage, you get a greater clearance path, typically between 20 and 36 inches. This speeds up the process and is ideal if you have a larger plot to clear.
Plus, gas-powered two-stage snow blowers offer powered wheels as one of the added features. It means the blower drives itself forward, reducing the amount of effort you need to get the job done.
Pros
The impeller speeds up the snow plowing time.
Greater clearance width compared to single-stage machines.
Impressive throwing distance of 30 ft or more, thanks to the impeller.
Raised auger covers most surfaces, including gravel.
Cons
Increased purchase costs compared to single-stage models.
Lacks a self-propelled auger.
---
Three-Stage Snow Blowers
Three-stage snow blowers are the new kids on the block. They have all the same features as a two-stage model, except for one big difference; an accelerator!
The auger collects snow and pushes it through the impeller, which sucks it out of the chute, away from your driveway. However, as efficient as the impeller and the auger are, by adding an accelerator, you can increase the snow blower's capacity, speeding up the process.
If you have a large plot of land and significant dumps of snow, this three-stage snow blower is a dream.
The downside is that all this extra power comes with an increased price tag, so if you don't need a three-stage snow blower, save some cash and get a two-stage model.
Also, three-stage snow blowers are more expensive to maintain because they are complicated bits of kit. They have so many components and moving parts that unless you are mechanically-minded, any repairs are best done by a professional.
And given the price-tag, getting a professional for repairs might be a good idea. After all, you wouldn't perform crucial repairs on your car or electrical appliances unless you knew what you were doing, and your three-stage snow blower is no different.
Surprisingly, three-stage snow blowers throw the snow less of a distance than two-stage models. They are also heavier, so consider the extra weight when attempting to clear large areas because of hand and back fatigue.
Pros
Superior snow clearance thanks to the three-stage system.
Covers large surface areas with ease.
Increases the work rate, which is better for larger yards.
Increases the depth and width of snow clearance.
Cons
Super-expensive compared to the other models.
Only suitable for larger plots and significant snowfall.
Requires a professional to perform maintenance tasks.
---
One, Two, Or Three That Is the Question
In areas of lighter snowfall, a single-stage model is the best option, while a two-stage might be better for larger plots and medium snowfall.
If you want extreme snow clearance and have a large amount of land, get a three-stage snow blower for the best results. But be prepared to dig deep because these machines are expensive.
Thank You For Your Feedback!
Thank You For Your Feedback!