It's easy to forget how important drywall is in modern homes. Without it, there would be no walls or ceilings. It is the silent hero of contemporary construction, but how much does drywall cost?
We dive into drywall installation costs and answer the question, "how much is a sheet of drywall?" We also help you calculate how many sheets you will need.
Key Takeaways
Average drywall cost: $0.30 to $0.50 per square foot and $10 to $20 per sheet, with the national average spend for drywall at $2,000.
Installation costs: Hiring a professional increases the price to between $1.50 and $3.50 per square foot.
Type of drywall: Specialty drywall can cost up to $70 per sheet, affecting the final bill significantly.
DIY vs. hiring a professional: Installing drywall yourself can save on labor costs, which make up 70 to 75 percent of the final bill, but requires skills and confidence to complete the task.
---
How Much Does Drywall Cost?
There are several ways to cost drywall. We can do it per square foot, per sheet, by maximum and minimum price, and by average room and house sizes.
Average Drywall Cost
The price variation depends on the type of drywall you want to install. The average drywall cost per square foot is $0.30 to $0.50, and per sheet, $10 to $20. This price excludes installation, which bumps up the price to between $1.50 and $3.50 per square foot.
The national average spend for drywall is $2,000 (including installation), with the minimum being $800, rising to as much as $7,500. Working on a standard 12 ft x 12 ft room (500 square feet), you could easily pay $200 to $400.
If we expand the average cost further, a typical 2,000 square foot house would need between 210 and 315 sheets. At $10 a sheet, that equates to $2,100 and $3,150. However, the cost escalates to $4,200 and $6,300 if you include ceilings and non-standard drywall.
Take Note
While standard drywall can cost as little as $10, specialty drywall can set you back $70 per sheet. The type of drywall you use dramatically increases the final bill.
| | |
| --- | --- |
| Measurement | Costs |
| Per square foot | $1.50 to $3.50 |
| Per sheet | $30 to $70 |
| National average spend | $2,000 |
| Per 12ft x 12 ft room | $200 to $400 |
| Per 2,000 square foot house (walls only) | $2,100 to $3,150 |
| Per 2,000 square foot house (walls and ceilings) | $4,200 to $6,300 |
Average Drywall Installation Costs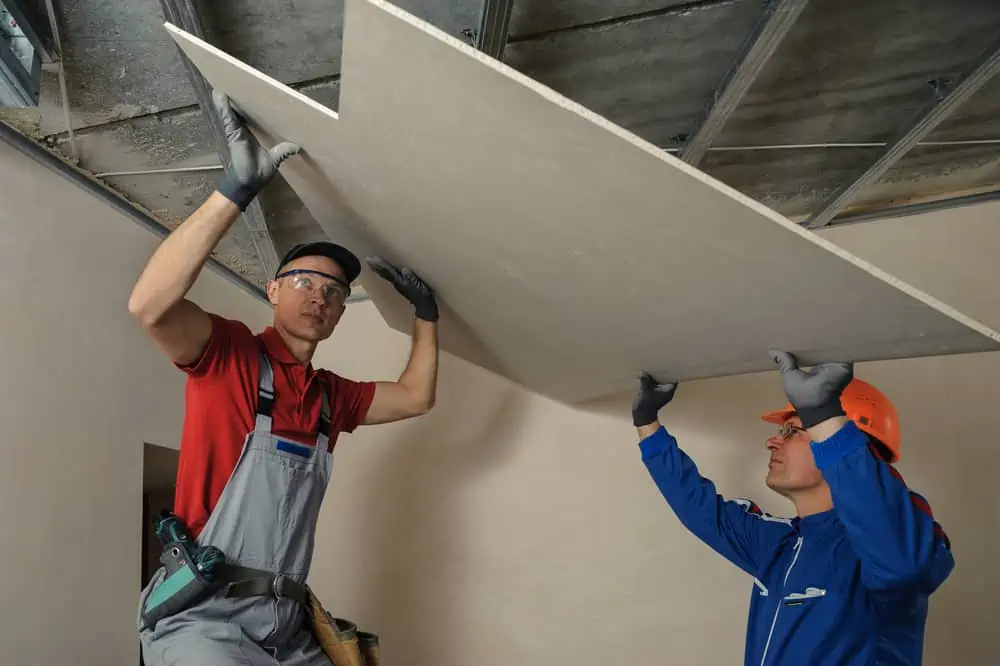 You could take the DIY approach to install drywall, or you can employ a contractor. Using a professional will significantly increase the price because you have to factor in labor costs.
Here is a handy cost calculator to give you the breakdown:
| | |
| --- | --- |
| Stages of Installation | Labor Costs Per Square Foot |
| Hanging drywall | $0.15 to $0.65 |
| Taping and mudding | $0.40 to $0.70 |
| Sanding and priming | $0.10 to $0.50 |
| Finishing | $0.50 to $1.15 |
| Total labor costs | $1.15 to $3 |
Drywall Price Chart
Drywall comes in several varieties and sizes, so we need to break down the drywall into categories to estimate the costs accurately. Here's a handy price chart:
| | | |
| --- | --- | --- |
| Type | Cost Per Sheet | Best Uses |
| Standard 0.25-inch | $8 to $12 | Repairs, curved walls, and covering textured walls. |
| Standard 0.375-inch | $8 to $15 | Repairs and curved walls. |
| Standard 0.50-inch | $8 to $20 | Most common drywall; used for walls and ceilings. |
| Standard 0.625-inch | $10 to $20 | Fireproofing, soundproofing, and ceilings. |
| Green board | $12 to $20 | Mold and mildew resistance for bathrooms and kitchens. |
| Purple board | $12 to $22 | Mold and mildew resistance for bathrooms and kitchens. |
| Blue board | $12 to $16 | Used as a base for plaster veneer. |
| Fire-resistant type X | $10 to $20 | Fire-resistant for one hour. |
| Paperless | $13 to $26 | Fiberglass outer layer resists mold and rot. |
| High-impact | $40 to $60 | Gives better protection in high-traffic areas and public buildings. |
| Soundproof | $30 to $100 | Reduces sound in domestic and commercial settings. |
| Lead-lined | $200 to $600 | Used in medical settings as protection against radiation from imaging equipment. |
Factors Affecting Costs
Several factors can influence the final costs of your drywall project. The type, size, thickness, and room size add to your final bill.
Drywall Size
Drywall comes in standard sizes, ranging from 4 ft x 8 ft, 4 ft x 12 ft, and 4ft x 16 ft. Is it cheaper to install smaller panels or buy fewer but larger panels? Let's look at the price comparisons.
4 Ft x 8 Ft
One sheet of 4 x 8 drywall costs between $10 and $15 per sheet, and installation costs stretch between $48 and $80. 4 x 8 is the most common size of drywall sheeting and is available in all varieties.
This drywall sheet size is the best used in DIY projects because it is easier to handle. Larger sheets require more hands to maneuver them without breaking.
4 Ft x 12 Ft
Each individual sheet costs $12 to $18, but it increases to $72 to $120 if you include installation. This is the best size to use if you are installing a ceiling, but you can also use it in rooms with higher walls.
Thanks to the increased length, it makes it easier to complete the task without visible seams. It is also more convenient because there are fewer cuts to make.
This size of sheetrock is not recommended for DIY projects. It slightly increases your costs because you need additional help to install it.
4 Ft x 16 Ft
To install 4 x 16 sheets, you could easily spend between $96 and $160. The material will set you back $16 to $25 per sheet. You are unlikely to use this sheetrock unless you fit out an industrial-size room.
This is the least common of the three varieties, and it is heavier and thicker, so while it provides soundproofing, it costs more. Installing this size of drywall is more expensive because of the handling costs.
Drywall Thickness
Drywall thickness ranges from 0.25 inches to 0.625 inches, with 0.5 inches being the most popular. Different thicknesses work better in different situations, with the thickest offering more structural integrity and soundproofing.
0.25-Inch Drywall
0.25-inch drywall typically costs between $48 to $75 to install. The cost per sheet comes in at $10 to $12 and it is used to repair existing walls and smooth textured surfaces. You can also use it to thicken walls by overlaying thinner material.
This thickness is better for curved walls because it bends.
0.375-Inch Drywall
This drywall is not that common because it is not quite thick enough for walls and ceilings and is too thick for overlaying. You can use it to create curves, as long as you soak it first.
0.375-inch drywall is perfect for filling gaps 0.125 inches wide. This is handy when remodeling a room where the walls are close but don't quite meet.
Expect to pay between $48 and $100 to install and $10 to $15 a sheet.
0.50-Inch Drywall
This size was the most commonly used drywall in 2021 and is ideal for walls and ceilings. Because of its popularity, you can get green, blue, purple, and eco-friendly drywall.
Half an inch is rigid enough to give structural integrity to cover load-bearing walls. It can even fit around curves if you dampen the drywall first. Unless specified by building codes, this drywall thickness covers most uses.
Expect to pay between $48 to $100 for installation and $10 to $20 per sheet.
0.625-Inch Drywall
If you want drywall that increases structural rigidity, then buy 0.625-inch drywall. This thickness of drywall offers the best fire resistance and soundproofing qualities. Due to its thickness, you are unlikely to find this drywall in sheets larger than 4 ft x 12 ft.
Expect to pay $51 to $240 per installation and $13 to $75 per sheet.
Room Type
The size and layout of your room make a difference to the price. Plus, some rooms need certain types of drywall because of high moisture content.
Bathroom
Bathrooms are typically the smallest room in the house, making them affordable. The average cost for drywall replacement in a bathroom is $430 to $500. You will need green or purple sheetrock because it has mold and rot inhibiting qualities.
The costs are similar for kitchens, although they will change depending on kitchen size.
Bedroom
The average cost of drywalling a bedroom is $675 to $725. You need to factor in the square footage of each wall and ceiling. Half-inch drywall is the best thickness to use, but you may pay more depending on the finish.
Garage
A two-car garage will cost you $700 to $750. Sheetrock in garages is left chiefly unfinished, with just the smallest amount of joint compound. It makes the cost per square foot a lot lower.
Average two-car garages measure 320 square feet, making them larger than average bedrooms. But you pay less per square footage than you would for a bedroom or living room because of the low-quality finish.
Basement
Basements are among the most expensive rooms to drywall, with costs around $1,400 to $1,550. This is because the walls are generally unfinished. You should use green or purple drywall to reduce mold and rot.
| | |
| --- | --- |
| Room Type | Costs (Including Labor and Materials) |
| Bathroom | $430 to $500 |
| Bedroom | $675 to $725 |
| Garage | $700 to $750 |
| Basement | $1,400 to $1,550 |
Age of the House
Older houses need more maintenance and repairs. They also have irregular-shaped walls and ceiling heights, making them a challenge for off-the-peg drywall sizes.
You also need to factor in removing old drywall. You should allocate about $0.50 to $1 per square foot for this.
You will need to get advice from a professional if you discover asbestos in your property and be prepared to shell out a lot of money. Asbestos removal costs between $20 and $65, with most homeowners spending between $1,200 and $2,800 on average.
Costs of Different Types of Drywall
As we've demonstrated, several factors affect the costs of drywall. But what about the cost breakdown based on the type of drywall? Which is the most expensive option, and which is better value for money per square foot?
Regular
Regular or standard drywall is the most commonly used. It's the type most people have inside their homes. It has a gypsum core sandwiched between paper outer layers and is used for walls and ceilings.
Expect to pay $0.42 to $0.50 per square foot for the material and $1.50 and $2.50 including installation.
Green Board
Green board drywall is the most moisture-resistant of the varieties. It costs $0.54 to $0.63 per square foot for the materials only and $1.65 to $2.75 including installation. You would use green boards in kitchens, bathrooms, and basements because of the moisture levels.
Blue Board
You would use blue boards when you need a traditional plaster finish inside your home. Blue board is technically plasterboard and not sheetrock. It costs $0.46 to $0.58 per square foot for the materials and $1.55 to $2.60 including installation.
Purple Board
If you update a bathroom or kitchen, you need mold and moisture-resistant drywall. Purple board has a special coating that prevents mold growth and is very similar to green board.
You may get a rougher finish on purple boards, which requires more finishing work, adding to the costs. Expect to pay $0.54 to $0.63 for the materials, and $1.65 to $2.75 for materials and installation.
Paperless
Drywall is traditionally covered in an outer paper layer, but paperless drywall has a fiberglass layer. The fiberglass coating makes the drywall more rigid and gives it moisture resistance. However, it is more challenging to cut than traditional drywall.
It is also harder to get a smooth finish because the fiberglass is not smooth. You should expect to pay $15 and $22 a sheet, which equates to $0.63 and $0.92 per square foot.
The price increases to between $1.75 to $4 a square foot for installation.
Soundproof
Soundproofing drywall is laminated or made of polymer or wood pulp layers to dampen sound. Soundproof drywall costs between $3.55 and $7.50 per square foot, including installation. You will pay between $2.08 and $3.15 per square foot for the materials only.
The added density makes this drywall a challenge to cut and fit, and it costs more per sheet than other varieties.
Moisture-Resistant
Moisture-resistant drywall includes green board, purple board, and paperless drywall. You would use it in kitchens and bathrooms, and other high moisture areas of the home.
Eco-Friendly
Most drywall is eco-friendly because it is made from gypsum, which is widely recycled. Expect to pay between $1.70 and $3.50 per square foot installed and $0.58 to $0.83 per square foot for materials only.
If you want eco-friendly sheetrock, look for the recycled label on the packaging.
Additional Costs of Drywall Installation
It's not just drywall that costs money; other elements of the installation will also add to your final bill. Let's explore some of the costs that may have slipped under the radar.
Removal of Old Drywall
Before you hang and finish your new drywall, you have to remove the old one first. This usually costs between $0.50 and $1 per square foot, but be aware that it could increase if there are hidden problems behind the wall.
This is something that you can undertake yourself if you want to keep the costs down.
Painting Drywall
Once the new drywall is in situ, you will need to finish the surface with primer and paint. The quality of your seams becomes apparent at this stage because the paint will not conceal them.
The average cost to paint a room is between $900 and $1,300, although you can do it yourself for a lot less. Given that most acrylic paint covers 400 square feet per gallon, you will spend between $30 and $70 per gallon.
However, if your room is 1,500 sq ft, you will need between four and eight tins depending on how many coats you want. That increases your costs considerably.
Wall Demolition
If the old walls need to be removed entirely, you should expect to pay between $1,200 and $5,000. The costs vary because some walls will have pipework, ducting, plumbing, and electrical cables to deal with.
Drywall Insulation
The average drywall insulation cost is $0.65 to $6.50, depending on whether you fit it during drywall installation or retrofit it. Insulation helps to dampen sound and improve heat retention.
Texturing Drywall
Drywall can be given many types of textures to change how it looks. You can apply the texture in two ways: by hand or spraying it on. But either way, you have to sand and smooth the drywall, ready to take the coating.
Light textures typically cost $0.50 to $1 to apply, and heavier textures cost an additional $1.50 to $2 per square foot.
Cost to Drywall a Room Yourself Vs. Hiring a Professional
If you do the installation yourself, all you have to factor in is the cost of the materials. Standard 0.50-inch drywall costs between $10 and $20 per sheet.
Working on a 1,000 square foot room, you will need approximately 32 sheets of 4 ft x 8 ft drywall, making the total price $320 to $640.
This figure does not include joint compound, tape, and drywall screws. Expect to pay between $1.50 and $2 per square foot for the compound and $4 to $10 for each roll of tape. The screws are the largest additional expense, costing approximately $200 to $300.
Before you rush out to the hardware store to get your drywall supplies, consider the skills needed to complete a project of this type. You will need a reasonably good understanding of carpentry and drywall techniques, as well as the confidence to complete the task.
You should probably shelve your misplaced enthusiasm and call a contractor if you are a beginner. You could end up spending more money by getting someone in to correct your mistakes.
Hiring a pro increases the costs considerably. Most contractors charge between $20 and $50 per person, and you would need a three-person team. The labor costs could range from $1.15 and $3 per square foot.
As a rule of thumb, you should expect the labor costs to make up 70 to 75 percent of the final bill. To put it another way, it only costs you $10 to $20 per drywall sheet, whereas a contractor will charge $30 to $70 per sheet.
That's $2,200 based on the $10 per sheet price tag!
Tips for Saving Money on Drywall Costs
Unless you are Elon Musk or Jeff Bezos, everyone else likes saving money. So, maybe we should listen to the pros to get a few pointers?
Do the Prep Work Yourself
Anyone can take down drywall, but not everyone can put it up. It doesn't make financial sense to pay premium prices for skilled tradespeople to tear down old drywall. The more you do yourself, the cheaper it will be.
Remove the drywall from the studs and leave the surfaces ready for the new drywall.
Buy in Bulk
Buying drywall in bulk is one way of negotiating a lower price. If you are remodeling an entire house, getting the drywall in one hit makes sense. However, if you renovate one room, you may not get preferable rates.
Enlist Family and Friends
The more hands to the job, the faster the conclusion. Some drywall sheets can weigh 40 to 60 pounds, so your arms will soon tire from lifting them. Drywall is also easy to snap, so getting help reduces instances of breakages, which decreases costs.
You also get the work done faster, which frees you to get on with something else.
Install the Drywall Yourself
If you are confident and have experience, attempting the drywall installation yourself is the easiest way to slash costs. All you need to factor in are the cost of the materials and tools because your time is free.
The pros will charge 70 to 75 percent of the final bill to labor costs, so doing it yourself delivers significant savings.
How Many Sheets of Drywall Do I Need?
Rather than guessing how many drywall sheets you need, there are some simple steps you can take to get an accurate figure.
Calculate the square footage of drywall that needs installing by multiplying the room's height by the width.
Divide the total figure by 32 if using 4 ft x 8 ft sheets and 48 if using 4 ft x 12 ft sheets.
Add in the cost of half a gallon of ready-mixed compound per 100 square feet.
Include the price of 40 feet of drywall tape per 100 square feet.
Don't forget drywall screws. You'll need three pounds for every 1,000 feet of drywall.
Top Tip
You will need approximately 32 sheets of 4 ft x 8 ft drywall for a 1,000 square foot space. It should be easy to work out the numbers using this as a base figure.
Alternatives to Drywall
Maybe you want fresh new walls but want an alternative to drywall? Several products exist that do the same thing as drywall but are entirely different.
Cement Board
Cement board is usually used as a backing for tiles, but it can also be used as an alternative to drywall. Cement board consists of cement dust mixed with reinforcing fibers to give it structural integrity.
Wood Paneling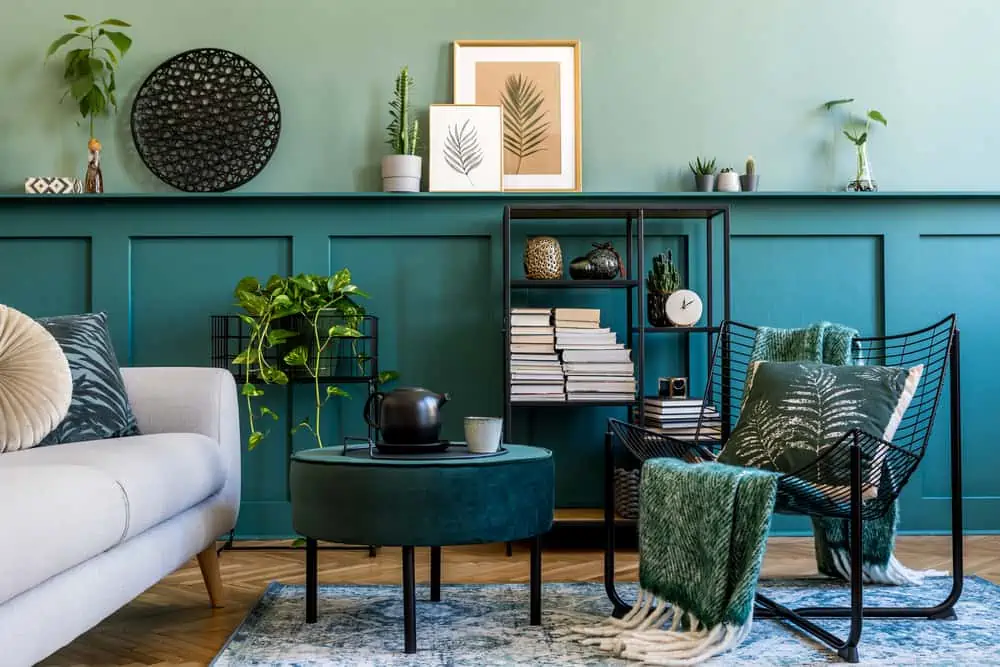 Wood paneling may seem old-fashioned, like something from the last century, but it can be given a modern twist. Using chalk paint gives it a weathered look that is popular in shabby chic homes.
Wooden panels are also strong, offering increased structural integrity, making them a great alternative for load-bearing walls. However, wood is expensive, costing many times the price of drywall.
Plaster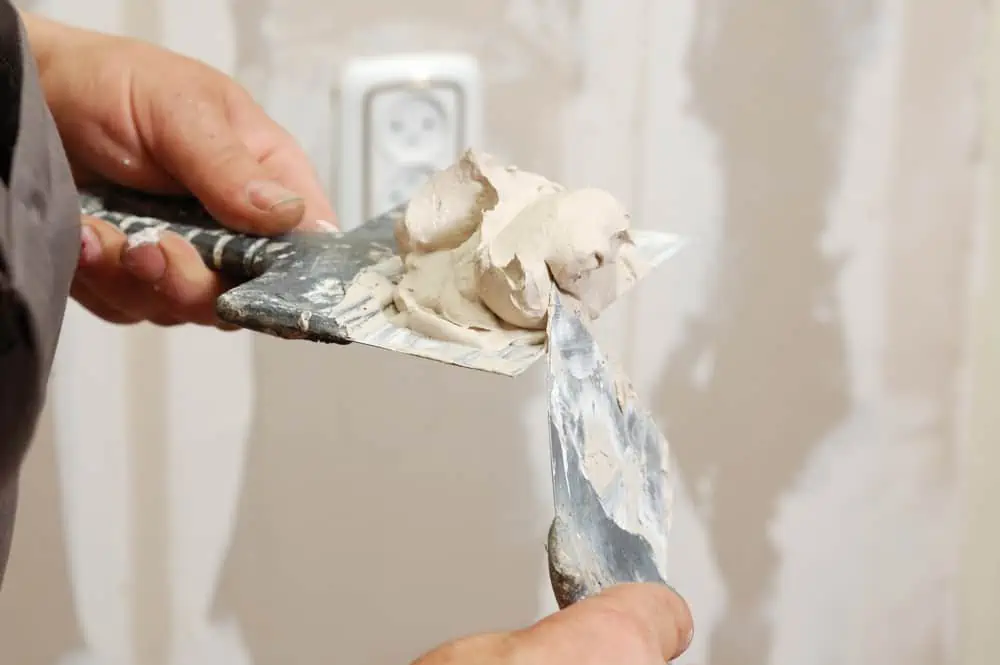 Plaster is another alternative to drywall. It goes on as a thick paste and is smoothed using a trowel. This is a job for highly skilled tradespeople, which bumps up the price considerably.
It also takes longer to complete the project, and you have to wait weeks while the walls dry before applying primer and paint.
FAQs
---
The Last Word
Hopefully, you now know the answer to the question, "how much is drywall," and you have learned a lot more in the process. Accurate costing is the foundation upon which a successful drywall project is built.
It helps you control your costs and accurately compare the pros and cons of doing the work yourself or hiring a pro.
Thank You For Your Feedback!
Thank You For Your Feedback!