Searching for a new faucet, but feeling overwhelmed with all the choice? Sometimes, narrowing your search down to a specific brand can be an excellent way to start. Even still, deciding which brand to go with is still daunting.
We're going to share our full Glacier Bay review so you know where they come from, what they do, and whether this company is the right choice for you. We'll then give you an insight into five of their best faucets. Let's get started.
Image
Model
Product Comparison Table
Features
Best Pull-Down
Glacier Bay Carla
Timeless design
Functional pull-down sprayer
Durable body
Best Double-Handle
Glacier Bay Dorset
Sophisticated design
Watersense certified
Innovative drain assembly
Best for Modern Homes
Glacier Bay Kiso
Unique design
Suitable for small vanities
Efficient water flow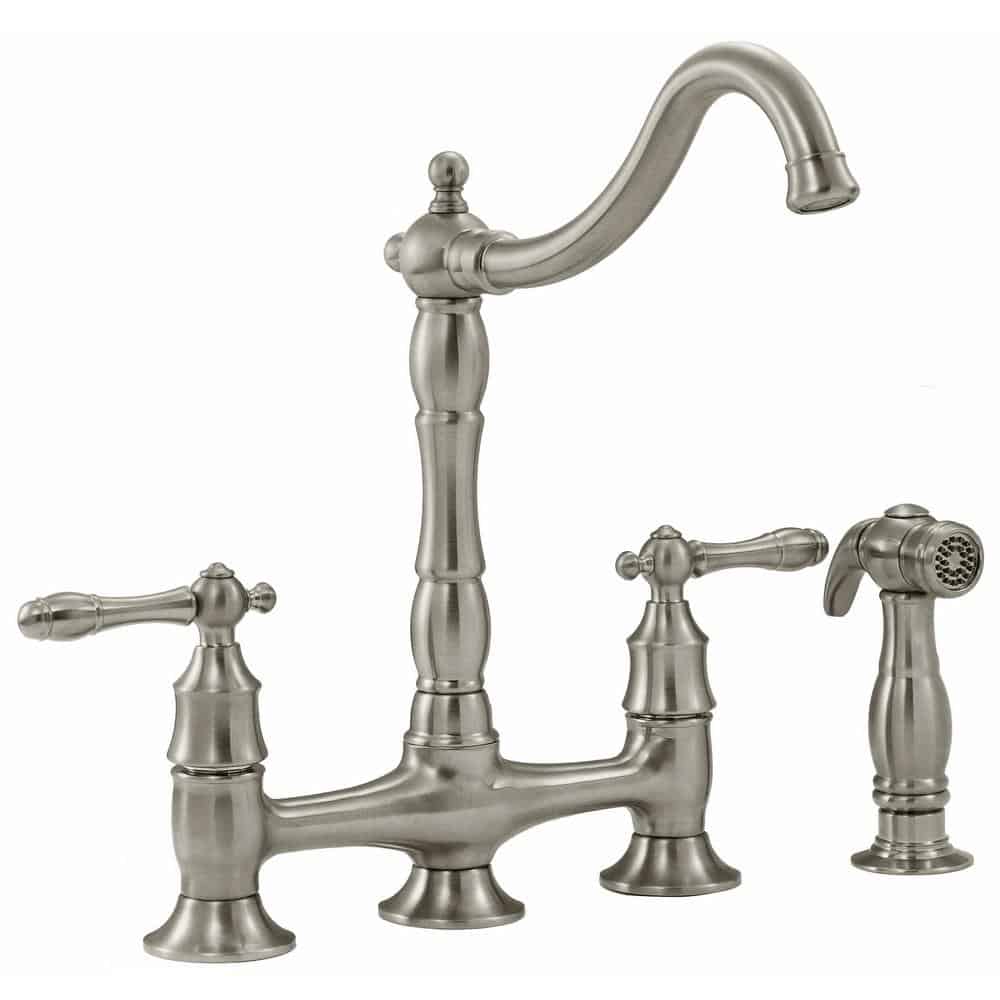 Best for Classic Kitchens
Glacier Bay Lyndhurst
Effective side sprayer
User-friendly
360-degree swivel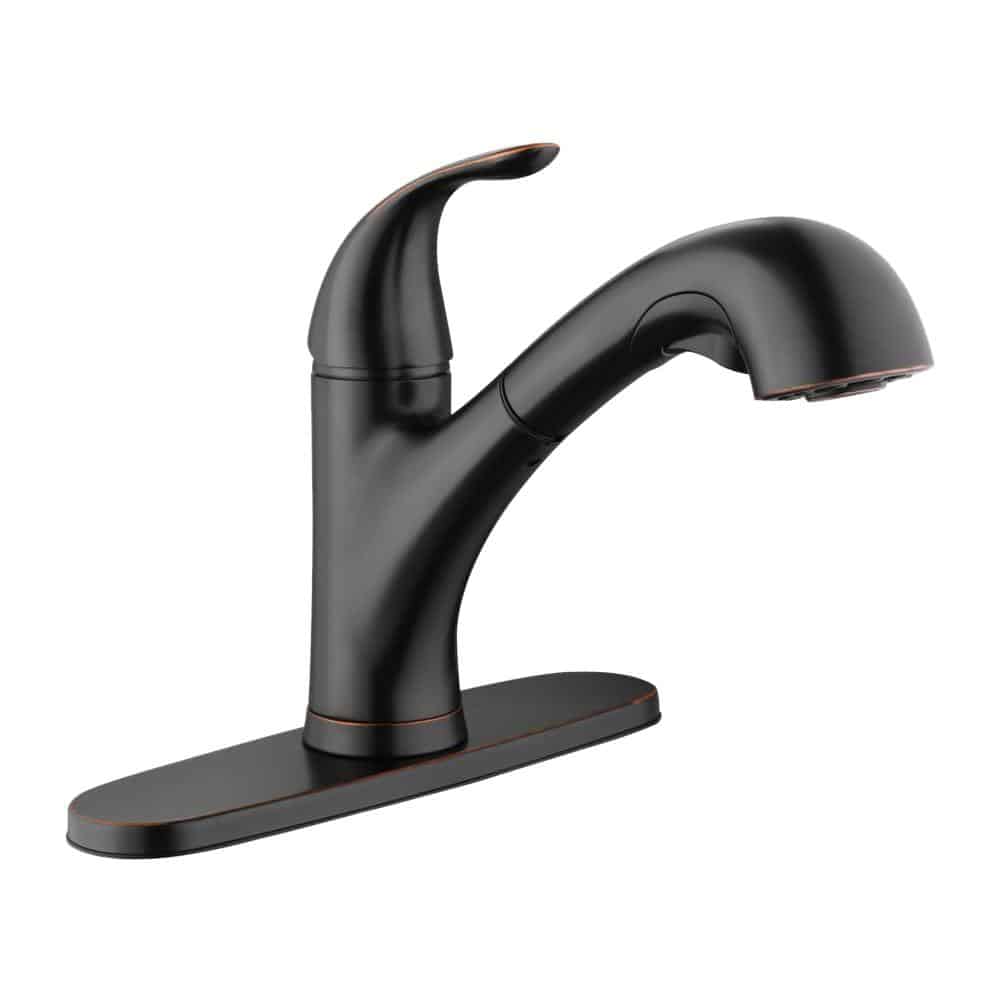 Best Pull-Out
Glacier Bay Market
Rustic style design
Practical pull-out
Fastmount system
---
Who Is Glacier Bay?
Glacier Bay isn't a manufacturer — it's a small brand currently belonging to Home Depot. It provides everything from faucets for kitchens and tubs, to sinks, mirrors, and toilets.
It's become a world-renowned brand thanks to Home Depot's success. And it's a favorite name among DIY homeowners working on a budget.
Who Manufactures Glacier Bay?
Although Glacier Bay is marketed by Home Depot, production occurs overseas in countries such as China and Taiwan by a company called Globe Union (1). It started in 1996 when Home Depot purchased a Chinese home improvement company called The Home Way (2). From here, it gained access to a different retail market with new production opportunities.
It continued this quest, and soon acquired another company called Your Other Warehouse — a former vendor to Home Depot. This opened up yet another opportunity for Glacier Bay to incorporate new designs little by little.
Today, Glacier Bay is known as an affordable brand for homeowners. Despite this, it doesn't fall short when it comes to quality. Glacier Bay faucets are designed with top-notch brass materials and ceramic cartridges, and nearly all are ISO 9001 certified.
This confirms that they comply with international quality standards. The main reason for Glacier Bay's low prices is because manufacturing occurs overseas.
Glacier Bay Design and Innovation
Home Depot's acquisitions have greatly influenced glacier Bay's design and innovation. From the acquired companies came finishes such as polished and regular chrome, different variations of bronze, brushed nickel, and black. There are also various models with unique features such as the waterfall-inspired Kiso.
Its kitchen faucets are compatible with a range of kitchen styles. For traditional kitchens, Glacier Bay has some beautiful double-handle fixtures. For the modern home, the high arch pull-down is popular.
Glacier Bay also has a good line of bathroom faucets, for both center set and widespread styles.
Where to Buy Glacier Bay Faucets
Even though Glacier Bay belongs to Home Depot, you can easily find its faucets on other sites such as eBay and Amazon. Home Depot, however, is where you'll find the best prices. If something isn't right with your purchase, a full refund is available.
Be Cautious
We highly recommend taking precautions if you decide on a retailer other than Home Depot. If you buy the faucet through a reseller, the warranty is no longer valid.
Why Buy a Glacier Bay Faucet?
We can name several reasons why you should invest in a Glacier Bay faucet:
Inexpensive: Glacier Bay fixtures often go for less than $100, sometimes as little as $70.
Quality: Despite the low price, the quality can compete with some high-end brands.
Simple installations: Most of the fixtures come with the FastMount system which consists of a modified nut going over the shank on the deck mount. All it requires is a turn to tighten, and you're ready to go
Included deck plates: Deck plates are a standard component you find in the package.
Ceramic cartridges: To ensure a drip-free service, ceramic cartridges are a must (3). Fortunately, all Glacier Bay's faucets have them.
Swivel spouts: Most of their spouts can rotate 360 degrees as opposed to the usual 180-degree you get with other manufacturers.
Tech features: Despite its low prices, Glacier Bay does offer some high-tech features such as motion detection. Another standard you see on sprayer heads is its TurboSpray.
Glacier Bay Contact Information
Because Glacier Bay belongs to Home Depot, one way to contact them about issues is through the store. If a store isn't near you, you can get in touch on this number: 1-866-863-9931.
What People Say About Glacier Bay
Overall, Glacier Bay receives good reviews. Consumers seem particularly pleased with its low prices and extended warranties.
They love that the fixtures are so easy to install that almost anyone can do it. Thorough instructions with clear drawings are generally included.
Limited lifetime warranties on leaks and drips are a standard feature. Sprayer defects generally include one-year protection.
One issue consumers all seem to agree on is poor customer service. This is mainly because Home Depot only markets the products. This means they sometimes lack manufacturing details regarding replacement parts and warranty issues on discontinued products.
In some cases, getting replacement parts is nearly impossible, which understandably leaves some customers frustrated.
Top Product Comparison
Glacier Bay has a faucet for every homeowner. Its extensive portfolio makes it easy to find one suitable for your exact style. Here are some of their top products.
Pull-Out
In kitchens where space is tight, pull-out faucets thrive. Glacier Bay's Market pull-out is the perfect candidate for this category. With long hoses and compact sizes, it enables you to reach far beyond the kitchen sink area.
If the Market line isn't for you, Glacier Bay also offers a pull-out version of its Carla. However, we love the Market since several finishes are available and they're yours for Glacier Bay's budget-friendly prices.
Pull-Downs
Glacier Bay has some solid pull-down kitchen faucets. They're divided into different lines, including:
Market
Nottely
Dylan
Carla
Its pull-down faucets are perfect for homes going for a modern vibe. A range of finishes is available as well as features. All sprayer heads come with a switch to change sprayer mode — some are also fitted with motion detectors.
Glacier Bay pull-downs are excellent for homes looking for a convenient fixture without breaking the bank.
Double-Handle
For homes rocking a classic style, double-handle faucets such as Glacier Bay's Lyndhurst are perfect. From the handle curves to the tall spouts, all its two-handle models have a unique traditional feel.
You can choose between various finishes from brushed nickel to oil-rubbed bronze, and most faucets come with a side sprayer in a matching coat. Fixtures such as the Lyndhurst are deck mounted, however Glacier Bay also offers similar wall-mounted styles.
Single-Handle Bath Faucet
A modern bathroom requires a unique faucet, and Glacier Bay offers precisely that with its single-handle bath fixture line. It's the perfect mix between modern and rustic.
All the faucets are constructed with durable brass and ceramic disc valves. And they come in various finishes such as oil-rubbed bronze to faux gold.
Double-Handle Bath Faucets
For more traditional bathrooms, Glacier Bay offers fixtures with double handles. Its Dorset line has a very classic feel with its sharp lines, yet elegant touch.
Dorset has a high-arch design, but if you're looking for something more subtle, we recommend the Axel line.
Centerset Bath Faucet
Glacier Bay's line of center set bath faucets is excellent for compact bathroom owners who don't want to compromise on style. Different variations are available, and even the Dorset comes as a center set. We chose to show you the Edgewood — it's a beautiful fixture that fits into a small frame.
You can pick between three different finishes: brushed nickel, oil-rubbed bronze, and chrome. Edgewood is also WaterSense certified.
---
Best Glacier Bay Faucets of 2021
Glacier Bay offers plenty of fixtures, and nearly all have great reviews, so narrowing it down to five is tough! Fortunately, we managed it with the help of trusted reviewers and advice from some experts.
1. Carla Pull-Down Sprayer By Glacier Bay
With a simple design and pull-down sprayer, Glacier Bay's Carla faucet is an excellent pick for a contemporary kitchen. It's a high arch design sporting an elegant stainless steel finish.
The sprayer head has two functions: an aerated spray and a powerful stream. The flow rate is kept at an efficient yet water saving rate of 1.8 gallons per minute.
A great feature is the pull-down hose, which reaches a decent length of 16 inches. It's perfect for deeper sinks.
Carla boasts Glacier Bay's best materials — a metal body fitted with a ceramic valve — and it's backed by the brand's limited lifetime warranty.
Why We Love It
Timeless Design
Everything from the sleek stainless steel finish to the subtle curve of the handle is stunning. It's the perfect fit for a modern kitchen with a busy home cook. The 15.6-inch high arch is elegant without being too tall, and suitable for most kitchens.
Functional Pull-Down Sprayer
We love a good pull-down fixture, and Carla does not disappoint. The extendable hose reaches 16 inches in length — not the longest, but ample for a pull-down. If you have a deep sink, this will work for you.
The pull-down sprayer head provides you with two modes. Although the full spray is powerful, it won't exceed a 1.8 gallons per minute flow rate.
We like that Glacier Bay fitted the mode switch on the back of the sprayer head. The timeless appearance of the stainless steel finish is preserved since there's no unsightly black button.
Durable Body
As with most of Glacier Bay's faucets, this one is made from metal with a handsome, hard wearing finish. The finish here is brushed nickel.
The ceramic cartridge offers protection against drips and leaks. Instead of merely suppressing the flow, it shuts it off completely, eliminating any chances for dripping.
Overall, this is a highly durable fitting that can easily keep up with the high-demand usage of a busy kitchen.
Effortless Installation
Installing this faucet is a breeze. Everything you need is already in the package, including the 33.6-inch supply lines.
Keep In Mind
Weight Requires Adjustments
The pull-down hose uses a weighted retraction system, fitted under the sink. Some reviewers mentioned that it does require some adjustments to work properly. Ensure no obstructions are present, and the weight is located correctly — it should be in the middle of the line.
Additional Specs
| | |
| --- | --- |
| Material | Metal |
| Finish | Stainless steel |
| Flow rate | 1.8 gallons per minute |
| Faucet reach | 8.16 inches |
| Warranty | Limited lifetime warranty |
---
2. Dorset 2-Handle Bathroom Faucet By Glacier Bay
Upgrading your bathroom is a chance to bring in something new. This Dorset two-handle faucet is stunning yet versatile, and suitable for a range of decors.
If we only had one word to describe it, we'd choose sophisticated. It's coated in a sleek brushed nickel and sports a chic high-arch design.
This Dorset is the widespread model, meaning that the handles aren't connected to the spout. It does require some space — 8 inches to be exact — but it's well worth it if you've got it.
It's WaterSense certified, with an ample flow rate of 1.2 gallons per minute, eliminating excess water waste. Lastly, it's straightforward to install.
Why We Love It
Sophisticated Design
Glacier Bay's Dorset will have you sold at first sight. We admire the clean cut of the handles, and the modern feel of the brushed nickel. The high arch spout adds to the appeal by giving it some elegance.
Although the Dorset is also available with center set double-handles, we appreciate the widespread look. The handles sit eight inches apart, which should suit most bathroom sinks.
If brushed nickel isn't for you, don't worry. Glacier Bay also offers oil-rubbed bronze and shiny chrome.
WaterSense Certified
Appearance aside, you'll likely appreciate this faucets' WaterSense certification. It keeps the flow rate at an optimal 1.2 gallons per minute. This means two things: you save water and cut down on your utility bill.
Innovative Drain Assembly
Like most DIY homeowners, a feature we value is Glacier Bay's ClickInstall drain assembly. It allows you to do all the installing with little to no chance of errors. It's a simple click-in procedure with everything needed ready in the box.
Keep In Mind
Instructions Are Vague
Although Glacier Bay markets this as easy to install for DIYers, the instructions that come with the fitting are vague. For example it fails to mention that you must cross the lines to fit them into the ClickInstall system.
Some information is on the wrong pages, so it's easy to miss a step. If this is your first project, remember to read through the full instructions before starting.
Additional Specs
| | |
| --- | --- |
| Material | N/A |
| Finish | Brushed nickel |
| Flow rate | 1.2 gallons per minute |
| Faucet reach | 6.49 inches |
| Warranty | Limited lifetime warranty |
---
3. Kiso Single Hole Bathroom Faucet By Glacier Bay
Glacier Bay's Kiso is a stunner. It's a waterfall-inspired design with an open nozzle. It's very modern, yet the rich oil-rubbed bronze finish adds a rustic touch.
It's a single-hole, low arch design, taking up very little space on the vanity. It's fitted with a single handle on top to control the flow and temperature. We appreciate the WaterSense certification, keeping the flow rate at 1.2 gallons per minute.
How easy is this fixture to install? It only requires a single hole sink and an hour of your time. Glacier Bay included its ClickInstall innovation for a straightforward process. The supply lines included are 23.8 inches long, giving you some flexibility.
Why We Love It
Unique Design
If you're designing a spa-inspired bathroom, this fixture is the perfect addition. The waterfall-modeled design adds some zen to the room. It's truly stunning to look at.
To top it off, it's coated in a dark, rich, oil-rubbed bronze with some highlights around the base and handle. If a dark color isn't what you're looking for, Kiso is also available in brushed nickel and chrome.
Suitable for Small Vanities
Because it's a single-hole design, it doesn't require much space on the sink. It does, however, demand a deck no thicker than 1.44 inches.
The low arch is chic and functional. It measures just under 4 inches — compact and polished.
Efficient Water Flow
It may look like a waterfall, but it sure doesn't waste water like one. Glacier Bay keeps a reduced flow rate of 1.2 gallons per minute, making it WaterSense certified. This is sufficient pressure for a bathtub, but still saves water.
Durable Construction
Even though it's open at the top, it's highly durable. It's made with sturdy metal, and has a zinc handle and ceramic valve. The oil-rubbed bronze coating adds a protective layer.
Keep In Mind
No Aerator
The faucet doesn't have an aerator regulating the flow by the nozzle. Due to this, the water may splash as it exits — something to watch out for if your sink is shallow.
Doesn't Feel "High-Quality"
A few users pointed out that it doesn't have a high-quality feel to it. It's still stunning and functional, though.
Additional Specs
| | |
| --- | --- |
| Material | Metal |
| Finish | Oil-rubbed bronze |
| Flow rate | 1.2 gallons per minute |
| Faucet reach | 4.5 inches |
| Warranty | Limited lifetime warranty |
---
4. Lyndhurst Bridge Kitchen Faucet By Glacier Bay
A traditional look with modern features? Glacier Bay's Lyndhurst ticks both boxes. It's an elegant double-handle "bridge" fixture.
Coated in a beautiful brushed nickel and sporting a high arch design, it's excellent for a rustic or traditional kitchen. The arch reaches 13.38 inches in height. This will fit under even low hanging cabinets, while still providing plenty of clearance for the sink.
The double handles are easy to control, and they're ADA compliant. To the side, you have a matching side sprayer offering two settings to suit your daily needs. It has a controlled flow rate of 1.8 gallons per minute, which is optimal for the kitchen yet water efficient.
Why We Love It
Stunning and Durable
Lyndhurst has a sturdy interior with a soft, elegant exterior — the perfect combination. It's specifically designed to last for years with its ceramic valve and metal structure. It's also coated in a durable brushed nickel, which looks just amazing.
This is a faucet you have to see to believe. Its tall neck and curved spout look like something we've never seen before. The fixture is very olde-worlde, but somehow still a little modern.
Effective Side Sprayer
The side sprayer adds a functional touch, providing a concentrated stream for stubborn residue while still keeping the flow rate at 1.8 gallons per minute. It comes in matching brushed nickel finish, which adds to the charm.
User-Friendly
As well as being designed to look amazing, Glacier Bay made sure that it's user-friendly. With its large, smooth double handles that area easy to grab, this faucet complies with ADA. You activate the flow by turning the levers toward yourself — one effortless movement and you've got water.
360-Degree Swivel
A handy feature is the 360-degree swivel spout. You can turn it to reach your double sink or the corners. It also has a long reach — approximately 9.6 inches — so it's perfect for large sinks.
Keep In Mind
Side Sprayer Doesn't Work While Fully Extended
A few users mentioned that the side sprayer doesn't work well when fully extended. For some reason, extending the hose restricts the water pressure.
Not Ideal for Shallow Sinks
Although it's great for large sinks, the 9.6-inch reach isn't ideal in shallow basins. If your sink is on the small side, ensure that you've got enough room to avoid splashing water.
Additional Specs
| | |
| --- | --- |
| Material | Metal |
| Finish | Brushed nickel |
| Flow rate | 1.8 gallons per minute |
| Faucet reach | 9.6 inches |
| Warranty | Limited lifetime warranty |
---
5. Market Pull-Out Kitchen Faucet By Glacier Bay
Glacier Bay's Market pull-out faucet is both ADA compliant and fit for a compact kitchen. It's simple, rustic, and highly functional.
The spout is a low arch design, but you pull out the sprayer head and get an extra 50 inches. On the nozzle, there's a switch controlling the flow setting to soft or pressurized. The stream features Glacier Bay's TurboSpray, giving you 30 percent more power than other faucets.
We like the single-handle design, and it's complemented perfectly by the oil-rubbed bronze finish. Under the coat is a solid metal base fitted with a ceramic valve.
Why We Love It
Rustic Style
We absolutely love the dark oil-rubbed bronze on this one. It's deep and mysterious, with sassy highlights around the nozzle and base. It brings a rustic touch, perfect for both the farmhouse and industrial-inspired kitchen.
The low arch is smooth and pleasant to look at. It measures 11.3 inches in height and has a practical reach of 8.9 inches. The single handle looks sleek, plus it's ADA compliant.
Practical Pull-Out
Having a tiny kitchen or small sink area requires a modified faucet. A pull-out is what everyone will tell you to get, so why not choose a model with some length? Glacier Bay fitted a 50-inch hose, giving you an incredible stretch to work with.
With the long hose, you get Glacier Bay's TurboSpray. It's a concentrated spray mode, increasing the power by 30 percent. Of course, a soft, aerated stream is also included for washing veggies and hands.
The switch on the nozzle is as practical as it gets. It's located at the back of the head where it's easy to use and won't become an eyesore.
High Durability
With a metal construction and a ceramic valve, it's as durable as can be. Add in the oil-rubbed finish, and nothing can get through this. It's highly resistant to rust and abrasion.
FastMount System
A DIYers dream, this Market faucet comes with Glacier Bay's FastMount system. It enables you to connect the water supply lines to the deck quickly. You place the system over the shank and then twist to tighten — no need to pay for a plumber.
Keep In Mind
Specs Are Misleading
Some reviewers pointed out that the specs described on Home Depot's product description are misleading. For instance, the height of the spout and the hose length were off — though Home Depot said it would correct this.
For correct information, you can look for the tables further down on its page.
Additional Specs
| | |
| --- | --- |
| Material | Metal |
| Finish | Oil-rubbed bronze |
| Flow rate | 1.8 gallons per minute |
| Faucet reach | 8.9 inches |
| Warranty | Limited lifetime warranty |
---
| Product | Award | Material | Finish | Flow rate | Faucet reach | Warranty |
| --- | --- | --- | --- | --- | --- | --- |
| Glacier Bay Carla | Pull-Down | Metal | Stainless steel | 1.8 gpm | 8.16″ | Limited lifetime |
| Glacier Bay Dorset | Double-Handle | N/A | Brushed nickel | 1.2 gpm | 6.49″ | Limited lifetime |
| Glacier Bay Kiso | Modern Homes | Metal | Oil-rubbed bronze | 1.2 gpm | 4.5″ | Limited lifetime |
| Glacier Bay Lyndhurst | Classic Kitchens | Metal | Brushed nickel | 1.8 gpm | 9.6″ | Limited lifetime |
| Glacier Bay Market | Pull-Out | Metal | Oil-rubbed bronze | 1.8 gpm | 8.9″ | Limited lifetime |
---
Is It Worth It?
Glacier Bay is responsible for some super faucets. But it's not a manufacturer, it's a brand marketed and sold by Home Depot, which is where we recommend buying from. It's a user favorite name, known for affordable prices, good quality, and easy installations.
What do you think of Glacier Bay? Are its affordable faucets worth it? We'd love to read your answer below.