When buying a toilet cleaner, it can be tempting to simply choose the most powerful product you can find to ensure it will leave your toilet spotless. However, just because your toilet can handle potent and abrasive cleaners, it doesn't mean your septic tank can.
A damaged septic tank can be very expensive to repair or replace, so it is important to protect it by choosing a cleaner that won't negatively affect it. With so many cleaning products to choose from, it can be difficult to determine which cleaners are safe to use.
To help you find the right product, we have reviewed five of the best toilet cleaners for septic tanks you can buy today. We chose these cleaners based on their effectiveness, how safe they are for your septic tank, and their eco-friendliness.
Image
Model
Product Comparison Table
Features
Best Stain Remover
Clorox Toilet Bowl Cleaner
Eliminates most bacteria
Removes stubborn stains
Gentle formula
Best Hands-Free Cleaner
Kaboom Continuous Clean
Easy to install
Cleans constantly when in place
Great value for money
Best for Deep Cleaning
Lysol Clean & Fresh
Can reach awkward areas
Refreshing scents
Effective germ removal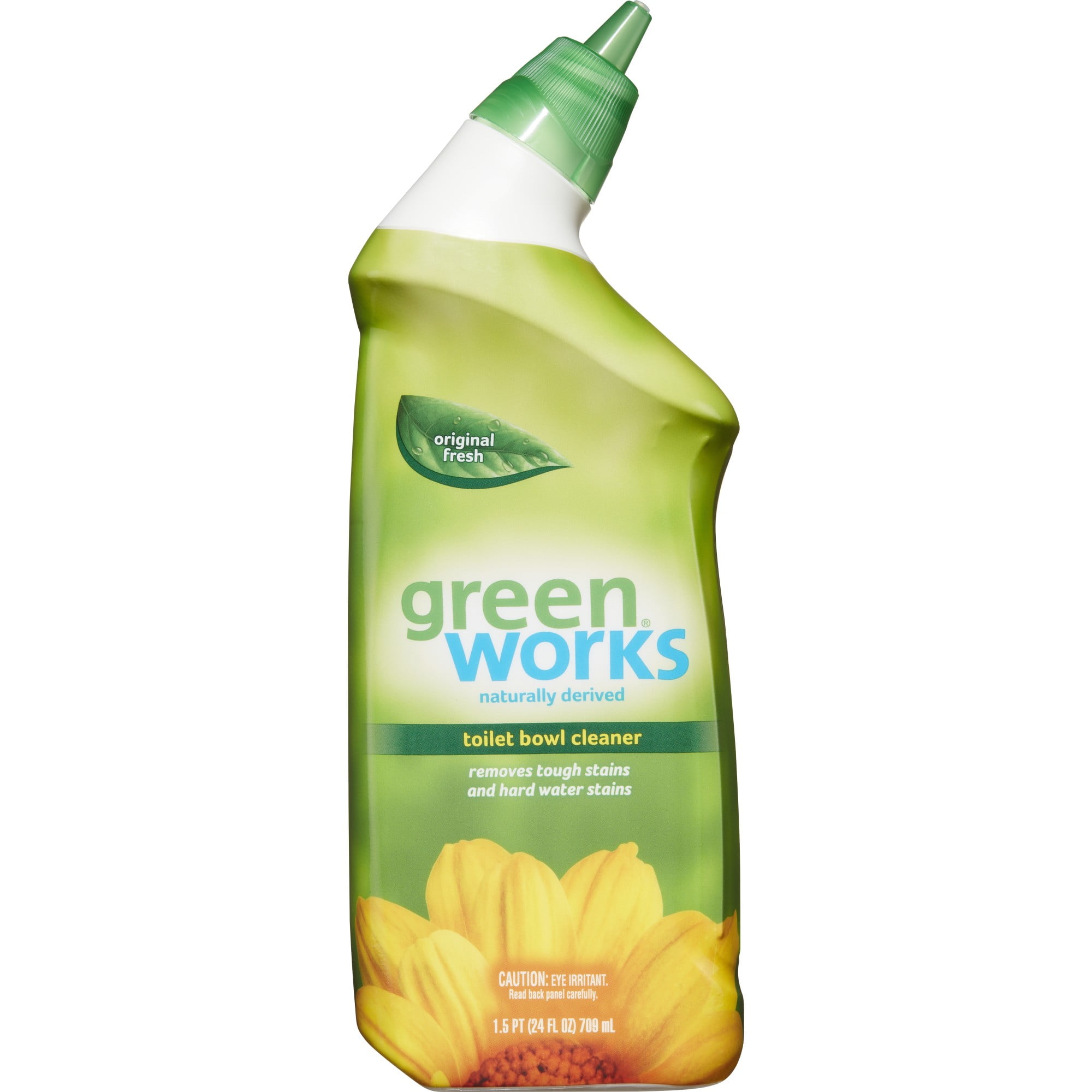 Best Natural Cleaning Formula
Green Works Cleaner
Safe for septic tanks
Natural ingredients
Eco-friendly
Best Thick Formula
Better Life Natural
Made in the USA
Biodegradable
Effective cleaner
---
---
Product Reviews
There are numerous toilet cleaners to choose from, including big-name brands and some excellent but lesser-known products. It can be difficult to know where to start looking, which is why we have reviewed five of the best toilet cleaners for septic tanks that you can buy today. These cleaners will effectively clean your toilet without damaging your septic tank.
1. Clorox Toilet Bowl Cleaner with Bleach
Best Stain Remover
The weaker your toilet cleaner is, the harder you will need to scrub to clean it effectively. On the other hand, this powerful Clorox cleaner will make life much easier as it removes tough stains and bowl rings.
As it contains bleach, it also eliminates most odor-causing bacteria. For stubborn stains, you can leave the cleaner on overnight and you should wake up to find your toilet free from bacteria.
This Clorox formula is non-abrasive and the manufacturer claims it is safe for use in septic systems. Even so, you should exercise care while using this toilet cleaner as it contains some toxic materials.
If your home has a septic tank, we recommend using this cleaner sparingly. Always wear gloves and eye protection and be careful not to splash it onto your clothes or skin.
Pros
Eliminates most bacteria
Removes hard stains
Available with multiple scents
Cons
Some toxic ingredients
Shouldn't be used in very large amounts
Product Specs
| | |
| --- | --- |
| Size | 24 ounces |
| Bleach | Yes |
| Scents | Cool Wave, Fresh |
| Safe for septic tanks? | Yes |
---
2. Kaboom Scrub Free! Toilet Bowl Cleaner
Best Hands-Free Cleaner
If you lead a busy lifestyle and struggle to find the time to thoroughly clean your bathroom, this Kaboom toilet cleaner could make a major difference.
It is an innovative toilet cleaning system that constantly cleans and deodorizes your toilet bowl. It can be installed in less than a minute and provides several months of hands-free cleaning. As this cleaner needs to be installed directly onto your overflow pipe, it cleans not only the toilet bowl but also under its rim and the water that moves through it.
Despite not requiring any extra work, it effectively removes stains and other dirt deposits. It is also safe for use if you have a septic tank.
Pros
Easy installation and use
Effective cleaning
Offers value for money
Cons
Not compatible with all toilet designs
Product Specs
| | |
| --- | --- |
| Size | 6.4 ounces |
| Bleach | Yes |
| Scents | Slight bleach smell |
| Safe for septic tanks? | Yes |
---
3. Lysol Clean & Fresh Toilet Bowl Clean
Best For Deep Cleaning
This Lysol toilet bowl cleaner is one of the most popular on the market. It is ideal for anyone who wants to deep clean their toilet.
This product makes it easy to remove toilet rings, hard-water stains, and rust. In severe cases, a light scrub should remove the vast majority of stains. The bottle is designed for hard-to-reach areas, making it easy to clean under your toilet's rim.
It contains bleach, which means it will effectively remove most germs from your toilet. This cleaner also has quite a thick consistency, so it will stick to your toilet as it disinfects it. You can squirt some gel into the toilet and leave it a while before flushing it.
You can also use it to clean other hard surfaces, such as your bathroom tiles. You can buy this Lysol cleaner in three different scent options: Lemon and Lime, Crisp Linen, and Early Morning Breeze.
Pros
Ideal for deep cleaning
Removes stubborn stains
Effective germ removal
Cons
The bottle is tricky to open
Product Specs
| | |
| --- | --- |
| Size | 24 ounces |
| Bleach | Yes |
| Scents | Lemon and Lime, Crisp Linen, Early Morning Breeze |
| Safe for septic tanks? | Yes |
---
4. Green Works Toilet Bowl Cleaner
Best Natural Cleaning Formula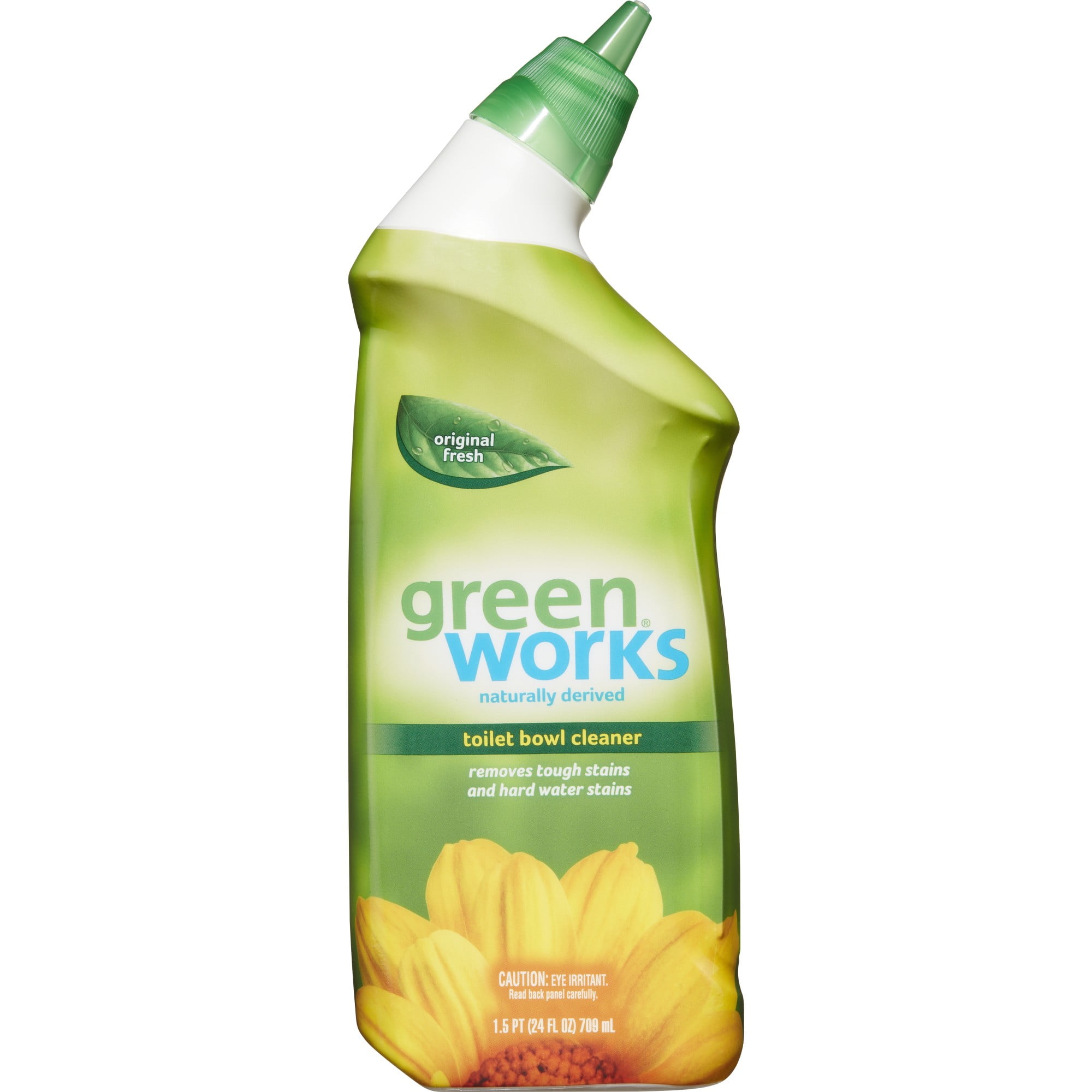 This Green Works toilet bowl cleaner has a powerful cleaning formula that leaves your bowl smelling fresh. It removes even the most stubborn stains, rust, hard water marks, and mineral deposits.
If you are concerned about your environmental impact, this cleaner combines plant-based and other natural ingredients to clean your toilet bowl effectively. The packaging is made of recycled or post-consumer plastic. This cleaner is also cruelty-free as its ingredients are not tested on animals.
As it doesn't contain bleach, you don't need to worry about it destroying the helpful bacteria needed for your septic system to work properly. It also won't release harmful chemical fumes or residue while it is cleaning.
The angled spout makes it easy to reach awkward areas under the rim and clean them effectively. To remove more stubborn hard water stains, you can simply scrub them with a brush.
Pros
Safe for septic tanks
Natural ingredients
Environmentally friendly
Cons
Hard stains require scrubbing
Product Specs
| | |
| --- | --- |
| Size | 24 ounces |
| Bleach | No |
| Scents | Original Fresh |
| Safe for septic tanks? | Yes |
---
5. Better Life Natural Tub and Tile Cleaner
Best Thick Formula
This Better Life tub and tile cleaner is a great natural cleaning solution. It makes cleaning your toilet a less unpleasant task as stains will be much easier to remove.
The thick gel will stick to the surface of your toilet as it cuts through grime, rust, and calcium deposits. It also removes toilet rings and dirt buildup, making your cleaning chores much easier.
Better Life is committed to using plant-based ingredients and this cleaner is no exception. It is also free from dyes, sulfates, petroleum solvents, and synthetic fragrances. It is safe for septic systems and waterways, so you can use it with confidence.
All ingredients are biodegradable, the packaging is made of recyclable materials, and the cleaner is not tested on animals. This is among the most eco-friendly toilet cleaners you will find.
Pros
Very eco-friendly product
Safe for septic systems and waterways
Effective cleaner
Product Specs
| | |
| --- | --- |
| Size | 32 ounces |
| Bleach | No |
| Scents | Tea tree and eucalyptus |
| Safe for septic tanks? | Yes |
---
How to Choose a Septic Tank Cleaner
Choosing a toilet cleaner can be quite straightforward, as modern toilets are designed to be tough and durable. If you have a septic tank, however, you will need to be far more careful as an abrasive cleaner could cause unseen and costly damage to your tank. There are a few general rules you should follow to ensure you choose a safe cleaner.
---
FAQs
How to Clean a Toilet Properly
Clear the area: Remove any items from around the toilet bowl and cistern lid to prevent them from being damaged or stained.
Apply the cleaner: Flush the toilet and then apply the cleaning product, leaving it in place for at least 5 minutes.
Clean the exterior: Start at the top to prevent dirt from dripping onto areas you have cleaned.
Mop the floor: Mop the floor around the toilet at this point.
Clean the toilet seat: After raising the toilet seat, spray the inside of the lid and rim with cleaner.
Wipe the toilet seat: Soak a cloth with clean water and use it to wipe the seat.
Clean the toilet bowl: Do this from the top down.
Scrub the drain hole: Scrub thoroughly and then flush the toilet with the lid down.
Spray the walls: Clean the walls behind and beside the toilet to remove any germs.
How to Remove Rust and Mineral Stains
Flush and scrub: Flush the toilet and scrub the affected areas with baking soda or your preferred anti-rust treatment.
Alternative options: You can also pour a can of cola or some white vinegar onto stubborn stains to help remove them.
Flush: Finish by flushing the toilet with the lid down to prevent splashing.
What Cleaning Supplies Do I Need?
When thoroughly cleaning a toilet, have the following items nearby to ensure it goes smoothly.
Rubber gloves
Eye protection
Liquid toilet cleaner
Spray cleaner
Paper towels or cloths
How Can I Stay Safe While Cleaning a Toilet?
Wear protection: Protect your eyes from bleach and chemicals by wearing goggles or protective glasses.
Seat down: Whenever you flush the toilet, keep the seat down. This will prevent any cleaner left on the toilet from splashing out of it.
No sponges: Avoid using sponges as these are breeding grounds for bacteria and will transfer them back onto the toilet.
Is Oxiclean Safe for Septic Systems?
Oxiclean is a special type of laundry detergent that is safe for use with septic systems. This product uses enzymes and oxygen to lift ingrained dirt and stains from clothing, leaving clothes looking bright and fresh.
Unlike many traditional laundry detergents, it does not contain phosphorous or chlorine bleach, which can cause damage to organic wastes in the septic tank. It contains powerful surfactants that quickly penetrate fabric fibers and loosen stuck-on dirt.
Overall, Oxiclean is a safe and effective choice for those who want to keep their clothes sparkling clean without putting the health of their septic system at risk.
Is Pine Sol Safe for Septic Systems?
At first glance, Pine-Sol might seem like an ideal cleaning product for septic systems. Made from a combination of organic and synthetic ingredients, this powerful cleaner has been used in households worldwide for decades.
However, experts warn that Pine-Sol should not be used in homes with septic systems, as these systems are not equipped to deal with the harsh chemicals in the solution.
In particular, the enzymes found in most modern-day septic tanks can be degraded by the high pH level of Pine-Sol.
Additionally, some of the components found in this cleaner (including stabilizers and preservatives) are known to damage waste pipes and other components of septic systems.
For those using septic systems at home or elsewhere, it is best to stick with gentler cleaning agents like vinegar or baking soda for household maintenance tasks.
Is Scrubbing Bubbles Toilet Bowl Cleaner Safe for Septic Tanks?
Scrubbing Bubbles Toilet Bowl Cleaner is safe on septic tanks if you use their drop-in cleaning tables. Simply putting a pill in your tank will help keep the toilet bowl clear of stains for up to four weeks.
With each flush, your toilet will be free of stains generated by minerals, hard water, and limescale. That offers continual protection against stains and keeps the toilet smelling fresh.
What Is the Best Toilet Cleaner If You Have a Septic Tank?
Better Life Natural Tub and Tile Cleaner is one the best option for those with septic tanks. That's because the formula uses bio-degradable ingredients which are gentle on the environment and your septic tank.
These cleaners have a pleasant eucalyptus and tea tree scent and can be used on all surfaces.
---
Thank You For Your Feedback!
Thank You For Your Feedback!