Decorating your apartment is the quickest and easiest way to rejuvenate tired spaces. Before you crack open the paint tins, knowing how much it is to paint an apartment enables you to keep costs down. It can even help you fall back in love with where you live.
So, let's ask the question, "how much does it cost to paint an apartment?" and break down the factors that affect the price you pay.
Key Takeaways
Expect to pay between $1,000 and $3,000 for an average 882 sq ft apartment.
Costs depend on factors such as size, location, and paint quality.
DIY painting costs around $110 to $340 for equipment and supplies.
Consider lighter colors and proper prep work to save costs.
---
How Much Does It Cost to Paint an Apartment?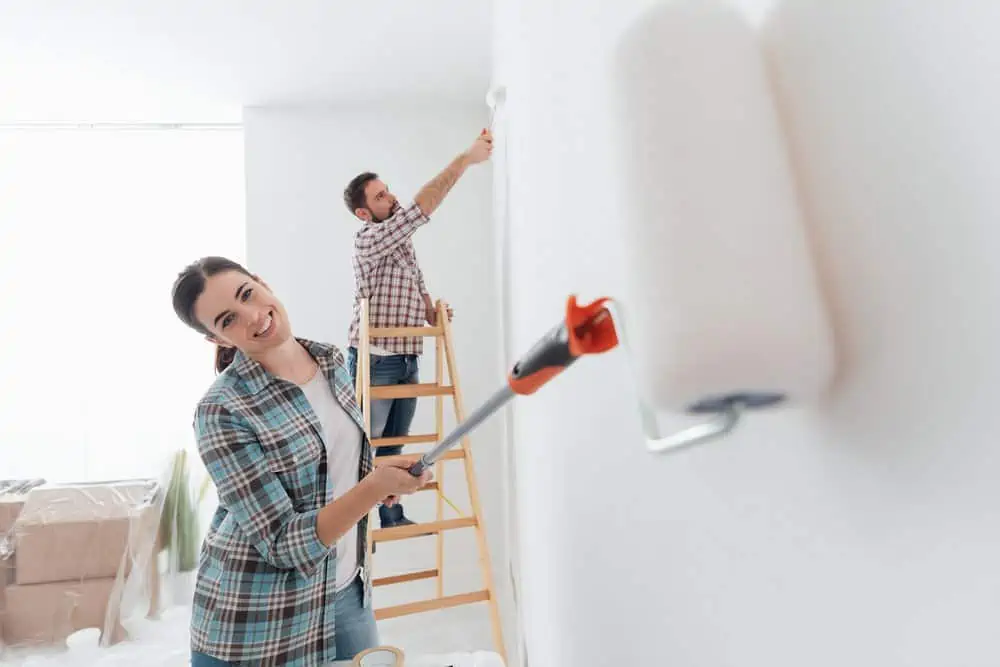 To answer this question, we must first examine the factors that alter the price. We have to factor in the average price, the cost range, and the square footage of your apartment.
Average Cost
The average price in the USA for painting an apartment is $2,000. That's based on an average of 882 sq ft of living space. However, apartment sizes vary depending on where you are in the country.
California has the smallest apartment average size, at 837 sq ft, while those in the southeast boast averages of 975 sq ft. Because of these variables, the lowest range is $1,000, and the maximum is $3,000.
However, if you live in an old apartment in NYC, you could see those costs rise to between $3,700 to $6,500. The cost variation depends on the intricacy of the work and the height of the walls and ceilings.
Per Square Foot
You can expect to pay between $2 and $6 per square foot, although some painters charge by the hour or by the total cost of the job. The average 12 ft x 12 ft room could set you back $400 to $900, while hourly rates can be $20 to $50.
By Number of Bedrooms
Most apartments have one or two bedrooms, but it is possible to get three-bedroom apartments. The more bedrooms you have, the larger the living space and the more you pay.
A 1-bedroom, 700 sq ft apartment will cost you between $500 and $3,500.
The cost to paint a 2-bedroom apartment measuring 1,000 sq ft is between $1,000 and $3,000.
Painting a 3-bedroom apartment will set you back $3,150 to $3,650.
Breakdown of Apartment Painting Costs
Several factors affect your apartment painting costs. From labor charges to equipment, the prices vary.
Labor Costs
Not everyone has the time, skill, or interest in a DIY painting job. Some prefer the convenience of hiring a pro. After all, the work is guaranteed and completed to a high standard.
Most painters charge by the hour or square foot. You can expect to pay $20 to $50 per hour or $2 to $6 per square foot. That equates to $200 to $500 per day. However, this hourly rate can double to $75 to $100 per hour if you live in a high-cost area.
Labor costs account for 85 percent of the total bill, with the other 15 percent going to supplies and materials like paint.
Equipment Cost
If you decide to take the plunge and do the work yourself, you will need to factor in equipment costs. Luckily, the tools you'll need are relatively inexpensive.
What You'll Need
Brushes: $10 to $30.
Roller and tray: $10 to $20.
Step ladder: $40 to $150.
Drop cloths: $20 to $50.
Painter's tape: $8 to $25.
Sandpaper: $10 to $30.
Gloves: $4 to $15.
Safety goggles: $5 to $20.
You can buy other things like Hazmat suits to protect your clothing, but it's probably cheaper to wear old clothes. We also need to factor in the primer and paint costs.
Paint Costs
Primer will set you back between $10 and $50 per one-quart tin. This Zinsser 1-2-3 Primer gives coverage of about 100 to 120 square feet. So, you'll need nine to 15 cans if you have an average apartment measuring 882 square feet.
You could easily spend $90 to $450 on primer alone!
Paint is another expense to bear in mind. Gloss or semi-gloss paint costs between $12 to $80 per can. You'll probably need two to three cans for an entire apartment, so that's a total bill of $36 to $240 on gloss.
Then there's the emulsion paint for the walls and ceilings. You will typically spend $20 to $60 per gallon for the paint, although chalk paint is more likely to be $30 to $80 per gallon. To trim costs, you could opt for a primer and paint in one, like this The One Water-Based Paint.
Depending on the quality of your walls, that should be enough for 400 square feet of coverage, so you'll need at least two to three cans.
Factors Affecting Apartment Painting Costs
From apartment size to apartment location, many things affect the overall costs. Let's look at the factors that alter the price you pay.
Apartment Size
Apartment size is one of the highest costs to keep in mind. The larger the accommodation, the more complex the task, which affects the price. Average apartment sizes in the USA measure 882 sq ft.
It typically takes four to six hours to complete an entire room. At $30 to $50 per hour, the price soon stacks up if your painter charges by the hour. Expect to pay $200 to $500 per day, but if you live in a high-cost area, that figure could double.
Location
Where you live matters, especially if it's a high-cost location. People in California pay more for services than those in Alaska. Why? Because gas, pay rates, rent, property prices, and even the cost of equipment are more expensive.
Type of Paint and Primer
Paint varies in quality and price. If you opt for a premium paint brand, you'll pay more than the budget option. Alternatively, choosing the cheaper route could be a false saving because you may need twice as much paint.
The primer is as essential as the topcoat. A good primer will seal the wall and make the paint adhere better. It also helps increase the coverage, which is one of the best ways to save money on paint costs.
Paint Finish
The finish you choose makes a financial difference. Gloss is more expensive than emulsion, so choosing the right finish is crucial. The brand you choose also affects the price.
Gloss
If you decorate a kitchen or bathroom, gloss makes it easier to keep surfaces clean. Gloss paint contains higher binders and resins, so it is hard-wearing. This makes it the ideal choice for baseboards, doors, and other high-traffic areas.
This Rust-Oleum White Gloss Paint is popular because it dries to the touch in 30 minutes. However, gloss paint highlights every surface blemish or imperfection because of its reflective qualities.
Gloss is more of an accent paint, designed to be used in small and specific ways to enhance door and window frames, as well as baseboards. It can also be used on inside or exterior surfaces.
Average price range: $18 to $80.
Semi-Gloss
Semi-gloss paint has all the advantages of gloss. It still contains binders and resins that form a hard shell when dry, but the reflective surface is slightly muted compared to gloss. It is hard-wearing, scrubbable, and great for busy areas of your apartment.
This Diamond Brite Latex Paint comes in five-gallon tubs, giving you enough to paint your entire apartment. If you are only painting one room, you might want to go for something smaller and cheaper.
Average price range: $12 to $80.
Satin
Satin paint has a softer sheen, so while it still reflects light, it has a more "universal" appeal because you can use it on most surfaces. Satin paint is also wipe-clean, so excellent for kitchens and bathrooms, and still reflects light into the room.
However, like this KILZ Tribute range, satin paint will still highlight every surface blemish, so you need to do your prep work.
Average price range: $12 to $60.
Eggshell
Eggshell paint sits between satin and matte for sheen. You get some reflective qualities, but nowhere near that of gloss or semi-gloss. Eggshell is popular as wall paint because it covers well and hides most surface blemishes.
If you use eggshell on doors and trim, ensure they are in less busy places because eggshell paint stains and scuffs easier than either paint finishes.
This Valspar Professional Paint is a great choice because it gives good coverage and dries in super-quick time.
Average price range: $11 to $60.
Matte
Matte paint scores well on pigment levels but lacks binders and resins that give gloss such a hard shell. It has no reflective qualities, making it perfect for walls and ceilings. What matte paint gives with hiding imperfections, it takes away with its inability to handle scuffs and stains.
Matte is also hard to wipe clean, so you may end up repainting entire walls to remove those pesky finger marks. This The One Matte Paint is a paint and primer in one, so you save on costs by not needing a separate primer.
Average price range: $10 to $70.
Chalk Paint
Chalk paint is ultra-flat, so it has all the qualities of matte paint but with zero light reflection. Chalk paint is popular for furniture and woodwork, especially if you want a shabby-chic look.
If you hate tedious prep work, chalk paint is the best choice because it goes on without a primer and masks most surface blemishes. However, if you think you can wipe it clean, think again. It is nowhere near as robust as other paint finishes.
Average price range: $30 to $80.
Repair Work
Most surfaces need some kind of repair work. You will need additional supplies to get a neat finish, whether filling cracks in door frames or smoothing plasterboard walls.
There are great products like Minwax Stainable Filler and Red Devil Lightweight Spackling to help you out.
What You'll Need
Wood filler: $10 to $20.
Wall filler: $10 to $20.
Putty knife: $5 to $15.
Permits and Inspection Fees
Luckily, you don't need a permit to paint the interior of your home unless you live in a historic building like the White House. We don't think the current President is much of a DIY enthusiast anyway.
When you call a professional to give you a quote for the work, they will inspect the quality of your surfaces before committing to a price. They will factor in the amount of prep work needed and price accordingly.
If your painter wants to charge you a fee just to inspect your apartment, we suggest calling another firm that doesn't charge.
How Much Does It Cost to Paint an Apartment Yourself?
Other than the equipment and supplies (listed above), there is no additional cost if you paint your condo yourself. The skill comes in how accurately you price the project. You will need to consider:
Room size.
Paint costs.
Quality of the paint.
Height of the ceiling.
Suitable colors.
You should set aside $110 to $340, depending on the above factors and the quality of the equipment you use.
How to Save Costs When Painting an Apartment
We all like to save a few dollars, so what are the hints and tips to help us achieve minimum expenditure?
Use Colors Sparingly
White paint is the cheapest, so rather than covering your walls in the latest eggshell blue, why not reserve colors for accent walls. You can then dress the room with objects and colors that reference the accent color to create a fresh look.
Use a Primer
Primer seals and gives your surfaces a smoother finish to help the paint adhere. You get better paint coverage with primed walls and ceilings, and you use fewer topcoats because the primer helps achieve a fuller color.
Use Paint and Primer in One
Take it a stage further and use paint and primer in one rather than forking out for separate primer. It could save you money and speed up your painting process.
Do the Prep Work Yourself
When you are paying top rates for skilled labor, why waste money getting them to do the donkey work. If you sand, fill, strip, and smooth your apartment, it's one less thing for the painter to add to the price list.
Top Tip
Make sure you make it clear from the outset that you will complete the prep work, or your painter will add the costs to the bill.
Stick With Existing Colors
Painting your apartment needn't mean a radical change in colors. You can save costs by keeping the color scheme the same. You may even have some old paint in the garage that you can use to trim your spending even further.
Get Several Quotes
If you were buying a car, you'd shop around. If you were buying shoes, you'd compare prices, so why not do the same with your painter. You get to see who's unrealistic with their prices, and you can even haggle costs down.
Word Of Advice
Always go with the middle price. The cheapest will do a poor job, while you could be ripped off paying through the nose.
Get Quotes, Not Estimates
What's the difference, we hear you ask? An estimate is an educated guess at the final price but is subject to change. The job may overrun due to problems beyond your painter's control, or the paint cost may increase.
Several factors affect the final bill, but an estimate leaves you open to these price pressures. Quotes are written guarantees of the final price, so you know what you're paying no matter what issues occur.
Apartment Painting Ideas
Stuck for ideas for your new paint scheme? Now is the time to unleash the creative demon lurking deep inside.
Accent Walls
Accent walls draw the focus and give your room balance. It helps to transform a dull room into an interesting space. You can choose bold colors like red or blue or stick with a more muted palette. This works with paint as well as wallpaper.
Play With Light and Shade
If you want examples of how a room feels when experimenting with different colors, look at regency interiors for inspiration. They used darker colors on the walls to display their artwork and treasured possessions.
It makes the room feel cozy, especially when balanced with subtle lighting.
Open Up the Space
Whites and creams make spaces feel larger. They reduce shadow, which helps to blur lines and points of reference. If you're battling with a 500 sq ft apartment, using darker colors will only increase the feeling of limited space.
You can still add splashes of color with furnishings and ornaments, but at least the white backdrop gives you a blank canvas.
Use Reflective Surfaces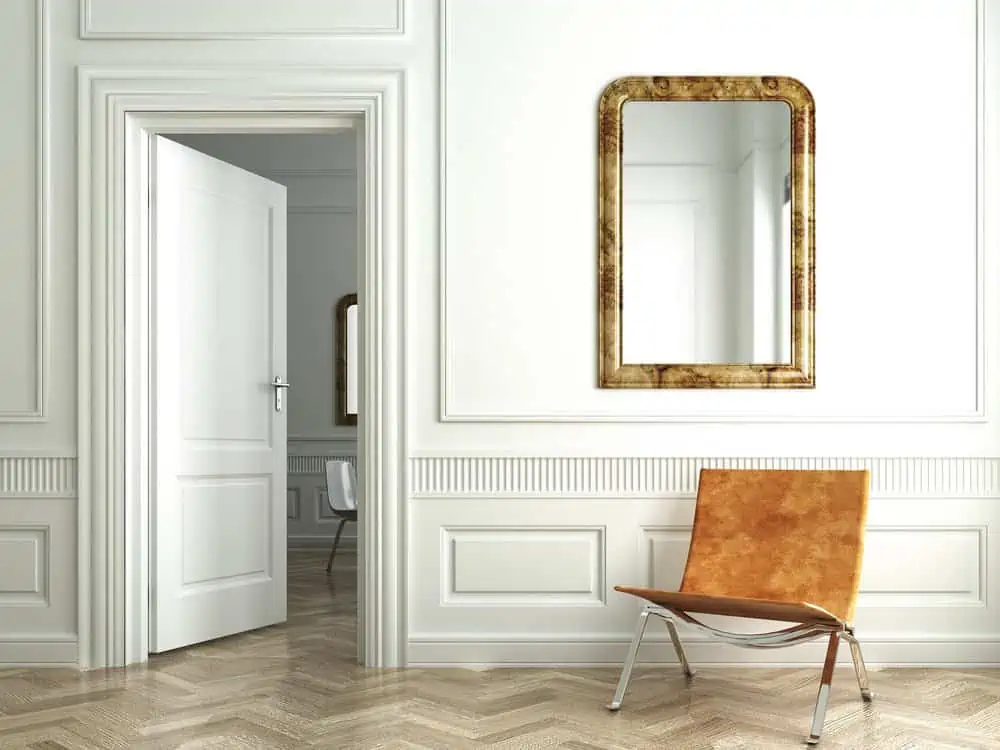 Mirrors work wonders when creating the illusion of space. Likewise, wooden or laminate flooring bounces light into the room. This is important if you live in a north-facing apartment and need as much natural light as possible.
Dos and Don'ts for Painting an Apartment
What are the rules when painting an apartment? What things should you do, and which things should you avoid? Let's take a look.
Discuss Project With Landlord
If you live in a rental apartment, you can't just paint the walls and expect to get away with it. Your landlord needs to give permission and will want to know the color scheme before you start. Only once they give written approval can you get to work.
Take Note
You will be expected to foot the bill for the work unless the apartment is so tired that it falls under the landlord's remit. They may have agreed to bear some costs but ensure everything is documented before starting any work.
Use Lighter Colors
Lighter colors may seem boring, but you'll thank your lucky stars when you redecorate. Bold colors are harder to cover and take more paint to achieve a perfect finish.
So, the next time you're tempted to splash red, green, blue, or any other primary color on your walls, think again.
Use the Right Paint Finish
We've talked a lot about paint finish and where you use it makes a difference. You wouldn't gloss a wall, or use emulsion for trim, door frames, and baseboard.
Choose the paint finish to complement the different zones in your apartment. Matte paint is better for flawed walls, while gloss is wipe-clean, making it ideal for kitchens and bathrooms.
Protect Your Belongings
It's always advisable to remove as much as you can from the room before decorating. However, we realize that this is not always possible. Cover everything with drop cloths to avoid paint splashes on your expensive flooring and objects.
Use Painter's Tape
Painter's tape helps you to protect edges and corners where two surfaces meet. It also enables you to create straight lines and prevents paint seepage onto different surfaces.
Is It Worth It to Paint a Rental Apartment?
It depends on the circumstances. If the apartment is in such bad condition, it is expected that the landlord pays to freshen up the space. It could affect the rent they get and your willingness to respect the space.
If the landlord doesn't maintain their property, why should you? It also affects the quality of the tenant they attract. A professional person will pay more for a suitable apartment rather than try and slum it and save a few dollars.
Crucial Point
In New York City, the authorities require that landlords paint their rental apartments every three years.
FAQs
---
Final Thoughts
Painting your apartment is the easiest way to improve your living space. It creates impact and renews your enthusiasm for your home. You can unleash your creative genius and make bold choices, or you can play it safe.
The point is the choice is yours, unless you live in a rental, and then it's a collaboration between you and the landlord.
Thank You For Your Feedback!
Thank You For Your Feedback!