The average American household uses 16 or more rolls of toilet paper per month, which is about 16,000 sheets (1). Toilet paper can be expensive and has a negative environmental impact, which is why a bidet attachment could be the perfect solution.
In contrast to a freestanding bidet, a bidet attachment is designed to be installed onto your toilet, so it won't occupy any extra floor space. Bidets can vary greatly in terms of their quality and features, so you might need some guidance to choose the right model.
To help you find the ideal product for your toilet, we have reviewed seven of the best bidet attachments that are currently available. We chose these bidets for their nozzle types, temperature controls, and any special features they have.
Image
Model
Product Comparison Table
Features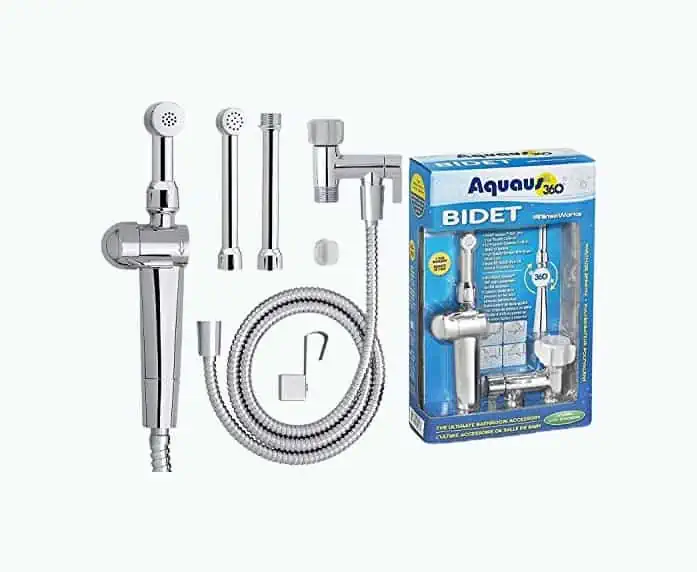 Best Manual Attachment
RinseWorks Handheld Bidet Sprayer
Versatile hose design
Dual pressure control
NSF-certified
Best for Rounded Toilet
GenieBidet Self-Cleaning Nozzles
Integrated into a seat
High-quality T-connector
Dual nozzles
Best Dual-Temperature
Zen Bidet Hot and Cold Water
Temperature dial
Adjustable nozzle
Excellent value for money
Most Luxurious
BioBidet Bliss Elongated Bidet
Stainless steel nozzle
Remote control
Minimizes energy waste
Most Popular
Luxe Bidet Neo Self-Cleaning Nozzle
Includes all installation parts
Durable metal materials
Automatic retractable nozzle
Most Economical
Astor Bidet Fresh Water Spray
One control knob
Five pressure settings
Durable brass valves
Thinnest Attachment
Brondell Bidet Thinline Nozzle
0.2-inch thickness
Leading bidet brand
High-quality brass and ceramic valves
---
---
The Best Bidet Attachments of 2023
Bidet attachments have become increasingly widespread in recent years, which has led to them being more affordable and varied in terms of their designs. To help you pick the right model from the many products that are available, we have reviewed seven of the best bidet attachments that you can buy today. These models were chosen for their nozzles, special features, and how user-friendly they are.
RinseWorks Handheld Bidet Sprayer
Best Manual Bidet Attachment
If you feel that an automated bidet spray won't clean precisely enough, this handheld bidet from RinseWorks is an excellent alternative. The sprayer conveniently attaches to the side of your toilet's cistern and is connected to the water valve by a hose.
This product is designed to be convenient but also sanitary. Its already long shaft can be extended to a total length of 11 inches using the included 5-inch extension. This will keep your hands clean and dry while increasing the bidet's reach for people with limited mobility.
What We Like
Easy to Use
Although this bidet attachment isn't automated, it is still very user-friendly. It has an ergonomic design that allows you to reach both the front and back of your lower half.
The long shaft can also be used in an upward or downward direction, increasing its versatility. In addition to cleaning you, the sprayer can also be used to rinse the inside of your toilet bowl.
Dual Pressure Control
The bidet's pressure can be adjusted as required by using a small, user-friendly knob on each side of the shaft. You simply turn the knob up or down to increase or lower the strength of the water stream.
Certified Quality
This manual bidet attachment is made in the United States and is NSF-certified as a mark that it meets public health requirements (2). It is also UPC-certified, meeting plumbing safety requirements (3).
Durable Materials
The spray shaft is impact-resistant and made with ABS elements, which prevents corrosion. The brass valve has a 15 to 20-year lifespan and can handle a water pressure of 250 PSI.
What We Don't Like
Manual Valve Operation
This bidet requires you to manually open and close the valve before and after every use, which means it isn't particularly child-friendly. If you forget to shut it off, it is also possible to accidentally flood your bathroom.
Product Specs
| | |
| --- | --- |
| Type | Handheld |
| Temperature(s) | Cold |
| Number of Nozzles | N/A |
| Material | Brass valve, stainless steel hose |
| Dimensions | 10 x 6 x 2 inches |
Our Ratings
---
GenieBidet Self-Cleaning Dual Nozzles
Best Bidet Attachment for Rounded Toilet
This product from GenieBidet is built into a toilet seat and is available at a reasonable price. Its standout feature is the user-friendly handle that can be moved back and forth to activate and adjust the flow of water and its pressure.
The bidet features two nozzles that are angled slightly differently, allowing you to clean your front and back at the same time. They are also self-cleaning, reducing the amount of maintenance your toilet will require. When you need to clean the seat, it can be easily removed by pressing buttons on its sides.
Reviewers praise how easy it is to assemble the parts of this bidet attachment and install it. Based on user experiences, it usually takes less than 45 minutes. If you need any help, GenieBidet's customer service team is located in the United States. The manufacturer also offers a 1-year warranty in case you discover any defects.
What We Like
Comes With a Seat
The bidet is built into a seat that is suitable for many standard rounded toilet bowls. As the bidet is integrated into the seat, it is subtle and won't stand out as an obvious attachment. It also ensures that pressure is divided equally throughout the seat. The seat has slow-close hinges that prevent it from slamming onto the toilet bowl and being damaged.
High-Quality T-Connector
Low-quality connectors are a common source of leaks. This model features a leak-proof T-connector but also has an on/off valve. This valve allows you to shut off the bidet entirely when it is not in use, which will prevent children or pets from activating it randomly.
Dual Nozzles
Each nozzle sprays in slightly different directions. This allows you to clean both your front and back at the same time, without having to adjust the nozzles. They are also retractable to keep them clean when they aren't needed.
The nozzles have a self-cleaning function that sprays downwards to remove any residue.
What We Don't Like
Only Fits Rounded Toilets
This model is designed to fit rounded toilet bowls, so it won't be suitable if you have an elongated toilet or another design. Check the measurements carefully to ensure the seat will fit your toilet.
Product Specs
| | |
| --- | --- |
| Type | Automated |
| Temperature(s) | Cold |
| Number of Nozzles | 2 |
| Material | Not indicated |
| Dimensions | 21 x 15 x 3.6 inches |
Our Ratings
---
Zen Bidet Hot and Cold Water
Best Dual-Temperature Water Bidet Attachment
A bidet that uses your cold water supply will help you get clean but it can be very unpleasant to use during winter. The Zen hot and cold water bidet allows you to switch between water temperatures to ensure your bidet is as effective and comfortable as possible.
As this model can provide warm or cold water, it will need to be connected to both your hot and cold water supplies. To ensure installation is straightforward, the Zen bidet includes all the necessary installation components:
Two T-connectors
Two hoses
Teflon tape
Washers
Hot water cap
Detailed instructions
What We Like
Hot and Cold Temperatures
During the winter months or if you are dealing with health issues such as constipation or hemorrhoids, it is important that your bidet provides warm water. The bottom knob allows you to adjust the temperature to be hot, cold, or anywhere in between.
To avoid a blast of cold water as the stream heats up, some reviewers recommend letting the self-cleaning mode run for a few seconds. Then, you can activate the "warm wash" mode and immediately receive warm water.
Adjustable Nozzle
This bidet allows you to adjust the angle of the nozzle. The central control knob aims the spray further forward or back to ensure the water is going where you need it.
Value for Money
Bidets that offer temperature and pressure adjustments can be quite expensive. However, this bidet attachment is reasonably priced, so you shouldn't need to stretch your budget to afford it.
The materials used are durable, such as brass, plated chrome, and stainless steel. The manufacturer offers a 12-month warranty and reviewers praise their customer service, so you can buy it with confidence.
What We Don't Like
Doesn't Fit All Toilets
This bidet attachment won't fit every toilet, so make sure you measure your bowl carefully before ordering it.
Leaky T-Connectors
Some buyers have reported small leaks coming from the T-connectors. They had to replace them with sturdier connectors to fix the issue.
Product Specs
| | |
| --- | --- |
| Type | Automated |
| Temperature(s) | Hot and cold |
| Number of Nozzles | 1 |
| Material | Chrome-plated knobs, brass T-connector, 1 x stainless steel hose, 1 x polyurethane hose, ceramic/brass valves |
| Dimensions | 17.7 x 4.1 x 11.2 inches |
Our Ratings
---
BioBidet Bliss Elongated Bidet Smart Toilet Seat
Best Luxury Bidet Attachment
Adding a bidet to a toilet often has a negative impact on its overall appearance. However, this BioBidet model is incorporated into a toilet seat, making the bidet barely noticeable and providing a smooth, minimalist appearance.
If you have worked hard to achieve a sleek modern style in your bathroom, you won't have to worry about this product ruining it. Rather than having to aim the nozzles manually, this unit's nozzle moves back and forth to ensure it cleans you thoroughly.
This bidet attachment features multiple smart features, including temperature and flow adjustment via controls on its side or a separate remote control. You will get to sit on a comfortable heated seat with a slow-close lid that prevents accidental noise and damage.
What We Like
High-Quality Materials
Most nozzles are made of plastic, but this one is solid stainless steel for increased durability. It is very easy to clean and highly resistant to rust and corrosion. As a mark of its quality, BioBidet protects it with a 3-year warranty.
Smart Features
This bidet boasts an impressive list of high-end features. It includes a remote in white or black that enables you to control it more easily. When it's dark, a blue night light activates that ensures you can still see the controls. The bidet has a soothing massage spray and dries you with warm air after use.
High-Tech Nozzle
The nozzle automatically moves back and forth to ensure you are thoroughly cleaned. It also cleans and deodorizes the water before releasing it using one of three spray modes: vortex, feminine, and a smaller washing jet. The self-cleaning mode washes the entire nozzle shaft, inside and out.
Eco-Friendly
This unit is designed to minimize energy waste. It optimizes its power usage to reduce electrical waste, making it one of the more efficient bidet attachments we have seen.
What We Don't Like
Batteries Required
The remote control requires two AAA batteries in order to function. These aren't included in your purchase, so you will need to buy them separately.
Product Specs
| | |
| --- | --- |
| Type | Automated |
| Temperature(s) | Cold and hot |
| Number of Nozzles | 1 |
| Material | Stainless steel |
| Dimensions | 21 x 15.6 x 9 inches |
Our Ratings
---
Luxe Bidet Neo 120 Self-Cleaning Nozzle
Most Popular Bidet Attachment
This popular Luxe bidet has all the features required for efficient, user-friendly operation. The slimline design should be suitable for most toilets but is still strong enough to ensure it will last a long time.
It has two high-quality control knobs for easy operation. One knob allows you to choose from four different pressure settings, while the other switches between the washing and self-cleaning modes.
What We Like
Easy to Install
Reviewers praise how simple this attachment is to install. Your purchase includes all the equipment required for proper installation:
Hose
Wrench
T-connector
Teflon tape
This attachment doesn't need to be connected to your hot water, which makes installation easier. Even if you aren't an experienced DIYer, the included instructions are detailed and should be able to guide you through the process.
Durable Material
The control knobs are plated with chrome, and the hose is covered with steel. The high-quality valves include ceramic and metal components, so they should continue to function properly for a long time. This Luxe attachment has an 18-month return guarantee. If you register the product, you will be protected by a 2-year extended warranty.
Sanitary Nozzle
If you are worried about bidet hygiene, the single nozzle should address your concerns. It automatically retracts after each use to keep it out of the way. For extra protection, it has a plastic guard that shields it from dirt when it is not in use.
The shield can be removed by hand, which is helpful when cleaning the unit. The self-cleaning mode is unable to completely clean the bidet alone. However, it does spray downward to remove any dirt around the nozzle spray.
What We Don't Like
Bumpers Are Required
This attachment raises your toilet's hinges. Some reviewers mention having to install bumpers to keep the seat level. These bumpers aren't included but, without them, it is possible that your seat will crack due to the extra pressure.
Product Specs
| | |
| --- | --- |
| Type | Automated |
| Temperature(s) | Cold |
| Number of Nozzles | 1 |
| Material | Plated chrome knobs, steel cord, ceramic/metal valves |
| Dimensions | 12 x 6 x 6 inches |
Our Ratings
---
Astor Bidet Fresh Water Spray
Best Budget Bidet Attachment
If you have never used a bidet attachment before, you might want to try a budget-friendly option before considering high-end models. Similarly, if you are adding several attachments to a large house or commercial property, you probably don't want to spend much on each toilet.
Despite being affordable, this Astor bidet attachment has all the essential features of more expensive models. It has a simple design with one knob that activates the spray and adjusts its pressure. The nozzle retracts when the bidet isn't in use.
This bidet attachment is durable, with brass valves and no ceramic parts, so you should be able to depend on it for many years. Your first year of use is guaranteed by a 12-month warranty.
What We Like
Easy to Use
As a general rule, the simpler the design, the easier it will be to use. You will only need to use one knob to activate this bidet and control its water pressure. The nozzle retracts after use, so you won't need to worry about it being damaged.
Quick Installation
Reviewers praise how easy this bidet attachment is to set up, even with no plumbing experience. It includes adapters and hoses, along with setup and operating instructions. Overall, it usually shouldn't take more than half an hour to complete the installation.
Adjustable Water Pressure
Some budget-friendly bidet attachments have an unpleasantly strong spray. This model has a control dial that lets you adjust the jet's strength as required. You can choose from five different settings to make the bidet as comfortable as possible.
Long-Lasting
Although it is budget-friendly, this bidet attachment was still made with durability in mind. Its valves are made of brass and don't contain any ceramic material. Your purchase will be protected by a 12-month warranty, so you don't have to worry if there are any manufacturing defects.
What We Don't Like
Too Bulky
Some buyers found the bidet attachment to be larger than expected, making it slightly unsightly. This also creates a gap between the toilet bowl and seat, which can allow water to leak out when the bidet is in use.
This issue can be fixed by adding bumpers under the front of the toilet seat, but these aren't included and will need to be purchased separately.
Product Specs
| | |
| --- | --- |
| Type | Automated |
| Temperature(s) | Cold |
| Number of Nozzles | 1 |
| Material | Brass valves |
| Dimensions | 17.7 x 7.8 x 3.9 inches |
Our Ratings
---
Brondell Bidet Thinline Dual Nozzle
Thinnest Bidet Attachment
This Brondell bidet attachment is one of the thinnest we have seen. It can be attached to almost any toilet, whether the bowl is elongated or rounded.
There are two retractable nozzles, each spraying water at a slightly different angle. This means the bidet can wash your front and back at the same time.
The water pressure can be easily adjusted to suit your preference, which isn't always possible with bidet attachments. Reviews praise the easy installation, so you shouldn't need to spend money on a plumber or extra tools.
What We Like
Thin Design
At just 0.2 inches, this attachment is very thin. Thicker models can create a gap between the toilet bowl and the seat, placing extra pressure on the seat and potentially breaking it. This product keeps your seat level, so you won't need to install bumpers.
It also helps you maintain a simple, minimalist appearance around your toilet. The control dial is flat, in contrast to standard rounded knobs. This makes it easier to operate and clean.
Trusted Brand
Brondell has many years of experience in designing and manufacturing bidet attachments, which has helped them perfect their products. As a mark of the brand's confidence in its quality, this bidet attachment has a 12-month warranty on all parts.
High-Quality Valves
With any plumbing appliance, high-quality valves are essential to prevent leaks. This model's sturdy brass and ceramic valves are covered with a protective sonic-sealed shield.
What We Don't Like
No Shut-Off Valve
This bidet attachment doesn't have a shut-off valve, which means there is no way to prevent children from using it as a toy. Some reviewers even mention cats and dogs being able to activate the spray alone. As the spray is powerful, this can lead to flooding in your bathroom.
Strong Jet
Even on the lowest setting, this bidet's spray is quite strong. Some reviewers found it uncomfortable and would have preferred a gentler spray.
Product Specs
| | |
| --- | --- |
| Type | Automated |
| Temperature(s) | Cold |
| Number of Nozzles | 2 |
| Material | Ceramic, brass, metal hose and T-connector |
| Dimensions | 15.4 x 9.2 x 0.2 inches |
Our Ratings
---
Benefits of a Bidet Attachment
Bidets have been in use since at least the 17th Century but modern technology has made them more effective and efficient. They use a stream of water to clean your backside after you use the toilet, which is more thorough and hygienic than toilet paper.
In contrast to traditional freestanding bidets, a bidet attachment is designed to be installed onto your toilet for added convenience. Bidets can be automatic or manually operated, but both types have the same benefits:
More hygienic: Toilet paper will not remove all germs and bacteria after you use the toilet, which the warm water of a bidet can do. You also won't need to worry about transferring bacteria to your hands, as they won't come close to your rear end while using the bidet.
Saves trees: A bidet attachment means you won't need to use as much toilet paper, reducing your environmental impact and helping you save money.
Gentler: Rough toilet paper can irritate or scratch your skin, especially if it is low-quality. This won't be an issue with a bidet, as its water won't harm your skin.
Economical: Americans spend about $9.6 billion on toilet paper each year. Reducing your toilet paper use will help you save money in the long run, especially if you buy high-quality paper (4).
Choosing the Best Bidet
Bidet attachments are all designed for the same purpose, but each product will have specific aspects that set it apart from other models:
Nozzle Types
Nozzles are perhaps the most important aspect of any bidet attachment. Some models feature one nozzle, while others have two. If you choose a model with a single nozzle, try to find one that allows you to adjust the angle of the water stream, as this will make it far more effective.
As a bidet attachment's nozzles are located inside the toilet bowl, they are very prone to bacteria and dirt. Retractable, high-quality, and antibacterial nozzles will help keep your bidet sanitary.
Temperature Control
Attachments that use your water supply's temperature are usually easier to set up. However, a bidet that offers both warm and cold water temperatures will be far more pleasant to use during the cold winter months.
Warm water is also recommended if you suffer from constipation or hemorrhoids (5). A bidet that provides warm water will usually be connected to your bathroom sink's water supply so it can receive both types of water.
Handheld Attachments
If you don't want the extra hassle of installing an electrical device, you can choose a manual bidet. Handheld attachments are usually fixed to a nearby wall for convenience. It is essential that the bidet's hose is long enough to reach your toilet or it will be essentially useless.
Additional Features
Some high-end bidets include extra features such as lights, touch screens, remote controls, built-in bidet toilet seats, and even warm air to dry your rear after use. While these models are more expensive, they are also more user-friendly and will enhance your toilet experience.
Bidet Attachment Installation
Although the installation process varies from model to model, if you have any plumbing experience, you should be able to install a manual bidet in less than half an hour. This usually consists of adding a T-connector to attach the water hose and removing your old toilet seat to install the nozzle attach.
---
FAQs
---
Thank You For Your Feedback!
Thank You For Your Feedback!