Working on construction sites and building projects presents a whole new set of challenges, especially when it c o
mes to welding. What do you do if there is no available power or the only generators on site are for the lights and general electrics?
Say hello to the best welder generators, where mobile welding is entirely possible.
Image
Model
Product Comparison Table
Features
Best Stick Welder Generator
Tomahawk Generator
15 HP inverter generator power
Rugged wheel kit for portability
Two 120V outlets and amperage dial
Best Quiet Welder Generator
Lincoln Electric Ranger 330MPX
Super-quiet
Super-light & efficient
Easy start technology
Best Gas-Powered Welder Generator
Lincoln Electric Ranger 225
12 to 14 hour fuel run time
9,000 watts
Multi-process applications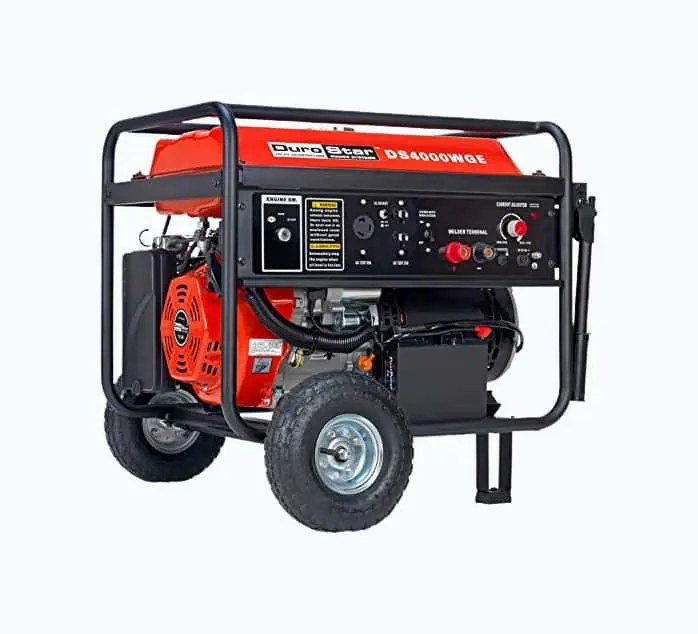 Best Portable Welder Generator
DuroStar DS12000EH
Can power your entire home
Dual fuel technology
Equipped power panel
Best Budget Generator
Lincoln Electric Bulldog 5500
Weighs 198 pounds
Slightly more affordable
High-quality components
Review Methodology: At Sensible Digs, we dive deep into the world of welder generators, assessing and comparing the market's top offerings using a checklist of key criteria. Our hands-on experience and professional evaluation techniques help us measure and rank each product. From performance benchmarks to design choices, we cover all aspects to give you a comprehensive understanding. We review, test, and track product features such as power output, fuel efficiency, portability, and durability, among others. Our results, backed by concrete data and evidence, highlight the distinct advantages of each welder generator, helping you make an informed decision based on your specific needs.
---
---
The Best Welder Generators of 2023
Tomahawk 15 HP Engine Driven Generator
Best Stick Welder Generator
This welder generator might be just the thing for you. It's suitable for taking onto job sites when you require electrical power and constant current stick welding. Whether you're going to a farm or a construction site — or anywhere else, really — this product will be your companion.
It has back wheels which allow you to maneuver it easily. So you can take it around with you, whether you go.
This generator packs quite the punch with 15 HP and 2000 watt power.
What We Like
15 HP Inverter Generator Power
Power is one of the most critical elements when choosing a welder generator. With a horsepower of 15, this will give you continuous powerful force. It's very reliable for running your tools, even simultaneously.
Rugged Wheel Kit for Portability
If you're moving from place to place and need to take this with you, it's easier than ever. The rugged wheel kit makes it easy to transport around job sites.
Two 120V Outlets and Amperage Dial
We think you'll appreciate the two 120-volt outlets. This lets you plug in most power tools. You can even use two at once!
It also has a digital voltmeter so that you can keep an eye on the welding output.
Last but not least, it has an amperage dial so that you can customize your amperage within a coarse range.
Top Tip
Set it above seven for maximum power while you're welding.
What We Don't Like
Assembly Required Upon Arrival
It's important to note that you may have to put in some effort to get this up and running. The welding cables don't come assembled, so you need to take time to do that. In fact, some customers found that the included ones weren't long enough. So take note that you might need to buy longer ones.
The gas tank also comes without a cover. The bag it comes with is pretty cheap, too.
Overall, it's a fantastic choice, but works a little better with some adjustments.
Product Specs
| | |
| --- | --- |
| Weight (pounds) | 202 |
| Dimensions (inches) | 30 x 24 x 22 |
| HP | 15 |
| Wattage | 2,000 |
| Amps | 210 |
| Fuel | Gasoline |
| AC/DC | DC |
| Multi-process | TIG, stick and MMA |
| Price | $$$ |
Our Ratings
Community Feedback
"From the moment I got my hands on this welder, I knew it was a mixed bag. It's got a large gas tank capacity and came with a convenient funnel, but no cover, and the complimentary bag's zipper broke after one use. The welding cables needed assembly and I ended up getting longer ones, as the provided ones didn't reach far enough. I've used it a couple of times and it's done the job well, but the machine makes a loud turbo noise during operation, which was unexpected. I did appreciate the company's customer service though, they were really responsive when I called with questions."
---
Lincoln Electric Ranger 330MPX
Best Quiet Welder Generator
If you want a welder generator that is quiet and still performs, this is worth your consideration. This is the Ranger 330MPX, the second of 4 Lincoln Electric models to feature in this review. Thanks to new and improved technology, this model is 20 percent smaller, and 25 percent lighter than all the other welder generators in its class.
So, not only is it 60 percent quieter than the competition, but it's also lighter and portable. It also benefits from a digital interface that is the latest in advancements to improve the welder's performance and productivity.
It features the same Chopper easy start function, and with a running wattage of 10kW, it has enough power to tackle the heavy-duty tasks that the 330-amp output demands.
What We Like
Super-Quiet
Welder generators are not the quietest at the best of times, so to get a model that is 60 percent quieter than the competition is a welcoming relief to those around you and for your ears.
Super-Light, Super-Efficient
Thanks to the latest developments in technology, this welder generator has a 20 percent smaller footprint and it is 25 percent lighter. Getting this unit to and from your place of work should be a lot easier.
Easy Start Technology
Lincoln Electric has invented Chopper technology that ensures an easy start to the arc and improves the quality of the beading and reduces spatter. It all adds up to an easier welding experience.
What We Don't Like
Very Expensive
This is the second most expensive welder generator to make the review. While it is quality, it is costly. Think about the price of a small second-hand car, and you might be in the right ballpark with the price.
Lacks a Tubular Frame
Like the Ranger 305, this welder generator lacks a robust tubular frame. Instead, this is an enclosed case generator, which makes it compact and protects the engine components.
Product Specs
| | |
| --- | --- |
| Weight (pounds) | 446 |
| Dimensions (inches) | 25 x 20 x 36 |
| HP | 25 |
| Wattage | 10,000 |
| Amps | 330 |
| Fuel | Gasoline |
| AC/DC | DC |
| Multi-process | Stick, TIG |
| Price | $$$$ |
Our Ratings
Community Feedback
"Best in class, this welder generator, the Ranger 330MPX, exceeds expectations with its innovative technology. This model is impressively quiet, compact, and portable, making it stand out among its peers. The digital interface boosts performance and productivity, and the easy start function is a useful feature. Despite its high cost and absence of a tubular frame, its power capacity of 10kW and 330-amp output make it suitable for demanding tasks."
---
Lincoln Electric Ranger 225
Best Gas-Powered Welder Generator
This is the model down from the Ranger 305, so it lacks some of the refinement featured on that model, but it is still a quality welder generator as it shares many attributes. It has 9,000-watts of power, so it should handle the toughest demands made of it in the field, and it has a 14-hour running range thanks to the 12-gallon fuel tank.
This welder provides DC and AC, so you can use it to power other tools, and it primarily acts as a stick and TIG welder. It lacks the Chopper technology of the 305, making the stability and smoothness of the weld harder to achieve, which subtracts somewhat from the overall welding experience.
Given that the price of this generator is fractionally less than the 305, it might be a good idea to pay the extra and get the beefed-up welder generator, but if you can't stretch that far, this is an excellent choice.
What We Like
12 To 14 Hour Fuel Run Time
The 12-gallon fuel tank will run continuously for 12 to 14 hours, giving you plenty of time to complete your welding tasks. It also has an electric start, making it more efficient.
9,000 Watts
The 305 produces 9,500 watts, so this cheaper model holds its own, creating 9,000 watts. That's still plenty of power to get those heavy-duty tasks completed.
Multi-Process Applications
Whether you are flux-core, TIG, MIG welding, this Ranger 225 has you covered. And because it has an AC/DC power generation, you can TIG weld aluminum as well as DC weld stainless steel, cast iron and mild steel.
What We Don't Like
Lacks Some Features
When comparing this to the 305 model, it lacks the Chopper technology to create easy arcs and produce better quality weld beads. These may not be deal-breakers, but they make a world of difference to people learning the craft.
High Price Tag
Unfortunately, the high price tag is a feature of Lincoln Electric Ranger generators. They are quality, but comparing this model to the 305 doesn't see much in dollar savings, yet this welder generator is a less capable machine.
Product Specs
| | |
| --- | --- |
| Weight (pounds) | 563 |
| Dimensions (inches) | 42.3 x 21.5 x 29.9 |
| HP | 23 |
| Wattage | 9,000 |
| Amps | 225 |
| Fuel | Gasoline |
| AC/DC | AC/DC |
| Multi-process | TIG, flux-cored, MIG |
| Price | $$$$ |
Our Ratings
Community Feedback
"My experience with this Ranger was a bit of a roller coaster, but it ultimately proved to be a high-quality machine. It was challenging to unload from the truck, yet once I got it set up, I found it to be an excellent product that performed exceptionally well. One downside, though, is that unlike other models I've considered, this Ranger arrived with no additional accessories such as a cover, electrode, or ground clamp. Even though it's a top-tier machine, I felt the manufacturer could've added more value to the purchase by including these items."
---
DuroStar DS12000EH Portable Generator
Best Portable Welder Generator
The DuroStar generator is a great portable and powerful option. It's powered by gas, giving you long-lasting and high power. We're talking 4000 starting watts followed by 3300 running watts, all run by a 7 HP 208cc engine.
Thanks to the portability and the power, you can put this welder generator to the test with pretty much any job. It can handle powering high voltage appliances, heavy-duty power tools, and anything in between.
What We Like
Can Power Your Entire Home
If you have a power outage, this welder generator can power your entire home. This is a reliable piece of equipment to have nearby, especially if you live in a stormy climate.
Dual Fuel Technology
While this can run on gas, you can also run it on propane. This gives you more options and flexibility when choosing how to run your generator.
Equipped Power Panel
The power panel has various outlets, including a transfer switch-ready 50 amp outlet, MX2 Power Boost, and more. You can use it to power up appliances and even RVs.
What We Don't Like
Poor Quality Wheels
The wheels don't get a good rep. Some customers say they are too soft, and others found they collapsed over time. They found it would be better if this had hard plastic wheels that could handle this machine's general use better.
Useless Instructions Included
The instructions for installation and use are basically useless. Customers found them completely impractical, which can make learning how to use this welder generator challenging.
Product Specs
| | |
| --- | --- |
| Weight (pounds) | 127 |
| Dimensions (inches) | 24 x 17 x 17 |
| HP | 7 |
| Wattage | 8,500 |
| Amps | 79.17 |
| Fuel | Gas or propane |
| AC/DC | DC |
| Multi-process | Stick |
| Price | $$ |
Our Ratings
Community Feedback
"My experience with this DuroStar portable welder/generator was a bit of a mixed bag. On one hand, it's a workhorse once you get it running — the generator runs a long time on a tank of gas and welds fairly well, even penetrating thick pipe with ease. However, it's safe to say that getting it to that point was a bit of a hassle as it required a good amount of assembly, tire replacements, and additional purchases like a ground wire, line feed, clamps, and specific oil. While the voltage gauge might be vague and the initial set-up a bit challenging, I find that it's a decent investment for small, non-commercial projects."
---
Lincoln Electric Bulldog 5500
Best Budget Welder Generator
The Bulldog is a tube frame welder generator, making it a lot lighter than the enclosed case models. This one weighs 198 pounds, which is over half the weight compared to the others. It isn't the most potent welder generator, producing 5,500 peak watts and 4,000 continuous watts.
It is still powerful enough for stick welding, but unfortunately, it doesn't support any other method. As the budget model, it costs half what the others do, so if you are into saving money, it's negative points might not matter.
The amperage range is 70 to 140, and it comes with low-lift grab bars to make it easier to transport.
What We Like
Weighs 198 Pounds
This welder generator is half the weight of some on the list, weighing just 198 pounds, making it easier to cart to and from the worksite. The tubular frame adds stability, and the open casing reduces the bulk of the welder generator.
Slightly More Affordable
Nothing is cheap when it comes to welder generators, but in context, this is half the cost of most on the list, qualifying it as the budget model. You will still need a few thousand dollars, but that's a bargain.
High-Quality Components
As you would expect from Lincoln Electric, the materials and components used in manufacturing this welder generator are of the highest quality. So, if you want a sturdy and robust device that doesn't cost the earth, this is a good choice.
What We Don't Like
Limited Welding Uses
This welder only supports stick welding, so if you want to switch styles, you need to get another welder generator, which will cost! It also might restrict the applications you can do and the material you work with.
Small 8.9 Horsepower Engine
The more expensive models have 23 horsepower engines. This one is rated at 8.9, so it is considerably less powerful than the competition.
Product Specs
| | |
| --- | --- |
| Weight (pounds) | 198 |
| Dimensions (inches) | 25.6 x 21.8 x 31.5 |
| HP | 8.9 |
| Wattage | 4,000 |
| Amps | 140 |
| Fuel | Gasoline |
| AC/DC | AC |
| Multi-process | Stick |
| Price | $$ |
Our Ratings
Community Feedback
"My experience with this welder generator, the Bulldog, has been a mixed bag. Its tube frame design makes it significantly lighter than its counterparts, weighing in at a manageable 198 pounds. Now, it may not boast the highest power, providing 5,500 peak watts and 4,000 continuous watts, but it has just enough oomph for stick welding. However, its versatility is stifled as it doesn't support other welding methods. On the bright side, its price tag is less hefty and it has high-quality components. With an amperage range of 70 to 140, and the inclusion of low-lift grab bars for easier transportation, these features somewhat balance its limitations."
---
How Does a Welder Generator Work?
A welder generator provides power for welding machines, without the need to connect to a mains power supply. Fill up the fuel tank, just as you would a regular generator, and the generator will power your welding equipment.
It makes you entirely mobile, enabling you to work wherever the welding project is rather than being restricted to the workshop or one place.
What Size Generator Do I Need for a Welder?
The bare minimum is a 5,000-watt generator to power a 120-volt welder drawing less than 40 amps at startup. This also includes many 160-amp welders. If you have a welding machine that has 240 volts, it may only draw 20 amps at startup, but you will need a generator that has a minimum of 7,000 watts.
8,000 and 10,000-watt generators are available, but these generate so much power that you could run the entire house without the generator skipping a beat.
How To Choose the Best Welder Generator
Making the best choice depends on a host of considerations. Here are some of the fundamentals you should consider before you buy.
---
Welder Generator FAQs
---
Welding on the Go
Welder generators are efficient machines that allow you to work in any environment without needing to plugin. They are a professional welders dream because they increase your earning potential and make you completely mobile.
Welder generators cost a lot of money, but if you are a welder looking to gain new opportunities, a welder generator is an ideal tool.
Thank You For Your Feedback!
Thank You For Your Feedback!