When your furniture starts to look tired, and the padding feels less generous, maybe it's time to roll up your sleeves and reupholster your antique chairs and couch. While it might be better to seek the services of a professional, others will want to tackle the job themselves.
So, what are the best upholstery staple guns to get the job done? We bring you our top 5 to get you started.
Image
Model
Product Comparison Table
Features
Best Pneumatic Staple Gun for Upholstery
Porter-Cable Upholstery Stapler
Has 1-inch nose extension
22-gauge crown staples
Lightweight & compact
Best Budget Upholstery Staple Gun
YEAHOME 4-in-1 Staple Gun
Multi-use 4-in-1 tool
Takes D, T, U-type fasteners
Comes with 4,000 spare staples
Best Electric Upholstery Staple Guns
KeLDE Electric Staple Gun Kit
Fires 30 staples per minute
Has a trigger lock
Takes 16,18, 20-gauge staples
Best Manual Staple Gun for Upholstery
REXBETI Staple Gun
Carbon steel construction
Loads T, U, D-style fasteners
Rubberized soft grip handle
Best Cordless Upholstery Staple Gun
Makita LXT Lithium-Ion Staple Gun
Refined firing mechanismn
Fires 6 fastener size
Has anti-dry fire mechanism
Review Methodology: At Sensible Digs, we understand the importance of delivering accurate and reliable information. Our professional team conducts thorough research and hands-on tests to evaluate the best upholstery staple guns on the market. We compare each product's performance and design choices, using a set of criteria that includes power, durability, ease of use, and value. This allows us to provide you with an objective assessment and ranking, supported by first-hand experience and data. We take pride in helping you make informed decisions, offering you an analysis that sets our reviews apart from others. Our review aims to identify key decision-making factors and rate the products based on these standards, ensuring you get the best for your upholstery needs.
---
---
The Best Upholstery Staple Guns of 2023
So, now it's time to find out which staple gun is the ideal choice for you. We have narrowed down the selection to the best 5 staple guns.
Porter-Cable Pneumatic Upholstery Stapler
Best Pneumatic Staple Gun for Upholstery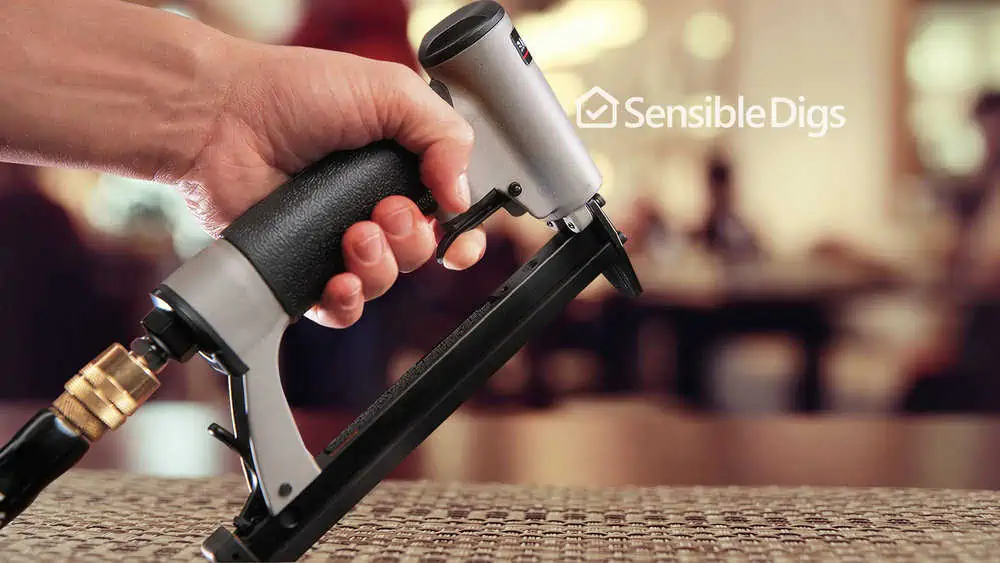 This pneumatic staple gun uses 22-gauge crown staples from 0.25 inches to 0.625 inches long, and thanks to its compact dimensions, it is lightweight and easy to control. It is the ideal tool for reaching tight spots because it has a 1-inch nose extension.
It has a steel top cap for durability and the rear exhaust port channels away moisture and tool oil. You also get a high-capacity, bottom-loading magazine that handles 185 staples, as well as a driver-guide that moves back to clear blockages and jams.
The only downside to this stapler is that it requires an air compressor, which adds to the tool's expense and increases the noise factor. Repairing furniture with this tool will be a loud affair, so you might want to do it away from your home to avoid annoying the neighbors.
What We Like
Increased Power
Pneumatic staple guns are the king of the jungle when it comes to power. If you have a chair or sofa with a hardwood frame, this is the tool to use for the cleanest fastener penetration.
22-Gauge Staples
When you are looking for the most refined finish, the size of the staples you use is crucial. 22-gauge fasteners are the most common in upholstery because they leave the least damage to the wooden structure while successfully securing material and padding.
Lightweight and Compact
Air tools are lighter than electric varieties because they contain fewer working parts and no motor, thanks to the air compressor. It means you can use them for longer without the fear of hand and wrist fatigue.
What We Don't Like
Needs Compressed Air
This staple gun has no onboard motor. Instead, it gets its power from an air compressor. This means you have the cost of the tool as well as the air compressor to take into consideration. It increases your spending enormously.
How Loud?
You cannot avoid the fact that pneumatic staplers are noisy. It might restrict you because air compressors generate about 85 decibels, which might annoy the neighbors.
Product Specs
| | |
| --- | --- |
| Weight (pounds) | 1.75 |
| Dimensions (inches) | 14 x 10.5 x 3.25 |
| PSI | 70 to 120 |
| Gauge | 22 |
| Power source | Compressed air |
| Price | $$$$ |
| Warranty | 1-year limited |
Our Ratings
Community Feedback
If you're searching for a reliable upholstery stapler, this Porter-Cable US58 Stapler has proven to be a solid investment. I've used it on several projects, from reupholstering dining room chairs to a small footstool, and it has performed flawlessly. It's lightweight, easy to handle, and powerful enough to drive staples into dense foam and plywood. Unlike some other models, it doesn't have a nose safety, but with proper trigger discipline, I've found that's not an issue. While it's pricier than some other options, the robust build and performance of this stapler make it well worth the cost.
---
YEAHOME 4-in-1 Staple Gun
Best Budget Upholstery Staple Gun
This YEAHOME staple gun is so cheap. You could buy more than 5 of them for the same price as the Porter-Cable pneumatic model. But is it any good?
First, it's a manual staple gun, so it will be slower than powered versions, and it does require elbow grease to operate it, but it is a 4-in-1 tool, which increases your versatility.
It takes D, T, and U-type fasteners, as well as pin Brad nails, so when you have finished reupholstering your armchair, you can turn your hand to any number of repair and DIY jobs around the home.
It has an adjustable pressure knob, so you can choose the depth you want your staples and an easy-load magazine for the simplest fastener swap.
What We Like
Multi-Use Tool
This stapler is versatile because it is a 4-in-1 tool. You can shoot T, D, U-type, and pin Brad nails. So when you have finished upholstering, you can mend inside and outside trim.
Super-Cheap
If you are on the lookout for an affordable staple gun, this one is pretty hard to beat. It costs a fraction of the price of other models, making it the ideal occasional and first-time staple gun.
Accessories
Not only is this a cheap tool, but it also comes with 4,000 spare staples to get you started straight out of the box.
What We Don't Like
Manual Tool
Manual staple guns slow you down. This may not be a deal-breaker, but if you are looking for a speedy outcome, this is the slowest and most labor-intensive option.
Product Specs
| | |
| --- | --- |
| Weight (pounds) | 2.44 |
| Dimensions (inches) | 8.1 x 6.9 x 1.65 |
| Gauge | 18 |
| Power source | Manual |
| Price | $ |
| Warranty | 180-day money-back guarantee |
Our Ratings
Community Feedback
This staple gun is well-built and effective, although it can be a bit challenging to use due to its stiff mechanism, so I suggest using your full palm for a smoother operation. I encountered issues with staple capacity, as it doesn't hold many and requires frequent replacements, but it handled a variety of tasks, from upholstery repairs to landscaping projects, with ease. One thing to note, the included staples aren't the best quality, so investing in higher-grade staples can significantly improve your experience.
---
KeLDE Electric Staple Gun Kit
Best Electric Upholstery Staple Guns
This KeLDE staple gun could so easily have been our budget pick, thanks to the fantastic price. It comes with a trigger lock to ensure it stores away safely, and is safe while plugged in. It also fires 30 staples per minute, and each fastener and Brad nail magazine hold 50 pieces.
It takes 16,18 and 20-gauge staples, as well as 18-gauge Brad nails, making this KeLDE an extremely versatile tool for upholstery and a host of other general DIY tasks.
So, to recap, this staple gun is affordable, easy to use, lightweight and versatile. No matter what upholstery task you have ahead, this gun can handle it.
What We Like
Multi-Use Tool
Thanks to its 16, 18, and 20-gauge capacity, this KeLDE staple gun can tackle most fastening tasks with ease. And when you want to swap to interior and exterior trim, it can handle that too.
Super-Affordable
This model is not expensive. It costs a fraction of some to make the list, and if you are a beginner or occasional user, this gun is great value for money.
Accessories
Given the low price, it is surprising that you also get 3 packs of various gauge staples and a pack of Brad nails so that you can get started straight out of the box.
What We Don't Like
Lacks Power
While it is a multi-function stapler, the general consensus is it is not a heavy-duty tool. It can tackle most DIY tasks, like framing, fitting insulation boards, and upholstery but you might struggle with anything more demanding.
Product Specs
| | |
| --- | --- |
| Weight (pounds) | 1.95 |
| Dimensions (inches) | 9.76 x 7.17 x 1.81 |
| Gauge | 16, 18, 20 |
| Power source | Electric |
| Price | $$ |
| Warranty | 1-year |
Our Ratings
Community Feedback
After getting my hands on this electric staple/nail gun kit, I've been pleased with its performance. This tool is not only powerful but also comes with plenty of T50 staples and 15mm nails, making it handy for various tasks. It's lightweight and easy to operate, which is a bonus for those long DIY sessions. The adjustable depth control is a clever touch, helping me avoid those pesky overdriven staples and nails. However, it's not perfect. While it's been brilliant for attaching wire mesh to frames and repairing furniture, it struggles with thicker materials and the short power cord can be a nuisance. Also, reloading staples can be a bit of a hassle as it runs out rather quickly. Despite these minor hiccups, it has become a valued addition to my toolbox.
---
REXBETI Staple Gun
Best Manual Staple Gun for Upholstery
This is a heavy-duty manual staple gun, so it is the ideal tool for most fastening tasks, but this gun is perfect when it comes to upholstery. It has a strength adjustment bolt to cater to different surfaces and materials, and the rubberized soft grip handle reduces hand and wrist fatigue.
The carbon steel construction ensures longevity, while safety is taken care of by the lockable handle. It loads T, U and D-style fasteners with a bottom-loading magazine for convenience.
What We Like
Carbon Steel Construction
Unlike other examples, this manual stapler is constructed from durable carbon steel to ensure a long working life. It should keep going for years to come.
3-in-1 Tool
Thanks to its versatility, you can load D, U, and T-style fasteners as well as Brad nails. It keeps you working on many tasks and allows you to scale up or down your upholstery jobs.
Go-Anywhere
The beauty of a manual staple gun is you are free to work in any location without the need of a power supply. It means you can reupholster your garden furniture without dragging it into the garage near a power socket.
What We Don't Like
Requires Brute Strength
Manual staple guns are great for working anywhere, but the downside is you need brute strength to operate them. This might lead to hand and wrist fatigue and restrict you to smaller tasks.
Product Specs
| | |
| --- | --- |
| Weight (pounds) | 3.65 |
| Dimensions (inches) | 12.8 x 11.46 x 2.05 |
| Gauge | 16, 18, 20 |
| Power source | Manual |
| Price | $$ |
| Warranty | Not stated |
Our Ratings
Community Feedback
This staple gun has served me well in numerous light-duty projects with its ease of use and robust build. The gun offers a variety of staple types, and while it is on the heavier side, it feels durable and well-crafted. The rubber hand grip, although prone to coming off with heavy use, is easily reattachable, providing a comfortable experience. However, arm strength is required to effectively use the staple gun, especially for tasks that are high up. The depth adjustment dial and the lack of clear brad nail loading instructions were areas that could use improvement, but overall, this staple gun has proven to be a reliable tool for basic arts and crafts or attaching items to wooden surfaces.
---
Makita XTP02Z 18V LXT Lithium-Ion Cordless Staple Gun
Best Cordless Upholstery Staple Gun
This Makita cordless staple gun has a refined firing mechanism, which reduces recoil and the force required to drive the staples. It gets its power from an 18V lithium-ion battery (sold separately), and it fires 6 different sizes of fasteners, including a 23-gauge version, making it ideal for upholstery.
You also get a tool-less depth adjustment to cater to different surfaces and tasks. Each magazine holds 120 fasteners, and it has an anti-dry fire mechanism to prevent firing blanks, which could damage the surface of your project.
The handle is ergonomically designed, you get an LED for a better view, and the rubber bumpers protect your tool and the material's surface.
What We Like
Advanced Protection
From anti-dry fire mechanisms to rubber bumpers and reduced recoil, this Makita is packed with the latest innovations to keep you safe and improve results.
Cordless Freedom
Cordless staple and nail guns are the ultimate work-anywhere tools. They give you all the power of plugin models with none of the inconvenience. It's a win-win.
Quality Brand
Some brands command respect, and Makita is one of them. They are renowned the world over for quality and performance, and this tool is no exception.
What We Don't Like
Tool Only
Considering the price of this gun, you would think the battery is included, but unfortunately, it is sold separately. That means you need to up your budget to get the charger and battery if you want to get started with this tool.
Product Specs
| | |
| --- | --- |
| Weight (pounds) | 4.49 |
| Dimensions (inches) | 3.39 x 11.42 x 9.21 |
| Gauge | 18, 20, 23 |
| Power source | 18V lithium-ion battery |
| Price | $$$$$ |
| Warranty | 3-year limited |
Our Ratings
Community Feedback
If you're a seasoned tool enthusiast like me, this Makita pin nailer could intrigue you with its quality. As I replaced flooring in my RV, I found this tool to be a convenient alternative to my air compressor and staple guns. However, I was a tad disappointed with the maximum pin nail size being 1 3/8", a size not readily available at local stores. Yet, this minor setback didn't overshadow the ease and efficiency the Makita brought to my projects. Despite a few misfires depending on the wood type, most nails disappeared into the material, securing the pieces together in a flash.
---
Types of Staple Guns for Upholstery
Essentially, you can buy 3 types of staple guns to help you complete your upholstery project. So, what are they?
Manual
These are the most common staplers and the easiest to use. Manual staple guns don't need a power source, so you can use them anywhere.
Manual versions are less convenient than the other types, but they are a firm favorite with hobbyists and crafters, as well as for general use.
As the name suggests, all it takes is a bit of elbow grease. Just squeeze the handle to provide downward pressure, which releases the staple. Nothing could be more straightforward. They are easy to master and quick to load.
The second plus is the price. Compared to more expensive, powered models, you can pick up a decent manual staple gun for a small amount of money. Plus, manual models are compact and light, making them easy to store away.
The downside with manual staple guns is the added stress it places on your hands and wrists. If you are undertaking a substantial upholstery project, it might be better to consider a powered staple gun.
Electric
The advantage of an electric staple gun is they are lightweight and easy to load. They also require zero effort to operate effectively. This increases your work rate and decreases the pressure on your hands and wrists.
Electric staple guns are a common sight, especially in workshops and hobby rooms across the country. Simply load the staples, plug it in, press the nose of the gun on the surface of your project, pull the trigger and a fastener gets released.
The obvious downside is you need an electrical supply to operate them. They are also more costly than manual versions. Plus, because this staple gun discharges so easily, the chances of an injury increase, so take care when using it.
Pneumatic
Pneumatic staple guns are also lightweight, and they are the most powerful of all the varieties. Air-powered models are easy to use and comfortable to hold, making them the best versions for longer projects.
Pneumatic guns are adjustable, so you can vary the power to accommodate different materials. You can also choose different types of fasteners.
The disadvantage is that this type of tool is more expensive, and then you need an air compressor, which increases the costs. Plus, dragging around an air compressor is inconvenient.
Another downside is the noise these tools make. You will need earplugs when operating most air compressors, and if you work from home, the neighbors might not like the interruptions.
How To Choose the Best Size Staple Gun for Upholstery
What are the key things you should be looking for when selecting your shiny new staple gun? It's time to give you some pointers.
---
What Is the Best Size Staple for Upholstery?
Unlike construction work and heavy-duty tasks, an upholstery stapler should be a bit more refined, which is why you frequently find they accommodate smaller gauge staples. Typically, staple gauges range from 16, 18, and 20, whereas an upholstery staple is often 22 gauge.
Smaller fasteners cause less damage to the wooden frames of your favorite chair, reducing cracks and splits. They are also more discreet, making it easier to hide them in fabric folds and edging material.
Staple Guns for Upholstery FAQs
---
Show Your Furniture Some Love
Nothing stays as new. Everything ages, sags, and discolors over time, and your favorite armchair is no different. Rather than throwing it in the trash and buying something new, get a staple gun, and get creative.
It might be easier than you think to revamp the material and refill the cushions, and the bonus is you get the satisfaction of doing the work yourself.
Thank You For Your Feedback!
Thank You For Your Feedback!