When you are shopping for a new toilet, there are so many brands to choose from. It can be confusing getting to know which options are the best. Take Toto as an example. They manufacture many makes and models, but which one is the best fit for you?
We bring you the 5 best Toto toilet reviews to make your choice a little easier.
Image
Model
Product Comparison Table
Features
Best One-Piece Toto Toilet
Toto Ultramax II One-Piece
ADA approved for height
Cefiontect glaze for protection
Tornado flush system
Best Two-Piece Toto Toilet
Toto Drake II
Sanagloss protection
Water-sense certified
Double cyclone flushing technology
Best With Washlet
Toto G400 Washlet Bidet Seat Toilet
Bidet seat
Automatic flush & seat control
Has remote control
Best Modern Toto Toilet
Toto Neorest Dual Flush Toilet
Auto-flush
Cyclone siphon flush
Cefiontect coating
Best Flushing Toto Toilet
Toto Aquia IV Washlet Elongated Bowl
Unique bowl design reduces noise
Dual flush options
EPA certified
---
---
Product Reviews
With such an array of Toto toilets available, we searched high and low to bring you our 5 hottest toilets.
1. Toto Ultramax II One-Piece
Best One-Piece Toto Toilet
This model is a one-piece, which is great if you are looking for a toilet with a modern twist. This toilet has a 1.28-gallon flush, which means it passes the EPA Water-Sense certification for eco-credentials.
It also utilizes Toto's unique Tornado flush system to deliver a powerful flush to rid you of stubborn waste matter. It has a soft-close seat, and it is protected with a Cefiontect glaze to stop stains and bacteria settling on the surface of the bowl.
This model is universal height, which means that the elderly, the tall, and the less able can easily get on and off this toilet, winning it accreditation with the ADA.
Pros
ADA approved for height.
Soft-close lid.
1.28-gallon flush.
Water-Sense approved.
Cefiontect glaze for protection.
Tornado flush system.
Cons
Noisy flush.
Takes a long time to refill the tank.
Prone to clogging.
Product Specs
| | |
| --- | --- |
| Weight (pounds) | 99 |
| Dimensions (inches) | 28.31 x 16.56 x 28.75 |
| Material | China |
| Flush (gallons) | 1.28 |
| Dual/single flush | Single |
| ADA approved | Yes |
| EPA approved | Yes |
| Price | $$$ |
| Warranty | 1-year limited |
---
2. Toto Drake II
Best Two-Piece Toto Toilet
This is one of Toto's most popular two-piece toilets. It has double cyclone technology that makes the flush one of the best around, thanks to the two outlets, which create a powerful swirling action to easily remove the most stubborn solids.
And all that power doesn't mean you waste excess water. This flush only uses 1.28 gallons, making it Water-Sense certified. It also saves you up to 20 percent compared to 1.6-gallon flushing toilets.
The cyclone system is quiet, making it the ideal toilet for light sleepers. Installation is simple, it refills in 15 to 20 seconds, allowing for multiple uses by the whole family, and it has SanaGloss protection to reduce instances of staining and discoloration.
Pros
SanaGloss protection.
Water-Sense certified.
Double cyclone flushing technology.
Easy to install.
Quiet flush.
Cons
Supplied without a seat.
Two-piece requires assembly.
Product Specs
| | |
| --- | --- |
| Weight (pounds) | 94 |
| Dimensions (inches) | 29.44 x 16.5 x 28.75 |
| Material | China |
| Flush (gallons) | 1.28 |
| Dual/single flush | Single |
| ADA approved | Yes |
| EPA approved | Yes |
| Price | $$$ |
| Warranty | 1-year limited |
---
3. Toto G400 Washlet Bidet Seat Toilet
Best Toto Toilet With Washlet
If you want a toilet of the future, look no further than this G400 Washlet by Toto. It is super-advanced. It includes front and rear warm water jets for added comfort, adjustable temperature, pressure controls, remote control and an automatic deodorizer.
It also has a warm air dryer, illuminated touchpad controls, an automatic open and close lid with self-flushing capabilities, and 2 user memories for the best settings. It looks good and would grace any modern bathroom.
As you might expect, this Washlet is also frugal with water, using 1.28 gallons on full flush and 0.9 gallons on the lighter option.
Pros
Dual flush.
0.9 and 1.28-gallon flush options.
Bidet seat.
Automatic flush and seat control.
Remote control.
Heated seat.
Cons
Hard to install.
Requires electricity.
Expensive.
Product Specs
| | |
| --- | --- |
| Weight (pounds) | 102 |
| Dimensions (inches) | 28.62 x 15.37 x 26.93 |
| Material | Ceramic |
| Flush (gallons) | 0.9 and 1.28 |
| Dual/single flush | dual |
| ADA approved | Yes |
| EPA approved | Yes |
| Price | $$$$ |
| Warranty | 1-year limited |
---
4. Toto Neorest Dual Flush Toilet
Best Modern Toto Toilet
This Neorest is not only stylish and advanced, but it is also more frugal with water compared to the Washlet. It uses 0.8 and 1.0 gallons per flush depending on the setting, making it one of the greenest toilets you can buy.
It achieves flushing capabilities reserved for larger capacity toilets by using a siphon jet flushing system. It has an auto-open and close lid, automatic flushing, heated seat, integrated bidet toilet seat with adjustable warmth and water pressure, and an air dryer and deodorizer.
It really is the type of toilet Captain Kirk would have had on the Starship Enterprise, but only in his private quarters. The only downside to this space-age toilet is the supersonic price. It costs almost as much as a brand new starship.
Pros
Advanced features.
Bidet seat.
Auto-flush.
Cyclone siphon flush.
Ewater+ dispenser.
ADA approved.
Cefiontect coating.
Cons
Complicated to install.
Requires a professional.
Astronomical price tag.
Super-heavy.
Product Specs
| | |
| --- | --- |
| Weight (pounds) | 124 |
| Dimensions (inches) | 32.5 x 15.5 x 21.5 |
| Material | Ceramic with SanaGloss |
| Flush (gallons) | 0.8 and 1.0 |
| Dual/single flush | dual |
| ADA approved | Yes |
| EPA approved | Yes |
| Price | $$$$ |
| Warranty | 3-year limited |
---
5. Toto Aquia IV Washlet Elongated Bowl
Best Flushing Toto Toilet
Sometimes you want a toilet that is simple to use and does what it says on the box. Forget space-age technology and mind-reading toilet seats. When you strip back what a toilet does, it always boils down to how well it can flush.
This Aquia IV has a dual flushing system that enables the user to choose between the lighter 0.8-gallon option or the full flush delivering 1.28 gallons. The water is delivered via a 360-degree Dynamax Tornado flushing system that wipes away stubborn stains and removes solids in one go.
This is also thanks to the unique bowl design that reduces water flow resistance and turbulence, resulting in a powerful yet quiet flush. Couple that with the Cefiontect coating, and you get a toilet that stays clean time after time.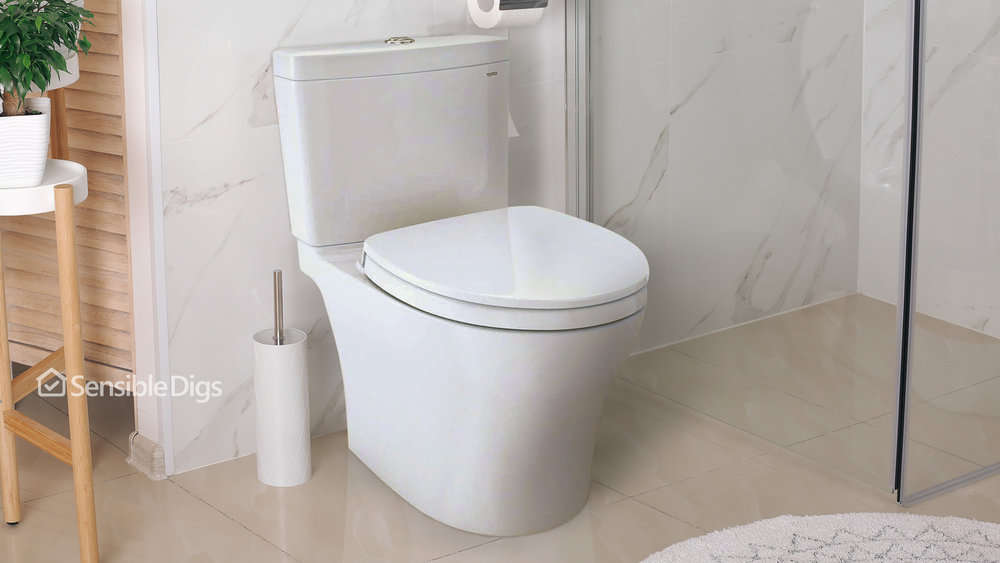 Pros
Cefiontect coating.
Unique bowl design reduces noise.
Dual flush options.
EPA certified.
40 percent water savings.
Cons
Heavy toilet.
Lacks the installation hardware.
Product Specs
| | |
| --- | --- |
| Weight (pounds) | 119 |
| Dimensions (inches) | 27.56 x 15.56 x 29.56 |
| Material | Ceramic |
| Flush (gallons) | 0.8 and 1.28 |
| Dual/single flush | Dual |
| ADA approved | No |
| EPA approved | Yes |
| Price | $$$ |
| Warranty | 1-year limited |
---
Are Toto Toilets Any Good?
The simple answer is yes, or we wouldn't be reviewing them. Toto has been making toilets since 1917. This Japanese company is responsible for toilet innovations like Cefiontect and SanaGloss coatings that protect the glaze and reduce staining. It also guards against mold and algae.
They also utilize the latest flush technology with their dual cyclone flushing system, ensuring the solid matter disappears on the first go.
They are one of the world's leading manufacturers of high-end and budget toilets, producing signature models like the Ultramax and the Drake II. Toto also makes the Washlet, one of Japan's most popular sanitary products. It has a sensor-operated lid that heats up and a bidet wash function for outstanding cleanliness.
Types of Toto Toilets
There are many styles and designs to choose from, but which one is the best choice for you?
One-Piece
One-piece toilets are sleek and easier to install because you only have one element to work with. Unlike two-piece toilets, there are no seals and joints to connect to marry the tank with the toilet. They also come in more modern appearances.
If you are looking for a minimalist style to match your ultra-modern bathroom, a one-piece toilet would be a great choice. Just remember that one-piece toilets are typically more expensive.
Two-Piece
Two-piece toilets tend to be more traditional in style. They are the most common toilet type found in American homes, and they are generally cheaper to buy. They require some basic plumbing skills to join the tank with the bowl, so they are a little harder to install. This difference is reflected in the price.
Wall-Hung
Wall-hung toilets take modernism to a whole new level. They are compact, with the tank concealed behind a false wall, making the toilet very sleek and minimalist in design. Because they attach to the wall, they look like they float. Wall-hung toilets are harder to install because you need to attach them to a wall and make sure the plumbing is concealed. They are also very expensive.
Neorest
Neorest toilets are like the Rolls-Royce of the sanitary world. They are tankless, so they are ideal for smaller spaces, and they have automatic toilet seats that rise as you approach. They have heat sensors, automatic flush, water-saving enhancements, and even a nightlight to make peeing in the dark a funky experience.
All of this technology costs, so don't expect to get one of these toilets on a budget.
Washlet
The Washlet helped to establish Toto as Japan's leading sanitary wares manufacturer and cemented their place at the table of the world's best makers. It has an automatic seat, heated sensors, drying facilities, supreme flush technology, and a bidet function for the town's cleanest behind.
Things to Consider (Buying Guide)
There are a few pointers to look for when choosing a Toto toilet. Some are more important than others, but they are all basics that set the standard.
Type and Configuration
One-piece, two-piece, wall-hung, which of these styles suit your tastes, budget and space? If you want a sleek look, the one-piece or wall-hung varieties are better. They also fit tight spaces a little better.
The more traditionalist among you will prefer the two-piece, and why not? It is a popular choice for American households.
Shape and Size
The shape of your toilet is important. Older models have rounded bowls, but the modern trend is to elongate the bowl to be thinner but longer. This benefits adults better because they are more comfortable to sit on. Men also prefer an elongated bowl because it makes sitting down to pee that bit more comfortable.
You also need to consider the height of the toilet. The American Disabilities Act of 1990 states that a toilet can only be classified as a comfort height toilet if the seat's height is between 17 and 19 inches.
Standard toilets have seat heights that range from 13.5 inches to 15 inches. The benefit is that taller, older, and less mobile people can get on and off the toilet easier.
Water-Saving Qualities
Modern toilets use a fraction of the water compared to older models. The US government banned sales of such toilets in the 90s. The Environment Protection Agency (EPA) awards a Water-Sense certificate to any toilet that uses 1.28 gallons or less when it flushes. Most toilets use this standard or the slightly higher capacity of 1.6 gallons.
While you are shopping for an eco-toilet, look for dual flush functions that allow you to choose a high or half flush depending on whether you are removing solids or liquids.
The Latest Innovations
This is apt because Toto toilets are awash with innovations. Cefiontect glaze, self-cleaning, odor deodorizers, automatic lids and flush, the list is endless. Just bear in mind that the longer you make your shopping list of extras, the deeper you have to delve into your pockets to satisfy your desire for the toilet of the future.
Easy To Install
Everyone wants an easy life, right? So, when you install your new toilet, you want it to be a breeze. One-piece models are easier thanks to their one-piece design. Two-piece toilets require additional construction and plumbing, while wall-hung models are the most complicated thanks to their concealed plumbing.
Whichever you choose, bear in mind that if you are not confident with plumbing in a new toilet, hire a professional to get it done correctly in the first place.
---
Toto Toilets FAQs
How Long Do Toto Toilets Last?
Toto toilets typically last about 10 to 12 years, but they may need some minor maintenance every 2 or 3 years to keep them in perfect working order.
Do Toto Toilets Clog Easily?
Toto toilets don't clog easily, but like most toilets that get used regularly, you will need to remove blockages from time to time. Toilets with a 1.6-gallon flush are less prone to clogging because they have a more powerful flush action that quickly removes the solid matter.
Is Toto Washlet Sanitary?
Washlets are incredibly sanitary. They remove all traces of solid matter without the need to use toilet paper, and when you are done, the flush mechanism ensures there is no contact with unsanitary surfaces. It's the reason why the Washlet is so popular in Japan.
Can a Toto Washlet Go on Any Toilet?
It will fit any toilet as long as you have a clearance of 1.75 inches between the center of the mounting holes and the tank's front-most face.
Do Toto Toilets Need Electricity?
Not all require electricity, only the Washlet, and other bidet-style toilets. The electricity enables a pump, which forces water through the cleaning jets. For standard toilets, all you need is plumbing.
---
Go Loco for Toto
Toto is one of the best makers of toilets globally, and if you want advanced technology, they are the brand for you. They have a vast range of models to suit every budget and taste, but if you want something that bit special, be prepared to dig deep to get it.
Also, keep in mind how easy the toilet is to install, because the more complicated the features, the less likely you will have the skills to DIY install, meaning extra costs employing a professional.
Thank You For Your Feedback!
Thank You For Your Feedback!