Table saws are essential tools for any carpenter, enabling you to make long, straight cuts quickly and easily. Like any power saw, a table saw is only as effective as its blade allows it to be.
Despite looking relatively similar, table saw blades can vary significantly in terms of which materials they can cut and how durable they are. This means it is essential that you choose the right blade if you want your cutting to go smoothly.
To help you find the right blade for your saw, we have reviewed seven of the best table saw blades that are currently available. We chose these saws based on their size, type, and how many teeth they have.
Image
Model
Product Comparison Table
Features
Best for the Money
DeWALT Miter/Table Saw Blade
Leading brand
Combo pack
General purpose
Best for Acrylic
IRWIN MarplesTriple Grind Blade
Versatile
Non-stick coating
84 carbide teeth
Best for Woodworking
Makita Micro Polished Blade
Ultra-smooth blades
Thin kerf
Good beginner option
Best Premium Blade
Forrest Woodworker II Kerf Blade
Stays sharper for longer
C-4 carbide teeth
Makes rip cuts
Best for Ripping
Freud Heavy-Duty Rip Blade
Anti-vibration vents
Perma-Shield
Glue-line precision
Best for Cutting Hardwood
Concord Blades Saw Blade
General purpose blade
Very affordable
Fits various power saws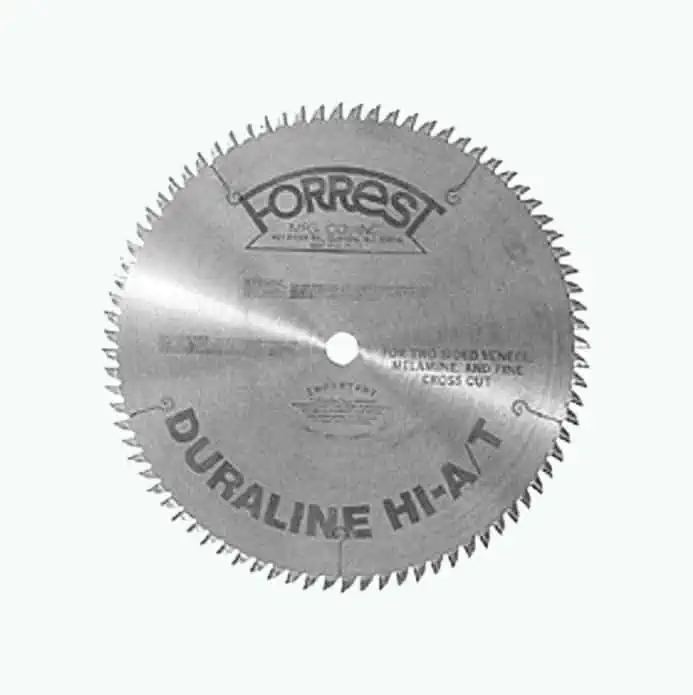 Best for Plywood
Forrest Duraline Saw Blade
Very strong carbide teeth
Ideal for woodworkers
No need to sand
Review Methodology: At Sensible Digs, we place your needs first. Our hands-on experience and professional analysis enables us to evaluate table saw blades from a user's perspective. We meticulously assess each product, comparing their performance with industry benchmarks, and score them based on key decision-making factors such as sharpness, durability, and cutting precision. We track and present our findings based on data and hands-on tests, identifying what sets top-ranking blades apart from their competitors. Our reviews reflect the effects of design choices on user experience and performance. Trust our expertise as we provide you with the facts and evidence to guide you in selecting the best table saw blade.
---
---
The Best Table Saw Blades of 2023
With so many table saw blades to choose from, it can be difficult to know which one is right for your project. To help you make an informed choice, we have reviewed seven of the best table saw blades that you can buy today.
DeWALT 10-Inch Miter/Table Saw Blade
Best Table Saw Blade for the Money
DeWALT is an American company and one of the leading tool manufacturers around the world. In addition to making excellent saws, they also produce high-quality table saw blades.
This combo pack of cross-cutting and general use blades provides excellent value for money. They are also carbide-tipped for increased durability and better edge retention.
These blades have a computer-balanced plate for reduced vibrations and noise. This high-tech manufacturing process also improves the accuracy and finish of your cuts.
What We Like
Trusted Brand
DeWALT is a name that allows you to buy with confidence. If you were to step onto a building site right now, you would almost certainly see DeWALT products being used. Choosing DeWALT means choosing professional quality.
Value for Money
This blade combo pack costs less than some single blades from other manufacturers. It provides excellent value for money.
General Purpose
As these saw blades are general purpose, they will be excellent for most woodworking jobs. This makes them a great option for people who are new to carpentry or woodworking.
What We Don't Like
You Get What You Pay For
As these blades are so cheap, you shouldn't expect their quality to match some of the more expensive table saw blades that are available.
Product Specs
| | |
| --- | --- |
| Teeth | 60 and 32 |
| Kerf | Thin |
| Max Rpm | Not stated |
| Cost | $ |
| Carbide-tipped | Yes |
| Use | One blade for cross-cutting and one for general purpose use |
| Blade size | 10-inch |
| Anti-vibration | Computer balanced to reduce vibration |
Our Ratings
Community Feedback
"This saw blade set has become a staple in my woodworking toolkit. From cutting plastic to oak wood on my Craftsman table saw, the blades perform exceptionally well, providing clean and smooth cuts. I've noticed that the 60-tooth blade is especially good for finer woodworking, while the 32-tooth blade is more suitable for heavy-duty tasks like cutting 2x4s and 4x4s. The blades are not only of good quality but they also last for a long time, making them a great asset for both carpenters and hobbyist woodworkers."
---
IRWIN Marples 10-Inch Triple Grind Saw Blade
Best Table Saw Blade for Acrylic
If you need to safely cut tough materials such as acrylic kitchen worktops, this IRWIN blade is the one to use. It is less refined than some of the other blades, but it is also more versatile. It cuts Corian, non-ferrous metals, as well as plastic piping and gutters.
This blade has 84 carbide teeth and a heat resistant, non-stick coating to prevent gumming while it is in use. It also keeps the blade free from sawdust, so you won't need to spend as much time cleaning up.
What We Like
Versatile
This is the go-to blade for general carpentry work on job sites. As it cuts a variety of materials, you should be able to complete most tasks without the delay of swapping your blade.
Non-Stick Coating
This blade has a special coating to discourage it from binding when it is in use, which will reduce the risk of kickbacks. The coating should also prevent the blade from overheating. This prolongs the lifespan of the blade.
What We Don't Like
Not for Fine Woodworking
These blades are made to cut various materials, including Corian and melamine. This means they are not ideal for fine detail work such as dados and framing.
Product Specs
| | |
| --- | --- |
| Teeth | 84 |
| Kerf | Thin |
| Max RPM | 7,000 |
| Cost | $$ |
| Carbide-tipped | Yes |
| Use | Corian, laminate, acrylic, plastic, non-ferrous metals |
| Blade size | 10-inch |
| Anti-vibration | Precision tensioned |
Our Ratings
Community Feedback
"Love the smooth, clean cuts this Irwin Marples 10" 60 tooth blade provides on various types of wood, noticeably reducing tear out. Compared to my previously used Diablo 50 tooth blade, this blade is remarkably sharper and seems to have a longer lifespan, even when cutting hardwoods. Although some users have reported inconsistent teeth settings, my personal experience with the blade has been stellar, with no visible teeth marks on wood when cut slowly. It's also worth noting that this blade performs exceptionally well for its price range, but may not match the expectations for serious production shop use."
---
Makita 10-Inch Micro Polished Saw Blade
Best Table Saw Blade for Woodworking
This Makita blade is suitable for various forms of woodwork. It has ultra-grain carbide teeth that are honed to 600 grit, which means it can deliver a very smooth, neat finish.
It has a thin kerf, making it a suitable choice for less powerful table saw motors. This thin kerf also means it is easier to handle. The precision engineering of this blade makes it suitable for plywood and hardwood, as well as softwood.
What We Like
Ultra-Smooth Blades
These blades have been honed to create a mirror-like surface. This will help them make the neatest cuts possible, as well as making them versatile enough for crosscuts and bevel cuts.
Thin Kerf
The thin kerf makes these blades easier to handle and means they are suitable for table saw motors of less than three horsepower. They are also less prone to overheating, which helps the carbide blades last longer. These blades are an excellent option for novices looking to learn their craft.
Low Price
Considering some table saw blades can cost $100 to $150, this Makita blade is far more affordable. It offers excellent value for money, especially if you are a beginner and don't want to spend a lot on your tools.
What We Don't Like
Noisy Blade
Cutting with a table saw is never particularly quiet, but this blade makes an unusual whining noise that bothers some users.
Blunts Quickly
For the price, you shouldn't expect this blade to stay sharp for long. Thankfully, it can be resharpened if you want to keep using it instead of buying a replacement. Just be aware that sharpening the blade will remove the carbide coating.
Product Specs
| | |
| --- | --- |
| Teeth | 80 |
| Kerf | Thin |
| Max RPM | 5,870 |
| Cost | $ |
| Carbide-tipped | Yes |
| Use | Hardwood, softwood, plywood |
| Blade size | 10-inch |
| Anti-vibration | Precision hand tensioned |
Our Ratings
Community Feedback
"My experience with these blades for my miter and table saw has been superb, especially given their reasonable price. These blades still stay sharp after a hefty DIY laminate flooring project in my large home, and they've truly helped me avoid any tedious sanding edges during my board and batten project. However, I have noticed an unusual ringing sound in my table saw which could be due to the blade's harmonics, but it's a minor inconvenience compared to the quality of the clean cuts they make."
---
Forrest Woodworker II 10-Inch Kerf Saw Blade
Best Premium Table Saw Blade
The Forrest Woodworker II is one of the more expensive saw blades we have reviewed, costing as much as multiple blades from some other leading brands. However, that extra cost will give you a professional quality saw blade.
This blade is suitable for cross and rip cuts, causes minimal tears in plywood, and the finish is so smooth that it almost seems sanded. It is a premium choice but it is also one of the best woodworking saw blades we have seen. The extra cost is worth it for a top-quality finish if you can afford it.
What We Like
Versatile
Capable of making crosscuts, rip cuts, and even slicing plywood, this blade is a woodworker's best friend. As the teeth have C-4 carbide, they will stay sharper for longer.
High Quality
This blade is of high quality throughout. It is hand tensioned and sharpened to achieve a very fine finish. If the teeth become blunt, Forrest even offers a service to hand-sharpen the blade so it will be as good as new again.
Makes Rip Cuts
Not many blades can make cross and rip cuts without damaging the finish of the piece they are cutting but this one makes rip cuts up to 2 inches deep. This means you won't need to buy a separate blade for these tasks and will save time by not having to swap the blades as you work.
What We Don't Like
Very High Cost
To buy this blade, you will need to spend as much as it costs to buy some premium power tools. As such, it is generally only used by professionals and amateurs who are very serious about woodworking.
Product Specs
| | |
| --- | --- |
| Teeth | 40 |
| Kerf | Full |
| Max RPM | 7,000 |
| Cost | $$$ |
| Carbide-tipped | Yes |
| Use | Hardwood, softwood, plywood |
| Blade size | 10-inch |
| Anti-vibration | Precision hand tensioned |
Our Ratings
Community Feedback
"If you're in the market for an exceptional saw blade, this one certainly stands out. My personal experience has been overwhelmingly positive, with the blade slicing through both plywood and dense hardwoods like a warm knife through butter, leaving behind impressively smooth and clean edges. The level of precision I've experienced, even on long cuts, has been remarkable and has noticeably improved the quality of my woodworking projects. While initially hesitant about the price point, I can now confidently say this blade has proven to be a worthwhile investment, delivering consistent, high-quality performance."
---
Freud 10-Inch Heavy-Duty Rip Blade
Best Table Saw Blade for Ripping
This Freud heavy-duty rip blade has 24 high-density carbide teeth that cut the stock so smoothly that you might not even need to sand it. It has a Perma-Shield, non-stick coating to reduce the drag of the blade, which also reduces the pitch build-up.
Freud has laser-cut anti-vibration vents into the blade to reduce sideways motion and overall vibration. As the blade has a protective coating, blade warp is kept to a minimum.
This rip blade is designed with serious woodworkers in mind.
What We Like
Anti-Vibration Vents
When saw blades cut through material, they vibrate, especially when cutting tough stock. This leads to sideways movement, which places a strain on your table saw. Laser-cut anti-vibration vents prolong the life of this blade and reduce the wear and tear on your saw unit.
Perma-Shield
Freud has developed its special Perma-Shield coating to provide extra lubrication, decrease resistance, and minimize heat build-up. Excessive heat shortens the lifespan of table saw blades as they dull far more quickly when they are hot.
Glue-Line Precision
Glue-line precision means the cut is so accurate that you could glue the two pieces together without needing to sand them. If you want to make neat rip cuts while reducing your workload, this blade is an excellent option.
What We Don't Like
Blade Dulls Quickly
Due to being designed for rip cuts, this blade dulls relatively quickly. Unfortunately, this is simply the nature of the work it is expected to complete.
Neat But Not That Neat
While this blade cuts with great precision, it will never be able to match a blade with 80 or 90 teeth in this regard. However, it is still very neat for a rip cut blade.
Product Specs
| | |
| --- | --- |
| Teeth | 24 |
| Kerf | Full |
| Max RPM | 8,000 |
| Cost | $$$ |
| Carbide-tipped | High-density carbide teeth |
| Use | Rip cut and crosscuts. Plywood, hardwood, softwood, composites, laminate |
| Blade size | 10-inches |
| Anti-vibration | Laser-cut anti-vibration vents |
Our Ratings
Community Feedback
"Definitely impressed with this saw blade's performance, especially when cutting large sheets of plywood. This saw blade is sturdy, well-weighted, and it boasts a stunning mirror finish near the brazing and carbide teeth. The flat grind teeth provide a neat, sharp groove for wood splines, an important feature for my woodworking hobby. The only drawback is the cost of factory sharpening, but overall, this saw blade has been a valuable addition to my workshop."
---
Concord Blades 10-Inch General Purpose Blade for Hard and Softwood
Best Table Saw Blade for Cutting Hardwood
With 80 teeth, this Concord blade is an ideal candidate for cutting hardwood. It can also cut softwood, exotic wood, and abrasive wood. It is an excellent general-purpose saw blade, so it is an obvious choice for carpenters and woodworkers looking for versatility.
The clever design of this thin kerf blade increases the feed pressure of the stock while reducing the waste it produces. Its narrow shape also places less strain on the saw motor and reduces heat build-up.
What We Like
General Purpose Blade
If you work primarily with wood, a multi-use blade is invaluable. It could save you a lot of time as you won't need to keep swapping blades. This blade will be an excellent part of any woodworker's tool collection.
Very Low Price
This blade is one of the cheapest we have seen, allowing you to buy several blades for the cost of a single blade from some other brands.
Fits Chop, Miter, and Circular Saws
This saw blade is versatile, fitting multiple types of power saws. You can remove the blade from your table saw and place it in a miter saw to enjoy the same precision cutting.
What We Don't Like
Not the Best Quality
Unsurprisingly given their low cost, these blades blunt relatively quickly. It might be worth buying multiple blades at a time to ensure you always have a replacement ready to go. You should also check the compatibility of your table saw as these blades won't fit every models, including SawStop units.
Not American Made
Unlike some leading US brands including DeWALT, IRWIN Tools, and Freud, these saw blades are made overseas in China. This could make it more difficult to contact customer support and get issues resolved.
Product Specs
| | |
| --- | --- |
| Teeth | 80 |
| Kerf | Thin |
| Max RPM | 5,350 |
| Cost | $ |
| Carbide-tipped | Titanium carbide tipped teeth |
| Use | General wood use. Hardwood, softwood, exotic wood, abrasive wood |
| Blade size | 10-inches |
| Anti-vibration | N/A |
Our Ratings
Community Feedback
"My experience with this blade has been quite impressive, especially considering its cost-effective price point. The 165mm diameter of this blade is ideal for my Makita track saw, enabling a 3mm scoring feature, which is instrumental in eliminating splintering or chipping on the surface. I was particularly impressed with its cut quality; melamine was cut without chipping the top surface, even without scoring. However, the blade required slightly more pushing effort when cutting 3/4" Melamine, likely due to its higher number of teeth and lack of coating. Despite this minor inconvenience, the blade remained sharp, ran straight and true, and operated smoothly without vibration, making it a solid choice for those seeking quality and affordability."
---
Forrest Duraline 10-Inch Melamine and Plywood Blade
Best Table Saw Blade for Plywood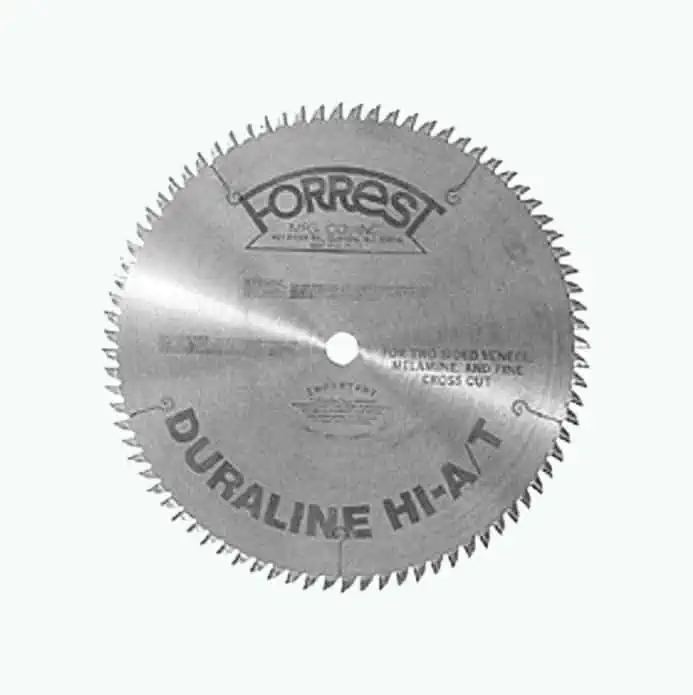 This Forrest Duraline table saw blade has C-4 carbide teeth that are 40% stronger than standard teeth. They are also designed to last 300% longer between sharpenings. This blade cuts so smoothly that you should avoid the need for two-stage finishing, meaning jointing and sanding are not required.
With this blade, you can rip and crosscut 2-inch hardwood. It will even cut ply-veneers of oak and birch without a bottom splinter at moderate speeds. This is an ideal blade for sheet ply and other large stock.
What We Like
Strength
With 40% stronger carbide teeth, this blade will make light work of hardwoods and even oak veneers. Cutting for extended periods usually dulls blades but this one should retain its sharpness for longer.
Ideal Woodworker's Blade
This blade will cut through sheet materials such as melamine and plywood. As such, it is ideal for cutting kitchens and bespoke furniture.
Glue-Line Finish
This Forrest blade has 80 teeth and cuts so smoothly that it creates a glue-line finish. This means you won't need to sand the surface to remove any imperfections.
What We Don't Like
High Cost
This blade is of a very high quality but it is also very expensive. Given that you could buy several other blades for the price of this one, this blade will probably be more popular with professionals than DIYers.
Product Specs
| | |
| --- | --- |
| Teeth | 80 |
| Kerf | Full |
| Max RPM | 7,000 |
| Cost | $$$ |
| Carbide-tipped | C-4 carbide teeth |
| Use | Crosscuts, rip cuts, melamine, plywood, oak veneers, birch, veneers |
| Blade size | 10-inches |
| Anti-vibration | N/A |
Our Ratings
Community Feedback
"This blade is definitely one of the sharpest I've wielded, providing me with super clean edges on the 3/4 Maple IPC drawer fronts I've been cutting. It's crisp, and dare I say, dangerously sharp - I've found that even a casual brush down the blade edge can result in a cut. I used this blade with my Powermatic Cabinet saw, and I must say, the combination provides results I doubt could be achieved on an average contractor's table saw. While I previously believed a multi-purpose blade could do the job, this blade has convinced me otherwise, especially when cutting plywood. Despite the higher price point, the quality of the cut and the durability of this blade make it a worthwhile investment for any serious woodworker."
---
Reasons to Buy a Table Saw Blade
There are various reasons to need a new table saw blade. It might be a simple matter of replacing a worn out blade with a similar model. You might also need a blade that is more suitable for a specific task, such as cutting plastic or aluminum.
The Old Blade Is Blunt
The most common reason to buy a new table saw blade is simply that your current blade is worn out. Your blade will gradually dull as it is used, meaning your saw has to work harder to make the same cuts. Those cuts will also become less precise, and you risk damaging your project.
The most obvious sign that your blade is becoming blunt will be an increasing number of torn fibers on the wood after you cut it. If you use your table saw daily, you will probably need to replace the blade every few weeks to ensure it makes clean cuts. On the other hand, if you only use it occasionally, it could last as long as a couple of years.
Different Materials
If you are cutting wood, plastic, plywood, or other types of materials, there will be a specialist blade to suit the task. The main difference between blades will be the amount of cutting teeth and their shape. For example, if you are cutting plywood, you should use an 80 or 96-tooth blade.
The more teeth a blade has, the more suitable it is for cutting sheet material and making a smoother cut. For cutting through aluminum, choose a diamond or carbide-tipped blade with 60 teeth.
To Prevent Kickback
Kickbacks are among the most dangerous aspects of using a table saw. They can cause potentially serious injuries, so you should take every measure to prevent them. Using a dull blade increases the risk of kickbacks because the wood will bind more as it is cut.
As the blade cuts less effectively, you will also be forced to push the stock toward it more firmly. This will affect your balance and break one of the main rules of using a table saw, putting you at risk of falling toward the blade if you lose your footing.
Types of Table Saw Blades
There are four main types of table saw blades, each defined by their shape, grind, and teeth.
Flat Top Grind (FTG)
Flat top grind (FTG) blades have teeth that sit at a right angle to the saw plate. They cut through the wood much like a chisel, ripping it perpendicular to the grain. This means they will cut through tough material but they won't make clean cuts.
Pros
Great for rip cuts
Hard wearing
Powerful
Cons
Won't make clean cuts
Unsuitable for precision work
Alternate Top Bevel (ATB)
The teeth of an alternate top bevel (ATB) blade are angled in alternating directions. ATB blades are designed to shear wood, which they do very effectively. They are excellent blades for general use.
Pros
General-purpose cutting
Versatile
Excellent for joinery
Cons
Not specialist blades
Unsuitable for refined woodworking
Alternate Top Bevel/Raker (ATB/R)
Sometimes called combination blades, alternate top bevel or raker blades have 50 teeth arranged in groups of five. There are four ATB blades followed by a raker tooth like the ones found on flat top grind blades. These are the best blades to use when cross-cutting.
Pros
Used for cross-cutting
Provides a fine finish
Cons
Not suitable for every type of woodwork
Doesn't rip cut
Triple-Chip Grind (TCG)
Triple-chip grind (TCG) blades have alternating chamfered and raker teeth. The chamfered teeth rough cut, while the raker teeth provide a neater finish. This is the blade to use when sawing plastic laminate and Corian, as well as non-ferrous metals such as brass and aluminum.
Pros
Cuts a wide range of materials
Makes neat cuts
Cons
Best suited for materials other than wood
Unsuitable for general woodworking
Features of the Best Table Saw Blade
In addition to the type of blade you need, there are some other important considerations when choosing a table saw blade.
---
How to Change a Table Saw Blade
You should always read your table saw's manual to find out how exactly to replace its blade but the process usually includes the same basic steps:
1.

Cut the Power

Always turn off the machine and unplug it before replacing its blade. Once it has been unplugged, you can remove the throat plate and blade guard.
2.

Raise the Blade

Raise the blade to its maximum height. This will make it easier to access when the times come to remove it.
3.

Loosen the Arbor Nut

If you have a blade stop, you should engage it now. This will prevent the blade from rotating as you loosen it.

Use the wrench that came with your table saw to loosen the arbor nut and the blade locking nut. You move the wrench forward to loosen and backward to tighten it.
4.

Swap the Blade

Remove the blade and replace it with your new one. Remember to tighten the blade locking pin and the arbor nut. Always put the throat plate and blade guard back into position.

To make sure that the blade is aligned properly, take a spare piece of lumber and make a crosscut, then place the cut ends together. If you can see a gap, the blade is not square.
How to Clean a Table Saw Blade
What you will need:
A large flat container
Laundry detergent
Soft wire brush
Water
Paper towels
After removing the blade, follow these steps to clean it:
1.

Examine the Blade

Check the blade for stains or sticky resin left by the wood you have been cutting. This resin is difficult to remove, so it may require additional scrubbing before placing the blade in the water. It is important to get the resin off because it could cause kickbacks when your blade tries to spin through the stock.
2.

Submerge the Blade in Water

Carefully place the blade into the water and add a squirt of laundry detergent. Place your finger in the center hole and move it around the container. Then leave it to soak for five to ten minutes.
3.

Use the Brush

Scrub the surface of the blade with a soft wire brush to remove any remaining stains and debris.
4.

Dry the Blade

Take the blade from the water and dry it thoroughly. This is essential as water will cause steel to rust. You can use a thick kitchen towel or another old towel to achieve this.

To ensure the blade is completely dry, allow it to air-dry for 30 minutes before placing it back into the saw unit.
How to Sharpen a Table Saw Blade
To sharpen a table saw blade, you will need:
A diamond saw blade
Goggles
Facemask
Gloves (optional)
1.

Remove the Dull Blade

Remove the dull blade from your table saw using the guide above. At this point, put on your face mask and goggles for safety.
2.

Fit the Diamond Saw Blade

Place the diamond saw blade into the table saw. Make sure you don't overtighten the arbor nut as this could damage the blade.
3.

Sharpen the Blade

If you have a blade with teeth that all face the same direction, you can sharpen it with one pass of the diamond saw blade. However, if you have a combination blade, you will need to work more methodically. Sharpen the teeth facing one way, then turn the blade over to sharpen the teeth facing the other way.

Get the diamond blade spinning and gently press the blunt blade against it. Allow the diamond grit surface to come into contact with the dull teeth briefly before moving onto the next ones.
4.

Repeat the Process

Continue sharpening the dull blade until all the teeth feel sharp again. Make sure the inner edges of the teeth are in contact with the diamond saw blade.

When you are finished, shut down the diamond blade and replace it with your newly sharpened saw blade. You can use some scrap wood to test its sharpness.

Top Tip

To make sure you sharpen all the teeth on the blade, use a marker on the first tooth. This will give you a sense of how many teeth you have sharpened, so you don't accidentally miss a section.
FAQs
---
Thank You For Your Feedback!
Thank You For Your Feedback!