A steam shower can transform your bathroom, but you will have a lot more to consider than when buying a standard shower. Steam showers are sealed units that trap steam inside them, with proven health benefits.
Until relatively recently, steam showers were generally only found in spas and other commercial settings but they are now widely available. It is very important to choose a reliable model, as a low-quality enclosure could allow steam to escape into your home.
To help you find the right product for your bathroom, we have reviewed seven of the best steam showers available today. We chose these showers based on their size, power, quality of materials, and additional features.
Image
Model
Product Comparison Table
Features
Best for Home Spa
Steam Planet Orion Plus Shower
Built-in phone connection
Multiple shower heads
Ample space for two users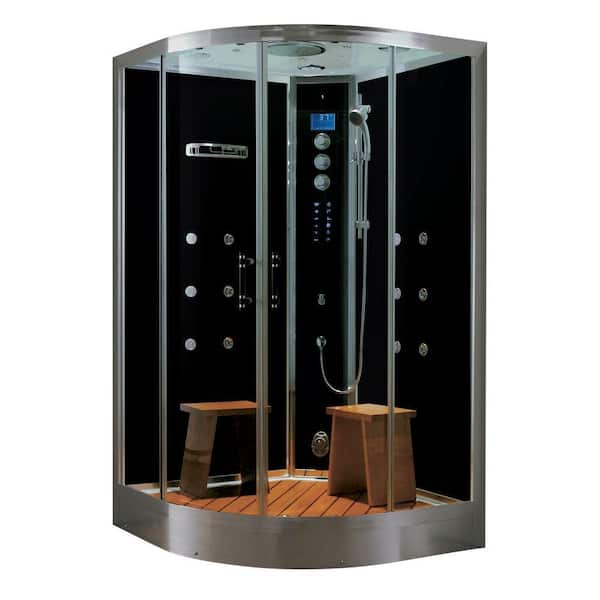 Best for Music Lovers
Steam Planet Universe Plus
Rainfall shower head
Modern touch screen
4.2 kilowatt steam generator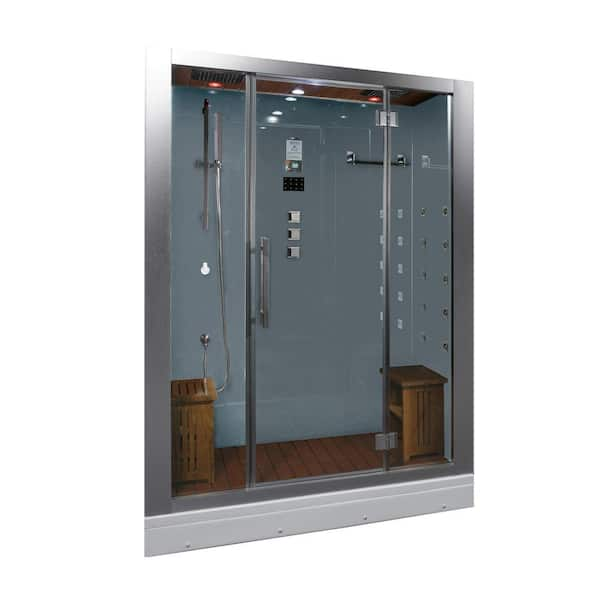 Most Naturalistic
Ariel Platinum DZ972 Steam Shower
20 acupressure jets
User-friendly digital display
Minimalist design
Best Left-Sided
Ariel DZ961F8 Steam Shower
Freestanding or corner installation
Chromotherapy and aromatherapy
Straightforward to install
Best Full Package
Ariel DA333F8 Steam Shower
Includes a bathtub
12 acupressure massage jets
Bold appearance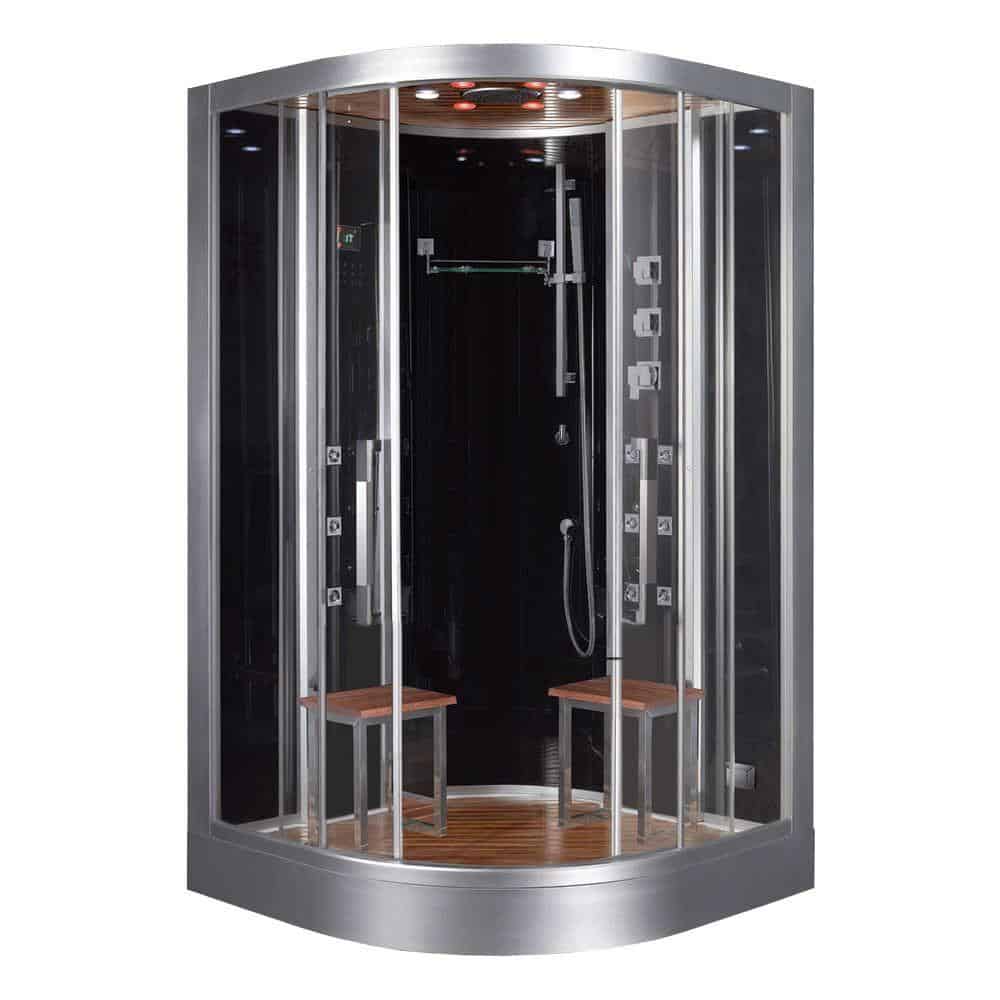 Best Walk-In
Ariel DZ962F8 Corner Steam Shower
Spacious enough for two
Space-saving sliding doors
Large display screen
Best Solo
Ariel DZ959F8 Hinged Steam Shower
Aromatherapy and chromotherapy
Balance of classic and modern design
Suitable for DIY installation
---
---
Product Reviews
Steam showers are no longer exclusive to luxury spas and gyms, with an increasing number designed for domestic use. To help you find the right model for your home, we have reviewed seven of the best steam showers available today. We chose these models based on their size, shape, material, and steam-generating power.
1. Steam Planet Orion Plus Steam Shower
Best Steam Shower for Home Spa
The Steam Planet Orion Plus will bring a true spa experience to your bathroom. Its design strongly resembles what you might find in a public sauna or spa room.
Your purchase includes two oak benches, both of which are removable. You can place them however you like to stretch out, put your feet up, or share a steam shower with a partner.
There is also an aromatherapy cup to release your favorite scents as you relax in the shower, and chromotherapy is provided by LED lighting. The enclosure's eight body massage jets will help relieve any aches and pains.
What We Like
Accessories and Features
The Steam Planet Orion Plus has several extra features. In addition to its therapeutic functions, there are also an FM radio and RCA connector for video and audio.
A phone connection is available if you need to stay connected while showering. The unit also has an anti-scald faucet, so you won't need to worry about it getting dangerously hot.
Versatile Shower Heads
This unit has shower heads for every purpose. It has an 8-inch-wide rainfall head and a height-adjustable handheld attachment.
The handheld head has various water massage settings, which can be used alongside the shower's body massage jets for a full-body treatment.
Ideal for Two Users
This steam shower includes two removable benches. You can shower with a partner or family member without feeling cramped. If you enjoy spa days with someone else, you will be able to share a steam shower without leaving your home.
What We Don't Like
Design Isn't For Everyone
The black finish won't appeal to everyone, nor will it complement every bathroom. The wood parts soften the overall appearance, but this unit is definitely better suited to modern bathrooms.
Product Specs
| | |
| --- | --- |
| Type | Freestanding |
| Dimensions | 59 by 40 by 86 inches |
| Generator | 3 kW steam generator |
| Doors | Hinged |
| Additional Features and Accessories | Eight massage jets, thermostatic faucet, RCA output, FM radio, LED lighting, two removable oak benches, oak shower grid, aromatherapy cup, phone hook-up, rainfall shower, and handheld shower attachment. |
---
2. Steam Planet Universe Plus Steam Shower Enclosure
Best Steam Shower for Music Lovers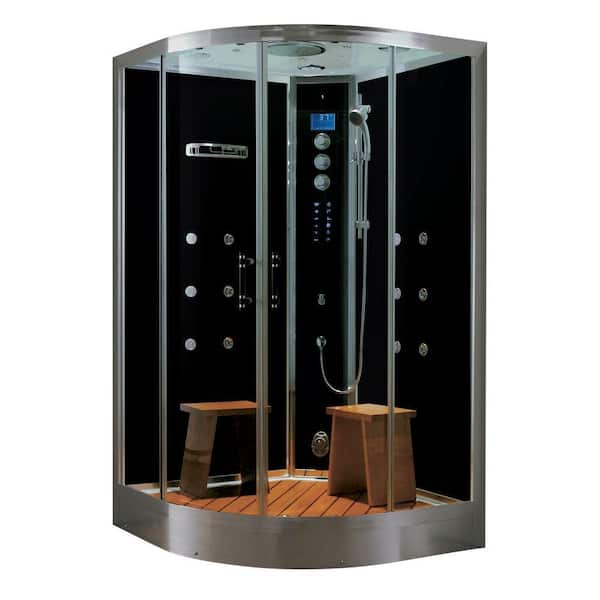 For some people, a shower isn't complete unless there is music to sing along with. Rather than risk taking a stereo into your bathroom, this unit has an FM radio and speaker built-in. You can listen to your favorite radio station without the sound being muffled by your enclosure.
Alternatively, wireless transfer allows you to connect your phone and listen to custom playlists. In addition to music, this shower has more practical features such as an overhead rainfall shower and powerful body jets to help you relax after a long day.
The shower's various features are controlled by its modern touchscreen display. This allows you to customize the different settings to achieve your perfect custom shower.
What We Like
Rainfall Shower Head
This unit has a rainfall shower head in addition to its handheld head. The rainfall shower provides a relaxing, hands-free experience.
Modern Touchscreen
The modern glass touchscreen makes it easy to customize the settings to create your perfect showering experience. This includes settings for the various shower heads and the enclosure's built-in radio.
4.2 Kilowatt Steam Generator
This unit has a 4.2-kilowatt steam generator that provides plenty of steam. You won't need to worry about moisture build-up as the shower enclosure includes an extractor fan.
What We Don't Like
Vague Instructions
Some reviewers mention the instructions being too vague. In some cases, there are just a few sentences to describe complicated installation steps.
Product Specs
| | |
| --- | --- |
| Type | Corner |
| Dimensions | 48 by 48 by 90 inches |
| Generator | 4.2 kW steam generator |
| Doors | Sliding |
| Additional Features and Accessories | Body massage jets, rainfall shower head, multi-setting handheld head, touch screen control panel, FM radio, speaker, LED chromotherapy lighting, steam generator |
---
3. Ariel Platinum DZ972 Steam Shower
Most Naturalistic Steam Shower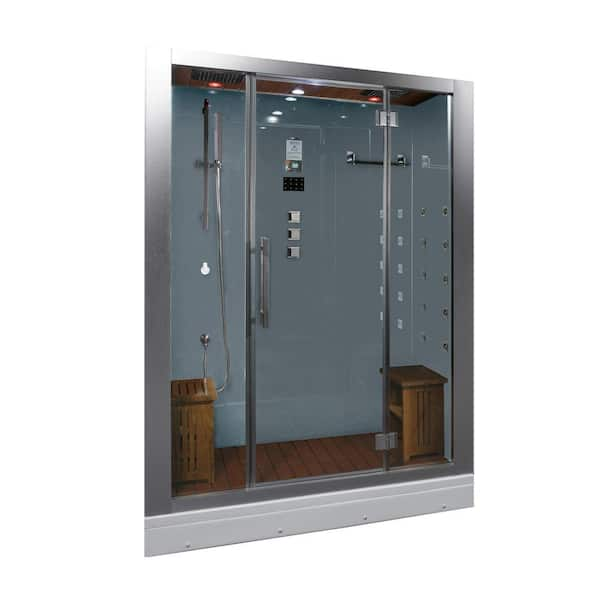 If you don't want to spend extra money on features such as phone connections or a microphone, the Ariel Platinum DZ972 keeps digital technology at a minimum. Apart from its FM radio, everything else about this unit is focused on practicality.
The 20 powerful acupressure jets will massage your body and help you relax. You can create a more relaxing mood by mixing some essential oils and placing them in the aromatherapy port, so they will be released while you shower.
This freestanding steam shower has enough room for two people. It includes stools so you can sit down and enjoy the shower's powerful therapeutic features.
What We Like
Impressive Acupressure Jet System
With 20 acupressure jets, this unit has more body jets than the vast majority of showers currently on the market.
Simple and User-Friendly
By avoiding unnecessary digital accessories, this unit is very user-friendly. The control panel is clearly labeled with easily identifiable logos.
There is a slight learning curve when first changing the temperature and radio volume, and using other important controls. However, the display is large enough that most people should be able to see it easily.
Minimalist Design
Compared to some of the more ostentatious shower designs, this Ariel steam shower feels very subtle. Its wooden floor, ceiling, and stools are reminiscent of traditional saunas. The knobs and handles are plain chrome, which complements the minimalist design.
What We Don't Like
Less Technology than Other Steam Showers
You might not see this as a negative, but this shower features less technology than many of its competitors. You won't be able to stream music from your phone or take calls. Keep in mind that, if you want these features later, you won't be able to add them to this unit.
Product Specs
| | |
| --- | --- |
| Type | Freestanding |
| Dimensions | 59 by 32 by 87 inches |
| Generator | 6 kW steam generator |
| Doors | Hinged |
| Additional Features and Accessories | 20 massage jets, two removable wooden stools, wooden floor and ceiling, rainfall shower, handheld shower, aromatherapy port, chromotherapy lighting, FM radio |
---
4. Ariel DZ961F8 Left-Sided Steam Shower
Best Left-Sided Steam Shower
This Ariel shower is unusual in that it is designed for left-handed installation. If you want a left-handed steam shower that isn't the standard rounded quadrant shape, this is a great option.
Another major positive of the Ariel DZ961F8 is its capacity. It is very spacious and includes two stools that will allow two adults to sit down and relax while enjoying a cleansing steam shower.
As corner showers are often quite small, this model stands out. In terms of functionality, there are rain and handheld shower heads and massage jets for full-body hydrotherapy. There are also extra features to help you relax, such as chromotherapy and aromatherapy.
What We Like
Versatile Shape
This left-handed steam shower has a versatile design. It can be installed as a freestanding unit or in a corner while maintaining its classic sauna look.
Various Shower Options
This shower provides enough options for every user. It is equipped with chromotherapy and aromatherapy features and has six massage jets.
As with most Ariel models, it includes both an overhead rain shower and a handheld head. The wooden floor and ceiling add some timeless visual appeal.
Straightforward Installation
Multiple reviews praise the ease of installation. Whether you hire a contractor or do it yourself, you shouldn't encounter too many issues.
What We Don't Like
No Smartphone Connection
If you like to stay connected while using your bathroom, you might need to look elsewhere on our list. This model doesn't offer mobile phone connectivity, though it does have an FM radio.
Product Specs
| | |
| --- | --- |
| Type | Freestanding |
| Dimensions | 59 by 35.4 by 89.2 inches |
| Generator | 6 kW steam generator |
| Doors | Hinged |
| Additional Features and Accessories | Six massage jets, handheld shower, rain shower, aromatherapy port, chromotherapy, two wooden stools |
---
5. Ariel DA333F8 Steam Shower Enclosure
Best Full Package Steam Shower
It's no surprise to find Ariel on our list with their DA333F8 Steam Shower Enclosure. If you are keen to include a bathtub in your bathroom, this model combines one with a stunning steam shower enclosure.
It features a spacious whirlpool tub. Whether you are bathing alone, with your children, or with a partner, there is enough space that you won't feel cramped.
The steam shower is equipped with two types of shower heads. You can alternate between the handheld head and the overhead rain shower.
There is also a seat incorporated into the design. You can sit on this while enjoying a steam shower or relaxing in the bathtub.
What We Like
Very Versatile
This unit combines every major bathroom fixture into one. It has a bathtub that can be used with or without massage jets, two types of shower heads, and a steam function.
If members of your household have different bathing habits, this Ariel steam shower should satisfy everyone. It has enough options that you can tailor your shower to your needs.
Therapeutic Features
This model provides multiple therapeutic options. You can listen to FM radio while relaxing with aromatherapy and chromotherapy.
In terms of hydrotherapy, there are 12 acupressure massage jets in the shower enclosure, and the whirlpool tub has 16 jets.
Bold Appearance
Most steam showers are statement pieces, and the Ariel DA333F8 is no exception. It wouldn't look out of place in a high-end spa and will serve as a true centerpiece in your bathroom.
What We Don't Like
Bigger Budget Needed
This is a very high-end steam shower and bath combination, with a price to match. If you have a limited budget, you will probably need to look elsewhere.
Product Specs
| | |
| --- | --- |
| Type | Freestanding/Combination |
| Dimensions | 59 by 59 by 89 inches |
| Generator | 6 kW steam generator |
| Doors | Sliding |
| Additional Features and Accessories | 12 acupressure massage jets, 16 whirlpool jets, chromotherapy, aromatherapy port, FM radio, rain shower, handheld shower |
---
6. Ariel DZ962F8 Corner Enclosure Steam Shower
Best Walk-In Corner Steam Shower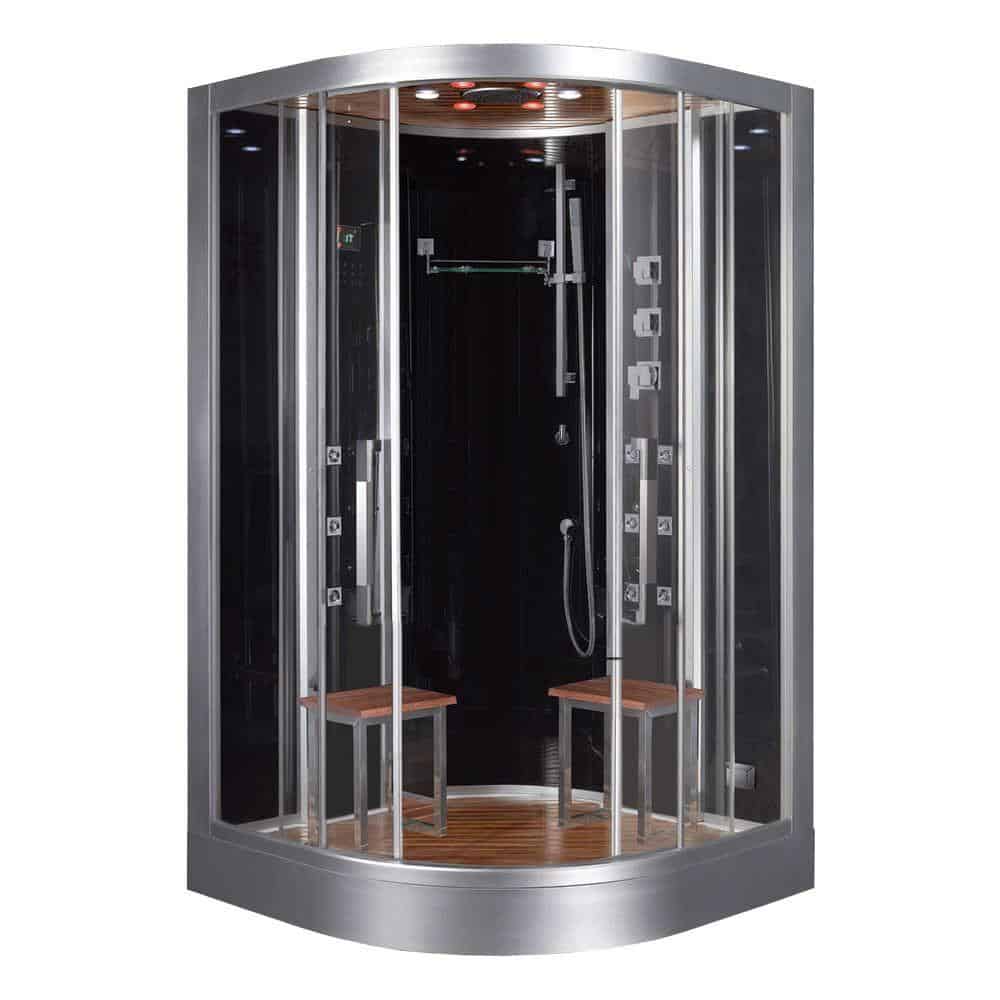 This Ariel corner steam shower has the appearance and feel of a walk-in sauna. It has a relatively low step to enter, making it more accessible for people with limited mobility or balance issues.
The DZ962F8 is evocative of classic spa design with its wooden floor, ceiling, and stools. This also balances the more modern aspects of the unit's design.
Despite being designed for corners, this steam shower has enough space for more than one bather. Its built-in therapeutic features such as aromatherapy will help you relax and unwind after a long day.
What We Like
Spacious Interior
This corner steam shower has enough space for two average-sized adults to sit together without being cramped.
If you're alone, the enclosure will feel even more spacious. You can experiment with the placement of the two wooden stools depending on whether you want to stand or sit while showering.
Space-Saving Sliding Doors
Hinged doors require extra floor space in your bathroom, meaning they often can't be fitted in tight spaces. Sliding doors completely avoid this issue, so you won't need to worry about damaging them or your bathroom while entering and exiting the shower.
User-Friendly Control Panel
Ariel's control panels are very user-friendly. This unit's push-button controls are easy to use with wet hands and the large display screen is very readable.
What We Don't Like
Limited Space for Couples
This corner enclosure can hold two people, but you might struggle if you and your partner are relatively large.
Product Specs
| | |
| --- | --- |
| Type | Corner |
| Dimensions | 47.2 by 47.2 by 89 inches |
| Generator | 6 kW steam generator |
| Doors | Sliding |
| Additional Features and Accessories | 12 acupressure massage jets, two wooden stools, rain shower, handheld shower, chromotherapy, aromatherapy port |
---
7. Ariel DZ959F8 Hinged-Door Steam Shower
Best Solo Steam Shower
The Ariel DZ959F8 is a compact steam shower that is ideal if you live in a single-person household. There is no point in wasting money on a very large enclosure if you will be using it alone.
This model includes one stool to sit on, reflecting that it is designed for a single user. It is also an excellent choice if you have limited space in your bathroom.
Despite its smaller size, it has multiple features to help you relax. These include chromotherapy and aromatherapy, along with six body jets to soothe your body while showering.
What We Like
Relaxing Features
There are plenty of ways to relax in this steam shower, including aromatherapy and chromotherapy. The six acupressure massage jets combat tight muscles after physically-demanding days. You can also stand or sit under simulated rainfall (courtesy of the rain shower head).
Attractive Design
The black walls combined with wood accents provide a balance of modern and traditional bathroom design. This makes it suitable for the majority of bathrooms.
Straightforward Installation
Customer reviews praise this unit's simple installation process. If you have a decent amount of plumbing experience, you should be able to do it yourself with a little help.
What We Don't Like
One Stool
If you ever want to share your steam sessions, you will need to purchase a second stool. You might struggle to fit two stools in the enclosure comfortably, as it is designed for one user.
Left-Handed Design
Think carefully about where you will install this freestanding steam shower, as the panel is on the left rather than the right. This means it might not be suitable for your bathroom layout.
Product Specs
| | |
| --- | --- |
| Type | Freestanding |
| Dimensions | 59 by 35.4 by 89.2 inches |
| Generator | 6 kW steam generator |
| Doors | Hinged |
| Additional Features and Accessories | Six acupressure massage jets, FM radio, aromatherapy port, chromotherapy, one wooden stool |
---
Regular Shower vs. Steam Shower
Steam showers combine the convenience of a shower with the benefits of steam. They have the same capabilities as traditional wet saunas or steam rooms.
The generator produces steam, significantly increasing the humidity inside the shower enclosure (1).
It is essential that the enclosure is completely sealed, otherwise, steam will escape into your bathroom — and potentially the rest of your home. The ceiling above the enclosure will need to be waterproofed to prevent moisture damage unless the enclosure itself has a roof (2).
How Do Steam Showers Work?
The shower components work the same way as in standard units, but the steam is produced by a dedicated generator. Water flows into the generator and is heated until it evaporates and becomes steam at 212 degrees Fahrenheit (3). It is then released into your shower.
Steam shower generators are usually flexible in terms of placement. Some include long connectors, allowing for installation outside the bathroom if required.
The steam is controlled via a panel, which may be inside or outside the enclosure. This is where you will switch the steam generator on and off, adjust the temperature, and use any special features your shower has.
Are Steam Showers Good for You?
Steam has been found to have beneficial qualities for treating or managing various health conditions:
Caution
Exercise common sense when using your steam shower and follow the manufacturer's guidelines. If you do have a lung condition, consult your physician before buying or using a steam shower.
Types of Steam Shower
Like standard showers, there are various types of steam showers, designed to be installed in different parts of your bathroom.
Freestanding
Freestanding models are designed to be installed without being connected to any walls. This makes them the most versatile option, as they can be installed essentially anywhere in your bathroom.
These enclosures are usually square or rectangular. This also provides more internal space: larger models can even have benches at each end, allowing you to enjoy a relaxing steam shower with a partner.
If you want to avoid more extensive DIY work, you will need to consider your bathroom's size and drain placement. On the other hand, if you are completely renovating the bathroom, freestanding steam showers provide excellent flexibility.
Pros
Usually spacious interiors
Can be placed almost anywhere
Often resemble classic steam rooms or saunas
Perfect for couples
Cons
Might not fit in smaller bathrooms
Corner
Corner steam showers are ideal if you have limited space. In contrast to freestanding showers, they are designed to be installed in a 90-degree corner and connected to two walls.
This means you should be able to enjoy the benefits of a steam shower even if you don't have a large bathroom.
Pros
More compact than freestanding units
Ideal for smaller bathrooms
Simple installation
Cons
Usually too small to shower with a partner
Combination
Steam showers are technically hybrid units, combining a conventional shower and a steam generator. Some models go a step further by including a built-in bath.
If you want a complete home spa experience, consider a combination steam shower. You can relax in your whirlpool tub, enjoy the benefits of steam, and rinse yourself with a shower, all in the same unit.
Combination units can be either freestanding or for corners. The main drawback of these luxury units is that they are significantly more expensive.
Pros
Unmatched luxury
Saves space by combining a shower and bath
Bath usually has therapeutic features such as massage jets
Cons
More expensive than shower-only models
Custom
If you are willing to take the financial plunge to create your dream steam shower, you can commission a beautiful unique enclosure.
With the right builder and plumber, your options are essentially limitless. You can personally choose every aspect of your steam shower, from its size to materials to special features.
This means your shower enclosure will be the ideal size and will fit your bathroom perfectly. Naturally, a custom-made shower enclosure will almost always cost more than a pre-fabricated one.
Pros
Tailored to fit your available space
Completely customizable
Your shower enclosure will be unique
Key Features
Once you have chosen the type of steam shower you want, you will also need to make some other key decisions to ensure you find the right unit for your bathroom.
---
FAQs
Are Steam Showers Worth It?
There is a lot of debate over whether steam showers are truly worth the investment. On the one hand, these luxury showers offer several benefits that can improve your overall bathing experience.
For example, they offer an aromatherapy component that positively affects mood and stress levels.
In addition, steam showers provide deep cleansing through high humidity and heat, resulting in softer skin and more lustrous hair. Furthermore, steam rooms are said to lower blood pressure and reduce inflammation in the joints.
There are also drawbacks to steam shower systems that should be considered before making a purchase. First, these showers require special construction – the plumbing for the shower must extend above, necessitating extra wall space and creating perceived sound barriers.
Second, steam shower units tend to be quite expensive relative to standard shower units, especially when installation costs are considered.
Ultimately, whether or not a steam shower is worth it will depend on your priorities and budget. However, if you can afford it, it is likely to be worth it in terms of convenience and overall health benefits.
How Often Can You Take a Steam Shower?
Generally speaking, a steam shower can be taken multiple times per week without any adverse effects. However, some individuals may find that it takes time for their bodies to adjust to longer or more frequent steam sessions.
It is important to always take care when using a steam shower to avoid overheating or dehydration.
If in doubt about your individual needs and tolerance for a steam shower, consult your doctor before using one.
Ultimately, the safest advice is to listen to your body and pay close attention to signals like dizziness or overheating that may indicate that you have had enough time in the steaming room.
And remember: less is more when it comes to your health. So, while a regular steam shower can help you feel rejuvenated and refreshed, doing it too often can result in dehydration and other negative side effects.
So, use common sense and moderation when enjoying this soothing practice.
How Long Should You Stay in a Steam Shower?
Most experts recommend that you start with at least 15 minutes per day and work your way up from there as desired. Some people prefer quick, 10-minute showers, while others enjoy getting lost in the quietness and relaxation of a prolonged steam session.
It will depend on your individual preferences and needs. Some critical factors to remember when determining how long to stay in a steam shower include your health condition, overall fitness level, and mood.
Can You Lose Weight in a Steam Shower?
Whether you can lose weight in a steam shower depends on what you mean by "losing weight." If we are talking about fat loss, the answer is no – unless you spend an extremely long time in a steam shower each day for several weeks.
It is impossible to burn significant amounts of fat by simply sitting in a hot, steamy space.
However, suppose we are talking about losing water weight by sweating toxins. In that case, using a steam shower as part of your weight loss regime is certainly possible.
When you sweat, your body loses excess water and salt that can cause bloat. By purging these toxins from your body in a steam shower session, you can temporarily relieve bloating and other symptoms associated with water retention.
Do Steam Showers Use a Lot of Electricity?
Steam showers don't use a lot of electricity, as energy-efficient ones consume less than $1 for an average session. However, steam showers generally use more electricity than standard shower units due to their higher operating temperatures and longer durations.
How Much Is a Steam Shower vs. Regular Shower?
Prefabricated steam showers cost between $1,000 and $5,000, while a simple fiberglass shower can be as inexpensive as $400.
A traditional shower is generally cheaper than a steam shower. While it may not provide as much comfort or relaxation, it also requires far less maintenance and upkeep to function properly.
Additionally, installing a standard shower is often easier and less costly than installing a steam bath system in your home.
On the other hand, a steam shower offers many advantages that make it superior to other showers. It provides all of the comfort and relaxation of a traditional spa or sauna bath in the comforts of your own home. It can also be customized based on your preferences.
Whether you want powerful jets for deep cleansing or high humidity levels for soothing relief from aches and pains, a steam bath can meet your unique needs.
And while these additional features do come at a higher price point overall than standard showers, they also last longer due to their superior construction materials and design qualities.
---
Thank You For Your Feedback!
Thank You For Your Feedback!