A steam shower can transform your bathroom, but it's not the kind of thing you can buy on an impulse. You don't want the financial and emotional hassle of discovering the steam shower you bought isn't what you expected.
Our guide to the best steam showers will lay out what you need to know in simple terms. We've reviewed our seven top models for your convenience. Once you're armed with information, you can select the best pick for you.
Image
Model
Product Comparison Table
Features
Best for Home Spa
Steam Planet Orion Plus Shower
Generous accessories & features
Versatile shower heads
Perfect for multiple bathers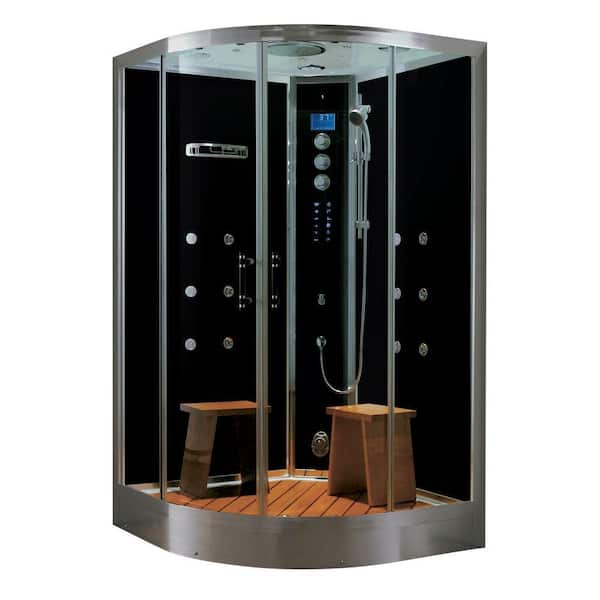 Best for Music Lovers
Steam Planet Universe Plus
Rainfall shower head
Modern touch screen
4.2 kilowatt steam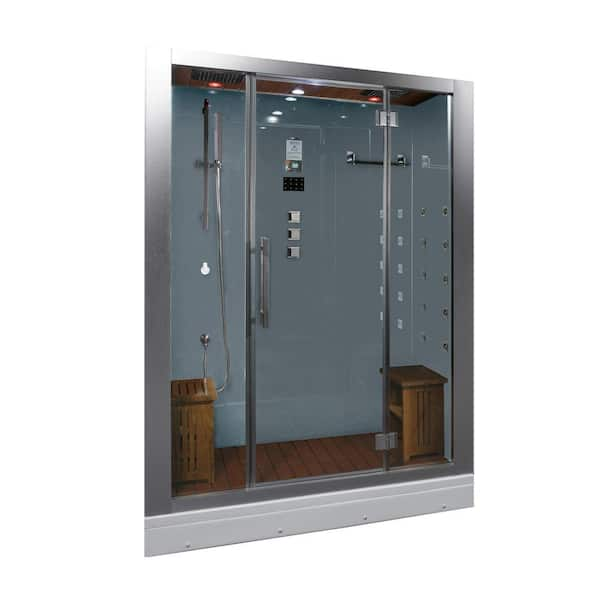 Most Naturalistic
Ariel Platinum DZ972 Steam Shower
Impressive acupressure jet system
Simple & user-friendly
Minimalistic design
Best Left-Sided
Ariel DZ961F8 Steam Shower
Exceptional shape
Appeals to diverse users
Straightforward installation
Best Full Package
Ariel DA333F8 Steam Shower
Near universal appeal
Plenty of therapeutic features
Striking appearance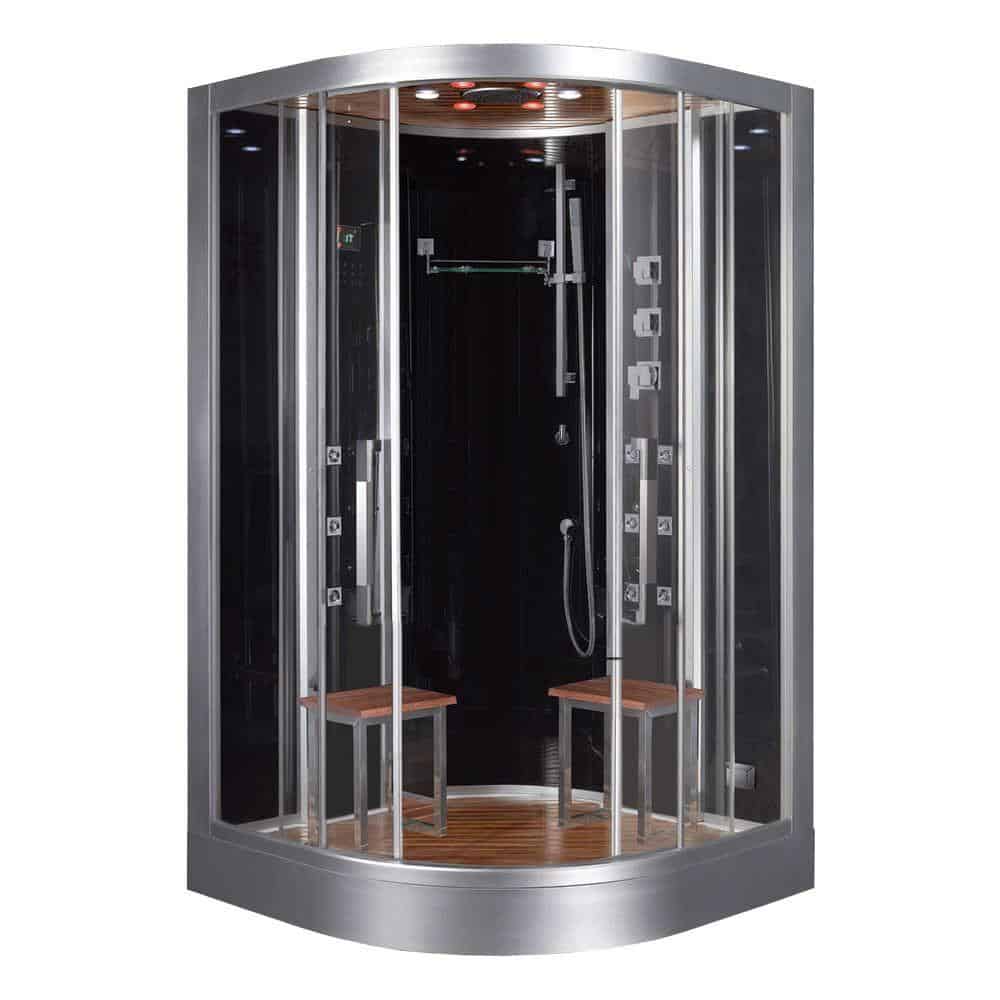 Best Walk-In
Ariel DZ962F8 Corner Steam Shower
Roomy interior
Space-saving sliding doors
Uncomplicated control panel
Best Solo
Ariel DZ959F8 Hinged Steam Shower
Fun & relaxing features
Fetching design
Unchallenging installation
---
---
Product Reviews
After conducting thorough research, we've selected the 7 best steam showers on the market. If you happen to be enchanted with one model or another, make sure to confirm that it suits your bathroom's specifications first.
1. Steam Planet Orion Plus Steam Shower
Best Steam Shower for Home Spa
The Steam Planet Orion Plus should pique the interest of spa devotees. The design is reminiscent of the archetypical sauna or spa room.
Your purchase includes two oak benches, both being removable. You can place them as you wish to stretch out, put your feet up or share a steam bath with your partner.
There's an aromatherapy cup to revel in your most-liked scents as you steam. Also, you can count on the eight body massage jets to target your whole body.
To round off the features, chromotherapy lovers can play with LED lighting settings to decompress further.
What We Like
Generous Accessories and Features
There's no lack of extras with the Steam Planet Orion Plus. Aside from the therapeutic functions, there's also an FM radio and an RCA connector for video and audio.
A phone hook-up is available for those who need to be connected to their mobile. The unit contains an anti-scald faucet, which is a reassuring safety feature.
Versatile Shower Heads
This model doesn't oblige you to choose between showerheads. It includes an 8-inch-wide rainfall head as well as a height-adjustable handheld attachment.
Those who frequently schedule appointments with their masseuse may get to cancel them. The handheld attachment comes with various water massage settings, and you can use it alongside the built-in massage jets.
Perfect for Multiple Bathers
This steam shower can fit two benches inside it. You and a partner, or even a young child, won't feel squashed when inside. If you have a lucky friend or relative you love to have spa days with, you can invite them over to share in the steam.
What We Don't Like
Distinctive Design Won't Suit All Users
The black finish won't appeal to everyone, nor will it complement all bathrooms. Although the wood touches are classic, the overall design is more on the modern side.
Product Specs
| | |
| --- | --- |
| Type | Freestanding |
| Dimensions | 59 by 40 by 86 inches |
| Generator | 3 kW steam generator |
| Doors | Hinged |
| Additional Features and Accessories | Eight massage jets, thermostatic faucet, RCA output, FM radio, LED lighting, two removable oak benches, oak shower grid, aromatherapy cup, phone hook-up, rainfall shower, handheld shower attachment. |
---
2. Steam Planet Universe Plus Steam Shower Enclosure
Best Steam Shower for Music Lovers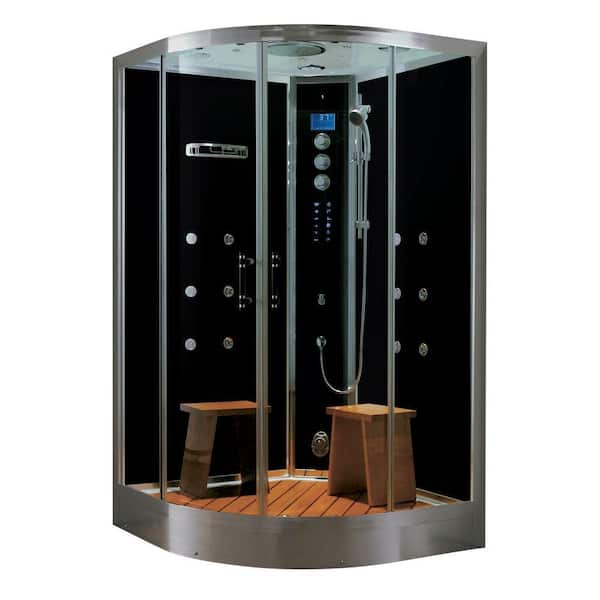 For some, a shower isn't a complete experience without the addition of music. Not always so fun for your housemates, but definitely enjoyable for you. If that sounds like you, then this steam shower will be right up your street.
It has an FM radio and a speaker. You can put on your favorite radio station and enjoy the sound in the shower. Or you can use wireless transfer to connect your phone and play your own custom playlists.
Besides the addition of music, this has lots of other great features that will bring your shower experience to the next level.
One thing you'll find is the body massage jets. After a long day at work, there's nothing nicer to come home to than the thought of a body massage from the shower. No more paying extortionate amounts for a professional massage or dealing with the awkward experience of a stranger touching your back. Just hop into your steam shower and enjoy!
What We Like
Rainfall Shower Head
This has a normal showerhead, but it also has a rainfall showerhead. If you've never used that before, you're going to be wowed by how relaxing this is. You'll feel you're in a tropical environment.
Modern Touch Screen
The modern glass touch screen makes it super easy to customize your settings and choose your perfect showering experience. There are lots of settings to choose from and this makes it super easy.
4.2 Kilowatt Steam
Turn your shower into a lush spa experience with the 4.2-kilowatt steam setting. Don't worry about moisture build-up either, because the shower itself comes with a ventilation fan. Just sit back, relax and enjoy.
What We Don't Like
Vague Instructions
There's enough room for improvement on the written instructions. It can go as vague as a few sentences giving confusion to its reader.
Product Specs
| | |
| --- | --- |
| Type | Corner |
| Dimensions | 48 by 48 by 90 inches |
| Generator | 4.2 kW steam generator |
| Doors | Sliding |
| Additional Features and Accessories | Body massage jets, rainfall showerhead, multi-setting hand shower, touch screen control panel, FM radio, speaker, chromotherapy LED lighting, steam generator |
---
3. Ariel Platinum DZ972 Steam Shower
Most Naturalistic Steam Shower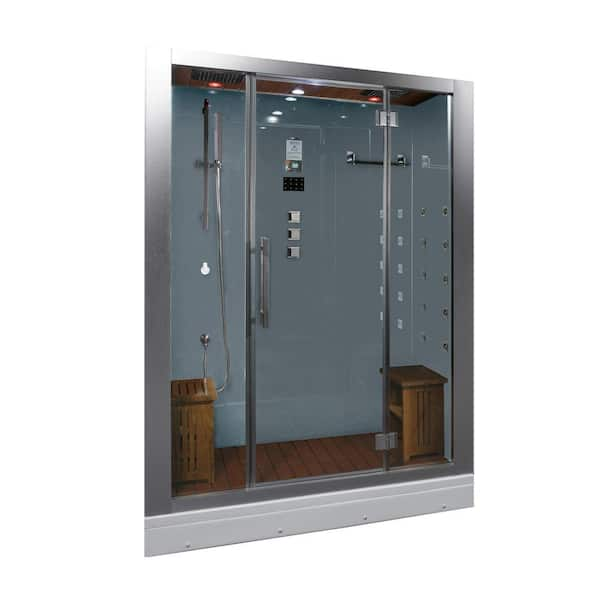 Does the thought of technology in your steam shower put you off? Do you find things like a direct phone hook-up or microphone unnecessary or overwhelming?
The Ariel Platinum DZ972 keeps tech-related extravagances to a minimum. You do have access to FM radio, but that's it.
You can let the 20 acupressure jets hit you and forget social media, work, and all other stressors of modern life. Instead, mix up a lulling blend of essential oils and place them in the aromatherapy port for scent therapy.
This freestanding steam shower can hold two bathers or more if you want to bring children in. There are two included stools for you to sit and spread yourselves out on.
What We Like
Impressive Acupressure Jet System
The number of massage jets on this shower is in the double digits. For users who are prone to bodily discomforts, the bountiful jet system could offer full-body relief.
Simple and User-Friendly
This steam shower may not be smartphone compatible, but it is user-friendly. The control panel lays all the controls out with easily identifiable logos.
There's a short learning curve to adapt to changing temperature, radio volume, and other vital controls. But, the display is big enough to avoid giving eyeglass-wearers headaches.
Minimalistic Design
There's nothing ostentatious about this Ariel steam shower. Wooden floors, ceilings, and stools are reminiscent of conventional saunas. The knobs and handles are plain chrome, which only emphasize the minimalistic design.
What We Don't Like
More Primitive than Other Steam Showers
Be mindful of the technological limitations of this steam shower. You won't be playing music from your mobile on it or taking calls. If you change your mind about that, you won't be able to add these features later.
Product Specs
| | |
| --- | --- |
| Type | Freestanding |
| Dimensions | 59 by 32 by 87 inches |
| Generator | 6 kW steam generator |
| Doors | Hinged |
| Additional Features and Accessories | 20 massage jets, two removable wooden stools, wooden floor and ceiling, rainfall shower, handheld shower, aromatherapy port, chromotherapy lighting, FM radio |
---
4. Ariel DZ961F8 Left-Sided Steam Shower
Best Left-Sided Steam Shower
This shower is distinctive in that it's designed for left-sided installation. If you've been seeking a left-handed steam shower that isn't your standard rounded corner model, this model might tempt you.
Another major pro of the Ariel DZ961F8 is the capacity. It comes with two stools to enable two adults to sit back, steam, chat, and relax.
As corner showers can often be tight affairs, this model stands out. As for functionality, there are rain and handheld showers and massage jets for multifaceted hydrotherapy.
What We Like
Exceptional Shape
We have to reiterate how pleasing the left-handed design of this steam shower is. It can double as a freestanding unit or work in specialized left-hand corner installations, all without losing that quintessential sauna look.
Appeals to Diverse Users
Besides the style, this steam shower can suit a wide variety of bathers. It's equipped with chromotherapy and aromatherapy features and has six massage jets.
As with other Ariel models, you can switch between a rain shower or a handheld attachment. The wooden floors and ceilings are agelessly chic and will appeal to most tastes.
Straightforward Installation
Multiple users have reported satisfaction with the ease of installation. Whether you go the DIY route or hire a contractor, you shouldn't encounter too much hassle.
What We Don't Like
No Smartphone Connection
Do you want a steam shower with all the technological bells and whistles? This model may disappoint you; it doesn't offer mobile phone connectivity, only FM radio.
A shower that has plenty of futuristic perks is the Kokss 8002-A. We placed it at number two on our list, so check that one out if you need to be connected!
Product Specs
| | |
| --- | --- |
| Type | Freestanding |
| Dimensions | 59 by 35.4 by 89.2 inches |
| Generator | 6 kW steam generator |
| Doors | Hinged |
| Additional Features and Accessories | Six massage jets, handheld shower, rain shower, aromatherapy port, chromotherapy, two wooden stools |
---
5. Ariel DA333F8 Steam Shower Enclosure
Best Full Package Steam Shower
Ariel makes our list again with the DA333F8 Steam Shower Enclosure. If a tub is a non-negotiable fixture in your bathroom, this model might charm you.
It's built with a sizable whirlpool tub for you to indulge in. Whether you're bathing alone, with children or with your significant other, you'll have space to spread out.
This steam shower is also equipped with two kinds of showerhead. You can alternate between the handheld showerhead and the rain one.
There's a seat incorporated into the design as well. You can choose to sit on that as you steam or settle yourself in the tub.
What We Like
Near Universal Appeal
This unit combines every major bathroom fixture in one. You have a bathtub that can be used with or without the jets, as well as two types of showerhead, and — of course — the steam function.
If you live with several people with varying bathing habits, this Ariel steam shower could satisfy them all. Each individual can select what features they like most to customize their experience.
Plenty of Therapeutic Features
This model is also the full package in terms of therapeutic benefits. Listen to FM radio, or pamper yourself with aromatherapy and chromotherapy.
On the physical side, there are 12 acupressure massage jets within the shower, and the whirlpool tub has 16 jets to enjoy.
Striking Appearance
Most steam showers are statement pieces, and the Ariel DA333F8 is an undeniably attention-grabbing choice.
You'll end up with a bathroom that resembles a high-end spa. If you were seeking a steam shower to make an impression visually, the Ariel should meet your standards.
What We Don't Like
Bigger Budget Needed
This unit may be unaffordable for some. If you planned for a steam shower that wouldn't destroy your bank account, this model might not be it.
Product Specs
| | |
| --- | --- |
| Type | Freestanding/Combination |
| Dimensions | 59 by 59 by 89 inches |
| Generator | 6 kW steam generator |
| Doors | Sliding |
| Additional Features and Accessories | 12 acupressure massage jets, 16 whirlpool jets, chromotherapy, aromatherapy port, FM radio, rain shower, handheld shower |
---
6. Ariel DZ962F8 Corner Enclosure Steam Shower
Best Walk-In Corner Steam Shower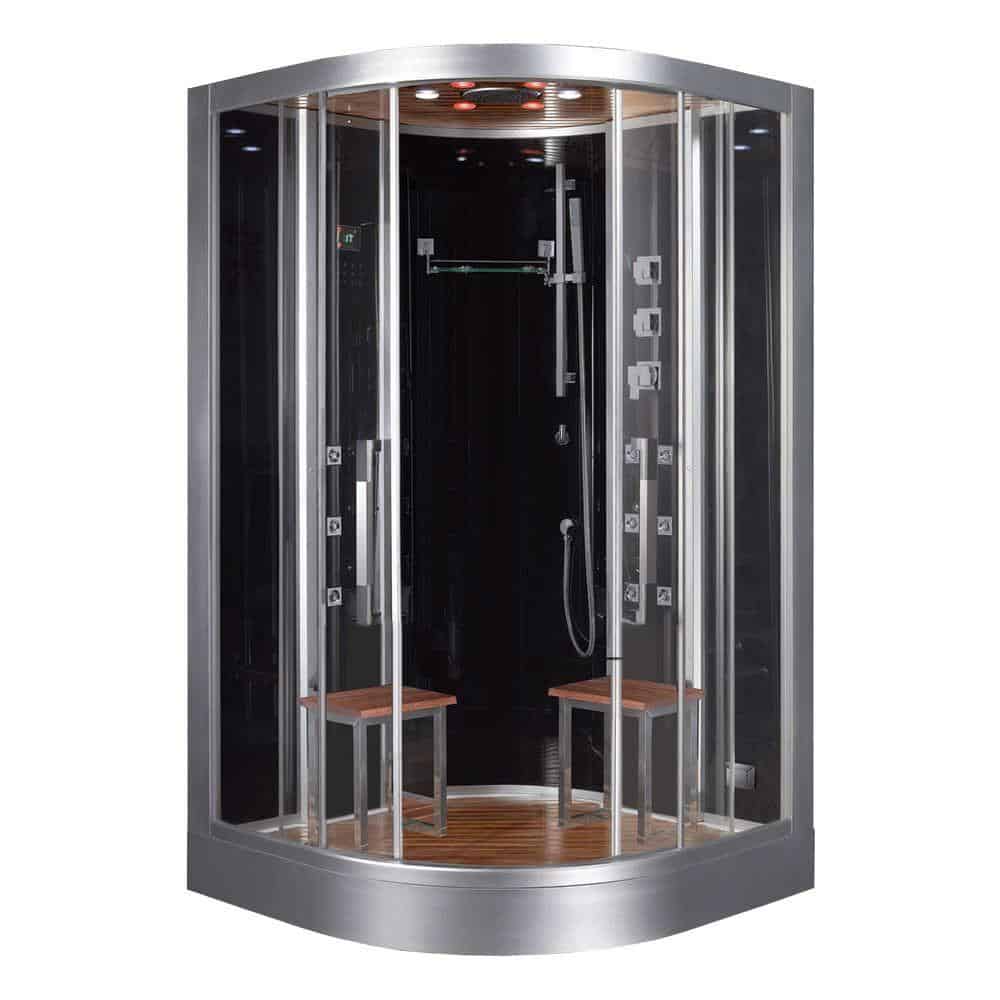 This corner steam shower will attract buyers who want a unit with the look and feel of a walk-in sauna. You won't step in as you would with a traditional shower — you'll be strolling in.
Those of you with balance issues or physical limitations will appreciate the convenient entry. The DZ962F8 is also evocative of a classic spa with the wooden floor, ceiling, and stools.
In spite of the corner design, this steam shower leaves room for more than one bather. With the inclusive therapeutic features (including aromatherapy), you may forget you're sitting in your own home.
What We Like
Roomy Interior
You won't get the impression of being cramped in this corner steam shower. There's room for two average adults to sit at a comfortable distance from one another.
If you're by yourself, it should feel even more spacious. Solo bathers can experiment with the placement of the stools, too. Remove one or both for more room to meditate or stretch.
Space-Saving Sliding Doors
Hinged doors can be problematic for certain bathroom setups. Depending on yours, there may be unavoidable obstacles around your steam shower.
With this model, there's no risk of your doors hitting walls or anything else since they're sliding. You can't inadvertently enter or exit too roughly and cause damage.
Uncomplicated Control Panel
Ariel's control panels are refreshingly accessible. The push-button control panel is easy to use with wet fingers, and the sizable display screen won't be hard to read in the steam.
What We Don't Like
Not Ideal for Larger Couples
If both you and your partner have bigger builds, this corner shower may be too small for you. The Ariel model in our fifth spot might suit you better.
Product Specs
| | |
| --- | --- |
| Type | Corner |
| Dimensions | 47.2 by 47.2 by 89 inches |
| Generator | 6 kW steam generator |
| Doors | Sliding |
| Additional Features and Accessories | 12 acupressure massage jets, two wooden stools, rain shower, handheld shower, chromotherapy, aromatherapy port |
---
7. Ariel DZ959F8 Hinged-Door Steam Shower
Best Solo Steam Shower
The Ariel DZ959F8 is a compact steam shower that could be perfect for single-person homes. Why should you waste money on a colossal steam shower that only you'll be using most of the time?
It might also work for customers with big families who crave peace and quiet. The model only comes with a single stool to sit on — the message is clear.
Similarly, buyers limited on space may also be interested in this freestanding model. It's better to compromise on a petite unit than not to have a steam shower at all.
What We Like
Assortment of Fun and Relaxing Features
There are plenty of ways to loosen up in this steam shower. Try out the chromotherapy option, or make use of the aromatherapy port for scent therapy.
You have six acupressure massage jets to combat tight muscles after tough days. When you're ready to rinse off, stand under simulated rainfall (courtesy of the rain shower head) or use the handheld shower instead.
Fetching Design
The modern black walls combined with the wood accents make for a captivating look. You can rest assured that visitors and guests will take notice of this elegant steam shower.
Unchallenging Installation
A few buyers have praised the easy DIY installation of the Ariel DZ959F8. If you have a history of DIY plumbing jobs under your belt, you could save yourself the expense of hiring someone else.
What We Don't Like
Only One Stool
If ever you decide to share your steam sessions, you'll need to purchase another stool. This isn't too big of a deal, but it bears thinking about just the same.
Left-Side Build
Think about where you'll be putting this freestanding steam shower. It might look odd as the left-side wall is where the panel is rather than glass, as is the case with a regular model.
Product Specs
| | |
| --- | --- |
| Type | Freestanding |
| Dimensions | 59 by 35.4 by 89.2 inches |
| Generator | 6 kW steam generator |
| Doors | Hinged |
| Additional Features and Accessories | Six acupressure massage jets, FM radio, aromatherapy port, chromotherapy, one wooden stool |
---
Regular Shower vs. Steam Shower
If the idea of a steam shower entices you, but you aren't exactly sure what they are, this section is for you. Simply put, steam showers combine the convenience of a shower with the soothing power of steam.
These shower versions have the same capabilities as traditional wet saunas or steam rooms. Steam is produced, saturating the air inside the enclosure and resulting in high levels of humidity (1).
With a steam shower, you must ensure your installation is steam-tight. Otherwise, steam will billow throughout your bathroom — and possibly outside of it. Your ceiling will likely have to be water-proofed to prevent damage, since uncontrolled moisture can rot walls over time and provoke mold (2).
How Do Steam Showers Work?
The shower — or bath — components work the same as they always have, but the steam is produced by way of a generator. Water passes through the generator and heats up until it evaporates into steam at 212 degrees Fahrenheit (3). The steam then dispenses into your shower.
Steam shower generators are usually accommodating when it comes to placement. Some come with long connectors, meaning they can even be located outside of the bathroom if needed.
Controls are manageable on a panel, which can be internal or external. This is where you'll switch the generator on, regulate the temperature, and experiment with whatever else your model has to offer.
Are Steam Showers Good for You?
Steam has proven itself as a therapeutic measure for a range of conditions:
Watch Out
Apply common sense to bathing in your steam shower and follow manufacturer guidelines. If you do have an illness, consult your physician first.
Types of Steam Shower
Shopping for a steam shower gets even more tricky when you start to think about the different types. No need to panic though, we've got you covered on the pros and cons of the following varieties:
Freestanding
Freestanding models are exactly what the name implies. These types are separate fixtures that can, theoretically, be placed wherever you want.
They're usually square or rectangular. Often, this allows for a roomier build: picture benches on either end.
Things like existing space and drain placement will play a role. For homeowners who are performing whole-bathroom renovations, freestanding steam showers offer excellent flexibility.
Pros
Typically spacious interiors.
Liberal placement options.
Usually resemble classic steam rooms or saunas.
Excellent for couples.
Cons
May not fit in smaller bathrooms.
Corner
Corner steam showers are an interesting alternative for users who are tight on space. These fixtures are usually less demanding because of the way they're constructed.
Unlike freestanding models that can go anywhere, they're built to be installed in a corner. You can enjoy the benefits of a steam shower without being forced to tear up your bathroom.
Pros
More compact than freestanding units.
Ideal for space-limited bathrooms.
Simpler installation.
Cons
Might be less roomy for larger individuals or couples.
Combination
You already know that steam showers are technically hybrid fixtures. Some models go a step further and include a built-in bath.
People who want the complete home-spa experience may lean towards combination steam showers. You can relax in your whirlpool tub, luxuriate in steam, and shower off all in the same place.
These models can be either freestanding or corner. The downside is that the addition of a bath can substantially boost the expense.
Pros
Sumptuous, all-inclusive fixtures.
Appealing for bath enthusiasts.
Bath is usually therapeutic (e.g., whirlpool or with massage jets).
Cons
Pricier than shower-only models.
Custom
Are you willing to take the financial plunge to create your dream steam shower? If so, custom models are the only way to go.
With the right home builder and plumber, your opportunities are limitless. You can pick and choose every facet of your steam shower, from size to functions to materials.
You'll have the satisfaction of an amenity that's uniquely exclusive. Naturally, custom-made fixtures will almost always cost more than pre-fabricated ones.
Pros
Tailored to fit the space you have.
Hand-pick and customize all attributes.
Own an exclusive steam shower, unlike any other.
Cons
Can be outrageously expensive.
Important Specifications to Consider
The type of steam shower you want isn't all that you need to settle on before you start browsing products.
Our handy list informs you of all the significant decisions to make before shopping:
Are the dimensions compatible with your bathroom? How many people are expecting to use it at the same time? Measure and check if you aren't certain.
This pertains to the size of your shower. The generator has to be strong enough to steam up the entire enclosure, preferably as fast as possible. Check the manufacturer's recommendation first and find out what kilowatt rating you'll need. Kilowatts are the measure of a generator's power.
Have you planned out where your generator will go yet? A unit too large to tuck discreetly away can bring down the aesthetics of your bathroom.
The materials of your steam shower can make all the difference. For instance, stainless steel can make for a sleek, modern look. Wooden flooring is attractive for the quintessential spa or steam room look.
Doors can be hinged (pivoting inwards, outwards or both) or sliding. Don't skip out on analyzing the type of doors on pre-fabricated models. You don't want your outward-swinging doors to hit something every time you step in or out.
Can you walk straight into your steam shower? Or will you have to climb into it? Physically limited people may prefer the ease of a walk-in model.
Do you want an immersive rainfall shower head, or will a handheld attachment be more than adequate? These units double as showers, too, so you want a shower head that's appropriate for you.
A poorly-designed or ill-placed shower control panel can turn your steam shower from soporific to stressful. You don't want to exit your shower for every little thing or have to squint to see your options.
What do you want your steam shower to offer you? Bluetooth for listening to music or audiobooks while you meditate in the steam? Massage jets? How about an aromatherapy system for your cherished essential oils?
---
Steam Your Stress Away
One of the goals of the best steam shower is to relax and soothe while having the benefit of upgrading your bathroom. Shopping without a guide or understanding of what's out there can be anything but relaxing, so take your time to reflect before you invest.
How many massage jets do you want? Do you think you might want to try aromatherapy someday? Ask yourself questions like this, and you should be satisfied with your choice for years to come.
Thank You For Your Feedback!
Thank You For Your Feedback!