Steam shower generators can add a touch of luxury to any bathroom. Warm water vapor also has health benefits, such as improving your body's circulation.
A steam generator heats water to its boiling point before releasing it into a sealed shower enclosure, surrounding you with steam. Steam generators are not one of the more common shower features, so you will need to take extra care when choosing one.
To help you with your search, we have reviewed five of the best steam shower generators currently available. We chose these units based on their steam output, size, noise level, and ease of maintenance
Image
Model
Product Comparison Table
Features
Best 12-Kilowatt Generator
EliteSteam Luxury Steam Shower
10-year parts warranty
Suitable for bathroom closets
Three finish options
Best for Smaller Showers
EliteSteam Home Steam Shower Generator
Can fit small bathrooms
Just 15.5 inches long
High quality stainless steel
Best 9 KiloWatts Generator
ECO LLC 9kW Steam Generator
LED display
Self-diagnosis feature
Safety lining
Easiest to Install
Mr. Steam Ms225ec1 Residential
Precision temperature control
Automatic shut-off
Surgical-quality stainless steel
Best Features & Accessories
Steam Planet Steam Generator
Timer and temperature controls
Self-draining valve
Controls work inside or outside shower
---
---
Product Reviews
Steam shower generators are a relatively recent addition to domestic bathrooms, so it is important to choose a suitable model. We have reviewed five of the current top-rated models to help you find the best steam shower generator for your property. These products were chosen for their material quality, power, ease of installation, and maintenance.
1. EliteSteam 12 Kilowatt Luxury Steam Shower
Best 12-Kilowatt Steam Shower Generator
This EliteSteam model is an excellent unit for larger steam showers. It has a power output of 12kW, which is ideal for an area of between 450 and 550 cubic feet.
EliteSteam is a leading steam generator brand, producing high-quality units backed by Steamist, which has been at the top of the sauna industry for over 60 years. The company is committed to making steam generators more affordable.
The generator is accompanied by in-shower controls for easy operation. It also has a few smart settings to suit your shower.
What We Like
Impressive Warranty
EliteSteam provides an extensive warranty. Residential steam generators, accessories, and controls are protected by a one-year warranty, enough time to spot any malfunctions or manufacturing defects.
The parts are covered by a limited 10-year warranty, providing peace of mind. A steam generator's parts are more prone to damage than the generator itself.
Compact
Many 12kW generators are quite large and difficult to install in tight spaces. This generator is compact, giving you more installation options. EliteSteam says it can be installed beneath counters or in bathroom closets.
Everything Is Included
Your purchase includes everything you need to install the generator right away. This includes the generator, internal shower controls, steam head, and cable.
The controls are available in three different finishes, including brushed chrome, polished chrome, and polished nickel.
High-Quality Construction
This generator has high-quality construction. It is made of stainless steel and its components are made to last for many years to come.
What We Don't Like
Might Be Too Powerful
A 12kW steam shower generator is at the higher end of the power scale. If your shower enclosure or bathroom is relatively small, this unit could generate too much steam. There are less powerful EliteSteam models you can choose as an alternative.
Product Specs
| | |
| --- | --- |
| Kilowatts | 12 |
| Material | Stainless steel |
| Dimensions | 17.8 x 7.5 x 15.5 inches |
| Cubic Footage Steam Room | Up to 550 cubic feet |
| Warranty | One year for malfunctions followed by 10 years for parts |
---
2. EliteSteam 10 KiloWatt Home Steam Shower Generator
Best Generator for Smaller Showers
If you are concerned that a more powerful generator might produce too much steam, this EliteSteam generator provides an excellent intermediate option. This unit is slightly smaller but will work excellently in an area of between 251 and 450 cubic feet.
Your purchase includes internal controls, a steam head, and cable, so you can install the generator immediately after receiving it. The controls are available in three finishes, including brushed chrome, polished chrome, and polished nickel. This makes it easy to match the controls to your other bathroom fixtures, so they won't look out of place.
EliteSteam provides an excellent warranty. This generator receives similar coverage to the brand's other models — the generator, accessories, and controls are covered for 12 months against malfunctions or manufacturing defects. The generator's parts are also covered by an extended 10-year warranty.
What We Like
Excellent for Smaller Steam Showers
Even if you have a small bathroom, it doesn't mean you can't enjoy an effective steam shower. This generator has a compact size but still produces enough steam for a thorough, relaxing steam shower experience.
Compact
This 10kW model is compact enough to be installed in tight spaces. If you have some extra space in your bathroom, you might be able to install it inside the room itself.
High Quality
This generator is made to last with a stainless steel core. Its parts, accessories, and controls are also of high quality and should last you for several years.
What We Don't Like
Relatively Heavy
The generator weighs about 30 pounds, which is quite heavy and could limit where you can install it, despite its compact size.
Product Specs
| | |
| --- | --- |
| Kilowatts | 10 |
| Material | Stainless steel |
| Dimensions | 15 x 6 x 15.5 inches |
| Cubic Footage Steam Room | 251 to 450 cubic feet |
| Warranty | One year for malfunctions followed by 10 years for parts |
---
3. ECO LLC 9kW Steam Generator
Best 9 KiloWatts Generator
This 9kW steam bath generator has multiple smart features to make your experience more user-friendly. These include an LED display that removes the guesswork from using the unit and lets you monitor how it is functioning.
The display also includes a self-diagnosis mode that will prevent much of the troubleshooting that comes with technical issues. Such issues are also made less likely by the unit's various safety features including its water liner.
This unit heats water very effectively, despite its relatively low energy consumption. It will effectively create a significant amount of steam without drawing too much power.
What We Like
LED Display
The LED display provides clear information regarding what is happening inside the generator. It will show you the temperature of the room, voltage input, and timer, as well as any self-diagnosis updates.
Self-Diagnosis
One of this generator's standout features is its self-diagnosis ability. When a fault or malfunction occurs, you will usually be able to check the LED display to find out what the issue is. In many cases, this will completely bypass the troubleshooting process.
Safety Feature
As a precaution, this generator is also fitted with extra water liner protection. This protects the generator against overheating, leaks, and overvoltage.
What We Don't Like
No Auto-Drain
For this generator to work as well as possible, you will need to drain it and replace the water regularly. This means it requires more maintenance than units with an auto-drain valve.
Product Specs
| | |
| --- | --- |
| Kilowatts | 9 |
| Material | Not specified |
| Dimensions | 17.5 x 6.5 x 156 inches |
| Cubic Footage Steam Room | 353 cubic feet |
| Warranty | Not specified |
---
4. Mr. Steam Ms225ec1 Residential Steam Generator
Easiest to Install
Whether your bathroom is big or small, modern or old,  the Mr. Steam MS225EC1 Steam Generator will fit into your home. About the size of a large briefcase, it is very compact. It also provides straightforward installation.
If you don't have enough room to install a steam generator in your bathroom, this unit can be placed 60 feet from your steam shower enclosure. This means it can be installed under a bench, in a cabinet or closet, or almost anywhere else in your home.
It also has removable, serviceable heating elements. This makes it easy to remove and repair or replace damaged parts. Mr. Steam provides a limited lifetime warranty that covers material defects and manufacturing errors.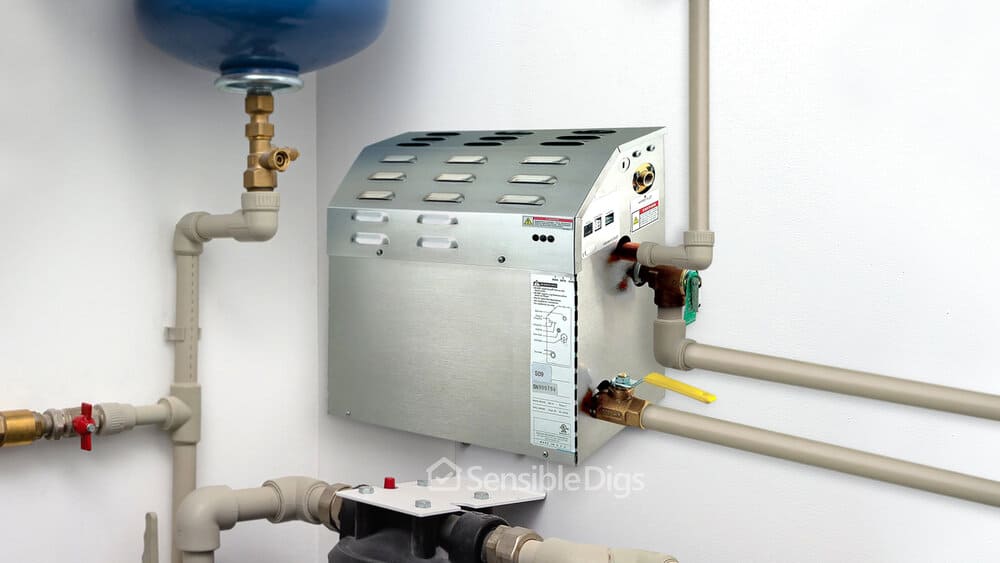 What We Like
Precision Temperature
The precision temperature controls will help you achieve your ideal ambiance. You can adjust the temperature and steam settings to suit your personal needs and mood. This can be done from your smartphone or even by asking Alexa if you have one installed.
Safety Features
This steam generator has an automatic shut-off at 60 minutes. While we don't recommend staying in steam for longer than 20 minutes, you might forget to turn off the generator after use. By cutting off automatically, this unit is safer and saves energy.
Quality Materials
Mr. Steam generators are made from surgical-quality stainless steel. It is recycled and recyclable and 100% corrosion resistant. This, along with the brand's meticulous attention to detail, results in a reliable, long-lasting steam generator that includes a limited lifetime guarantee.
What We Don't Like
Customer Service
Some users have reported issues with the company's customer service team. Keep in mind that if you encounter any problems with the generator, you might struggle to get them resolved. Make sure you know your rights as a customer before contacting them.
Product Specs
| | |
| --- | --- |
| Kilowatts | 7.5 |
| Material | Recycled surgical stainless steel |
| Dimensions | 6.75 x 14.5 x 14.75 inches |
| Cubic Footage Steam Room | 225 cubic feet |
| Warranty | Limited lifetime warranty |
---
5. Steam Planet Superior Steam Generator
Best Features and Accessories
If you want a luxurious steam generator, the Steam Planet Superior model lives up to its name. It has several luxury features, including an aromatherapy outlet.
The Superior Steam Generator is excellent for large showers as it has a power outlet of 12kW. It is also low-maintenance as it is equipped with an auto-drain valve and temperature sensors. There are two steam heads for optimal steam output.
The durable, reliable materials mean the control panel is safe for installation inside or outside the shower enclosure. Your purchase includes everything you need to install the generator quickly and safely.
What We Like
Smart Features
The luxury features make this generator stand out from the competition. It is fitted with a self-draining valve for easier maintenance. The temperature sensors maintain a consistent temperature throughout your shower.
A timer allows you to set your desired steam shower duration. This also helps you prevent over-steaming if you lose track of time. You can set your desired temperature alongside the time.
Easy to Install
The durable materials of the control panel mean it can be installed anywhere you like. It is safe to place it inside or outside the steam shower, adding to its convenience factor.
The connecting wire for the control panel is 20 feet long. This provides greater freedom to install it wherever there is room. The temperature probe can be detached to fit the generator in tight spaces, making installation even easier.
Extra Accessories
You will receive a few helpful accessories alongside the generator. These include a dual keypad to operate the generator, which can be used inside and outside the shower.
The generator also includes a stainless steel drip pan with a drain. This helps prevent leaks and spills from damaging the area surrounding the unit.
What We Don't Like
Steam Can Get Very Hot
Steam is warm by nature, but there is a limit to how much heat you can tolerate. This generator can create extremely hot steam, so it is important to be careful and monitor the temperature closely while using it.
Product Specs
| | |
| --- | --- |
| Kilowatts | 12 |
| Material | Not specified |
| Dimensions | 21.5 x 9.5 x 15.5 inches |
| Cubic Footage Steam Room | 460 to 700 cubic feet |
| Warranty | Not specified |
---
What Is a Steam Shower Generator?
A steam shower is a watertight enclosure in your bathroom. It is important that the enclosure is properly sealed to prevent the water vapor from escaping.
The most important part of a steam shower is its generator — without it, there would be no steam. When cold water enters the generator, it is heated to its boiling point. This steam is then released when you activate the steamer in your shower.
Important
Steam showers are relaxing and have health benefits, so many people sit on a bench or seat when using them. However, you should avoid using a steam shower for more than 20 minutes at a time to prevent overheating
(1)
.
Steam showers usually have one or two shower heads that feature different spray patterns. Many look and function similarly to standard shower heads. If you install a steam generator in your shower, you won't need a secondary shower area.
Advantages and Disadvantages
Until relatively recently, steam showers were a luxury mostly found in hotels and spas. However, they have become far more affordable in recent years, making them a valid option for more homeowners.
Advantages
Improves blood circulation: Using a steam shower has been found to have a positive effect on cardiovascular health (2). Improved blood circulation encourages a healthier heart and helps reduce blood pressure (3).
Reduces stress: It is easy to feel deflated after a stressful day at work. However, a few minutes in your steam shower will help you feel refreshed. Studies have found that steam therapy reduces the body's production of cortisol, a stress hormone (4).
Improves skin health: Toxins can become trapped under the skin's surface and in our pores. Steam encourages your pores to open, releasing these toxins. You might enjoy clearer skin after spending time in a steam shower (5).
Disadvantages
Expensive: The initial cost of a steam shower generator is less than it used to be, but it is still a significant investment. A good generator will usually cost anywhere between $500 and $5,000.
Installation: A steam shower generator should only be installed by an expert. If you aren't confident that you can install it properly, call in professional help. Improper installation could cause leaks and damage to other parts of your bathroom.
How to Choose (Buying Guide)
A steam shower generator can transform your bathroom into a therapeutic area, but it is important to choose the right model for your home. Keep the following factors in mind during your search.
---
FAQs
Are Steam Shower Generators Worth It?
Steam shower generators are popular among homeowners looking to add some luxury to their bathrooms. These high-functioning systems provide instant access to steam bathing, which can help to increase circulation and flush toxins from the body.
In addition, steam shower generators have several other benefits, such as reducing stress and pain, improving sleep quality, and promoting overall health and well-being. With all these positives in mind, it's clear that these systems are definitely worth the investment.
How Often Should You Steam Shower?
When it comes to taking steam showers, there is no right or wrong answer regarding how often you should do it. Some people prefer to take steam showers daily, while others find that a weekly or monthly steam shower is enough to keep their skin feeling soft and smooth.
Ultimately, the frequency with which you steam should be based on your individual preferences and any health conditions that might impact your comfort level in steamy environments.
However, if you are looking for general guidelines, one possible recommendation would be to steam at least twice per month for optimal benefits.
A weekly or even daily shower may be too much for most people. It can lead to dehydration and other negative effects. Of course, the exact timing will depend on your specific needs, so talk to your doctor about what approach is right for you.
How Long Do Steam Generators Last?
When properly taken care of, most steam generators will last anywhere from 8-10 years. However, some models may last as long as 20 years or more with proper maintenance.
A steam generator is a machine that produces and transfers steam, making it an essential piece of equipment for many industrial processes.
Factors such as the quality of materials and construction, the operating environment, and regular cleaning greatly impact how long a steam generator will last.
Overall, a steam generator's life expectancy depends on the unit's type and general operating conditions.
Can a Steam Generator be Too Big?
There is no clear answer to the question of whether or not a steam generator can be too big. Some experts argue that bigger steam generators have more surface area, which means they have the potential to generate more power.
However, others might argue that bigger generators take up more space and are less efficient overall.
Whether a generator is too big depends on individual factors, such as design and how it will be used in practice. In some cases, a smaller generator may be more effective than a larger one, depending on application and circumstances.
Still, for most situations, there does not seem to be any inherent advantage to having a larger steam generator compared to a smaller one.
Does a Steam Generator Need a Drain?
There is some debate among heating experts regarding whether or not a steam generator needs to be drained periodically. On the one hand, some believe these systems are natural and do not require this extra step to function properly.
However, others argue that without periodic drainage, mineral deposits and scale can build up in these units over time, causing problems with performance and efficiency.
Ultimately, the best approach depends on several factors, including the type of system being used and the overall maintenance history of the unit.
Regardless of which side you take in this debate, it is important to take preventative measures to protect your investment and keep your steam generator running smoothly for years to come.
---
Thank You For Your Feedback!
Thank You For Your Feedback!