Steam showers can add a luxurious, day-spa feel to any bathroom. The hot water vapor also has a few health benefits, such as improving blood circulation.
But, you can't have a steam shower without one of the best steam generators. These generate steam by heating cold water to the boiling point — but are they all alike? Let's find out.
Image
Model
Product Comparison Table
Features
Best 12-Kilowatt Generator
EliteSteam Luxury Steam Shower
Impressive warranty
Compact
Everything is included
Best for Smaller Showers
EliteSteam Home Steam Shower Generator
Excellent for smaller steam showers
Compact
High quality
Best 9 KiloWatts Generator
ECO LLC 9kW Steam Generator
LED display
Self-diagnosis
Safety feature
Easiest to Install
Mr. Steam Ms225ec1 Residential
Precision temperature
Safer option
Quality materials
Best Features & Accessories
Steam Planet Steam Generator
Smart features
Easy to install
Good accessories
---
---
Product Reviews
When we searched for the best steam shower generator, we carefully considered the above points, for units to suit both smaller and larger showers.
Material quality and power are the two most important things to consider here. Using this as well as expert advice and customer feedback, we've created a list of the best steam shower generators on the market.
1. EliteSteam 12 Kilowatt Luxury Steam Shower
Best 12-Kilowatt Steam Shower Generator
For larger steam showers, this EliteSteam model is an excellent choice. It has a power output of 12kW, which is perfect for an area between 450 and 550 cubic feet.
EliteSteam is a leading brand when it comes to steam generators. The brand manufacturers high-quality units backed by Steamist, which has been leading the steam and sauna industry for over 60 years. We particularly like that EliteSteam makes steam generators surprisingly affordable.
Along with the generator, you get in-shower controls for easy operation. There are also a few smart settings to suit your shower.
What We Like
Impressive Warranty
EliteSteam offers one of the best warranties you can get. Residential steam bath generators, accessories, and controls are covered by a one-year warranty. This covers any malfunctions or defects due to manufacturing.
After one year, the parts are covered by a limited 10-year warranty, giving you peace of mind. The parts of a steam generator are more prone to damage than the generator itself.
Compact
Many 12kW generators can be quite large and difficult to install in tight spaces. However, this generator is compact and can easily be installed wherever there's room. EliteSteam claims it can be installed underneath counters or nearby closets.
Everything Is Included
You get everything you need to install the generator right away. The package includes the generator, internal shower controls, steam head, and cable.
The controls come in three different finishes, including brushed chrome, polished chrome, and polished nickel.
High Quality
One of the main reasons we love this generator is its undeniable quality. The generator is made of stainless steel, and all other components are made to last for years to come.
What We Don't Like
Might Be Too Powerful
Keep in mind that a 12kW steam shower generator is on the higher end of the power scale. If your shower or bathroom is relatively small, this may generate too much for you. Alternatively, consider the EliteSteam model in our second spot.
Product Specs
| | |
| --- | --- |
| Kilowatts | 12 |
| Material | Stainless steel |
| Dimensions | 17.8 x 7.5 x 15.5 inches |
| Cubic Footage Steam Room | Up to 550 cubic feet |
| Warranty | One year for malfunctions followed by 10 years for parts |
---
2. EliteSteam 10 KiloWatt Home Steam Shower Generator
Best Generator for Smaller Showers
If you liked the 12kW EliteSteam generator but felt it was too powerful, this may suit you better. This unit is slightly smaller but will work excellently in an area between 251 and 450 cubic feet.
Again, the warranty is one you simply can't argue with. This generator is also covered similarly to the 12kW — generator, accessories, and controls are covered for one year against malfunctions or defects. The generator parts are then covered by an extended warranty of up to 10 years.
With your purchase, you get internal controls, a steam head, and cable, so you can install the generator straight away. The controls are available in three finishes, including brushed chrome, polished chrome, and polished nickel. These options make it easy to match the controls to your shower fixtures, so it won't look out of place.
What We Like
Excellent for Smaller Steam Showers
Not everyone has a grand shower, but we still want a good amount of steam produced. This generator has the perfect capacity for smaller areas without being too weak. It will produce steam quickly and efficiently for you able to relax as soon as possible.
Compact
The 10kW is compact and easily installed in tight spaces. If you have extra space in your bathroom, you might be able to install it inside the room.
High Quality
This generator was built to last with stainless steel at its core. All parts, accessories, and controls are also of high quality and should last you a very long time.
What We Don't Like
Might Be Heavy
The generator weighs around 30 pounds, which is quite heavy and might limit where it can be installed, despite being compact.
Product Specs
| | |
| --- | --- |
| Kilowatts | 10 |
| Material | Stainless steel |
| Dimensions | 15 x 6 x 15.5 inches |
| Cubic Footage Steam Room | 251 to 450 cu.ft. |
| Warranty | One year for malfunctions followed by 10 years for parts |
---
3. ECO LLC 9kW Steam Generator
Best 9 KiloWatts Generator
This 9kW steam bath generator comes with a range of smart features to help improve your experience. It also comes with everything you need to install it quickly.
One of the main reasons why we like this generator is because of its powerful heating capability. It will effectively create a significant amount of steam without drawing too much power.
What We Like
LED Display
The LED displays offer you a clear vision of everything that goes on inside this generator. It will show you the temperature of the room, voltage input and timer, as well as the self-diagnosis.
Self-Diagnosis
One of the smarter features of this generator is the self-diagnosis. When any fault or malfunction occurs, you can check the display to see exactly what the issue is. This makes it super easy to service since you'll know exactly what's going on.
Safety Feature
As a precaution, this generator is also fitted with a water and liner protection. This protects the generator against overheating, leakage, and overvoltage.
What We Don't Like
No Auto-Drain
For this generator to work at an optimal level, you have to drain it and change the water regularly. It would be nice to have an auto-drain valve to make the process easier.
Product Specs
| | |
| --- | --- |
| Kilowatts | 9 |
| Material | Not specified |
| Dimensions | 17.5 x 6.5 x 156 inches |
| Cubic Footage Steam Room | 353 cu.ft. |
| Warranty | Not specified |
---
4. Mr. Steam Ms225ec1 Residential Steam Generator
Easiest to Install
Whether you have a big bathroom, a small one, a modern one or an old one — this Mr Steam MS225EC1 Steam Generator can fit into your home. It's compact, about the size of a large briefcase. When it arrives at your home, it's easy to install.
If you're running low on bathroom space, don't worry. This steam generator can be installed 60 feet away from your steam shower enclosure. You can fit in under a bench, in a cabinet, in a nearby closet or wherever else!
Lastly, it has removable and serviceable heating elements. So if anything malfunctions or breaks down, you can easily remove and replace broken parts. Thankfully, Mr Steam offers limited lifetime warranty to cover defects in material and craftsmanship.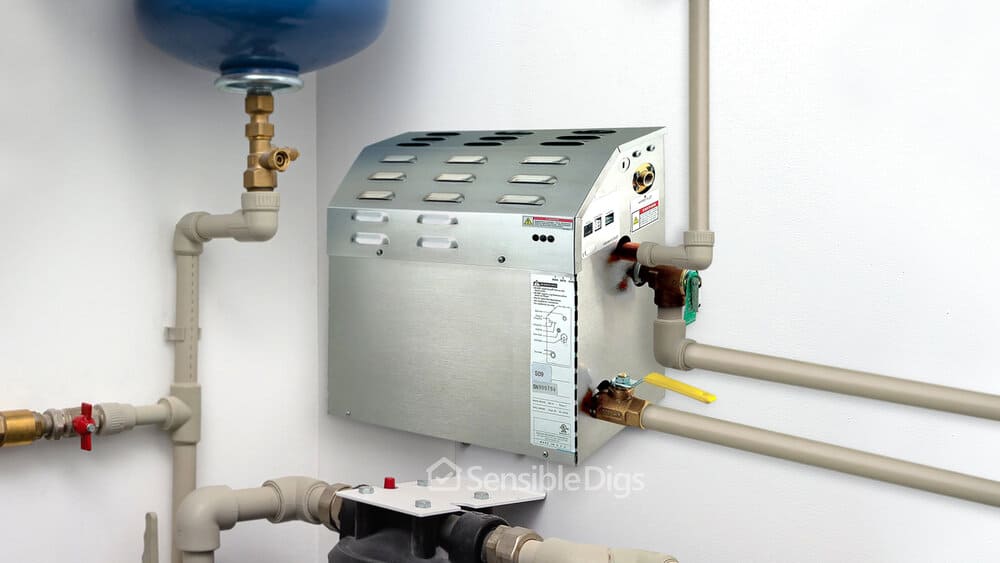 What We Like
Precision Temperature
Create the perfect ambience with the precision temperature controls. You can set the temperature and the steam settings so they suit your needs and your mood. You can do this from your smartphone or, better yet, ask Alexa.
Safer Option
This steam generator has an automatic cut off at 60 minutes. While we don't recommend you stay in steam for longer than 20 minutes, sometimes we can forget to shut off the generator after use. Thankfully, this cuts off automatically for ensured safety and energy saving.
Quality Materials
Mr Steam generators are made from surgical stainless steel. It's recycled and recyclable, 100% corrosion resistant and made with steel inside and out. This, along with their meticulous attention to detail, is what creates a dependable, long-lasting and reliable steam generator that comes with a limited lifetime guarantee.
What We Don't Like
Customer Service
Some customers have had issues with the customer service team. If something breaks or malfunctions on your steam generator, keep in mind that customer service might give you a hard time. So know your rights as the customer before getting in touch!
Product Specs
| | |
| --- | --- |
| Kilowatts | 7.5 |
| Material | Recycled surgical stainless steel |
| Dimensions | 6.75 x 14.5 x 14.75 inches |
| Cubic Footage Steam Room | 225 cu.ft. |
| Warranty | Limited lifetime warranty |
---
5. Steam Planet Superior Steam Generator
Best Features and Accessories
If you're looking for a luxurious steam generator, this is it. Of note are the different luxury features, such as an aromatherapy outlet.
The Superior Steam Generator is excellent for larger showers as it has a power outlet of 12kW. It's also easy to maintain as it's fitted with an auto-drain valve and temperature sensors. Included as standard are two steam heads for optimal steam output.
The durable and reliable materials enable the control panel to be installed wherever needed — inside or outside of the shower is perfectly safe. Also, you get everything you need to install the generator quickly and easily.
What We Like
Smart Features
The luxurious features are what make this generator stand out from the others. It's fitted with a self-draining valve that makes maintenance easy. In addition, the temperature sensors maintain a consistent temperature throughout your shower.
We really like the timer, which enables you to set your desired steam shower time. This is an excellent feature that prevents over-steaming if you forget the time. You can also set your desired temperature along with the timer.
Easy to Install
Due to the durable materials of the control panel, it can be installed anywhere you need it. It's safe to place it inside the steam shower as well, which adds to the convenience factor.
The connecting wire for the control panel is 20 feet long. This provides more freedom to install it where there's room. The temperature probe can be detached to fit the generator in tight spaces, making installation even easier.
Good Accessories
You get a few handy accessories along with the generator. This includes a dual keypad for you to operate the generator, which can be used inside and outside of the shower.
The generator also comes with a stainless steel drip pan with a drain. This will help to prevent any potential leakage from ruining the area where the generator is installed.
What We Don't Like
Steam Can Get Very Hot
This may or may not be a negative, considering how hot one prefers the steam. However, you should keep in mind that this generator can create extremely hot steam.
Product Specs
| | |
| --- | --- |
| Kilowatts | 12 |
| Material | Not specified |
| Dimensions | 21.5 x 9.5 x 15.5 inches |
| Cubic Footage Steam Room | 460 to 700 cu.ft. |
| Warranty | Not specified |
---
What Is a Steam Shower Generator?
A steam shower is an enclosed, watertight space within your bathroom. Everything surrounding the steam shower has to be sealed tightly enough to prevent vapor from escaping.
The most important part of a steam shower is the generator — without it, there'd be no steam. As cold water enters the generator, it heats the water to the point of boiling. When you turn the steamer on in your shower, it's released from the generator.
Take Note
Most people like to spend significant time in their steam shower to enjoy the relaxation, so a bench or seat is optimal. However, it isn't recommended to spend more than 20 minutes at a time to avoid overheating
(1)
.
Steam showers typically consist of one or two shower heads that feature different patterns. Many will look similar to regular shower heads, and work similarly. Once you install a steam generator in your shower, you won't need a secondary shower area.
Advantages and Disadvantages
Steam showers used to be a luxury mostly found in hotels and spas. However, nowadays, steam generators are much more affordable, and widely available.
Advantages
Improves blood circulation: Using a steam shower has shown to improve one's cardiovascular health significantly (2). Improved blood circulation can lead to a healthier heart as well as help to lower blood pressure (3).
Reduces stress: Coming home after a stressful day at work can be defeating. However, a few minutes in your steam shower, and you can feel refreshed. Studies have shown that steam reduces the body's production of the stress hormone cortisol (4).
Improves skin health: Toxins are often trapped underneath our skin and in our pores. As the steam hits your skin, it helps to open up the pores and remove the toxins. You might experience clearer skin after spending time in a steam shower (5).
Disadvantages
Expensive: Although the initial price of a steam shower generator is more affordable than it used to be, it isn't a cheap investment. When buying a good generator, you can expect to spend anything between $500 and $5,000.
Installation: Installing a steam shower generator should be done by an expert. If you're unsure of how to install it properly, call a professional to help. If it isn't installed properly, it could leak and cause damage to other parts of your bathroom.
How to Find the Best Steam Shower Generator
Having a steam shower in your bathroom has many benefits for you and your loved ones. But, choosing the right one is crucial. With such a range of choices, how do you decide? Consider the points below before settling on a generator:
Closeness to the Bathroom
Where the generator will be located is an essential thing to consider. If you have a large bathroom, you might be able to install it close to the shower without it showing. However, if your bathroom is on the smaller side, you might want to find an alternative location.
Some generators can be installed far away from the steam shower, whereas others need to be close. Consider where the generator can be installed and choose a unit to match.
Power output is also very important to consider. A steam generator will create steam depending on how much power it produces. Choosing a unit with low power output, such as 3kW, means you can't expect high-end performance.
To find the right size generator, consider the size of your steam shower. A large shower will need more steam and therefore more power. If you have a double steam shower, you'll need even more power from the generator.
A good place to start is by choosing a generator that produces anything above 6kW. This should do well in a small to medium-sized shower. If yours is bigger, go for a unit that produces 10 or more kilowatts.
We highly recommend purchasing a generator with a larger power output because it will deliver the steam faster.
It can be nearly impossible to tell a generator's efficiency before using it, but there are ways to get an idea. The power output of a steam generator can give you a good idea of how well it will perform. A lengthy warranty also usually means the quality and performance is efficient.
Steam shower generators do require regular cleaning to prevent a buildup of limescale or minerals. This will also help to keep it running smoothly and at an optimal level.
Some generators feature self-cleaning technology, but these are usually expensive and hard to come by. If yours doesn't have a self-cleaning function, consider how the manufacturer recommends the task to be done.
Steam shower generators can produce various sounds such as humming, buzzing, and even vibrating. When choosing a generator, consider its noise level and how it will affect you. If the unit will be installed inside the bathroom or close to a living area, a low noise level is important.
---
Full Steam Ahead
Having a steam shower in the comfort of your own home can bring you the ultimate relaxation after a stressful day. Steam showers come with many benefits to our health and body, such as improved blood circulation and clearer skin.
Finding the best steam shower generator for you requires careful consideration of size and power. If you're happy with the potential noise and energy requirement, go for a larger output, such as 12kW, for ultimate steam. Don't forget to consider where the generator can be installed if you don't have room in the bathroom.
Thank You For Your Feedback!
Thank You For Your Feedback!