If it's time to replace your old water heater, you might be considering a unit from State Water Heaters. State has a long history of producing water heater products that are energy-efficient and long-lasting.
It can be difficult to know which heater to choose, especially with State offering so many different options. You might need someone to point you towards the type of unit that will be best suited to you.
To help, we have put together three State water heater reviews. These should give you a bit of insight into these heaters and who makes them, and help you determine which State heaters will be good or bad for your needs.
Image
Model
Product Comparison Table
Features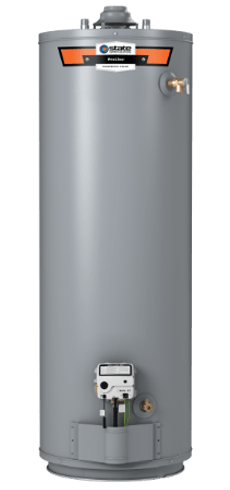 Best Gas State Water Heater
PROLINE® GS6-50-BRT
Recovery time of 41 GPH
40,000 BTU gas burner
Meets Low NOx emission requirements
Best Electric State Water Heater
PROLINE® EN6-50-DORT
Non-CFC foam insulation
Recovery time of 21 GPH
Has self-cleaning dip tube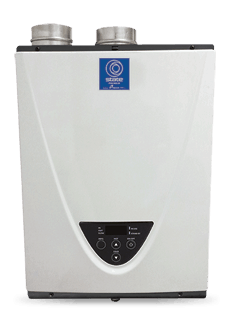 Best Tankless State Water Heater
GTS-540-NIH Condensing
Gas or propane option
Uniform Energy Factor of 0.93
Includes 15-year warranty
---
---
Product Reviews
By looking at user reviews and asking the experts, we decided on our picks for the three best State Water Heaters available today.
1. PROLINE® GS6-50-BRT GAS WATER HEATER
Best State Gas Water Heater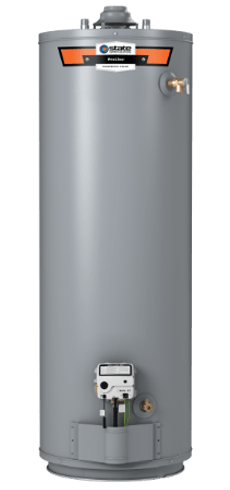 The ProLine gas water heater is at the top of its game. It has a first-hour rating of 81 gallons and a good recovery time of 41 GPH. This particular model is a 50-gallon tank, which should be more than enough for the average family of four.
It promises to deliver an eco-friendly option, capable of reducing your energy bills. The unit features a 40,000 BTU gas burner and has a Uniform Energy Factor of 0.62. Although it meets the Low NOx emission requirements, it isn't Energy Star qualified.
One thing that stands out about this unit is its intelligent control logic. It uses an internal microprocessor that enhances its sensitivity. This improves the boiler's heating response and delivers hot water faster.
The unit operates entirely independently, meaning it doesn't require an external power source. It instead utilizes a thermopile, a small device that transforms thermal energy into electrical energy.
It also includes an LED status indicator. This monitors how the system operates and diagnoses service issues.
Finally, the unit features a self-cleaning function. This consists of a powerful dip tube that reduces the build-up of scale and sediments.
Pros
Eco-friendly unit.
Fast hot water delivery.
Features a thermopile, eliminating the need for an external power source.
Fitted with a self-cleaning dip tube.
Cons
The user manual is difficult to figure out.
Product Specs
| | |
| --- | --- |
| Uniform Energy Factor | 0.62 |
| Recovery rate | 41 gallons per hour |
| Measurements | 60 inches by 21 inches by 21 inches |
| Energy Star Rated | No |
| Warranty | Six-year limited tank warranty |
---
2. PROLINE® EN6-50-DORT ELECTRIC WATER HEATER
Best State Electric Water Heater
For a family home with a frequent demand for hot water, an electric water heater is a reliable choice. The ProLine Standard unit is designed to maximize your hot water output. It does this while reducing standby heat loss with its environmentally-friendly insulation.
The insulation is made of non-CFC foam, so it's non-toxic. The unit also features several heat traps which further reduce heat loss.
Although it is not Energy Star qualified, the unit holds a 0.92 Uniform Energy Factor, so it's still highly efficient.
It uses commercial-grade dual 4500-watt heating elements, providing an even faster recovery time of 21 GPH. The heating elements are durable stainless steel, which should last longer than standard copper elements. This unit also holds a first-hour rating of 62 gallons.
The warranty is not as long as the tankless models. It includes a six-year warranty, which is still good for an electric water heater.
The ProLine Standard is also very low-maintenance. It features a self-cleaning dip tube that helps reduce sediment and lime buildup. It's made using a PEX cross-linked polymer.
Pros
Maximizes energy efficiency while reducing standby heat loss with non-CFC foam insulation.
Powerful heating elements result in a faster recovery time.
Relatively low maintenance with its self-cleaning dip tube.
Cons
It makes an unusual, strained noise while working.
Product Specs
| | |
| --- | --- |
| Uniform Energy Factor | 0.92 |
| Recovery rate | 21 gallons per hour |
| Measurements | 60.5 inches by 20.5 inches by 20.5 inches |
| Energy Star Rated | No |
| Warranty | Six-year limited tank warranty |
---
3. GTS-540-NIH TANKLESS WATER HEATER CONDENSING
Best State Tankless Water Heater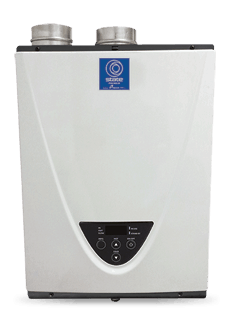 This tankless water heater from State has earned an Energy Star due to its high energy efficiency. You can choose between natural gas and propane when buying the heater.
It comes with a recirculation pump which provides hot water even more quickly. This feature will only work in residential homes with a dedicated recirculation line.
The pump can be set to meet your hot water needs. For example, you can set it to turn off during the day when the house is empty, then turn it back on during peak time.
The heater has an integrated computer that modulates combustion created by the unit. This gives the boiler a Uniform Energy Factor of 0.93. It also means the unit meets the strictest gas emission standards.
The GTS-540 uses up to 199,000 BTU per hour of natural gas. This should be enough to provide hot water for a home with three or four baths, depending on the climate.
The unit includes a long warranty of 15 years. The condensing technology will also help you save more by reusing heat from the exhaust.
Pros
Lets you choose your desired fuel — gas or propane.
Highly efficient and Energy Star Rated.
Allows you to set the pump as needed, minimizing energy waste.
Includes a 15-year warranty.
Cons
Requires annual flushing if you have hard water.
Product Specs
| | |
| --- | --- |
| Uniform Energy Factor | 0.93 |
| Recovery rate | N/A |
| Measurements | 23.625 inches by 17.75 inches by 11.25 inches |
| Energy Star Rated | Yes |
| Warranty | 15-year limited warranty |
---
| Product | Best | Uniform Energy Factor | Recovery rate | Measurements | Energy Star Rated | Warranty |
| --- | --- | --- | --- | --- | --- | --- |
| PROLINE® GS6-50 | Gas | 0.62 | 41 gal/hr | 60″ x 21″ x 21″ | No | 6-year (limited) |
| PROLINE® EN6-50 | Electric | 0.92 | 21 gal/hr | 60.5″ x 20.5″ x 20.5″ | No | 6-year (limited) |
| GTS-540-NIH | Tankless | 0.93 | N/A | 23.63″ x 17.75″ x 11.25″ | Yes | 15-year (limited) |
Why Choose State Water Heaters?
State Water Heaters focuses on high-quality materials and uses advanced techniques to produce top-quality water heaters. This philosophy applies to both residential and commercial heaters.
Homeowners who want to save energy should be able to find a suitable unit among State Water Heaters' vast range.
Which State Water Heater to Choose?
Gas
State's range of gas water heaters, ProLine, is efficient and reliable. The company made sure to apply the same innovations and technologies that were used in its industry-leading commercial units. The results are excellent gas boilers that will enjoy a long service life.
State's ProLine contains several different water heaters. Some are powered by gas, while others require propane. Their ProLine gas heaters are perfect for homeowners with a high demand for hot water.
The best tanks are designed by State and use commercial-grade parts, increasing their durability and reliability. All the tanks have State's signature glass lining that prevents corrosion and rust.
Many of the tanks even include a self-cleaning system. This reduces the risk of minerals and sediments gathering, thus prolonging the tank's life. Most are also fitted with a stainless-steel core anode for extra protection.
State's ProLine range is protected by generous warranties on both the tank and parts, which cover a variety of circumstances.
Tankless
State Water Heaters has two lines of tankless units: condensing and non-condensing. Condensing units appear to be more popular, so that's what we'll focus on here.
State's range of condensing tankless gas heaters run on natural gas or propane. They are an excellent option for average-sized families with a high demand for hot water. They are available as residential or commercial heaters, with a BTU input ranging from 120,000 to 199,000 an hour.
All the products in their tankless line are Energy Star qualified and use PVC venting. The condensing technology used is a clean and energy-efficient way to generate heat. Compared to non-condensing units, these can save you a significant amount on your heating bills.
The system works by reusing the heat present in the exhaust and chimney. The unit then converts the heat into further energy. State's tankless water heaters are fitted with solid core PVC, CPVC, or ABS pipes.
These tankless heaters are also built with a durable heat exchanger. State constructs these from commercial-grade copper, which is not only more durable but more effective at transferring heat.
Electric
State's electric water heater series is much like their gas line. Also branded ProLine, these units are made with the same cutting-edge technology and durability in mind.
There are plenty of products to choose from, including the ProLine, ProLine XE, Master, Heat Pump, and Solar. They come in all sizes, but the most popular types are the 40-gallon and 50-gallon tanks.
Similar to its gas series, State's line of electric water heaters also include a generous warranty. Although they claim you shouldn't need it due to the long lifespan of their products, State offers an opportunity to extend the warranty in most cases.
These water heaters are excellent for those living in warmer regions but remember that electric units don't perform as well for high-demand use. If you have a need for more hot water, choose a bigger tank.
---
History of State Water Heaters
State Water Heaters was founded by Herbert Lindahl Sr. as an entrepreneurial company in 1946. It began by producing wood and coal-burning stoves in a small garage in Nashville, Tennessee.
State Water Heaters quickly grew and soon became a leading company in the water heater industry. One of the reasons for this is that they remained dedicated to developing new materials, technology, and innovative engineering.
There are a few milestones throughout the history of State Water Heaters. These include 1948 when they produced their first electric water heater. In 1954, they expanded to produce gas-fired units (1).
In 1956, the company released its first welded-steel galvanized tank. A year later, this was followed by its first porcelainized glass-lined tanks, a design that is echoed in some of the company's modern heaters.
In 1979, State's Sandblaster design was granted a U.S. patent for reducing sediment and scale build-up. The company also introduced the first foam insulated tank. The brand continued to expand throughout the 1990s, eventually producing roughly 10,000 units per day.
Solar Power
State has created its first solar-powered water heater: the State Premier. It is a complete solar system that is energy-efficient, long-lasting, and reduces carbon emissions.
The company wanted to create something for environmentally conscious homeowners. Water heaters account for about 25% of the energy used in the average home. A large portion of this energy can be wasted due to heat loss.
A solar-powered water heater will receive 70% of its energy from the sun. The heater features top-of-the-line solar collectors. They are built using high-quality materials to ensure optimal efficiency and heat absorption.
The tank itself is also highly energy-saving. It features three layers of insulation that retain the heat inside the tank and reduce standby loss. This insulation earns the Premier an R-value of 8 (2).
Where to Buy State Water Heaters
Many water heater brands are widely available on websites such as Amazon and Home Depot. State Water Heater units, however, are mostly sold directly via their official website, statewaterheaters.com.
State Water Heaters Customer Service and Reviews
You can contact State Water Heaters' customer service directly through their website. Here you can either fill out a form or call the number provided (3).
Overall, customers are very pleased with State Water Heaters' customer service. The few consumers who reported a faulty unit mentioned that it was either replaced or fixed quickly.
There was one common problem reported with the gas-powered tank units, however. Some customers noticed an increase in their gas bills.
People who bought a tankless unit were very pleased and surprised by how quickly hot water arrived. They were also impressed with their lower energy bills.
FAQs
Are State Water Heaters Made in the USA?
State Water Heaters is still based in the United States, where it was founded. Today, its headquarters are in Ashland City, Tennessee and it has seven manufacturing plants, with large factories in the USA. The company also has hundreds of distribution centers across the country. Much of its production still takes place in the US.
How Long Has State Water Heaters Been Around?
State Water Heaters was founded in 1946 by Herbert Lindahl Sr., initially producing wood and coal-burning stoves. In time, the company evolved to focus on water heaters, which soon became its primary focus. In the 1990s, the company was producing 10,000 units a day, a sign of its remarkable growth.
Are State Water Heaters Better Than A.O. Smith?
While this might once have been a hotly-debated topic among American water heater experts, today there is very little meaningful difference between the two brands. That is because, in 2001, A.O. Smith acquired State Industries, essentially doubling A.O. Smith's manufacturing capacity.
Is State a Good Brand of Water Heaters?
State is a very good brand of water heater that stands out in three aspects: energy-saving abilities, self-cleaning features, and hot water generation speed.
How Long Should a State Water Heater Last?
A State water heater usually lasts between 8 and 12 years, but some variables may change these numbers.
The lifespan of a water heater is also affected by a variety of other factors. This includes the quality of the water, preventative maintenance, and how the water heater was installed.
What Are State Water Heaters Made Of?
State Water Heaters equipped with a tank are treated with Blue Diamond to protect them against corrosion, regardless of whether they are used in commercial or residential settings.
The Blue Diamond formula protects the steel tank and is supplemented with higher amounts of zircon to generate a water-resistant coating. This coating is applied so that the coating can form on the steel tank.
They also have a brass drain valve. The anode rods are made with a stainless steel core that increases service life and is also meant to reduce oxidation.
---
Thank You For Your Feedback!
Thank You For Your Feedback!