Not everyone has a bathroom large enough for a luxurious freestanding bathtub. However, that doesn't mean you can't still find a tub that will provide comfort and relaxation while making the most of your space.
If you want to enjoy the comforts of a bath in a small bathroom, you now have numerous options to choose from. In fact, there are so many units available that you could struggle to find what you're looking for.
To help you find your ideal model, this article contains what we consider the best small bathtubs for small bathrooms. We chose these tubs based on their size, depth, style, and their value for money.
Image
Model
Product Comparison Table
Features
Best Overall Small Bathtub
Kohler Drop In Soaking Tub
17.8-inch water depth
Five finish options
Includes chrome overflow
Best Walk-In Small Bathtub
Ella Malibu Air and Hydro Massage
Accessible door
Water & air massage
Dual drainage system
Best Minimalist Small Bathtub
FerdY Bali Freestanding Bathtub
Fiberglass reinforcement
Slotted overflow included
10-year non-yellowing warranty
Best Freestanding Small Bathtub
Woodbridge Acrylic Freestanding
Slipper shape
Overflow & drain included
Adjustable legs
Best Alcove Small Bathtub
American Standard Cambridge
Durable Americast material
Slip-resistant floor
Carry handles for installation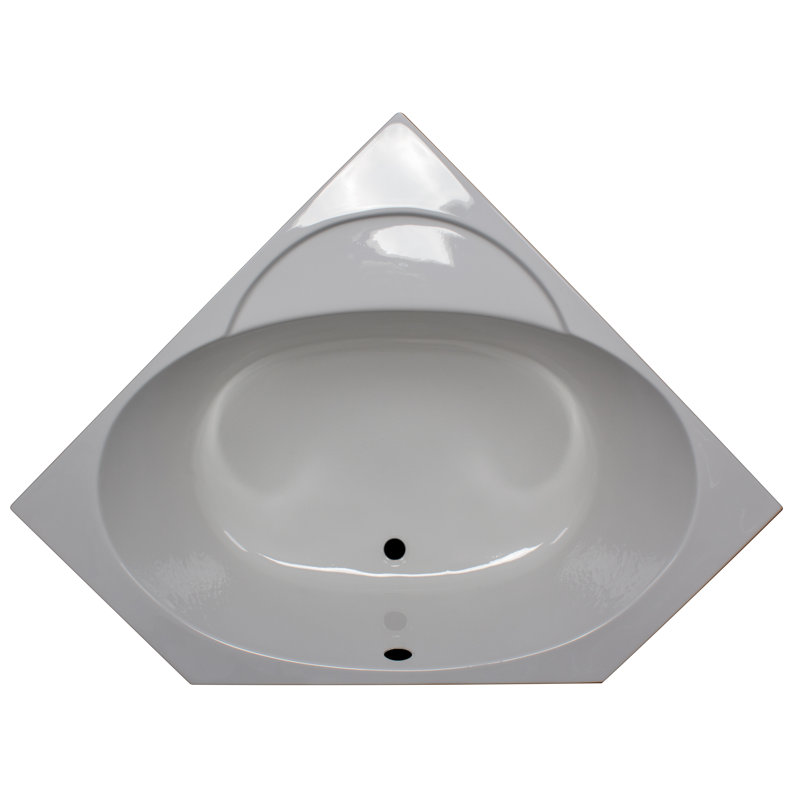 Best Corner Small Bathtub
American Acrylic Soaker Bathtub
Three color options
Premium acrylic material
Distinctive pentagonal design
Best Whirlpool Small Bathtub
American Standard Evolution
Deep-soak drain available
Fiberglass reinforcement
Eight adjustable jets
Review Methodology: At Sensible Digs, we're committed to providing you with thorough, hands-on analysis and reliable reviews for the best small bathtubs. Our experienced professionals apply rigorous criteria and benchmarks, comparing features, tracking performance, and ranking each product based on factual data and real-life use. We evaluate from a user's perspective, identifying key decision-making factors such as design, material quality, comfort levels, and installation ease. We then measure and score each product, sharing detailed findings so you can make an informed choice. Our reviews are supported by first-hand evidence and insightful evaluations that highlight what sets each bathtub apart from its competitors. Trust us to guide you to the best small bathtub for your needs.
---
---
Best Small Bathtubs for Small Bathrooms of 2023
You have more options for great bathtubs than ever before, even if your bathroom is relatively small. To help you find the right one, we have read feedback from numerous customers and expert opinions to bring you our seven best small bathtub reviews, chosen for their style, depth, size, and cost.
Kohler Drop In Soaking Tub
Best Overall Small Bathtub
At just 48 inches long and 32 inches wide, this Kohler drop-in bathtub has a small footprint that makes it ideal for small bathrooms. It is designed as a drop-in tub but would also fit an alcove.
Made from acrylic, it won't be as cold to the touch as other materials and should retain heat for longer (1). This could help you save some money, as you won't need to keep topping up the bath with warm water. Kholer even includes a vinyl bath pillow with this product to enhance your bathing experience.
What We Like
Deep for Soaking
The depth from the floor of the tub to the overflow is 17.875 inches, and the overall depth is 23.4 inches. This makes it deep and comfortable for one person despite being a small soaking tub, especially given its footprint. The back of the tub has a gentle nine-degree angle to provide support while bathing.
Five Finishes Available
This tub is available with five different finishes, so you can ensure it complements the rest of your bathroom. You can choose from almond, sandbar, biscuit, dune or white.
Parts Included
In addition to the bathtub, you also receive an overflow drain, which is finished in polished chrome. Many tubs do not include a drain, so this prevents any hassle in finding one that fits the unit.
What We Don't Like
This Tub is Deep
In many cases, a deeper tub is seen as a positive thing. However, if you have limited mobility and struggle to climb in and out, you might find that this tub is too tall for you.
Product Specs
| | |
| --- | --- |
| Size | 48" Long x 32" Wide x 23.4" Deep |
| Capacity | 68 gallons |
| Weight | 88 pounds |
| Type | Drop-in or three-wall alcove installation |
| Warranty | One year |
Our Ratings
Community Feedback
"I've been using this tub for quite some time now and it's honestly incredible. Despite its compact size, it offers an impressive depth that allows for a full-body soak, making it perfect for relaxation. The installation of an upside-down overflow drain has even provided a smidge more water depth. In addition, the insulation on the underside maintains the warmth of the water for hours, making those long soaks all the more enjoyable. This tub, with its modern design and exceptional functionality, has transformed my bathroom into a sanctuary."
---
Ella Malibu Air and Hydro Massage Walk-in Bathtub
Best Walk-In Small Bathtub
If you want a walk-in tub with numerous bells and whistles, the Ella Malibu should fit the bill. Its powerful water and air jets will provide a full body massage for excellent relaxation and physical therapy.
It features a patented three-latch door made from a custom-crafted industrial plastic composite with a tempered glass panel. This should provide a more secure watertight seal than a door with a double or single latch.
It is much easier to access the tub through the door as it is so low to the floor. This can be life-changing for people who are unable to climb into a standard bathtub.
What We Like
Safety First
This bathtub is fitted with two stainless steel grab bars and has a slip-resistant floor. This makes it much safer to stand up and get in and out of your tub.
Water and Air Massage
You can enjoy a full spa experience thanks to the 16 air jets and 13 water jets. The water jets work with an inline water heater to keep the water warm throughout your bath. Both types of jets have dedicated controls, so you can adjust the intensity of the water jets or the speed of the airflow.
There is also an infusion microbubble therapy system designed to hydrate and exfoliate your skin.
Dual Drainage System
There are two floor drains in this tub, each measuring 2 inches. This means faster drainage, which is more important with this tub as you need to drain it before you can open the door. It also means that, if one of the drains fails, you will still have a backup.
Both drains are fitted with easy-grip handles to make it easier to get them open.
What We Don't Like
Takes a While to Fill
A walk-in tub means you need to get in before you can fill it. This one has a 20-inch seat, so you won't need to stand while you wait. Even so, it can take between 15 and 20 minutes to fill, depending on your water pressure.
Product Specs
| | |
| --- | --- |
| Size | 30″ Wide x 52″ Long x 43″ High |
| Capacity | 90 gallons |
| Weight | 220 pounds |
| Type | Walk-In Jet and Air Whirlpool |
| Warranty | Limited lifetime warranty on the door, frame and shell; 5-year parts warranty |
Our Ratings
Community Feedback
"If you're seeking a tub with all the bells and whistles, this tub certainly delivers. I experienced some leakage around the door, and unfortunately, there was no immediate assistance or technician available from the manufacturer to address the issue. Despite its considerable weight, I found it to be worth the effort, enhancing my bathing experience significantly."
---
FerdY Bali Freestanding Bathtub
Best Minimalist Small Bathtub
At 47 inches long, this FerdY bathtub is a great solution for small bathrooms. It has a soaking depth of 15 inches. As a versatile freestanding model, you will be able to install it anywhere in your bathroom.
It has a gloss-white acrylic finish and is reinforced with four layers of fiberglass and an oriented strand board. It also has a double-walled design that retains your bathwater's heat more effectively.
What We Like
Reinforced with Fiberglass
This tub is reinforced with fiberglass, so there can be little doubt about its durability. The unit's finish not only makes it more reliable but it is also easier to wipe clean, thanks to its extra smooth surface.
Drain and Overflow Included
This bathtub includes a slotted overflow and a drain system, so you won't need to buy them separately. It also includes a stainless steel bracket to hold the bath and adjustable nylon feet to ensure it is level.
Non-Yellowing 10-Year Warranty
Most bathtub manufacturers guarantee the structural integrity of their products, but FerdY goes further by also guaranteeing its appearance. The brand provides a non-yellowing warranty for up to ten years. They are confident that it will continue to look pristine thanks to its first-rate lucite-grade acrylic finish.
What We Don't Like
Faucet Not Included
Like many other freestanding bathtubs, this product does not include a faucet. While this does allow for greater customization, it is one more thing you will need to worry about. You could choose a model such as this one from Rozin, which has a handheld showerhead attached.
Product Specs
| | |
| --- | --- |
| Size | 47″ Long x 25.59″ Wide x 15″ Deep |
| Capacity | 39 gallons |
| Weight | 75.8 pounds |
| Type | Freestanding |
| Warranty | 10 years non-yellowing warranty |
Our Ratings
Community Feedback
"I recently got this freestanding tub and it's a pretty neat addition to my bathroom. The lightweight design made it easy to maneuver into the perfect spot, and it's surprisingly good at retaining heat for a long soak. However, it's a bit on the smaller side so keep that in mind if you're taller or prefer more stretching room."
---
Woodbridge White Acrylic Freestanding Contemporary Bathtub
Best Freestanding Small Bathtub
Woodbridge designed this freestanding tub to be ideal for small bathrooms. It provides the luxury appearance of a freestanding tub while being 28.375 inches wide by 54 long and 28.375 inches tall. This means you can make it the centerpiece of your room, place it in an alcove or fit it against a wall.
The water capacity is 55 gallons and the maximum water depth is 15 inches from the base to the overflow. This means that, despite its small footprint, you will be able to submerge most of your body to relax and clean yourself.
Although it has a sleek modern style, it evokes the past with its slipper shape, meaning it is higher at one end than the other. Its higher end is also sloped and contoured to support your head and back.
What We Like
Durable Construction
A double-walled design helps insulate the bath to keep the water it contains hotter for longer. It is made from fiberglass-reinforced acrylic, which means it is more solid and easy to clean (2). Woodbridge also states that the finish will resist scratching, dulling, and fading.
Overflow and Drain Included
This bath is pre-fitted with an overflow and a pop-up drain, meaning it can be installed as soon as you receive it. This prevents the hassle that comes with buying and installing these parts separately.
Adjustable Legs
Legs are fitted to the base of this tub and can be adjusted to level it during installation. It should be simple to connect it to your existing plumbing using the included flexible tube drain and hose.
What We Don't Like
Not Good If You're Tall
This tub is ideal for shorter people. Conversely, if you are taller than average, you won't be able to stretch out and relax in the bath.
Product Specs
| | |
| --- | --- |
| Size | 54″ Long x 28.375″ Deep x 28.375″ Wide |
| Capacity | 55 gallons |
| Weight | 80 pounds |
| Type | Freestanding |
| Warranty | 30-day money-back guarantee, 1-year warranty |
Our Ratings
Community Feedback
"My experience with this tub has been nothing short of amazing. Despite being shorter than my previous model, the depth of this freestanding tub makes it perfect for soaking and I've found it to be incredibly comfortable. The slipper style is a nice touch and the tub fits well in the available space. Even with my petite stature, I am completely covered while soaking, and I must commend the detailed installation instructions and adjustable leveling feet that made setting this tub up a breeze."
---
American Standard Cambridge Integral Apron Bathtub
Best Alcove Small Bathtub
If you want an American-made alcove tub with a simple design, the minimalist style of the American Standard Cambridge is a great option. To match the rest of your bathroom, it is available in four different shades of finish: white, arctic white, bone, and linen.
Measuring 60 inches long by 32 inches wide and 17.75 inches deep, it provides a soaking depth of 14 to 16 inches. This means you can submerge yourself and enjoy a full-body soak even without a large bathroom. It also has a beveled headrest and contoured back support to make it even more comfortable.
What We Like
Patented Americast Construction
This bathtub has been made using American Standard's patented Americast material. This material was intended to provide the durability of cast iron but at half the weight.
It is formed of a composite outer layer, an enameling grade steel middle layer, and a porcelain enamel finish, making it strong, scratch-resistant, and easy to clean (3). It also helps with heat retention, keeping your bath water warmer for longer.
Slip-Resistant Base
Another patented material, StanSure, can be found on the floor of the tub's interior. This is intended to increase friction and reduce the risk of slipping while ensuring the tub is still easy to clean.
Ease of Installation
This product includes padded carrying bars and a leveling grid to make installation easier. There is a good chance that you will be able to install it yourself without professional assistance.
What We Don't Like
Slip-Resistant Base Might be Hard to Keep Clean
Although the company claims its slip-resistant base is easy to clean, there are customers that mention being unable to remove some marks. It is unclear whether or not they are using appropriate cleaning products, but it is something to keep in mind when considering this tub.
Product Specs
| | |
| --- | --- |
| Size | 60" Long x 32" Wide x 17.75" Deep |
| Capacity | 60 gallons |
| Weight | 145 pounds |
| Type | Alcove or Recessed |
| Warranty | Limited lifetime warranty |
Our Ratings
Community Feedback
"Definitely, this bathtub surprised me with its high-quality porcelain over steel and epoxy laminate material. It felt much lighter than the original cast iron tub but still robust. I was particularly impressed with the deeper basin which, combined with the deeper drain overflow, turned this product into a true soaker tub within a five-foot alcove. The side slope allowed me to sink easily to neck level, adding to the comfort. I had initial doubts about the non-slip bottom due to its sandpaper-like texture when dry, but it seemed to be fine when filled with water. Despite this texture collecting some dirt, a monthly clean-up kept it in check, making this tub a worthwhile choice in my bathroom renovation."
---
American Acrylic Soaker Bathtub
Best Corner Small Bathtub
This distinctive corner tub from American Acrylic measures just 48 inches long by 48 wide and 19 inches deep. It will hold 70 gallons of water with a soaking depth of 15.5 inches.
Its pentagonal shape means it will grab the attention of anyone who uses your bathroom, but it also makes the most of your available space.
The tub's generous depth allows for a thorough soak while occupying a small part of your bathroom floor. Corner tubs provide an ideal option for anyone who wants to make the absolute most of their available floor space and this modern design is a great example.
What We Like
Choice of Colors
There are three color options for this bathtub to ensure it combines well with the rest of your bathroom. You can choose from white, bone, or biscuit. This is very helpful if you want your bathtub to feel warmer than the standard white.
Strong Materials
The tub is constructed from premium-quality acrylic, which is strong and long-lasting. American Acrylic also claims that the tub is resistant to rust, tarnishing, scratches, slipping, stains, and fire.
What We Don't Like
No Lip
The edges that are adjacent to your bathroom walls don't have much of a lip. This means creating a watertight seal between your bathroom tiles, tub, and the wall is more difficult. Some people have overcome this by using chemical bonding materials to ensure the seal is watertight.
Product Specs
| | |
| --- | --- |
| Size | 48" Long x 48" Wide x 19" Deep |
| Capacity | 70 gallons |
| Weight | 60 pounds |
| Type | Corner |
| Warranty | 5 years |
Our Ratings
Community Feedback
"This corner tub from American Acrylic is a unique addition to any bathroom due to its distinctive pentagonal shape. The compact size, measuring 48 x 48 x 19 inches, allows it to fit snugly in corners, maximizing available floor space while still boasting a generous soaking depth of 15 inches. This tub can comfortably hold 70 gallons of water, providing a thorough soak despite its smaller footprint. The modern design and choice of colors, combined with the strong materials, make this tub a stylish and durable option."
---
American Standard Evolution Whirlpool Bath Tub
Best Whirlpool Small Bathtub
If you want luxury in a small space, there is nothing better than a compact tub with a whirlpool spa. This whirlpool bathtub from American Standard features eight adjustable jets and an on/off control mounted on the side of the tub.
The tub is made easier to keep clean by American Standard's patented Everclean additive. This greatly reduces the possibility of mold and mildew in the bath's pipes.
To use this tub, it will need to be connected to your home's electrical supply. This will power the tub's one-speed motor.
What We Like
Deep-Soak Drain
Although it is not supplied with the tub, a deep-soak drain can be purchased separately to provide 3 extra inches of maximum water depth. This can make a significant difference in how comfortable your bath is.
Reinforced Materials
This small jetted tub is made of fiberglass-reinforced acrylic, making it durable, lightweight, and warmer to the touch than cast iron tubs.
What We Don't Like
Manufacturing Defects
Some unlucky customers have received this bathtub with scratches on the sides. Thankfully, American Standard replaced the tubs on these occasions, so this isn't an issue you would have to live with.
Product Specs
| | |
| --- | --- |
| Size | 60" Long x 36" Wide x 21.5" Deep |
| Capacity | 87 gallons |
| Weight | 136 pounds |
| Type | Whirlpool, drop-in |
| Warranty | Not specified |
Our Ratings
Community Feedback
"Great experience with this tub! I've installed it during our remodel and it fitted perfectly, thanks to its size. My wife enjoys the comfortable depth and the powerful jets that come with an optional heater for maintaining warm water. However, for me at 5'8", bending my knees to maximize water coverage is a bit of a drawback. The adjustable jets are a nifty feature, you can reduce or turn them off by just rotating the collar on each outlet. Despite some minor scratches on this tub, its overall quality and reasonable price make it a worthy addition to our bathroom."
---
Types of Small Bathtubs
Historically, there has been far less choice in bathtubs for small spaces compared to their larger counterparts. Thankfully, this has changed in recent years and there is now as much variety in small bathtub sizes as in larger ones. The most popular types of small bathtubs include:
If there is a space in your bathroom with three walls around it, you should be able to find a tub that fits, even if it looks tight.
Alcove or recessed tubs usually only have one finished exterior side as the others are fitted flush to your bathroom walls. To complete the built-in look, they are often installed alongside wall-mounted faucets with an attached shower head and shower system.
Corner Tubs
Corner tubs are perfect for saving space, fitting snugly into bathroom corners and freeing up space for other features. They are designed to be installed flush with two bathroom walls, often in a quadrant shape featuring another curved side with an exterior finish.
As with alcove tubs, you can install shower fittings into a bathroom wall to enjoy the best of both worlds. Small corner tubs are very popular, which means you will have plenty of options to choose from.
Drop-In Tubs
Drop-in bathtubs are versatile models that can be surrounded by low walls or installed into a pre-built platform. As the tub will be surrounded by walls, none of its sides are finished. However, it will have a rim that sits on top of its surroundings for a more finished appearance.
This type gives you more flexibility when designing the platform, as you can effectively use any material or style you want.
On the other hand, this freedom comes with a cost. Unlike a freestanding tub, which is a complete unit, you will also need to pay for the mount/platform that a drop-in tub will be installed into. Don't forget to factor this into your budget.
Freestanding tubs don't require any extra walls or a platform as every side of the tub is finished. As their name suggests, they are designed to stand alone and can be placed anywhere in your bathroom.
Keep in mind that you might need some extra plumbing with freestanding tubs as they are often separate from their faucets. These faucets can also be freestanding or installed on an adjacent wall.
A major advantage of small freestanding tubs — in addition to being statement pieces — is that there is a huge range of shapes and sizes to choose from. Many modern designs sit flush on the floor, while traditional styles often have a stand, pedestal, or claw feet.
Walk-In Tubs
Designed for people who have difficulty climbing into and out of a standard tub, walk-in bathtubs have a door that opens to provide access. These doors are watertight and are usually at floor level, so there won't be a big step up to get in.
Many of this bathtub type have a built-in seat, safety bars, and whirlpool features to make your bath more accessible and far easier to use. They are usually deeper than a standard tub while occupying less floor space and fitting into alcoves.
Choosing the Best Small Bathtub
Even if have chosen a particular type of tub, you still have a lot more to consider before you can choose a specific model. Before you buy a bathtub, think about:
---
FAQs
---
Thank You For Your Feedback!
Thank You For Your Feedback!