We're not all blessed with spacious bathrooms that allow for luxurious statement tubs in the middle of the room. However, even if your spacing options are limited, the right small bathtub can still provide you with a relaxing soak.
After all, while a shower is refreshing and does the job of getting you clean, sometimes there's nothing better than a chill-out session in the tub. Luckily, there are tubs designed to fit into more modestly-sized bathrooms.
We've got you covered for what to look for when shopping for the best small bathtubs for small bathrooms.
---
Types of Small Bathtubs
The type of tub you choose could depend on the amount of space you have, as well as your bathroom design choices. Did you know not all models are classified in the same bracket? Check out some of these different varieties:
Shop This Product
If you have a nook in your bathroom with walls on three sides, you can still get a tub that fits, despite what you may think.
Alcove or recessed tubs tend to be finished on one side only since the others are attached to the walls. It's common for them to fill from wall-mounted faucets with an attached shower head and shower system.
---
Corner Tubs
Corner tubs are excellent space-saving options, fitting perfectly into corners of bathrooms and freeing up space for other bathroom fixtures and fittings. Most tubs can be fit into a corner; however, these tend to have only one side finished. This is due to the shapes being triangular or clover.
As with alcove tubs, shower fittings are still a possibility if you want the best of both worlds.
Corner tubs can come in many designs so you can choose one that appeals to you most.
Drop-In Tubs
Shop This Product
These are a versatile style of bathtub that can be dropped into surrounding walls or a pre-built platform. None of the sides are finished; however, there is a rim that sits on top of your prepared area.
Their design means you have more flexible options for the platform, making the most of any available space you have.
One thing to note about drop-in tubs is the added cost of the build area. This mainly comes in the form of the mount/platform to place the tub on. Don't forget to build this into your budget!
---
Shop This Product
Freestanding tubs need no walls or platform; they're designed to stand alone and can be placed anywhere in your bathroom. As a result, all the sides of the tub are finished, letting you position it however you want.
Be aware that you may need some extra plumbing with freestanding tubs as the faucets are often freestanding too. Although, some can be placed next to a faucet on a wall.
The great thing with freestanding tubs — apart from being statement pieces — is there's a wide choice of shapes and sizes to choose from. Some of these sit flush to the floor, while others have a stand, pedestal or claw feet.
---
Walk-In Tubs
Shop This Product
Great for people who can't step into a standard tub, these have a door that opens to step in. Don't worry, the door is designed to be watertight and usually at floor level.
Many of these types of tubs have a seat, safety bars, and whirlpool features built-in.
Often deeper than a standard tub, they can take up less space and fit into an alcove.
---
Choosing the Best Small Bathtub
Even if you've narrowed your options down to one of the above varieties, there are still some extra factors to take into account:
1. Size
We realize this may sound dead obvious, but you'd be surprised how many people forget to check the space they actually have available for a tub.
Measure
Make sure you carefully measure the width and length of the area you're placing your tub. Also, check that your doorways and any other entry points are big enough to get it in.
2. Depth
Is your heart set on a deep bath? Or, are you happy with a shallow model for a quick soak? Even if you find a tub that looks amazing and is the right size, don't be disappointed with the depth.
3. Installation
Think about how you want to install your tub. Will it need a platform built? Is there an alcove you can use? Can you fit in a freestanding tub?
Unless you're completely gutting and redesigning your bathroom, you should consider the existing features and the layout. Check where your faucets and plumbing are to see if they'll fit in with the tub you choose.
4. Added Extras
Some small tubs come with whirlpool jets, air jets or walk-in doors, as examples. Consider whether you'd like any of these, even though they'll add to the bill.
Warning
If you do choose some extras, check to see if you need any additional faucets or fittings.
---
Best Small Bathtubs for Small Bathrooms of 2020
There's a plethora of best bathtubs on the market. Choosing the right one can be challenging. But we've looked at customer feedback and the views of industry experts to bring you our top 7 best small bathtubs for small bathrooms.
1. Kohler Drop In Soaking Tub
Best Overall Small Bathtub
Measuring just 48 inches long and 32 inches wide, this bathtub has a small footprint for small bathrooms. It's suitable as a drop-in option or could fit an alcove.
Made from acrylic, it won't be as chilly as other materials, and should have good heat retention (1). This is great if you enjoy a long, relaxing soak in a bathtub. Kholer even includes a vinyl bath pillow in the package to enhance your bathing experience.
Why We Love It
Deep for Soaking
The depth from the bottom of this bath to the overflow is 17.875 inches, and the overall depth is 23.4 inches. This makes it a nice, deep soaker tub for one person. Additionally, the back of the tub is set at a nine-degree angle to help give your back some support while laying back.
Five Finishes Available
Not everyone wants a white bathtub; if that's you, then this one has five different finishes available. You can choose from almond, sandbar, biscuit, dune or white. Matching your tub to the decor in your bathroom makes everything feel cohesive.
Parts Included
Along with your bathtub, you also get an overflow drain, which is finished in polished chrome. Not all tubs come with such extras, so this is a major bonus.
Keep In Mind
This Tub is Deep
For most, the depth of this tub is a positive thing — however, if you have health issues with hips or knees, you might have difficulty in getting in and out of it.
Additional Specs
| | |
| --- | --- |
| Size | 48" Long x 32" Wide x 23.4" Deep |
| Capacity | 68 gallons |
| Weight | 88 pounds |
| Type | Drop-in or three-wall alcove installation |
| Warranty | One year |
---
2. Ella Malibu Air and Hydro Massage Walk-in Bathtub
Best Walk-In Small Bathtub
If you're looking for a walk-in tub with all the bells and whistles, this one from Ella could fit the bill. It has a patented three-latch door made from a custom-crafted industrial plastic composite with a tempered glass panel. This should give a more secure watertight seal than a door with a double or single latch.
It should be easy to step into the tub through the door since it's set so low to the floor. This is great if you happen to have mobility issues and can't step into a standard bathtub.
Why We Love It
Safety First
This bathtub is fitted with two stainless steel grab bars and has a slip-resistant finish on the floor. This gives you more security when you're standing up in your tub and when stepping out of it.
Water and Air Massage
You can get a full spa feeling with the 16 air jets and 13 water jets. The water jets have an inline water heater to keep your bath nice and warm. Both types of jets have controls, so you can choose the intensity of the water jets or the speed of the airflow.
There's also an infusion microbubble therapy system that aims to hydrate and exfoliate your skin.
Dual Drainage System
There are two floor drains in this tub, each measuring 2 inches. This means a faster drainage speed, which is important as you have to drain the tub before you can get out of it. Also, should one of the drains fail, you still have a backup.
Both drains are fitted with easy-grip handles so you shouldn't have to struggle to get them open.
Keep In Mind
Might Take Some Time to Fill
A walk-in tub means you have to be in it before you can fill it. This one has a 20-inch seat, so you don't have to stand and wait. Nevertheless, it could still take between 15 and 20 minutes to fill, depending on your water pressure.
Additional Specs
| | |
| --- | --- |
| Size | 30″ Wide x 52″ Long x 43″ High |
| Capacity | 90 gallons |
| Weight | 220 pounds |
| Type | Walk-In Jet and Air Whirlpool |
| Warranty | Limited lifetime warranty on the door, frame and shell; 5-year parts warranty |
---
3. Veba Luxury Freestanding Bathtub
Best Round Small Bathtub
A round bathtub could be a good solution for a small space in your bathroom. This one measures 47 inches in diameter and 27.6 inches in depth. It's also freestanding so you can choose where in your bathroom you want to place it.
It's made from a gloss-white finished acrylic and is reinforced with four layers of fiberglass to give it added strength. It also has a double-walled design that better retains your bathwater's heat.
Why We Love It
Drain and Overflow Included
This bathtub comes with the overflow and drain factory fitted, saving you some hassle. Also supplied are a stainless steel bracket to stand the bath on and adjustable feet to level it.
Internal Seat
This bath is deep; you have an internal height of 22.5 inches and a depth of 18.75 inches from the base to the overflow. So you can submerge yourself in comfort, there's a 7.1-inch-high seat inside the bath.
Keep In Mind
Faucet Not Included
As with many other freestanding bathtubs, there's no faucet included in the package. Unfortunately, you'll need to purchase one separately. You could choose one like this from JiaYouJia, which also has a handheld spray attached.
Additional Specs
| | |
| --- | --- |
| Size | 47″ Long x 47″ Wide x 27.6″ Deep |
| Capacity | 90 gallons |
| Weight | 129 pounds |
| Type | Round Freestanding |
| Warranty | 5 years on bathtub body, 1 year limited on the plumbing parts |
---
4. Woodbridge White Acrylic Freestanding Contemporary Bathtub
Best Freestanding Small Bathtub
Woodbridge makes this tub with dimensions that are a good choice for small spaces. You can have the luxury look of a freestanding tub measuring 28.375 wide by 54 long and 28.375 inches high. This allows you to make it the centerpiece of your room, fit it in an alcove or set it against a wall.
The water capacity is 55 gallons, and the maximum water depth is 15 inches from the base to the overflow. So, even though this tub is small, you can still soak away the stresses of a busy day.
It has smooth curves and is a slipper style — higher at one end than the other. It's designed with a sloping end and contours to support your head and back.
Why We Love It
Durable Construction
A double-walled design can help insulate this bath to keep the water in your tub hotter for longer. It's made from fiberglass-reinforced acrylic, which makes it strong and easy to clean (2). We're also told that the finish is designed to resist scratching, dulling, and fading.
Overflow and Drain Included
An overflow and push-to-pop-up drain come factory-fitted on this bath, making it ready to install. Not all freestanding tubs come with this, so it's a bonus.
Adjustable Legs
Legs are fitted to the base of this tub and can be adjusted to level it when installing. Connecting to your existing plumbing should be a breeze with the flexible tube drain and hose that are included.
Keep In Mind
Not Good If You're Tall
This tub is great for people who are vertically challenged. But, if you are on the taller side, you won't be able to stretch out in it.
Additional Specs
| | |
| --- | --- |
| Size | 54″ Long x 28.375″ Deep x 28.375″ Wide |
| Capacity | 55 gallons |
| Weight | 80 pounds |
| Type | Freestanding |
| Warranty | 30-day money-back guarantee, 1-year warranty |
---
5. American Standard Cambridge Integral Apron Bathtub
Best Alcove Small Bathtub
If you're looking for an American-made traditional style tub for an alcove, the clean lines of this one fit right in. It comes in four colors to match your decor: white, arctic white, bone, and linen.
Measuring 60 inches long by 32 inches wide by 17.75 inches deep, it gives you a soaking depth of 14 to 16 inches. This means you can submerge yourself and soak in a tub even though you don't have a large bathroom. It also has a beveled headrest and contoured back support to help make it more comfortable.
Why We Love It
Patented Americast Construction
American Standard has used its proprietary Americast material to make this tub. It's designed as a durable alternative to cast iron at half the weight.
Formed from a composite outer layer, an enameling grade steel middle layer and a porcelain enamel finish, it's strong, scratch-resistant, and easy to clean (3). We're also told this material helps retain heat, keeping your bathwater warm.
Slip-Resistant Base
Another patented material, StanSure, has been placed on the inside base of the tub. The idea behind this is to provide a slip-resistant and easy-to-clean bathtub floor.
Ease of Installation
If a tub's hard to install, it can put people off instantly. This model comes with padded carrying bars and a leveling grid to help make installation easier.
Keep In Mind
Slip-Resistant Base Might be Hard to Keep Clean
Although the company claims its slip-resistant base is easy to clean, it seems this isn't always the case. Some find that marks are left on that can't be removed. We're unsure if they're using appropriate cleaning products or not, but be aware of this when choosing your tub.
Additional Specs
| | |
| --- | --- |
| Size | 60" Long x 32" Wide x 17.75" Deep |
| Capacity | 60 gallons |
| Weight | 145 pounds |
| Type | Alcove or Recessed |
| Warranty | Limited lifetime warranty |
---
6. American Acrylic Soaker Bathtub
Best Corner Small Bathtub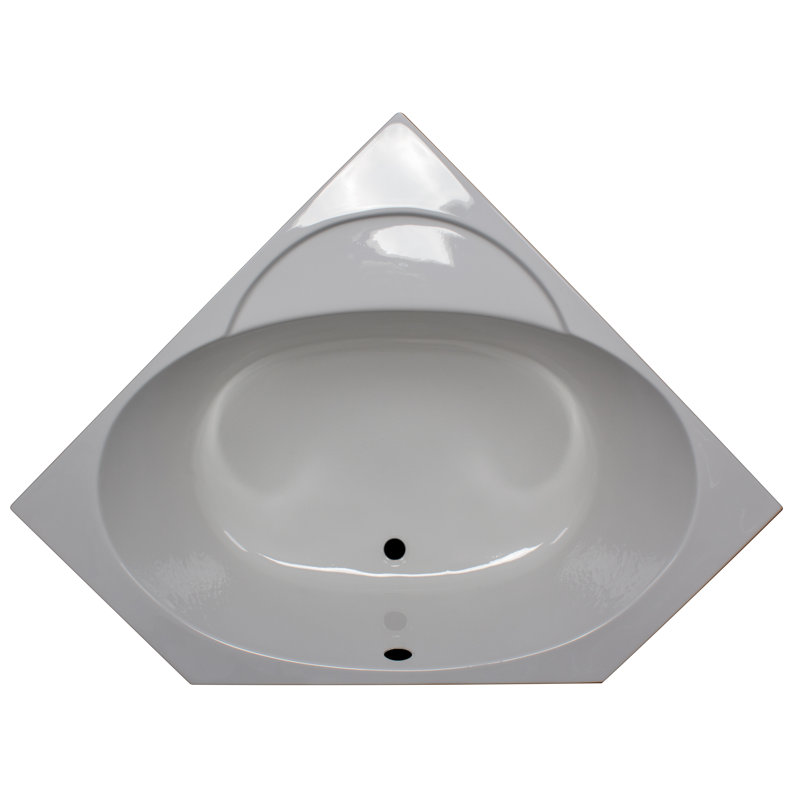 This corner tub from American Acrylic measures a mere 48 inches long by 48 inches wide by 19 inches deep. It will hold 70 gallons of water with a soaking depth of 15.5 inches.
Such dimensions provide for a deep-bathing opportunity while saving space in your already small bathroom. Corner tubs are an excellent option, so this might suit you if you're looking for a contemporary look and are short on space.
Why We Love It
Choice of Colors
There are three colors on offer for this bathtub. You can choose from white, bone or biscuit to enhance your bathroom design. This is great if you want a color that might give a warmer feel to your room than white will.
Strong Materials
The tub is constructed from premium-quality acrylic, which should be strong and long-lasting. We're also told that the tub is rust, tarnish, scratch, slip, stain, and fire-resistant.
Keep In Mind
No Lip
It appears that the edges that butt up to the walls don't have much of a lip. If you plan on fitting a shower over the tub, this might make it hard to tile to the edge of it. Some have had to use chemical bonding materials to ensure that there are no leaks down the side of the tub.
Additional Specs
| | |
| --- | --- |
| Size | 48" Long x 48" Wide x 19" Deep |
| Capacity | 70 gallons |
| Weight | Not specified |
| Type | Corner |
| Warranty | 5 years |
---
7. American Standard Evolution
Best Whirlpool Small Bathtub
For added luxury in your small bathroom, why not get a small tub with a whirlpool spa feature? This bathtub from American Standard has a system with eight adjustable jets and an on/off control mounted on the side of the tub.
Maintenance of this tub is made easier by a patented Everclean additive. This promises to keep mold and mildew at bay in the pipes.
Be aware that you'll need a power supply near your tub to service the one-speed motor that's supplied.
Why We Love It
Deep-Soak Drain
While not supplied with the tub, a deep-soak drain can be purchased separately to allow for 2 inches more water in this tub. This means a deeper bath for you to soak in.
Reinforced Materials
The bathtub is made from fiberglass-reinforced acrylic. This should make your tub durable, lightweight, and warm to the touch compared to cast iron tubs.
Keep In Mind
Manufacturing Defects
Some unlucky consumers have found the sides of this bathtub to be very thin. Fortunately, the manufacturer has replaced the tubs on these occasions, which shows that it was a bad batch rather than a poor design.
Additional Specs
| | |
| --- | --- |
| Size | 60" Long x 32" Wide x 21.5" Deep |
| Capacity | 74 gallons |
| Weight | 54 pounds |
| Type | Whirlpool, drop-in |
| Warranty | Limited 1 year |
---
Detailed Comparison Chart
---
Small but not Lacking
Whether it's your ensuite bathroom, the one in your tiny home or a family bathroom, a lack of space can be a challenge when it comes to soaker tubs.
The best small bathtub means you can still bathe whenever you want to, and relax away the stresses of the day. They can also be a perfect solution for kids who don't like showers and prefer to play and soak in a bathtub.
Just because some tubs are small, that doesn't mean they can't have all the features of their larger counterparts. Rest assured you can still lie back and relax with a smaller tub. Just don't forget to check the size of your available space before committing to a purchase!