If you're wondering how to choose a shower stall and kit that will work for you, we've got you covered. It can be time-consuming and costly to pick the wrong model!
When shopping, consider the available space in your bathroom. Some models are designed for small spaces, while the larger footprint of other products is best for larger rooms.
Besides space, the design, installation, and durability are other critical elements to consider.
Image
Model
Product Comparison Table
Features
Most Budget-Friendly
El Mustee Shower Stall
Built to prevent leaks
Included shelves
Easy to install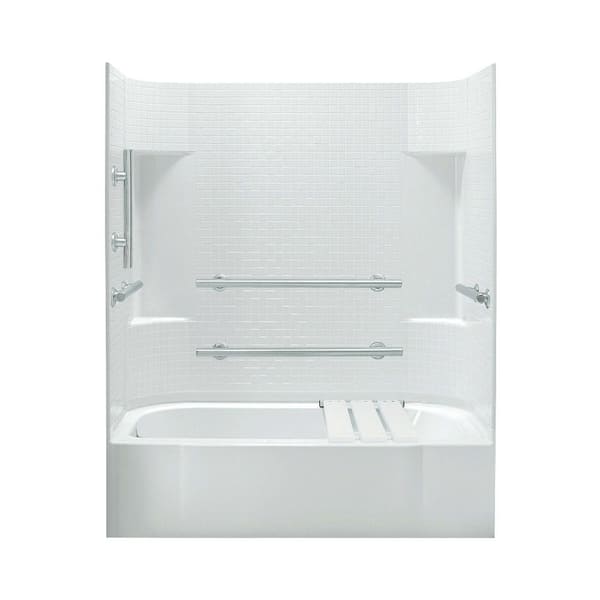 Best Walk-In Shower Kit
Sterling Shower Kit
Storage shelves
Senior-friendly
Easy installation
Best Shower Kit for Small Bathrooms
Ove Decors Breeze Kit
Compact size
Reversible doors
High-quality materials
Best for Large Bathrooms
VIGO Corner Frameless Shower
Extra space
High-quality standards
Magnalock™ technology
Most Fashionable Shower Kit Design
DreamLine French Sliding Shower
Sleek design
Quality material
Safety features
---
What are Shower Stalls and Kits?
Shower stalls and kits are typically pre-made shower cubicles. There are a few types and designs available:
One-Piece Shower Stalls
Single-piece models actually include two pieces — the base and the walls. Because they don't always fit through doors, they're typically used when building new homes. They aren't easy to transport, but installation is generally straightforward.
Multiple-Piece Shower Stalls
Here, the wall comes in separate pieces, usually three or four. If you're renovating your bathroom and looking to upgrade your shower, this type might be preferable. The individual sections should easily match door frames, and assembly generally consists of snapping the panels together.
Take Note
Single and multiple-piece models don't always include doors.
Enclosure Shower Kits
These products typically include all three components needed for a finished shower — the base, wall, and door. Some models, however, are designed to fit bathrooms with tiles already affixed on the floor and/or walls. In this case, you only need the enclosed doors, without a base or panels.
Take Note
For all types, the showerhead typically needs to be purchased separately.
Shower Kits Designs
Stalls and kits come in a multitude of shapes to suit all tastes. Some models are as simple as it gets, while others include a seat, shelves, and sliding doors. You'll find products with square, rectangular, round or prism shapes.
Walk-in types are generally designed for seniors. Selecting the right shape is primarily a matter of preference, needs, and bathroom space.
Benefits of a Shower Stall and Kit
Some people enjoy making custom showers, choosing the tiles and hiring a carpenter to complete a unique shower unit. While it might sound appealing, pre-made shower stalls have become popular for several reasons:
A primary advantage of shower kits is how easy they are to set up. This means you can either do it yourself or hire a handyman.
DIY Installation
The various pieces are easy to transport from your department store into your home since they're lightweight. The installation generally only requires a drill, screwdriver, and some caulking.
Take Note
Squared models are usually easier to set up than rounded designs.
Hiring a Professional
If you don't trust your skills, hire an expert. A qualified handyman should have the shower completed in no time, freeing up your own time and energy.
Installation Steps and Guidelines
Check the user's manual: Every model usually comes with a set of instructions. Make sure you consult the manual before starting.
Ensure the kit is complete: If you're missing even one small piece, this means that you'll have to disassemble the entire shower to return it.
Decide on the location: Where is your drain located? Are you positioning the shower against a flat wall or in a corner?
Slide the base: Ensure it's leveled on all sides. Uneven floors could mean future floodings. The hole in the bottom should be above your shower drain pipe.
Tape the drain hole: To avoid dropping and losing tools and screws.
Attach the walls: Screw the panels together.
Finish with the door: For this part, you might need a partner. One of you should hold the door while the other screw the door to the wall panels.
Silicone shower caulk: If the installation requires a silicone application to prevent leaks, allow it to dry for 24 hours before using the shower.
Take Note
Silicone caulk isn't generally included and needs to be purchased separately.
Because shower stalls and kits don't normally include tiles, they're easy to clean. You won't need to use harsh cleaning products to remove grout. To wash fiberglass or acrylic, a mixture of vinegar and dishwasher soap is enough.
Available for All Budgets
While customized showers can be very costly, shower stall and kits are available for all budgets. Whether you're looking for a high-end product or a basic model, you should find what you need.
Shower stalls and kits are ideal if you're looking to optimize space. Even the largest models are rather compact.
For tiny bathrooms, sliding or bypass doors are usually preferable. If you opt for swinging doors, ensure that you have the required width, allowing them to open fully. Constantly knocking glass doors will likely limit their durability.
Shower stalls are less prone to cracking and water leakage than customized tiled showers. They're typically made of either acrylic or fiberglass, while some models combine both materials.
Fiberglass Material
This material is lighter and less expensive than acrylic. The fiberglass acts as a porous material and usually has a coated surface. When the surface wears off, mold and scratches will quickly damage the stall.
Although less durable, a shower stall made of fiberglass should last you 10 to 15 years.
Acrylic Material
This material looks almost identical to fiberglass. It's non-porous, and therefore more resistant to mold, fading, and scratches (1). On the downside, it's heavier than fiberglass and also comes at a higher price point.
Hardware and Frames
When it comes to the frame and hardware — such as doorknobs and hinges — the best models are made of durable stainless steel (2). Some come with a nickel or chrome finish, giving your shower a unique look.
Regardless of the material, we recommend selecting a well-established brand with recognized certifications, such as cUPC (3). They generally back up their products with a generous warranty.
Your Final Shopping Checklist
Durability: Look at both wall and base material, but also hinges, knobs, and the frame.
Style and design: Consider the available space and layout of your bathroom. Choose between rounded, squared, enclosed kits, single or multiple-piece types.
Easy installation: How long will it take you or your hired professional to set up the shower? Can it be affixed alone, or will you need assistance?
Budget: Set yourself a target budget; it's easy to spend more than initially planned.
Extras: Do you need a seat and/or storage shelves?
---
The Best Shower Stall Reviews of 2022
Shower stalls and kits are one of our specialties. Of all the models available, we've chosen the top five products that meet a long list of our requirements, combined with expert opinion and customer reviews.
1. El Mustee Free-standing Shower Stall
Most Budget-Friendly Shower Stall
Are you looking for a simple shower stall without all the bells and whistles?
Something small, budget-friendly, and easy to set up on your own? This model may be what you're looking for.
Although straightforward, it comes with all the needed features and specifications, making it safe, durable, and convenient.
The Pros
Built to Prevent Leaks
The wall panels are leakproof. This prevents the water from making its way out of the stall. Aside from that it withstands rust.
Included Shelves
Despite its simplicity, this model comes with shelves, which many consider to be essential. It also includes shower valve, safety railing, self draining soap dish & shampoo container.
Ideal for DIY lovers
Regardless of skill levels, this shower stall is suitable for anyone wishing to install their shower alone. The four sections are lightweight, making transportation and setup a breeze.
The various parts are designed to easily snap one onto another.

The Cons
Doesn't Include a Door
The door isn't included. Whether you're planning on using a shower curtain liner or glass doors, you'll need to use a barrier to avoid flooding your bathroom.
Additional Specs
| | |
| --- | --- |
| Type | Shower stall — square shape. |
| Dimensions | 32 x 32 x 74.75 inches |
| Weight | 40 pounds |
| Material | Polyvinyl chloride |
| Unique Feature(s) | Soap dish & shampoo container |
---
2. Sterling Shower Kit with Seat and Grab Bars
Best Walk-In Shower Kit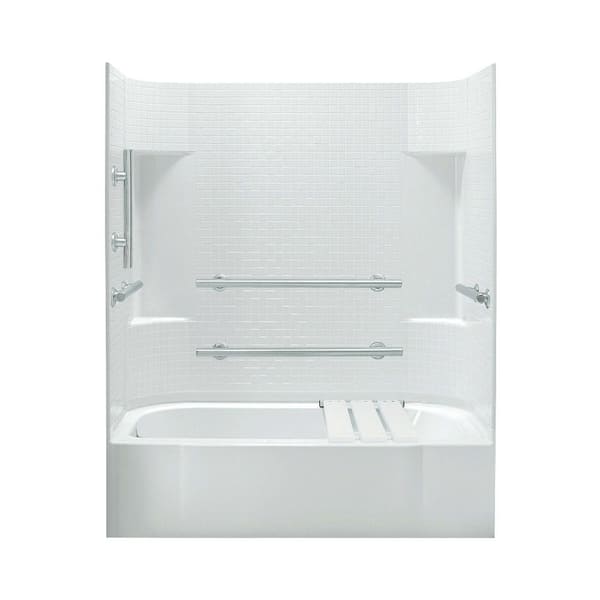 This Sherling shower kit combines ample space, storage, and optimum safety. It's convenient and versatile in several ways. It provides storage space, a large area to complete beauty duties or can offer assistance in staying balanced.
This stall is sturdy and resistant since it's made from a Vikrell material — fiberglass. The glossy finish adds to its durability and makes it easy to clean. If you're worried about the sturdiness of this shower kit, the manufacturer provides a 10-year warranty.
The Pros
Included Seat
The bench might be the primary differentiator of this product. Some users place their toiletries on it, while others enjoy the leg support it provides when shaving. Seniors might appreciate the backup option it offers when suddenly feeling tired.
Storage Shelves
In a shower, storage space is often limited. This product includes four shelves. You might even want to assign one shelf per member of the family.
Senior-Friendly
Besides the versatile seat, a few more elements contribute to its senior-friendly features. The walk-in concept makes it easy to get in and out. In addition, it comes with grab handles — one on each side and a third in the center.
As seniors tend to struggle with balance, easy access and handles should come in handy (4).
The Cons
Doors Aren't Included
This shower stall doesn't come with doors or a closure system. You'll need to either install shower curtains or glass doors as needed.
Additional Specs
| | |
| --- | --- |
| Type | Shower stall — walk-in. |
| Dimensions | 30 x 60 x 74.25 inches |
| Weight | 191 pounds |
| Material | Vikrell material, glossy finish |
| Unique Feature(s) | Four shelves, one bench, three grab handles |
---
3. Ove Decors Breeze Kit With Walls and Base
Best Shower Kit for Small Bathrooms
This shower kit has been designed with small spaces in mind. Designed to fit any corner, it's elegant and discrete. The tempered glass should add a unique and distinct aspect to your bathroom while providing intimacy.
This durable model doesn't compromise quality for size; the manufacturer even offers a 5-and-a-half-year limited warranty.
Is your bathroom already equipped with wall tiles? This product can be ordered without the wall panel.
The Pros
Compact Size
Although compact, this model doesn't feel overly restricted in size. The rounded shape is simple and appealing to the eye. The sliding opening will prevent you from knocking the glass panels as you enter and exit the shower.
Overall, this tiny model should perfectly suit small to medium-sized bathrooms with limited space.
Reversible Doors
The sliding doors are also reversible and can be installed either on the right or left side. Whether you're right or left-handed, the opening system is designed to suit everyone.
High-Quality Materials
Sturdy acrylic is found throughout this model. The base is reinforced with fiberglass for better durability. A chrome finish has been applied to the hardware to improve resistance, and the sturdy glass doors are 0.25-inch thick.
The anti-splash glass panels prevent water spills, making cleaning a breeze. Finally, this product is CSA-certified, meaning it's gone through extensive testing to ensure its safety and quality (5).
Storage Shelves
This shower stall includes two enclosed storage shelves, which are ideal for storing shampoo, soap, and other shower accessories. They're conveniently located at different heights, so are suitable for every member of the family.
The Cons
Difficult Installation
The rounded shape requires some assistance for proper installation. Professional help can be purchased alongside the shower stall. As it represents a significant additional cost, this should be budgeted for.
Additional Specs
| | |
| --- | --- |
| Type | Shower stall — rounded shape |
| Dimensions | 36 x 36 x 72.81 inches |
| Weight | 221 pounds |
| Material | Acrylic wall and base, fiberglass reinforced base, chrome hardware finishing |
| Unique Feature(s) | Reversible doors, two shelves |
---
4. VIGO Corner Frameless Neo-Angle Shower Enclosure
Best Shower Kit for Large Bathrooms
Do you have a medium to large bathroom and appreciate any extra space when showering?
This enclosure kit features a prism base, which optimizes space, giving you more room to shower.
The manufacturer went above and beyond to provide a high-quality product. Hinges, closures, hardware, and the base are all built to last.
The Pros
Extra Space
If your bathroom has enough space, why not take advantage of it? You'll have more freedom of movement. Some users even mention that it can fit two people.
High-Quality Standards
Every corner of this shower seems to be designed with durability in mind. The hardware is made of 304 stainless steel with chromium and nickel content, preventing rust and corrosion. The handle itself is built with sturdy brass.
The base is made of acrylic and fiberglass, reinforced with wood. Acrylic is textured to avoid slipping when the surface is wet.
The product has been certified by both the Consumer Product Safety Commission and Intertek, guaranteeing the glass quality and robustness (6).
MagnaLock™ Technology
To ensure the door stays closed at all times and to avoid water leaks, the manufacturer added a magnetic strip to the doors. The hinges also self-close within a 15-degree angle.
Reversible Door
The door comes with both right and left configuration. As the door is pretty heavy, our left-handed friends will be happy to have it adapted to them.
The Cons
Swinging Door
This type of door takes an incredible amount of space to open. With an extra-large door opening width — 26 ¼ inches — you won't only need a large bathroom, but a wide one as well.
Additional Specs
| | |
| --- | --- |
| Type | Shower kit enclosure – prism shape |
| Dimensions | 42 ⅛ x 42 ⅛ x 78 ¾ inches |
| Weight | 290 pounds |
| Material | Acrylic fiberglass, clear tempered glass, brushed nickel, stainless steel, brass |
| Unique Feature(s) | Extra space |
---
5. DreamLine French Corner Sliding Shower Enclosure
Most Fashionable Shower Kit Design
This shower kit includes enclosed sliding doors and a matching base. The satin black color gives this model a sleek and classy European look. If you're looking to give your bathroom a unique vibe, this product might be worth considering.
The patterned base even prevents dangerous slips since it's made from high-quality material. As this model doesn't include wall panels, installation should be rapid and smooth.
The Pros
Sleek Design
We love the fashionable design of this shower enclosure kit; it reminds us of old London phone booths. Additionally, the matching black base should fit most bathrooms' styles.
Also, the corner design makes it suitable for most spaces, even the smallest ones. The compact size also contributes to this design's cuteness.
Quality Material
This shower enclosure kit meets both American and Canadian quality standards since it's cUPC certified.
The sliding doors come with a magnetic watertight closure, preventing water leaks. The tempered glass gives it better resistance to shock and will provide privacy.
On top of that, this product contains high-quality anodized aluminum handles and brushed nickel finishings. For added resistance to stains and scratches, the manufacturer even included a glossy acrylic finish to the base.
Safety Feature
We highly value the textured slip-resistant surface that's been added to the base. This makes it safer for both adults and kids. It's also designed to sit low for easy and safe entry and exit.
Easy to Install
Although reviewers have mentioned that installation requires two persons, the clear instructions make the setup simple and straightforward.
Also, the anodized aluminum wall profiles allow installation on uneven walls — half an inch per side.
The Cons
Difficult to Clean
Since the door panels are composed of tiny individual glasses, cleaning will require more time and elbow grease. Instead of cleaning the entire panel at once, you'll need to proceed with one square at a time.
Thin Glass
Some reviewers mentioned that the glass was thinner than expected, and were disappointed by the fragile look. To avoid breaking or cracking the glass, close the doors slowly and gently.
Additional Specs
| | |
| --- | --- |
| Type | Enclosed shower kit – square shape |
| Dimensions | 36 x 36 x 74.75 inches |
| Weight | 123 pounds |
| Material | Acrylic, patterned and slip-resistant base, anodized aluminum wall profiles |
| Unique Feature(s) | European design |
---
| Product | Best | Type | Dimensions | Weight | Material |
| --- | --- | --- | --- | --- | --- |
| El Mustee Shower | Budget-Friendly | Shower stall — square shape. | 32 x 32 x 74.75″ | 40 lbs | Polyvinyl chloride |
| Sterling Shower Kit | Walk-In Shower Kit | Shower stall — walk-in. | 30 x 60 x 74.25″ | 191 lbs | Vikrell material, glossy finish |
| Ove Decors Breeze Kit | Small Bathrooms | Shower stall — rounded shape | 36 x 36 x 72.81″ | 221 lbs | Acrylic wall and base, fiberglass reinforced base, chrome hardware finishing |
| VIGO Corner Frameless Shower Enclosure | Large Bathrooms | Shower kit enclosure – prism shape | 42 ⅛ x 42 ⅛ x 78 ¾" | 290 lbs | Acrylic fiberglass, clear tempered glass, brushed nickel, stainless steel, brass |
| DreamLine French Corner Sliding Shower | Fashionable Design | Enclosed shower kit – square shape | 36 x 36 x 74.75″ | 123 lbs | Acrylic, patterned and slip-resistant base, anodized aluminum wall profiles |
---
In a Nutshell
To find the best shower stall and kit for you, take into account all the above factors and elements. Spacious, compact, squared, rounded, walk-in or even enclosure kits should be considered according to your requirements and available bathroom space.
While bathroom size is important to consider, the kit's quality is also critical, since even the most affordable options can represent a significant investment. Stainless steel, acrylic, and fiberglass materials typically make for the most durable products.
Finally, the installation process shouldn't be underestimated, even if you're hiring a professional. Make sure you budget enough money and time to get it installed right.