Imagine having the experience of a high-end spa in the shower, every day. Well, you can, by investing in a new shower panel.
These units come with rainfall shower heads, handheld variable jet sprays, and body massage sprays, combined to give you the ultimate shower whenever you want. You can choose whichever combination suits your mood, whether you need to relax or be invigorated.
Since they're so versatile, shower panels can be part of a full bathroom renovation or simply as an upgrade to your existing shower.
Image
Model
Product Comparison Table
Features
Best Overall Shower Panel
Blue Ocean Shower Panel
LED temperature
Four types of spray
Has a tub spout
Best LED Shower Head
Ello & Allo Shower Panel Tower
Multi-functional spray
Durable materials
Horizontal jets
Easiest To Fit
Pulse ShowerSpas Shower System
Long handheld hose
Easy to clean
Adjustable sprays
Best Stainless Steel Shower Panel
Blue Ocean 52" Stainless Steel
Multi-functional
Spa-like experience
Sleek design
Best for Simultaneous Functions
Ello & Allo Shower Panel
LED lighting
Adjustable jet nozzles
High quality stainless steel
Best Slimline Panel
Pulse ShowerSpas Kauai III
No drilling necessary
Easy to install
Water-saving flow rate
Best Four-in-One Shower
Rovogo Shower Panel Tower
Five powerful water jets
Two water pattern options
Additional 3 setting shower wand
---
---
Product Reviews
Working your way through customer feedback and industry expert reviews can be tedious. So we've done it all to bring you our list of the best shower panels on the market.
1. Blue Ocean Stainless Steel Shower Panel
Best Overall Shower Panel
This is called a "shower showstopper" by some with its striking design, blue tempered-glass front panel, and stainless steel dials and fittings.
The overhead shower has a rainfall flow, the handheld is on a stainless steel hose, and there are eight body massage heads. Completing the package is a tub spout for the bath.
Although this shower panel could be better incorporated in a remodel, it can also be fitted as an upgrade. Keep in mind: it might be more difficult to fit.
What We Like
LED Temperature
A temperature display is built into the front panel of this unit. It's an LED powered by two AA batteries in a compartment at the back, which is easily accessible.
The settings for the gauge can be set to display Fahrenheit or Celcius. It lets you see whether you're going to get under a cold shower (if so, brace yourself!), or whether it's at the perfect temperature. It can also prevent you from getting accidentally scalded.
Choose Your Spray
Depending on the shower experience you want, you can choose from four options. The fixed overhead shower gives a rainfall of water and the handheld gives four different types of spray. On top of this, there are the eight body jets — four on the top, and four on the bottom.
Moving between each is easy with a selection dial on the panel, but you can't use all four at the same time. The upside of this is that you could save on water bills and not compromise on water pressure.
Tub Spout
If you want to incorporate a shower panel over your tub, then this could be a good option. It has a tub spout, meaning you don't need to fix a separate faucet to your bath. This could also be useful in a shower stall to run water to clean your shower without getting sprayed.
Another advantage of having the spout is being able to run your water to temperature before switching to shower mode. That way, you can get under your chosen stream, confident it won't burn or give you a cold shock.
What We Don't Like
Can Be Noisy
Some hear squeaking or whirring noises from behind the shower panel when this unit is in operation. You might be able to ignore this, or it could be like Chinese water torture and really annoy you.
No Directional Spray on Handheld Shower Head
It appears that the angle of the handheld shower is not adjustable when it's seated on the panel. This means you have to remove it to change the direction of the spray.
Product Specs
| | |
| --- | --- |
| Fixed Shower Head | Yes |
| Handheld | Yes |
| Additional Sprays | 8 |
| Warranty | 1 year on limited parts |
| Flow Rate | Approximately 2.5 GPM |
---
2. Ello & Allo Stainless Steel Shower Panel Tower
Best LED Shower Head
If you're in the mood for a romantic shower or don't feel like harsh overhead lights, this panel could fit the bill. Built into the fixed shower head at the top of the unit are battery-powered LED lights to give a soft, blue glow. On top of this, you can choose whether you have a waterfall or rainfall flow — with the lights on.
In terms of finishes, select from a silver brushed nickel over stainless steel or black. You get to decide which one will best suit your existing bathroom decor, or fit in with your remodel.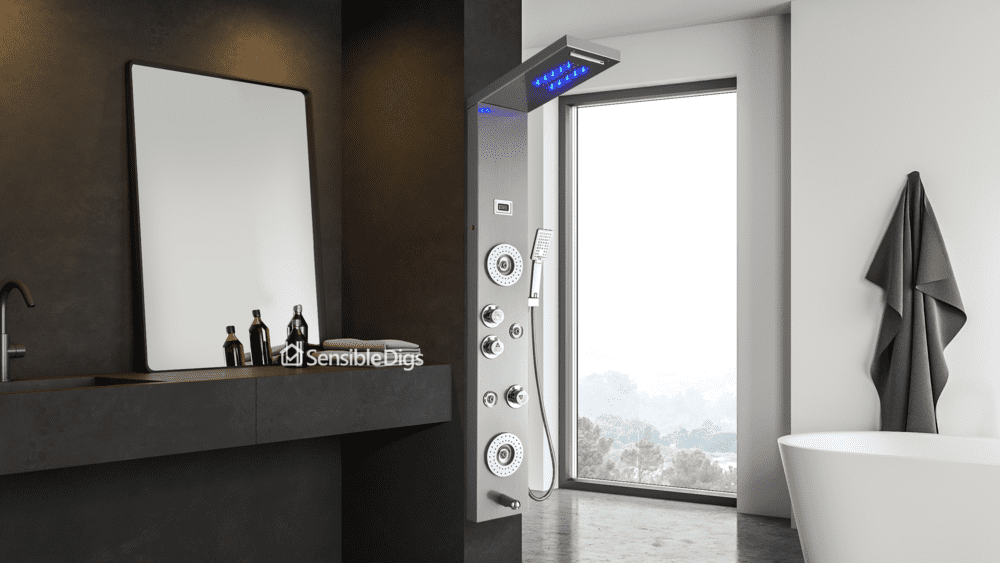 What We Like
Use Two Functions at Once
The different spray options in this shower panel are:
Rainfall or waterfall from the fixed shower head.
Spray from the handheld shower head.
Two horizontal massage jets.
This shower system allows you to use any two of the above functions at the same time. So, if you want a massage from the horizontal jets at the same time the rainfall shower cascades over you, you can.
Durable Materials
Ello & Allo has selected durable materials for this shower panel. The faucet body is brass, the hand shower is made from coated engineering-grade ABS plastic, and the 59-inch hose is stainless steel. The inclusion of brass and stainless steel makes for high durability and a nice finish.
Warranty
A two-year manufacturer's warranty accompanies your purchase. This gives you some recourse if anything goes wrong during that period.
What We Don't Like
Water Temperature in Celsius
The LCD showing the temperature of the water only reads in Celcius. Some users have commented on how frustrating this is since they're only used to Fahrenheit.
Poor Install Instructions
Unless you have some plumbing knowledge or you're an avid DIYer, you might find the installation difficult. You might need to call out a professional for installation help.
Product Specs
| | |
| --- | --- |
| Fixed Shower Head | Yes |
| Handheld | Yes |
| Additional Sprays | 2 |
| Warranty | Limited 2 years on parts |
| Flow Rate | Not specified |
---
3. Pulse ShowerSpas Aloha Shower System
Easiest to Fit Shower Panel
Upgrading your shower fittings can leave you out of pocket if you need to call in the big guns to install it. Luckily, this shower panel comes pre-plumbed, and we're told fitting it to existing shower fittings should be a breeze.
The materials used in construction are corrosion resistant. It's ABS plastic with a brushed chrome and stainless steel finish.
The manufacturer also tells us that this unit has superior strength even though it's lightweight.
What We Like
Long Handheld Hose
The handheld shower has three functions and a lengthy 59-inch double-interlocking stainless steel hose. This makes it easy to remove to direct the spray wherever you need it.
Easy to Clean
Rub-clean soft tips are the manufacturer's material of choice for the spray nozzles in the 8-inch shower head, two body jets, and the handheld unit. This makes for pain-free showering with free-flowing and efficient water usage, as well as being easy to clean.
Adjustable Sprays
Choose any two adjustable sprays from this shower tower. Use the body jets on a constant stream or pulse along with the rain shower. Or, turn on the handheld while the body jets give you a massage. The body jets can be adjusted, so they hit just where you need them.
What We Don't Like
Reduced Pressure
Using more than one function at a time might mean a lower shower pressure. This seems to be the case for most shower panels that allow this function, so it's nothing out of the ordinary.
Diverter Handle Not Included
You will need to buy a separate diverter handle for this shower panel since it's not included in the package. This handle turns on your water or adjusts the cold and hot settings. Pulse does sell one separately that should match the finish on the tower.
Product Specs
| | |
| --- | --- |
| Fixed Shower Head | Yes |
| Handheld | Yes |
| Additional Sprays | 4 |
| Warranty | Limited lifetime |
| Flow Rate | 2.5 GPM |
---
4. Blue Ocean 52" Stainless Steel Shower Panel
Best Stainless Steel Shower Panel
Stainless steel is a great material for a shower panel because it's corrosion resistant and easy to clean. The Blue Ocean 52" is a top choice.
Plus, it's a little bit more unique than other options because of its blue tempered glass surface which makes it stand out from the crowd.
It's definitely an eye-catching piece, especially if you have other blue pieces in your bathroom. This shower panel will tie everything together!
What We Like
Multi-Function
We love this shower panel because it never gets old! There are lots of different functions. First, it has an overhead rainfall option so you feel you're at a luxurious spa. It has a handheld nozzle with four different water settings. It also has mist spray jets which is perfect for an in-shower massage. Plus, it has an LED display to tell you what temperature your shower is at. Each time you step in the shower will feel like a treat.
Spa-Like Experience
One of the main reasons we love this is that it brings a whole new, luxurious element to showering. After a long day at work or an afternoon in the garden, relax with this shower panel. Enjoy the different elements it brings. The water pressure is great, and there are so many different settings you can choose from.
Sleek Design
For a fair price, this shower panel is much more expensive than it looks. It's very sleek, elegant and classy. Houseguests will love this when they come to stay! And you'll never tire of it, either. Not only does it look good, it fits in most bathrooms whether you have a large or small showering space.
What We Don't Like
No Simultaneous Function
It would be ten times better if you could use the different options at the same time. For example, if the massage jets and the rainfall water could function simultaneously, you'd be in for a real treat! Unfortunately, the only things that work at the same time are the massage jets.
Temperature Screen
Some customers found faults in the temperature screen. First, they couldn't find ways to change it from Celcius to Farenheit. Other people found the screen dimmed over time. Lastly, some customers found that the temperature was just wrong, giving them negative numbers when the water was clearly warm.
Product Specs
| | |
| --- | --- |
| Fixed Shower Head | Yes |
| Handheld | Yes |
| Additional Sprays | 9 |
| Warranty | One year limited parts |
| Flow Rate | 2.5 GPM |
---
5. Ello & Allo EPS 6-Function Shower Panel
Best Shower Panel for Simultaneous Functions
Achieve more in your shower with this six-function shower panel. It has everything one could dream of. This includes a rainfall showerhead, tub spout, a multi-function handheld showerhead, massage jets, and more.
You can switch up the water effects and massage settings using the controls. Customize your shower exactly how you like it. This is the perfect way to unwind after a stressful week at work.
What We Like
LED Lighting
Get the right temperature with the LED temperature display. No more second-guessing if it's too hot or too cold. This shower panel also has LED lighting on the overhead showerhead to give that little extra bit of atmosphere.
Adjustable Jet Nozzles
The four jet nozzles are fully adjustable so you can angle them how you'd like. You can also change the power settings for anything from high power to a gentle mist.
Do More at Once
With this panel, you can turn on two of the fixtures at once. This allows you to experience different settings at once. Just note that this may affect the water pressure.
What We Don't Like
LED Lighting Hard to Install
A few customers couldn't get the LED lights to work. You need to turn the battery pack switch on before completing your installation, so keep this in mind!
Plastic Parts and Finish
While this has some stainless steel parts, a lot of the construction is plastic. This makes it quite cheap and not as durable. Plus, it doesn't prevent rust and mold entirely.
Product Specs
| | |
| --- | --- |
| Fixed Shower Head | Yes |
| Handheld | Yes |
| Additional Sprays | 4 |
| Warranty | 2 year parts warranty |
| Flow Rate | Not specified |
---
6. Pulse ShowerSpas Kauai III Shower System
Best Slimline Shower Panel
Some shower panels can take up to 7 inches of depth from the wall in your shower stall. Not this one! It's slimline and you need not drill if you're just going to replace a previously installed shower head. This could make it a good choice for smaller shower stalls with restricted space.
It's finished in brushed nickel and has reinforced pipes on the back, which connect to standard plumbing fittings.
All accessories needed to fit the panel are included along with instructions. Moreover, it comes with several color options along with an option to choose the desired flow rate of either 1.8 or 2.5 GPM.
What We Like
No Drilling Necessary
We understand how tedious it is with the entire shower panel installation process. That's what makes this unit stand out. You can easily thread the shower arm onto the existing water connection and use the 3M tape for the bottom mount. A fixed shower head on this unit provides you with a tropical jungle vibe in a compact space with a no-sweat installation.
Simultaneous Functions
As well as the waterfall stream, there's also a handheld shower head with five jet options. You can choose to use it together with its showerhead or use them individually.
Water-Saving Flow Rate
While you may have the option to choose a 2.5 GPM flow rate, the manufacturer also provides you with the option to have the flow rate on this shower panel restricted to 1.8 GPM, making it a great choice for saving water and reducing bills.
What We Don't Like
Low Water Pressure
Just like many other shower panels, if you turn on all the simultaneous functions, you will likely lose water pressure, and they won't be effective. But you could easily the two flow restrictors to solve this dilemma.
Product Specs
| | |
| --- | --- |
| Fixed Shower Head | Yes |
| Handheld | Yes |
| Additional Sprays | 5 |
| Warranty | Limited lifetime |
| Flow Rate | 1.8 GPM or 2.5 GPM |
---
7. Rovogo Shower Panel Tower
Best Four-in-One Shower Panel
This rainfall and waterfall pattern shower panel has features aplenty without compromising on looks.
Five water jets in the back panel provide a water massage like experience and you can adjust their direction to focus on the muscles that need it most. Meanwhile the overhead shower has both rainfall and waterfall water patterns which you can use together or simultaneously.
What We Like
Set It and Forget It
The water mixer is separate from the on and off knobs so rather than having to do the whole twisting back and forth of the shower dial to get the right temperature, you can set the temperature on this shower, and get the same degree of heat every, single, time.
Directional Jets
The back panel have five water jets which can be adjusted individually. This feature allows you to direct the water right to the stiff muscles that need it.
Longer Shower Hose
The detachable shower head has a 59 inch hose, which makes it easy to rinse yourself off, all over, without much movement. This is an important feature for those who are less physically dexterous.
What We Don't Like
Some Plastic Surprises
The handle for the showerhead hose is made of plastic, as are some of the other components. While this doesn't impact the functionality of the shower, if you are ordering this online, this part doesn't look plastic so it may come as a surprise.
Water Pressure Issues?
Some users report a very slight, but still noticeable reduction in water pressure if you use all five water jets, both overhead shower patterns, and the detachable shower hose at the same time.
Product Specs
| | |
| --- | --- |
| Fixed Shower Head | Yes |
| Handheld | Yes |
| Additional Sprays | 1 |
| Warranty | None |
| Flow Rate | 4.94 GPM |
---
What is a Shower Panel?
Sometimes called a "shower tower," this is an all-in-one panel with several different outlets for water. They're relatively new on the shower appliance market, but are proving to be very popular.
Multiple options are available, which you'll see shortly. Standard models usually have a fixed shower head, a handheld shower head, and a varying number of body jets.
Some allow you to combine one or more functions at once. For instance, they might include a temperature control, a tub spout, and other features such as LED lights.
Many of these panels can be fitted to your existing water supply for your shower without too much extra work. They mount on the wall and can be easy to install by following manufacturers' instructions. Others might only be suitable to incorporate into a complete bathroom redesign.
Quick Tip
Whichever you choose, remember, if you're unsure about how to fit your shower panel, call in a professional to help.
Features to Look for in Shower Panels
When choosing a new shower panel, here are some features to consider:
Shower Heads and Body Jets
The overhead shower is usually a fixed unit built into, or extending from, the shower panel. It will generally offer a rainfall or waterfall type spray and can cover a wide area.
The handheld shower head can have several different spray options to choose from, including powerful jets, massage or gentle mist sprays. A hose of variable length attaches the handheld head to the main panel. In general, the longer the hose is, the more flexible it should be.
Sometimes, the angle of the shower head can be adjusted in the seating; other times it's fixed unless you remove it. We prefer models that provide a range of flexibility when showering, rather than a fixed-angle shower head.
The body jets can vary in number and generally point horizontally from the shower panel towards you. The top-range models tend to have jets that can be adjusted to spray at various angles.
The aim of these is to massage the upper body, but the strength of the massage can differ depending on how many jets there are. Additionally, the higher the water pressure, the stronger the massage feeling.
There are a few different materials incorporated into shower panels, including stainless steel, brushed nickel, polished chrome or aluminum. Some might have glass panels on the front.
Shower heads generally match the finish on the panel. They might have rubber nozzles which should be easy to clean and prevent the buildup of minerals and scale. Shower hoses are often made of stainless steel, and are designed so they don't tangle.
The fittings are usually brass and designed to be strong and durable (1).
Many modern showers are designed as low-flow units. They have lots of small nozzles and flow restrictors that intensify the spray even under low water pressure.
However, if your home water pressure is very low, then the performance of the shower panel could be compromised. It might not give you the spa experience you expect when you use more than one shower head at the same time.
Bear in mind that these shower panels aren't designed to combat low water pressure, so be careful when using more than one function at a time. However, you can get shower heads that are designed to increase the water pressure in your shower.
When choosing your shower panel take note of what fittings are included, and whether it will connect to your existing shower plumbing.
You might need a few extra connections and some tools, but many of these units are easy to fit. They usually come with full instructions, and you can find videos online to help as well.
A control to regulate the temperature of your shower water is included in some panels. This keeps the water within a few degrees of your selected temperature and can help prevent scalding or a blast of unexpected cold water. Some have an LCD telling you the water temperature, taking the guesswork out of the equation.
If you want to set your shower panel over the top of your tub, look for one with a bath spout. This means you won't have to fit additional faucets. This feature can also be useful in a shower stall for filling buckets or cleaning the shower.
LED lights are sometimes incorporated into the shower panel or the shower head. This is a great addition if you fancy some mood lighting in the shower.
Look Out
Models that have LEDs tend to be more expensive models, so be aware of this when comparing prices.
Peace of mind from a manufacturer's warranty is another thing to check. They can differ in the length of time they last, and the type of defects they cover.
Consider these an added layer of confidence from the manufacturer. In general, the longer the warranty, the better.
---
Checking Out
If you want a sleek and stylish upgrade from a regular shower, then having one of these amazing shower panels could fit the bill. They come in several contemporary or modern designs and give you showering control at your fingertips.
Choose from either rainfall and waterfall fixed showerheads for cascading water. An added handheld shower lets you rinse the soap from those hard to reach places. Then, finally, you can enjoy massaging horizontal body jets.
There seems to be something for everyone here, even those of you who want the LED experience. It's like having a spa in your bathroom!
Thank You For Your Feedback!
Thank You For Your Feedback!