Despite being an ideal place to relax and unwind after a long or difficult day, bathrooms can be one of the most hazardous parts of any home. In the United States alone, about a quarter of a million people suffer an accident in the bathroom each year, usually due to slipping in the shower (1).
The combination of wet feet and increasingly smooth bathroom surfaces is a dangerous one, especially when stepping out of the shower. This is why bath shower mats are designed to provide extra grip and prevent accidents.
To help you find the best shower mat, we have reviewed five of the most popular products available today. We chose these mats based on their material, size, and how many holes they have.
Image
Model
Product Comparison Table
Features
Most Unique Shower Mat
House of Teak Shower Mat
Solid teak construction
Mold & mildew resistant
Suitable for indoor & outdoor use
Best for Long Baths
Tike Smart Anti-Bacterial Mat
39 inches long for bathtubs
Curl-free packaging
Heavy-duty vinyl material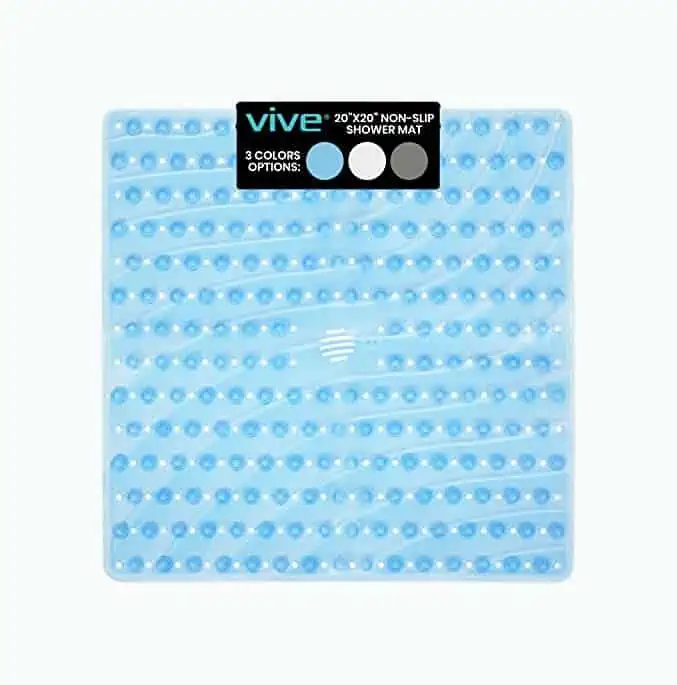 Best Shower Mat for Drainage
Vive Non-Skid PVC Washable Mat
Four large center holes
Translucent
Heavily textured for extra grip
Best for Health and Allergies
Gorilla Grip Antibacterial Mat
BPA-free material
324 suction cups
Machine washable
Best Understated Shower Mat
Vive Shower Stall Mat
Understated design
Large center drainage hole
22 square inches
Review Methodology: At Sensible Digs, we provide a detailed analysis of the best shower mats, based on a thorough evaluation and hands-on testing. Our team of professionals ranks each product based on a specific set of criteria, including safety, design, material, performance, and user experience. We compare and score the mats using quantitative measurements and present the results from a user's perspective. All our reviews are backed by factual data obtained from our research and tests. We identify the unique features that set each mat apart from its competitors, focusing on key decision-making factors like slip resistance, durability, and comfort. Our aim is to help you make an informed decision by sharing our expertise and first-hand experience.
---
---
The Best Shower Mats of 2023
With so many shower mats to choose from, it can be difficult to know where to start looking. We have reviewed five of the current top-rated models to help you find the best shower mat for your bathroom, chosen for their material, size, and how effectively they allow water to drain.
House of Teak Shower Mat
Most Unique Shower Mat
This shower mat from House of Teak is, unsurprisingly, made from solid teak. As a result, the tray offers a completely different look and feel from traditional rubber or PVC mats.
The wood is sourced from sustainable forests, making it far more environmentally friendly than its artificial competitors. This natural material means it is also very unlikely to cause any allergy issues, which is a concern with mats that contain latex. There is also no risk of leaking contaminants into your wastewater.
Another benefit of the solid teak material is that it is suitable for use both indoors and outdoors, ideal if you want to install an external shower to wash off mud and sand. This is a clear advantage over rubber, which can be damaged by direct sunlight.
What We Like
Constructed From Solid Teak
The solid teak slatting provides a timeless shower base that wouldn't look out of place in a high-end spa, setting it apart from its rubber competitors. Instead of drainage holes, the gap between the teak boards provides very fast drainage.
Resistant to Mold, Mildew, and Insects
Teak is considered the most durable wood for use in wet environments. The natural oils and resin it contains repel insects and prevent mold growth.
This means it doesn't need to be coated in artificial anti-bacterial material, making this an entirely option for your shower floor.
Suitable for Indoor and Outdoor Use
Wood not only looks great under an outdoor shower but it will also last much longer than rubber or PVC. Research shows that plastic and rubber rapidly degrade in direct sunlight due to exposure to ultraviolet rays (2).
What We Don't Like
Not the Strongest Grip
The natural texture of teak provides more grip than a smooth shower tray. However, it will not provide as much grip as the textured surface of most rubber mats.
If your main reason to buy a shower mat is extra grip, this option might not provide enough to make your shower safe for children or seniors. There is also a chance of very small fingers or toes becoming trapped between the slats.
Lacks Suction
The manufacturer recommends adding rubber feet to the shower mat to prevent it from slipping. These are easily obtained from most hardware stores but we would expect a premium product to include this safety feature.
Product Specs
| | |
| --- | --- |
| Size | 19.75 x 19.75 inches |
| Weight | 5.2 pounds |
| Material | Solid teak |
| Allergen prevention | Natural wood |
| Color | Light and dark teak |
| Suction Cups | None — nine longitudinal gaps |
Our Ratings
Community Feedback
"Excellent is how I would describe this teak shower mat. The mat's appearance enhanced the ambience of my shower, giving it a spa-like feel. Despite some initial slippage when wet, which I plan to rectify with anti-slip feet, the mat proved sturdy under my weight. The mat's surface was well-oiled and pleasant to the touch, though the reverse side could benefit from light sanding and an additional coat of oil. Cleaning proved simple with a squeegee after use and the mat dried quickly when placed on its side. Despite the need for minor improvements and a slightly fading stain, this mat offers a luxury touch to any bathroom."
---
Tike Smart Extra-Long Anti-Bacterial Mat
Best for Long Baths
At 39 inches long, this Tike Smart shower mat will cover even the biggest baths. It is a great option for anyone who has their shower installed above a bathtub, but it will help anyone climb in and out of their bath more safely.
It is available in a wide range of colors, helping you match it to the rest of your bathroom or create a striking contrast. Most of the color options have translucent versions, even the black mat.
The mat is delivered in curl-free packaging so you can use it immediately after receiving it. Its heavy-duty vinyl means it should outlast most of its competitors.
What We Like
Extra-Long for Bathtub Showers
This shower mat is designed to fit into bathtubs and is longer than most tub mats, meaning it should cover the entire bath floor. This means you won't be restricted to a specific area when climbing in and out of the tub.
This also protects children who wander around the bath while showering, as they are less likely to step on an area that is not covered by the mat.
Curl-Free Packaging
Thanks to its curl-free packaging, this shower mat will be ready for use as soon as you receive it. You won't need to wait for the mat to settle flat for it to be safe.
Hard-Wearing
Weighing 1.75 pounds, this mat's heavy-duty vinyl material means it is very durable. If you are part of a large household, this mat will endure the rigors of daily use.
What We Don't Like
Large Pimples May Lack Grip
This shower mat has large, domed pimples for extra comfort and supposedly improved grip. However, some reviewers feel that the increased size reduces the grip on the soles of the feet.
Product Specs
| | |
| --- | --- |
| Size | 39 x 16 inches |
| Weight | 1.75 pounds |
| Material | Vinyl |
| Allergen prevention | Latex, BPA, phthalate, and allergen-free |
| Color | Choice of 20 colors — translucent and opaque |
| Suction Cups | 200 |
Our Ratings
Community Feedback
"I'm quite pleased with this bath mat's suction power; it fits perfectly in my tub and doesn't emit any unpleasant odors unlike some mats I've previously owned. Remember to apply it when the tub is wet for the best grip, and press firmly on the suction cups to avoid slipping incidents. This bath mat is a good size, well-made and thick, and can be easily cut in half for smaller areas, like a shower stall, without sacrificing its effectiveness."
---
Vive Non-Skid PVC Washable Mat
Best Shower Mat for Drainage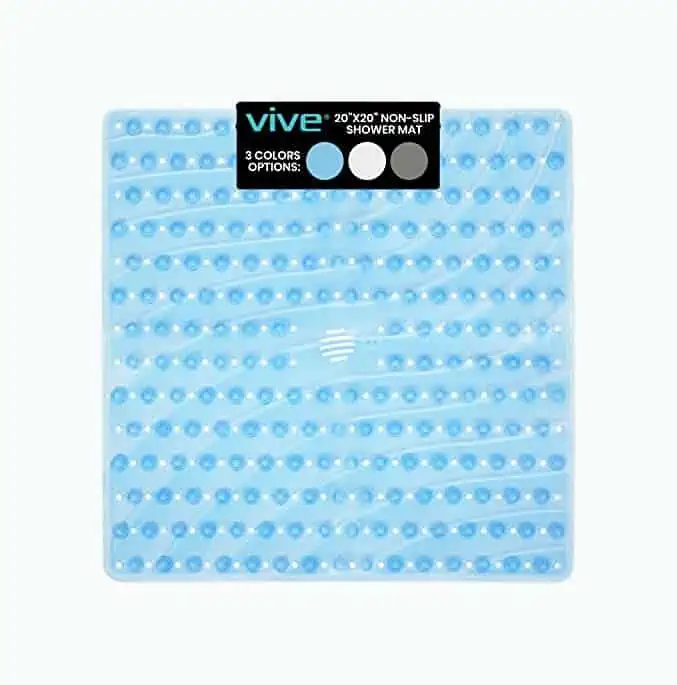 Pools of water reduce a shower mat's grip, which is why this mat's designers have paid special attention to ensuring it drains water quickly and efficiently.
The other dangers of standing water include mold, fungi, and bacterial growth. This mat's four large center holes provide much faster drainage than the usual smaller holes, which it also has, making it a great option if you have a powerful shower.
The heavily textured surface provides stable, comfortable footing. If the mat becomes dirty, which will reduce its effectiveness and look unsightly, it can easily be machine washed in cold water.
What We Like
Large Center Drainage Holes for Efficient Drainage
In addition to the evenly spaced perforations throughout the shower mat, this product stands out thanks to its four large center holes. These drain water quickly, which is important to keep up with a powerful shower.
Translucent
This mat is available in three colors, all translucent. This will help you detect any growth before it becomes a problem. The clear version is the most versatile option and will combine perfectly with even uniquely colored shower trays.
Heavily Textured for Stronger Grip
Manufacturers and users both mention the strong grip provided by this heavily textured shower mat. The Vive mat is a great choice for anyone who is concerned about slipping while using the shower.
What We Don't Like
Strong Plastic Smell
Many customers mention that this shower mat retains a strong plastic smell, even after weeks of use. If you are sensitive to smells or have a particularly small bathroom, this might bother you.
The manufacturer states that this mat is completely non-toxic, so this is an annoyance rather than a hazard.
Product Specs
| | |
| --- | --- |
| Size | 20 x 20 inches |
| Weight | 1.3 pounds |
| Material | PVC |
| Allergen prevention | Latex-free |
| Color | Choice of blue, clear, and gray — all translucent |
| Suction Cups | 164 |
Our Ratings
Community Feedback
"This shower mat indeed boasts a pleasing color and satisfactory quality. The mat's comfortability is noticeable, however, the smaller holes and its slightly slippery surface are points of critique. Regular maintenance is required to remove soap residue from underneath, which is slightly inconvenient. Unfortunately, the mat's initial strong odor and the reluctance of the suction cups to adhere to the shower floor were disappointments. Additionally, the mat tends to shift position on the shower floor, requiring occasional recentering. Also, the mat's size may not meet everyone's expectations, a detail to be aware of before purchasing."
---
Gorilla Grip Antibacterial Square Bathroom Mat
Best for Health and Allergies
This see-through, square Gorilla Grip shower mat is an excellent choice if you are concerned about your health, hygiene, or allergies.
It is free from BPA (bisphenol A), latex, and phthalate, so it is very unlikely to cause an allergic reaction. It is also safer for the environment, as there is no danger of it contaminating the water that passes through your shower.
This mat is machine washable and has been treated to protect it against bacteria and mildew growth.
What We Like
Protects Your Health and the Environment
Anything that goes down your shower drain will enter your local water system. Research has found that some plastic softeners such as BPA and phthalate can damage the kidneys, testes, lungs, and liver, which is why this mat avoids them completely.
Numerous Suction Cups
With an impressive 324 suction cups, this mat will be very secure when placed under your shower, even in wet and soapy environments. Reviews mention that these cups don't affect how the mat feels under the feet but the surface is textured enough to provide stable footing.
Each suction cup has a corresponding drainage hole. This prevents puddles from forming during use.
Square Shape
This is a true shower mat, not one that is designed for both showers and baths. You won't need to trim down a rectangular mat to fit it into your shower enclosure, as this mat is already square.
What We Don't Like
Requires Very Smooth Surfaces
The manufacturer states that you shouldn't use this shower mat on tiles or other textured surfaces. When used on textured trays, users found that many of the suction cups failed to stick to the surface, creating bumps.
Product Specs
| | |
| --- | --- |
| Size | 21 x 21 inches |
| Weight | 1.3 pounds |
| Material | Rubber |
| Allergen prevention | Free from BPA, latex, and phthalate |
| Color | Choice of 11 (translucent and opaque varieties) |
| Suction Cups | 324 |
Our Ratings
Community Feedback
"After integrating this shower mat into my daily routine, I found it to be a satisfactory solution to my small shower's slippery floor. Its square dimensions and effective drainage system are well-suited for compact spaces, such as my mobile home's master bathroom. However, the mat's texture could be softer, and its suction to tile is mediocre, although it does not hamper its functionality. Be aware that it retains a plastic odor initially, despite washing, but this dissipates after a few days."
---
Vive Shower Stall Mat
Best Understated Shower Mat
Compared to some of the more attention-grabbing shower mats on the market, especially teak products, this Vive mat is far more subtle. If you want your mat to blend into your shower area rather than being a feature in its own right, this is a great option.
At 22 square inches, it is quite large for a dedicated shower mat. This means it is suitable for bigger cubicles or anyone who wants to cover a wider area.
It drains very quickly thanks to the large drainage hole at its center. This hole is designed to be placed over your shower tray's drain, so it won't be obstructed during use.
What We Like
Understated Design
This shower mat is designed to blend into your bathroom as much as possible. The usual pimpled mat surface is replaced by more elegant curves. It is reminiscent of the embossed surface of many modern shower trays and baths.
Its slightly off-white color is chosen to blend in with white bathroom ceramics, which is still the most popular type.
Large Center Drainage Hole
This product has just one 6-inch drainage hole that goes over the shower waste. This ensures rapid drainage, even if your shower is operating at maximum flow.
Wide Coverage
At 22 square inches, this is a large shower mat. It is ideal if you have a large shower stall or just want maximum coverage.
What We Don't Like
No Color Options
The subtle off-white tone is a great fit for many bathrooms but it won't be suitable for darker shower trays and there are no other color options.
Only Available in Opaque
With no translucent option, it is difficult to tell when this shower mat is dirty without removing it from the stall.
Product Specs
| | |
| --- | --- |
| Size | 22 x 22 inches |
| Weight | 2 pounds |
| Material | Rubber |
| Allergen prevention | None stated |
| Color | White |
| Suction Cups | 200 |
Our Ratings
Community Feedback
"Love the functionality of this shower mat. Its heavy feel, reminiscent of the ones my mother used during my childhood, provides a comforting sense of stability. The nonslip material, the cleverly placed drain hole, and the impressive suction power all contribute to ensuring a safe, slip-free shower experience. It fits perfectly in my shower, and the ease of cleaning, by simply hanging it to dry after use, is an added bonus. However, despite its many positives, I must note that the mat is a bit on the thin side."
---
The Risks of Showers
Showering is now the most popular way of staying clean, making it a part of countless people's daily routines. Most showers will be free from any issues, but slipping is a very real concern for the following reasons:
Soap and water: When combined, soap and water greatly reduce friction. Modern bathtubs and shower trays often have very smooth finishes to encourage water to run off them, which can result in a dangerously slick surface.
Lack of support: Unless you have installed grab rails, you are unlikely to have anything to hold onto to stop yourself from falling. Wet wall tiles, glass doors, or a shower curtain will do little to keep you upright.
Hard surfaces: If you do fall while showering, there won't be anything to cushion your fall. Bathroom surfaces are hard, so your body will absorb the full impact.
A shower mat increases friction, providing greater stability and lowering the risk of accidents (3). This is particularly important for children and the elderly. Despite accounting for 8.5% of the US population, 30% of accidents in showers are experienced by children under five years old.
Finding the Best Shower Mat
Shower mats have existed in various forms for decades, so you will have numerous options to choose from. Making a few key decisions can significantly narrow your search.
---
FAQs
---
Thank You For Your Feedback!
Thank You For Your Feedback!