Applying grout is inevitable when renovating or building a bathroom. While you may have spent a great amount of time laying the tiles, you now need to keep them secured to one another.
Grout is what fills the tiny gap between each tile, keeping the tiles together and preventing water and moisture from infiltrating. The type of grout you need depends on how wide the lines are, your desired quality, and the color of your tiles. This is our guide to choosing the best grout for you.
Image
Model
Product Comparison Table
Features
Most Budget-Friendly Grout
Custom Products Linen Grout
Simple but resistant
Usable on many surfaces
Colored grout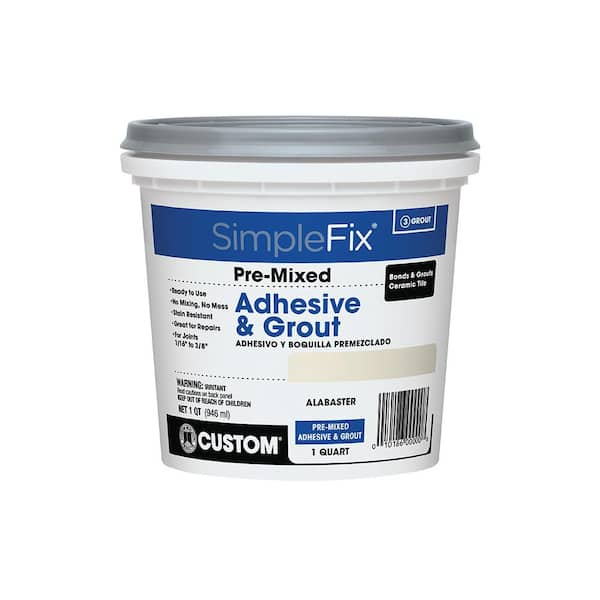 Most Eco-Friendly Grout
SimpleFix Alabaster Pre-Mixed
Durable mixture
Easy to use
For dry or damp areas
Best Grout for Glass Tiles
Bostik Diamond Grout Dimension
Easy to use
Durable materials
Versatile use
Most Durable Grout
Laticrete SpectraLock Pro Grout
Premium results
Greenguard certification
Clear instructions
Best Grout for Small Surfaces
Red Devil Tile Squeeze Tube
Easy to use
Can be used on new tiles
VOC compliant
---
Selecting the Best Grout
If this is your first time applying grout, they may all seem similar. Yet, many variables exist:
Sanded vs. Unsanded Grout
Unsanded grout is best when the distance between each tile is smaller than an eighth of an inch. As it doesn't contain abrasive sand, it can be safely used on delicate materials such as glass tiles or marble. The paste can be easily applied on vertical surfaces, such as a shower wall, since it has a sticky consistency.
Sanded grouts are, as the name indicates, filled with sand. Therefore, they're thicker and bulkier than unsanded types, and the sandy texture can generally be seen and felt. They're applied to larger gaps and tougher surfaces, and tend to be more durable and more affordable.
Both sanded and unsanded grouts come in either a cement or epoxy material.
Cement Grouts
Cement grouts are the oldest form of grout and are typically less costly. Cement needs to be mixed with water, but the process is often straightforward while providing a high-quality result.
Keep in mind, however, that cement grouts have a porous surface. This means that you'll need to apply a grout sealer to prevent moisture and water from getting in.
These grouts typically require a curing time of 48 to 72 hours before adding the sealing layer. As it can vary based on the product and manufacturer, make sure to consult the label for an accurate curing time.
Epoxy Grouts
Epoxy grouts are a combination of resin and powder filler and can be a little more challenging to work with. They dry quickly — within 30 minutes or more depending on the ambient temperature — making them tricky to apply.
They're generally stain-, grease-, and water-resistant. Some can even prevent mold and mildew from growing, which makes them a very popular option in showers. These grouts can, however, be very costly and should be budgeted for.
Take Note
Epoxy grout can stain porous surfaces, such as quarry or limestone tiles. In this case, it's best to seal the tiles first.
Other Types
You'll find epoxy grouts containing a portion of cement. This combination makes them sturdier, harder, and more resistant to stains than regular cement types. They do, however, require sealing, just as cement grouts do.
Lastly, grouts primarily made of acrylic or urethane compounds typically come pre-mixed. They're convenient and extremely durable but generally come at a higher price-point.
Most cement grouts come in a grey color and epoxy ones in a white shade. Pigment powder can be added to give your grout the desired tone. The primary objective of colored grout is to either make the line discreet or to create an obvious contrast.
Some products come premixed and in various colors. These might be the best solution if you're looking for a ready-to-use colored grout.
Besides the type of grout and the color, a few more characteristics should be considered:
Non-toxic: Watch out for chemical products producing harmful fumes when inhaled.
Stain-resistant: This feature should make your cleaning sessions much quicker.
Waterproof: This should prevent water from infiltrating the grout, creating moisture where mold could potentially grow.
Mold resistant: Mildew and mold aren't only unpleasant to look at, they also smell bad and can be dangerous for our health (1). Choosing a mold-resistant grout should prevent the fungi from forming between your tiles.
---
The Best Shower Grouts of 2022
Applying the wrong type of grout could make the work extremely challenging and frustrating. To avoid the hassle, we've analyzed all grouts on the market and assessed their characteristics, quality, and ease of application. After adding users' comments into our evaluation, combined with expert opinion, we finalized our selection of the top 5 grouts available.
1. Custom Products Linen Non-Sanded Grout
Most Budget-Friendly Grout
Available at a very reasonable cost, this product can cover a large area. When gaps are an eighth of an inch wide, you'll be able to apply grout on a 23 square-foot shower, or larger. If the gaps are a sixteenth of an inch wide, you can almost double the coverage.
This product doesn't compromise on quality though. It's made of high-quality cement to ensure a flat and lump-free texture. In addition, the manufacturer is conscious of environmental responsibility and is working towards the LEED v3 certification (2).
The Pros
Simple but Resistant
If you're looking for a basic grout that won't empty your wallet while offering great results, this might be a product worth looking at.
The instructions are very straightforward. Fill the container with 4.8 ounces of water and mix for two minutes. Let the mixture sit for 10 minutes and stir again; you can now apply the paste where needed.
This product is fortified with polymers, which makes for a dense paste that can withstand shrinking and cracking.
Usable on Many Surfaces
This unsanded grout has been formulated to keep delicate materials scratch-free. It's suitable for surfaces such as natural stone, porcelain, glass, and tiles — both vitreous and non-vitreous types.
Its use isn't limited to the shower, but can also be applied on floors, countertops, bathtubs, swimming pools or even spas.
Colored Grout
We love the fact that the grout comes already colored. It's discreet and should be a perfect match for most light-colored tiles and bathrooms since it comes in a linen shade.
The Cons
Temperature and Sealer
This product shouldn't be used when the ambient temperature drops below 50 degrees Fahrenheit. Also, keep in mind that this grout needs to be sealed for better protection.
Chemicals and High Pressure
The use of harsh chemicals isn't recommended as it could damage and stain the grout. The manufacturer also advises against cleaning with high-pressured water.
Additional Specs
| | |
| --- | --- |
| Type | Unsanded, cement |
| Joint Width | Up to an eight of an inch |
| Weight | 1 pound |
| Color | Linen |
| Unique Feature(s) | Not applicable |
---
2. SimpleFix Alabaster Pre-Mixed Adhesive and Grout
Best Pre-Mixed Grout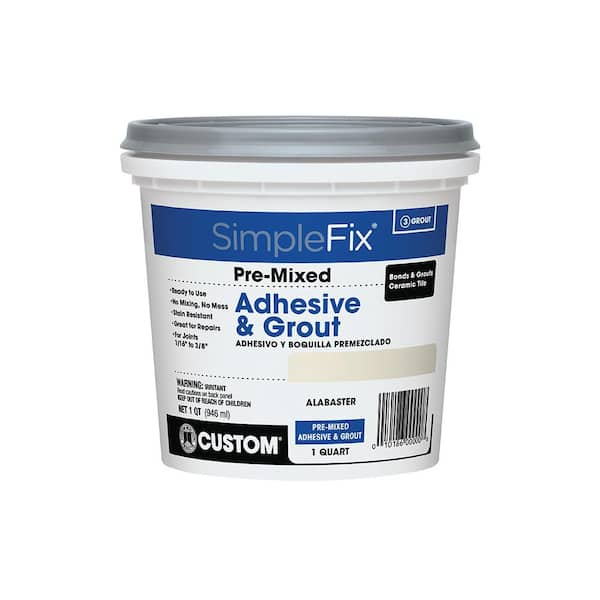 No mixing, no mess, no madness, no mayhem. This SimpleFix adhesive and grout is already mixed so you can just get to work right away.
It works by bonding and grouting ceramic floor and wall tile so that you can have a clean and aesthetic finish. It's specifically designed for wet areas, so you can safely use this in the bathroom. However, it can also be used in other areas of the home!
The Pros
Durable Mixture
Once this is applied, you can rely on it lasting a while. It's crack, stain and shrink resistant so it will work beautifully in your home for years to come.
Easy to Use
Pre-mixed, this is ready to use as soon as you open it. Besides that, it's easy to spread between tiles. You can use it over tile, cement, exterior grade plywood, concrete, plaster and ceramic. When you're finished, it's easy to clean quickly.
Last but not least, the container is resealable, so you can use it time and time again.
Dry or Damp Areas
You can use this in both dry or damp areas, as long as you're indoors. So whether you want to use it in a damp bathroom or a dry mudroom, this is a fantastic choice.
The Cons
Dry Consistency
While it is easy to apply, some customers didn't like the drier consistency. It proved to be a little more difficult to work with and felt like it should have had more water added.
Additional Specs
| | |
| --- | --- |
| Type | Sanded |
| Joint Width | 1/16 to 3/8 of an inch |
| Weight | 2.09 pounds |
| Color | White or grey |
| Unique Feature(s) | Pre-mixed |
---
3. Bostik Diamond Grout Dimension
Best Grout for Glass Tiles
This Bostik Diamond Grout contains both urethane and micro-glass elements adding sparkle to your glass tiles.
It may even bring a 3D effect on transparent ones.
This grout is easy to use. It's pre-mixed and made of high-quality materials, ideal to use in wet and moist environments, such as a shower.
The Pros
Easy to Use
This product comes pre-mixed, so you won't have to blend the solution with water when trying to reach the perfect texture. You only need to open the container to start applying.
Featuring a snag-free texture, it shouldn't leak on lower tiles, which is convenient when spreading the mixture on vertical surfaces. This product also includes a built-in sealer, so no additional steps are required once the grout is in place.
The manufacturer claims that it typically takes half the installation time than when using competitors' products.
Durable Materials
This grout has been made to last. It's crack-resistant, and contains an antimicrobial protective layer, keeping mold and mildew at bay. The color should also remain stable, preventing it from turning yellow or fading.
The smoothe polymer composition makes this product durable, but also water- and stain-resistant.
Versatile Use
This grout is compatible with metal, porcelain, ceramic, and stone tiles. Outside of your shower, it can be applied on any vertical wall or floor, whether indoors or outdoors. Any leftovers can even be put aside and used later.
What if your renovation has to be delayed? The grout can be used within two years — when unopened — at a temperature of over 32 degrees Fahrenheit.
The Cons
Although the manufacturer doesn't disclose a detailed list of ingredients, the label mentions that this product contains a chemical known to cause cancer. Its use around children is therefore not recommended.
Additional Specs
| | |
| --- | --- |
| Type | Urethane |
| Joint Width | 1/16 to ¼ of an inch |
| Weight | 18 pounds |
| Color | White |
| Unique Feature(s) | Contains reflective material, ideal for glass tiles |
---
4. Laticrete SpectraLock Pro Premium
Most Durable Grout
If you're looking for a premium grout that won't chip or break easily, this might be the one.
This high-quality epoxy grout makes professional and outstanding-looking joints.
It can be applied to glass, ceramic tiles, and stones.
You'll be able to lay the mixture inside your shower but also outdoors, making it a versatile grout.
The Pros
Premium Results
Reviewers are thrilled with the results obtained. The high-quality finish and uniform color gives a smooth and even surface. This grout shouldn't shift even when sprayed with a shower cleaner and is stain-proof.
Consumers mention that it's also incredibly waterproof. It can be used in swimming pools, fountains or any submerged areas.
Greenguard Certification
Laticrete was rewarded with the Greenguard Gold Certification. This means it's gone through thorough tests to ensure its compliance with low emissions of VOCs (3). It also meets the requirements of the State of California's Public Health Department (4). This grout can even be used in schools and healthcare facilities.
Clear Instructions
If you haven't used epoxy grout before, don't worry. Users mention that instructions are clear, and the steps well detailed. This product comes with three parts: A, B, and C.
Start by mixing A and B liquids in a clean container. A slow-speed drill mixer — under 300 RPM — can be used to facilitate the process. You can then add and blend the powdered color — part C.
Be Aware
Part C
isn't included and needs to be purchased separately.
The Cons
Long Installation
Although easy to install, epoxy grouts require extra steps and precautions. First, you'll only have a short amount of time to apply the product — 30 minutes when room temperature surpasses 95 degrees Fahrenheit.
Once the grout is applied, you'll need to wait about 20 minutes before cleaning with a wet sponge. It can take longer within a cold environment. Once dried, it'll be very difficult to remove.
Finally, the manufacturer recommends a curing time of 10 days — at 70 degrees Fahrenheit — before using the shower.
Additional Specs
| | |
| --- | --- |
| Type | Epoxy |
| Joint Width | Up to an eighth of an inch |
| Weight | 9 pounds |
| Color | White |
| Unique Feature(s) | High-quality materials and results |
---
5. Red Devil Pre-Mixed Tile Squeeze Tube
Best Grout for Small Surfaces
If you don't want to spread cement or other pastes all over your brand new ceramic or mosaic tiles, here's an alternative. This small tube contains ready-to-use acrylic-based grout.
The paste shouldn't scratch delicate tiles and materials since it's unsanded.
In addition, it can repel water and stains, and prevent mold formation. Outside of your shower, you'll also be able to use it on wallboards, masonry, and wood surfaces.
The Pros
Easy to Use
The paste contained in this tube has a user-friendly consistency suitable for DIY beginners. Cut the end piece and apply it over the lines.
After 15 minutes, remove the excess with a wet sponge. You'll only have to wait 48 hours before applying a sealer to protect the grout.
To Fill or Refill
This product can be applied after the installation of new tiles. It can also be used to refill your grout when needed. To fix old grout, remove about a sixteenth of an inch of the old grout before laying the new coat.
VOC Compliant
VOCs can cause toxic fumes when they come into contact with sunlight (5). To maintain your health and safety, the manufacturer respects the government's VOC limits. It only contains about 1.2 percent of these compounds by weight (6).
The Cons
Small Quantity
Depending on the area you need to cover, one tube might not be enough. If you're planning on applying it throughout your shower, you might need at least two tubes or one of the larger sizes.
Unpleasant Smell
You'll likely smell a mild to moderate acrylic or ammonia odor while installing the paste. Keep windows open and ensure proper ventilation.
Warning
This product contains a bleaching agent — titanium dioxide — which can cause breathing issues
(7)
.
Additional Specs
| | |
| --- | --- |
| Type | Unsanded, acrylic |
| Joint Width | Up to an eighth of an inch |
| Weight | 5.5 pounds |
| Color | White |
| Unique Feature(s) | Easy-to-use tube shape |
---
---
Caring for Your Shower Grout
Grout tends to accumulate dirt, grime, and soap scum. As a consequence, it needs regular cleaning. Heavy-duty chemical sprays can cause damage to the sealer and allow moisture to get in.
Choosing a gentle cleaning product is preferable for most grout, keeping it in good shape, and extending its lifespan.
---
To Conclude
If this is your first experience using grout, we recommend using the cement or pre-mixed types. They're easier to use and don't dry as fast as epoxy ones. Grouts made of epoxy give fantastic results when applied properly, yet are more costly and can be overwhelming for a beginner.
Whichever type you decide on, look for a high-quality, water-resistant, and ideally mold-proof product. This will make cleaning much quicker and increase your grout's durability.
Finally, to select the best grout for your shower, consider which color would be best. You can decide to purchase the grout already colored or add pigments to a white base.