If you are looking for an air compressor for your shop, there are some key features you need to consider.
Some air compressors have higher PSI ratings and better airflow. Others are more portable, or quiet.
In this guide, we look at the best shop air compressors broken down and evaluated by tank size, PSI, CFM, portability, horsepower, and loudness.
Image
Model
Product Comparison Table
Features
Best Quiet Shop Air Compressor
California Air Tools Air Compressor
Quiet 60 dB operation
Fast refill time
Over 3,000 hour life cycle
Best Tire Shop Air Compressor
Bostitch Pancake Air Compressor
Weighs 31 pounds
Easy start motor
Oil-free pump
Best Budget Shop Air Compressor
Senco PC1010 Air Compressor
1-gallon capacity
Weighs 20 pounds
Lubeless pump
Best Portable Shop Air Compressor
WEN Vertical Air Compressor
Never-flat wheels
10-gallon tank
Maximum 150 psi
Best Machine Shop Air Compressor
Ingersoll Rand Air Compressor
5,000 hour service life
Manual thermal overload
100% continuous run cycle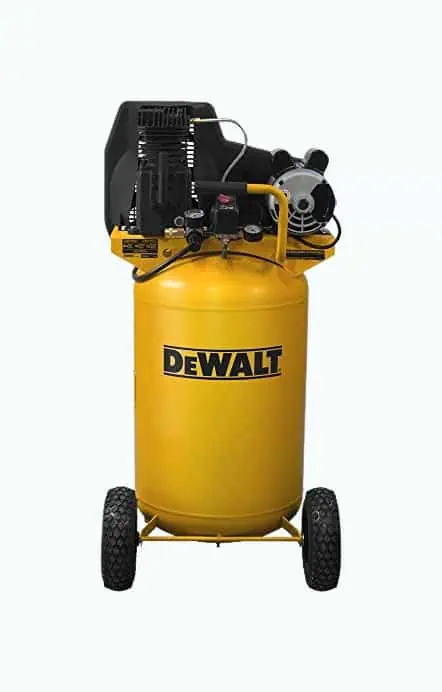 Best Paint Shop Air Compressor
DeWALT 30-Gallon Air Compressor
Dual-voltage motor
Large pneumatic wheels & handle
Oil-lubricated motor
Best Woodshop Air Compressor
Campbell Hausfeld Compressor
Maximum pressure of 150 PSI
Vertical design to save space
17-piece accessory set
Review Methodology: At Sensible Digs, we apply thorough analysis and hands-on experience to provide you with comprehensive reviews of the best shop air compressors. Our team of professionals assesses each product based on key decision-making factors such as performance, design, and user experience. We compare and rank each compressor, tracking quantitative measurements of their performance to establish a clear benchmark. Our findings are based on rigorous tests and evaluations, ensuring that you have all the facts at your fingertips. Through our reviews, we aim to highlight what sets each product apart, helping you make an informed decision. Trust in our objective, evidence-backed advice when choosing your next shop air compressor.
---
---
The Best Shop Air Compressors of 2023
Shop air compressors vary in capacity, shape, and design, so, finding 7 great options was a real challenge.
California Air Tools 8010 8-Gallon Air Compressor
Best Quiet Shop Air Compressor
Getting an air compressor to rival this California Air Tools model for decibels is pretty tricky. Some come close, while others get nowhere near. It runs at 60 dB! By anyone's standard, that's impressive. It's the equivalent of the volume of a normal conversation.
It has a maximum pressure of 120 PSI, so it's not the most powerful machine to make the review, but it does have a dual-piston pump with a life cycle of plus 3,000 hours. This compressor uses an oil-free pump, so you won't have to fork out for new compressor oil or dispose of the old oil in the landfill.
So, it's low maintenance, produces cleaner air, and starts on cold mornings with the minimum of fuss. It has an airflow of 2.2 CFM at 90 PSI and 3.1 CFM at 40 PSI.
What We Like
Super-Quiet
If you work in an environment where noise is a problem, this compressor will make life a little bit better, thanks to the 60-decibel running volume. That's a difference of 20 decibels compared to some models.
Fast Refill Time
When the tank runs low, you won't have to wait long for it to refill. This compressor recharges from empty to full in just over 2 minutes. It means you can spend more time making money and less time standing around.
Oil-Free
Oil-free pumps require almost zero maintenance and produce cleaner air because there is no oil residue to contaminate. Also, they are cheaper to run thanks to not needing fresh compressor oil.
What We Don't Like
Lacks Power
You might want to save this compressor for lighter duties in the shop. It only has a 1 horsepower motor and produces 2.2 CFM at 90 PSI. That is low compared to some of the other compressors to feature.
Product Specs
| | |
| --- | --- |
| Weight (pounds) | 48 |
| Dimensions (inches) | 26 x 14 x 23 |
| Max PSI | 120 |
| CFM | 2.2 at 90 PSI |
| Capacity (gallons) | 8 |
| Oil/Oil-free | Oil-free |
| HP | 1 |
| Price | $$ |
| Warranty | 1-year limited |
Our Ratings
Community Feedback
Definitely, this compressor exceeded my expectations, especially with its low noise level. It's significantly quieter than my previous compressor, making it easier to have conversations or work in peace without disturbing anyone around. I found it ideal for everyday tasks such as inflating tires and cleaning tools, though it does need to refill more frequently than I anticipated. Even so, this didn't detract from my overall positive experience with the compressor. In terms of volume, it's comparable to a running refrigerator, which was pleasantly surprising. I believe the price point is well justified for the functionality and convenience this compressor provides.
---
Bostitch Pancake 6-Gallon Air Compressor
Best Tire Shop Air Compressor
As the name suggests, this style of compressor is known as a "Pancake." It is a lightweight and oil-free version, with a 6-gallon tank, producing a maximum pressure of 150 PSI, and airflow values that top out at 2.6 SCFM at 90 PSI.
The compressor runs at 78.5 decibels, so it is as noisy as a typical office environment, and it has a high-flow regulator and coupler to maximize your air tools. Bostitch's high-efficiency motor ensures an easy start even on cold days.
What We Like
Weighs 31 Pounds
Pancake compressors are incredibly lightweight. This one weighs just 31 pounds, so while it lacks wheels, it is easy to carry in the trunk of your car.
Easy Start Motor
On cold days, motors can struggle, but this model, it is so efficient that it has an easy-start feature to get going no matter what the temperature. Tire shops are drafty places, so when it gets cold, the equipment suffers.
Oil-Free Pump
Oil-free pumps are better for the environment and your wallet. They create zero waste and reduce the running costs of operating the compressor. They also produce cleaner air, improving the lifespan of the compressor.
Great Price
This is a cheap compressor, which limits its capacity and power. But it scores big when it comes to price. It's a great option if you are a beginner and are looking for a manageable compressor.
What We Don't Like
Limited Capacity
These compact compressors are great for inflating tires, but they have limited uses if you are looking for longer projects and heavy-duty tasks.
Product Specs
| | |
| --- | --- |
| Weight (pounds) | 31 |
| Dimensions (inches) | 17 x 17 x 19.25 |
| Max PSI | 150 |
| CFM | 2.6 at 90 PSI |
| Capacity (gallons) | 6 |
| Oil/Oil-free | Oil-free |
| HP | 0.9 |
| Price | $ |
| Warranty | 1-year limited |
Our Ratings
Community Feedback
My experience with this air compressor has been a mixed bag of positives and negatives. On one hand, it's impressively quiet, holds a charge well, and starts up unfailingly in cold weather - a feature particularly appreciated during Great Lakes winters. However, it tends to run hot, emits an odd smell reminiscent of burning oil, and the plastic around the pressure gauges doesn't fit snugly against the base, though these are more cosmetic issues than functional ones.
---
Senco PC1010 1-Gallon Air Compressor
Best Budget Shop Air Compressor
Not everyone has a big budget. Some people have limited finances and cannot afford an expensive high-end compressor. Say hello to the Senco if you like saving money.
This compressor has a 1-gallon capacity, so it has a limited range of what it can do. If you consign it to lighter duties like inflating tires, swimming pool inflatables, and even balloons, it will cope admirably.
The engine is 0.50 horsepower under strain but 1 horsepower at peak, delivering 20 to 44 drives every minute. It's lightweight, portable, and above all else, cheap. The maximum PSI is 125, and the CFM is rated at 1.4 at 90 PSI.
The lubeless pump ensures that it is maintenance light and an ideal compressor for a beginner.
What We Like
Lightweight and Portable
This compressor weighs 20 pounds, so you can pick it up and pack it into the trunk of your car. It's the ideal compressor if you have a cycle shop or repair motorcycles for a living.
Unbelievably Low-Cost
It may not be the most powerful compressor to make the review, but it is the best value for money. It costs a fraction of others in its class, and it makes an ideal compressor for beginners.
Great for the Shop and Home
Some compressors are built for commercial uses only, but this model is equally at home in your shop or domestic environment. It is light and compact, and the power levels would suit a hobbyist user.
What We Don't Like
Limited Uses
While it may suit commercial and home users, it does have limitations. It is only capable of performing lighter duties like inflating car, motorcycle, and bicycle tires. So, if you own a cycle repair shop, this compressor will serve you well.
1-Gallon Capacity
The small air tank is going to need refilling frequently. This slows you down. It would be better suited to intermittent use rather than sustained use because you will spend a lot of time waiting between recharges.
Product Specs
| | |
| --- | --- |
| Weight (pounds) | 20 |
| Dimensions (inches) | 14 x 13 x 10 |
| Max PSI | 125 |
| CFM | 1.4 at 90 PSI |
| Capacity (gallons) | 1 |
| Oil/Oil-free | Oil-free |
| HP | 0.50 |
| Price | $ |
| Warranty | 1-year |
Our Ratings
Community Feedback
For those looking for a compact, lightweight compressor, this Senco PC1010 is an impressive option. Despite its size, it's capable of driving various nail guns effectively, including 23, 18, and 15 gauge nailers, although it struggles to keep up with mass nailing tasks such as framing. What sets this compressor apart is its portability and reduced noise level, making it a pleasure to use in different environments. Even after regular use over a year and a half, the compressor held up well, with the only minor issue being the foam pad around the handle started to tear off. However, due to the unit's lightness, this didn't hamper its portability or overall performance.
---
WEN 2289 10-Gallon Vertical Air Compressor
Best Portable Shop Air Compressor
Portability is crucial if you want to increase your flexibility. The ability to bring the compressor closer to the action is much more convenient. This WEN model is our pick for the best portable compressor thanks to the 7-inch, never-flat wheels, and the large handle.
The 10-gallon tank glides along almost every surface, and when you reach your destination, two sturdy legs ensure that the compressor is balanced and secure. It has a maximum PSI of 150 and a CFM of 4.0 at 90 PSI.
It's also an oil-free pump, so it provides cleaner, uncontaminated air, which preserves the operating lifespan of your compressor. It also features an easy-to-reach quick drain valve and a quick coupler, and two pressure gauges.
What We Like
Never-Flat Wheels
If you are looking for a portable air compressor, this WEN has never-flat wheels to make maneuverability a top priority. The handle also has a rubber grip, increasing the agility of the compressor.
Oil-Free
Oil-free pumps are the best types if you want to avoid the added expense of compressor oil and the damage disposing of old oil does to the environment. It also reduces the maintenance burden.
Maximum 150 PSI
Most air tools operate at about 70 to 80 PSI, so having 150 at your disposal increases your options. It means you can tackle heavy-duty tasks as well as lighter duties.
What We Don't Like
Build Quality Issues
Some customers have complained that their compressor arrived with missing parts or it failed after a few uses. It seems that to save costs, WEN has used cheaper components during the construction process.
Product Specs
| | |
| --- | --- |
| Weight (pounds) | 71.5 |
| Dimensions (inches) | 16 x 17 x 33.5 |
| Max PSI | 150 |
| CFM | 4.0 at 90 PSI |
| Capacity (gallons) | 10 |
| Oil/Oil-free | Oil-free |
| HP | 1.5 |
| Price | $$$ |
| Warranty | 2-year |
Our Ratings
Community Feedback
Excellent! This Wen compressor has become a reliable partner in my home woodworking shop. Despite some minor assembly adjustments and a few features I wish it had, it's perfect for my DIY projects, powering my nail guns and inflating bike tires. It's louder than its pricier counterparts, but it's compact, durable, and meets all my air needs efficiently.
---
Ingersoll Rand SS5 60-Gallon Single Stage Air Compressor
Best Machine Shop Air Compressor
Okay, now we are getting to the big boys, where the emphasis is on capacity and sheer power. This Ingersoll Rand is a stationary 60-gallon compressor, so it cannot be moved once it is in position. Ingersoll claims that this compressor will run for 5,000 hours of trouble-free use, making it one of the most robust models you can buy.
Machine shops are demanding places, so it's reassuring that this compressor has a 100 percent continuous run cycle, so you won't have to keep stopping while it cools down. It has a maximum PSI of 135 and 18.1 CFM at 90 PSI. That's a healthy airflow.
The 5 horsepower motor and the cast iron construction extend the working life of this device, coupled with the synthetic lubricant instead of oil-based lubricants, which means you get 2,000 hours between service changeouts.
What We Like
Extended Life
Ingersoll Rand has poured everything into making this compressor a long-lasting machine. They claim it will give you 5,000 trouble-free hours of use as a bare minimum. It means they must be pretty confident in their design and the quality of this compressor.
Advanced Safety
With manual thermal overload and an encased belt guard, this compressor is able to withstand the rigors of machine shop life. It also has an automatic start/stop cut-off when the correct pressure gets reached.
Reputable Brand
Like DeWALT, Ingersoll Rand is a global brand name, loved worldwide for creating quality and hard-wearing tools and accessories. Go to any workshop or construction site, and you will see Ingersoll Rand products in action.
What We Don't Like
Pricey
Ingersoll Rand slipped up here with the price. It costs almost 10 times the budget option, but is it 10 times better? That's not for us to decide, but it does highlight how expensive this compressor is compared to the competition.
Not Portable
We get this is a cumbersome compressor, but make sure you get it located in the correct spot because once it is in place, you can kiss goodbye to moving it. It has no wheels and weighs 310 pounds.
Product Specs
| | |
| --- | --- |
| Weight (pounds) | 310 |
| Dimensions (inches) | 24 x 30 x 73 |
| Max PSI | 135 |
| CFM | 18.1 at 90 PSI |
| Capacity (gallons) | 60 |
| Oil/Oil-free | Synthetic lubricant |
| HP | 5 |
| Price | $$$$ |
| Warranty | 1-year |
Our Ratings
Community Feedback
I'm delighted with this compressor which I bought for my auto painting project, a step up from my previous 5.5 CFM model. Right out of the box, you'll need about two pints of compressor oil lubricant and your own power cable and plug, but don't go overboard with the wiring as I did, it's never used over 40 Amps in my experience. I advise adding an elbow, extension and ball valve to the drain for better accessibility. In terms of performance, it has surpassed my expectations, refilling quickly even under full load and easily handling my non-commercial automotive painting tasks. Remember, it doesn't come with oil, fitting, air pressure regulator/filter or electrical cable, but for me, this was a plus as I could tailor it to my specific needs.
---
DeWALT DXCMLA1983054 30-Gallon Air Compressor
Best Paint Shop Air Compressor
When you are spray painting a car, you need a compressor with enough clout to cope. It needs to run for longer periods without overheating, and it needs to deliver where it counts. This is a 30-gallon compressor with a SCFM value of 5.7 at 90 PSI and 7.0 at 40 PSI. This is enough to operate a high-volume low-pressure (HVLP) spray gun.
The large pneumatic wheels and handle make this a portable compressor, plus it is an oil-lubricated motor, so you get a more robust pump. The maximum PSI is an impressive 155, making it one of the best available for spray shops.
This DeWALT is a cast iron V-shaped cylinder with two pistons. The large piston draws the air in and pushes it to the smaller piston chamber, where the air is pressurized. It increases the efficiency of the process, which uses less energy and fills the tank faster.
What We Like
Dual-Voltage Motor
DeWALT recognizes that this compressor is useful in the shop or home, so they have equipped the motor with a dual-voltage capability. With some minor adjustments, the engine converts to run on 120 and 240-volt systems.
Large Wheels and Handle
If you work in a spray shop, you will need your compressor to be portable, so you get complete access to the car you are spraying. The pneumatic wheels make it a joy to maneuver. The handle gives you a superior grip.
Quality Brand
The name alone inspires confidence that this is a quality compressor. DeWALT is a global brand, loved the world over by tradespeople and shops everywhere.
What We Don't Like
Very Expensive
It is not a budget compressor by any stretch. You will need a deep pocket if you want to buy this model. It costs 6 times the price of the budget option.
Weighs 190 Pounds
It may have large, pneumatic wheels, but boy does it need them. This compressor weighs 190 pounds. Compared to others, that's pretty heavy, so be thankful for those wheels and large handle.
Product Specs
| | |
| --- | --- |
| Weight (pounds) | 190 |
| Dimensions (inches) | 22 x 27 x 44.5 |
| Max PSI | 155 |
| CFM | 5.7 at 90 PSI |
| Capacity (gallons) | 30 |
| Oil/Oil-free | Oil |
| HP | 1.9 |
| Price | $$$ |
| Warranty | 2-year pump (1-year other parts) |
Our Ratings
Community Feedback
I've been using this air compressor for a while now, and I've had a mixed bag of experiences. On the bright side, it's got impressive power, quickly fills up, and can easily handle multiple air tools. It's also quieter than the oilless type I used to own, which is a big plus. However, I did encounter some problems early on, like a stuck pump and some issues with the air release and oil drain plug. Despite these hiccups, the compressor seems well-built and sturdy, but it is a bit of a chore to move around due to its size.
---
Campbell Hausfeld 26-Gallon Vertical Compressor
Best Woodshop Air Compressor
This is a 26-gallon air compressor mounted on two large wheels with a well-positioned handle. It has a maximum working pressure of 150 PSI, so it can tackle an array of jobs, especially nailing and stapling, and it produces an airflow of 4 CFM at 90 PSI.
It's a vertical design to save space in the woodshop and store away easier. The motor produces 1.3 horsepower, and the compressor runs at a noise level of 88 decibels. It doesn't have the most powerful engine, and it isn't the quietest model to feature.
The duty cycle is 50 percent, so for every 30 minutes of work, the machine needs to rest for a further 30 minutes.
What We Like
Ideal for Commercial and Home Use
Unlike similar compressors, this one is at home in a domestic setting as well as your woodshop. It means you can take it home to finish some of the outstanding projects and, when done, ship it back to the workshop.
Oil-Free Pump
It's been said many times, but oil-free pumps allow you to operate without an expensive maintenance schedule and frequent oil changes. It also has less impact on the planet and produces cleaner air.
17-Piece Accessory Set
Get your project underway straight out of the box with the 17-piece accessory set. It includes a 25 ft hose, 3-in-1 inflation gun, and a chuck and gauge.
What We Don't Like
Limited Capability
While this is an excellent compressor for finish-nailing, stapling thin planks, and using a nail gun, air sanders are not recommended. Some things still need to be done by hand.
Product Specs
| | |
| --- | --- |
| Weight (pounds) | 105 |
| Dimensions (inches) | 18.3 x 17.9 x 49.6 |
| Max PSI | 150 |
| CFM | 4.0 at 90 PSI |
| Capacity (gallons) | 26 |
| Oil/Oil-free | Oil-free |
| HP | 1.3 |
| Price | $$$ |
| Warranty | 2-year |
Our Ratings
Community Feedback
Got this compressor and it's mostly lived up to my expectations. While the noise level is significant, it's on par with other air compressors, and it's effective for various needs ranging from vehicle maintenance to home projects. The compressor takes a bit longer to fill due to being 120VAC but it's not a major issue. There was a minor issue with a bent wheel and some initial corrosion on the fittings, but overall the product's quality is commendable. This compressor, while not perfect, is a reliable tool that's served me well.
---
How Do Shop Air Compressors Work?
Shop air compressors work in the same way that standard air compressors work. The motor drives the pistons, as air gets sucked into a larger chamber and then compressed into a smaller chamber, where it is pressurized and forced into a holding tank.
The air then releases through an air hose attached to the compressor and the air tool at the other end. When the tank depletes, the compressor kicks into life and recharges the tank with more pressurized air.
There are other ways that air compressors work, but the most common types are belt-driven and oil-lubricated models. Shop air compressors need to be multi-functional with the airflow and PSI to drive large power tools for the most challenging jobs.
And this is the real advantage of a shop air compressor. Electrical power tools are often more expensive to buy, and you would need an extensive collection to cover the many aspects of your work. Air tools, by contrast, are cheaper, and you can interchange them with the same compressor. Also, they are more powerful, so removing stripped or rusted bolts and nuts will be a breeze.
How To Choose the Best Shop Air Compressors
There are so many shop air compressors to choose from, so making the correct choice is a challenge. We have compiled a list of the essential things to look for in a shop air compressor.
---
How To Make Shop Air Compressors Quiet?
There are ways you can modify your air compressor to make it quieter. The main source of the noise is the engine, so insulation could reduce the volume significantly. You could also try and reduce vibration by placing the compressor on a rubber mat to absorb movement.
The type of floor you stand it on makes a difference too. Wooden boards vibrate along with the compressor, amplifying the sound, whereas concrete is hard and absorbs the noise.
Shop Air Compressor FAQs
---
A Well Equipped Shop Is a Happy Shop
Whatever you specialize in, having the right tools enables you to deliver timely and efficient service. Changing tires, making furniture, repairing cars, these all employ specialist equipment, yet none of these activities would be possible without the right air compressor.
They offer options that allow you to get on with the task using the right tools for the job. Do yourself a favor and invest in the best air compressor for your shop. You won't regret it.
Thank You For Your Feedback!
Thank You For Your Feedback!