There are few tools that can boast the versatility of radial arm saws. This single saw can perform the duties of several other stationary tools.
In the hands of an experienced woodworker, a radial arm saw is one of the most dependable tools you can buy. They achieve this while being more affordable than some of the larger, more specialized tools that are available.
If you have never used one before, you might not know about various radial arm saw uses. To give you a clearer picture, we will take an in-depth look at radial arm saws, including the various cuts they can make.
Key Takeaways
Radial arm saws are versatile tools, capable of making crosscuts, rip cuts, bevels, miters, rabbets, and dado cuts.
These saws can cut through materials up to 3 inches thick and 4 feet long, making them ideal for various woodworking tasks.
Radial arm saws are powerful machines; it's essential to follow safety precautions to avoid accidents, such as setting up the saw correctly and practicing emergency shut-offs.
The average cost of a radial arm saw ranges from $150 to $500, depending on size, quality, and additional features.
---
What is a Radial Arm Saw?
A radial arm saw is a cutting power tool with a circular saw mounted on a sliding arm that extends over the workpiece. They are unusual in that the motor and blade move toward the stock, unlike other stationary cutting tools, where the material is moved into the blade.
The blade can be locked into position when making rip cuts so the stock approaches the blade instead, increasing its versatility.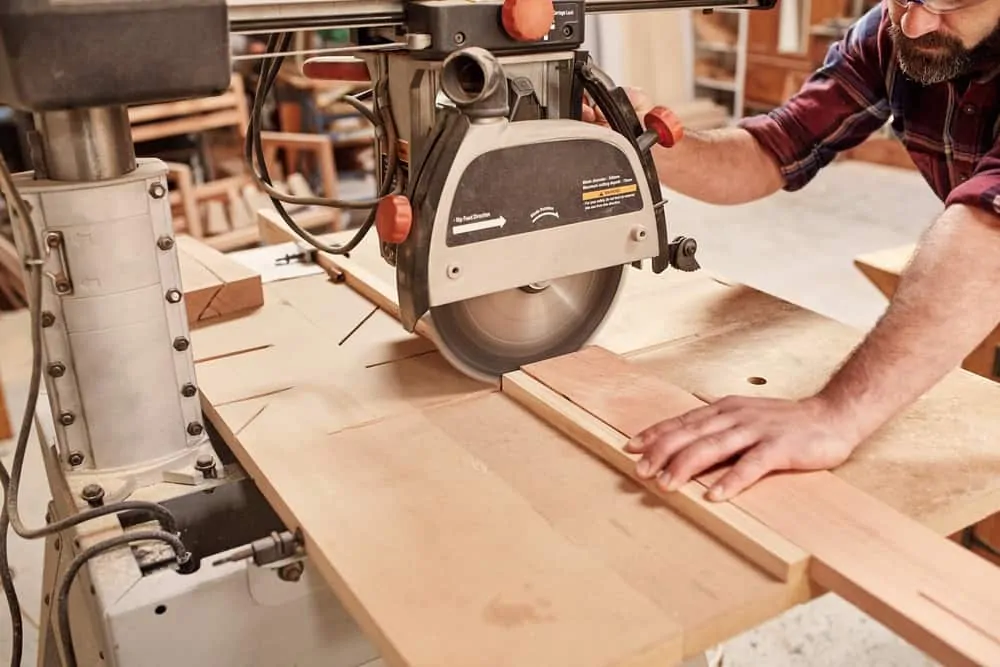 The radial arm saw was the brainchild of Raymond DeWalt in 1922, after he was asked to improve productivity at a sawmill without increasing the workforce costs (1).
He reasoned that, if you couldn't expand the workforce, you had to give workers tools that helped them complete tasks more quickly and without assistance. As a result, he invented the world's first radial arm saw, a design known as the "Wonder Worker".
What Is a Radial Arm Saw Used For?
Radial arm saws are designed primarily for making crosscuts, but they can also be used for rip cuts, bevels, miters, rabbets, and dado cuts.
Crosscuts
Set the depth of the blade just below the base of the stock you are crosscutting. If you don't have much experience using radial arm saws, the tabletop will probably suffer a few unintentional cuts.
Never hold the material freehand when using a radial arm saw. Always push the stock firmly against the fence. Wait until the saw is spinning at full speed before you lower it to the material you are cutting.
As you pull the saw toward the material, the blade will spin away from your body. This means the sawdust is blown behind the machine and away from you, helping keep your line of sight clear. However, the downside of the blade spinning away is that it can snatch the stock as it lurches forward.
Always apply pressure to the material to prevent the saw from dictating the speed at which it cuts, as this will help you maintain control during your work.
One way to counteract this grabbing action by the blade is to pull the saw toward you and then push it away as the blade cuts through the stock.
Rip Cuts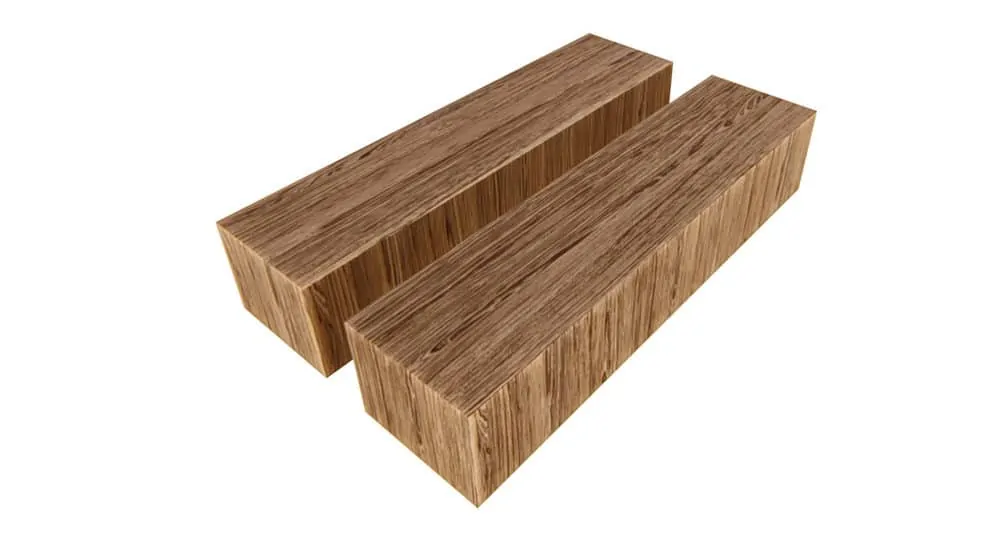 If you need to make rip cuts frequently, it is best to do it using a table saw as they are designed for this purpose. Even so, once it has been configured properly, a radial arm saw does an admirable job of making rip cuts. It will be limited in terms of rip capacity width but it will otherwise work well.
Make sure you use the riving knife and pawls to reduce the chances of kickbacks. The riving knife prevents the stock from binding after it has been cut, which is otherwise one of the leading causes of kickbacks.
The pawls hold the stock and prevent it from kicking back if the material becomes wedged in the blade during a rip cut. Both these devices are parts of the radial arm saw's anti-kickback safety system.
Always set the depth specifically for the stock you are working on.
Remember
The pawls may not grip melamine and other laminated stock if a kickback occurs, so take extra care when cutting them.
Miter and Bevel Cuts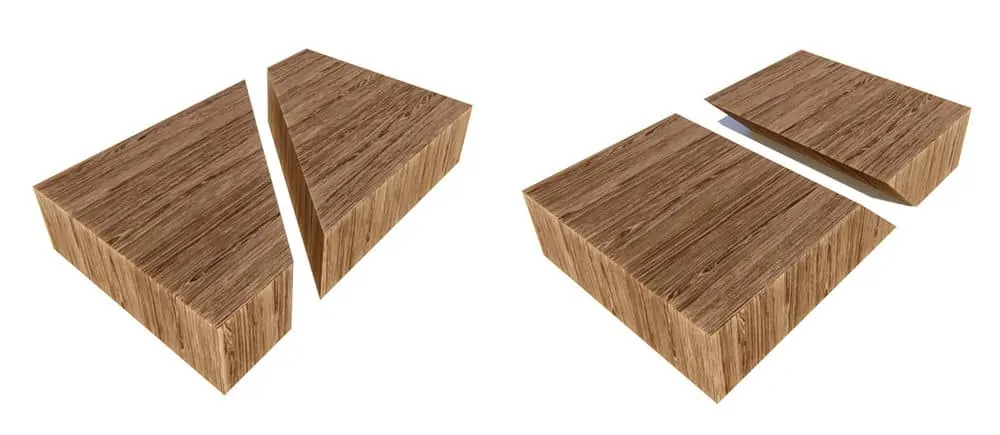 For cutting miters, a radial arm saw typically cuts both left and right at 60 degrees and bevels at 90 degrees but only in one direction. Judging the angles on a radial arm saw is more challenging than a miter saw, but you will have the ability to cut more complex angles than a compound miter saw.
Top Tip
Always ensure the clamping levers are locked and secured before making your first cut.
Dadoes and Rabbets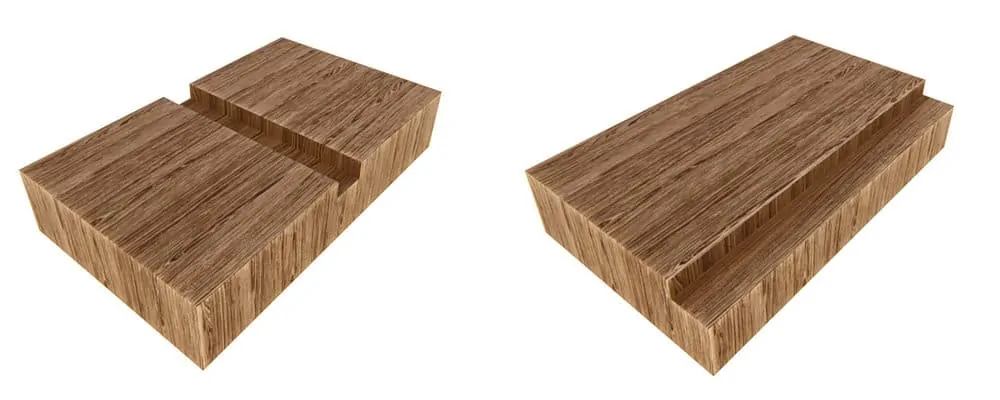 Radial arm saws are excellent tools for cutting dadoes and rabbets. Before you start working on your dadoes, check the depth of the miter saw blade with a scrap piece of wood. If you are happy, stack your dadoes to the height you want, making sure they don't exceed the depth of the blade.
When you are satisfied that the saw is configured properly, install the blade guard and start cutting. Cutting dadoes and rabbets is about as straightforward as making crosscuts.
Top Tip
Make sure you install your dadoes so your cut is in the direction of the rotating blade.
Radial Arm Saw Safety Tips
Like any power tool, there are some important safety precautions you should follow to reduce the likelihood of accidents.
Set Up the Saw Correctly: Always set up your radial arm saw at a slight angle, leaning away from you. This will prevent the saw blade from sliding toward you under its own weight.
Blade Speed: Make sure the saw blade is spinning at the correct speed before you start making any cuts. This will keep the blade from binding and help you cut as smoothly as possible.
Keep Hands Safe: Whenever you need to reposition your hands, always bring them back to your body first. This will help you keep them away from the blade and prevent accidental contact. Never swing your hands or arms around when the saw is operational and don't wear anything with baggy sleeves as they could get caught in the machine.
Remove Blockages: If something becomes lodged in the blade, always shut down the saw and unplug it before attempting to remove the item. Don't try to keep sawing as you could overstress the motor.
Practice Emergency Shut-Off: Familiarize yourself with where the shut-off is and practice reaching for it in an emergency. Turning the machine off quickly should become second nature, which will make a significant difference if an actual emergency occurs.
Size the Table: When setting up the saw, make sure the table it sits on is wide enough to accommodate it. Never place the saw on a table it will overhang when fully extended.
No Loose Clothing: Baggy clothes are a potentially major hazard when using a radial arm saw, as they can get snagged on the blade, which will pull your hand and arm toward it. You should always wear short sleeves or something snug when using a power saw.
FAQs
---
Thank You For Your Feedback!
Thank You For Your Feedback!