Thinking about giving your house exterior a new look but have no clue which colors are hip right now? Who can even keep track of trends anymore with all the color options? We can, and we're going to show you the popular exterior house colors that are trending in 2023.
Key Takeaways
Consider fixed elements like roof shingles, stones, footpaths, and driveways when choosing exterior colors.
Use three key components for your color scheme: a dominant field color, an accent color, and a trim color.
Test your paint choice on a hidden section of your home and observe it in different lighting conditions to make sure it's the right fit.
Take inspiration from popular color trends, such as neutrals, greens, blues, and even bolder choices like yellow and lavender.
---
What Are the Most Popular Exterior House Colors for 2023?
Fortunately, what's trending in 2023 is anchored in timeless style. There's a photo gallery of classic neutrals, somber grays and blacks, and a rainbow of greens that feel at home in rich Southern landscapes. These trendy color schemes look great on shutters and trim as well as sidings or brick walls.
Neutrals
Bright white has captured the hearts of homeowners in recent years, and for a good reason. A coat of white paint applied correctly can totally change a home, both inside and out. However, in 2023, look for warm off-whites and other comforting hues.
Basil
Green is no longer just for landscape. As with interiors, green is also a popular choice for outdoor paint palettes.
When combined with a pristine black and white palette, Basil gives a trendy edginess to the façade that is both unexpected and charming. Basil becomes a real feature in a color scheme that appears organic and contemporary.
Yellow
One of the most versatile colors because of the variety available, including sunny, lemon, and golden.
A yellow-painted house is associated with a sunny day, which means it will help you recharge and subtly improve your mood. The yellow tone contrasts with autumn's fading nature and spring's reviving flora.
What to Consider
Before choosing a color for your home's exterior, think about some of these important points. It might save you a headache down the road.
Think About the Roof Color
Before proceeding any further with your color selection, you must consider the color of your roofing. Those with neutral gray or black walls won't have to worry about color clashes as much.
Trust the Sun
Direct sunshine enhances colors. So, keep track of which areas of your home receive the most sunlight at certain times of the day.
If the front of your property receives direct sunlight for most of the day, consider using more subdued colors to avoid a flashy appearance. On the other hand, a home that is usually in light shade due to trees can benefit from more saturated colors.
Coordinate Colors with Materials
Choose trim colors that complement the natural colors and textures of stone or brick façades. Let's assume you have a home with dark red brick walls. If you want to choose a compatible trim color, you can go with contrasting cream and sage accents.
Get Inspired by Neighbors
I agree that your house is yours alone to decorate but when you lack ideas, why not pick something that fits the rest of the block?
Consider the color schemes of the homes in your neighborhood, noting which ones appeal to you. If the style of your home is comparable, a variation on one of your favorite color schemes will look great and be appropriate for the area.
Test, Test, Test
The color you see on the store's paint chip will darken and become stronger in direct sunshine throughout a large portion of the exterior. Create huge boards with the paint colors you're contemplating for the outside so you can move them around.
You could paint the samples directly onto numerous locations throughout the house. You want to see what the colors and hues look like at various times of the day and in different lighting.
Popular Exterior House Colors
If you need some inspiration, you really can't go wrong with any of these colors. Just make sure it goes with your home's style and your personal preferences.
1.

Blue-Gray

Blues and grays have been popular exterior paint colors for the previous decade. Now, designers blend the two to create blue-gray tones for home exteriors. The tint pairs beautifully with masonry and wood trim.

The color combination would work well when your house is surrounded by greenery. It also pairs with a setting that has plenty of stone.
2.

Black

With the rise of minimalist modern styles, black layers are becoming a popular choice for home exteriors.

Black colors like Carbon Copy by Benjamin Moore complement wood and bricks and work well with gray accent colors and primary exterior home colors. Black will always be one of the popular house colors because of its high versatility.
3.

Ocean Blues and Greens

Shades of aqua, green, and ocean blues offer a nice change from yesterday's pale blues. Prepare the exterior of your property for painting and experiment with a seashore aqua color and ivory for a refreshing look.

Take a look at Sea of Green by Benjamin Moore to see if it's a good choice for you. I personally love it!
4.

Yellow
Both vibrant and romantic, yellow seems to be a color that will never go out of style. Sure, it's a bold move to paint your exterior walls yellow but don't you want a house that stands out of the crowd?
5.

Beige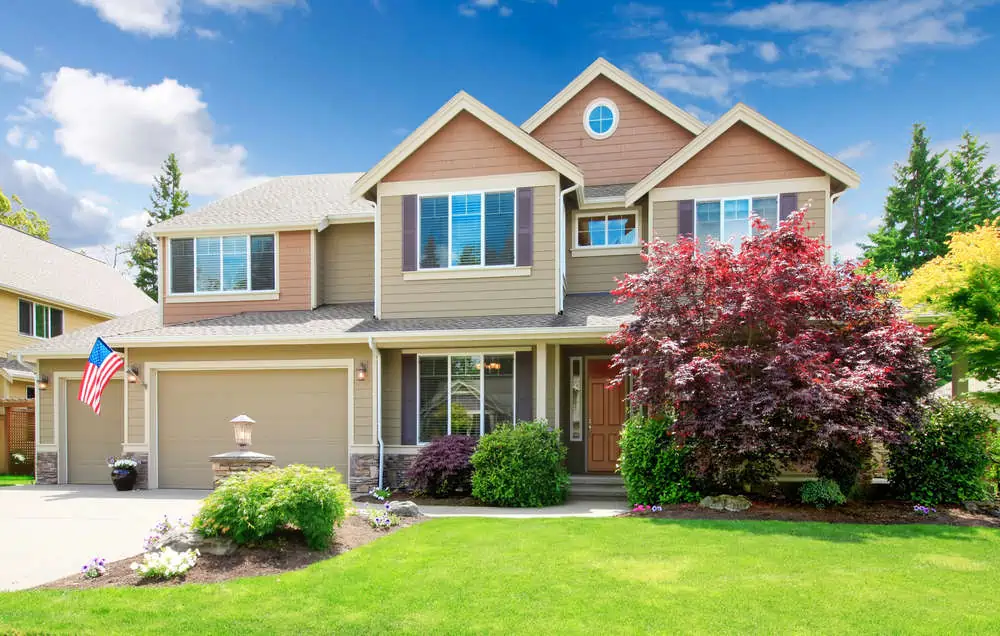 One of the most appreciated neutral colors, beige will hit the sweet spot for homeowners that love a sophisticated trim. You can use white on other exterior elements to play it safe, like trim and railings.
6.

Gray

Even if gray is a color that's slowly experiencing a decrease in popularity, it's still a tone that will never go out of trend. Because siding often covers the most surface area on a home, it is frequently used as the foundation color for an exterior scheme.

With that in mind, you can always go for gray siding. It does well with white trim and offers plenty of playroom for front door color. My color suggestion would be ORCHID ASH 4003-3B by Valspar; it's a lovely shade of gray.
7.

Red Doors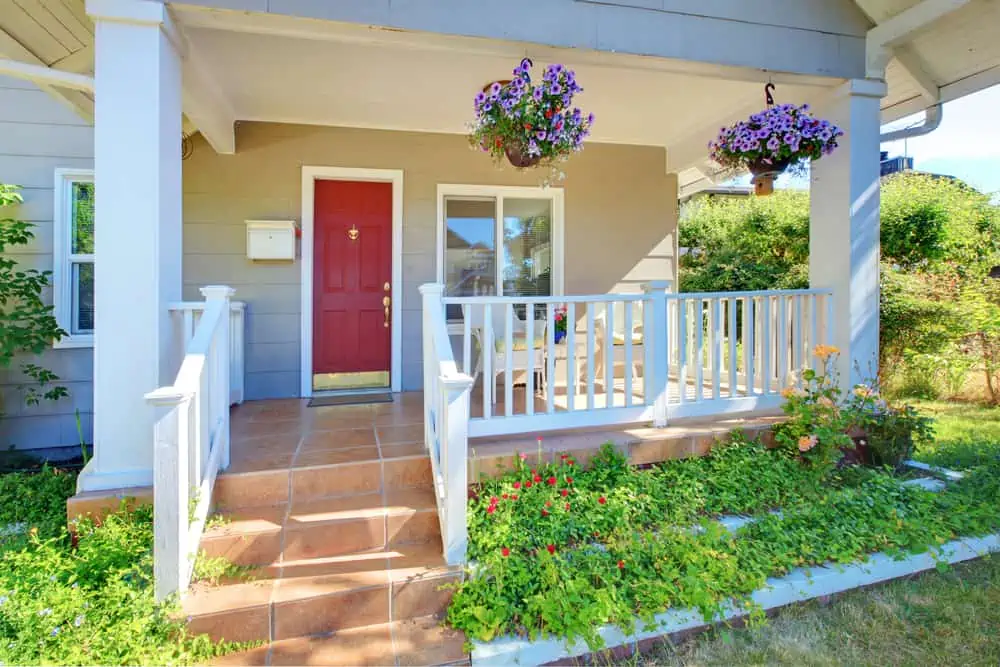 It's perfectly okay to choose just one feature that sticks out from the rest of your exterior color scheme; this is your front door more frequently than not. The rationale for this is both aesthetically pleasing and functional.
Visitors will know where to go if the front door is painted vibrant crimson. If you don't want to commit to a bold exterior red color, you can always opt for an accent feature.
Crimson Red by Sherwin Williams is a great choice if you're thinking about painting your exterior door red.
8.

Primary Colors

Naturally complementary colors are the primary colors, which serve as the building blocks of all other hues. However, few of us would consider painting our homes in primary colors of blue, yellow, and red, as depicted on the original color wheel.

When adding some brightness and depth, the hues combine to create an external color scheme that is both distinctive and deeply pleasing at the same time.

The key to successful color pairings is to choose one hue that stands out and another that is used sparingly in the overall scheme. I adore Ocean Drive PPG1040-3 by PPGif you're thinking about going with this color suggestion.
9.

Wood Stain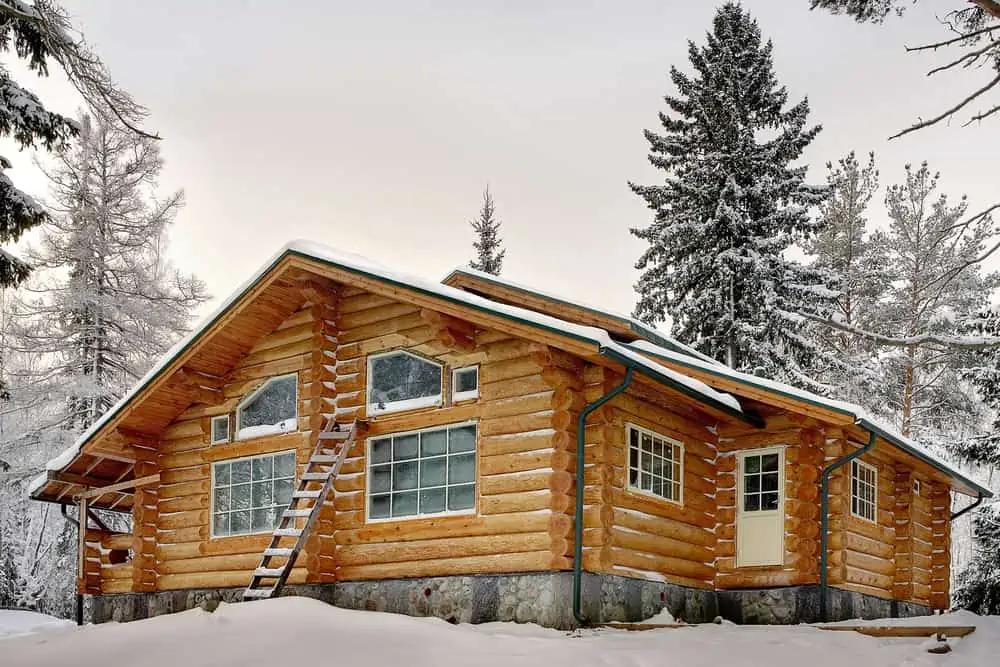 Wood stain comes in a variety of tones and colors to pick from. Any of which can breathe new life into the exterior of your home. Several home types benefit from using wood stains in intermediate tones, particularly in the kitchen.
Pro Tip
Test a small section of an external wall to see how the color appears and feels throughout the day.
White is a foolproof accent color that goes with everything. A white window trim, doors, and pillars are conventional accent colors for homes with a more traditionally fashioned exterior. A safe starting point would be something like Cedar Naturaltone by Olympic.
10.

Blue and White
A classic color combination you can't go wrong with. It provides your home with a lively but somewhat traditional look. It's like a cozy fairy tale cottage that feels very welcoming.
You can experiment with different plant foliage colors to decorate the porch. There are also plenty of blue tones, but I'm particularly fond of a darker shade, like OXFORD BLUE by Johnstone's Paint.
11.

Brown

If you think brown is a dull color, you have another thing coming. It's one of those classic and popular exterior home colors that will never really go out of style.

You can create loads of interesting contrast even when using brown paint. You can brighten the trim dial and create an effect that's very aesthetically pleasing.
12.

Purple Victorian

Victorian-style mansions are famed for their elaborate embellishments. Vibrant colors are nearly expected in these traditional residences, and they are frequently used to decorate them.

A color scheme that includes these elements makes sense for a Queen Anne or Victorian-style exterior with cream-colored greens, purples, yellows, and slate-colored roofs.

The home's architectural characteristics, such as fish-scale shingles, were highlighted with multi-hued color schemes. When decorating with a Victorian style, you have a wide range of color options at your disposal, including saturated tints and bold, daring hues.
13.

Teal

Want to make a statement with your house color? Express Teal by PPG has to be one of the top choices. It's the type of color that truly stands out, but not in an unpleasant way. It's more like seeing it and thinking about something courageous and elegant.

It would go well with some red accents, maybe even brick porch stairs. When paired with white, it almost tones down some of that boldness.
14.

Tuscan Pink

Tuscan pink is another iconic color for stucco homes, and it is also available in several shades.

The color is a bit pretentious compared to others in this list since it has a muted tone that still manages to be very powerful. You can combine it with white trimming and even an orange entrance door.
15.

Off-White
Alabaster by Sherwin Williams is a timeless color that is also in vogue this year, thanks to the popularity of warmer, off-white exteriors. It has beige overtones that do not appear yellow in most situations.
It's the ideal exterior neutral tone, particularly well-suited for brightening up homes that receive a great deal of shade. The versatile shade can be utilized as a siding or body color and a house trim color that contrasts with the siding or body color.
Alabaster goes well with both classic clapboard siding and brick on a home's exterior. This traditional color pairs wonderfully with deeper tones in the roof shingles, black trims, navy shitter, and charcoal front doors, to name a few examples.
16.

Vibrant Green

Vibrant green is a gorgeous color. Use a shade of sage green for your exterior walls, or pair it with other colors and use it as an accent. If you go for darker shades, you can complement the greenery surrounding your home.

These hues are perfect in combination with brown and reddish-brown elements. They could be railings, stairs, or even flowering plants.

I have to say, Green Smoke by Farrow & Ballis one of my go-to green shades because it doubles as a neutral tone to go with various styles.
17.

Red and Black

If you have a small home, red is a color you can't go wrong with. Small houses are often paired with red as designers think it makes small structures more imposing without being overwhelming.

If you choose black accents (like the shutters), you can create a mysterious yet appealing look. If you're looking for a color suggestion, try Brick Red by Benjamin Moore.
18.

Yellow and Blue

You can opt for yellow as the main color and choose blue accents. You can also go the other way around and make blue the predominant color. You can pair navy blue with bright yellow or muted yellow with light blue.

Whatever your choice is, these two colors are just ravishing together. They have a very romantic vibe to them. Even if some people consider this a bold color scheme, you can choose muted or lighter shades and prove them wrong.
19.

Black and White
Classic colors like black and white never go out of style. Whether you have an older home or a new one, this timeless combination will remain in style for years to come.
It will stand out even more against a lush green lawn. It looks amazing when paired with nature-based colors, even autumn's rusty leaves.
20.

Tan, Brown, Blue

When it comes to lake homes, blue is a common exterior color choice. Designers can make an eye-catching option by using brown and tan to draw attention to trim and architectural aspects. The combination of the three colors also gives the house a Scandinavian feel.

You really can't go wrong with Wilmington Tan by Benjamin Moore. It's soft and neutral and goes with just about anything.
21.

Feisty Orange
Colors like orange, especially a bright, zesty orange, are unique choices for a home's exterior. They're not for every style or every property. However, it may be a terrific and eye-catching alternative for individuals in the appropriate location and have the proper style of home.
I'm in love with Cinnamon Stone by PPG if you're looking for some color recs in the orange family.
22.

Monochromatic

Monochromatic hues on the color wheel have the same basic color but various values. Adding a monochromatic paint trend into your home is easy if you paint it entirely in black. And it doesn't have to look gothic.

Yes, it's more common to use contrasting siding and trim colors. But opting for a monochromatic look brings out the architectural characteristics of the property.
23.

Cream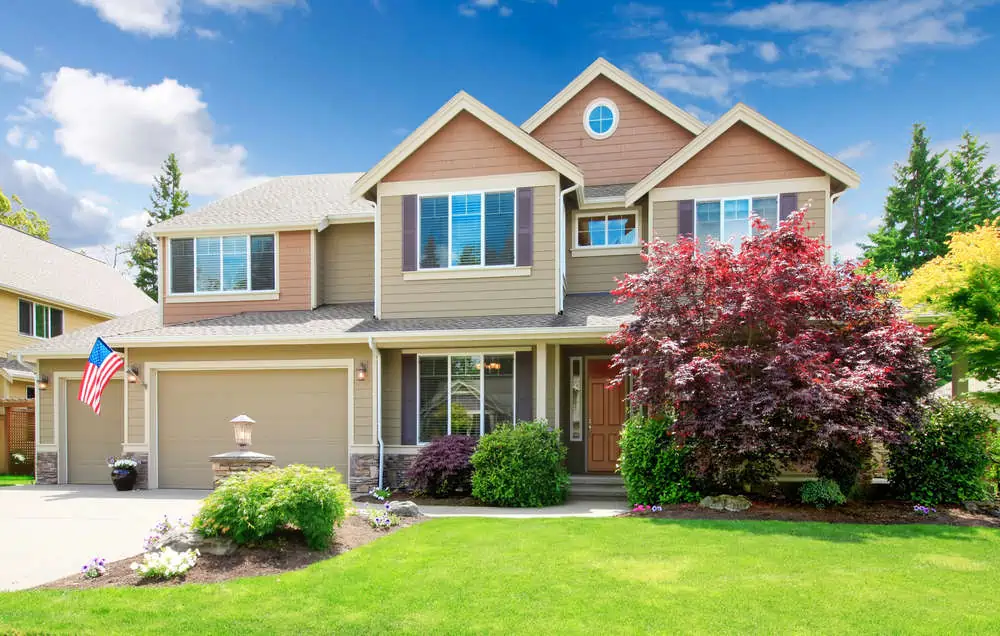 Cream is a foolproof choice if you're a neutral fan and don't want to stand out too much. It is pleasant to the eye and blends in with almost every house style and setting. But it's also versatile in terms of accent color choices.
Want a mint green front door entrance? Go for it! Are you thinking of opting for burgundy shutters? This works too!
24.

Citrus Accents

Citrus hues will be prominent in 2023 because they are bold and unexpected. This year, try something different with your home's design, whether it's a pop of lime green or a splash of citrus orange.

If you're seeking to make a change, look at the hues of colors that your neighbors have chosen and avoid making the same option. While lime might be a little overwhelming to paint the entire house exterior, it's good for an entry door.

A good color to start with is Electric Lime by Sherwin Williams. It's a popular choice for this hue of green.
25.

Roof Color

Your roof and exterior accents play a big part in the color scheme of your home. Bring samples of the paint home to evaluate how they blend with your other exterior hues. You can't miss with blue or red roof colors to go with neutral tones.
26.

Pastels
When it comes to a home's exterior, neutrals are the color of choice these days. Despite this, the appeal of a pastel home is still irresistible. Try using Mild Wind Blue by PPG if you're thinking about going the pastel route.
To ease yourself into the trend, choose calming colors to start small and build your confidence. The thing to remember when considering pastels is that they don't go well with wooden landscaping. They have more of a vivid suburban feel to them.
27.

Lavender

Lavender is a surprising addition to an external color scheme, especially when it is matched with a similarly vibrant door. I absolutely love the way Lavender Vista by PPG looks on a home.

To soften the color, choose a pastel shade of lavender with cool gray undertones to achieve the desired effect. The use of a neutral color palette will help modernize your property's exterior.
28.

Peach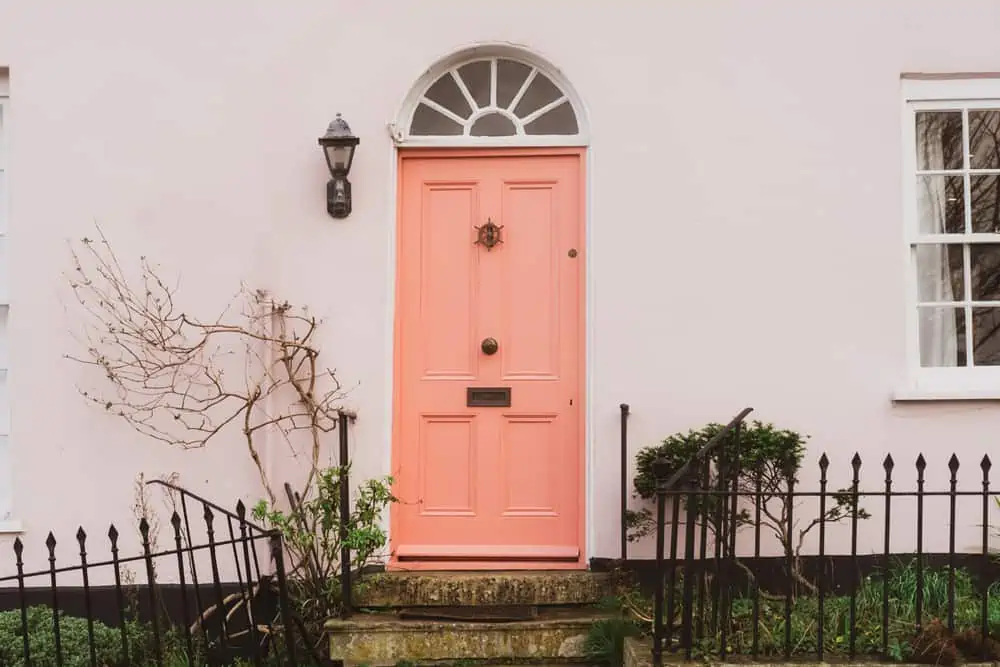 It's not pink and not really orange, but it's close. The warm tones of peach and apricot, which are currently in style, work nicely in practically every region of the country. Consider Peach Squared by Valspar if you're looking for some color recs.
Additionally, peach can be paired with black and white for a classic style, or greens can be used for an unexpected twist. You can opt for peach as a primary color or use it as an accent color and pair it with some of the colors mentioned earlier.
29.

Navy Blue

If the sight of navy-blue exterior hues makes you think of the beach, you're not alone in your association. But this isn't to say that you must live close to a beach to take advantage of it.

If it conjures up the beach images for you, all the better, right? Everyone might benefit from a bit of extra beach time in their lives. Navy blue is regarded as an attractive neutral for exterior paint colors.

It provides a sense of excitement to your façade without being overly flashy or ostentatious. Pair it with white trimming and a brown front door, and you've got an appealing house exterior to take pride in.

If you're looking for some suggestions, I'd recommend Naval by Sherwin Williams.
30.

Forest Green

Traditionally, the hue of dark forest or pine green has been used for the shutters and trim of many colonial and Victorian-era homes.

It can be an intimidating color since it's quite dark and can't be paired with just anything that comes to mind. It works well with black and white trims and accents. You can't go wrong with a brown front door, either.
Tips For Picking the Right Exterior Color
It's not always about picking your fav color or one that matches the neighbor's house. Carefully consider your choice using some of these tips.
Plan Around Fixed Elements
Unless you do a total refurbishment, existing surfaces such as roof shingles or tiles, stones, footpaths, and driveways will be retained. Consider these factors while choosing exterior colors.
Consider the undertones between them and how they might influence your palette. The paints you choose need to tie fixed elements together.
Consider Multiple Shades
Exterior schemes are composed of three key components:
A dominant field color.
An accent color that brings window shutters, doors, and other minor areas to life.
A trim color that is utilized for window and door casings, railings, roof edges, etc.
While a high contrast between the trim and field colors is ideal, some designers choose monochromatic color schemes for a more modern look. If your primary color is dark, consider using traditional white trim or a mild tint.
With darker trim, a light field color can look magnificent. Allow yourself to be bold with accent colors but refrain from going overboard.
Test the Paint
Exterior colors, like interior colors, can differ greatly from their appearance on the chip. And, because painting the exterior is a more involved process than painting a room, you'll want to get it correctly the first time.
Purchase a quart of paint and conduct a test on a hidden section of your home. Examine it at various times of the day and in various weather conditions. How does it alter in response to the light?
Only by road testing can you be certain that you'll be satisfied with it for years to come.
FAQs
Here are some extra points to consider before painting your home, from costs to finishes.
---
The Wrap Up
Now that you know the popular exterior house colors of 2023, you also have to determine what works best for your home and its surroundings. Trends are not all that's important, as these design ideas are often very subjective.
Thank You For Your Feedback!
Thank You For Your Feedback!