It can be difficult to create a sense of rustic ambiance throughout your kitchen. You might have the cabinets, walls, and accessories right, but you could still struggle to find a faucet to match.
Oil-rubbed bronze is an increasingly popular choice for contemporary kitchens with a timeless feel. This distinctive finish adds a rustic yet modern look and will give your faucet a strong identity, whichever style you're aiming for.
In this article, we will explain what you should look for when choosing an oil-rubbed bronze faucet. We have also provided reviews of what we consider the seven best oil-rubbed bronze kitchen faucets available today.
Image
Model
Product Comparison Table
Features
Single-Handle
Kraus KPF-1680ORB Sellette
Bold dark finish
Pull-down feature
Strong brass construction
Commercial Style
Antique Spring
Tall 21.85-inch arch
360-degree rotation
Lead-free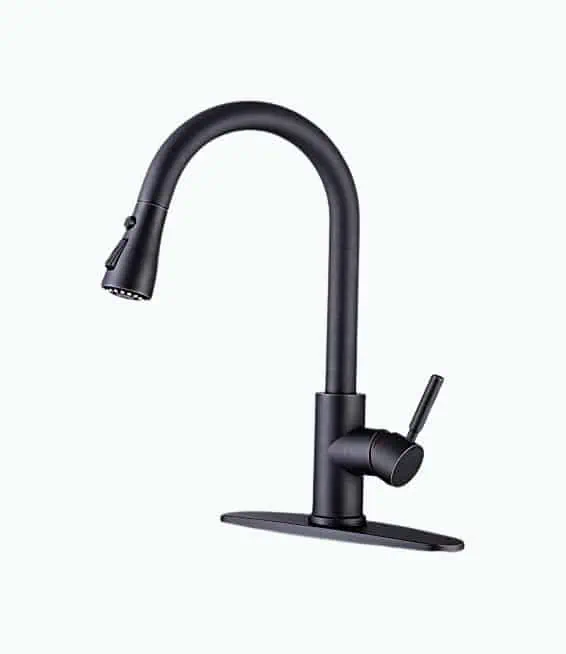 Dark-Toned
Wewe Oil Rubbed Faucet
Sleek modern design
24-inch pull-down feature
360-degree rotation
Pull-Down
Moen Motionsense Wave
Motionsense technology
Power boost technology
Textured sparkle finish
Double-Handle
Delta Faucet Windemere
Traditional shape
Powerful side sprayer
Requires relatively little space
Pull-Out
Moen 7545ORB Camerist
Futuristic design
68-inch pull-out feature
Easy Duralock installation
High-Tech
Delta Faucet Leland
ShieldSpray reduces splashing
Diamond Seal durability
MagnaTite pull-down docking
Review Methodology: At Sensible Digs, we conduct thorough research and hands-on testing to provide you with an in-depth analysis of the best oil-rubbed bronze kitchen faucets. Our experienced professionals evaluate products based on criteria such as performance, design, durability, and user experience. We compare and rank faucets using quantitative measurements and data to identify key decision-making factors. Our assessment includes reviews of factors like water flow, ease of installation, and maintenance, so you can make an informed choice. By sharing first-hand evidence and findings, we help you understand what sets a product apart from its competitors and recommend the top choices in oil-rubbed bronze kitchen faucets.
---
---
The Best Oil-Rubbed Bronze Faucets of 2023
After looking closely at users' favorites and expert advice, here are our seven favorite models that are available today.
Kraus KPF-1680ORB Sellette Kitchen Faucet
Best Single-Handle Oil-Rubbed Bronze Faucet
With a deep bronze tone, this single-handle faucet from Kraus is worth considering. It has a 17-inch high arch, a pull-down sprayer head, and a 16-inch flexible hose — in other words, it is excellent for deep sinks.
The faucet is very durable. Kraus designed a sturdy metal base fitted with a lead-free waterway, along with a ceramic cartridge.
The single-handle is perfect for smaller spaces. It has a 90-degree forward rotation, allowing for installation closer to the backsplash.
Finally, it comes ready for installation. Everything you need is in the package, other than tools. You receive the required water lines, mounting hardware, and an optional deck plate.
What We Like
Great Design
The oil-rubbed bronze is slightly different on this faucet — it is dark and smooth, with bronze highlights on the edges. From the elegant curve of the spout to the unique shape of the handle, this Kraus is beautiful to look at.
Pull-Down Feature
The pull-down feature of this faucet only adds to its appeal. It is very convenient for deeper sinks where it will prevent excessive splashing.
Another great feature is the dual function on the sprayer head. You can choose between a splash-free aerated stream or a more powerful spray.
Kraus used soft silicone on the nozzle to prevent a buildup of limescale and minerals (1) (2). It's easy to clean with a gentle wipe, so there is no need for limescale remover.
The sprayer head is fitted with a swivel adapter that allows for smooth maneuvering and stretching. Finally, the hose smoothly retracts after each use, keeping it secured in its dock.
Strong Construction
A major benefit of this type of faucet is its sturdy construction. It's made using some of the best materials — strong brass, a durable finish, and a ceramic cartridge (3). The waterways are also lead-free, ensuring safe use for years to come (4).
The water-efficient aerator in the nozzle keeps the flow rate at 1.8 gallons per minute.
Excellent for Small Spaces
The single-handle might already have been space-saving enough, but Kraus also made sure it didn't require much room to turn. It's designed for precision, giving you easy control over the flow and temperature. All it needs is space for 90-degree forward movement.
What We Don't Like
Retraction System Might Be Noisy
The faucet includes a weighted retraction system that sits in the cabinet under the sink. However, the weight can strike the cabinet and make a loud banging or knocking noise.
Product Specs
| | |
| --- | --- |
| Material | Brass |
| Flow rate | 1.8 gallons per minute |
| Spout height | 17 inches |
| Warranty | Limited lifetime warranty |
Our Ratings
Community Feedback
"If you're looking for an upgrade to your kitchen faucet, this one is pretty impressive. I've been using it for over a year now, and it has held up well with no issues. The strong spray feature is great, but the regular flow could be better."
---
Antique Spring Single Handle Oil Rubbed Bronze
Best Commercial Style Oil-Rubbed Bronze Faucet
Impressively sized, we have the 21.85-inch tall industrial-style faucet from Shaco. With its antique bronze finish, this is a real statement piece.
This faucet possesses the brand's signature industrial durability — made from solid brass, a ceramic disc valve, and a stainless steel handle. It will endure the demands of a busy kitchen and look elegant at the same time.
The pull-down hose extends 20 inches and withdraws using the weighted retraction system. The spout turns 360 degrees, which is ideal for large or double sinks.
Finally, it's very easy to install. Shaco includes everything in the package, such as hardware, supply hoses, adapters, and a deck plate.
What We Like
Elegant High Arch
Commercial-style faucets are highly regarded for their functionality and high arches, and this one from Shaco is a perfect example. It's quite tall, reaching 21.85 inches at its peak, yet still looks elegant.
The spout is wrapped in a coil spring, giving it an industrial feel. The oil-rubbed bronze is very dark, almost black, with highlights on the edges around the spout and handle.
360-Degree Rotation
Most faucets only turn 180 degrees, which limits how far they reach. This faucet turns 360 degrees, significantly increasing its range. It is very convenient and ideal for larger or double sinks.
The 20-inch pull-down hose is flexible and easy to maneuver, and the sprayer head lets you choose between two modes. Finally, it is stabilized by a holding arm.
Solidly Built
If you are often busy in the kitchen and need a faucet that can keep up, look no further. This one has all the durability a commercial fixture should possess. Its body is made from brass and the handle is stainless steel, making it rust and corrosion resistant (5).
The included ceramic cartridge has been subjected to a robust open and close test to ensure it won't leak.
The updated mechanical sprayer head is lead-free and durable enough for heavy use.
Easy to Install
Everything you need is included, even a small L-wrench, and the faucet will fit any one-hole sink. Shaco also added a deck plate in case there are more holes to cover.
What We Don't Like
Plastic Switch
On the faucet head, there is a switch to alter the sprayer settings. A few users reported that it's made from plastic, which isn't very durable.
Product Specs
| | |
| --- | --- |
| Material | Solid brass |
| Flow rate | N/A |
| Spout height | 21.85 inches |
| Warranty | 10-year limited warranty |
Our Ratings
Community Feedback
"I recently bought this faucet at a great price and was pleasantly surprised by the easy installation process - even my 17-year-old son managed to install it for me! Having used it for two weeks, I'm extremely happy with its performance. The hose is long enough to spray both sides of the sink, and it's perfect for filling tall containers as the water flows out smoothly. I also love the way it looks, and it's an affordable alternative to higher-priced brands like Moen and Delta. The only minor issue I encountered was with the sprayer's pressure, which could be a bit stronger."
---
Wewe Oil Rubbed Pull Down Faucet
Best Dark-Toned Oil-Rubbed Bronze Faucet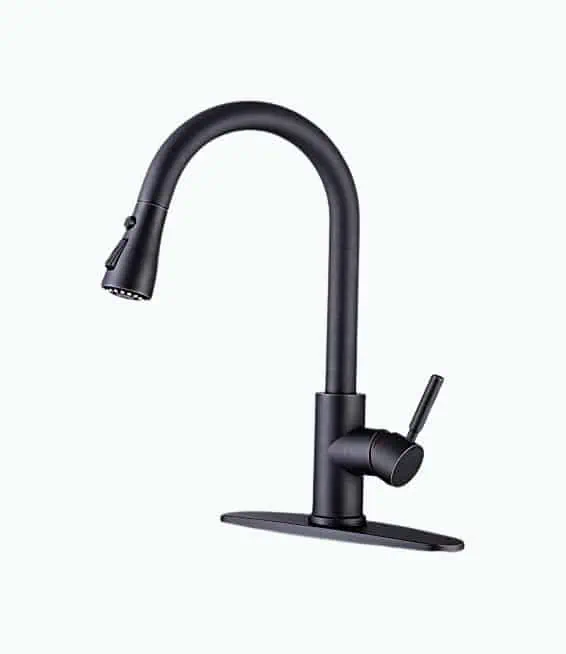 With a dark and intense bronze color, this faucet is visually striking. If you're looking for a statement piece, whether your kitchen is designed around light or dark tones, it will fit right in.
It's made from sus304 stainless steel with a ceramic disc valve. The oil-rubbed bronze finish is resistant to water spots, rust, and corrosion. It will continue to look stunning for years to come.
The faucet has a height of 15.7 inches and comes with a pull-down feature that extends to 24 inches. The spout rotates 360 degrees and is very easy to install as everything is included, even a deck plate.
What We Like
Wow-Factor Design
We appreciate the dramatic, dark tones of this faucet. It's stunning to look at, particularly with the highlights adding some texture. It is a true statement piece.
It also has an ideal height of 15.7 inches. Even if your kitchen is smaller, or you have overhead cabinets, it will still fit. The pull-down feature adds a touch of modernity.
Durable Materials
This faucet is made to last, made with lead-free brass and waterways. The fitted ceramic cartridge passed the 500,000 open and close test.
Along with the faucet itself, you also receive hot and cold supply lines.
Excellent Pull-Down Feature
The pull-down feature adds to its versatility. It is long at 24 inches and the sprayer head provides you with two modes. It's fitted with a weighted retraction system, which pulls the hose back in after each use.
It has a great, easy-to-clean sprayer nozzle — this is made from rubber and will prevent any buildup of minerals and limescale. It is ideal if you have hard inlet water; if it does get dirty, a simple wipe will clean it.
Convenient Rotation
This is a subtle but important feature. The extra movement range significantly increases its usefulness. Even if you have a standard sink, you will reap the benefits.
You can reach the corners with ease. It also allows you to move the faucet out of the way when cleaning the sink.
What We Don't Like
Instructions Could Use Improvement
Although this faucet is easy to install if you have some experience, it might be too much for an inexperienced DIYer. This is mostly due to the poor instructions that could use a makeover. Most reviewers said that they were forced to find help for installation.
Product Specs
| | |
| --- | --- |
| Material | Heavy-duty metal |
| Flow rate | 1.8 gallons per minute |
| Spout height | 8.5 inches |
| Warranty | Not specified |
Our Ratings
Community Feedback
"I'm really happy with this faucet I bought recently. It's well made and has a nice finish, making it a great value for the price. When I first installed it, the handle and ceramic mixing cartridge allowed for smooth operation, and it even stayed in the previous mode (stream or spray) when I turned it on again. I appreciated the clear and easy-to-follow installation instructions, and I made sure to flush the water lines before connecting the hoses as recommended. The only odd thing was the direction of the hot and cold water switch, but I installed it as is to avoid any future water leaks."
---
Moen Motionsense Wave Touchless Oil-Rubbed Bronze
Best Pull-Down Oil-Rubbed Bronze Faucet
High-tech and with a unique finish, this faucet from Moen is perfect for a modern home. Moen held nothing back when it came to designing this fixture. It features two of the brand's signature technologies: motion detection and Power Boost Technology.
The finish is a lighter bronze, which adds a vibrant, elegant touch to your countertop. Add in the flared handle and you have a visually striking piece.
This is also one of our favorite pull-downs. The hose extends 68 inches and uses a retraction system, which docks smoothly and effortlessly.
What We Like
MotionSense Technology
The modern kitchen is all about combining simplicity with high-tech features, making everyday tasks more manageable. Moen's MotionSense technology embodies this philosophy. This faucet with sprayer includes a single sensor located in the fixture's neck.
All it takes to activate the flow is a wave of your hand. You can then adjust the temperature using the handle.
Power Boost Technology
Moen's pull-downs are very convenient, with long hoses and retraction systems. This one has the added benefit of Power Boost Technology.
There is a control switch on the back of the sprayer head. You can use this to switch between faucet settings, including the power boosted stream. This cuts cleaning and filling time in half.
Textured Finish
If you zoom in on the faucet, you will see that it has a textured sparkle finish. This provides a rich, luxurious feel and adds to the unit's visual appeal.
Effortless Installation
Moen is renowned for its Duralock system, which makes the installation almost effortless. It is a straightforward snap-in process, and everything you need is included in the package.
What We Don't Like
Waterlines Not as Durable as Hoped
It seems that Moen missed the mark on the waterlines as they aren't as durable as we would hope. Fortunately, the company is apparently happy to replace them.
Product Specs
| | |
| --- | --- |
| Material | Metal |
| Flow rate | 1.5 gallons per minute |
| Spout height | 15.5 inches |
| Warranty | Limited lifetime warranty |
Our Ratings
Community Feedback
"Love this touchless Moen faucet with its Motion Wave Sensor! I recently replaced my old Delta faucet with this one, and the hands-free feature has been a game-changer in my kitchen. The installation was straightforward, though it took me a bit longer than expected, but the result is worth it. The faucet is not only functional but also looks absolutely gorgeous in my kitchen, making it a fantastic investment."
---
Delta Faucet Windemere 2-Handle Kitchen Sink Faucet
Best Double-Handle Oil-Rubbed Bronze Faucet
For a traditional kitchen, this double-handle faucet from Delta Faucet is perfect. It has a high arch design and a 360-degree swivel spout.
Designed for four-hole sinks, it has a dominant side sprayer, which is excellent for getting rid of stubborn messes. Although this is a double-handle sprayer, it's also great for smaller spaces. It has a 2.5-inch clearance to the backsplash and is only 10 inches wide.
The faucet is very durable. Delta constructed it from sturdy metal and the finish is resistant to scratches and corrosion. Delta also includes its lifetime limited warranty, so you can be confident that it is a quality product.
What We Like
Classic Look
If you're aiming for a classic look with a rustic vibe, we strongly recommend this model. It is coated in dark bronze with highlights on the handle, spout, and base. The handles have a slight curve, giving them a vintage look.
Powerful Side Sprayer
This faucet doesn't have a pull-down feature, but it does have a convenient side sprayer. It matches the spout and is very powerful.
Great for Smaller Spaces
If your kitchen is on the small side, this faucet will still fit comfortably. It doesn't require much room, just 2.5 inches between the spout and the backsplash and a 10-inch clearance for the base.
It should also fit under most overhead cabinets thanks to its 11.63-inch high neck.
What We Don't Like
Handles Are Sensitive
Some reviewers mentioned that the handles are very sensitive. You don't need to move them far before the water runs. There also isn't much difference between the highest and lowest settings.
Restrictor too Restrictive
The restrictor is important to prevent excessive water waste. However, it seems that it's too restrictive on this faucet. The high setting isn't as powerful as it should be — fortunately, the side sprayer is there to assist.
Product Specs
| | |
| --- | --- |
| Material | Metal |
| Flow rate | 1.8 gallons per minute |
| Spout height | 11.63 inches |
| Warranty | Limited lifetime warranty |
Our Ratings
Community Feedback
"If you're seeking a traditional kitchen faucet, the double-handle design from Delta Faucet has suited my needs exceptionally well. With its high arch, 360-degree swivel spout, and powerful side sprayer, I've found it perfect for tackling stubborn messes in my compact kitchen space. Although the handles can be sensitive and the flow restrictor might feel too restrictive, the faucet's durable metal construction, scratch and corrosion-resistant finish, and included lifetime limited warranty have assured me of its quality and reliability."
---
Moen 7545ORB Camerist Pullout Kitchen Faucet
Best Pull-Out Oil-Rubbed Bronze Faucet
A sophisticated pull-out faucet is a great fit in a modern kitchen — they are user-friendly and versatile. This faucet from Moen is a perfect example.
Moen has a reputation for creating stunning faucets and this is no exception. This version is excellent for a small yet busy kitchen. The braided hose extends to 68 inches and the spout has a decent height of 7 ⅜ inches.
It comes with all the useful features you expect from a Moen faucet. These include the brand's Duralock system and Power Clean Spray Technology. The latter increases the power of the water stream.

What We Like
Sophisticated Design
This model is a good option for a modern-looking faucet. It is simple but stunning.
The bronze finish is light and rich, with a luxurious, smooth texture. Although it's a pull-out, it still has a tall spout at 12 inches, which provides ample clearance for large pots.
The single handle has the signature Moen flared design. It's easy to use as well as being compliant with ADA (Americans with Disabilities Act).
Great Pull-Out Feature
The centerpiece of this faucet is the pull-out sprayer head. The hose can extend to 68 inches and is wheeled back in using the retraction system. It returns effortlessly to its dock where it remains secure.
The sprayer head has two modes: stream or spray. It also has a pause button enabling you to halt mid-stream to save water.
Excellent for DIY Plumbers
This pull-out is also fitted with Moen's Duralock Quick Connect system. This is a mechanism that allows the waterlines to be installed with a simple snap-in process.
When the lines connect, you will hear a click. Moen claims that no tools are needed.
Very Durable
The faucet is strong, sturdy, and excellent for anyone who uses their kitchen intensively. It is made from durable bronze along with Moen's Duralast cartridge, ensuring leak-free use. As a mark of its quality, the company also includes a limited lifetime warranty.
What We Don't Like
Plastic Spout
For people who don't like a plastic spout, this will be a negative.
Product Specs
| | |
| --- | --- |
| Material | Bronze |
| Flow rate | 1.5 gallons per minute |
| Spout height | 12 inches |
| Warranty | Limited lifetime warranty |
Our Ratings
Community Feedback
"In my experience, this kitchen faucet is a stylish and functional upgrade to my old one. It has great water pressure and the sprayer switch makes it easy to change the flow. As long as it continues performing well, I'll be enjoying this faucet for years to come."
---
Delta Faucet Leland Touch2O Kitchen Sink Faucet
Best High-Tech Oil-Rubbed Bronze Faucet
This faucet from Delta is high-tech with a minimalist design. It is fitted with touch technology, allowing you to use your wrist or forearm to activate the flow. It also has built-in LED lights around the base, indicating the temperature.
The pull-down feature increases its range and locks back into the dock with Delta's MagnaTite Docking. You won't need to worry about a droopy sprayer head. It also features Diamond Seal Technology, which provides extra protection against leaks.
Everything you need is in the package, including an optional deck plate and batteries.
What We Like
High-Tech
Delta's Touch2O allows you to touch anywhere on the faucet to open the tap. You can use your wrist or forearm, or even your nose! There is also a single handle on the side if you prefer manual operation.
We also appreciate the LED indicator. It displays colors ranging from red to purple to blue, indicating the current temperature. Delta emphasizes that you can see these colors from across the kitchen.
Less Splashing
There won't be any soaked clothes caused by this faucet. The sprayer head comes with Delta's ShieldSpray Technology, which allows the sprayer to form a sphere. This shape prevents it from splashing everywhere when on its highest setting.
Long-Lasting
Delta claims that this faucet lasts twice as long as others, thanks to the Diamond Seal Technology. There is a diamond-coated valve strengthening the sensitive area, protecting it from leaks.
Gravity-Fed Pull-Down
We love this pull-down. It pulls down effortlessly and is completely flexible. It then retracts safely to its dock via the MagnaTite Docking. It works using gravity, and the magnet keeps the sprayer head from drooping.
What We Don't Like
Tricky to Install
The installation isn't as easy as we would like it to be. Most DIY reviewers mentioned that they ran into problems, so we strongly recommend getting a plumber to do the job.
Poor Quality Sprayer Hose
The sprayer hose is apparently not very durable. According to a few reviewers, it began to deteriorate prematurely. They noticed this after spotting black specks in the water.
Thankfully, Delta is quick to respond and provide a replacement.
Product Specs
| | |
| --- | --- |
| Material | Brass |
| Flow rate | 1.8 gallons per minute |
| Spout height | N/A |
| Warranty | Five-year limited warranty |
Our Ratings
Community Feedback
"Great faucet with advanced features and a sleek minimalist design. I have enjoyed using the touch technology which allows me to turn it on and off with my wrist or forearm, and the LED lights that indicate the water temperature are a nice addition. The pull-down feature with MagnaTite Docking has increased the range and ensures the sprayer head stays in place. However, installation was a bit tricky and the quality of the sprayer hose could be better."
---
| Product | Award | Material | Flow rate | Spout height | Warranty |
| --- | --- | --- | --- | --- | --- |
| Kraus Sellette | Single-Handle | Brass | 1.8 gal/min | 17″ | Limited lifetime |
| Antique Spring | Commercial Style | Solid brass | N/A | 21.85″ | 10-year limited |
| Wewe Pull Down Faucet | Dark-Toned | Heavy-duty metal | 1.8 gal/min | 8.5″ | Not specified |
| Moen Motionsense | Pull-Down | Metal | 1.5 gal/min | 15.5″ | Limited lifetime |
| Delta Windemere | Double-Handle | Metal | 1.8 gal/min | 11.63″ | Limited lifetime |
| Moen Camerist | Pull-Out | Bronze | 1.5 gal/min | 12″ | Limited lifetime |
| Delta Leland | High-Tech | Brass | 1.8 gal/min | N/A | 5-year limited |
Types of Oil-Rubbed Bronze Faucets
Almost every type of faucet is now available with an oil-rubbed bronze finish. Here are some of the main types you can choose from:
Single-Handle Faucet
Single-handle faucets are very simple. They have one lever to open the tap and adjust the flow or temperature, usually attached to the side of the fixture's neck. This style looks very elegant and modern.
Many older models have the handle on top of the spout. Wherever it is positioned, the single-handle style is very popular as it is so easy to operate.
Double-check
Check the position of the handle when buying. A modern single-handle faucet will usually have the handle attached to the fixture's neck
Pros
Space-saving design: There's only one handle, so it doesn't occupy much space in the sink area.
Easy installation: It only requires a single hole, meaning it will fit most sinks. If your basin has more than one hole, you can simply buy a deck plate to cover the others. Many brands include one.
Straightforward to use: There is one lever and nothing else that requires adjusting. You can easily use these faucets with one hand.
A wide selection of faucets: As most of today's faucets are single-handled, you have a huge variety to choose from.
Cons
Very basic: Unless you buy a high-end faucet, a single-handle one probably won't have many features.
Double-Handle Faucet
These faucets have two separate levers instead of one and aren't as popular anymore. The double-handle style requires a sink with at least two holes.
They can be useful if you have small children as they prevent accidental scalding, but they aren't very practical. You need both hands to operate the faucet, and it can be difficult to get the temperature right.
Still, if you're aiming for a traditional look in your kitchen, a double-handle faucet will be very appropriate. Depending on the brand, they usually look rustic and elegant.
Pros
Great for kids: There are two separate handles — one for hot and one for cold. They are usually marked with blue or red, so it's easy to distinguish one from the other.
Traditional style: A classic look. The designs are generally simple and straightforward.
Cons
No special features: You will rarely find a double-handle faucet with advanced features such as motion detection.
Pull-Down Faucet
A tall spout and pull-down nozzle characterize a pull-down faucet. The nose has an extendable sprayer head that you can pull down for greater reach.
These are excellent for deep sinks or if you sometimes need a few extra inches to reach a large pot. Pull-downs are very popular at the moment.
Pros
Excellent for deep sinks: You can extend the sprayer head downwards, moving it closer to the basin. This results in less splashing.
Numerous choices: Many of today's faucets feature a pull-down component.
Looks great: These faucets are great for impressing your house guests.
Cons
Not for shallow sinks: The pull-down nozzle is often very close to the base of the countertop. If you have a small basin, the water will splash everywhere.
Pull-Out Faucet
Pull-out faucets are similar to pull-down — they both have an extendable sprayer head. However, this type has a smaller spout arch, and some are completely straight.
This is where the pull-out faucet gets its name. Instead of pulling down, you draw the sprayer head out toward yourself.
Pull-outs are excellent in small kitchens and others with shallow sinks. The sprayer hose extends further than pull-downs, giving you a longer reach.
Pros
Great flexibility: The hoses are long and flexible, meaning you can usually reach your countertop area.
Perfect for small kitchens: They are compact and don't occupy much space.
Cons
Not much variety: In contrast to pull-downs, there isn't a very wide range to choose from, and they usually look very similar.
Commercial-Style Faucet
Commercial style faucets are modified versions of the faucets found in professional kitchens. They are very tall, with some having an arch of 30 inches high.
They have all the features of an industrial faucet, including a pull-down nozzle, a "pot-filler" (fixed middle spout) and a power booster.
This is an excellent option for a home cook and will add a professional touch to your kitchen.
Pros
Made to last: They are very durable and built to handle high-pressure water during everyday use.
Visually impressive: Thanks to their height and having a coil spring design around the spout, they are visually appealing.
Cons
Tall design: They aren't suitable for small kitchens, especially those with overhead cabinets above the sink.
What to Look For
We want to make sure you get the best faucet for your kitchen. Before we get started with our reviews, here are some things to keep in mind:
---
FAQs
---
Thank You For Your Feedback!
Thank You For Your Feedback!