Replacing a toilet is relatively straightforward but adding a new one can be very complicated due to the amount of plumbing involved. A macerating toilet makes this far easier and it can be installed almost anywhere.
Macerating toilets don't require an extensive plumbing system, drains, or a septic tank. Despite being less common than standard toilets, you will still have plenty of these upflush toilets to choose from, so you might need some advice.
To help you find your ideal toilet, we have reviewed seven of the best macerating toilets that are currently available. We chose these products for their flush type and effectiveness, material, and how easy they are to install.
Image
Model
Product Comparison Table
Features
Best for RVs
Five Oceans TMC Marine Electric Toilet
Compact size
High-capacity scavenger pump
Slow-close seat
Best Elongated
Saniflo SaniAcess 3 Elongated Toilet
Industry-leading brand
Battery-powered flush
Ideal for basements
Easiest Maintenance
Liberty Pumps Ascent II Macerating Toilet
Removable maintenance panel
WaterSense-certified
RazorCut macerator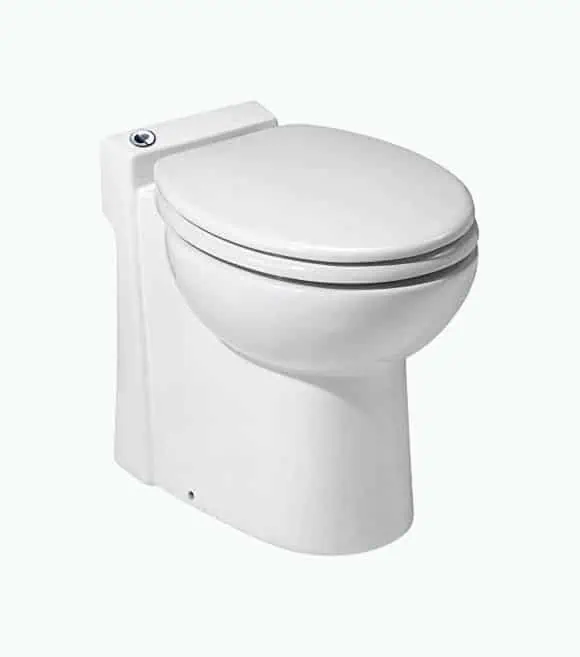 Best Self-Contained
Saniflo Sanicompact Self-Contained Toilet
Concealed pump and macerator
Dual flush
Comfort height
Best Two-Piece
Saniflo SaniPLUS Macerating Toilet
Pumps waste up 15 feet
Saniflo quality
3,600 RPM macerator
Best Dual Flush
Intelflo One-Piece Macerating Toilet
Eco-friendly dual flush
No vent needed
Soft-close seat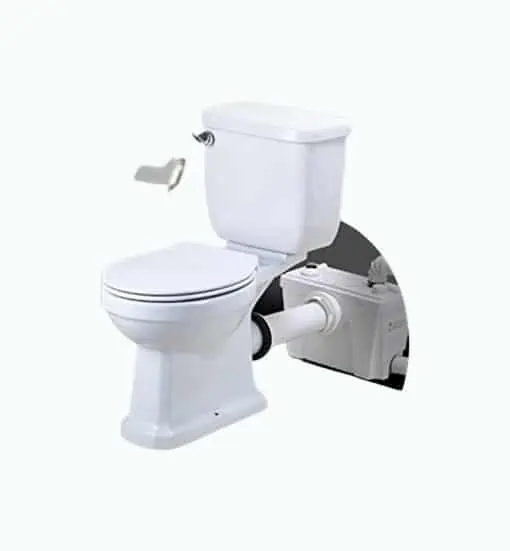 Best Versatile
Sanimove Macerating Toilet
Durable metals
Powerful 500-watt pump
Four water inlets
Review Methodology: At Sensible Digs, we evaluate products like macerating toilets from a user's perspective, using rigorous criteria and hands-on experience. Our professional team performs detailed assessments, comparing and ranking each product based on performance, design, and key decision-making factors such as efficiency, ease of installation, and durability. We provide hard data and factual evidence on each product's performance, highlighting what makes a specific toilet stand out from its competitors. Our findings are based on thorough research and testing, ensuring you get an unbiased, fact-based review to help you make the best decision. Trust our reviews because we prioritise your needs and satisfaction above all.
---
---
The Best Macerating Toilets of 2023
A macerating toilet is a great option for anyone looking to install a toilet outside of their bathroom. To help you choose from the various models on the market, we conducted extensive research and reviewed seven of the best macerating toilets you can buy today. These toilets were chosen for their flush effectiveness, build quality, and ease of installation.
Five Oceans TMC Marine Electric Macerating Toilet
Best Macerating Toilet for RVs
If you want a compact toilet that is ideal for RVs and has a macerating function, this is an excellent option. Five Oceans is one of the leading names in the marine and camping waste disposal industries, and this toilet is another great example of why.
It uses a high-capacity scavenger pump to macerate the waste and move it to the tank. As a high-quality toilet, it also has a slow-close seat and push-button flush, and the bowl is made of china and easy to clean. Its compact size is ideal for tight spaces such as RV bathrooms. Even with all these positive points, the price is competitive, costing about half as much as toilets from some of the other top brands.
What We Like
Compact Size
This toilet measures 14.5 x 17.5 x 13 inches, making it ideal for installation in an RV or boat. Despite its compact size, it is still designed to be comfortable to sit on.
Powerful Pump Action
With marine use in mind, this toilet has a high-capacity scavenger pump and macerator that grinds the waste and flushes it into your boat or RV's septic tank.
Competitive Price
Given its high-quality build and functionality, this toilet costs less than you probably expect. It is an excellent compact macerating toilet at a reasonable price.
What We Don't Like
12-Volt Toilet
This toilet requires a constant 12-volt power supply to function. While it is excellent for installation in RVs, it will drain the battery while in use.
Function Over Style
It is clear that this toilet's looks took a backseat to its functionality. This macerating toilet bears little resemblance to standard toilets, so it is better suited for RV or boat use, rather than home installation.
Product Specs
| | |
| --- | --- |
| Weight (pounds) | 35 |
| Dimensions (inches) | 14.5 x 17.5 x 13 |
| Dual/single flush | Dual |
| Material | China |
| Soft-close seat | Yes |
| Price | $$ |
| Pumping height | 2 feet |
Our Ratings
Community Feedback
"Best thing about this electric toilet is how user-friendly it is, especially for the kiddos. The choice of short or long flush time is a nice feature, and the noise is no bother when the bathroom door is closed. However, the motor gave up in less than a year which was disappointing. Also, it uses more water than I'd prefer for a flush, and the suction could definitely be stronger. Despite some flaws, this toilet fits nicely into our living space and performs okay for its price."
---
Saniflo SaniAcess 3 Elongated Toilet
Best Elongated Macerating Toilet
Saniflo is a name that is synonymous with macerating toilets and the company is the industry leader by a distance. The elongated shape of this toilet makes it more comfortable for adults to sit on, thanks to the extra space at the front.
This toilet has a powerful, battery-powered flush. The batteries have an excellent lifespan due to storing power between uses. Thanks to the force the pump generates, you will be able to install this toilet in a basement without any impact on its performance.
What We Like
Leading Brand
Saniflo dominates the macerating toilet market and has an excellent reputation, so you can buy the company's products with absolute confidence.
Easy To Get Spares
Even with a high-quality unit, macerating toilets will eventually encounter issues with frequent use. Saniflo's position as an industry leader means it is easy to get replacement parts, unlike some older or less popular models.
Ideal for Basements
Saniflo fit their toilets with powerful pumps that can move waste over 100 feet. They also have a pump height of over 10 feet, making them an ideal choice to fit in a basement.
What We Don't Like
Expensive
Saniflo is the market leader for macerating toilets, which is reflected in the price of the company's products. You will likely spend far more on one of their toilets than any other brand.
Loud Flush
Some users have complained that this toilet has one of the loudest flushes among macerating models. This could be a problem if you use it at night, especially in a cramped RV or boat.
Product Specs
| | |
| --- | --- |
| Weight (pounds) | 18 |
| Dimensions (inches) | 10.75 x 18.75 x 6.75 |
| Dual/single flush | Single |
| Material | Ceramic |
| Soft-close seat | No |
| Price | $$$$ |
| Pumping height | 15 feet |
Our Ratings
Community Feedback
"This toilet was chosen for its convenience and ability to fit into a basement setup without requiring major plumbing changes. Installation was relatively straightforward, though the clamps provided were a little tricky to use and the instructions could have been clearer. Despite the water sitting lower in the bowl than a standard toilet, which can occasionally leave marks, the performance of this toilet is impressive. It handles multiple drains, including a sink, washer, and water softener without any issues. However, it's important to keep the top of the pump dry to prevent short-circuiting."
---
Liberty Pumps Ascent II Macerating Toilet
Best Maintenance Macerating Toilet
If you need a macerating toilet that can pump waste from particularly low basements, this Liberty Pumps model is a great option. Its pump height of 25 feet eclipses the vast majority of other upflush toilets.
It also uses advanced RazorCut technology to process your solid waste more efficiently. If the macerator becomes blocked, this unit has a removable panel that provides easy access to unblock it.
What We Like
Easy Maintenance
Thanks to the removable maintenance panel on the macerator, you will be able to quickly access any blockages and remove them before they become a bigger issue.
Easy to Install
This Liberty Pumps toilet is relatively easy to install and should be achievable by anyone with a decent amount of DIY experience.
Water Efficiency
This toilet uses 1.28 gallons of water per flush, earning it the Environmental Protection Agency's WaterSense certificate. This is because it uses 20% less water than the current limit in the United States.
RazorCut Macerator
The RazorCut macerator is very efficient, turning solid waste into a liquid very quickly. This efficiency also means the macerator is less likely to become blocked during use.
What We Don't Like
Yearly Macerator Renewal
The macerator's blades need to be replaced annually to keep your toilet working as intended. Keep this in mind when deciding whether or not this toilet is suitable for your budget.
Noisy Flush
This toilet makes a lot of noise when it flushes, which is something to keep in mind if you are installing it in a bedroom or anywhere else that it might wake people.
Product Specs
| | |
| --- | --- |
| Weight (pounds) | 134.5 |
| Dimensions (inches) | 29.25 x 20 x 32.25 |
| Dual/single flush | Single |
| Material | ABS plastic |
| Soft-close seat | No |
| Price | $$$$ |
| Pumping height | 25 feet |
Our Ratings
Community Feedback
"I've been using this toilet system for about three and a half years now and it's been a real asset to my below-grade bathroom setup. As someone who enjoys DIY projects, the installation process was fairly straightforward, even without professional assistance. However, it's worth noting that this toilet requires a bit of maintenance - specifically, it's necessary to clean the electrical probes that control the grinder/pump function about once a year to prevent any issues. Additionally, I found this toilet system to be an excellent solution for my basement, where installing a traditional toilet would have been more challenging and costly. Despite a few minor inconveniences, I'm entirely satisfied with how this toilet performs and how it has enhanced my home."
---
Saniflo Sanicompact Self-Contained Toilet
Best Self-Contained Macerating Toilet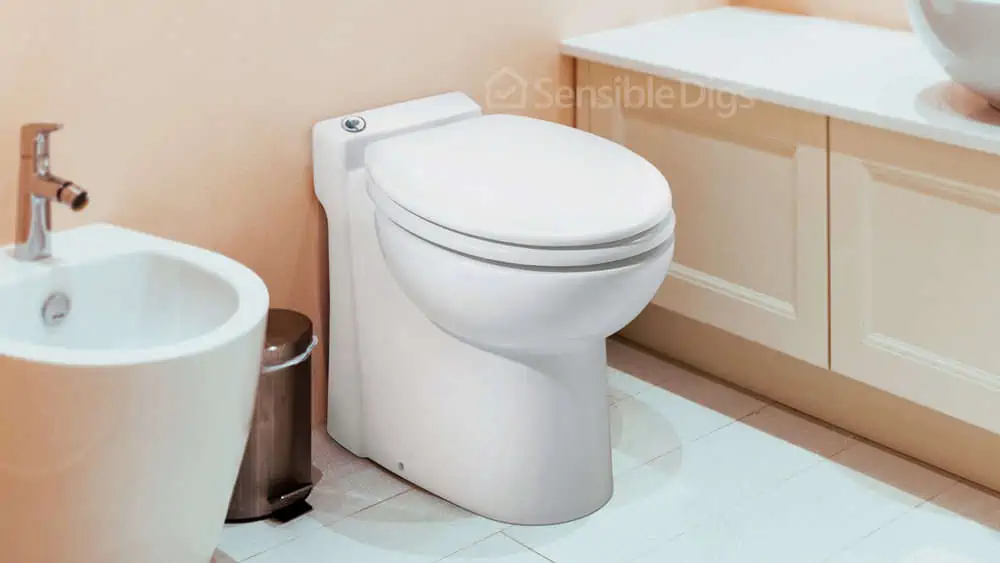 The Saniflo Sanicompact is a self-contained macerating toilet. It is ideal for fitting into a small space and, with a vertical pump rise of 9 feet, it could even be suitable for a basement.
This toilet is eco-friendly, using approximately 1 gallon of water per flush, and it can be connected to a sink to flush using gray water. The toilet seat is 18.5 inches off the ground, which also makes this a comfort height toilet. It is an excellent choice for installing in a bedroom for someone with mobility issues.
What We Like
Compact Size
This toilet has its pump and macerator built into the unit beneath the bowl, allowing for a smaller footprint. It also means you won't need to hide the macerator behind a false wall if you want a minimalist finish in your bathroom.
Eco-Friendly
This toilet's full flush only uses 1.28 gallons of water, but you can reduce this even further to 1 gallon if you choose the dual-flush version.
Comfort Height
Macerating toilets are a popular choice for adding to the rooms of elderly relatives and other people with limited mobility. Saniflo has taken this into account and placed the seat of this toilet at comfort height, which makes it easier to sit down and stand up.
What We Don't Like
Expensive
Saniflo toilets are among the most expensive on the market. This model is not at the high end of the brand's price scale but you will still need to spend a lot of money to buy one.
Build Quality Issues
Despite Saniflo's high reputation, some customers feel that the toilet's price tag does not reflect its overall build quality.
Product Specs
| | |
| --- | --- |
| Weight (pounds) | 52.2 |
| Dimensions (inches) | 18.25 x 14.5 x 15.75 |
| Dual/single flush | Single |
| Material | Porcelain |
| Soft-close seat | No |
| Price | $$$$ |
| Pumping height | 9 feet |
Our Ratings
Community Feedback
"This Saniflo unit has been a fantastic addition to our home, solving the problem of a single bathroom scenario. After some research, we chose this model and it's been an excellent fit for our anticipated usage. Installation can be quite a task, especially considering the instructions could use a bit more clarity. However, with some basic knowledge of tools and a bit of online research, it's definitely a feasible DIY project. The unit operates quieter than expected and handles light-duty usage efficiently. Just keep in mind, it's not built to handle anything other than human waste and toilet paper, but with proper use, it's been a solid, space-saving solution for our home."
---
Saniflo SaniPLUS Macerating Toilet
Best Two-Piece Macerating Toilet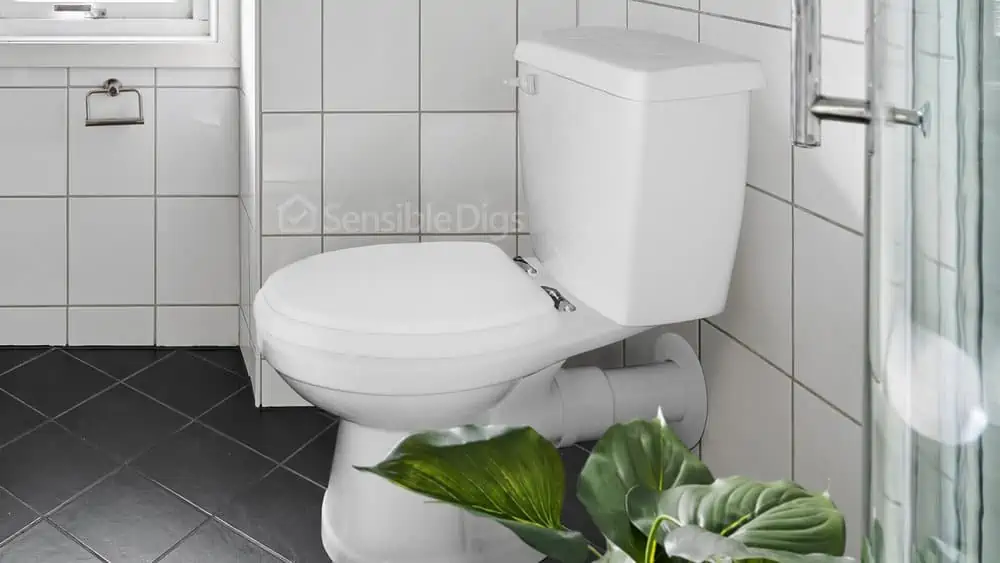 Unlike some of Saniflo's other toilets, which have elongated designs, this one has a standard round bowl, which you might find more comfortable. It includes a toilet bowl, flush tank, and pump, but you will need to buy a seat separately.
The pump is powerful and capable of moving waste 15 feet vertically, which is ideal if you need to fit the toilet below the sewer line. It works with a maximum pipe length of 150 feet, so you can install it on the opposite side of the house to your waste stack.
What We Like
Powerful Pump
The pump on this toilet is powerful enough to lift the waste 15 feet and move it along a 150-foot-long pipe. This means you will the flexibility to position the toilet almost anywhere in your home.
Saniflo Quality
Saniflo is the undisputed industry leader in macerating toilets and this toilet lives up to that high reputation.
3,600 RPM
The macerator blades spin at a super-fast 3,600 RPM. This helps it process solid waste more quickly and means the toilet is less likely to suffer blockages.
What We Don't Like
High Price Tag
The only major downside to buying a Saniflow toilet is how much it will cost you. They are much more expensive than other macerating toilet brands.
No Seat
Given the high cost, it is surprising and disappointing that Saniflo didn't include a toilet seat. You will need to buy one separately and ensure that it fits the bowl.
Product Specs
| | |
| --- | --- |
| Weight (pounds) | 99.7 |
| Dimensions (inches) | 27.9 x 20 x 17.5 |
| Dual/single flush | Single |
| Material | Porcelain |
| Soft-close seat | No |
| Price | $$$$ |
| Pumping height | 15 feet |
Our Ratings
Community Feedback
"This toilet system is a gem, particularly for a basement bathroom setup. It integrates smoothly with existing drain pipes, and even allowed me to tie in the sink and shower without any major issues. One minor setback was the need for an additional 4" hose clamp due to a small leak during initial test flushes. Also, be prepared for a slightly wobbly seat, but overall, this toilet system performs efficiently and operates quieter than you might expect."
---
Intelflo 600-Watt One-Piece Macerating Toilet
Best Dual Flush Macerating Toilet
This Intelflo toilet has a similar design to Saniflo's compact models, with the pump and macerator built into the base of the bowl. This toilet's standout feature is its dual flush, which uses 0.75 gallons for the light flush and 1 gallon for the hard flush.
A dual flush is a rarity on macerating toilets and it means this model is far more eco-friendly than most of its competitors. Its pump can lift waste material 20 feet vertically and up to 160 along a pipe, allowing you to install it in deep basements.
What We Like
Dual Flush Saves Water
Being able to choose from two different flush types will help you reduce how much water you waste. This is kinder to the environment and should save you some money on your water bills.
Minimalist Style
Macerating toilets are rarely visually appealing but this model looks like a regular toilet thanks to its concealed pump and macerator.
No Vent Needed
This is a self-contained unit with a pump and macerator concealed within the toilet bowl. As they are sealed, you won't need a vent to reduce odors.
Silent Soft-Close Seat
The soft-close seat prevents slamming, which will help you avoid waking your housemates in the middle of the night.
What We Don't Like
Rounded Bowl
This is a matter of personal preference, but this toilet has a traditional rounded bowl. Elongated bowls are generally more comfortable for adults but this isn't a universal rule.
Awkward Maintenance
As the pump and macerator are concealed inside the toilet base, they could be tricky to access if you need to unblock the system. You might need to remove the toilet from the wall to gain access.
Product Specs
| | |
| --- | --- |
| Weight (pounds) | 58.8 |
| Dimensions (inches) | 23.75 x 21.5 x 17.75 |
| Dual/single flush | Single |
| Material | Ceramic |
| Soft-close seat | Yes |
| Price | $$$ |
| Pumping height | 20 feet |
Our Ratings
Community Feedback
"As an owner of this toilet, I've had a bit of a mixed experience. The toilet itself is solid and good quality, but I've had some issues with broken parts and missing installation components, which was a bit of a hassle. Also, I noticed a strange pink liquid inside the bowl, which I'm not sure if it's normal or not, but it didn't affect the performance of the toilet."
---
Sanimove Macerating Toilet with 500Watt Maerator Pump
Best Versatile Macerating Toilet
This Sanimove toilet can be installed in a wide range of locations such as a cloakroom, WC, or bathroom. This is thanks to its four water inlets that can be connected to various sources. Then, simply connect it to an electrical supply and a discharge pipe, and you will be good to go.
This toilet is also a strong flusher. A 500-watt upflush system uses a large amount of pressure to power the macerator blades and pump for effective waste processing. It can pump its waste up to a height of 24 feet.
Durable Materials
With a durable aluminum motor casing and strong stainless steel blades, this is a high-quality toilet. It will process waste efficiently and continue working properly for many years.
Powerful Flush
A 500-watt pump and a pressure chamber provide a strong flush. This means you will be able to depend on it to remove waste efficiently every time you use it. It will pump waste up to a height of 24 feet, which is very impressive.
Easy Installation
You will be able to install this toilet anywhere as long as you have an electrical outlet and discharge pipes. This is why it is our choice for the most versatile macerating toilet.
What We Don't Like
Plastic Parts
Although this toilet is mostly made of high-quality materials such as aluminum and stainless steel, it still has some plastic parts. Unfortunately, these plastic parts are relatively fragile, so they impact the toilet's overall durability.
Product Specs
| | |
| --- | --- |
| Weight (pounds) | 103.8 |
| Dimensions (inches) | 33 x 26 x 20 |
| Dual/single flush | Single |
| Material | Aluminum motor casing, stainless steel, and plastic |
| Soft-close seat | No |
| Price | $$$ |
| Pumping height | 24 feet |
Our Ratings
Community Feedback
"I'm sharing my experience with this toilet system, which wasn't the easiest to install due to some design and component issues. The toilet tank didn't fit the base well, which made attaching the feed line a challenge, and the valve had uncommon threads. The base has a sloping surface, which required extra effort to securely fasten. The pump, while not silent, seems to do its job effectively. However, I had to be extra cautious with the flush handle as it tended to stick, causing overflow if not properly monitored."
---
What Is an Upflush/Macerating Toilet System?
A macerating toilet, also called an upflush toilet, works differently from a standard gravity-fed toilet. When someone uses the toilet, the waste enters a macerating pump tank, which shreds it into liquid form. This liquid is then pumped upward or sideways into your existing waste stack. In contrast, conventional toilets remove waste using a combination of gravity and water pressure, which requires more complex plumbing.
When to Choose a Macerating Toilet
As a macerating toilet requires only basic plumbing and doesn't rely on gravity, it can be installed in rooms without conventional plumbing to a drain or septic tank. This makes it ideal for adding a toilet area to a bedroom, without needing to make major changes to your plumbing, such as when someone can't access your main bathroom.
This type is also ideal if you want to fit a toilet into a basement, where you will be unable to install a standard toilet. As the toilet is below the rest of your plumbing, you won't be able to use gravity, which is why a macerating upflush toilet is the best choice.
How to Choose the Best Macerating Toilet
If you are buying a macerating toilet, it is probably because you need to address a specific need in your home. If you are adding a toilet for someone with limited mobility, it is extra important to choose the right one. Spend some time thinking about the following points as they will help you find your ideal toilet.
---
Macerating Toilets FAQs
---
Thank You For Your Feedback!
Thank You For Your Feedback!