Are you remodeling your home and dreading the idea that you're going to have to invest a lot of money on a garage makeover? That doesn't have to be the case.
If you are on a budget, we want to show you some cool and cheap garage floor covering ideas (with photos!).
Key Takeaways
Cheapest garage floor coverings: Sheet vinyl, vinyl planks, and interlocking foam tiles are affordable and easy to install.
Concrete floors need protection: Uncoated concrete is porous, susceptible to damage, and difficult to maintain. Applying a finish can improve appearance and hygiene.
Popular coverings: Paint, epoxy paint, polyurethane floor coating, and carpet are some common options for garage floors. Each has its pros and cons.
More ideas: Roll-out vinyl, interlocking tiles, vinyl composite tiles, peel-and-stick tiles, faux wood tiles, concrete stain, concrete sealer, and acrylic sealer are additional choices for budget-friendly garage floor coverings.
---
What is the Cheapest Way to Cover a Garage Floor?
Sheet vinyl and vinyl planks are currently considered to be the finest solutions. Primarily because of the beauty and simplicity of installation for those looking for inexpensive garage flooring.
Both can be "floated" over concrete, which means they don't adhere to the substrate. Instead, they are laid over a thin underlayment sheet with interlocking seams (in case you opt for planks) or bonded seams (if you choose sheet vinyl).
Another cheap garage floor covering idea would be interlocking foam tiles. These are often seen in kids' playrooms, but a heavy-duty version is made for exterior use (like under a carport) and concrete floors.
Can You Leave Concrete Floors Bare?
Yes, you can, but why would you? People who are looking for affordable garage flooring often choose no flooring at all. This is a bad idea for several reasons. Allow us to explain further.
Uncoated concrete is porous and susceptible to moisture deterioration, including rebar corrosion and freeze-thaw damage.
Without protection, concrete is vulnerable to severe temperatures, harsh chemicals, collisions, tire traffic, and liquid de-icing solutions. This can quickly result in a chipped, infected, cracked, and dirty floor in a location such as a garage.
At the very least, bare concrete does not look good. A finish that incorporates pleasing colors, patterns, and textures can significantly affect your overall mood.
Concrete is porous, allowing moisture and pollutants to infiltrate. This might result in the growth of bacteria, making it extremely difficult to maintain a good degree of hygiene. Floors coated with a smooth, impervious surface are far easier to care for than other types of floors.
12 Ideas for Covering Garage Floors Cheaply
Some say anything other than concrete. But that's not true! We'll give you the best choices for coverings, plus ideas for finishing your concrete surface.
1.

Paint

Most garage flooring ideas involve specialized installation (and not everyone has that kind of equipment lying around the house). But this task can be accomplished using items you likely already have at your disposal.

Although the task is labor-consuming, painting a garage floor is an exceptionally inexpensive approach to improve its appearance. Making it one of the most affordable garage flooring options out there.

Depending on the manufacturer, 1-part epoxy paint costs little more than $35 per gallon and covers between 300 and 400 square feet.
Pros
Can be a DIY project.
Materials are affordable.
Cons
Least durable option.
Requires intensive concrete preparation.
2.

Epoxy Paint

Epoxy coatings demand the most labor in terms of surface preparation. Generally speaking, etching the concrete is required to create the right surface profile for the epoxy to form a mechanical bond.

Did You Know

There are multiple options when it comes to DIY epoxy kits, which make the task a little easier. They typically come with primers and sealers as well.

A two-car garage floor epoxy coating can leave you spending between $1,320 and $3,080, with the average homeowner spending around $1,711 when professionally applied. The cost of coating an existing concrete floor ranges from $3 and $7 per square foot, including labor and supplies.
Pros
DIY kits available.
Extra durable with a second coat applied.
Good value for the money.
Cons
Intense surface preparation.
Previously sealed concrete requires grinding.
3.

Polyurethane Floor Coating

Polyurethane is a thermosetting polymer that is regarded as a high-performance coating. Aliphatic polyurethane is the preferred formulation for garage floors.

Polyurethane coatings are approximately 60 to 70 percent solids, and, depending on the manufacturer, they are only about two to three mills thick. It cannot be applied any thicker than other epoxy coatings in a single application.

Polyurethane and polymer sealers cost between $0.20 and $0.25 per square foot, excluding labor. Expect to pay between $0.95 and $1.10 per square foot, including installation. Poly coatings often cure faster than traditional sealants and can withstand a wider temperature range.
Pros
UV stable.
Higher resistance to chemicals.
Absorbs impact better.
Cons
Doesn't bond well to concrete.
4.

Carpet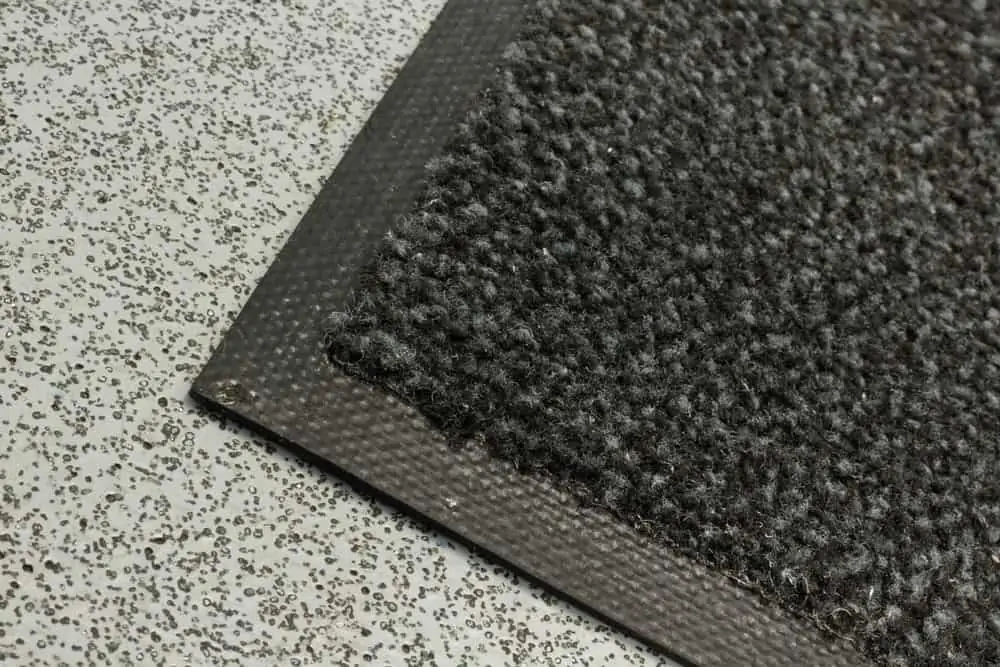 While carpeting your garage floor may sound absurd, many products are specifically intended to withstand the rigors of living, even in a room such as your garage. They are power washable and resistant to discoloration from petroleum products. This means that even if your automobile leaks oil, the surface of this type of carpet can be easily wiped clean.
The majority of garage floor carpets are available in lengths of 6" and 12" and come in various colors and patterns. Pricing for bargain-basement carpets begins at around $1 per square foot, while higher-quality options begin at around $1.50.
Pros
Fire-resistant.
Resistant to abrasion and stains.
Doesn't attract mold.
Cons
Requires gluing it to the concrete.
5.

Roll-Out Vinyl
Without question, one of the best cheap garage flooring ideas includes roll-out flooring. Not only is it simple to install, but it also conceals a plethora of things that you don't want to see.
It's Easy
Unroll it straight onto the garage floor surface, trim the excess, and you're good to go.
Although it is simple to install, it is not as repairable as tile flooring, which allows for the removal and replacement of broken parts. Additionally, it's not helpful to the production of unique patterns.
As far as price is concerned, a sheet of vinyl costs between $0.5 and $2 per square foot, while luxury vinyl plank (LVP) costs between $2.5 and $5 per square foot of material.
Pros
Very easy to install.
Covers floor imperfections.
Can be cut to size.
Cons
Can't make custom patterns.
Not easy to repair.
6.

Interlocking Tiles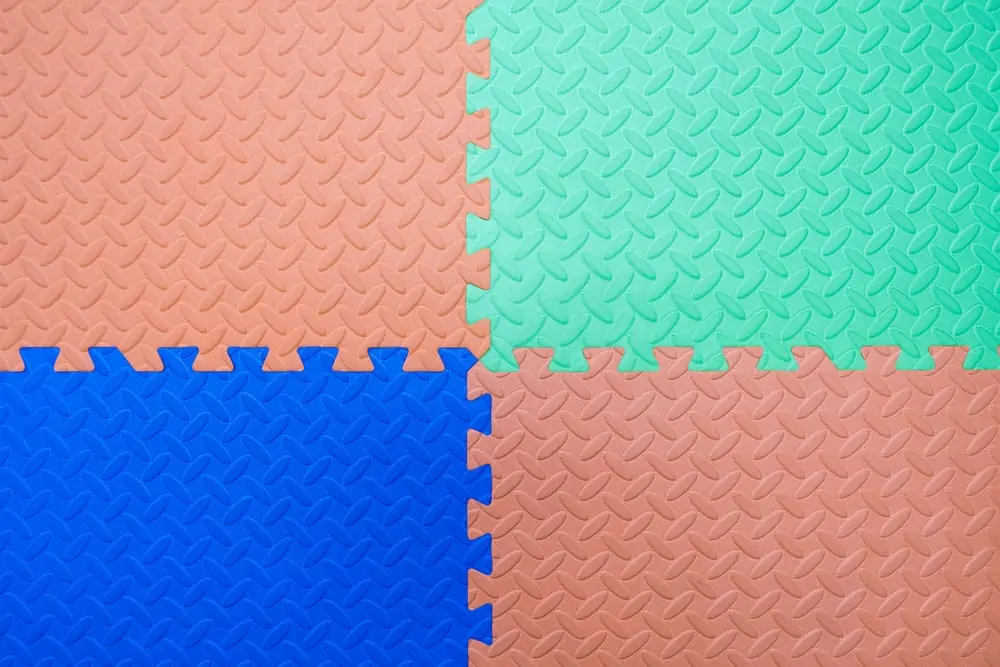 These vibrant squares are usually constructed using heavy-duty vinyl or rubber and click together to give stability rather than clinging directly to the garage floor. They also make a great temporary idea if you're unsure what you really want to do.
They work well for concealing flaws in a concrete floor, but only when the floor is level. They allow you to create unique patterns and borders by combining multiple different colors.
The price of interlocking garage floor tiles ranges from as little as $1.90 per square foot for stiff polypropylene to more than $3 per square foot for rubber-like PVC.
Pros
Very easy to install.
They conceal floor imperfections.
Can create unique patterns.
Cons
Only conceals flaws when the floor is level.
7.

Vinyl Composite Tiles
If you are a do-it-yourself homeowner looking for cheap garage floor coverings, there is one good choice that offers an authentic, personalized look at a reasonable price. That's vinyl composite tile.
They come in various colors; the most popular of which is the conventional black and white checkerboard-style design. These tiles, commonly called VCT flooring, can be acquired for as little as $0.79 per square foot if you shop about.
Pros
Offers a personalized look.
Plenty of color options.
Cons
Requires routine wax maintenance.
8.

Peel-and-Stick Tiles

Peel-and-stick tiles will work for you if you have a level garage. They are normally made using heavy-duty vinyl and are super-easy to install. They also allow you to make custom patterns.

While reasonable, rates per square foot can range from $0.20 to well over $2.50. On average, most designs and patterns cost between $0.60 and $1.20.
Pros
Highly customizable.
Easy to install.
Cons
Requires a leveled garage floor.
9.

Faux Wood Tiles

Wood is not a common choice when it comes to garage floors. But you can choose tiles that are typically made from some sort of vinyl or marble and have a wood-like appearance.

The price is highly dependent on the materials used to make these faux wood tiles, with more resistant materials being more expensive. But you can budget for about $1-$1.50/sqft.
Pros
Perfectly mimics natural wood.
Multiple designs to choose from.
Cons
Not very common for garage floors.
Can be difficult to find suitable ones.
10.

Concrete Stain
If your concrete is in good condition, this is one of the cheapest garage flooring solutions. You can end up with a lovely watercolor or natural stone effect. It's not ideal if your floor is speckled and splattered, as these flaws will show through.
This will typically cost you around 20 to 80 cents for each square foot, but this doesn't cover the price of the top urethane coat.
Pros
Has a natural stone effect.
Creates a pigmented surface.
Cons
Not good for speckled/splattered floors.
11.

Concrete Sealer

If your budget is limited, the possibilities for garage flooring are limited. Fortunately for individuals who have concrete garage floors, merely sealing the floor may suffice.

Sealing your concrete floor can enhance its appearance. And the sealer protects the floor from stains, ensuring that it remains looking new.

Sealers based on acrylic resins typically cost between $0.15 and $0.25 per square foot. Urethanes and epoxies, which are high-performance topical coatings, will cost more – approximately $0.50 to $2.50 per square foot.
Pros
Good against stains.
Makes the floor look fresh.
Cons
Water-based sealers are not durable.
12.

Acrylic Sealer

Acrylic sealers are suited for tasks that require ease of application and economy. They provide a thin protective barrier that protects the slab from water and chloride infiltration while allowing moisture to escape.

Most acrylic sealers cost between $40 and $80 per gallon. Typically, two gallons is plenty for a regular two-car garage.

Quick Tip

We strongly advise that you avoid the lower-priced sealers available at local home improvement outlets. Often, they don't work as advertised.
Pros
UV-resistant.
Available in multiple sheen levels.
Quick dry.
Cons
Requires frequent reapplication.
---
The Bottom Line
Based on the requirements of your garage and your personal budget, you can choose one of the above options. With these helpful suggestions, you're sure to find a solution that works best for you! Good luck!
Thank You For Your Feedback!
Thank You For Your Feedback!