Rivets have been used for thousands of years and remain among the most popular ways to hold pieces of metal together. If rivets are made of high-quality metal and placed properly, they can stay in place for hundreds of years.
The durability and strength of rivets are the reasons we continue to use them, but these qualities can also become a problem. Removing a rivet can be very challenging, especially if you don't have much experience, but there are some reliable ways to do it.
In this article, we will explain how to remove rivets with a drill bit. This includes why rivets might break, which tools you will need, and a walkthrough of the removal process.
Key Takeaways
Find the center of the rivet and use a slightly larger drill bit than the rivet's shank.
Drill slowly, applying pressure to remove the rivet without damaging surrounding materials.
Use a punch and hammer if the rivet is stubborn and doesn't detach easily.
When all rivets are removed, reattach materials using gutter screws or new rivets.
---
Why Do Rivets Break?
Although they are intended as a permanent fixing solution, rivets can break for several reasons. In most cases, this happens because the rivet is made of low-quality metal or it has not been installed properly.
Improper installation can include simply applying too much pressure when inserting the rivet. Driving the rivet too hard will increase the stress on the metal and could lead to it shearing off. This can be caused by overcompensating, as applying too little pressure to a rivet can lead to it coming loose.
There are various reasons why a rivet might break. If it does, you will need to remove it and replace it.
What You Need
If you want to remove a rivet without damaging the surrounding material, you are going to need some tools. Here is a quick list:
Drill: Preferably a cordless drill as you might need the extra maneuverability.
Titanium Drill Bits: Titanium is extremely durable and has high heat resistance.
Screwdriver: In case you need to reattach any parts with gutter screws.
A Hammer: You might need to knock the rivet loose if it is stubborn.
A Punch: You might need to insert this into the hole if the rivet won't move.
Safety Goggles: Drilling into metals can be dangerous due to flying debris.
A Ladder: If you are working on a drain, you will probably need a tall ladder to reach it.
How To Remove Rivets with a Drill Bit
1.

Locate the Rivets

If a couple of rivets have already failed, there is a good chance that any nearby rivets will also break soon. Before you start drilling, it is worth taking the time to locate any rivets that might need to be removed.

Pop rivets can be found in gutters, gutter straps, and any other thin sheet metal used in home construction. If you want to remove a gutter or downpipe, you will need to remove every rivet.
2.

Choose a Drill Bit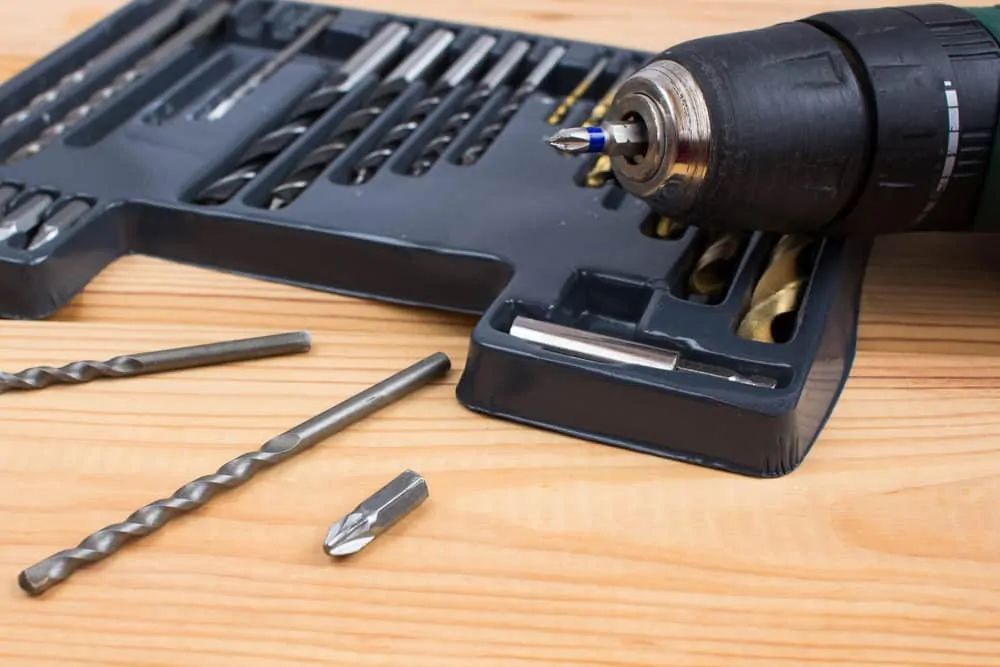 Most rivets have a small hole in the center. Take a drill bit from your set and compare it to the rivet. If the bit fits into the hole, it is too small. A drill bit of 0.125 inches should be suitable for drilling out average-sized rivets.
The bit needs to be slightly wider than the hole or it won't be effective. When you are satisfied that you have found a suitable bit, place it in your drill's chuck and secure it.
3.

Drill Out the Rivet

If you are working high above the ground, lean the ladder against the wall of the building. Make sure you wedge the feet in the ground to secure the ladder and prevent it from slipping. Place your weight on the bottom rung to test that it is safe before you climb higher. You should only ever place a ladder on even ground.

Once the rivet is within reach, hold the drill so the point of the bit is in the center hole of the rivet. Keep the drill straight and gently press the trigger. Start slowly as drilling out a rivet is more about pressure than speed.

Listen carefully and you should hear the drill bit change pitch as it bites through the shank of the rivet. Ease off the pressure as soon as you do, or the drill bit could punch through the rivet and damage whatever is behind it.

When the head comes loose, the rivet should detach from the hole. Remove the drill. If the rivet is stubborn, place a punch into the hole and give it a sharp tap with a hammer to dislodge it.
4.

Repeat

If you need to remove multiple rivets, which will probably be the case, repeat the same process for any others. Just remember that they are there for a reason and something might fall loose if you remove too many. Take it slowly to ensure everything stays where it is meant to be.
5.

Insert the Screws

You will need to resecure the material that the rivets were holding in place, so grab your gutter screws and screwdriver. Alternatively, you can replace the rivets with new ones if you have the necessary tools, but most people are likelier to have a screwdriver than a riveter. Screws are also easier to remove, which means you won't need to go through the process of drilling out rivets again later.

If the existing holes no longer line up, you can use the same drill bit to make new holes to insert the screws into.
Top Tips for Removing Rivets
FAQs
---
Thank You For Your Feedback!
Thank You For Your Feedback!