Wondering the best way to paint tall walls? When you have a high ceiling, reaching up that high while still feeling safe can be tricky.
But you can do the job and do it safely. I'll show you a few tips and how to pick the best ladder for it. I'll also teach you how to paint high walls and some non-ladder methods you can try.
Key Takeaways
Choose the right ladder for the job, like a multi-purpose ladder, stepladder, or a step stool.
Prep the room by covering the floor and furniture with drop cloths and using painter's tape to protect trim, outlets, and switches.
When painting, use an extension pole for your paint roller to make the process easier and safer.
For painting above stairwells, use a multi-ladder or articulating ladder to safely reach high walls.
---
What is the Best Ladder for Painting High Walls?
In large rooms with vaulted or cathedral ceilings, ladder size is one of the most crucial aspects to consider. There are varying styles of ladders to choose from, and they each have a specific purpose.
For indoor paint jobs, you want a multi-purpose ladder, a stepladder, or a step stool. Some of these ladders will work for exterior paint jobs as well.
Choosing the right ladder also depends on the height you want it to reach. Extension and telescopic ladders like the Yvan Telescoping Ladder are the most common choices for painting high walls.
| | |
| --- | --- |
| Ladder Size (Fully Extended) | Maximum Reach Point |
| Three feet | Seven feet |
| Four feet | Eight feet |
| Five feet | Nine feet |
| Six feet | 10 feet |
| Seven feet | 11 feet |
| Eight feet | 12 feet |
| 10 feet | 14 feet |
| 12 feet | 16 feet |
| 14 feet | 18 feet |
How to Paint High Walls
Before learning how to paint tall walls, you're going to need a few tools and materials for the project.
What You'll Need
Paintbrush.
Drop cloth.
Painter's tape.
A helping hand.
Extension pole.
Paint roller.
1.

Prep the Room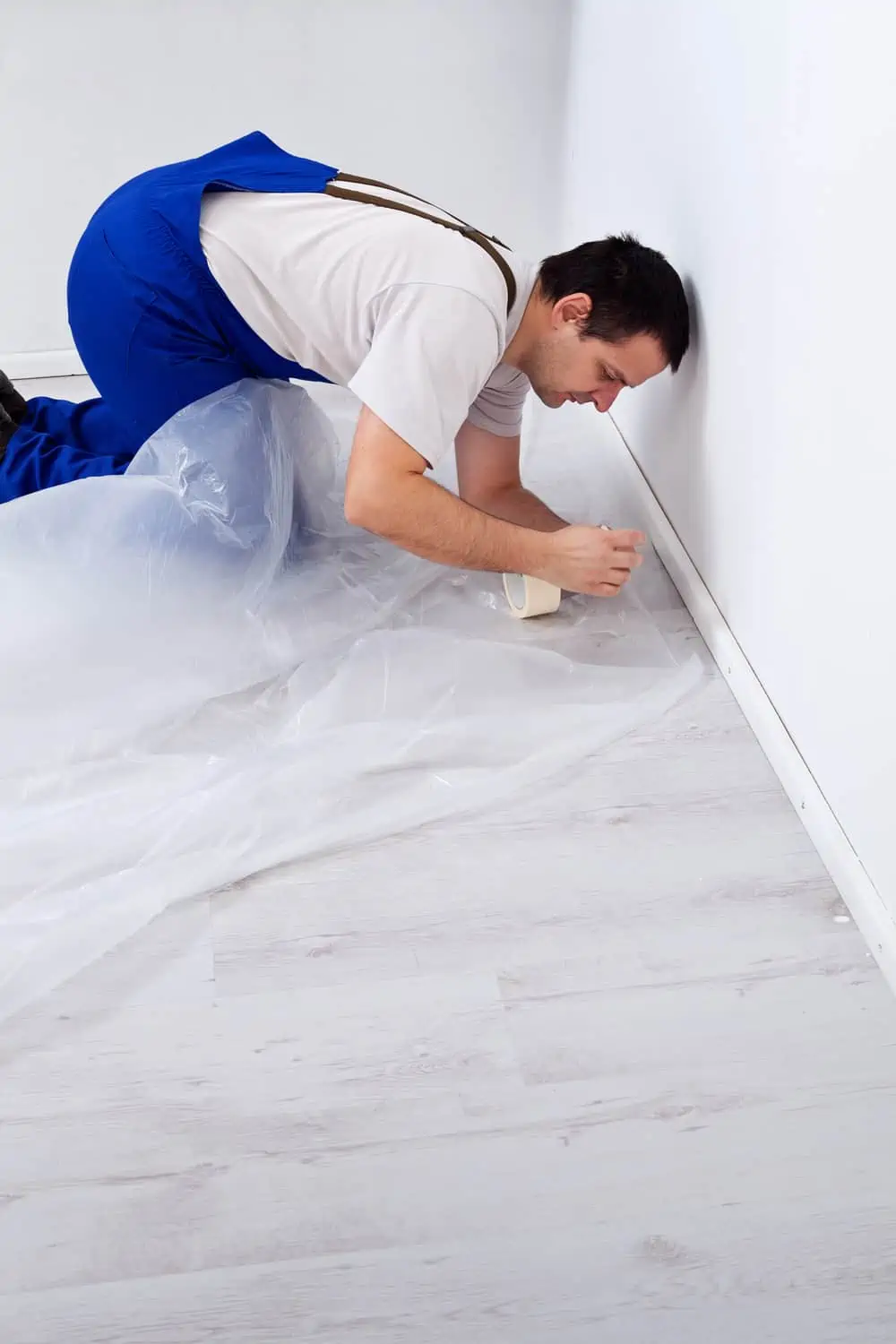 The first step with any paint project is to ensure everything is covered, so nothing gets stained with paint.
Start by covering the floor and furniture using drop cloths. If there are any movable pieces of furniture, you might want to remove them completely. This clears the area and eliminates hazards.
To avoid getting paint splatters all over them, make sure to tape off any trim. Cover the power outlets and light switches. Painter's tape like this ScotchBlue Multi-Surface is a good choice for the job.
2.

Pick the Ladder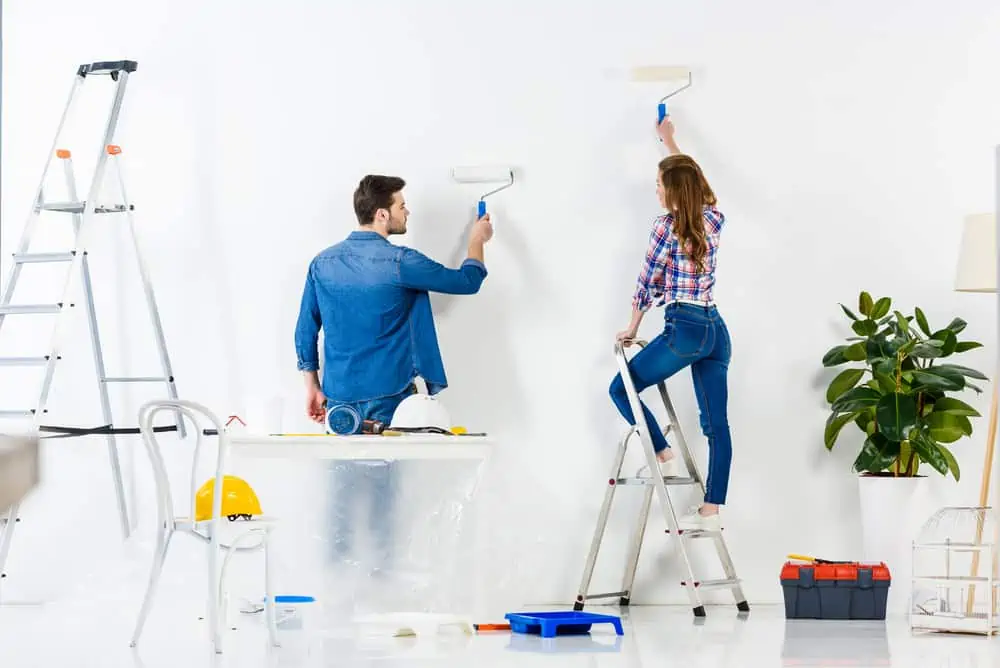 If your room is 20 feet high, you can use a large 16-foot extension ladder. You won't need it to reach all the way to the ceiling because your own height will add to the overall reach.
Safety First
If you don't feel comfortable with this height, ask someone to hold the bottom side of the ladder for you.
3.

Cut-In the Ceiling

When you have to paint high walls, it's important to avoid staining the ceiling in the process. Another difficult part is getting so high up and working comfortably with a paintbrush.

The process of cutting in ceilings involves brushing downward to a minimum of six to eight inches. This will allow you to comfortably paint the walls using a roller and an extension pole. Pay extra attention when working your way around corners.
4.

Roll the Walls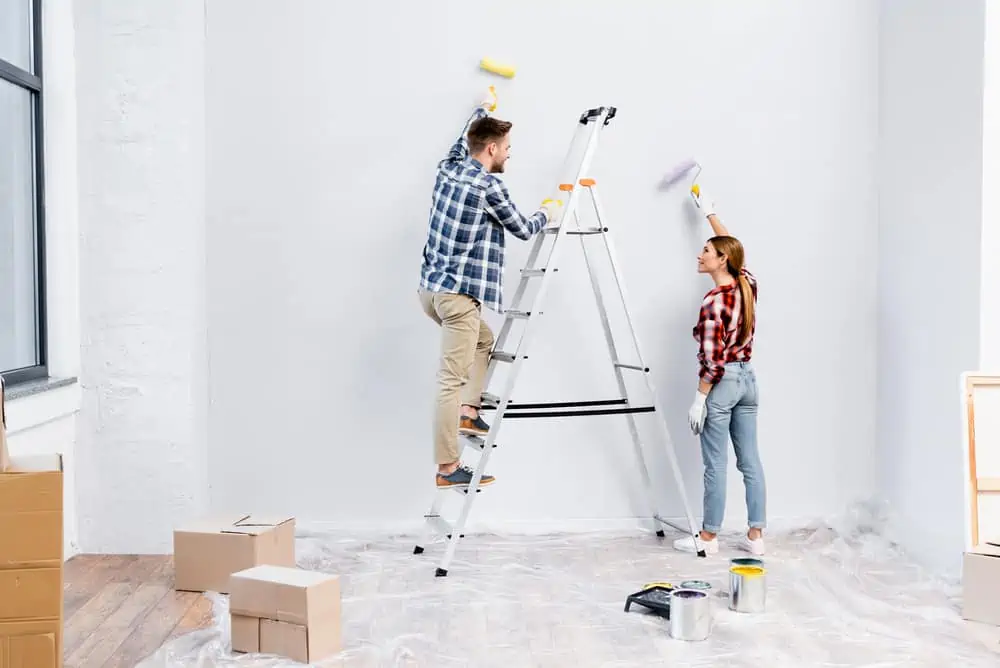 When you're ready to apply paint to the walls, you have the following two options:
Take your roller up the ladder and roll the paint on a small wall section. Go down the ladder and dip the roller in the paint. Repeat until the wall is painted.
The easiest and most energy-saving method is to buy a quality extension pole for your roller. It's also safe because you don't have to get up and down the ladder constantly. Leave the paint bucket on the floor and use your extension pole to dip the roller in paint without having to go down the ladder.
Placement Is Key
Make sure to place your ladder properly. For an A-shaped ladder, position the side perpendicular to the wall. For adjustable ladders, place the straighter end toward the wall.
5.

Clean the Area

When you're done painting and the walls are dry, proceed with cleaning the area. Gather up the drop cloths and remove the painter's tape that protects the switches, outlets, and trim.

Removing Tape

Let the paint dry for a few hours before you lift the tape. This will prevent smears and tearing.

Clean your rollers and paintbrush. Then put the ladder away and properly store whatever paint you might have left (or discard it properly).

Check Local Regulations

Some towns and cities have different regulations for disposing of paints and chemicals. Be sure to check first.
How to Paint High Walls Above Kitchen Cabinets
Sometimes, there's a patch of wall above kitchen cabinets that's too small for a paint roller and impossible to tape off. This makes the painting procedure more difficult.
Use a small roller and an extension rod to paint areas you can reach from the floor. If there's a visible spot too small for the roller, use a ladder and reach it with a brush.
How to Paint Tall Walls Without a Ladder or Scaffolding
There are a few ways around using a ladder or scaffolding if you don't have access to these items. Although, if you can, I'd recommend using a ladder for best results.
Use an Extension Pole
This handy tool is very useful for painting in high spots when you don't have the means to use a ladder. These are available all over the internet, including stores like Amazon or The Home Depot.
Extension poles like the COLBENT Multi-Angle Paint Brush Extender have different lengths. It's compatible with whatever brushes or rollers you might already have. Plus, it has an angled head for getting into hard-to-reach areas.
A regular, straight extension pole is more commonly used and tends to be cheaper.
Make Your Own Extension
Sure, you could tape a stick to your roller, but there are more effective methods, like using a broom handle.
Unscrew the handle from the broom. The threaded end fits most paint rollers and provides a zero-cost extension rod.
Best Way to Paint Tall Walls Above Stairwell
When you have to paint high walls located above stairs, things get a little more intimidating and complicated. The best approach to this is picking a multi-ladder or articulating ladder. This is an A-shaped ladder with extendable ends.
You can fold the ladder to look like an A. Then place the shorter end on a higher point up the staircase and the long end on one of the lower steps.
Extra Tips for Painting Walls
Painting tall walls isn't always the easiest task. Even if you do it with a roller mounted on an extendable pole, you're going to have to put your arms to work. Here are some tips that can help you get the very best results.
Don't Flash
When painting tall walls as part of a DIY project, there is a chance of flashing. Flashing is when the edges of a wall portion you just painted dry before you're done with the actual painting process.
When this occurs, you will notice a sheen difference. To prevent this from happening, paint a single wall at a time.
Keep the Ladder Stable
If you feel your ladder isn't stable enough to hold you, ask someone to hold it for you. This will give you more confidence to carry on with your painting task.
If no one is around to help you, consider using a ladder that has quality rubber feet. You can also try using furniture pieces to keep the ladder in place.
Avoid Over-Reach
Over-reach is when you try to paint too much in either direction without stepping down and moving the ladder first. This can cause instability and can also lead to uneven coats of paint.
---
The Bottom Line
Painting tall walls can be a challenge if you haven't done it before. However, it's nothing to really be scared of. Once you know how to paint high walls using the right tools, techniques, and ladders, you can do it with ease.
Thank You For Your Feedback!
Thank You For Your Feedback!