Window blinds can easily be a dust trap and sometimes seem impossible to clean, especially large Venetian blinds or the plastic ones with tiny horizontal slats. It's a chore with a bad rep, but it doesn't have to be complicated.
We're going to show you different techniques on how to clean window blinds based on their material and how dirty they actually are. You'll be dust-free in no time!
Key Takeaways
Identify blinds material and use the appropriate cleaning solution.
Regularly dust blinds with a microfiber cloth or vacuum with a soft brush attachment.
For deep cleaning, soak vinyl and some fabric blinds in a tub with soap and water.
Avoid using vinegar on wooden blinds to prevent discoloration.
---
How to Clean Blinds Without Taking Them Down
If you've got permanently installed blinds, this is the method for you.
What You'll Need
Suitable cleaner based on blinds material.
Microfiber cloth.
Small bucket.
Soft cleaning cloths.
Feather duster.
Vacuum.
Liquid soap.
Degreaser.
Sponge.
Non-abrasive brush.
Wood or Faux Wood Blinds
If you have wood or faux wood window blinds, follow these steps for a fast clean.
1.

Dust the Blinds

Begin by drawing the blinds taut against the window. Begin at the top of the blinds. Wipe each of them from left to right while standing on a solid step ladder. Repeat the process by rotating the blind to expose the other side.
2.

Wipe with Cleaning Solution

Choose a proper wood cleaning solution. If your blinds are made from faux wood, clean them with a solution that's suitable for the material in question. Put the solution in the bucket for easy access, preparing it as written on the label.

Start wiping the top blind and process down to the last one. After applying the solution on each blind, wipe it down with a dry cloth to remove excess solution.
3.

Use Wood Conditioner

Apply the solution as mentioned on the label. This will help luster-faded or dull-looking blinds.
Mini Blinds
The slats of mini blinds are half the width of regular blinds. And more slats equals more dust. Here's how to get rid of it.
1.

Dust the Blinds

Use a feather duster or even a vacuum cleaner to remove the dust from the blinds. Turn the slats 90 degrees and clean the sides. Turn them again and clean the convex side.
2.

Identifying the Material

For a deeper cleaning of the blinds, you need to identify what material they're made from and follow one of the tutorials we've made for the specific material.
Vinyl Blinds
Vinyl blinds are best cleaned by submerging them in water, so this tutorial will require taking down the blinds. If you want to clean the blinds without taking them down, follow the steps mentioned in the wood blinds cleaning section.
1.

Remove and Soak

After completely removing the blind from the mounting hardware, place it in your clean bathtub. Add clean water to submerge the blinds. Add liquid soap and swish around to create suds. Let the blinds soak for five minutes.
2.

Give Them a Clean

To clean the blinds, you want to use a non-abrasive brush or a sponge. Spread the blinds apart to allow the solution to work its way between the narrow slats.

Top Tip

If you're trying to clean oily kitchen window blinds, it's best to use a degreaser first. Wiping them with just a soap cloth will cause the built-up grease to stick even more.
3.

Rinse Them Down

Thoroughly rinse the blinds with a shower attachment. This should be done immediately after washing to prevent the suds from leaving dried stains on the blinds.
4.

Dry Them Off

After cleaning the blinds, hang them on a shower pole to dry naturally or towel dry them. Then reinstall the blinds in the window frame, leaving the slats partially open to facilitate thorough drying.
Fabric Blinds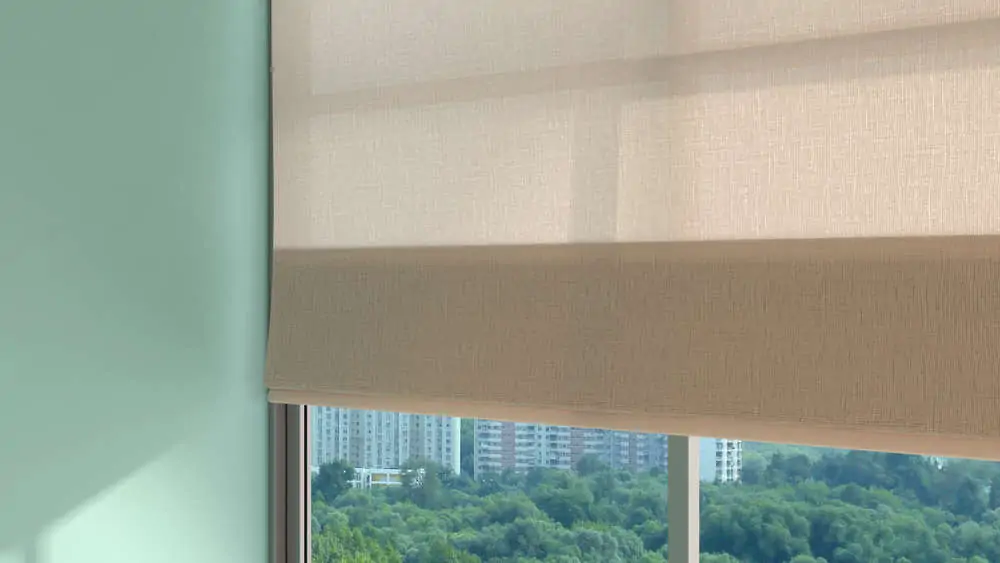 1.

Dust the Blinds

Use the soft brush attachment of your vacuum cleaner to remove the dust from your fabric blinds.
2.

Remove Stains

Cleaning blinds like this can be done by dampening a cloth in a liquid soap and water mixture. Just enough to make suds. Blot the stain in question but don't rub the fabric. Rubbing it can cause the stain to set in.
How to Wash Blinds in the Tub
Even if you dust them often, window blinds occasionally require a thorough cleaning. The best way to clean blinds is to remove them and wash them in your bathtub.
Put them in a tub filled with water and add some liquid soap or detergent and make suds. Then allow them to sit for a few minutes.
This is possible with aluminum, vinyl, and some cloth blinds. The only way to be certain is to contact the manufacturer.
Top Tips for Cleaning Dirty Blinds
Dirty blinds can be a nuisance, especially when the regular cleaning methods are inefficient. If you find yourself having to deal with such a situation, here are some tips that can help:
Use a degreaser to clean slimy and sticking kitchen blinds.
Baking soda can be used for deep cleaning fabric blinds because it is a natural stain fighter.
Use a vacuum cleaner with a small brush attachment to clean extra dusty blinds.
Always flip the slats in all directions possible for the most efficient cleaning.
FAQs
Didn't find the answer you were looking for? Here are some frequently asked questions about cleaning window blinds.
---
The Bottom Line
Now you know how to clean window blinds based on what they're made of. It's only a matter of making this a routine part of your home cleaning process.
When using cleaning products for blinds, always follow the instructions on the label. This will help protect the blinds and deliver the best results with each cleaning.
Thank You For Your Feedback!
Thank You For Your Feedback!