If you own an air tool, you will know the importance of an air compressor. We use them in our everyday lives too, to inflate tires and swimming pools. But how does an air compressor work?
We decided to take a detailed look at air compressors to give you the lowdown on how they work.
Key Takeaways
An air compressor is a pneumatic device that stores compressed air and has various uses, from home applications to industrial settings.
Positive displacement air compressors force air into a tank, decreasing the volume to pressurize the contents, while dynamic compressors use rotating blades to generate airflow and pressure.
Reciprocating piston air compressors and rotary screw air compressors are commonly used in home and industrial environments for tasks such as inflating tires and powering air tools.
Air compressors require proper maintenance to ensure a long lifespan, with rotary air compressors lasting between 40,000 to 60,000 hours of use and reciprocating air compressors lasting approximately 10 to 15 years.
---
What Are Air Compressors For?
There are different types of air compressors, with varying applications. Air compressors found in the home are generally smaller, although you can use larger air compressors to inflate tires and swimming pools.
Some of the most common types are portable and handheld devices that you carry in the trunk of your car in case of a flat tire. Air compressors also blow up balloons and are useful tools for cleaning hard-to-reach areas using directed air.
Larger, reciprocating piston compressors are better suited to DIY tasks like using pneumatic tools. These can include air hammers, air impact wrenches, and paint spray guns for respraying your car.
There are some less obvious ways that air compressors get used. They are used in dental services, farmers use them to spray crops, and dairy farmers use them to power milking machines.
The aviation industry uses them in aircraft engines, and large chemical and industrial facilities employ compressors in the manufacture of products like steel and chemical separation.
They are even used in some ski resorts to make snow!
How Does Each Type of Air Compressor Work?
Each type of air compressor has its unique way of producing pressurized air. Here are the basics of how they work.
Positive
Positive displacement air compressors force air into a tank, and the volume decreases to pressurize the contents. The systems vary with each machine, but the principle is the same.
"Positive" is a blanket term used to describe all air compressors powered through positive air displacement.
Some positive displacement compressors are better suited to industrial and commercial applications than others, while some suit hobbyists and the home market.
Reciprocating/Piston Type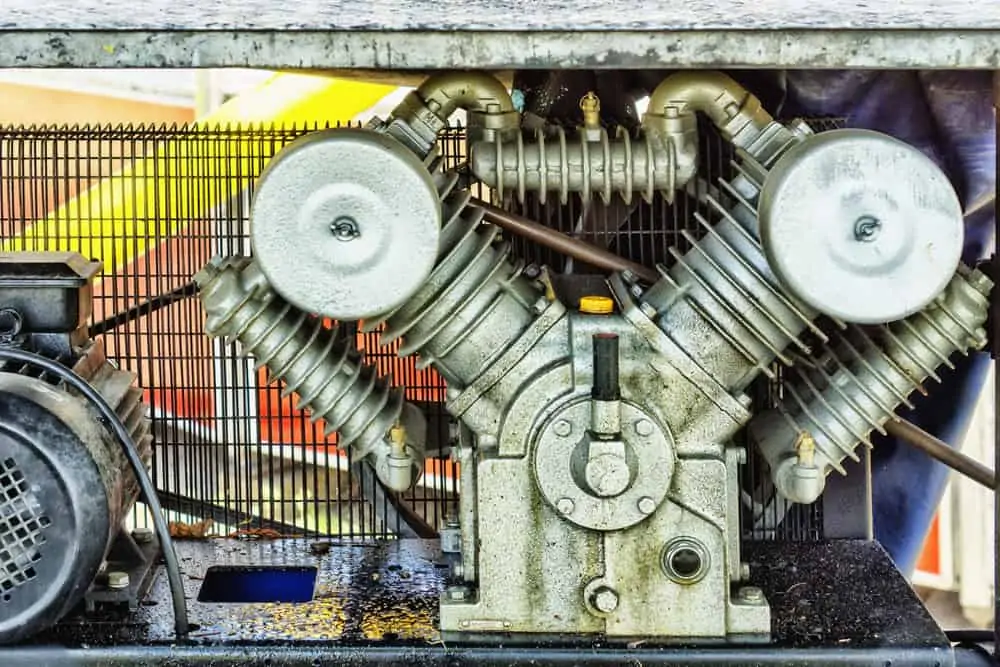 Reciprocating piston air compressors use a piston controlled by a crankshaft to deliver pressurized air. They are not suitable for continuous use, unlike the rotary screw type. So, how do they work?
We have to divide them into single and double-stage operations. Single-stage compressors have a rotor that spins, forcing the piston to move up and down. This motion draws air into the chamber through valves, causing the air to push through outlet pipes as the piston moves upwards.
These types of air compressors are relatively affordable and commonly found in auto-repair shops.
Two-stage compressors have a large piston and a small piston. The rotor operates both, but as the larger one creates air, it pushes it through an intercooler containing water. This is then fed to the chamber containing the smaller piston, as it compresses the air into a small space. It then forces the air through an outlet pipe.
Rotary Screw
The two screws rotate in opposite directions, which creates a vacuum. As the air gets forced along the screws, it compresses until it is released through the air output. This provides the power to run air tools and many other applications.
These are the easiest to maintain of all the types of compressors and are typically used in heavy-duty scenarios, thanks to their ability to run continuously and the size of their engines.
Rotary Vane
Rotary vane compressors are much the same as rotary versions, except they use vanes attached to the rotor that adjust in size as they spin. The fan is mounted off-center to create larger and smaller chambers within the casing. This creates pressure as the air is forced around the casing as it decreases in size until it eventually pushes out through the exhaust port.
Rotary vane compressors are easy to use and popular with home and hobbyist users alike.
Dynamic
Dynamic compressors use a rotating blade to generate airflow. This airflow is then restricted to create pressure, as all that kinetic energy is stored ready for deployment. These types of devices are a mainstay of larger industrial applications like steel manufacturing and chemical plants. It is unlikely you will see this compressor in the home or small commercial use.
There are two main types of dynamic air compressors, namely, axial compressors and centrifugal compressors.
Axial Compressors
It starts with a large fan that draws air at high speed into the inlet. It passes through stationary fan blades, and as space decreases, kinetic energy is created, causing the air to pressurize. This then gets fed through an outlet.
The purpose of the stationary blades is to slow airflow as the air is forced into a smaller space, increasing the pressure. These types of compressors are less common and mostly used in aircraft engines and large air separation plants.
Centrifugal Compressors
A large fan draws air into the chamber, but the centrifugal force causes it to push outwards towards the edges of the space. The air travels around the inner casing, heading towards a diffuser, which slows the pace and increases the pressure. This pressure is then delivered through an outlet pipe.
These types of compressors use a high-speed electrical motor, making them a staunch favorite with HVAC professionals, and are commonly used in domestic HVAC systems.
How Long Do Air Compressors Last?
The estimates are that rotary air compressors will last between 40,000 and 60,000 hours of use. That equates to 20 to 30 years. Reciprocating air compressors will last approximately 10 to 15 years but will require more maintenance.
This all depends on the punishment the compressor gets and the applications it is used for.
FAQs
---
Can You Feel the Pressure?
Air compressors are extremely useful devices. They come in all shapes and sizes and for different applications. Air is free, so it's no wonder so many industrial and commercial environments utilize this precious resource to create the force they need to operate large-scale machinery.
And in the home, air compressors have many uses, from inflating balloons and tires to driving air tools like hammers and wrenches.
Thank You For Your Feedback!
Thank You For Your Feedback!