Does graphic charcoal paint color feel a bit stark and overwhelming to you? It doesn't have to be that way, especially since charcoal gray is such a sexy and versatile color.
We're going to show you how gorgeous charcoal gray paint can look in different indoor and outdoor setups. It can add a layer of depth and luxury you never even imagined.
Key Takeaways
Charcoal gray is a versatile, deep shade of gray with possible undertones of blue, brown, or green.
It can be used in various indoor and outdoor settings, adding depth and luxury to spaces like bedrooms, bathrooms, and living rooms.
Pair charcoal gray with colors like blush pink, teal, or white for a striking contrast and a modern, elegant look.
Consider the Light Reflective Value (LRV) and natural light in your space when choosing a charcoal gray paint color to ensure the best results.
---
Is Charcoal Color Black or Gray?
It is a very deep shade of gray. It has a slight tint of blue, but it's closer to black. Charcoal grays can have an undertone of brown or green, even if they appear to be neutral.
Easily use it for interior and exterior setups, provided you know how to avoid overdoing it. This shade of gray should always be held up next to a pure black color to ensure there aren't any conflicting undertones.
Graphic Charcoal Paint Colors
We love that it can appear in various shades in different lighting or by adding contrasting colors.
1.

Gray Bedroom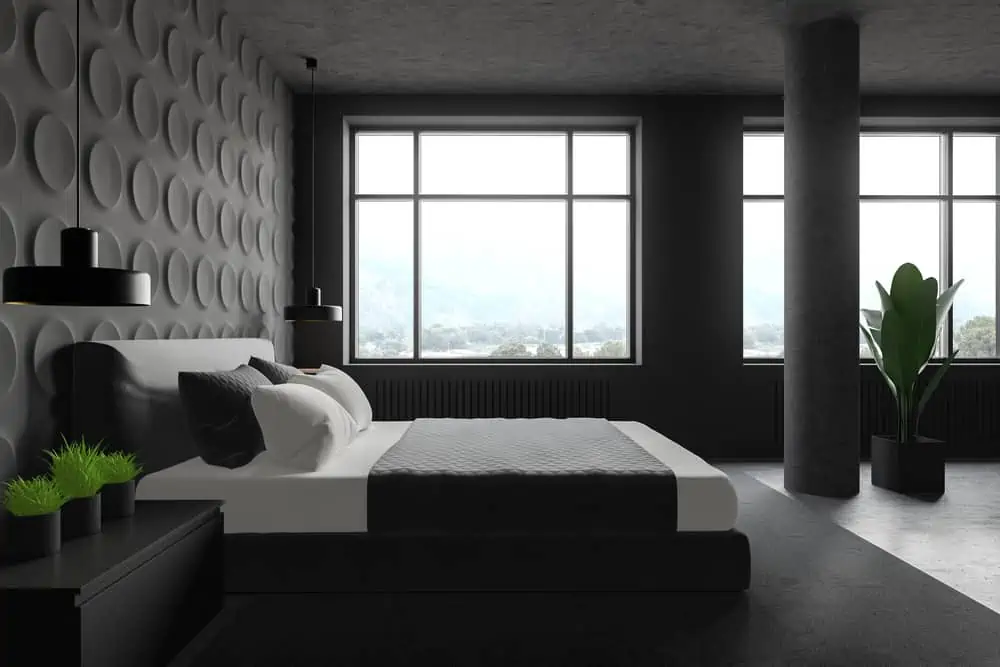 Gray is a neutral color because it combines both black and white tones. But since it comes in a range of hues and a generous palette, gray is as versatile as any other color.
If you're looking for that man-cave type of look in your bedroom, you can go all-in. Choose charcoal gray paint, matching bed linens, and add a large mirror to create the illusion of more space.
2.

Painting Vanity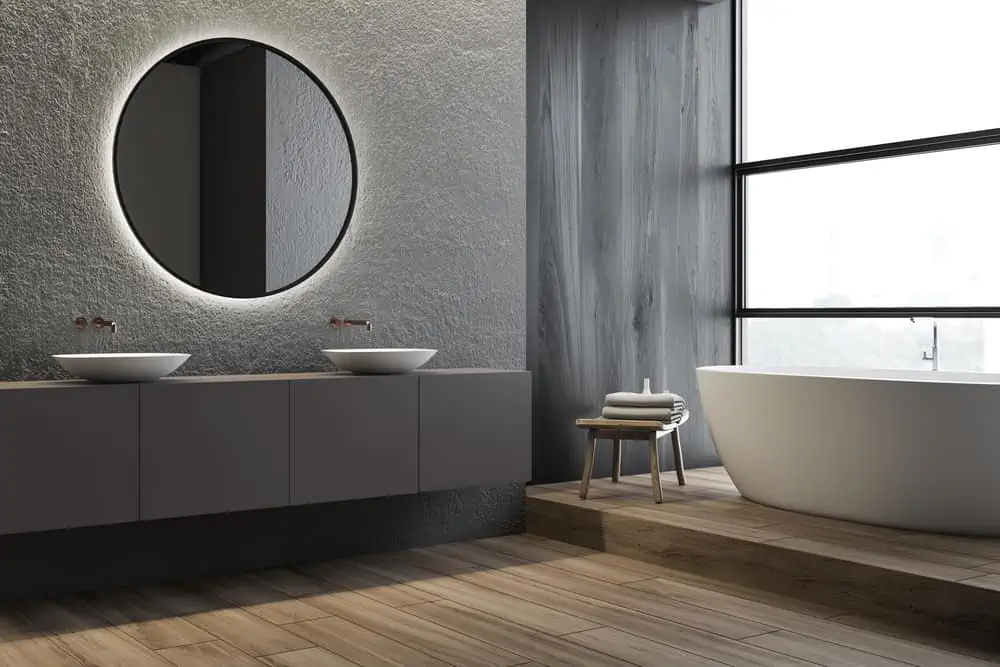 It's time to grab your paint bucket and turn a dull-looking bathroom vanity into a sexy charcoal gray piece. This one just screams elegance and dominance.
You can pair it with a white tub, flooring in different shades of gray, and a backlit mirror. It almost makes your bathroom interior feel like a classy hotel lavatory.
3.

Painting Over Wainscotting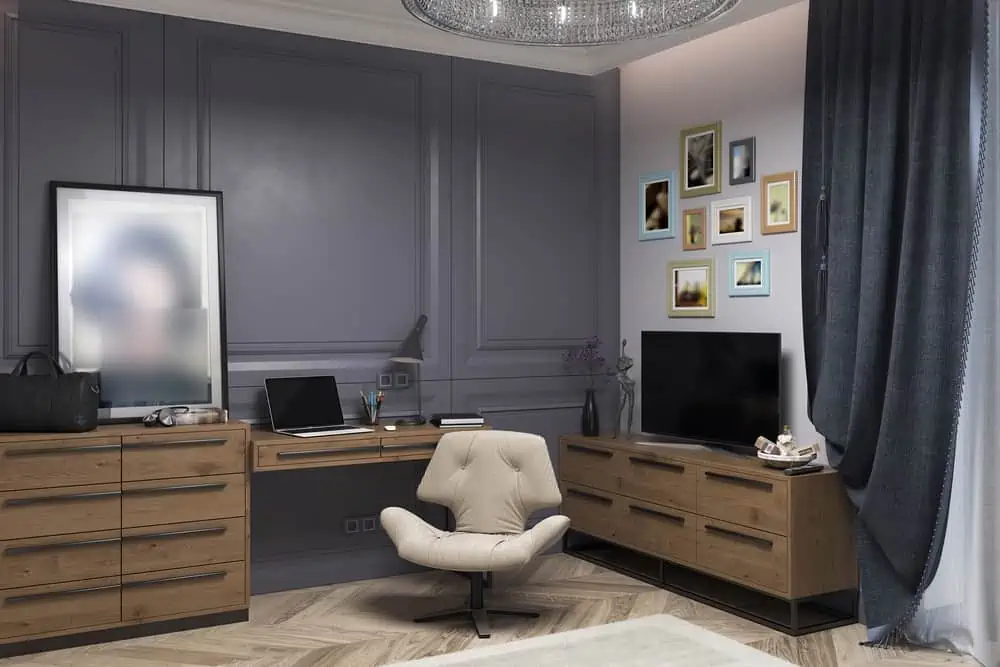 Want to get wainscotting out of the way to make room for a charcoal gray accent wall? You don't have to! Get yourself some Thunder Gray by Sherwin-Williams and give your boring wainscotting a dark coat of paint.
This warm charcoal gray stands out from the rest of the list because it is so uncommon. Combine this color with dark gray curtains, natural woods, and creamy shades and textures to take advantage of its warm tones.
4.

Charcoal Fusion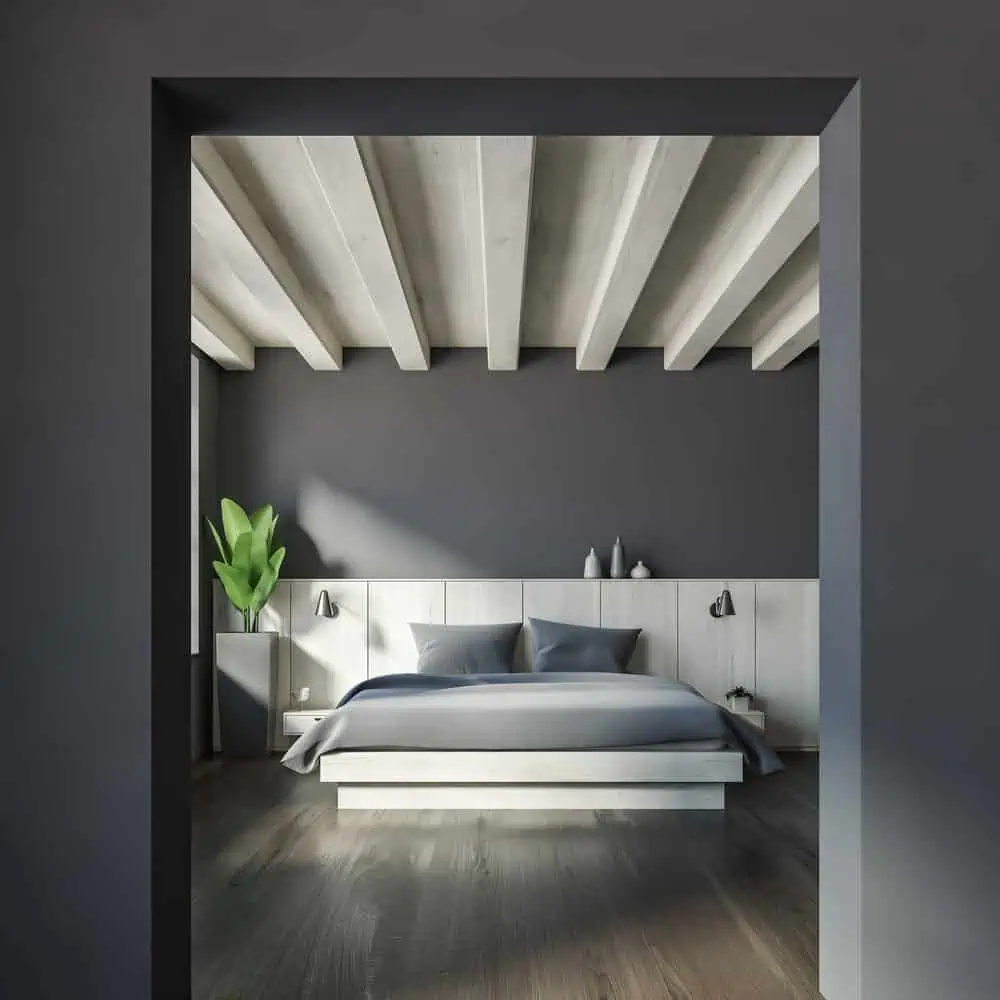 If you like your bedroom wainscotting and want to keep it, consider going with charcoal gray from the ceiling to mid-wall. When you have a ceiling with exposed beams, this creates a nice visual effect.
5.

Textured Wall Effect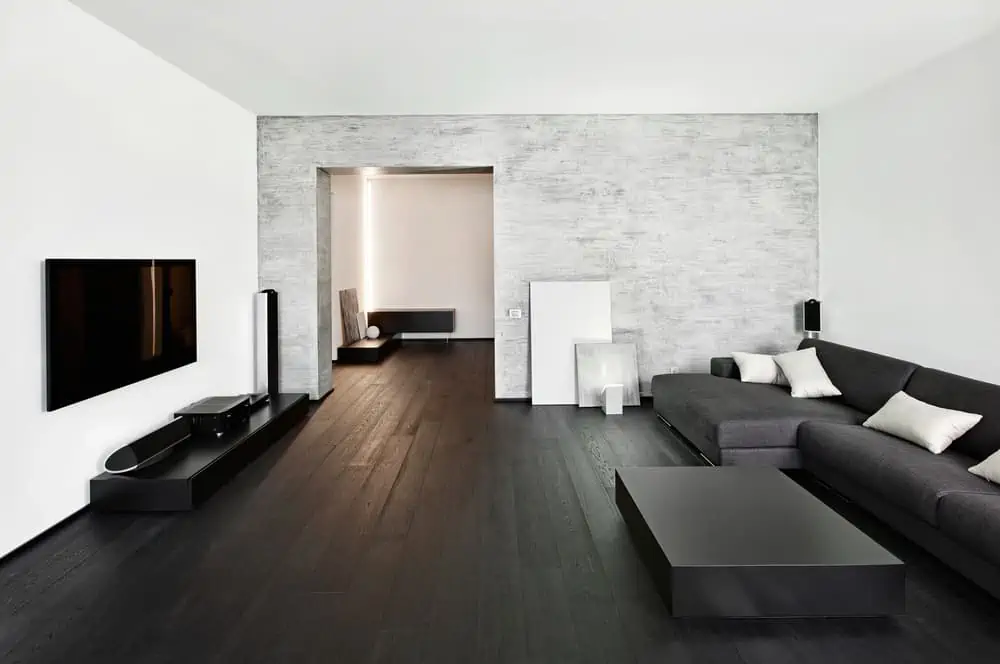 Charcoal gray doesn't always have to be about solid dark gray walls. You can always use dark charcoal and apply it to the wall using a sponge to get a gorgeous textured effect.
Consider matching the floor stain for more visual unity, deeply infusing those charcoal gray vibes into the room without overdoing it.
6.

Modern Bedroom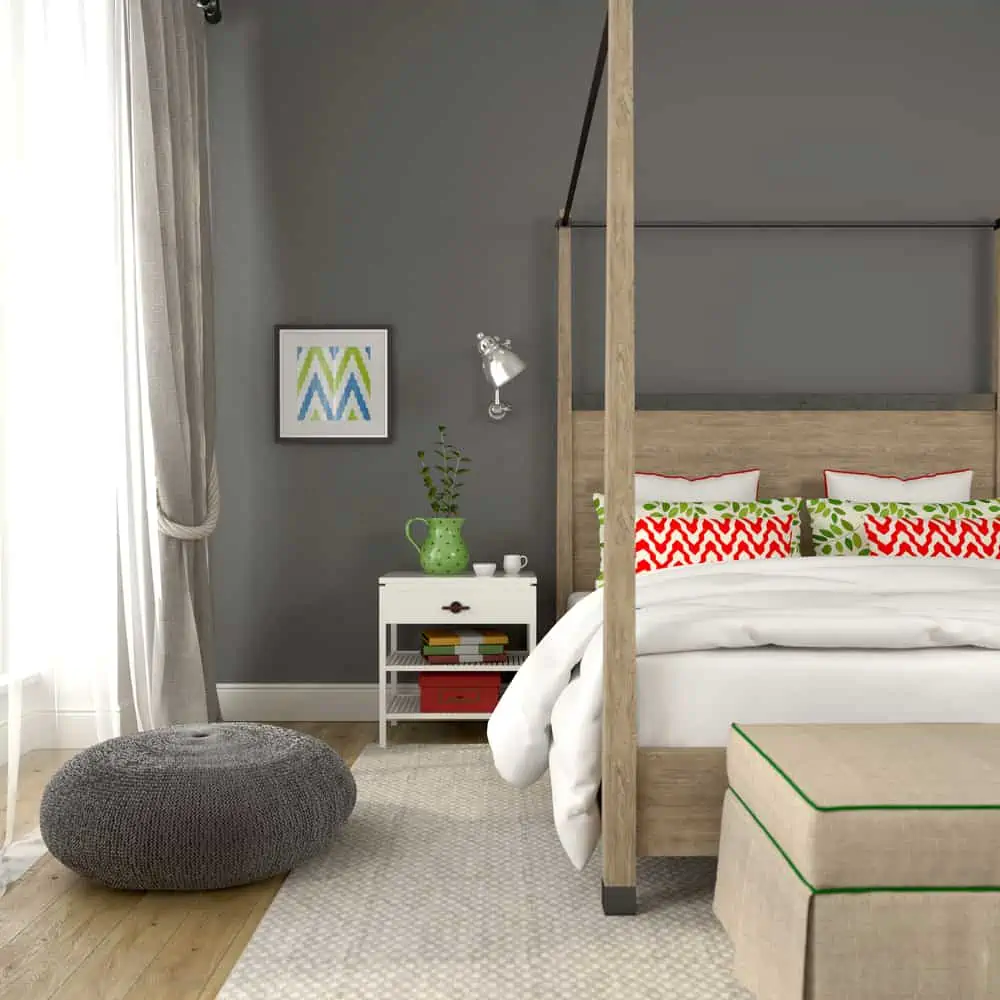 The thing about charcoal gray is that it's usually a very modern color. It works well in many different room setups, but it gives off that modern vibe that feels very mysterious and sexy.
That makes charcoal gray a great bedroom wall color, especially when paired with different tones of brown, beige, or matching ottomans.
7.

Marble Mania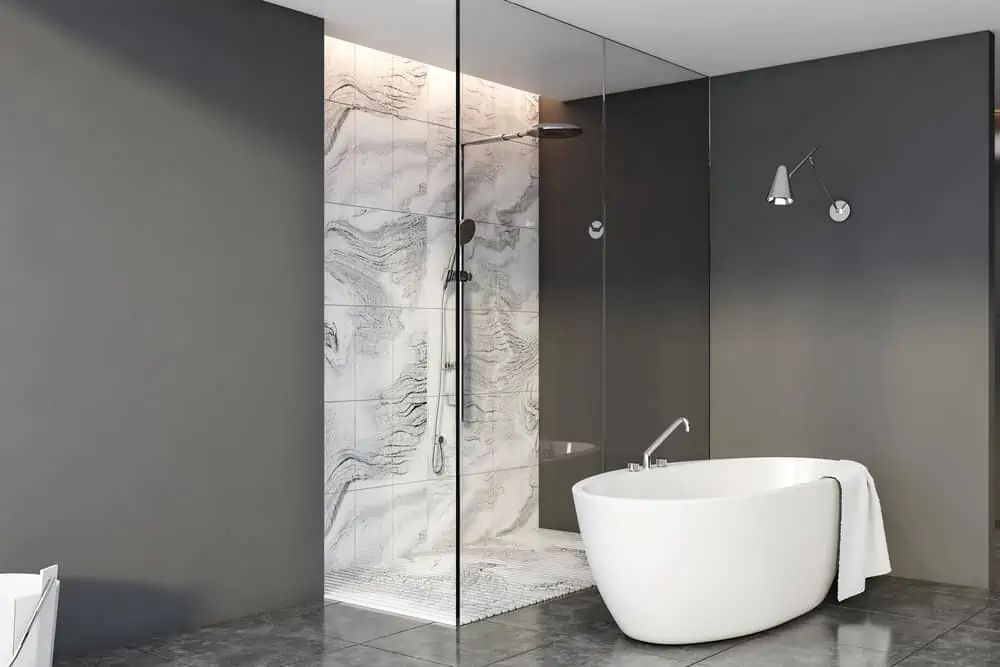 This color pairs perfectly with marble elements. Marble is usually the first material that comes to mind when trying to achieve an elegant aesthetic. The addition of marble to any room instantly transforms it into a stylish haven, thanks to its common coloration of white with gray veins.
8.

Painting Furniture to Match

It sucks when you find a furniture piece you love, but it's not available in the color you wanted.

But there's always the option to paint it! You can paint your furniture in charcoal gray using paints like Charcoal Drift or Stormy Sky.
9.

Wall Patterns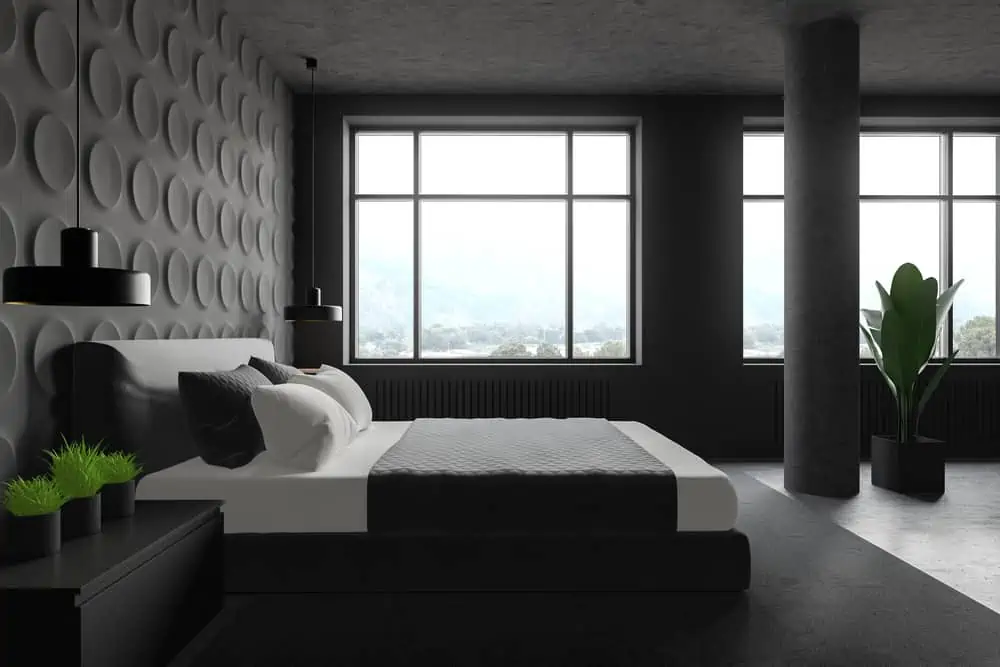 Why choose between patterns and solids when you can have both? Charcoal gray is no exception to the rule for pairings and accents.
This bedroom has circle patterns on an accent wall. This shade of gray makes for an excellent choice because of the large windows that let in a ton of natural light.
10.

Industrial Appeal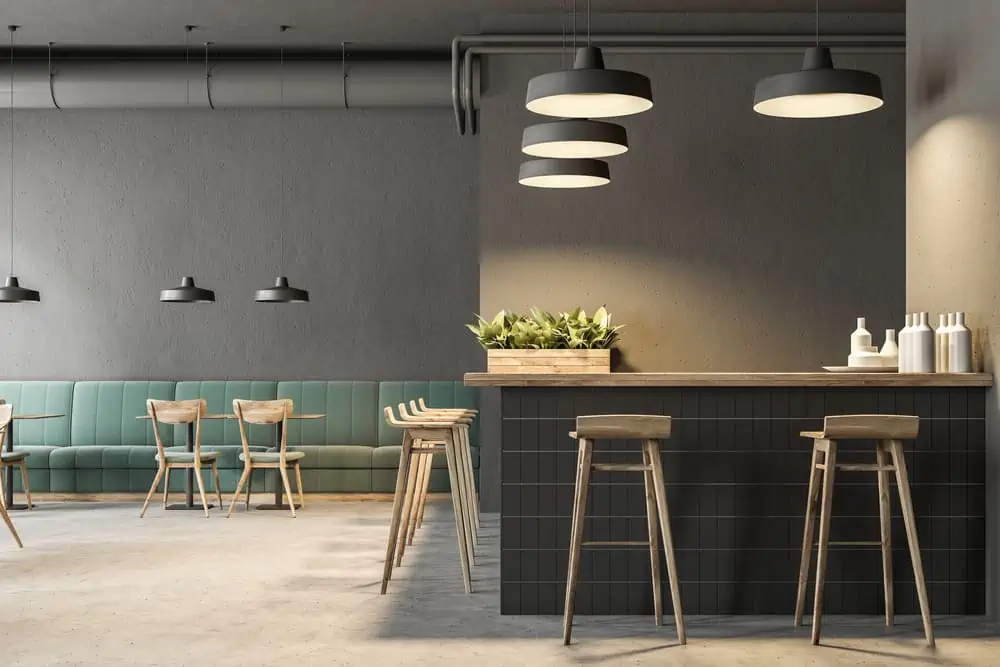 Charcoal gray is probably one of the best colors if you're a fan of the industrial style. With exposed pipes and vents, give everything a coat of charcoal paint to mimic that appearance that's specific to the style.
Pair it with wooden chairs, and you've got yourself a neat idea that works for everything from living rooms to coffee shops.
11.

Pop of White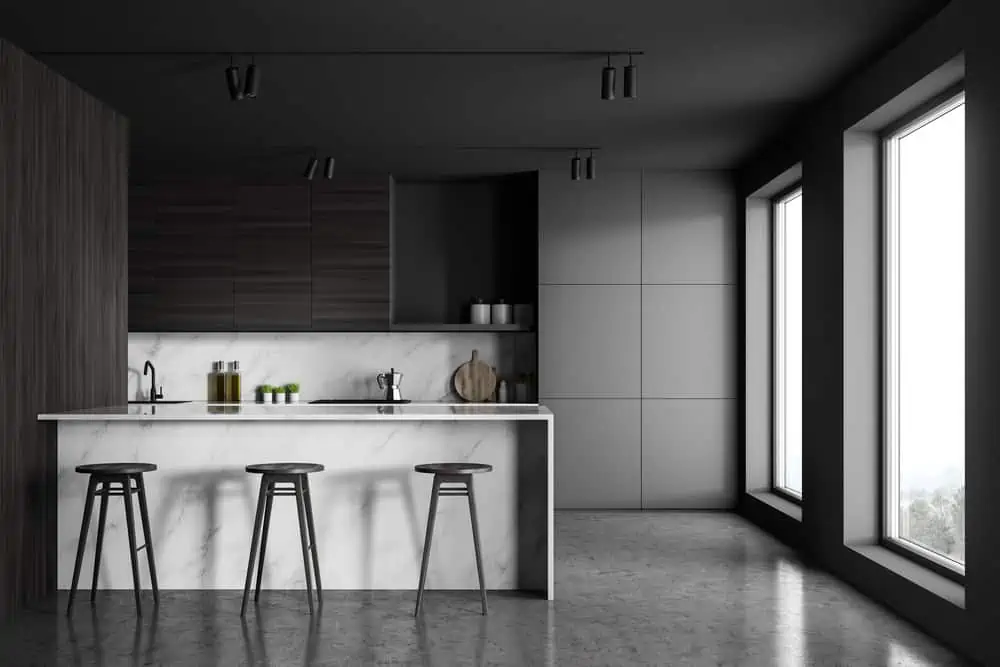 Add depth and contrast to your room by pairing charcoal gray with cool whites. The classic color scheme of black and white can be overwhelming in some rooms, so a lighter version is a great alternative.
Design Tip
You can go for an all-gray scheme but add a pop of white in something like the kitchen island. This adds visual appeal to the space.
12.

Adding Patterns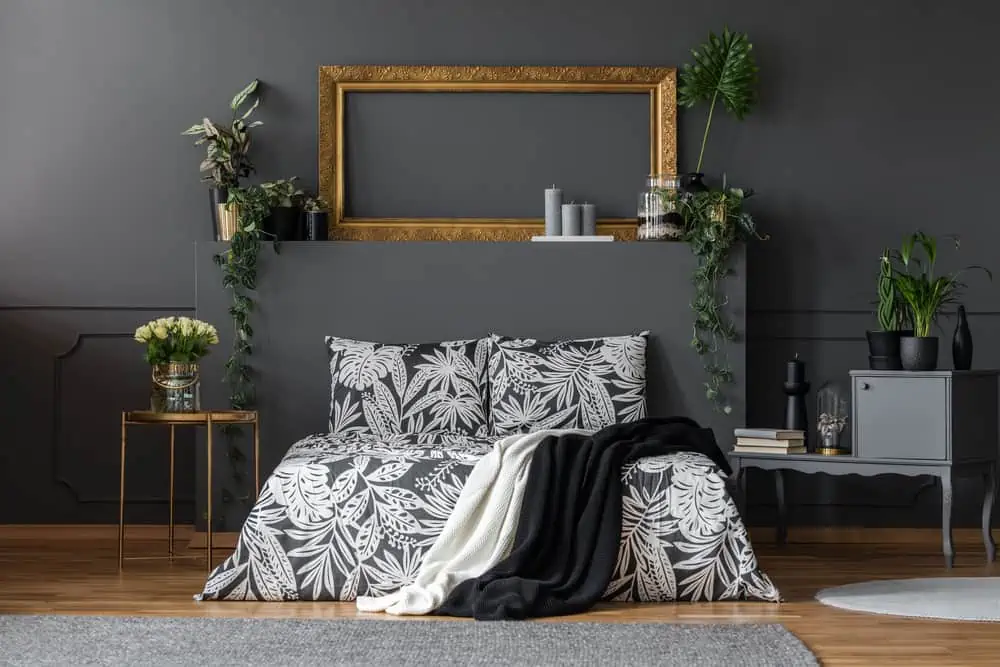 Choosing bedding items can be a challenge because prints and intricate patterns can quickly grow old on you. But backing it against a charcoal wall can give it new life. Also, because charcoal is so versatile, you can switch up the bedding each season.
13.

Charcoal Gray Living Room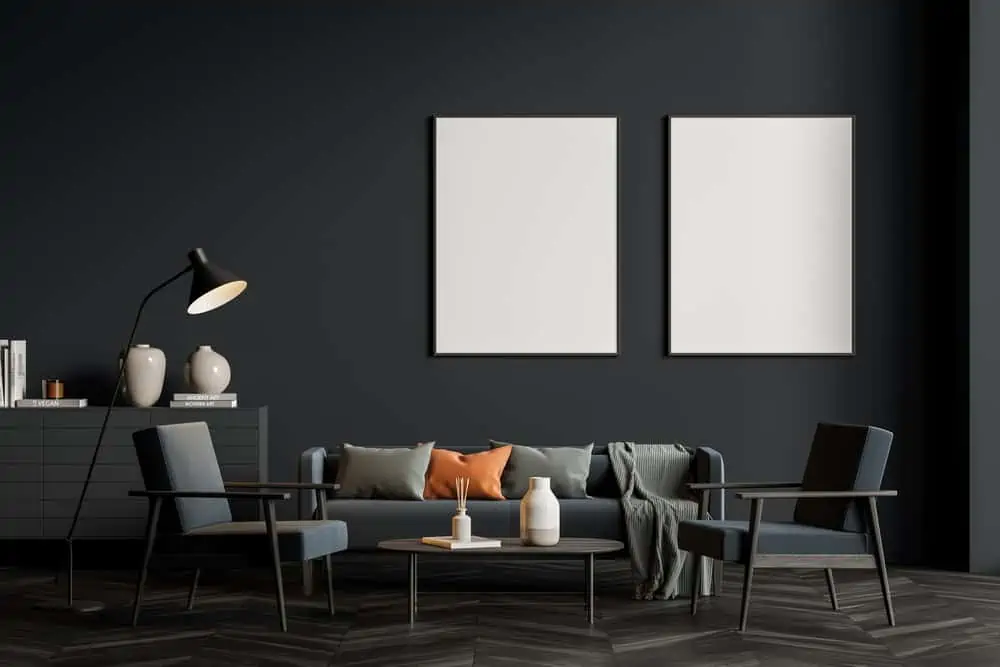 Charcoal gray is most certainly a dramatic color. It's very different from the green or lavender hues you might have seen in people's living rooms.
This color is an entire mood, creating a space where you can focus, be alone with your thoughts, and feel more confident. If the space is overwhelmed with charcoal gray, play around with some accent colors on couch throw pillows.
14.

Gorgeous Dark Bathroom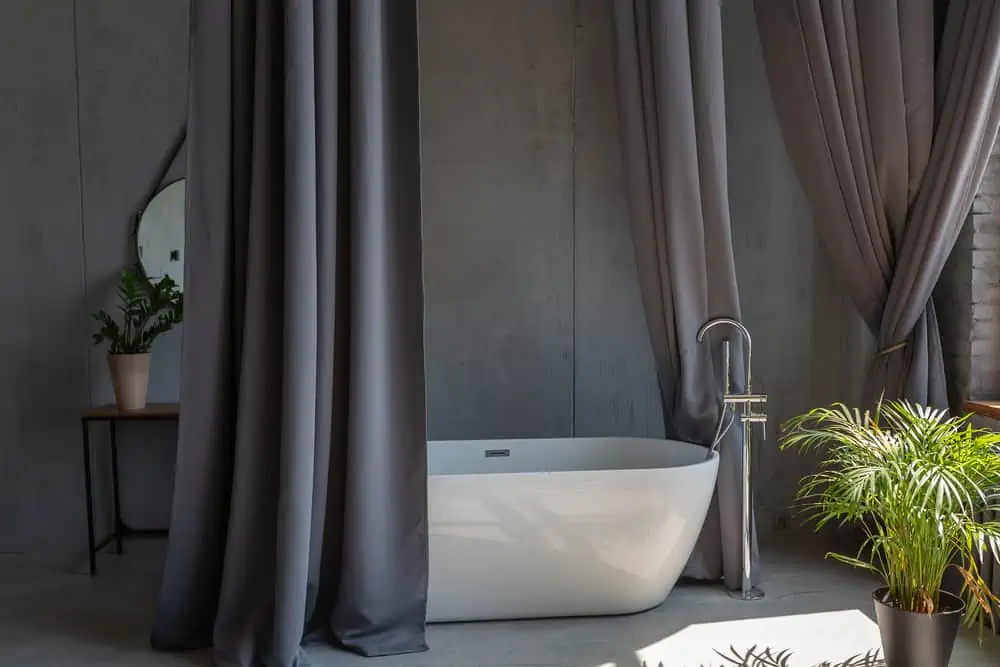 Add the texture material or paint to a paint tray. Apply to the wall or ceiling by dipping a paint roller into the tray and rolling it out.
Stippling can be accomplished with a standard roller cover or a specialized stippling roller cover. Add dark gray curtains to your modern bathroom, and voila: intimacy and sensuality in a bathroom painted in charcoal gray.
15.

Painted Shelves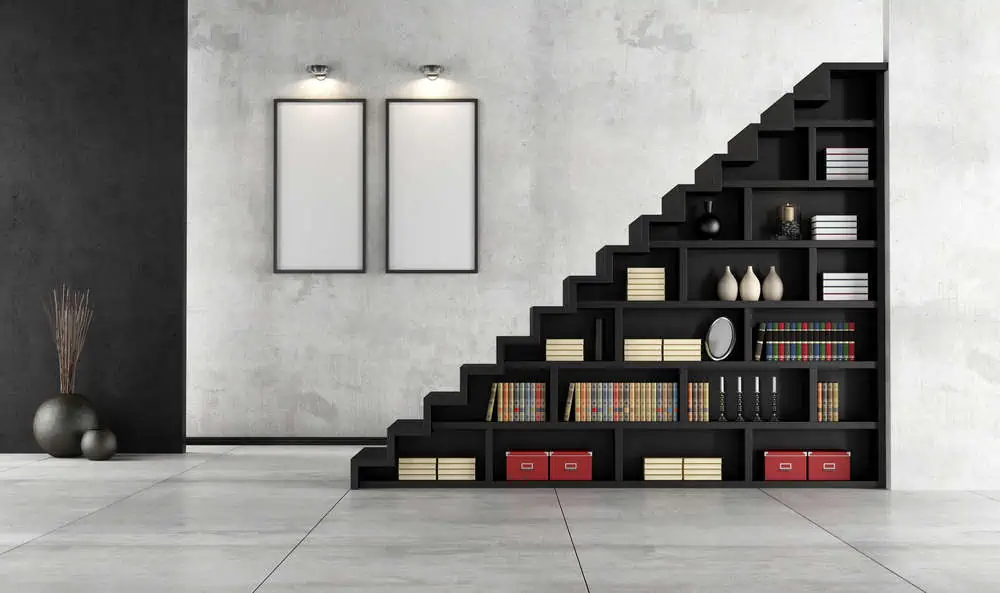 If you have living room shelves that need a paint job, how about Sherwin-Williams Andiron? Almost black in appearance, Andiron is a dark charcoal gray.
The contrast and intensity of this color make it an excellent choice. When placed next to lighter shades of gray, it will demonstrate the gray-near-black spectrum that this color falls under.
16.

Two-Tone Bedroom for Kids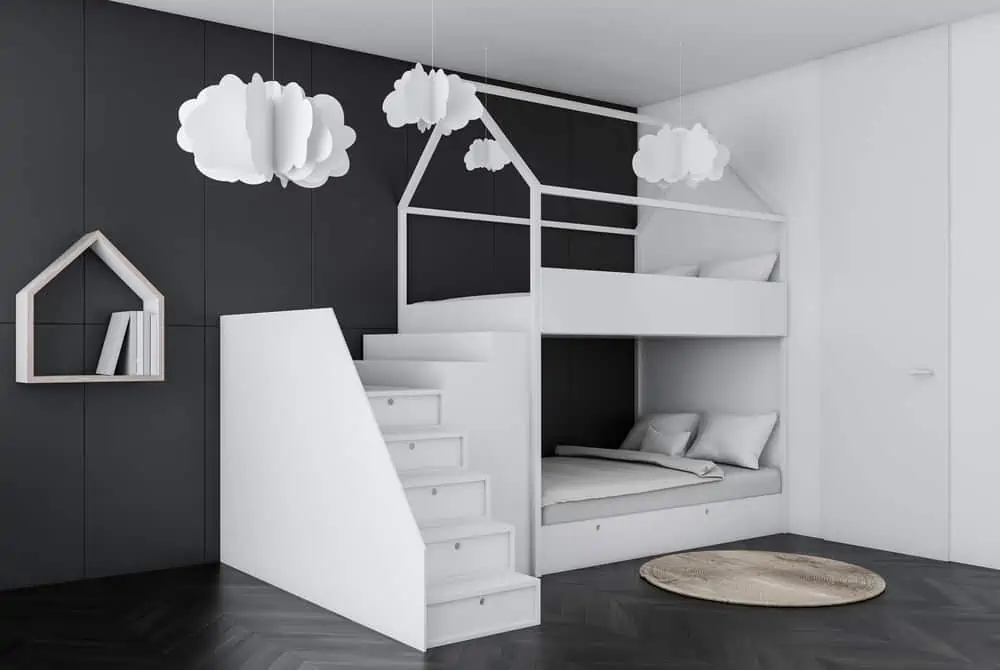 Charcoal gray and white are a heavenly combo. You can either go with white walls and a charcoal gray accent wall or the other way around.
Choose light colors for furniture placed against the charcoal wall, such as the white you see in this picture. The contrast is beautiful, and it allows you to play around with colorful decorative objects.
17.

Commercial Charcoal
This dark shade of gray can be the perfect setup for a commercial setting. If you have a home office or want to decorate a space designed for work, look no further than charcoal gray.
It's a dark color that keeps you focused on the task, not allowing for any visual distraction. You can create a monochromatic scheme to avoid worrying about what colors to match it with.
18.

Kid's Room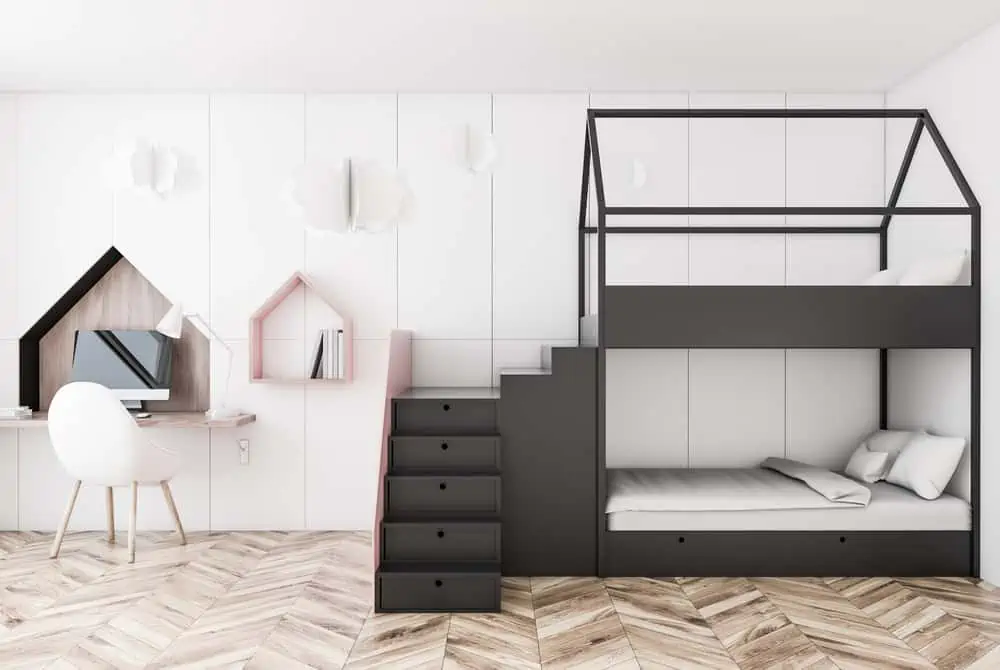 Charcoal gray isn't always the go-to color for a kid's bedroom. It's likely to feel overwhelming, dark, and gloomy.
However, you can paint some of the furniture in this neutral shade. Grab a paint bucket and give that bunk bed a fresh new look. If you choose charcoal gray, you can easily pair it with many other colors.
19.

Open Space Concept
Charcoal gray accent walls are excellent when you're ready to make a bold statement but don't want to commit to such a dark shade on all your walls.
Notice how you have a massive accent wall that works well for this open concept room. You get to admire it from both levels and play around with some blacks, whites, and neutrals.
20.

Modern Kitchen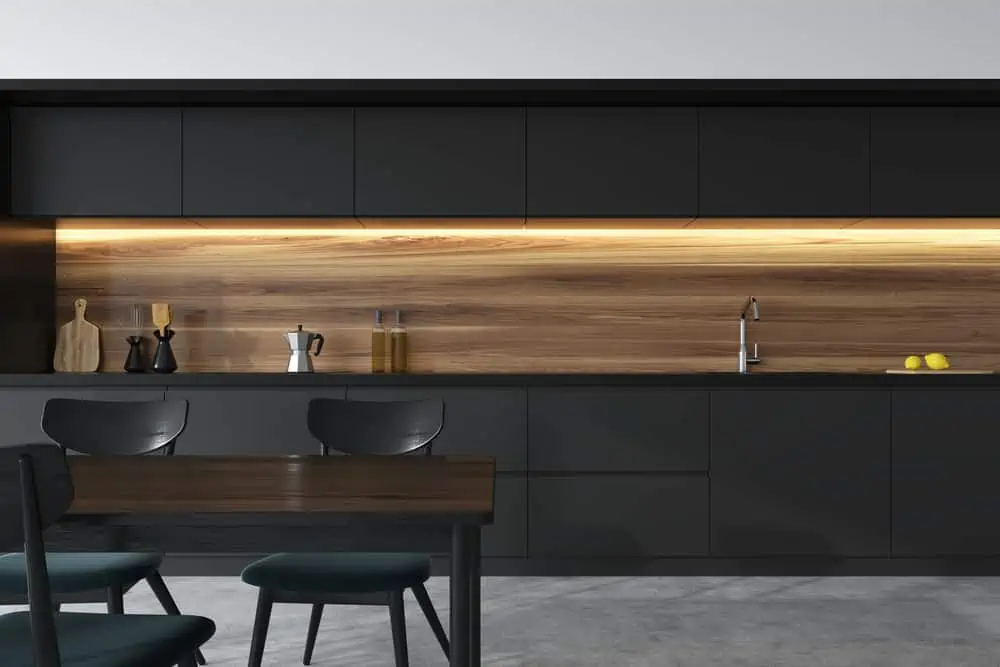 Here is one more example of how easy it is to integrate charcoal gray into modern kitchen decor. Go for dark gray cabinets or paint the ones you already have using something like Kendall Charcoal from Benjamin Moore.
Keep the backsplash in a natural wood appearance and add some LED lights underneath the suspended cabinets for a nice effect.
Best Coordinating Colors for Graphic Charcoal
A fireplace surrounded by a charcoal-colored wall would be a stunning focal point for any room. The color of the accent wall can be complemented by light gray walls on either side.
Colors with a strong blue undertone will lend depth to a room with subtle patterns and different furniture textures.
Blush Pink
Charcoal gray and blush pink go together like peaches and nectarines. These two colors are so far apart on the color wheel that they make for a striking contrast.
Against the darkness of charcoal gray, the pallor of blush pink is such a welcoming relief. The two pair well and give a mature, feminine vibe.
Teal
Because teal is such a saturated shade of green-blue, it needs a complementary color that is just as intense. In addition to muting the teal color, charcoal gray is an excellent choice for this task.
Choose teal paint for the walls and charcoal gray trim or charcoal gray curtains for the trim. It's possible to add some lightness to this color scheme by using a third color that is a little lighter.
White
With charcoal gray, white is an easy color to incorporate into a modern or minimalist design. Because of its closeness to black, the combination of white and charcoal can give a classic monochromatic color scheme a unique twist.
To avoid a cluttered and disorienting look, use one of these colors as the primary accent and the other as a secondary accent color.
Consider using black walls and sofas with white trimmed cushions and white candles as accents. This will result in a space that is both comfortable and stylish.
Tips For Choosing a Charcoal Gray Paint Color
Overwhelmed with the abundance of graphic charcoal paint color choices? We have two tips that might help.
Consider LRV
Look up the color's Light Reflective Value (LRP) when in doubt. When contrasting two shades of the same hue, it can be difficult to determine which is lighter or darker.
True black is 0, and pure white is 100 on the Light Reflective Value scale. It's basically a numerical scale that measures how much light a paint color reflects.
Do you have limited natural light in your home? Then opt for a color closer to 100 when comparing two similar hues to avoid having a color too dark.
Factor in Natural Light
We've got a ton of trees surrounding our house. I love them because they keep our house and backyard cool in the summer, but it makes picking paint colors difficult.
In some rooms of our house, a warm gray is likely to be mistaken for a dark beige color. The paint color in your home may look washed out if you have a lot of natural light and are looking for a more saturated hue.
FAQs
Still wondering about using graphic charcoal paint or similar charcoal colors? This should help.
---
In the End
When you choose a graphic charcoal paint color, you're making a bold choice. Not a lot of people are ready to embrace a shade of gray that's so close to black, so you must make sure you're comfortable.
If you're ready to choose the charcoal paint color of your dreams, we hope this article helped you successfully integrate it into your decor.
Thank You For Your Feedback!
Thank You For Your Feedback!