Garage door replacement costs vary enormously depending on the size, material, and add-on features like automatic openers. If you replace like-for-like, you might keep costs down but expect to dig deep because garage doors are not cheap.
Let's look at new garage door costs to see if it makes financial sense to repair your door rather than replace it.
Key Takeaways
Garage door costs range from $500 to $2,000, depending on size, material, and features.
Factors affecting replacement costs include door size, type, material, location, and brand.
Repairing a garage door may be more cost-effective for minor issues, while significant damage may warrant a replacement.
Professional installation typically costs between $100 and $300 for a single door and $400 to $600 for a double door.
---
Average Cost of a New Garage Door
The cost of a garage door varies depending on whether you have a single or 2-car garage. Average prices range from $500 to $2,000, with the national average settling around $1,000.
Doors at the low end start at $500, and high-end models can set you back around $4,000. You also need to factor in additional costs like door hardware, material, and labor costs. Here's a handy chart:
| | |
| --- | --- |
| Item Breakdown | Costs |
| Hinges | $100 |
| Bolts | $100 |
| Springs | $150 |
| Lock | $250 |
| Labor | $300 |
| Opener | $375 |
| Tracks | $400 |
Factors Affecting Replacement Costs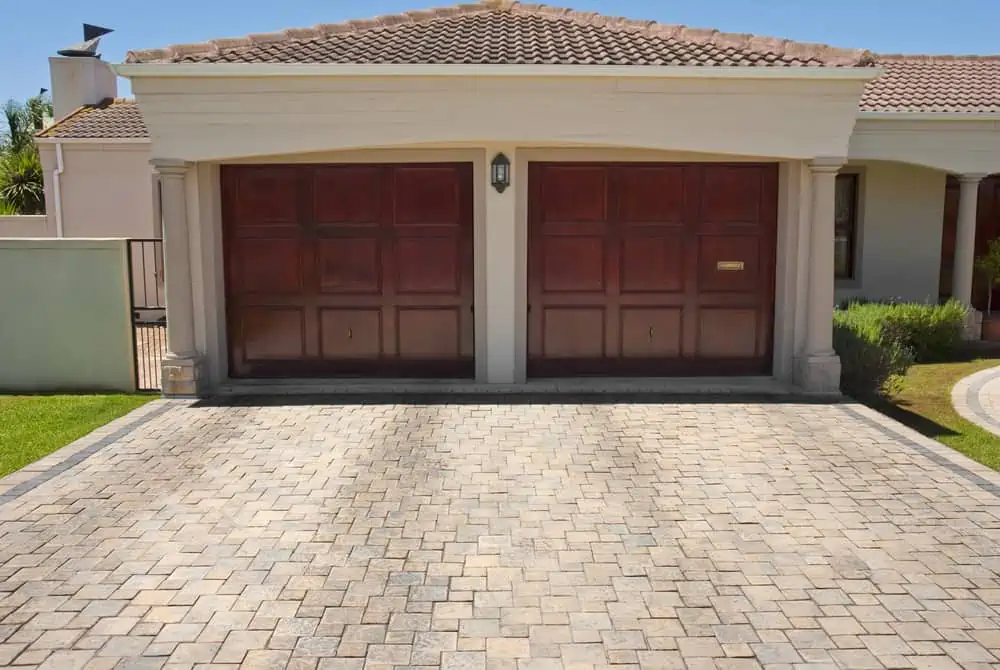 Several factors affect DIY or professional installations, and knowing what they are helps you keep control of budgets. Let's look at some of the key reasons you might pay more for your garage door.
Size of Door
The size of your door is the most significant factor, so we included it at the top of the list. Single doors are cheaper than double doors for obvious reasons. Single garage doors typically span seven to 10 feet and cost between $500 to $2,500 on average.
The price jumps for a double door (measuring 16×7 feet) from $750 to $4,000. Alternatively, you might have a two-car garage but have two single doors.
This chart explains what you need to know:
| | |
| --- | --- |
| Garage Door Size | Costs (Including Labor and Materials) |
| One-car garage | $500 to $2,500 |
| Two-car garage (one double door) | $750 to $4,000 |
| Two-car garage (two single doors) | $1,100 to $4,700 |
| Three-car garage (one single and one double door) | $1,300 to $6,400 |
| Three-car garage (three single doors) | $1,600 to $7,000 |
Type of Door
The type of door you choose impacts the overall costs of your garage door installation. Before picking the cheapest option, remember that your garage forms a significant part of your home's aesthetics and security.
Paneled Doors
Paneled doors look aesthetically pleasing. They comprise several panels, making them easier to customize. The average cost for a paneled door ranges from $700 to $2,000.
Single-Paneled Doors
Single-paneled doors are among the cheapest garage doors. Thanks to springs and durable hinges, they lift and slide into the space above your car. They cost between $400 and $1,200.
Tilt-Up Canopy Doors
Tilt-up canopy doors are similar to single-paneled doors in that they lift, but that's where the similarities end. Rather than sliding all the way in, a third of the door protrudes like a canopy, hence the name.
Like single-paneled doors, these models are excellent value for money, costing $500 to $1,500.
Roll-Up Garage Doors
Roll-up doors are not a budget option, but they save space and look good. Roll-up doors come in two distinct styles: sectional roll-up and rolling steel. Expect to pay $850 to $3,000, depending on the size and type you want.
They come in wood, steel, aluminum, and even fiberglass and, once installed, can be very sturdy. However, they are tricky to paint and repair and complicated to install.
Carriage Doors
Carriage doors add elegance to your home's exterior and have increased in popularity over the last decade. They are unique because they open outward rather than up and come in custom wood and wood effect designs.
They come in several styles, including crossbeam, panels, and even glass inserts. The more intricate the type, the higher the costs. Expect to pay between $1,100 and $3,900.
French Doors
French doors look similar to carriage doors but without the arched top. They typically consist of glass inserts, which help fill your garage with light, but may reduce insulation.
French doors open outwards and add a touch of class to your home's exterior. If you want curb appeal, prepare to spend $1,500 to $5,000.
Garage Door Material
As with everything, it all comes down to your budget. Some materials are cheaper than others. Do you spend big and get a wooden garage door or trim costs and opt for vinyl?
Steel
Steel is a popular door material because it is sturdy and can be easily maintained. Steel is also relatively inexpensive compared to other materials, but it lacks insulating qualities. Steel doors come in various styles and cost between $450 and $3,500.
Vinyl
Vinyl doors are the cheapest of all your options. They are the chameleon of the door world because they can look like wood, metal, and any custom appearance you want. These lightweight and low-maintenance doors offer excellent insulation, thanks to a foam core.
Vinyl is not suitable for all environments because it warps in high temperatures and cracks in extreme cold. Expect to pay $700 to $2,500, depending on size and design.
Aluminum
Aluminum is an all-weather material that doesn't rust like steel. It is lightweight, durable, and less prone to sagging. For these reasons, expect to pay $500 to $3,800 on average.
Aluminum can be painted and insulated, but it is more likely to suffer wear and tear compared to steel.
Composite
Composite doors are a cheaper and more resilient alternative to wood. They are insulated, lightweight, and aesthetically pleasing. Composite consists of fibers and resins and looks like natural wood grain.
Wood takes a lot of maintenance, which is why composite is popular in areas with extreme weather. Expect to pay $750 to $5,000.
Fiberglass
Fiberglass is also an excellent wood alternative. It is lightweight, can be painted, and offers additional insulation benefits. It won't dent or rust; however, it does suffer in extreme weather conditions.
It is prone to cracking in the cold and warping in the heat. You may also be limited to stock designs because customization is challenging. Expect to pay between $800 and $3,000, depending on size, style, and features.
Glass
Glass is a surprisingly robust material and adds a modern twist to your exterior aesthetics. It floods your garage with natural light and adds soundproofing that other materials can't match. Typically, tempered glass is used in garage doors because it is low-maintenance.
On the flip side, glass is expensive, costing $900 to $4,500 on average, and it lacks heat retention. It is also more tricky to install and costly to repair or replace.
Wood
Now we come to the king of materials. Wood is classy, timeless, versatile, and sturdy, which is why it has been used as a building material for thousands of years. There are several options with wood in style, design, and wood type.
However, wood is expensive, costing $1,000 to $6,000 on average, and requires a lot of maintenance.
| | |
| --- | --- |
| Material | Costs (Single and Double) |
| Steel | $450 to $3,500 |
| Aluminum | $500 to $3,800 |
| Vinyl | $700 to $2,500 |
| Composite | $750 to $5,000 |
| Fiberglass | $800 to $3,000 |
| Glass | $900 to $4,500 |
| Wood | $1,000 to $6,000 |
Location
Where you live affects the price you pay. Labor and material costs vary enormously by state. This is because local demand, wage structures, and availability of skilled labor influence the final price.
Your specific location also plays a role. If you live on the side of a mountain or a remote forest, the sheer difficulty of getting to you adds to the cost base. Also, states with higher taxes mean that a garage door price can vary between locations.
Finally, living costs (gas, food, rent) influence how much your garage door installation costs. The hourly contractor rate in New York or Los Angeles is higher than in other locations because they are expensive places to live.
Here's an at-a-glance rundown of garage door prices across several states to give you a better idea.
| | |
| --- | --- |
| State | Garage Door Prices |
| New Hampshire | $1,450 |
| Pennsylvania | $1,350 |
| Montana | $2,000 |
| Hawaii | $1,800 |
| California | $1,200 |
| South Carolina | $1,500 |
| New Mexico | $1,000 |
| Minnesota | $1,050 |
| Michigan | $900 |
Garage Door Brands
With so many brands to choose from, which one is right for your garage? Is it price, warranty, reputation, or quality that draws you to one brand over another? Let's take a look at some of the best-known brands in more detail.
Amarr
Amarr doors are competitively priced, making them a favorite with budget-conscious buyers. Famed for using recycled materials in their construction process, they are also eco-friendly. Their prices range from $500 to $1,500, depending on size and design.
Their doors come with various features, including automatic openers and window inserts, and most offer a lifetime warranty.
CHI Overhead
Prices range from $600 to $2,000, making them a good alternative to Amarr. Their doors come in aluminum, steel, and fiberglass and often have contemporary designs. They also produce a wide selection of customizable colors.
If you want a middle-of-the-road price coupled with a lifetime warranty, CHI is a smart choice.
Wayne Dalton
Wayne Dalton doors come in several color and design options. They even offer design software to see which color or style best suits your home. Their doors are typically constructed from wood, aluminum, and steel, and they cost on average $800 to $9,000.
The Overhead Door
Look no further if you want fiberglass, steel, aluminum, or wooden garage doors, costing $750 to $4,000. They come in several styles and materials, and the company offers a 24/7 maintenance service.
Clopay
Clopay is a significant US manufacturer of garage doors. Their doors come in wood, aluminum, composite, and steel, and they offer a wide range of energy-efficient options. Expect to pay $700 to $3,500, depending on the size and style.
Clopay builds your garage door to order rather than buying off-the-peg, making them unique because they can meet your specific needs.
Additional Installation Costs
Garage door installation costs vary depending on the design and size of the door. However, there are additional factors that influence the price. Let's take a look.
Removing the Old Door
When you call in the pros to install your new garage door, make sure you get your money's worth. It doesn't make sense to waste costs getting your contractor to rip out your old door when you can easily do this yourself.
They will take the door out and dispose of it for a fee. Typically, you will spend between $30 and $50, but it depends on the size and complexity of removal.
Resizing the Door Opening
Maybe you are changing a custom opening to a standard size or replacing a double garage door with two singles? Whatever the project, resizing the garage opening will set you back $500 to $2,000, depending on the amount of work and the specific tasks at hand.
Adding Lighting
Lighting will set you back $70 to $150 per light fixture and $50 to $130 per hour for a qualified electrician to install them. This adds approximately $200 to $500 to your garage door bill.
Adding Windows
Windows improve curb appeal and let natural light into your garage. The costs vary from style and size, but try to match the windows to the rest of your house. You should also consider that windows add weight to your garage door.
You may need to upgrade your spring system, which could cost $20 to $30 on average. The typical price of additional windows ranges from $30 to $60.
Adding Insulation
Insulation reduces your heating bills because it traps the heat. Not all garage doors come with insulation, especially metal, aluminum, and wooden ones. You will need to add insulation, which is an additional cost.
You should expect to spend between $80 and $120 on reflective garage door insulation. You will also need rubber door seals that cost approximately $30 per strip.
How to Save Money On a Garage Door Installation
We all like saving money. It makes us feel like we are winning at life whenever we spend less than expected. So, what are the best money-saving tips for garage door installations?
Insulate the Door Yourself
Instead of shelling out for an insulated door, which could cost you between $500 and $3,000, buying a roll of reflective insulations costs just $80 to $120.
Remove the Old Door Yourself
Doing most of the prep work before the contractor arrives on-site saves their time and your money. It can cost anywhere between $30 and $50 for a pro to remove the old door. The same can be said for other prep work like removing old springs, rail systems, and runners.
Ask for Bulk Package Discounts
Some garage door contractors will offer discounts if you order the complete door package, including hinges, runners, springs, and locks. It may be cheaper than sourcing the materials yourself.
Get Multiple Quotes
Don't settle for the first quote. Comparing the prices helps you to pick the most competitive package. Get three estimates and choose the one in the middle. You might ask, why not the cheapest?
The lowest quote may involve corner-cutting and cheaper materials, while the highest estimate may be ripping you off. That's why the middle one is usually the best to choose.
Know the Difference Between a Quote and an Estimate
Building projects almost always overrun and rarely come in on budget. That's why it's essential to know the difference between an estimate and a quote.
Quote
A quote is a complete price for the entire job. It includes materials and labor costs and does not change even if the job overruns. It is a guaranteed price regardless of issues that may arise.
Estimate
An estimate is an educated guess of the final bill but is subject to change. Overruns, material costs, and other factors can influence the price.
Garage Door Replacement Vs. Repairing
Is it better to replace your garage door or get it repaired? A lot depends on the extent of the repairs. If more than 50 percent of your garage door needs attention, it might be better to replace it.
Replacement
If you include the cost of removing the old garage door, your total spend could top $2,200, although it could also be as little as $550 for a door at the cheaper end.
The advantage of a replacement is that you get a completely new door with a warranty against malfunctions. It secures your garage, protects against the elements, and possibly reduces your insurance premium.
Depending on maintenance and the materials used, a garage door will last 15 to 30 years, and it looks better aesthetically.
However, this garage door utopia comes at a price. Depending on the brand, material, and size, you will spend anything from $500 to $7,000.
Repair
If you have a tight budget, repairing your garage door may be the best option. It keeps costs low and gives you a working garage door for a few more years. Repairing can be a false economy if the damage is too significant.
You will spend money patching the problem when you could put that cash towards a new garage door. However, fixing it rather than swapping the door makes sense if the repair is minor.
It could be that your garage door is unique, maybe even original with the house. To preserve the exterior integrity, repairing might be the only option. Curb appeal is important, but increasing the value has to be the most significant factor.
Some of the most common repairs include:
Broken springs: $250.
Broken cable: $175.
Bent track: $150.
Misaligned sensor: $75.
When Do I Need to Replace My Garage Door?
If the springs have broken or the tracks are bent, consider replacing them. If the door has sections missing or broken elements that affect the security of your home, you should consider calling a professional.
DIY Garage Door Installation Vs. Hiring a Professional
If you have some DIY skills, you might consider going down the self-installation route. Maybe you want the comfort of knowing that the work is guaranteed? Let's look at the difference.
DIY Installation
You will need DIY skills and some degree of knowledge if you want to install your garage door yourself. You will also need the tools, so unless you already have them, it could be more expensive than you think.
You also have to source the materials and hard wear yourself, which takes time and knowledge. If you forget something important, it could delay the installation, which costs you time and money.
The costs of installing a garage door yourself range from $500 for the cheapest door and $3,000 for the most expensive options. These prices are averages and can change depending on the size and design of the door. The door material also affects the price.
Hiring a Professional
Hiring a professional is an easier option if you lack the will, skill, or confidence to attempt the installation yourself. You get a team of contractors, experience and tools, plus work that is guaranteed against defects.
You don't get any of this with the DIY approach. The other benefit is that the installation is quicker because the pros do this every day. However, you do pay a lot more for all this convenience.
Expect to spend between $100 and $300 for a single door installation and $400 to $600 for a double door. Most contractors charge $65 to $85 per hour for custom door fitting.
These costs are for labor only, so once you add on the price of the materials and the door, it leaps to between $1,800 and $4,000, depending on the size and design you choose. However, you could easily top $7,000 if you opt for the top-of-the-range models.
How Much Does it Cost to Upgrade a Manual to an Automatic Garage Door?
Automatic door openers are the height of convenience. They make accessing your garage a breeze, which is great for people with disabilities. It also makes opening the garage door easier when it's pouring with rain.
The average cost to install a garage door opener is around $375. This depends on whether you opt for a chain-driven, screw-driven, or belt-driven mechanism. The size of the motor also makes a price difference.
You will need a more powerful motor for heavier doors, which increases the cost. Other factors that drive the price include remote controls, WiFi and app controls, and safety features like overrides and brakes.
If you plumb for the most expensive door opener model, you could easily spend $2,500.
FAQs
---
And Finally
The takeaway from this article is that garage doors vary enormously in price, and several factors can affect how much you pay. Even the state where you live makes a difference!
It all comes down to price, so hopefully, you can use this article as a calculator to get accurate figures. Good luck with your new garage door project.
Thank You For Your Feedback!
Thank You For Your Feedback!