When renovating a bathroom, your choice of bathtub is one of the most important decisions you will need to make. Bathtubs provide cleaning and comfort, and nothing says luxury style quite like a freestanding tub.
You will have no shortage of tubs to choose from, with countless traditional and contemporary models available in numerous sizes. In fact, the vast range of options might make it difficult to decide which one is right for you.
With that in mind, this article will explain the key decisions you need to make when choosing a bathtub, which should narrow your search significantly. Then, we will share our reviews of what we consider the best freestanding tubs today, which we chose based on their size, style, and the materials used.
Image
Model
Product Comparison Table
Features
Best Luxury
Vanity Art Freestanding Acrylic Bathtub
Multi-layer acrylic
Timeless freestanding design
Adjustable legs
Double-walled construction
Overflow & drain included
Matching faucet available
Best Whirlpool
Woodbridge Whirlpool
10 body massage jets
10 whirlpool bubble bath jets
Five-year warranty
Smooth Curves
Wyndham Collection Soho 60-Inch
Warm to the touch acrylic
Overflow is 18 inches up
Seamless when fitted
Best Contemporary Design
Empava 67
Made in the USA
Five adjustable feet
Double-walled
Modern Style
FerdY 59'' Acrylic
Reinforced acrylic
Versatile plumbing options
59-inch or 67-inch length
Long & Deep
Ove Decors Rachel 70-Inch
Reinforced 100% acrylic finish
Three compatible faucet types
Five adjustable feet
---
---
Product Reviews
Now that you know what to keep in mind when searching for a stand-alone bathtub, it is time for our freestanding tub reviews. We did our own product tests and read numerous reviews from both customers and industry experts to choose seven excellent freestanding tubs.
1. Vanity Art Freestanding Acrylic Bathtub
Best Luxury Freestanding Tub
This timeless freestanding acrylic bathtub is sure to impress anyone who visits your bathroom. It combines modern manufacturing techniques with vintage design inspiration. Its sloping lines mirror a person's natural curves, making it both a statement piece and a comfortable place to relax and bathe.
The 100% high gloss acrylic finish makes the bath gleam is and easy to clean, so it will remain a beautiful feature of your bathroom. You can adjust it to your ideal height and it provides ample space for people of all sizes.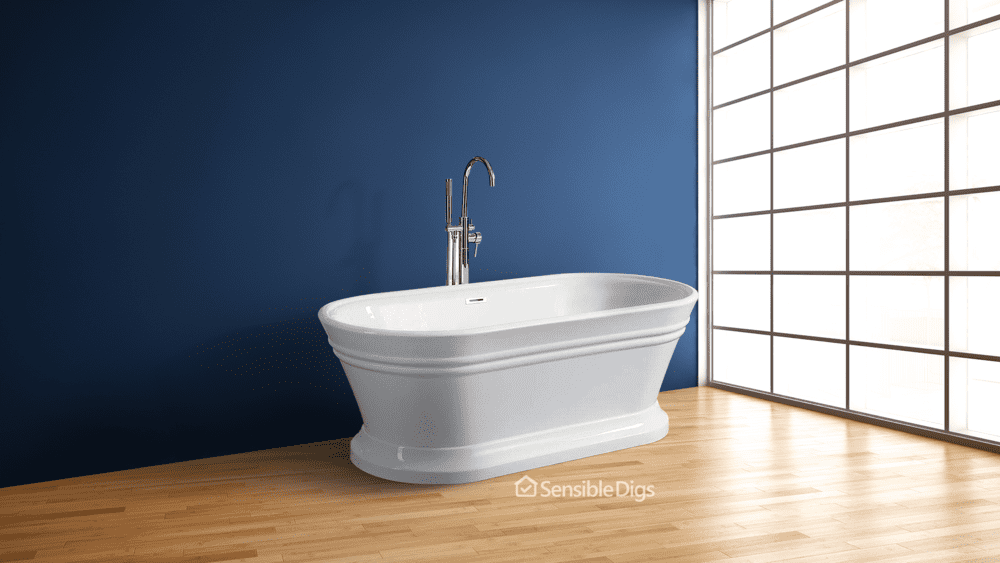 What We Like
Multi-Layer Acrylic Construction
To maximize durability, this heavy-duty tub has five layers: acrylic, thermal glass fiber, a structural reinforcement layer, an insulation layer, and another layer of acrylic. This means it is highly durable, keeps water warm, and is less likely to chip or break.
Beautiful Modern Freestanding Design
Whatever your home's overall style, this bathtub should fit it. It perfectly walks the line between vintage and modern design. The tub is spacious but should still be small enough to fit into most bathrooms.
Flexible Installation Options
This bath includes adjustable legs so you can set it to your preferred height and ensure it is level. It also includes a flexible tube drain so you can connect it to your existing plumbing.
What We Don't Like
Drain in Middle of Tub
As the drain is in the center of the tub, you will probably have to lie or sit on it. In addition to being slightly uncomfortable, this could also pop the drain open and let water out of the tub.
Product Specs
| | |
| --- | --- |
| Dimensions | 59" Long x 29.5″ Wide x 23.6″ High |
| Capacity | 71 gallons |
| Materials | Acrylic with fiberglass reinforcement |
| Water Depth | Not specified |
| Warranty | 1 year |
---
2. Woodbridge 54 Inch Acrylic Freestanding Bathtub
Space Saver
The dimensions of this tub from Woodbridge make it a great choice for smaller bathrooms. It measures 54 inches long by 28.375 wide and 28.375 high, so it won't occupy as much floor space as many leading models.
It has a 55-gallon water capacity and is 15 inches deep at the overflow. This means that despite its compact size, you can still enjoy a relaxing soak in a nice deep bath
It has smooth curves designed to match the contours of your body and is higher at one end, so it is ideal for resting back on a bath pillow. It is also gently sloped to ensure your back is well supported.
What We Like
Sturdy Construction
This tub is constructed with a double-walled design for extra insulation, to ensure your water stays hotter for longer.
The materials used are two layers of acrylic over a fiberglass core. This makes it stronger, easier to clean, and less likely to lose its gleaming white finish. Woodbridge states that the finish is designed to resist fading, dulling, and scratching.
Overflow and Drain Included
A push-to-pop-up drain and overflow are factory-fitted on this bath, so it is ready to install when it reaches you. This is a helpful move by the manufacturer, as many freestanding tubs do not include these fittings.
Adjustable Legs
The legs can be adjusted to ensure the tub is level, whether or not the floor is even. A flexible tube drain and hose make it easy to connect to your existing plumbing.
Although a faucet is not included with the tub, Woodbridge offers a matching one you can purchase separately. It has a brushed nickel finish that will match the bath's overflow. It is made from stainless steel and brass and comes with a shower handset.
What We Don't Like
Unsuitable for Tall People
This tub is great for people of average height and below. However, if you are tall, you won't be able to comfortably lie down in it.
Product Specs
| | |
| --- | --- |
| Dimensions | 54″ Long x 28.375″ Deep x 28.375″ Wide |
| Capacity | 55 gallons |
| Materials | Acrylic, brushed nickel |
| Water Depth | 14 inches |
| Warranty | 30-day money-back guarantee, 1-year warranty |
---
3. Woodbridge Whirlpool Freestanding Bathtub
Best Whirlpool Freestanding Tub
If you want to add some spa luxury to your home, this freestanding jetted tub features 10 body massage jets and 10 whirlpool bubble bath jets. They are all adjustable and mean you can enjoy a hydro-massage without leaving your own home.
You can choose powerful water jets or a more relaxing soft tissue massage provided by thousands of tiny air bubbles. The stainless steel jets drain fully, meaning no unhygienic pools of water will be left behind.
The tub also features underwater, color-changing lighting to help you evoke whatever mood you like when taking a bath. These lights will require an electrical supply in addition to your existing plumbing.
Finally, the tub comes complete with a pump approved for bathtub use.
What We Like
Reinforced Construction
This tub is made from 100% lucite acrylic and reinforced with Ashland resin and fiberglass. These materials ensure the bathtub is both strong and durable.
The high gloss white finish is resistant to stains and fading and will help you keep the tub looking great for years of use.
Drainage and Piping
Woodbridge has designed its drain and pipe systems to be anti-leak, anti-odor, and highly durable. They are easy to install and the total pipe length is 37 inches. Once fitted, you shouldn't be troubled by messy leaks or unpleasant smells.
Warranties
All of this tub's components are protected by warranties. The bathtub has a five-year warranty for any surface or structural issues. The plumbing parts are protected for 12 months, as are the components of the jet system.
As this bathtub has more features than most, it is reassuring to know that you will be well-protected after buying it.
What We Don't Like
No Heater
As the bubbles and water jets provide a relaxing massage, your bath's water will still cool at the same rate as any other tub. There is no heater built into the system to keep the water warm as it circulates.
Product Specs
| | |
| --- | --- |
| Dimensions | 67″ Long x 31.87″ Wide x 23″ High |
| Capacity | 60 gallons |
| Materials | Acrylic |
| Water Depth | 13.5 inches |
| Warranty | 5 years on the tub, 1 year on whirlpool jet system, 1 year on plumbing parts |
---
4. Wyndham Collection Soho 60-Inch Freestanding Bathtub
Smooth Curves
The gently rounded curves of this minimalist Wyndham tub mean it will fit into any bathroom design. It is an oval shape and has a clean white finish, though you can choose from multiple trim options, including brushed nickel and brushed chrome. These choices extend to the overflow and pop-up drain cover.
The Soho tub is available in three different lengths: 60-inch, 68-inch and 72-inch. When measuring, remember that all measurements can be plus or minus half an inch, as advised by the manufacturer. These size options mean that, however large your bathroom is, you should be able to find one that fits.
It is possible to buy a package that includes a matching faucet, but you can also buy your preferred faucet separately.
What We Like
Warm to the Touch
Traditional porcelain, enamel, and steel bathtubs can be cold to the touch, even when full of hot water. It isn't very pleasant to sink into a warm bath, only to be startled by the cold when your back touches the tub.
As this tub is made from acrylic, it should be warmer to the touch than many standard baths made from materials such as metal (1).
Deep for Soaking
There isn't much better than a long soak in a warm bath after a long or stressful day. The depth of this tub means you will be able to immerse yourself and enjoy a relaxing soak.
The overflow drain is relatively high on the tub at 18 inches up. This means your water will be quite deep before it starts flowing out.
Seamless When Fitted
The drains and pipes for this tub are underneath the unit. This means you can place it in the middle of your bathroom and it will look sleek and seamless from every side. There won't be any unsightly "trap doors" on the side of the tub; only smooth, clean lines.
What We Don't Like
Difficult to Install on Concrete Slab
This tub's drains need to be tightened and accessed from underneath. If you want to fit it on a concrete slab floor, you might need to build a platform. This will allow the tub to sit on top, while the plumbing is hidden beneath.
Product Specs
| | |
| --- | --- |
| Dimensions | 59.75″ Long x 29.25″ Wide x 23″ High |
| Capacity | 43.5 gallons |
| Materials | Acrylic, polished chrome |
| Water Depth | 12.5 inches |
| Warranty | 2 year limited warranty |
---
5. Empava 67-Inch Luxury Freestanding Bathtub
Best Contemporary Design
This Empava model is a sleek, contemporary tub that is raised at both ends. It has an ergonomic design, so your body will be comfortable and supported while you bathe. The curves in the middle will make this tub aesthetically pleasing in any bathroom.
It is ideal if you or your children often share the bath and both people want to be on the raised end. With this tub, two people can comfortably share a bath.
This tub doesn't include a faucet but the brushed nickel drain and overflow will match many faucets on the market. You can choose whichever faucet suits your budget and taste.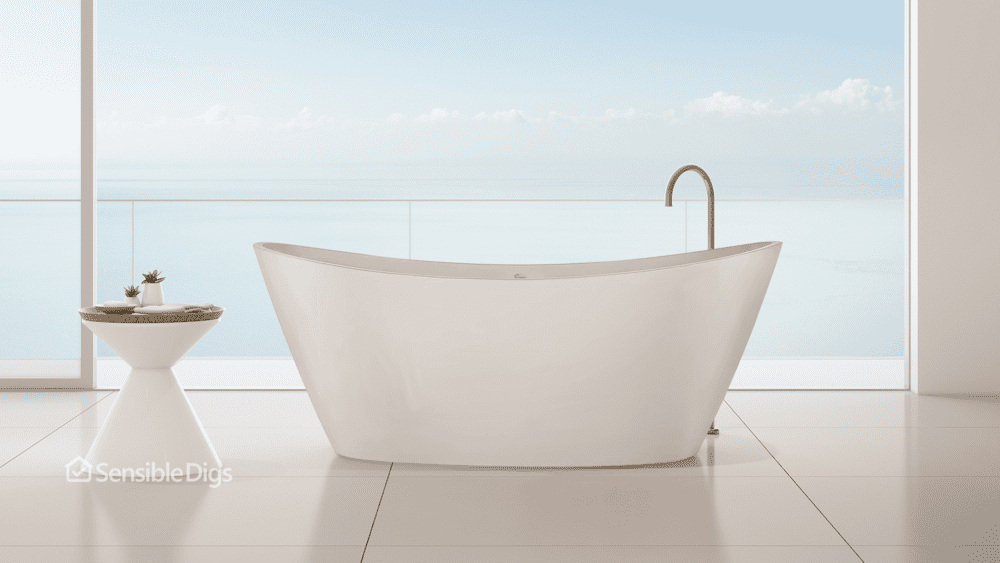 What We Like
Made in the USA
This tub is manufactured in the United States and protected by a 5-year manufacturer's warranty. Although you shouldn't encounter any issues with your tub, it's always comforting to know you have access to help in the same country.
High Gloss Finish
This tub has been finished with a high gloss white acrylic. It is strong and durable, and the manufacturer claims the acrylic will help prevent the build-up of soap residue and bacteria on the surface.
Easy Levelling
Freestanding tubs need to be level on your bathroom floor, and this model is easily adjustable to ensure that. There are feet located underneath that can be individually adjusted until your bathtub is perfectly horizontal.
Double Walled
This tub has a double-walled acrylic construction to help keep your bath water warmer for longer. It also makes the bath's structure more durable, meaning you should be able to enjoy it for many years.

What We Don't Like
Accidental Drain Opening
A pop-up drain is located in the center of this tub. This means it can be opened accidentally while you're bathing, unintentionally draining water from the tub. Although this can be a nuisance, it is relatively easy to avoid once you are familiar with the tub.

Product Specs
| | |
| --- | --- |
| Dimensions | 66.92″ Long x 31.49″ Wide x 26.77″ High |
| Capacity | 58.11 gallons |
| Materials | Acrylic, brushed nickel |
| Water Depth | 15 inches |
| Warranty | 30-day money-back guarantee, 1-year warranty |
---
6. FerdY 59'' Acrylic Freestanding Bathtub
Modern Style
With a seamless oval shape, this FerdY tub will add a modern touch to your bathroom. It has a high gloss white finish, making it easy to clean and maintain its good looks.
It has been ergonomically designed with a sloped interior to provide comfort as you soak in your chosen bubbles or bath salts. The curved exterior is pleasing to the eye and will match any style of bathroom decor.
The overflow and pop-up drain are silver in color, but the manufacturer doesn't specify which materials they are made from.
What We Like
Reinforced Acrylic
This tub is very strong with a maximum capacity of 1,763 pounds. The advertising shows a baby elephant sitting in the tub — although most homeowners probably won't have access to one.
It is made from acrylic, reinforced polyethylene resin, and fiberglass with a total thickness of up to 0.31 inches. The base has a stainless steel bracket for extra strength.
The walls of the tub are doubled to improve insulation and keep your water warmer for longer.
Easy Installation
This tub includes illustrated step-by-step instructions. Two types of drain pipes are included, one brass and one plastic. The plastic one reaches up to 29.5 inches.
Adjustable feet mean this tub can be leveled easily on any bathroom floor.
Choice of Sizes
You can choose either a 59-inch or 67-inch length. If you have tall members of your household or limited space to work with, you can choose the option that best suits your needs.
What We Don't Like
Drain Doesn't Seal Well
Some owners have complained about this tub's drain. There is apparently a plastic ring that doesn't seal properly, which might require the help of a plumber to fix.
Product Specs
| | |
| --- | --- |
| Dimensions | 59″ Long x 30″ Wide x 23″ High |
| Capacity | 61 gallons |
| Materials | Acrylic |
| Water Depth | 15.54 inches |
| Warranty | None specified |
---
7. Ove Decors Rachel 70-Inch Freestanding Bathtub
Best Long and Deep Freestanding Tub
If you want a long, deep freestanding tub, this Ove Decors model might be exactly what you need. It is 70 inches long, 30 inches high, and quite wide at 34.25 inches. These measurements combine to create an impressively sized bathtub!
In terms of space inside the tub, one end measures 20.86 inches wide at the base and the other 21.65 inches. This gradually increases to the maximum width at the top of the tub.
The raised backrest at the wider end is great for leaning back and relaxing. The narrower end of the tub is home to the chrome pop-up plug and overflow. These are factory fitted, so there is less work for you when it comes to installation.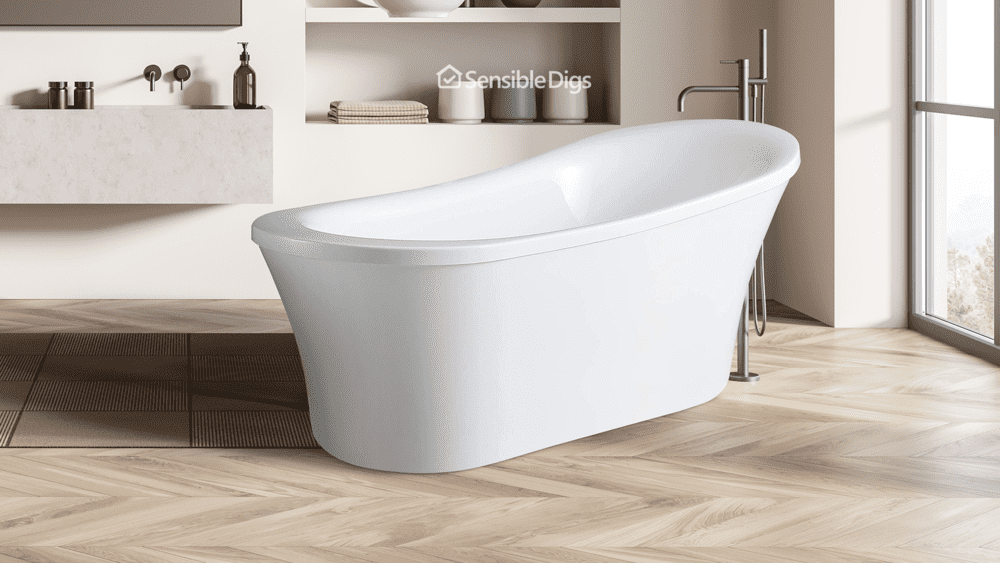 What We Like
Strong Materials
The 100% acrylic material is reinforced with fiberglass to a thickness of 3mm. Although it is lightweight, the tub is strong and durable.
Three Compatible Faucet Types
Although no faucet is included with this bathtub, you also have more options compared to some other top-rated freestanding tubs. It is compatible with freestanding, wall-mounted, and deck-mounted faucets.
You can choose whichever type suits your bathroom best depending on where you intend to install your tub.
Easy to Level
There are five feet beneath this tub, which can be individually adjusted to ensure it is level. They also keep the tub stable even if your bathroom floor is uneven. These feet will be concealed once the tub is fitted.
What We Don't Like
Be Careful Getting Out
The inner surface of this tub is not non-slip. Some users have complained that it gets very slippery and you need to be careful getting out. One solution is to grab a non-slip mat, which is inexpensive and effective.
Product Specs
| | |
| --- | --- |
| Dimensions | 70" Long x 34.25" Wide x 30" High |
| Capacity | 62.08 gallons |
| Materials | Acrylic, fiberglass |
| Water Depth | 15.4 inches |
| Warranty | 10 years |
---
| Product | Best | Dimensions | Capacity | Materials | Water Depth |
| --- | --- | --- | --- | --- | --- |
| Vanity Art Acrylic Bathtub | Luxury | 59 x 29.5 x 23.6″ | 71 gal. | Acrylic with fiberglass reinforcement | N/A" |
| Woodbridge 54 | Space Saver | 54 x 28.375 x 28.375″ | 55 gal. | Acrylic, brushed nickel | 14″ |
| Woodbridge Whirlpool | Whirlpool | 67 x 31.87 x 23″ | 60 gal. | Acrylic | 13.5″ |
| Wyndham Collection Soho | Smooth Curves | 59.75 x 29.25 x 23″ | 43.5 gal. | Acrylic, polished chrome | 12.5″ |
| Empava 67 | Contemporary Design | 66.92 x 31.49 x 26.77″ | 58.11 gal. | Acrylic, brushed nickel | 15″ |
| FerdY 59" Acrylic | Modern Style | 59 x 30 x 23″ | 61 gal. | Acrylic | 15.54″ |
| Ove Decors Rachel | Long & Deep | 70 x 34.25 x 30" | 62.08 gal. | Acrylic, fiberglass | 15.4″ |
Features to Consider When Choosing a Freestanding Tub
Whether you are simply replacing an old tub or completely remodeling your bathroom, you will need to make the same decisions. Here are the key things you need to address when choosing a freestanding bathtub.
---
FAQs
Is a Freestanding Tub Worth It?
A good freestanding tub is worth it if you want to get creative with your bathroom space.
Flexibility is a significant advantage that comes with having a freestanding tub. Freestanding tubs can be installed virtually anywhere, in contrast to built-in tubs, which are restricted to being installed only against the walls of a bathroom.
If your bathroom is large enough, you might even be able to fit the tub smack dab in the center of the room.
The fact that a freestanding tub makes a statement is something that can't be denied about this type of tub. When acquaintances and family visit your home, the bathtub is the first thing they will notice when they enter the bathroom.
Because of the prevalence of bathtubs incorporated into homes, a freestanding tub in your bathroom will help it stand out, particularly if it is positioned in the middle of the space.
When it comes to freestanding tubs, you have a wide variety of materials from which to select. For example, a tub made of cast iron is exceptionally long-lasting and can be used for decades.
If your bathroom floor is strong enough to hold much weight, you should consider purchasing a stone tub because it is daring and will lend an original touch to the space.
Are Freestanding Tubs Going Out of Style?
Freestanding tubs might be out of style, but they are still in demand. Built-in bathtubs cannot compete with the air of elegance exuded by freestanding bathtubs.
Freestanding tubs are all the rage in larger master bathrooms, even though they don't fit well in compact living spaces like apartments.
Before you pay the highest price on the market for a soaking tub, you should make sure that you really want to commit that much space to have one. The soaking tub may become more of a tripping danger than a sensual sanctuary if you do not intend to use it daily or on most days.
Are Freestanding Tubs More Expensive?
When the installation cost is factored in, freestanding bathtubs are often more expensive than their built-in counterparts. This is due to the increased complexity of their construction and ornamentation.
How Far Should a Freestanding Tub Be from the Wall?
In a perfect world, there should be at least one foot between the freestanding bathtub and the adjacent wall. Keep in mind, though, that the space around the bathtub is intended to give the impression that the bathroom is bigger than it is.
When putting in a freestanding bath in a small bathroom, you might get away with only two or three inches of space.
Do You Tile Under a Freestanding Bath?
If your freestanding tub is against a wall, you should still take precautions to prevent water damage to the wall, but tiling around the tub is not required. You're not restricted to using tile when doing so and can use glass brick, mildew-resistant paint, or wainscot.
Can a Freestanding Tub Tip Over?
While it is unlikely that a freestanding tub will tip over, it may shift position in time.
Although each freestanding bathtub has the potential to move somewhat, there are a few factors that reduce the likelihood of this happening.
In most cases, the weight of the water in the tub will prevent the tub from sliding, but some people choose to apply silicone sealant behind the leveling feet just in case. Because of this, the movement will be controlled. Maintenance might become somewhat more complicated.
Even freestanding tubs with antique pedestals and clawfoot bases are not at risk of toppling over, so no need for concern about this possibility.
What Company Makes the Best Freestanding Bathtubs?
Vanity Art currently makes the best freestanding bathtubs that offer great value for the cost. Their products are made to last and can add a contemporary flair to any bathroom.
---
Thank You For Your Feedback!
Thank You For Your Feedback!