Nothing adds style, durability, and weatherproofing to your garage floor like epoxy resin. But knowing the average cost to epoxy a garage floor is crucial. Epoxy garage floor costs vary enormously, so get the lowdown before starting.
So, how much does it cost to epoxy a garage floor? Let's dive right in and explore the options and give you tips on saving money.
Key Takeaways
Average cost to epoxy a garage floor is between $3 and $12 per square foot.
Factors affecting cost include garage size, type of epoxy, and floor condition.
DIY installation can save on labor costs, but professional installation comes with guarantees.
Alternatives to epoxy flooring include carpet tiles, garage floor paint, and rubber matting.
---
Epoxy Flooring Cost Calculator
Epoxy Garage Floor Costs Per Square Foot
Epoxy garage flooring costs vary depending on the size of your garage and the type of epoxy you use. You should pay between $3 and $7 per square foot, as a rule of thumb. If you have a more extensive garage floor, the average price could rise to $12 per square foot.
The floor condition also affects the overall spend, as does the amount of layers you put down.
Strip the figures down, and labor costs account for between $2 and $5 per square foot. Contractors have to prep the floor, which can take an entire day with two workers. In the blink of an eye, you could spend upwards of $500!
Here's a handy guide based on garage size and average costs:
| | | |
| --- | --- | --- |
| Garage Size | Square Feet | Average Costs |
| One-car | 264 | $792 to $1,848 |
| Two-car | 440 | $1,320 to $3,080 |
| Three-car | 704 | $2,112 to $4,928 |
Factors Affecting Epoxy Garage Flooring Cost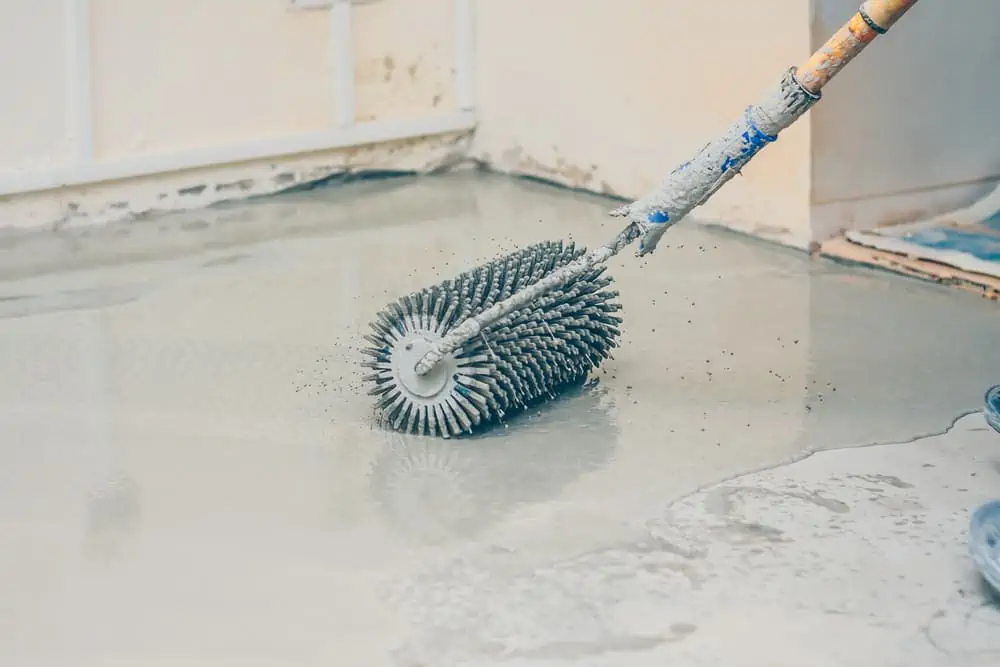 There are several factors affecting the price of your epoxy floor. Whether it's garage size or the condition of your floor, the costs vary enormously.
Type of Epoxy
One of the most significant factors affecting the price is the epoxy you use. Water-based epoxies are generally cheaper at $30 to $50 per gallon. For a middle-of-the-road price, look for solvent-based epoxy, which retails at about $45 per gallon.
Solid epoxy is at the top of the pile, rocketing the price to an eye-watering $150 per gallon.
Number of Coats
The number of coats you apply depends on the quality of the surface preparation and where the epoxy is used. Basement floors are damp, so it may need more coatings than your garage floor. And if the concrete is uneven or covered in cracks, it will take more epoxy to seal the floor.
Square Footage
Square footage has the biggest influence on the price. It stands to reason that a one-car garage will take more epoxy to coat the floor compared to a two-car garage. A typical 264 square foot one-car garage will cost on average $1,320.
Compare that to a 440 square foot two-car garage, and the averages top out at $2,200. Plus, the type of epoxy you use changes the price. Water and solvent-based epoxies are far cheaper than solid epoxy resin.
Preparation
The condition of your garage floor makes a difference too. Stains need to be removed, cracks filled, and loose concrete swept before applying a single drop of epoxy. It can take an entire day to complete the prep work.
Additional Epoxy Costs
Other things influence what you spend, aside from the obvious factors like garage size. It is vital that you get the complete picture to manage your budgets effectively.
Labor Costs
These additional costs only apply if you employ a professional. Most contractors charge between $2 and $5 per square foot. When you consider that a standard one-car garage measures 264 square feet, it could top out at $1,320.
Compare that to $528 for the DIY approach, and you can see why so many people attempt it themselves.
Materials and Equipment
Most epoxy materials range between $0.37 and $1.40 per square foot. This does depend on the type of epoxy you use because water and solvent-based products are cheaper.
You also need to factor in the cost of a pressure washer, shop-vac, and specialist tools like spikes for your shoes.
Application Method
Some applications are more labor-intensive, which can ramp up the costs. Most contractors use a squeegee or a roller, but some still use a trowel.
Storage or Removal Costs
Before you start on your garage floor, you first have to clear the space. That might include finding temporary storage for your tools and other belongings. You will need to factor in the added costs.
Storage units rent for between $40 and $500 per month. Plus, you may need to hire a truck to get the stuff from A to B. That could set you back $20 per day plus mileage fees.
If you pay to remove your belongings, add $40 per hour per removal professional.
Floor Repair
Some concrete floors need a lot of repairs before you start. Epoxy covers a multitude of sins, but if the floor looks terrible to begin with, so will the finish. Additional repair costs can soon rack up.
You will need caulk, filler cement, and possibly additional cement to level out extreme dips and bumps. The average cost for floor repairs runs from $25 to $250 for materials and labor.
Those cracks could also indicate a more significant problem and increase the costs. Foundation repairs can run into thousands.
Concrete Resurfacing
If the floor is in poor condition, you may need to consider resurfacing. Concrete resurfacing can cost between $3 and $10 per square foot. A 500 square foot garage floor could cost $1,500 to $5,000.
Take Note
Some contractors charge a minimum price, so even though your garage may be small, it could still cost you $500 to $1,000.
Seal and Paint
Sealing your concrete floor with a urethane or acrylic coating helps to protect the concrete and limit moisture penetration. Expect to pay between $0.50 and $2.50 per square foot for a high-end urethane. Acrylic is less expensive, at around $1.50 per square foot.
The cost of painting the concrete adds another $1.45 to $3 per square foot to your final bill.
Is it Worth It to Epoxy a Garage Floor?
Epoxy enhances your garage and seals it against staining and other day-to-day punishment. There are several benefits to installing epoxy.
Pros
Improved Appearance
Transform your dull concrete into a spectacular, high-gloss floor that reflects light and screams quality. Epoxy resin enhances the finish, hides imperfections, and is customizable with different colors and finishes.
Long-Lasting
Once epoxy goes down, it lasts a very long time. It keeps its sheen thanks to its durability. Epoxy resists chemicals, stains, shocks, moisture, and tire burns.
Protects and Seals
Your concrete floor is protected beneath the layer of epoxy. The concrete lasts longer because it bonds with the epoxy to form a watertight seal. It also stops the concrete subfloor from cracking.
Another advantage of epoxy is it increases the core strength of the concrete. Untreated concrete cannot take the same weight pressures as treated concrete.
Visibility and Safety
Light bounces off the high-gloss finish, increasing the amount of light in your garage. Also, epoxy can be mixed with other materials, like sand and polymer grit to increase traction. It reduces the risk of slips and falls.
Minimal Maintenance
Epoxy flooring can be mopped, swept, vacuumed, and scrubbed. It can take spillages, and you can use detergents to clean up the mess.
Ideal for Vehicles
Epoxy doesn't wear out car tires and can take heavier weights compared to untreated concrete. It also improves concrete's tensile strength and can withstand oil, gasoline, and grease staining.
Cons
Installation Costs
While there are cheaper products on the market, if you opt for two-part epoxy (it comes with a hardening agent), you could pay upwards of $150 per gallon. If you get the professionals to do it, you will increase your costs considerably.
Most labor costs run at about $5 per square foot. So, even if you only have a one-car garage, it could set you back $1,320.
Not Environmentally Friendly
Most epoxy resins are not kind to the environment because they are solvent-based. Cleaning your brushes and other tools could cause chemicals to find their way into the ecosystem.
However, once the epoxy is down, it lasts for a long time. It also contains minimal Volatile Organic Compounds (VOC), which release low-level ozone as it dries.
Watch the Weather
Never lay epoxy flooring in temperatures below 70 to 80 degrees Fahrenheit and humidity above 85 percent. It affects the way the epoxy cures because a film of moisture forms. This reduces the bond with the concrete.
Also, bubbles appear when the temperature is too warm or cold, ruining the appearance of the resin.
Can I Epoxy My Garage Floor Myself
Concrete flooring specialists have all the tools and materials, plus years of experience. You may have all these things too, but it is unlikely. However, you will save a small fortune installing the epoxy yourself by removing the labor costs.
At $5 per square foot, that's over a thousand dollars in savings. However, your floor will take longer to complete, and you need to dedicate more time to the project.
It also comes without guarantees, whereas a contractor gives a warranty for their work. You can pick up epoxy flooring kits for between $50 to $600.
This Rust-Oleum Floor Kit is an excellent example of the kind of products you can purchase for your DIY approach.
Laying an epoxy floor is labor-intensive and requires a lot of prep work. You need to ensure that the concrete floor beneath is free from stains, mold, cracks, and loose debris. Once the epoxy is poured, use a spiked roller, like this Vitrex model, to reduce air bubbles.
Alternatives to Epoxy Flooring
Still not sure about epoxy flooring? Maybe you lack the confidence and want to seek an alternative? Here is our take on alternatives to epoxy flooring.
Carpet Tiles
You could lay down carpet tiles on your concrete floor. Carpet tiles won't look as good as epoxy and probably won't last as long. They also show stains from oil, gasoline, and grease.
However, they are cheaper and easier because they only require adhesive.
Garage Floor Paint
Several garage floor paints contain resin in the ingredients to help create a strong surface capable of punishment. This KILZ Basement and Garage Paint is a popular choice. It paints on like regular colors and can withstand the rigors of garage life once dry.
The advantage of garage floor paint is that it comes in hundreds of color choices and is easy to apply.
Rubber Matting
Rubber matting, like this Rubber Cal Diamond Plate Flooring Rolls, is an ideal alternative to epoxy. It is easy to install, and it keeps your floor protected against spills, stains, and tire marks.
Interlocking Floor Tiles
Interlocking floor tiles perform the same task as rubber matting, except you can adjust the sizes to fit your requirements. Just attach more tiles to increase the size. These GarageTrac Copolymer Modular Tiles are a great example of what you can get at an affordable price.
Garage Floor Carpet
Armor makes a garage floor mat with double-sided tape to hold it in place. It absorbs light spills and protects the garage floor from oil, water, and grease.
It is slip-resistant, comfortable to walk on, and rolls away when you want to remove it.
Tips for Saving Money on Your Epoxy Garage Floor
No one likes spending money needlessly, so finding ways to save a few dollars is welcome. Some of these tips are so simple you'll kick yourself that you didn't think of them.
Get Multiple Quotes
If you choose to go down the contractor route, get three estimates to drive down the price. That way, you can compare prices and decide which path you want to take.
You can also tell if you are being ripped off or undercharged, which could mean inferior quality work.
Top Tip
Don't be afraid to barter on the price. Use one quote against the other to get a better deal from the contractor.
Choose the Right Time
You've probably heard that winter is the best time to buy a soft-top car because sales are slow. The same is true with flooring contractors. They have slow periods, and you can use this to your advantage.
Try and get your quotes late fall and early winter, when concrete professionals lower their prices to counteract a slow period.
Do the Preparation Work Yourself
Your garage floor needs to be prepared for the epoxy coating, which could take all day. Employing two contractors could set you back $500. The more prep work you do, the cheaper it will be.
Bulk Buy
It could be cheaper to get your garage floor epoxied as part of a garage construction. Build it into the overall price for the project, and you should get a discount.
How Long Does an Epoxy Garage Floor Last?
It depends on the harshness of the conditions, how much use your garage floor gets, and the type of epoxy used. Polyaspartic floor coating typically lasts two or three years between re-coats.
That said, there are some things you can do to help maintain your epoxy floor.
Daily Cleaning
You should maintain your epoxy floor the same way as any other floor covering inside your home. Include it as part of the daily regime, and it should stay looking good for longer.
Avoid Powerful Chemicals
Strong detergents and bleach have an abrasive effect on your epoxy floor. It could damage the surface, which will eventually require refinishing. Try to use natural ingredients or mild cleaning agents.
Clean Stains Immediately
Don't leave spillages to dry because they will stain the floor. Clean it up immediately, and you should prevent any damage.
Use Mats and Carpets
Epoxy is hard-wearing, but it still shows signs of wear and tear. Heavy footfall takes its toll, eventually leading to visible floor damage. Use carefully placed rugs or sections of carpet in high-traffic areas.
Costs to Remove an Epoxy Floor
The cost to remove your old epoxy floor ranges from $150 to $375 for materials and labor. Add in the price of disposing of the old floor raises that figure from $215 to $475.
FAQs
---
Epoxy Heaven
Refinishing your garage floor in epoxy resin not only looks good, but it also seals it against wear and tear and the elements. It dries rock hard, is scratch-resistant, and turns a drab space into a showroom.
Now that we've explained the overall costs of installing an epoxy floor, it's time to start planning that garage floor project.
Thank You For Your Feedback!
Thank You For Your Feedback!