Do you ever turn your shower on and have to wait for ages for the hot water to come through? Then, when it does, the temperature fluctuates, and you're forever trying to adjust it?
We know how frustrating this can be. One solution we've discovered is to invest in one of the best electric shower heads. They're designed to provide constant hot water at the temperature you select, every time.
The great thing about these is the water heats on-demand, so you don't have to wait for a boiler or water heater to work first. This is great news if you happen to be the last member of the family in the shower in the morning.
These showers seem to be more popular in the UK compared to the US. But wherever you are, we've found the best products you can buy.
Image
Model
Product Comparison Table
Features
Best Overall Electric Shower Head
Triton Seville Electric Shower
Dual control dials
Temperature protection
Easy-clean shower head
Best Slimline Design
Triton Martinique Electric Shower
Phased shutdown
Different spray settings
Low-pressure indicator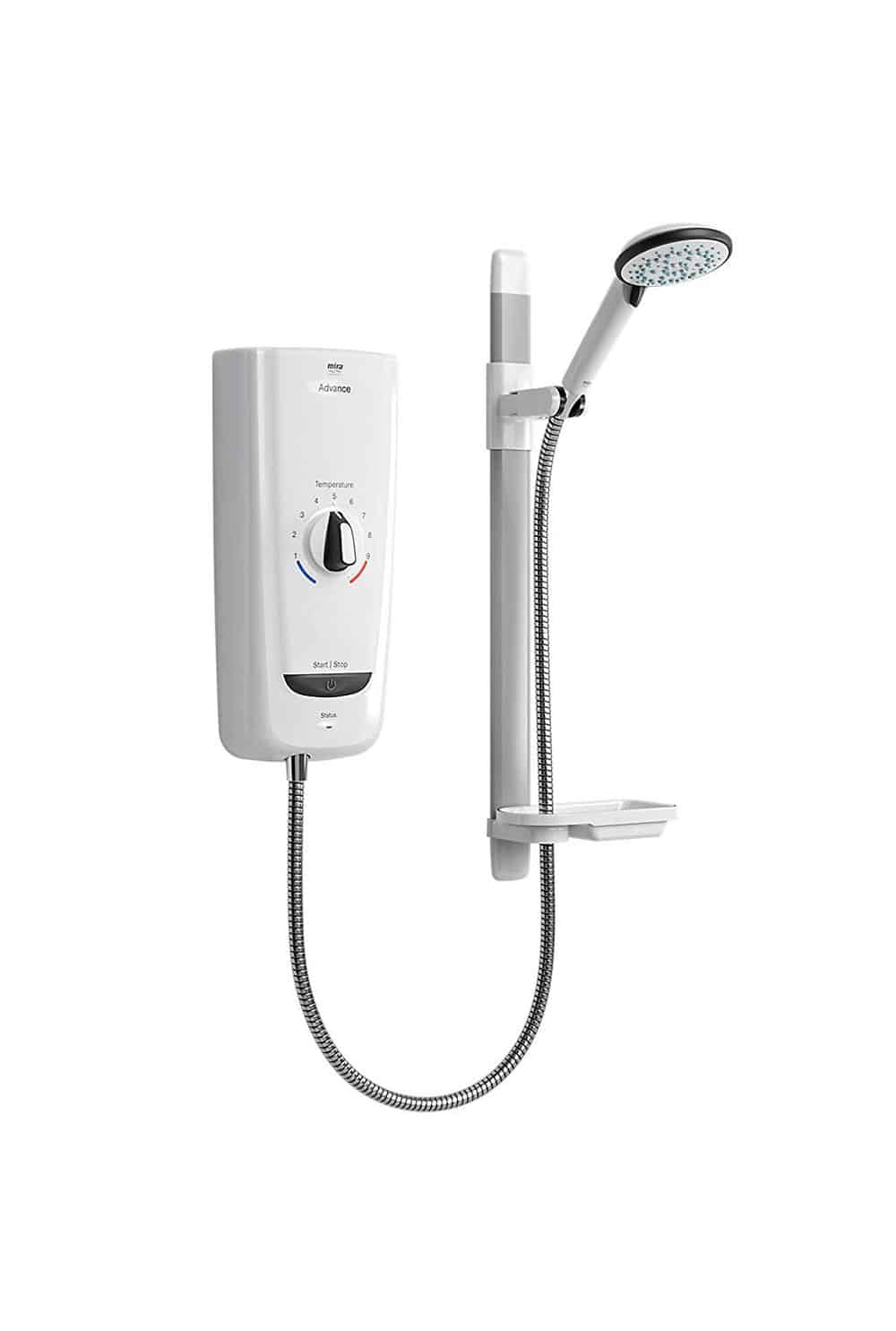 Best Automatic Shutdown
Mira Advance Thermostatic Electric
Easy-grip shower head holder
Thermostatic temperature and temperature controls
Anti-limescale technology
Best Color Choices
Bristan Bliss 3 Electric Shower
Touch controls
LCD temperature display
Performance indicator
Best for Easy-Clean
Gainsborough Electric Shower
Easy to use
Gradual shut down
Spray control
---
How Electric Shower Heads Work
An electric shower head uses a heating element to heat cold water as it passes through the unit. An electric current passes through a piece of metal in the element causing it to get hot. In turn, cold water then passes through this and heats up before coming out of your shower head as hot water.
You might be wondering how this can be safe when water and electricity don't mix and can be dangerous. Don't worry: the heating element in these units is sealed, so no electricity comes into contact with water.
You're completely in control with these products since a thermostatic control allows you to adjust the temperature. This, in effect, controls the amount of water entering the unit — the lower the flow, the hotter the water.
Basic electric showers have a dial with a blue mark at one end and a red mark at the other. No prizes for guessing that blue is for cold water and red is for hot! You simply choose the temperature of the water by turning the indicator.
Electric shower heads are essentially a small tankless water heater with a shower head attached to a flexible hose (1).
Choosing the Best Electric Shower Heads
When choosing an electric shower head for your home, there are some key features to look out for:
Electric shower heads have different power ratings. They typically come in either 7.5, 8.5, 9.5 and 10.5 kilowatts (kW). The higher the power, the more water they can heat as it passes over the heating elements. It also takes a higher-powered shower less time to heat your water than a low powered one.
The knock-on effect this has is on the water pressure coming out of your shower. It will take a 7.5 kW shower longer to heat the water, so the water pressure will be less than if you are using a 10.5 kW shower (2).
Some showers will continue to run water for a few seconds after you turn them off. This is called a "phased shutdown." The reason for this is to clear any remaining hot water from the shower and reduce limescale buildup in the heating unit.
This is particularly beneficial if you live in an area with hard water, which can leave mineral deposits in the unit.
Some electric shower heads offer you the choice of different spray patterns to enhance your showering experience. These can include rainfall, jet, and blast settings, or a combination of these. You can select jets for massage, rainfall for a gentle, relaxing shower, or blast to wash the shampoo from your hair quickly.
Temperature Selection and Displays
Most electric shower heads have a dial that you turn from cold to hot to set your desired water temperature. Common options here are:
Numbers: These don't indicate the temperature but serve as a reference guide. Usually, the higher the number, the hotter the water.
Blue/red indicator: Others require a little more guesswork by turning the dial to increase and decrease the heat.
LED: More modern options have a built-in LED, which shows you the exact temperature of the water. These are the easiest to use but also tend to be more expensive.
Push buttons: Some shower heads have additional have push-button controls for features such as economy, high power or cold settings.
The last thing you want is to get scalded by hot water if a unit malfunctions. Many of these shower heads have a safety feature built-in that shuts the shower off if the heating element fails and the water gets too hot.
The actual shower head of these units is attached to a hose that sits on a riser bar. This lets you move the shower head to your desired height.
When choosing your product, look to see how easy it is to adjust the height and how flexible the hose is.
You want your new electric shower head to be up and running as soon as possible. Many can be installed quickly and easily with a little plumbing and electrics know-how. They come with step-by-step instructions that should be easy to follow.
Get Help
If you're not confident about fitting an electric shower head yourself, call the professionals to do it for you.
---
Best Electric Shower Head Reviews of 2021
We've taken customer feedback and industry expert views into account to find our top 5 choices of the best electric shower heads. Here are our results and the key features of each product. Happy shopping!
1. Triton Seville 7.5kW Electric Shower
Triton has been making electric showers for over 40 years and has become a popular brand with many consumers.
This white heater unit has a matching white shower head and a polished chrome riser bar. Its sleek design should complement any shower stall.
There are four different choices of power for the heating elements: 7.5, 8.5, 9.5 and 10.5 kW.
This allows you to select the one most suitable for your needs.
Why We Love It
Dual Control Dials
There are two dials on the shower unit; one to select your chosen temperature from one through ten, and the second to turn the shower on and off. The on/off control also lets you choose cold, medium-hot or hot water flow.
Temperature Protection
There are two sensors built in this unit for your safety. One reduces the power from the heating element if the water gets too hot, and the second turns the heating elements off to prevent scalding.
Easy-Clean Shower Head
The shower head on this unit produces a single spray; you don't have any other options to choose from. Nevertheless, it's been designed to be easy to clean. You should be able to easily wipe it over to remove any mineral deposits and keep it clean.
Choice of Water Inlets
When fitting this shower, you have the choice of four different places on the unit for the water inlet pipe. There are two on the left-hand-side and two on the right. This gives you the flexibility to position it just where you want in your shower stall or over your bathtub.
Keep In Mind
Issues with the Shower Head
Some find the shower head on this unit a little on the small side; hence, the shower spray doesn't reach a wide area. Also, it seems it can be prone to move on the riser, needing readjustment to keep it in place.
Additional Specs
| | |
| --- | --- |
| Size | 12 inches x 8.27 inches x 4.33 inches |
| Kilowatt Rating | 7.5, 8.5, 9.5 or 10.5 |
| Temperature Control | Dial |
| Spray Settings | 1 |
| Warranty | 2 years (UK only) |
---
2. Triton Martinique 10.5kW Electric Shower
If you want an electric shower head with a slim design, the Triton Martinique could fit the bill. Measuring 8.18 inches wide by 13.3 inches long, it has a depth of only 3.74 inches. This makes it a good choice for smaller shower stalls or if you don't want it to take up too much room.
It's made from ABS plastic, with the shower head, riser fittings, and a soap dish finished in white. The riser bar is polished chrome, as is the shower hose and front panel of the heating unit where the controls are located. There is a choice of two powers here — 9.5 and 10.5 kW.
Why We Love It
Push Button and Dial Controls
The on/off and pressure controls on the front of the unit are push-button. This makes it easy to select whether you want a colder high-pressure or hotter low-pressure shower.
Additionally, there's a dial to set your ideal temperature, with the numbers making it easy to remember your ideal temperature preference.
Phased Shutdown
To protect your heating unit from limescale buildup, a phased shutdown is built in. This results in the remaining hot water being flushed out of the shower head, so it doesn't sit and allow mineral deposits to collect. This could help prolong the life of your electric shower head.
Different Spray Settings
There are five spray settings to choose from, providing a customizable shower experience. These include:
Spray.
Jet.
Blast.
Rain.
Drench.
Selection is made easy with a toggle on the shower head to switch between each option.
Low-Pressure Indicator
If your water pressure drops, it could affect the performance of your shower head. LED lights situated on the front of the heater unit illuminate if your pressure drops.
Keep In Mind
Short Hose
While we aren't told the exact length of the flexible hose on the shower head, some find it a little on the short side. This can make the head tricky to use when detached.
Longevity Might Be Questionable
Some find that this shower doesn't function well after a year or so. For some, it's within the two year warranty period, and a solution has been found. However, for others, it's been just outside the warranty period with no compensation.
Additional Specs
| | |
| --- | --- |
| Size | 8.18 inches x 13.3 inches x 3.74 inches |
| Kilowatt Rating | 9.5 and 10.5 |
| Temperature Control | Push-button and dial |
| Spray Settings | 5 |
| Warranty | 2 years (UK only) |
---
3. Mira Advance 9.8 kW Thermostatic Electric Shower
Mira has designed this shower head with lots of safety features in mind. We particularly like the automatic shutdown, which kicks in if the water temperature gets too high, preventing the user from getting scalded.
Also, there are audible beeps that tell you when the unit is turned on or off or when the water has reached your selected temperature. The temperature dial also has clicks that you can hear whenever you turn it to a new temperature. These two features are great for those who might be visually impaired.
Alongside these audible features, we're told the matte finish panel has high contrast visuals to make them easier to see.
Why We Love It
Easy-Grip Shower Head Holder
Mira has patented a friction-grip shower head holder, which makes it easier to lower or raise with one hand. This would be an advantage for people who might not have full dexterity in their hands and fingers.
Thermostatic Temperature and Temperature Controls
Pressure and thermostatic temperature controls are incorporated into this electric shower head. It also has an adjustable maximum temperature setting to ensure the water never gets too hot. The proprietary Mira Opti-flo Pro technology is designed to deliver a consistent shower, irrespective of your water pressure.
Anti-Limescale Technology
More patented technology appears in the form of Clearscale Pro, designed to prevent mineral buildup in your shower head. This could help ensure your shower performs well and lasts a long time.
Spray Selection
There are four different sprays you can select by moving a toggle at the circular end of the shower head. The choices are:
Starting.
Soothe.
Force.
Eco.
The rubber nozzles in the shower head are also designed to be easy-clean to keep your selected spray flowing.
Keep In Mind
Bright Lights
It seems the LED lights incorporated into the shower heating unit are blue and very bright. Some find this off-putting as they can't be turned down. Others find this modern twist a nice addition to their bathroom.
Additional Specs
| | |
| --- | --- |
| Size | 4.13 inches x 16 inches x 7.36 inches |
| Kilowatt Rating | 9.8 |
| Temperature Control | Dial |
| Spray Settings | 4 |
| Warranty | Not specified |
---
4. Bristan Bliss 3 10.5 kW Electric Shower
Not everyone wants a white electric shower head in their bathroom. If this applies to you, then consider this one from Bristan which also comes in black. The hoses, shower head, soap tray, and riser are all finished in polished chrome.
The company has designed the unit so it will fit many installation setups for replacing an existing UK-branded shower head. This means it should match any fixing holes and electric and water inlets.
This model has a sleek, slimline design measuring 12 inches long by 7.67 inches wide and 2.55 inches deep. This compact design could enhance many different bathroom decors and not stand out too far from the wall in the shower stall.
Why We Love It
Touch Controls
Touch controls operate the on/off and power of this shower head. This means they sit flush to the unit and are easy to use and clean. There's also a dial to adjust the temperature with blue and red etchings marking the hot and cold.
LCD Temperature Display
On the front of the heating unit is an LCD which sets the actual temperature of the water coming through your shower. You can select the temperature you want, turn the shower on and the on/off button will flash until it's reached. This means you only need to get under the stream of water when it's at the perfect heat for you.
Anti-Limescale
There's an anti-limescale function that comes as standard. This flushes cold water through the shower after use to help prevent mineral buildup. We like this since it can help the heating elements and the shower last longer.
Performance Indicator
If your LCD shows the letters "CL," this indicates that it's time to clean the filters in the inlet and outlet hoses, and the showerhead. This takes the guesswork out of when to clean the filters and could prolong the lifespan of your unit.
Keep In Mind
Temperature Fluctuations
Although this shower has a temperature display and a dial to set the heat you want, many find this can fluctuate by as much as 10 degrees. This seems to happen more as the unit ages.
Additional Specs
| | |
| --- | --- |
| Size | 12 inches x 7.67 inches x 2.55 inches |
| Kilowatt Rating | 8.5, 9.5 and 10.5 |
| Temperature Control | Dial |
| Spray Settings | 3 |
| Warranty | 2 years on parts; 1 year on labor |
---
5. Gainsborough 8.5kW Electric Shower
Gainsborough brings us an electric shower head with a glossy white finish and chrome accessories. These have been specifically designed to be easy to clean.
The front of the unit is "rub-clean," making it quick to remove water splashes and prevent limescale buildup. The nozzles in the shower head are silicon and expand and contract with the flow of water. This keeps them free of mineral deposits.
Why We Love It
Easy to Use
A push-button controls the stop and start on this shower head, and a single dial controls the temperature and water flow. This makes this unit easy to use and control.
Gradual Shut Down
Mineral deposits are prevented from building up in this shower head by a phased shutdown. This clears the remaining water from the unit after your shower, so it doesn't sit there and cause a blockage through sediment buildup.
Spray Control
Technology is incorporated in the design to help maximize the flow of water from your shower head. This technology adjusts the water supply pressure and temperature to give you an even spray pattern and a consistent water flow.
Keep In Mind
Not Powerful
While many are satisfied with the performance of the temperature and flow of this shower head, they do comment that it isn't very powerful. In fairness, this is not restricted to just this brand but is something many people comment on when it comes to electric shower heads.
Additional Specs
| | |
| --- | --- |
| Size | 18.11 inches x 10.24 inches x 5.5 |
| Kilowatt Rating | 8.5 |
| Temperature Control | Dial |
| Spray Settings | 1 |
| Warranty | 1 year |
---
---
Powering Out
When you want a hot shower on demand at any time, choosing a quality electric shower head could be the way to go. These units use heating elements to take your mains cold water and deliver it steaming hot from your shower head. With the best electric shower head, being the last one in the shower in the morning doesn't mean you're stuck with cold water.
You can choose from built-in safety controls, temperature controls, anti-scale functions, push-buttons, dial, and touch controls. Riser bars let you set the shower head to your ideal height, and flexible hoses are attached to get to those hard-to-reach places.