Drywall is crucial in the construction of our homes and commercial buildings. Drywall sizes are standardized to make life easier. But how big is a sheet of drywall when sizing your next project?
Also, how thick is drywall, and where are the different thicknesses best employed? We explore the fascinating world of drywall to bring you the cold hard facts.
Key Takeaways
Common drywall sizes: 4 ft x 8 ft (residential homes), 4 ft x 12 ft (high ceilings, commercial settings), and 4 ft x 16 ft (commercial and industrial settings).
Drywall thicknesses: 1/4-inch (smoothing and overlaying), 3/8-inch (patching and bending), 1/2-inch (walls and ceilings), 5/8-inch (fire resistance and load-bearing walls), and 3/4-inch (ceilings and load-bearing walls).
Types of drywall: Regular (gypsum core and paper coating), moisture-resistant (ideal for bathrooms and kitchens), fire-resistant (Type X and C), and sound-reducing (studios, gaming rooms, home theaters).
Calculating drywall needs: Multiply length and width of surfaces, divide by square footage of drywall sheet size, and round up to the nearest whole number.
---
How Big Is a Sheet of Drywall?
Modern residential buildings are more uniform in their design and layout than ever before. Drywall panels come in standard sizes and thicknesses to make buying off-the-peg easier.
It makes construction more straightforward and keeps costs down by reducing wastage. How? Because you can accurately order drywall in advance, almost down to the last sheet.
Compare that to older houses, where you have to plan for a bespoke sheetrock installation due to irregular wall dimensions.
The most common sheet size for residential buildings is 4 ft x 8 ft. It is easier to handle, lighter, and requires fewer hands to maneuver it in place.
Once you climb the sheet sizes, it becomes more challenging, which is why commercial buildings use 4 ft x 12 ft sheets and above.
They have the people power, tools, and experience of working with larger drywall sheets. Here's a handy drywall sizes chart:
| | | |
| --- | --- | --- |
| Drywall Size (Ft) | Installation Difficulty | Best Uses |
| 4 x 8 | Easy | Residential homes. |
| 4 x 12 | Medium | Rooms with high ceilings and some commercial settings. |
| 4 x 16 | Challenging | Commercial and industrial settings. |
| 2 x 2 | Easy | Patch wall repairs. |
Standard Drywall Sizes
Let's look in more detail at the standard sizes of sheetrock and their best uses.
4 Ft x 8 Ft
This size of drywall is perfect for installation in a residential property. It is easier to maneuver and install, and can be cut to size to cater to irregular shapes and angles. The most common 4 ft x 8 ft sheetrock is 1/2-inch thick and light enough for solo DIY installation.
A single sheet of 4 ft x 8 ft drywall tops 57 pounds, so you still need a level of stamina to complete the task. And when you consider that most 4 x 8 sheets of drywall come attached to a second sheet by a paper seam, that weight rockets to 114 pounds.
You can use this dimension of drywall for walls and ceilings, making it a popular choice. Plus, you can dampen the board to curve it around corners.
4 ft x 12 ft
When you have higher walls and larger internal spaces, 4 ft x 12 ft drywall is a great option. It reduces visible seams between each sheet, lowering additional joint tape costs.
However, 12 ft sheets are more challenging to handle, making breakages more likely unless you get assistance. Also, 12 ft sheets of drywall weigh between 30 and 120 pounds, depending on the thickness.
The weight issue adds to the installation challenges, which is why it is more commonly used in commercial settings. Unless you have a van, you will struggle to get a 4 ft x 12 ft sheet in a standard vehicle.
4 Ft x 16 Ft
Drywall sheets of this size are for use in commercial and industrial settings. They are awkward to maneuver and require many hands to stop them from snapping. Drywall is heavy, weighing in at over 100 pounds per sheet, depending on the thickness.
However, you can eliminate most seams by hanging them vertically, giving you an unbroken smooth surface from floor to ceiling.
Given the dimensions of these large sheets, the only way to get them to the site would be on a flat-bed truck, which is why the professionals use them.
2 Ft x 2 Ft
These smaller sheets are the perfect size for performing patch repairs. It is easier to cut square holes in your existing drywall and install one of these patches. It makes it a lot easier than removing entire wall sections.
It is also ideal for boarding small sections like corners, nooks, and alcoves. This drywall dimension is not considered a stock size because it is often made up of 2 ft x 2 ft off-cuts sold in hardware stores.
Alternative Sizes of Drywall
There are non-standard sizes of drywall available, but you won't find them for sale in the DIY store. Specialist drywall, like DRIcor or Smartwall, measures 54 inches (4.5 feet) in width and is typically cement board rather than gypsum.
Standard Drywall Thickness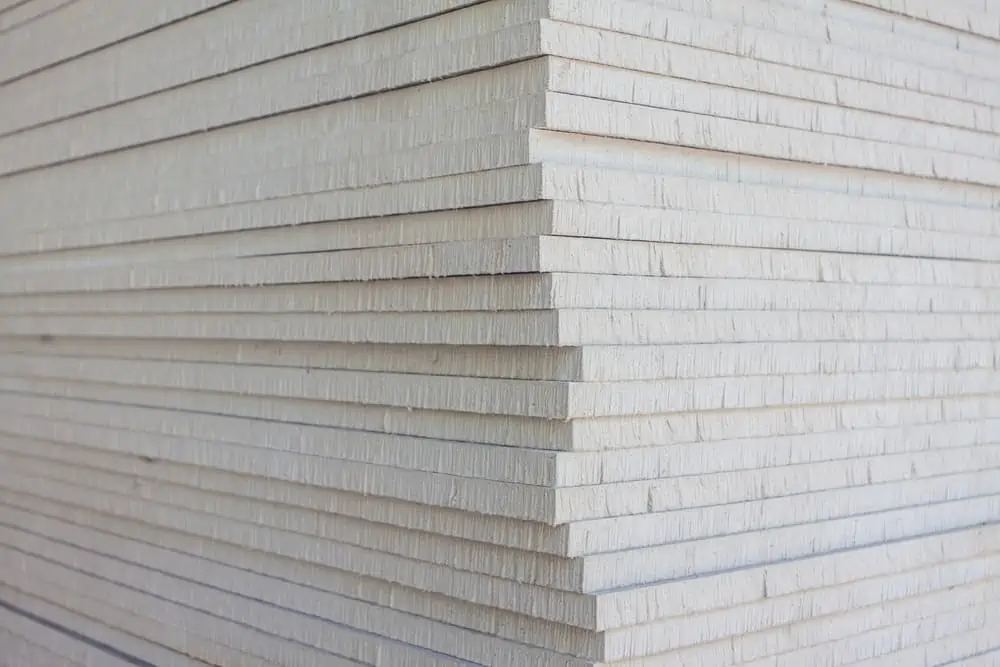 So, we've covered drywall dimensions, but what about different thicknesses. Drywall comes in 1/4-inch, 1/2-inch, 3/8-inch, and 5/8-inch panels, which have different uses depending on building code stipulations.
1/4-Inch
This is not a typical thickness of sheetrock. It is ideal for smoothing textured surfaces and layering wall thickness to improve structure and soundproofing.
It is easier to lay 1/4-inch drywall onto a popcorn ceiling than to remove the old texture. Thinner drywall is also easier to mold into curved shapes. However, they lack structural integrity, so they are not suitable in single sheets for walls and ceilings.
1/2-Inch
This is the most common drywall thickness because it is useful for walls and ceilings. It has just the right amount of structural rigidity, and it is easier to cut and shape.
Top Tip
You can buy lightweight panels that weigh 13 pounds less than standard drywall.
3/8-Inch
Sheetrock this thick is not that common. Whereas you can double-up layers for 1/4 and 1/2-inch drywall, you can't do that with 3/8-inch sheetrock. The walls would be a non-standard depth, which causes problems trying to match with other drywall thicknesses.
It is excellent for patching holes and layering over textured surfaces, and you can soak it to bend around awkward shapes.
5/8-Inch
When the building code calls for increased fire resistance, 5/8-inch drywall is ideal. It is also the best thickness for improving soundproofing. 5/8-inch panels don't sag like thinner drywall, so you get structural integrity between the joists.
It makes it the perfect drywall for textured or popcorn ceilings because the thickness of the finish adds weight. This may be a stipulation of the building code. It might also apply when there is a layer of skim and the studs are 24 inches apart instead of the standard 16 inches.
You would use this drywall as partition walls between properties that require fire resistance and soundproofing. Often, double-layering increases rigidity, soundproofing, and fire resistance.
3/4-Inch
This is one of the rarer thicknesses of drywall. It is mainly used in ceilings and walls, and increases the rigidity of load-bearing walls. Because of its thickness, it is also excellent for partition walls where soundproofing and fire resistance are paramount.
You will struggle to buy this drywall thickness in your local DIY store. Instead, you should order from a specialty supplier.
| | | |
| --- | --- | --- |
| Drywall Thickness (Inches) | Drywall Thickness (In MM) | Best Uses |
| 1/4 | 6.35 | Smoothing and overlaying. |
| 3/8 | 9.53 | Patching, overlaying and bending. |
| 1/2 | 12.7 | Walls and ceilings. |
| 5/8 | 15.88 | Partition walls, fire resistance, and load-bearing walls. |
| 3/4 | 19.05 | Ceilings and load-bearing walls. |
Different Types of Drywall
Along with standard sizes and thicknesses of drywall, there are also different varieties. Whether you're concerned with moisture, sound, or fire risk, there is a drywall to meet your needs.
Regular
Regular drywall consists of a gypsum inner core and a paper coating, and while it is not great at repelling moisture, it is the most common drywall in use. You can use it in dry areas of your home, but not in high-humidity settings like kitchens and bathrooms.
Regular drywall comes in varying thicknesses and dimensions to cater to residential and commercial applications.
Moisture-Resistant
Moisture-resistant drywall is suitable for bathrooms and kitchens. Humidity kills drywall because it rots in damp conditions. However, you can buy purple and green drywall that combats the spread of water and reduces mold and rot.
Purple drywall is also scratch and dent-resistant, making it ideal for high-traffic areas, where it is likely to suffer more wear and tear.
It is more expensive than regular sheetrock by about 20 percent, but the added protection it brings is well worth it. You can also buy a blue board, which is another moisture inhibitor suitable for attics and basements.
Fire-Resistant
Most thicker drywall is fire-resistant because gypsum is excellent at repelling heat. Type X and C drywall are particularly resistant to fire and have a higher fire rating. Type X contains several layers to make up the thickness, while Type C contains glass fiber.
A 5/8-inch panel must repel fire for one hour to get a higher fire-resistance rating. Type C panels also have anti-shrinkage properties, which edges it out in front over Type X.
Sound-Reducing
Soundproofing drywall is the same thickness, but that's where the similarities end. It consists of a core of gypsum, additional membranes, and a further gypsum layer. It decreases sound transmission, making it ideal for studios, gaming rooms, and home theaters.
Important Point
Remember that sound-reducing sheetrock costs up to 400 percent more than standard drywall.
How to Calculate How Much Drywall You Need
To get an accurate estimate of the drywall sheets you need, multiply the length and width of your surfaces and divide by the square footage of the drywall sheet you are using.
For example, if the total square footage equals 1,000, divide it by 32 (4 x 8 sheet). The amount of panels needed equals 31.25.
Take Note
Don't forget to include the measurement for ceiling drywall.
Sheetrock Vs. Drywall
Sheetrock is a brand of drywall, whereas drywall is the generic name for all gypsum panels.
FAQs
---
Let's Wrap It Up
Before starting any DIY project, knowing the facts is always useful. Drywall sizes are standardized to help you estimate how many sheets you need to keep control of costs.
You also need to follow the building code to determine when to use different thicknesses of drywall panels because sometimes you need fire resistance and soundproofing as part of the build.
Thank You For Your Feedback!
Thank You For Your Feedback!