Are you ready to embark on a renovation to make your home more functional and stylish? A faucet can give your room personality while offering more functionality.
When putting in a new faucet, you want a quality unit you can trust won't leak but work properly for years to come. You also want on-trend looks you'll love having in your home. Danze faucets offer options that are both fashionable and functional.
Here, we'll look at some of our favorite faucets and share our Danze faucet reviews. We'll also let you know more about the company, and go over what factors to consider while shopping.
Image
Model
Product Comparison Table
Features
Best Two-Handle Faucet
Danze Sheridan Faucet
Easy to install
Quality feel & look
Watersense certified
Best Gooseneck
Danze Foodie Faucet
Ceramic-disc valve technology
Compatible with many sink types
Functional spout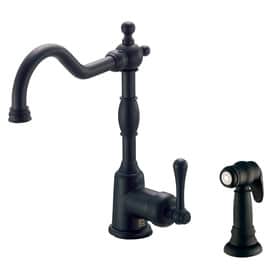 Best Side Sprayer
Danze Opulence Kitchen Faucet
Environmentally friendly
Separate side sprayer
Vintage look
Best Vintage-Look
Danze Opulence Bathroom Faucet
High performance
Suitable for multiple sink types
High-quality finishing process
---
What Is a Danze Faucet?
Danze has been an industry leader for the past 20 years. Known for functional design and style, Danze has plenty of experience designing faucets that make your space easy to work in.
With an 85-year-old sister company, Gerber, the collective manufacturing experience extends beyond just that of Danze's existence.
An offshoot of the original company, Danze evolved into Danze by Gerber. A blend of style and function, these products are handcrafted, affordable, and made to last.
You'll find products available by Danze for all your home faucet needs, including bathrooms, kitchens, and shower systems.
Different Types of Danze Faucets
Danze offers a wide range of faucets and plumbing accessories. The basic breakdown for faucet types is kitchen faucets and bathroom faucets.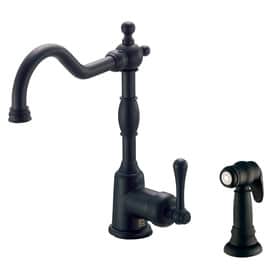 Designed for use in the kitchen and prep areas, kitchen faucets are substantial and provide excellent water flow. In a small or shallow sink, a kitchen faucet can create too much splashing and be too big for a little vanity.
Kitchen faucets are available in different styles and types. You can expect to find modern pieces as well as those with a retro flair, plus there are both single-handle and dual-handle varieties.
Many faucets designed for the kitchen have a gooseneck. This arch creates extra height beneath the faucet and gives more space in a sink for prep work and oversized equipment. You'll also find most spouts can swivel out of the way for additional functionality.
Pros
Food prep: The extra space in the sink gives you plenty of working room.
Many options and accessories: You'll be able to choose between features and installation type.
Finish and style variety: There are many looks on the market to give you the effect you're looking for.
Cons
Difficult to self-install: If you're inexperienced, you may find contracting a professional for installation is best.
Some faucets can be expensive: Kitchen fixtures generally come with more complex features than those for the bathroom.
Bathroom faucets are generally smaller than kitchen faucets. They're excellent for hand-washing and regular hygiene tasks like teeth-brushing and face-washing.
You aren't likely to find a bathroom faucet with a swiveling head, though you may come across aerated spouts. The aerator brings air into the stream of water, creating a less concentrated stream that suits bathroom tasks — this also conserves water.
There are a few common installation styles you'll see with bathroom faucets: center-set, wide-set, and single-hole installation units. Your faucet type will depend on what kind of sink you have in the bathroom.
Pros
Uncomplicated to install: Most bathroom fixtures can be installed by a beginner with limited experience.
Affordable price: Fewer bells and whistles, along with a smaller size, mean lower prices.
Multiple types, styles and finishes: There are plenty of options out there to help you achieve the desired look.
Cons
Dependant on your bathroom sink: Not all bathroom faucets will work for every sink, and the style of sink you choose can limit your fixture options.
How to Choose the Best Danze Faucet
Your primary consideration when choosing a faucet is going to be the space you're outfitting. Consider the following to make the shopping process easier:
Research the Style You're After
Don't start looking for faucets without a plan. There are too many options available to begin your search without knowing what you're looking for. Take some time to collect images of what you think your finished room should look like before you start shopping.
Identify Essential Features in Advance
If you have to have a side sprayer in your kitchen or a pop-up drain in the bathroom, go shopping knowing this is a must-have. This narrows the field of options and ensures you'll bring home a faucet that suits your needs.
The complexity of the installation and your previous handyman experience will determine which option is best for you. Don't forget to include the cost of hiring a plumber into your budget.
Know What Finish You Want
There are many finishes out there, and not every faucet is available in every finish. If you're installing your faucet in a room with other plumbing hardware, you'll also need to worry about matching your fixtures. Don't waste your time looking at faucets that don't come in the finish you want.
Identify what you want to spend before you start shopping. Using your budget along with your list of must-haves and style preferences will help you get just the right faucet.
---
The Best Danze Faucet Reviews of 2021
Have a better idea of what you're looking for in a faucet? We've reviewed the top Danze faucets and put together a list of our favorites.
Danze Sheridan Widespread Faucet
Perfect for a bathroom, this faucet is designed for three-hole installation. It's a deck-mounted piece that installs directly into the countertop or sink. The faucet features a pop-up style mechanism, and a matching drain is included.
Ceramic disc valve technology prevents leaking, plus the unit is also WaterSense certified with an aerator to reduce waste. The aerator can be removed if you need greater flow or don't have water restrictions.
Measuring 3.75 inches high and 5.25 inches long, the spout is fixed in place and doesn't swivel. It has a slight arch to it and is suitable for use in shallow sinks and small bathroom spaces.
Why We Love It
Easy to Install
Offering straightforward installation, this unit is suitable for inexperienced DIYers. Sealing rings are included to help achieve a tight, secure fit to your countertop or sink. If you're looking to install it in a countertop that hasn't been pre-drilled, you may want to hire a plumber.
Quality Feel and Look
This faucet has plenty of heft to it. It operates smoothly and feels solid and study. The brass finishes are high quality while the traditional shape works well with a variety of decorating styles.
WaterSense Certified
With a WaterSense certification, it's appropriate for use in states where restrictions are in place. The included aerator ensures a water flow of 1.5 GPM. If restrictions don't apply to you, you can swap this out for another or leave it out altogether, without impacting function.
Keep In Mind
Drain Mechanism Is Plastic
A drain assembly is included with this faucet. While the outer plate that sits in the drain matches your chosen finish, the inner mechanism is plastic. This is the piece that's responsible for connecting the lever pull to the drain to create the pop-up action.
If you prefer to use metal components inside the drain, you'll need to purchase those separately. This can be done, though, and won't impact functionality.
You'll Need Water Hoses
No water hoses are included with this model. To complete installation, you'll need to purchase a separate set of water hoses to connect to the plumbing.
Additional Specs
| | |
| --- | --- |
| Product Weight | 6.35 pounds |
| Dimensions | 3.75 inches by 18.25 inches by 2.8 inches |
| Installation Type | Deck-mount |
| Room | Bathroom |
| Finishes | Antique brass; polished brass |
---
Danze Foodie Pull-Down Kitchen Faucet
With high style and elegant appeal, this kitchen faucet features all-brass construction. It comes with Danze's limited lifetime warranty, which covers the exterior finish as well as parts and construction.
Single-handle operation is easy to use and saves space. The head pulls down and offers a spray function in addition to the regular water stream. If needed, the spout is capable of swiveling a full 360-degrees.
All necessary components for installation come with the product. You'll also receive a deck-plate that makes it suitable for installation in sinks drilled with three holes.
ADA-compliant, lead-free, and CEC-approved, this versatile faucet works in a variety of kitchens.
Why We Love It
Ceramic-Disc Valve Technology
Creating smooth operation and preventing leaks, the internal ceramic discs will provide years of use. Environmentally friendly and CEC-approved, these discs help prevent leaking and terminate the stream of water quickly when shut off.
All Hardware Is Included
You won't need to buy any additional components to complete the installation of your new faucet. An optional deck-plate is included but not required for proper installation.
Compatible With Many Sink Types
You aren't limited to sink styles when you choose this faucet, since the deck-plate covers extra holes in pre-drilled sinks. When it comes to custom inset sinks, you'll be able to position the unit in your preferred location.
For installation on countertops up to 2.5 inches thick, a separate extension kit can be purchased if that doesn't meet your needs.
Functional Spout
A retractable head adds convenience to your kitchen chores. A button located on the head lets you toggle between a steady stream of water and a spray feature. Additionally, the whole spout swivels, which allows you to push the faucet out of your way and use the entire sink basin.
Keep In Mind
The Spray Switch Is Designed for Two Hands
Although the ability to move back and forth between a steady stream increases efficiency and convenience, the toggle switch can be tricky. Expect to use two hands to switch between modes and plan accordingly while doing prep work and clean up.
Additional Specs
| | |
| --- | --- |
| Product Weight | 7 pounds |
| Dimensions | 10.8 inches by 10.3 inches by 20.6 inches |
| Installation Type | Deck-mounted |
| Room | Kitchen |
| Finishes | Chrome; chrome with red; stainless steel |
---
Danze Opulence Collection Kitchen Faucet
Vintage appeal meets incredible function with this kitchen faucet. The head does not feature a retractable head, but a separate side sprayer gives you the same convenience. It features a quiet-function hose and has a maximum of 2.2 GPM flow rate.
Suitable for two-hole installation, the spout is 12 inches high and 9 inches long. All-brass construction leaves you with a heavy-duty unit.
It's low-lead and features an ADA-compliant handle. Finally, all the hardware needed for installation comes included, and it's available in multiple finishes to suit your kitchen's style.
Why We Love It
Limited Lifetime Warranty
This faucet comes with Danze's limited lifetime warranty that provides ongoing protection against component or unit failure. It also applies to any damage the finish might sustain during normal use.
Environmentally Friendly
With a water flow rate of 1.75 GPM, this faucet is CEC-approved. The aerator serves to reduce water waste, making this faucet suitable for use even in states with strict water regulations. The sprayer does provide a slightly higher temporary flow rate of 2.2 GPM.
Separate Side Sprayer
A separate side sprayer prevents unnecessary strain on the head of the spout. The separate sprayer sits on the countertop, so it's not continually working against gravity. Your side sprayer can be subjected to heavy, frequent use without fear of compromising its look and functionality.
Vintage Look
The attractive, elegant shape of the spout gives you extra space in the sink while evoking a bygone era. Its clean lines work well in freshly renovated areas and add a touch of modernity. It's an excellent choice if you're looking for a faucet for a modern farmhouse renovation.
Keep In Mind
Not as Much Water Pressure as Other Models
This is a water-conserving model. Although it's great for the environment, you may find less water pressure is more challenging to work with when dealing with kitchen chores.
For best results, you'll want to avoid set foods and consider soaking exceptionally dirty items before cleaning.
Additional Specs
| | |
| --- | --- |
| Product Weight | 6.59 pounds |
| Dimensions | 9 inches by 2.4 inches by 12 inches |
| Installation Type | Deck-mounted |
| Room | Kitchen |
| Finishes | Chrome; satin black; stainless steel; tumbled bronze |
---
Danze Opulence Collection Bathroom Faucet
A fantastic option for restoration, this mini wide-spread faucet has a vintage look that doesn't compromise functionality. Ceramic valve technology keeps operation smooth and effortless, and easy-to-use handles are ADA-compliant and suitable for commercial or home use.
WaterSense certified, this faucet is also appropriate for use in states or cities with strict water consumption regulations. It uses 30 percent less water than standard faucets while meeting or exceeding performance expectations.
It's compatible with standard United States plumbing bibs, and all necessary hardware is included with the purchase — including a matching drain assembly. The faucet is available in multiple finishes to meet your needs.
Why We Love It
High Performance
With its all-brass construction, this faucet is intended to last through years of use while remaining beautiful. There's no plastic in the inner components, and there are ceramic disc valves used for smoother, effortless operation. These discs allow for a tight seal and prevent any unnecessary leaking and waste.
Suitable for Multiple Sink Types
This is a deck-mount unit that works well on larger pre-drilled sinks and vanities. It's also an excellent option for custom countertop installation on double sink vanities. You can choose how much space you need between the spout and handles to best suit your space.
The spout swivels and the handles have an automatic stop that doesn't allow the handles to make a complete rotation. You'll find this improves versatility and makes it possible to install on a greater number of sinks.
High-Quality Finishing Process
A specialized finishing process protects your faucet from everyday wear and tear. This keeps your unit looking newer for longer with less maintenance. In the event your finish is damaged (or if the faucet stops working correctly), this model does come with a lifetime limited warranty.
Keep In Mind
Better Suited to Larger Bathroom Sinks
This unit is for sinks or countertops that are pre-drilled with three holes. The elegant spout and easy-to-use handles may be too large for tight spaces or small pedestal sinks. Avoid using this in very small sink areas to prevent overcrowding.
Additional Specs
| | |
| --- | --- |
| Product Weight | 6.3 pounds |
| Dimensions | 6.2 inches by 13.4 inches by 7.5 inches |
| Installation Type | Deck-mounted |
| Room | Bathroom |
| Finishes | Brushed nickel; chrome; polished brass; satin black; tumbled bronze |
---
| Product | Award | Weight | Dimensions | Installation | Room | Finishes |
| --- | --- | --- | --- | --- | --- | --- |
| Danze Sheridan | Two-Handle | 6.35 lbs | 3.75″ x 18.25″ x 2.8″ | Deck-mount | Bathroom | Antique brass; polished brass |
| Danze Foodie | Gooseneck | 7 lbs | 10.8″ x 10.3″ x 20.6″ | Deck-mounted | Kitchen | Chrome; chrome with red; stainless steel |
| Danze Opulence Kitchen | Side Sprayer | 6.59 lbs | 9″ x 2.4″ x 12″ | Deck-mounted | Kitchen | Chrome; satin black; stainless steel; tumbled bronze |
| Danze Opulence Bathroom | Vintage-Look | 6.3 lbs | 6.2″ x 13.4″ x 7.5″ | Deck-mounted | Bathroom | Brushed nickel; chrome; polished brass; satin black; tumbled bronze |
---
Danze Faucet Reviews FAQs
What Goes Into Installing a Faucet?
Installing a faucet can be a straightforward procedure, especially if you're replacing an existing piece with a new one of the same type. Deck-mounted options that sit directly on the sink are usually the simplest to install. The holes come pre-drilled, and you only need to connect your new faucet for use.
However, there can be faucets that are complicated to install. Wall-mounted options can take more time and equipment to install and require wall work afterwards. Likewise, any custom counter in the bathroom or sink will need to be drilled for your faucet and will likely require professional installation.
What Are Installation Types?
The installation type is how your faucet affixes to your sink or ties into your plumbing. You'll find both single and double handle faucet options and those that are for one-hole, two-hole, or three-hole installation. Most spouts, handles, and accessories can be arranged as you prefer.
Many faucets are deck-mounted, which means they're installed directly to the sink or countertop. Some need to be wall-mounted, which don't sit on the countertop or sink. Instead, they are installed directly into the wall above the sink.
Wall-mounted faucets can add a lot of charm and give open access to the sink below. Though the plumbing needs are the same, the location of wall-mounted faucets makes installation more challenging. You'll also need to factor in post-installation wall repair, which means wall-mounted units may be a good choice for professional installation.
What Does ADA-Compliant Mean?
A faucet labeled ADA-compliant meets the standards put in place by the Americans with Disabilities Act (1). They're intended to be easy to use for everyone. You're certainly not required to use them in your home, but you may need to if you run a commercial space — always check your local code.
What Is a WaterSense Certification?
A United States Environmental Protection Agency program, WaterSense is intended to encourage water-efficiency (2). Faucets that meet the program standards won't waste excess resources, saving you money while also conserving water. Certain states have additional requirements when it comes to conservation, so double check local regulations as well.
Do I Need to Worry About Lead?
Warning
You should always opt for low-lead content when it comes to your faucets. Strict guidelines in the United States ensure that the public water you have access to is lead-free at its source.
However, water needs to travel through an incredible infrastructure to reach your home, and metal components along the way (soldering points, pipes, and even faucets) can all contain lead. Age and corrosion can increase the possibility of lead contaminating your water. If you have any concerns, test your water and consider replacing old faucets with newer ones.
As our understanding of lead as a toxin increases, so have the related regulations. Since 2014, "Get the Lead Out" legislation has required metal faucets to adhere to strict guidelines (3).
---
Finding Your New Danze Faucet
With a little forethought, a faucet from Danze can help bring your remodeling vision to life.
Start with the location of your sink and the style you're after. Then, consider the finish and functions you're seeking. In no time at all, you'll have that statement faucet every room deserves.
What's important to you in your faucet design, function or look? Going for a professional installation or planning a DIY approach? Leave us a note in the comment section below; we love hearing from you!