Have you seen those adorable, cozy houses with colorful porch flowers and metal lanterns mounted above the front door? These are elements of the cottage style, which is focused on rustic appeal, repurposed elements, and a welcoming vibe.
If you're tempted to redecorate your house to be more cottage-like, we have some cottage paint colors to inspire you. You can apply them to both interior or exterior, and you're sure to find one that works for you!
Key Takeaways
Cottage style focuses on rustic appeal, repurposed elements, and a welcoming vibe.
Popular cottage paint colors include pastels, earthy tones, and plenty of white.
Combine natural elements with cozy furnishings for a true cottage feel.
Use floral prints, wood furniture, and vintage accents to create a charming atmosphere.
---
What are Cottage Colors?
Comfy furnishings, bright colors, and natural elements distinguish cottage style from other decorating styles.
There isn't really a right or wrong way to approach this warm and inviting interior design style. With these ideas, you can transform a room into a welcoming and comfortable space for the entire family.
Decorating in the cottage style is a great option for those on a tight budget. Weathered finishes, organic textures, and floral patterns are all characteristics of this charming decorating style.
Fun Fact
Cottage decor is one of the simplest and most affordable styles because of its casual nature and shabby chic aesthetic.
Cottage-style decor can incorporate many different colors and patterns. But it is important to have a consistent theme throughout the space.
Greens and pinks in floral prints are a great choice for cottage style. Take twig or rough-hewn wood furniture. Pair it with a rustic design and forest colors such as golden tones, rust, or green hues.
To decorate a cottage-style home near the beach, use loads of white, sandy beiges and soft blues. Pair them with other popular beachy colors. Color schemes that are patriotic or faded are also appropriate for these informal residences.
Cottage Exterior Paint Colors
It's one of my favorite styles to play with because of the vast range of colors and textures. But I managed to narrow down a few of the best ones.
1.

Cottage Stone Foundation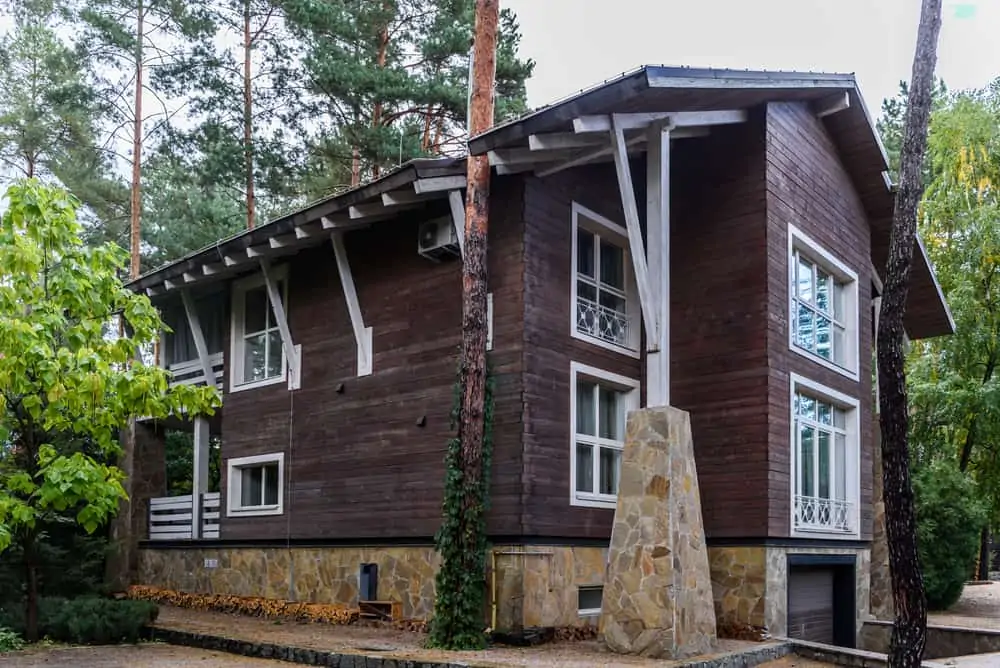 Cottage style is about combining natural elements to bring a cozy approach to a rustic setup. Notice the dark shade of brown that adorns the exterior walls.
The slight red tint makes it feel a bit warmer and, more importantly, pairs well with the stone foundation.
I love the creeping vine that grows up the tree next to the house, making this feel like a true retreat in the middle of nature.
2.

Forest Wonder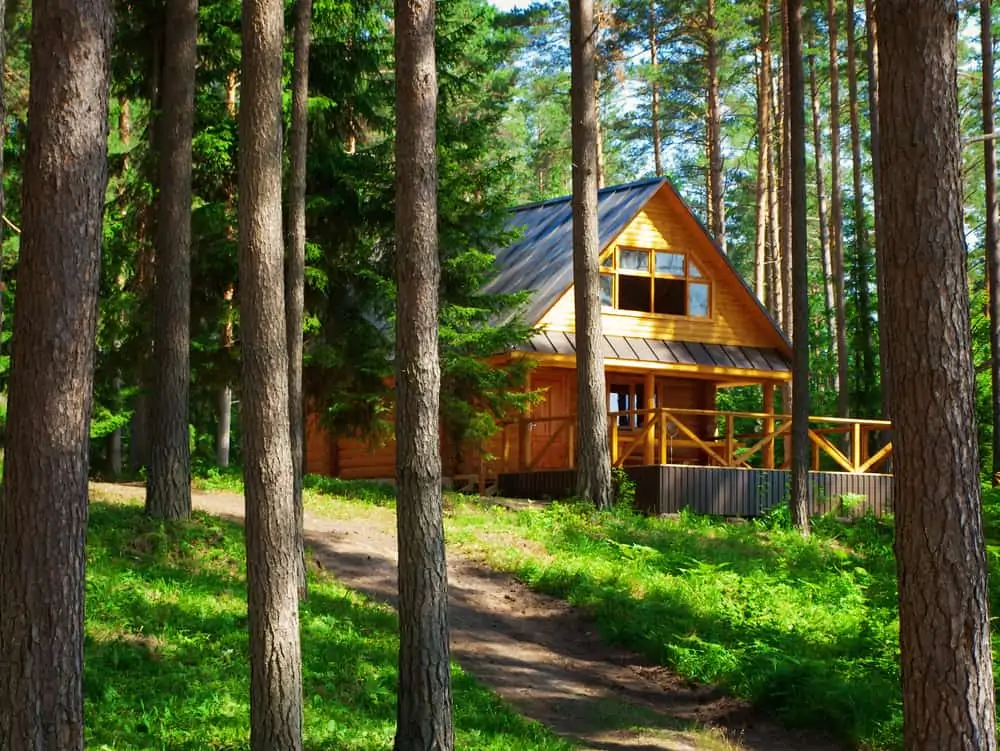 A bright yellow exterior is a timeless design choice for any cottage. Beautiful color combinations like this create a sunny, bright look that instantly transforms your cottage. I'd recommend using Bright Yellow by Benjamin Moore to achieve this look.
All of this makes it a relaxing, beachy retreat that you could pull off even if you are very far away from sandy shores.
I love the large windows on the top floor because cottage style is all about light and airy windows.
3.

Red by the Lake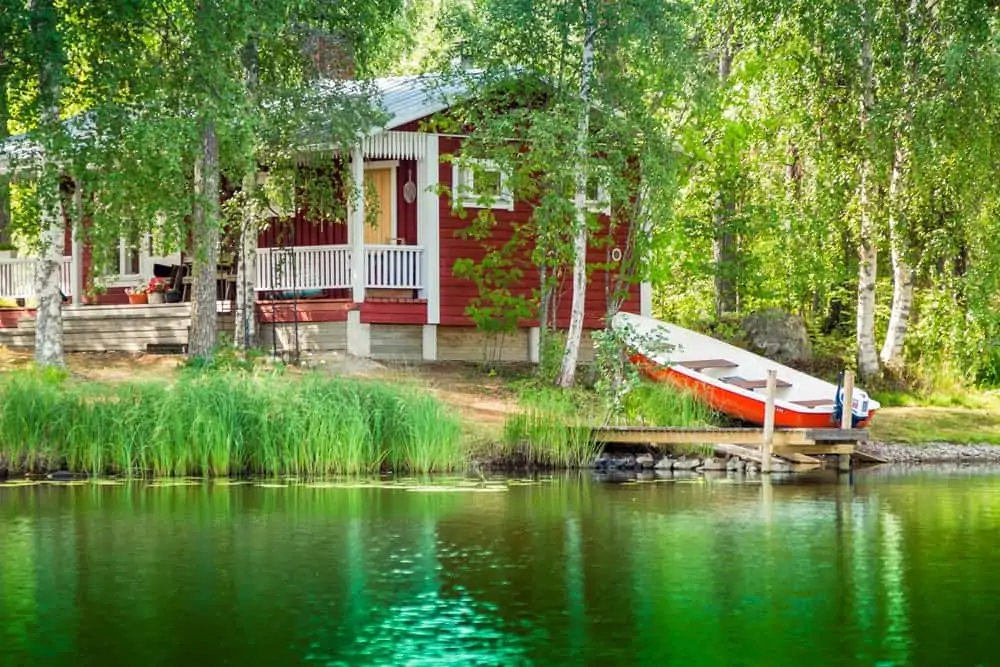 How beautiful is this red house that contrasts the green of nature surrounding it? This fierce red color choice works really well with the white paint of the railings and window trims.
The porch is decorated with potted flowers, while the boat that's on the lakeshore blends so well into the decor because it's also red and white.
A great color choice for this look would be Red by Benjamin Moore.
4.

Baby's Got Blues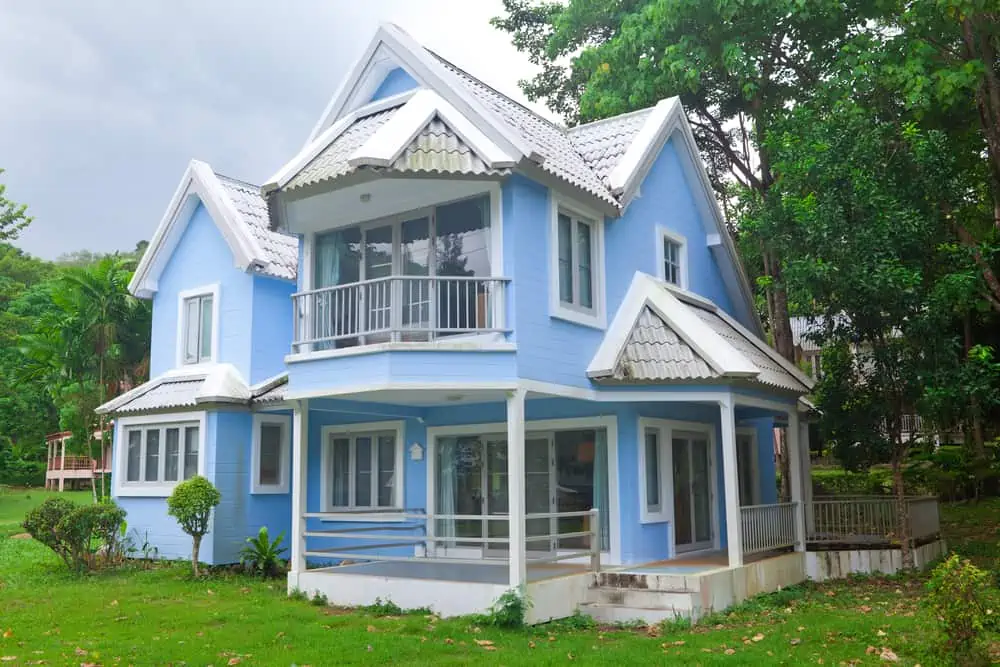 As far as cottage color palettes are concerned, you can't go wrong with blue and gray. In fact, this is one of those foolproof schemes for moments when you're not sure what exterior paint color to pick.
The playfulness of the blue gives out these serene vibes that are characteristic of the cottage style. The gray roof and the white trims and frames work hand-in-hand to make it seem like the house is covered in light.
5.

Cottage Shed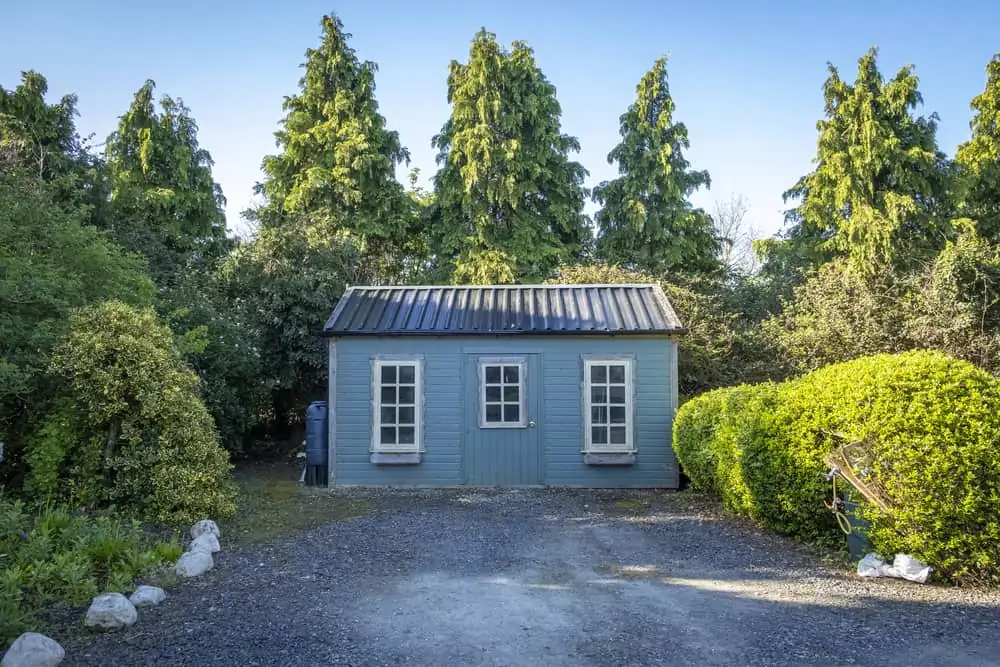 It's more of an ocean-themed style. Note the details that are grounded in cottage influences. But this little Irish shed is like an emblem for what blue cottage sheds should look like.
The combination between the pale blue of the exterior walls and the gray of the metal roof is clean and precise. The distressed appearance of the wood adds that vintage vibe we're used to seeing when it comes to cottage decors.
I think Flyaway by Sherwin Williams would replicate this look for any exterior.
6.

Modern Cottage
This Awning-Red paint color isn't what we normally picture what the exterior of a cottage-style house looks like. However, this awning-red has a barn-like appearance, making it very suitable for the style.
The stained wooden door and window frames are made to blend in rather than stand out. The clean lines and the metal railings are details that give this cottage theme a more modern approach.
7.

Country Cottage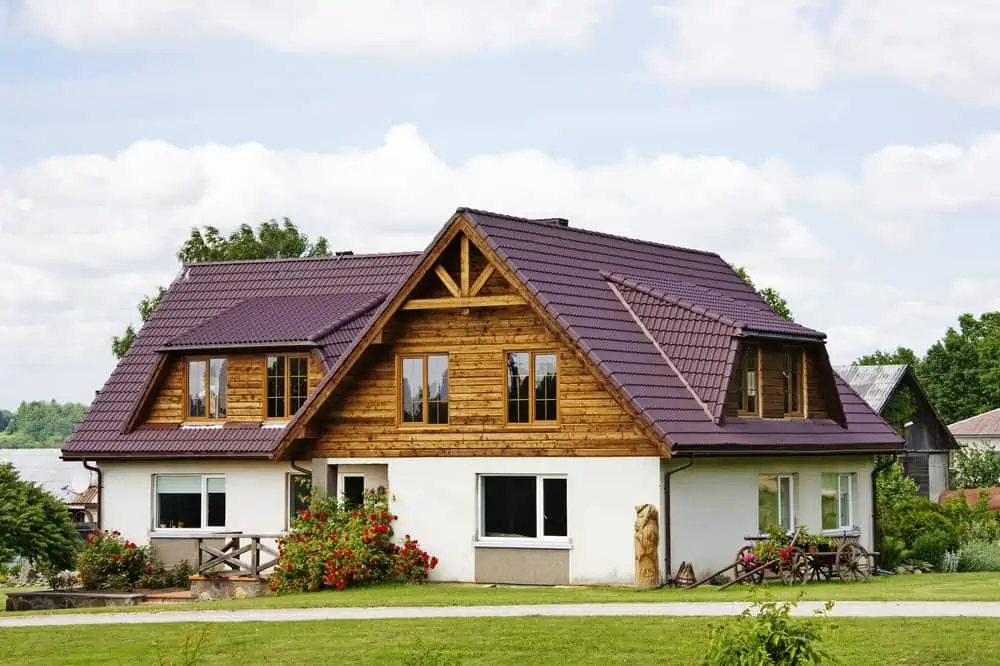 There aren't many styles that can be applied to a home's exterior and make it look just as cozy as the interior. Cottage manages to pull that off. The simplicity of the appearance is very tasteful.
There are no bold color choices here. The designer opted for white walls, stained wood for the first floor, and a red roof with a slight tint of purple. Something to the tune of Plum Brown by Sherwin Williams would work to replicate this.
Scattered flowers give it color, and the wooden carriage gives the entire place a farmhouse element that fits so well.
8.

American Farmhouse
We're always amazed to see that modern and cottage, two apparently different styles, can be combined with such success.
The gray tones of the exterior walls are brought to life by the white trims and window frames. Try Chelsea Gray by Benjamin Moore to pull off this look.
The windows are large, allowing plenty of light inside. This characteristic makes many people choose the cottage style over others.
9.

English Cottage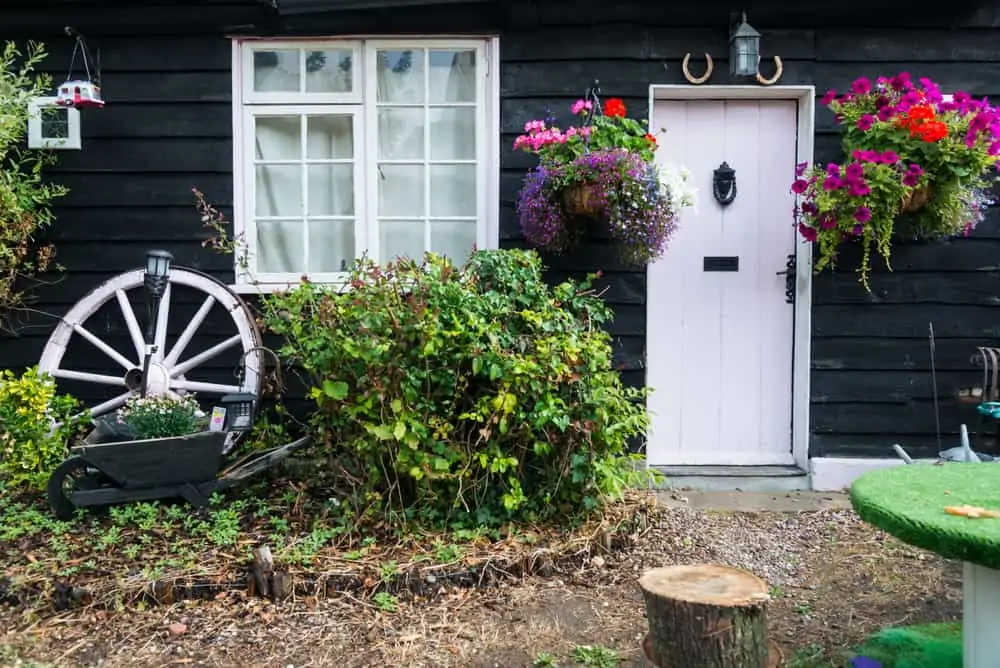 You might not associate black with cottage colors. Yet, so many other elements come into play here that compensate for the wall paint color.
The black exterior and the white door contrast so well. But not any black will do. I'd recommend going with a charcoal tone like Graphite by Benjamin Moore.
What really draws the attention is the plethora of hanging potted plants that add splashes of color to the decor. It is such a joy to look at!
10.

Rustic Appeal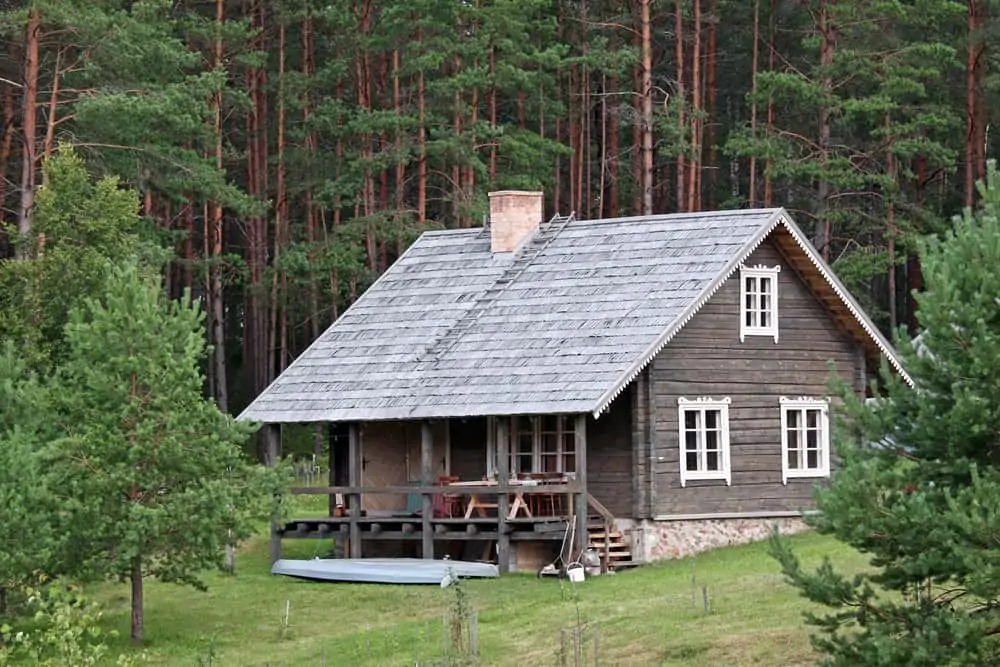 There's nothing that speaks "cottage" more than the natural look of wood. The window frames are painted in white and have intricate top carvings to add to the flair of the house.
The heavy inclination of the sloped roof protects the porch from both sun and rain. This is an ideal spot to drink coffee while gazing at the trees.
Cottage Interior Paint Colors
You often see the exterior look melt into the interior with this style. But you can play it up with pops of colors and cottage accessories.
11.

Cozy Attic Room
I can think of so many different purposes that could be attributed to this room. But the wooden shelves and small wood desk make it seem like the perfect crafting space.
We have a predominantly white setup, exposed ceiling beams, and a chair and desk with intricately carved details. You can't go wrong when combining brown and white as far as interior cottage colors are concerned.
When executingthis look, avoid stark whites and opt for softer shades. Cloud White or Meadow Mist by Benjamin Moore are great examples of this.
12.

Cabin in the Mountains

Want that luxurious cottage feel that a high-end Airbnb gives? Cottage is the design style that can make it happen.

Decorate a bedroom that features all the right elements. Stained wood, wicker nightstands, a desk with vintage contours, large doors that invite in light, and even a wooden railing.

Stick with colors in the off-white, cream, and brown families for interiors. For exteriors, go for bolder cottage colors such as cape cod blue, awning red, or sunny yellow.
13.

Rustic and Masculine

I love the use of the deep, olive green on the wainscotting. A soft neutral paint color is used for the upper half of the walls. It helps to showcase the wall art and decor.

Adding rustic elements like a raw edge nightstand and worn leather accentuates the cottage vibe.
14.

Old-Fashioned Living Room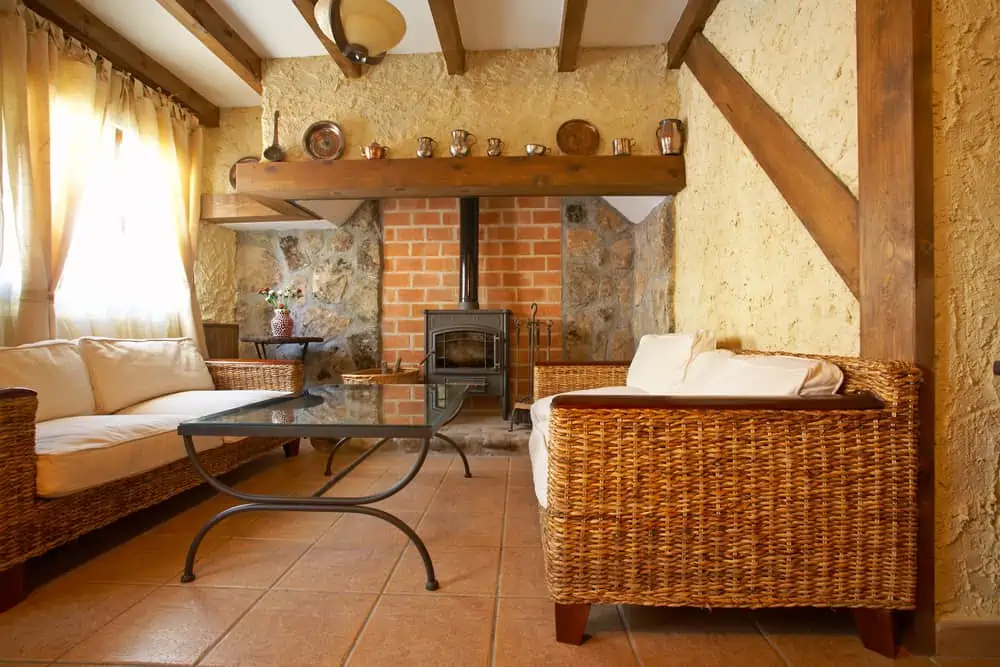 If you love the presence of wooden elements and vintage items, you're going to love this look. Brown and creamy tones surround the area, with wicker seating that creates an inviting space for relaxation.
York Harbour Yellow is a great choice to ground this entire look. Use it on the walls and pair it with woody elements.
The rustic fireplace is very different from the modern ones that you currently find in people's homes. But it blends perfectly with the brick and stone wall behind it. Also, the copper plates, pots, and carafes on the shelf above are an amazing detail.
15.

Luxury Cottage
One might think that cottage style is all about simple and modest times. But you can push it to the limit of luxury with almost no aesthetic consequences.
Sure, you can't add a silver coffee table with a glass top and call it "cottage." But you can use luxury stone fireplaces, coffee tables of high-quality, expensive wood, and choose rustic-style chandeliers from wrought iron.
The open-space design of this house is perfect because of the dark and creamy tones and large and inviting windows.
16.

Redefining Coziness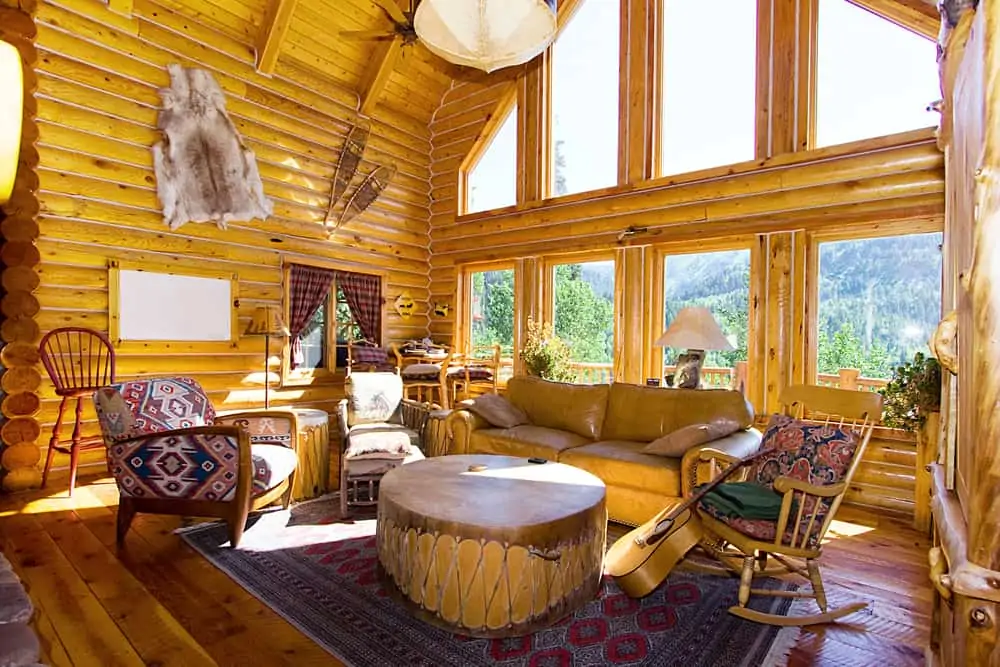 Use a natural wood stain and seal it with a clear coat. Add small plaid window curtains and chair upholstery that falls a little bit on the Bohemian side. All these elements and many others are what make this living room a romantic getaway.
Even with a vaulted ceiling, cottage style is all about making use of horizontal and vertical space (walls decorated with items). We spot another set of large and airy windows with no curtains, a characteristic of the cottage style.
17.

Cozy Cottage Kitchen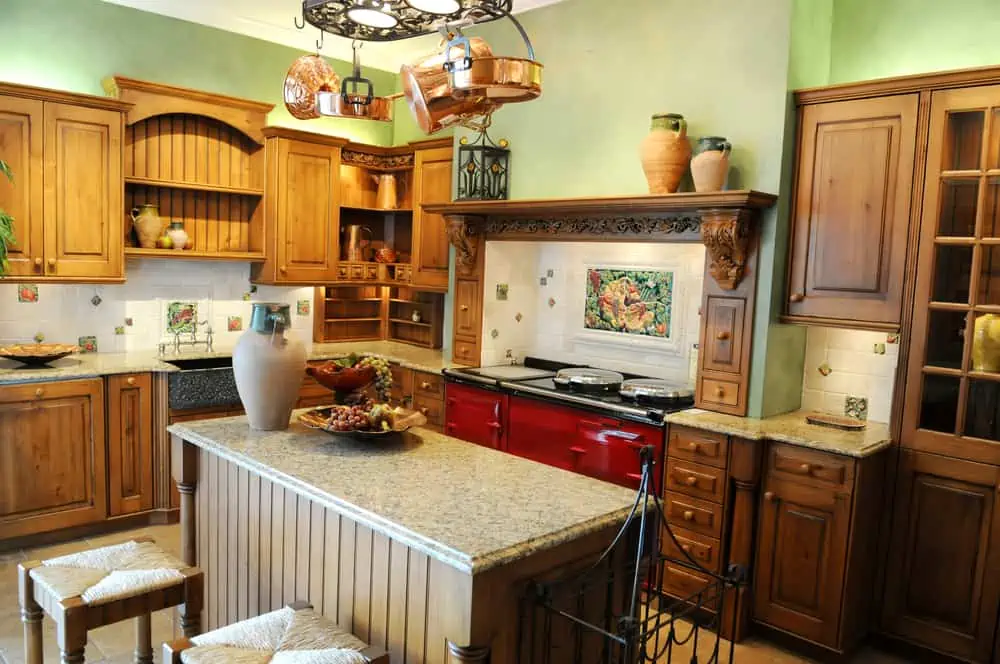 This cottage kitchen is so perfect and true to the style, I don't even know where to begin complimenting it. The bright red stove is a break against the natural wood furniture that covers the walls.
The pop of green on the walls really ties everything together. You can copy this look with Sherwood Green by Benjamin Moore. It's soft and neutral, which cottage looks often have.
The cottage decor elements are there, from a nature-inspired wall mural to iron lanterns and pottery vases. Everything just flows throughout the entire room.
18.

Earthy Tones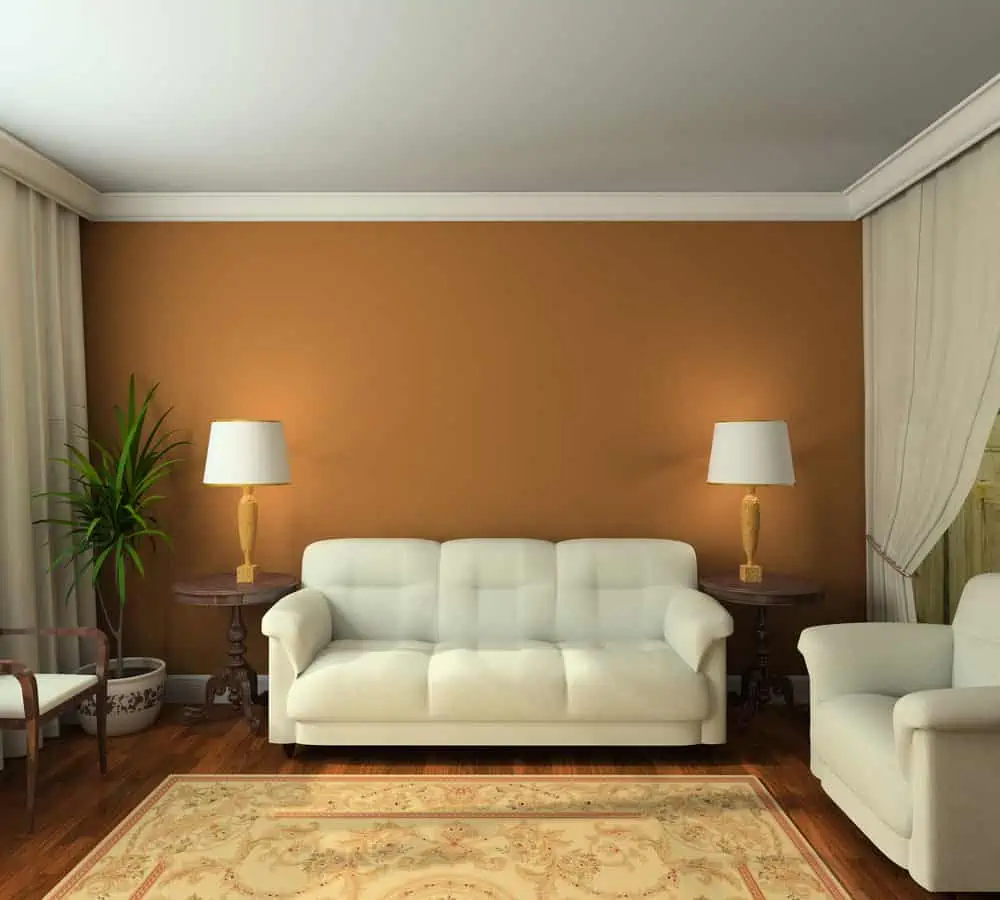 Pastel colors and earthy tones are strongly linked to the cottage style. Notice how the different combinations of brown found throughout the room are contrasted by the off-white seating choice. This is to avoid the primary color weighing heavily on the eyes.
The choice of rug adds even more coziness to the room. And the side tables with carved wooden legs fit in perfectly with the rest of the setup.
19.

Living Room with Fireplace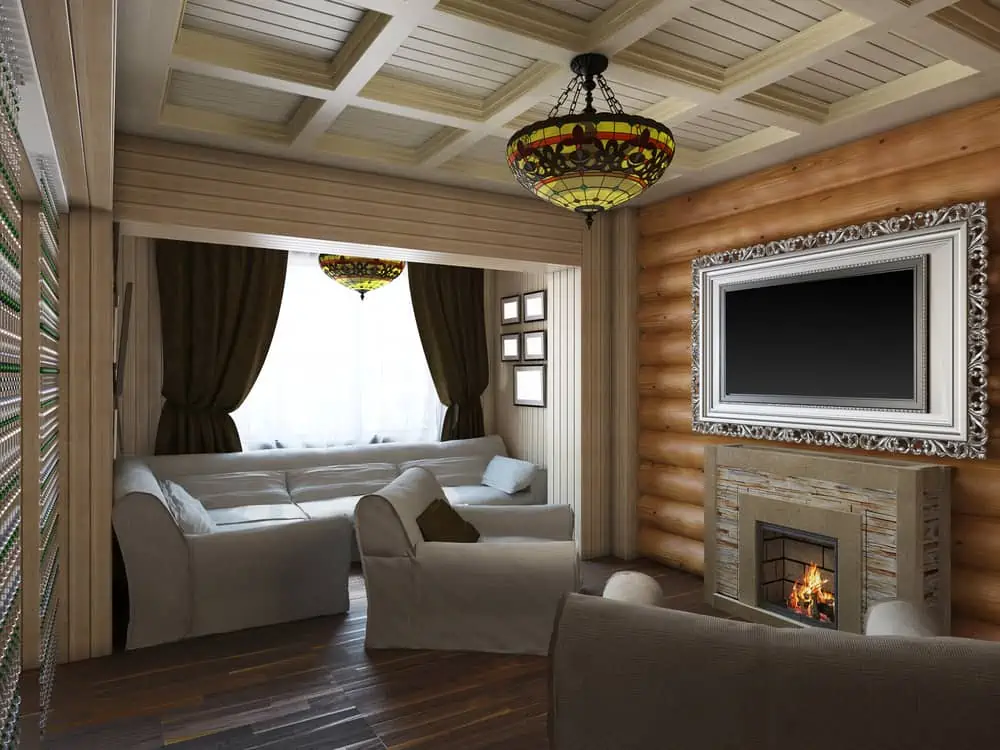 Cottage style means making use of every bit of available space you have. Even the smallest corner can be turned into a spot for relaxation. Notice how cozy this entertainment area is.
While the predominant colors are mostly gray, beige, and other earthy tones, the fireplace makes everything seem very lifelike. The intricate vintage frame encircling the flat screen is another perfect example of how new and old can coexist in the house.
20.

White Furniture
When you think about cottage-style furniture, two colors come to mind. Brown and white.
You can see how white would make an excellent choice. Especially because it allows you to go well with a drop of accent colors throughout the room (like maybe a throw pillow). Don't be afraid to pick large furniture items.
How Do I Make the Outside of My House Look Like a Cottage?
Thankfully, there are so many tricks you can employ to make your house look like a cottage. When you think of cottage-style, two things should come to mind: coziness and rustic.
Decorate your front porch with potted flowers.
Install a wooden screen door on your front porch.
Place a bench or a rocking chair on the front porch.
Use an outdoor lighting fixture with a rustic vibe like this Hykolity 2 Pack Canyon Outdoor Wall Light.
Go with narrow window moldings to make the house appear older.
Opt for different outdoor wooden decorations (from wooden artwork to horse carriages filled with flowers).
Consider installing full-swing shutters to your doors and windows.
Install a fence, a rail, or a gate.
FAQs
Still looking for more tips on how to add a cottage-like flair to your home?
---
All Wrapped Up
When picking out cottage paint colors, think of a pastel palette, wood and earthy tones, and plenty of white.
Forest colors are an excellent choice, but no one is stopping you from combining green with pink. Since floral prints are the very definition of cottage style, add natural flowers for a splash of color.
Thank You For Your Feedback!
Thank You For Your Feedback!