While you lavish all that attention on your walls, baseboards, and trim, spare a thought for your ceiling. It is as essential as the other surfaces in your room. When you factor in the price of the walls, it's always good to get the cost to paint the ceiling.
This article asks, "How much does it cost to paint a ceiling?" and examines essential ways to save money.
Key Takeaways
Calculate square footage by multiplying the length and width of the room.
Consider the room type, as kitchens and bathrooms need mold-resistant paints.
Expect to pay between $120 and $300 for a professional paint job, depending on ceiling type.
Save money by prepping the room yourself and using the right paint and equipment.
---
How Much Does It Cost to Paint a Ceiling?
Without a budget, spending can quickly spiral. Knowing the actual cost to repaint a ceiling is crucial if you want to keep control of your finances. The amounts range from $120 to $300, depending on the type of ceiling you have.
Some contractors estimate per square foot, with the average between one and two dollars. The costs can be as high as $2,500, or as little as $50, while the national average sits at $250.
Per Square Foot
Not all ceilings are the same size. If you cost the project per square foot, you will need an idea of the prices. Many things affect the final bill, including the type of ceiling (vaulted or flat), texture, ornate moldings, and the paint you want to use.
It's also essential that you understand how to calculate the square footage of your ceiling so that you know how much paint to buy. Working it out is pretty straightforward: multiply the length by the width to get the correct measurement.
If your room is 12ft x 12ft, the total is 144 square feet. If it is 10ft x 12ft, the total square footage comes in at 120.
Here is a handy chart to help you:
| | |
| --- | --- |
| Square Footage | Cost Range (Materials and Labor) |
| 70 | $70 to $175 |
| 100 | $100 to $250 |
| 130 | $130 to $375 |
| 160 | $160 to $400 |
| 190 | $190 to $475 |
| 220 | $220 to $550 |
Factors Affecting Painting Cost
Working out how much it costs to paint a ceiling varies depending on several factors. Vaulted ceilings are more labor-intensive than flat ceilings, and popcorn ceilings take more paint.
Ceiling Type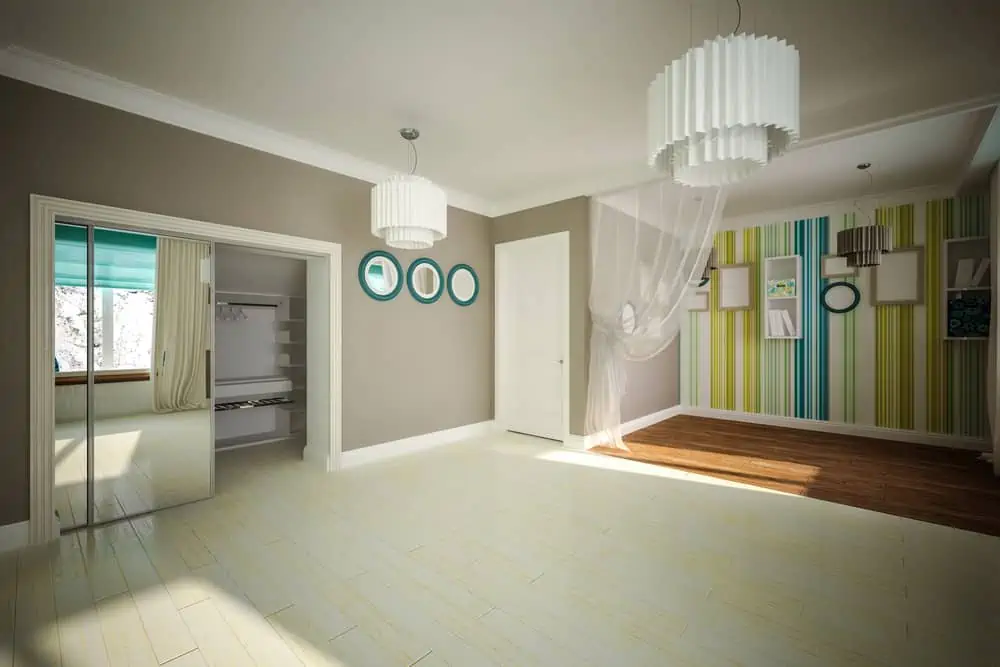 Vaulted ceilings are the most expensive to paint because they are expansive, tricky to reach, and contain many intricate angles. You also need to tape off exposed beams and rafters. The prep work on a vaulted ceiling would probably account for half the cost because it would take so long.
People seem to prefer smooth ceilings in modern homes. Popcorn ceilings may be easier to paint than smooth ceilings, but they also take more paint, increasing the costs. Luckily, they are less prevalent than in the 70s and 80s.
Acoustic ceilings also cost more because they are a specialist installation and need to be treated with care.
Because they hang below the actual ceiling height, freshening up the acoustic tiles is an easy way to transform the space. However, the tiles will need to be removed from the frame and painted individually.
| | |
| --- | --- |
| Ceiling Type | Average Price Range (Materials and Labor) |
| Flat | $1 to $2.50 |
| Acoustic | $1 to $3 |
| Popcorn | $1 to $3.50 |
| Vaulted | $2 to $4 |
| Cathedral | $2 to $4 |
Height of Ceiling
The height of your ceiling makes a massive difference. Much like vaulted ceilings, cathedral ceilings are incredibly difficult to paint, thanks to their height. Older houses tend to have higher ceilings than modern homes.
There is also the element of risk because your contractor will have to climb higher ladders or erect interior scaffolding. Having higher ceilings also increases the budget because the task takes longer, or you need more tradespeople to get the work done.
On average, a nine-foot ceiling will cost $1 per square foot, a 12-foot ceiling $1.50 per square foot, and an 18-foot ceiling $2.50 per square foot.
Prep Work
You cannot skip the prep work when painting a ceiling. You must wash the surfaces, fill any cracks, sand the bumps, and prime before painting. It is unlikely that your decorator will do this, so you may be forced to undertake the work yourself.
If you want your contractor to do the prep work, you will need to inform them to adjust their quote. You may increase the overall price by as much as 40 percent. It means that $2 per square foot swells to just under $3.
This is the one area that you can undertake the work yourself to reduce costs.
Paint Type
On average, one gallon of ceiling paint covers between 350 and 400 square feet per coat. This depends on whether you have a textured or smooth ceiling and the overall condition. The national average cost for ceiling paint ranges from $20 to $40 per gallon.
Some branded paints are more expensive because they contain higher pigment levels. However, choosing the budget option could be a false economy because you need twice as much paint.
The sheen you want also increases the price, with the highest gloss paints costing far more than matte finishes. They contain a higher concentration of binders and resins (the ingredients that give the paint its consistency and sheen).
Gloss paint dries harder and copes with moisture better, making it ideal for bathrooms and kitchens.
You can buy specialist ceiling paints that have mold and mildew-killing ingredients. These paints cost between $20 to $60 per gallon on average. For standard latex-based paints, expect to pay between $20 and $70 per gallon.
Room Type
Different rooms cost different amounts, especially when comparing a small bathroom with a basement ceiling. There are also specialist paint requirements to consider.
Bathroom
Bathrooms are high humidity spaces. Steam from showers and bathtubs subject your bathroom ceiling paint to increased moisture levels, so you need paint that can cope.
Most bathroom ceilings have anti-mold qualities to keep fungal growth at bay. Standard paint peels and flakes in such extremes, whereas bathroom paint looks better for longer.
Also, bathrooms are traditionally the smallest room in the house, reflected in the average price to paint the ceilings. Expect to pay between $50 and $125.
Take Note
Some contractors charge a minimum fee no matter how large the bathroom is. You could end up paying $150 or $175, which makes it an expensive project based on square footage.
Kitchen
It's the same story for your kitchen as it is for your bathroom. The only difference is the presence of cooking grease. As steam rises, it coats the ceiling, staining it yellow. So, not only does your paint have to deal with mold, but it also needs to block stains.
You should expect to pay $150 to $375, depending on how many coats you need and the size of your kitchen.
Bedroom
Bedroom ceilings are typically flat white and use standard ceiling paint. You may pay more because a bedroom is larger than a bathroom. The quality of the finish also needs to be super smooth without brush or roller marks.
The bedroom is the only room in the house where you stare at the ceiling, so it had better look good. An average bedroom ceiling will set you back between $200 and $500 per room.
Living Room
You are likely to find the same flat white paint on a living room ceiling. The size of your living room compared to other rooms in the house, directly impacts the price.
There is a trend to paint walls and ceilings the same color, which changes the price. However, it also makes the room feel cozier. Expect a final bill for painting a living room ceiling between $224 and $850.
Garage
The process of painting your garage is no different from painting any other room in your home. However, your garage will need more prep work because it gets dirtier than other spaces.
This means you will need to dedicate more hours to preparing the ceiling, including removing stains, dust, and cobwebs. You may also need extra coats of paint to cover visible stains, which increases the budget.
Painting a garage is not cheap, typically costing between $400 and $1,000, depending on how finished the ceiling is.
Basement
Basements are often cold and damp environments. There is very little light, and the walls and floors are concrete. Basement ceilings often contain exposed beams, pipework, ducts, and electrical cables.
For this reason, you may be better off painting the ceiling black. Because basements cover the entire footprint of your home, they are typically more expensive. Plus, you will need moisture-resistant paint to prevent mold growth.
Depending on the size and type of paint used, basements are by far the most expensive of all the ceilings. You can easily spend $1,000 to $2,500 per basement.
Here's a handy guide to the cost for each room:
| | | |
| --- | --- | --- |
| Room Type | Average Square Footage | Cost (Labor and Materials) |
| Bathroom | 50 | $50 to $125 |
| Kitchen | 150 | $150 to $375 |
| Bedroom | 200 | $200 to $500 |
| Living room | 340 | $340 to $850 |
| Garage | 400 | $400 to $1,000 |
| Basement | 1,000 | $1,000 to $2,500 |
Additional Ceiling Features
Additional features like crown moldings can increase the amount you spend because they add to the contractor's workload.
Crown Molding
The crown molding is the decorative trim that sits at the top of the wall where it meets the ceiling.
Expect to pay between $1 to $6 per linear foot. If you have taller ceilings, you will undoubtedly pay the higher end.
Ceiling Trim
If you have ceiling trim, it could cost upward of $800 to $1,500, depending on what you want. The average homeowner shells out $900 for a complete refresh of all the ceiling trim in a 1,500 square foot home.
High Gloss Ceiling
Some darker rooms require high gloss treatments on the ceilings to help reflect meager light. Painting your ceiling a gloss sheen requires many coats of standard latex paint because ceiling paints don't come in gloss finishes.
Expect to pay about $250 per 10ft x 12ft room.
Popcorn Ceiling Removal and Decorating Costs
As we said earlier, popcorn ceilings are falling out of favor, so consider removing the textured ceiling and replacing it with something fresh. The price for removing it averages between $1 and $2 per square foot.
The average price per ceiling is around $1,700, but most people pay between $900 and $2,500. Once the old ceiling is gone, the cost of repainting and finishes ranges from $50 (if you do the work yourself) to $2,500.
How to Save Money When Painting a Ceiling
Hands up, who has money to burn? Put your hand down, Elon. The rest of us mere mortals have to work to budgets, which means saving money when we can. Here are a few handy tips:
Prep the Room Yourself
The more work you do yourself, the less you spend. This applies to doing the prep work yourself. Painters are painters (stating the obvious again), but they are better employed doing what they do best.
Use the Right Equipment
A bad tradesperson blames their tools; however, using the wrong equipment can make the task more challenging. A long-handled roller works best for ceilings 10 feet and under. For higher ceilings, use step ladders.
Safety Note
Don't stand above the top two rungs of the step ladder because you may lose your balance.
For larger rooms or higher vaulted ceilings, you may need interior scaffolding.
Use Painter's Tape
Painter's tape protects the areas you want to keep free of paint. Baseboards, trims, crown moldings, and door frames are areas where you might want to apply painter's tape to keep splatters at bay. Painter's tape also protects light fittings.
This Scotch painter's tape comes in packs of six rolls, so you should have enough to complete several tasks.
Use the Right Paint
Most ceiling paint is flat white because it helps to reflect the natural light. Ceiling paint is formulated to go on easier, and many products have anti-mold and mildew ingredients. They also protect the ceiling against stains.
You may want to consider spray paint for basement ceilings. Because there is limited light, the color you choose is less important. Black is actually a good color because it conceals wires, ductwork, and pipes.
The average cost to spray paint a basement ceiling black is between $1,000 and $3,200 for a 1,000 square foot room.
Always Use Two Coats of Paint
Two coats of paint ensure that you get an even coating and conceal any stains. If you skip one coat, the paint will be patchy.
Use Color-Changing Paint
This KILZ Interior Stain Blocking ceiling paint goes on pink and changes to white. It enables you to spot any missed patches.
Is It Cheaper to Paint Yourself or Hire a Painter?
This question answers itself. It is always cheaper to take the DIY approach. However, the cost is one thing, but not everyone has the time, skillset, or inclination to undertake the work.
Some people are so busy that paying extra and getting a contractor to complete the project is more cost-effective. Doing the work yourself will cost you the materials only. An average price for a gallon of paint ranges from $20 to $70, depending on the product.
Most paints give 400 square feet of coverage per gallon. Typically, rooms average 200 to 400 square feet, so you will need to spend between $40 and $140 on paint for two coats.
Contractors charge between $40 and $70 per hour. This fluctuates depending on location, season, and labor costs. You will pay the top end in areas of high living costs.
A typical ceiling costs between $150 and $350, with materials and labor costs making up $90 to $210 (60 percent) of the final bill.
How Hard Is It to Paint a Ceiling Yourself?
Painting a ceiling yourself is pretty straightforward if the prep work is done correctly. You don't need expensive tools, and while you may initially lack the skills, you can learn on the job.
Is It Worth It to Paint a Ceiling?
It is worth painting your ceilings because dirt, grime, and stains mark the surface and discolor the paint. A dirty ceiling draws the eye and makes the room feel unloved and unclean.
A fresh coat of paint rejuvenates the ceiling and makes it feel more up to date. It also has the benefit of making the room feel larger. However, you can paint it a darker color, making the room feel cozier.
FAQs
---
Gotta Love Your Ceiling
The cost to paint your ceiling varies depending on the room size. For the average size home, the price is more affordable. If you live in a house with rooms as big as a warehouse, dig deep because it will cost you a packet.
Working out the costs is simple enough: grab a calculator and multiply the length by the width to get the square footage. Now you can use the guidelines on the paint can to estimate the amount you will need.
Thank You For Your Feedback!
Thank You For Your Feedback!